Last season was supposed to be another year that the Colorado Avalanche flounder and miss out on the playoffs for the second straight time. Nobody gave them a chance at making the post season, let alone winning their division. They were supposed to be an easy win for most other teams. Except that didn't happen. Instead the Avalanche started the season hot and never dropped off that pace. They are fast and skilled with a very bright future consisting of young budding stars. They went from being a bottom feeder to a top dog in one year. Here I will compile a list of the top 5 reasons why Colorado won the central division.
 1. Joe Sakic & Patrick Roy to the Rescue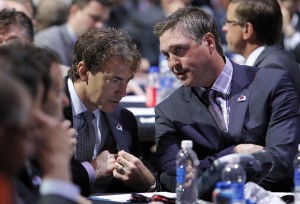 Of course people had their doubts about the Sakic and Roy appointments. It was either going to go horribly wrong or terrifically well. Who wouldn't welcome two hall of famers to come in and run the team they played their hearts out for? One thing these guys know well is passion for the game and how to win and it didn't take long for them to turn the Avalanche around and head in that right direction. These guys also have a great amount of pull in terms of acquiring players via trade or free agency. Players will now not only want to come play in Colorado because they are an upcoming team, but also for the chance to play under Roy and President of Hockey Operations, Joe Sakic. It really only took the first game of the season to notice something very different and special was building in Denver. Game 1, opening night vs Anaheim, AKA Roy vs Boudreau. Colorado took the game to the ducks hard and Anaheim was getting a bit chippy towards the end resulting in a shot at young rookie Nathan MacKinnon, which set Patrick Roy off, pushing the glass partition almost completely into the Ducks bench. That right there, at the end of the season opener, showed to Avalanche fans that this was indeed a new era and that coach Roy is just as fiery and passionate on the bench as he was in the crease.
2. Semyon Varlamov's Vezina Caliber Season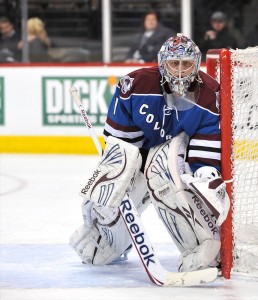 When the Avalanche traded a first and second-round pick to the Washington Capitals to acquire Semyon Varlamov, most people thought it to be an overpayment for an unproven player. He played very well in his time with the Washington Capitals, but a couple of injuries and he was suddenly labeled injury prone, and thus was expendable in the eyes of the Capitals management. I assume Washington is regretting that move, as they have been playing goaltender musical chairs ever since, and even ended up trading Filip Forsberg, who was the player they chose with the Avs first rounder. In 63 games played, Varly put up a record of 41 wins-14 losses-6 overtime losses and 2 shootout losses, backing that up with a very impressive 2.41 goals against average, and a .927 save percentage. A lot of that success is a direct result of Roy bringing in his ex-goalie coach Francois Allaire, who this time worked with Varly quite a bit on his play before the season. Allaire wanted Varlamov to hold his glove higher at all times along with some other new techniques here and there, and it looks like Varly is a good listener. He was already a great acrobatic goalie, but Roy and Allaire worked with him to make him even more formidable. Varlamov was the Avs number one star many many nights and stole games for the team when needed. He was without a doubt the Avs MVP last season and finished as a finalist for the Vezina trophy.
3. Young Core Blossoms
Colorado had an already solid young promising core to build around. When the Avalanche added another potential superstar in the making, Nathan MacKinnon, it only got more mouth watering. With Duchene, Landeskog, O'Reilly, MacKinnon, Johnson, Barrie, and Varlamov, the Avs core all took a nice step forward in their progression this past season. Led by Gabe Landeskog, who was announced as the NHL's youngest ever captain a couple years back, seems like he has played in this league far more than he has and is by all accounts, extremely mature at the very young age of 21. Throw veterans like Jarome Iginla, Alex Tanguay, and Max Talbot in with that young core and that is going to help them grow up to their expectations, which are sky high. This core of players is set for years to come and they are all young and still learning, still growing, and just going to get better.
4. Offense From Defense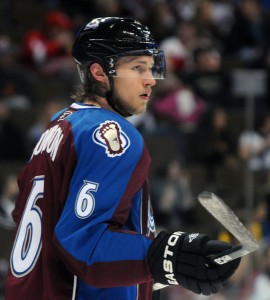 Under coach Sacco, the Avalanche defense were terrible at producing offense, but that quickly changed under new head coach Patrick Roy. Roy wanted the defense to be much more active on offense and they seemed to like that idea. Erik Johnson for starters began to show the hockey world just how good he can be, cementing himself as a top 2 defender now. Johnson provided much more offense from the back end this past season, racking up 39 points with a plus 5 rating in 80 games played. It looks as though EJ is finally coming into his own. Nick Holden's breakout season was nothing short of amazing, as no one had him even making the team. Nick Holden not only made the team out of camp, he kept on improving his game and became a reliable top 4 – 5 defenseman in the NHL, even putting the puck in the net on the power play on a few occasions as well. Holden ended the season with 25 points and a plus/minus of  plus 12 in just 54 games. Tyson Barrie was sent down early in the season and then called back up shortly after, he never turned back. Barrie was clutch, potting several game winners for the team while scoring 38 points in just 64 games with a plus/minus rating of plus 17. Here is a nice piece on the importance of Tyson Barrie to the Avalanche now that he has shown he has what it takes. The defense with these three players alone, played a much more up tempo style of hockey under coach Roy, even Jan Hejda was jumping into plays on occasion. Having a smooth transition game and having players on the back end that can contribute significantly to the offense is a must in today's NHL.
5. Consistency From Day One
Colorado were just very consistent with their play from day one. They never had more than a three game losing streak all season. The most impressive part about it was their identical home and away records. The Avalanche put up a record of 26 – 11 -4 at home while also having the EXACT same 26 – 11 – 4 record away from the Pepsi Center. It shows that the Avalanche did not change their playing style when at home or on the road, they just played Avalanche hockey, and that is the way it should be. The Central division is probably one of if not THE strongest division in hockey as of now. Granted the Avalanche had some help from the Blues meltdown they had in their last ten games or so, but the Avs were one of the teams that kept that losing streak going for them. For Colorado to not only make the playoffs, but beat out Chicago and St.Louis for the central division title was nothing short of shocking to many in the hockey world, which is exactly what Joe Sakic, Patrick Roy, and the rest of the Colorado Avalanche set out to do.
.