Tyson Barrie and Stephan Elliot seem to be a tale of two players. Both players were drafted in the 2009 draft, and both had tremendous numbers in the WHL. While Elliot has struggled to make the same kind of impact in the NHL, Barrie is becoming a key figure on Colorado's blue line. Barrie, a current restricted free agent without a contract, is the last piece of unfinished business for the Colorado front office this off season. He's improved in the last year to the extent that Colorado can't afford to let this grow into another Ryan O'Reilly situation.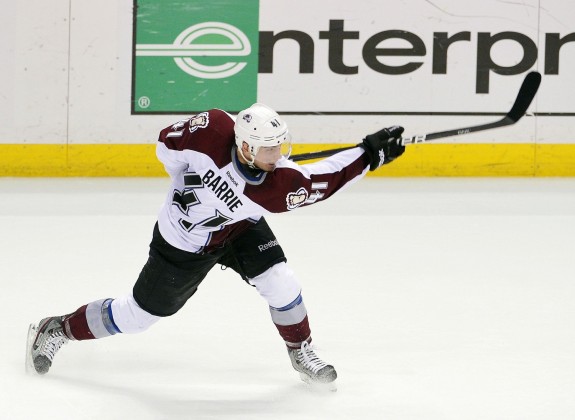 Breaking out
Tyson Barrie is one of Colorado's few offensive defensemen, possibly even the teams only offensive defenseman depending on the kind of roll Nick Holden is going to play this season. Colorado's record was good but with many suggesting that the team is due a regression based on their possession stats, the Avalanche need someone that can control the puck and generate offense. Barrie is the only defender the team has that has shown an ability to move the puck well with any consistency. The team has great young offensive talent, but they have a shortage of play making defensemen. Barrie only played in 64 games for the Avalanche last season but he managed to score 38 points, with 25 of those being assist. He generally makes players better.  On a team mired in poor possession stats, Barrie was one of the few players that had a positive corsi rating.
His numbers show just how important he is for the teams offense. If Barrie has a big year then Colorado also plays well. He's not a shut down defender, but he's not there to play that roll. That's a job for Erik Johnson or Jan Hejda. Barrie is good enough defensivly, but he's also the player that can send players like Duchene up ice with a well placed pass. Look at the Chicago Blackhawks as an example of the kind of difference a good offensive defenseman can make. Colorado wants to be Chicago. They want to use their speed as an advantage, and they need quality passing defenders to use that advantage. Like Duncan Keith.


The play Keith makes in the video above is much more impressive, but the idea is the same. These are the kind of plays that Colorado expects Barrie to make. He has a ways to go to make plays like Duncan Keith, but it's the kind of player every team needs.  He needs to be that player that can jump start a rush. Colorado has a lot of speed up front, much like Chicago. What they need is a player like Barrie that can transition their game from defense to offense. A misplaced pass  ends in an icing call or even worse a turnover with most of the offense already up ice. Barrie, more so than any other member of the Colorado defense is capable of making those kind of plays.
Quarterbacking the power play
One of Tyson Barrie's rather unnoticed qualities is his ability to walk the blue line on the power play. Patrick Roy likes to practice the power play a lot. Barrie has benefited from this immensely. Last season Barrie had 10 power play points. His ability with the puck meant he was usually at the point running things. He moved the puck well in most cases, and was really smart about his own movement.
In that clip, Barrie doesn't have the puck for very long but what he does do is keep the puck from leaving the zone and pulls at least one Blue Jacket defender towards him opening space for Andre Benoit who finds Nathan MacKinnon for the power play goal. There were games when Colorado struggled on their power play, in part because they tried to get to fancy. But, when they were more direct, and Tyson Barrie was moving the puck smartly, they were able to find the net. Look for Colorado to try to get even better on the man advantage, particularly if Barrie has a big season.
Big goals at big times
Toward the end of the season, Barrie developed a habit of scoring big game winning goals. For a defenseman, even an offensive defenseman, this was a big deal. Colorado are not going to pin the hopes of their season on Tyson Barrie scoring 20 goals, but with 13 last year, 5 of them game winners, this is a card that Colorado will be willing to play when the situation dictates. His goal against Chicago was as impressive a shot as any he's had before, and it was a terrifically opportunistic play. Steaming from Chicago's failure to clear the zone Barrie read the play well enough to know that he could be in a position to score if the puck found his stick. He scored another game winner against Chicago in March, almost from the identical spot he scored a few months earlier in Chicago. He also managed OT winners against Vancouver and Ottawa. As the season wound down Barrie found he was put on the ice more and more in big situations. He quickly gained Patrick Roy's trust. Early in the season he was only getting 14-15 minutes of ice time a night, but as the season started to wind down he was seeing night were he was on the ice for  20 minutes or more.
Time to sign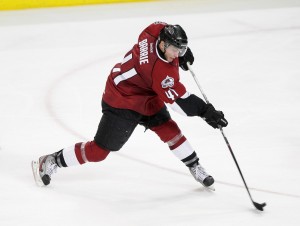 Barrie is a restricted free agent still, but according to Joe Sakic, the team is confident he'll sign soon. Avalanche fans have reason to worry though, Barrie's agent comes from the same agency as Ryan O'Reilly's agent. No one wants to see these negotiations go sour like they have with O'Reilly, and by all accounts it doesn't look like they are. But for Colorado fans, who have seen Barrie grow into a very important member of the Avalanche defense, it's a little disconcerting that the two sides haven't reached a deal yet. There are inner workings to these deals that many fans don't get to see, but with Barrie's ability to make the team better in so many ways, the question is: what's the hold up?