Can't Measure Leadership
In the NHL there is a far too popular narrative that leadership is critical to success. Don't get me wrong, as an athlete, it's nice to have teammates who you can rely on for big goals and verbal inspiration. However, leadership is a difficult concept to define, and it's even more difficult (perhaps impossible) to prove what effect it actually has on winning and losing.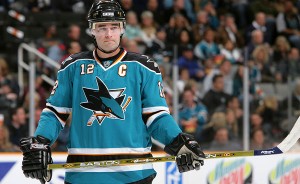 Furthermore, as many have pointed out, teams without a designated "captain" still have players doing leadership type things such as raw raw pep talks. For example, there have been many NHL teams who only give out As for alternate/assistant captain and others who have rotated the "C" among its key contributors. The Sharks did the latter in 2003-04. At one point veteran Vincent Damphousse was the captain for a stretch before passing it on. Does anyone really believe those Sharks went to the conference final in part because Patrick Marleau wore the C in the playoffs instead of Damphousse?
Giving one player the captaincy over another is nothing but personal preference of the hockey/coaching staff.
Some NHL captains are the fiery, wear their emotions on their sleeves types like Owen Nolan. Others are the quiet types who lead by example, like Marleau. There is no science behind what makes someone a good captain and what doesn't. It's all personal preference.
Los Angeles Kings
Let's take a look at the Los Angeles Kings for example. Winners of two of the last three Stanley Cups feature Dustin Brown as their captain. Brown is nowhere near being the Kings most talented player and around the league he has a reputation for delivering cheap knee on knee hits. Excuse me for not believing he is any more deserving of wearing a C than teammate Anze Kopitar or the Sharks' Joe Thornton.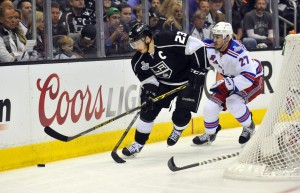 However, I'm not arguing the Kings should make a captaincy change. A different player wearing the C wouldn't make a difference. If the Kings are as tight knit of a locker room as they boast, a change in felt on a jersey won't cause any problems and it certainly won't give them a better shot at a third Stanley Cup.
Likewise, the Sharks changing captains won't fix any of their problems. The Sharks have gone to three conference finals in their history with three different captains. Marleau, Thornton, and Rob Blake. All three of these guys were/are veterans who do the same things each year with or without a C on their chest.
Sharks Captaincy "Dilemma"
Recently the Sharks announced that they will head into training camp with a "clean slate" and that all letters will be earned during training camp. It is the second time they have effectively removed a current player from the role of talking to the referees. And for the second time, the media is blowing it up as if it is a move that actually has a chance to improve the team's performance.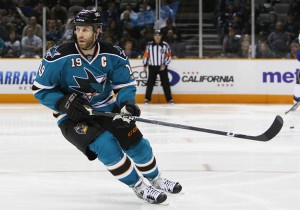 The fact of the matter is every team wants to employ as many elite level players who keep cool under pressure, as they can. But designating one of these types of individuals as captain over another has no direct effect on improving the team's quality of play. The team could have nobody with any letters or only pass out As and it would still be the same team.
It makes no sense to argue that Joe Pavelski wearing the C instead of Joe Thornton will cause the team to win more games. There is no tangible way to prove one player wearing the C instead of another leads to more victories. Players won't practice harder, study tendencies longer, or make smarter passes on the ice because of a change in captaincy.
The only change that could develop in this case is a negative one. By taking the captaincy away from Thornton, the Sharks are risking alienating their best player. But for what? For some ridiculous notion that the team will win more games due to a piece of felt moving to Couture's chest or Vlasic's?
The focus of Teal Town right now is on who gets to have some extra stitching on their jersey. It very much feels like we're living in Shakespeare's play Much Ado About Nothing. Instead of making personnel moves that actually improve the team, like say, signing current free agent Dustin Penner, the focus is on the superficial notion of a captaincy title.