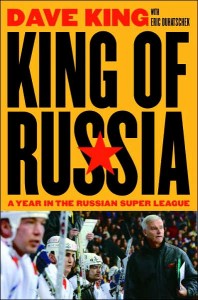 The story of Dave King's time coaching in the Russian Super League is told in the appropriately named book, King of Russia: A Year in the Russian Super League. Written with distinguished sports writer Eric Duhatschek, the book is journal-style, with each "paragraph" having a date in front of it. Almost every day, King would write little entries about his adventures coaching Metallurg Magnitogorsk, one of the top professional teams in Russia. He offers an inside look into Russian hockey, as well as the day-to-day lifestyle of those who live there.
Prior to the NHL lockout, no Canadian coach had worked as a head coach in Russia, meaning Dave King was the first. He had previously been Canada's long-time national team coach, and had also been head coach of both the Calgary Flames and Columbus Blue Jackets.
The book introduces us to current NHL players Nikolai Kulemin and Evgeni Malkin, before they became what they are today. Throughout the book, King would highlight Malkin's growth, both on the ice, and off it. When King first arrived in Magnitogorsk for the 2005-2006 season, Malkin was one of those players who played the game like he was the only one out there. However, as the season progressed Malkin learned the value in using his teammates, players like Alexander Kaigorodov, and the late Igor Korolev.
"A fascinating look at how the current machine of Russian hockey runs."

– Globe and Mail
Dave King used plenty of humor and sarcasm in the book to keep it light, and would often speak of what players would call "Pterodactyl Air ". Clearly, Russian flying standards were not what he was used to in North America. The following excerpt outlines exactly what he experienced while flying across Russia.
"I'm sure the plane was built in the 1950s. The seats are small and flimsy. The luggage compartment is so tiny we have to stack the hockey bags in the first four rows of seats. Plus, it doesn't seem as if the normal flight rules apply here, at least not when we're chartering. Today, for example, we took off, the seats were notin the full upright position. Tray tables were down. The players had their computers and iPods going, and the luggage was certainly not stored properly. The crew would disappear for long stretches to the back of the aircraft and even though it's supposed to be non-smoking you can catch a whiff of cigarette any time you venture towards the restroom."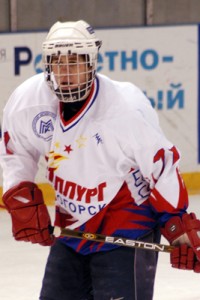 Another concern King and his wife Linda encountered in Magnitogorsk was safety. The two were living in an apartment right across the street from the arena, yet King's translator, Igor, would not let either one of them walk home alone after a night game. King would often mention that large thefts commonly occurred on a daily basis. If you left your bicycle unlocked for a few minutes while you hurried across the street to purchase some milk, there was a pretty good chance it would be gone in less than thirty seconds.
"Entertaining…A colourful travelogue from St. Petersburg to Siberia."

– Calgary Herald
There are many names in King of Russia that you'll recognize right away. Stanislav Chistov, Anders Eriksson, Korolev, Kulemin, Malkin, and Dimitri Yuskevich can be considered some of the "main characters" of the book. They're relied upon heavily by King to provide goals on the ice, as well as living guidance off it. Korolev would serve as his main connection to the Russian speaking players, as Korolev's extensive NHL-experience gave him plenty of time to learn to the English language. Yuskevich was who King considered to be one his hardest workers. There would be times when Yuskevich was in so much pain he could barely walk, but he would still get out on the ice and block shots. As a North American coach, Dave King could only wish that all of his players would sacrifice their bodies for the team as Yuskevich did.
"A thoughtful insider's analysis on both the NHL and Russian games."

– Toronto Star
From winning games, taking care of homeless puppies, and finding a decent burger, Dave King writes of it all in King of Russia. Any hockey fan with an interest in the European game should definitely put this on their wish list.