It wasn't too long ago that Philadelphia Flyers forward Jaromir Jagr had the city of Pittsburgh eating from the palm of his hand.  He played 11 seasons in Pittsburgh as a member of the Penguins spending much of his time alongside Mario Lemieux – winning two Stanley Cups, a Hart Trophy and an Art Ross Trophy – until his eventual departure in 2001, when he was traded to the Washington Capitals.  A decade – and three new uniforms – later, Jagr is returning to Pittsburgh as a member of the hated cross-state rival and he must now prepare himself for the boos of a city that once loved him.
Thursday night's game at the Consol Energy Center will also mark the return of Max Talbot, who signed with Philadelphia over the summer after spending the first six seasons of his career with the Penguins.  But that has been lost in the Jagr hubbub and the reaction for the two players could be much different, as the locals still love Talbot and all that he did to help the franchise win it's first Stanley Cup in nearly 17 years.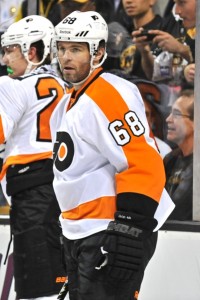 This isn't the first time Jagr has returned to Pittsburgh as a member of a different team.  He has played many games as a member of the opposition, whether it be with the Washington Capitals or the New York Rangers but he has never returned like this.
There might not be a team the Penguins dislike more than the Flyers – and vice versa.  The history between the two teams goes way back as both teams have spent decades battling for NHL supremacy in the state of Pennsylvania.  Jagr returning in orange and black makes him the villain and no one likes the villain!  As if that isn't enough, Penguins fans feel that Jagr gave the team the cold shoulder this offseason when he was looking for a return to the NHL after playing in Russia for the past three seasons.  It was reported only two teams were interested in the 39-year-old – Detroit and Pittsburgh – but Jagr seemed to want nothing to do with either franchise, in fear he wouldn't get too much playing time.  Instead, he eventually signed with the Flyers, knowing he would get plenty of playing time with a very young team whose budding stars Claude Giroux and James van Riemsdyk seemed to further entice the Czech native.  Three months into the season, Jagr's choice to sign with the Flyers is still a big topic in Pittsburgh, a city who is smitten.
And can you blame them?
The future Hall of Famer began his career in Pittsburgh, as a fifth overall pick of the 1990 NHL entry draft and instantly became a fan favorite – some of which can be attributed to his sweet mullet.  The Penguins went on to win the Stanley Cup in each of his first two seasons but the fun-loving kid was overshadowed by Mario Lemieux, one of the best to ever play the game.  Once Lemieux was gone, Jagr was left in charge and continued to play at a high level, winning a scoring title and an MVP but as a team it only went downhill for the black and gold.  He had problems with the media, problems with the coaches and in the end a trade seemed to be the only move for the Penguins and Jagr.
He has come full circle now and although his mullet is long gone, Jagr continues "The Salute" goal celebration and still appears to be almost as talented as the day he left.  On Wednesday he met with media from both cities and was ready for the most obvious questions.  When he was asked about getting a poor reception from the Pittsburgh faithful and if the trip would be any different then usual, Jagr – with the hood to his sweatshirt over his head – simply said, "What kind of question is this? Everybody knows."
Jagr will be key to the Flyers' success against a Penguins team that has won four consecutive games and now finds itself tied with Philadelphia in the standings.  Jagr has been huge for the Flyers this season, which is exactly what the team needed after trading away Jeff Carter and Mike Richards last summer.  In 31 games, he has 11 goals and 19 assists as a member of the top line with Giroux and Scott Hartnell.
"I don't want to prove anybody anything. I don't think I would play my game tomorrow night if I [tried] to show somebody," he added.
There is no doubt the boo-birds will be out on Thursday night and that there will be plenty of emotion for Jagr and Talbot.  The story line seems like something right out of a movie, which is perfect considering HBO will be in the building, continuing its coverage of 24/7 Flyers-Rangers: Road to the NHL Winter Classic.
Ed is a die hard sports fan from Philadelphia who follows all of the city's local teams. He has written for a number of print and internet media sources and is a hockey junky. When he is not watching a game, he is spitting out useless trivia knowledge, or upholding his title as movie quote extraordinaire. You can follow Ed on Twitter @PhillyEdMiller.