Tomas Jurco
Date of birth: December 28, 1992
Place of birth: Kosice, Slovakia
Ht: 6-2 Wt: 193
Shoots: L
NHL Seasons: 0-R
Drafted by Detroit in 2011 (2/35).
As I reported in my preview of Team Slovakia:
Tomas Jurco is an absolute puck magician. He is lighting up the QMJHL this season with 45 points in 30 games for the Memerial Cup defending champions Saint John Sea Dogs. Although this has been said time and time again, yes ladies and gentlemen the Detroit Red Wings may yet have another draft steal on their hands. I had Jurco ranked 23rd in my 2011 draft rankings. He slipped out of the 1st round and fell to the Wings at 35th overall. His talent was never in question. His drive was. He's definitely out to prove naysayers wrong.
Jurco struck for one goal against Latvia in Slovakia's tournament debut last night. He deflected a shot from the point by Edmonton Oilers prospect Martin Marincin. One period is now in the books in his game against Russia this evening.
I was able to chat with the respectful young gentleman in the post-game press conference last night.
What's in a Number?
I began my discussion with Tomas by asking him why he has chosen the number 13 for his jersey number. Jurco seemed to light up when I asked him about this. He said it all started as his older sister and him idolized a player who wore this number who starred for a hockey team in his Slovakian hometown. His sister plays hockey as well and too wears lucky #13. He stated he has worn the number ever since as does his sister.
Jurco added:
"Actually, when I first came to Canada and Quebec (the QMJHL) I had #91. They (Saint John Sea Dogs) would not let me wear #13. They were very superstitious. However, when I came back for the second season this year, they let me wear my number. I'm not sure why they let me this year!"
I'm guessing after a Memorial Cup win, there was no bad luck to be had! It's definitely not holding him back any and may have just been a little boost. Jurco is plus 28 in 30 games thus far this season and has 45 points in 30 games for the Sea Dogs.
NHL Player Emulation:
Tomas did not hesitate when I asked him who he tries to emulate as a hockey player. Fellow countryman Marian Hossa was his quick retort respecting his all around game and especially his strong puck possession abilities. We also discussed how Hossa may in fact be underrated this season in Chicago playing in the shadow of Jonathon Toews and Patrick Kane. We both agreed this is likely a good thing for Hossa as he quietly goes about playing his game and dissecting the opposition.
He also wants to particularly work on his two-way play to truly emulate Hossa's game.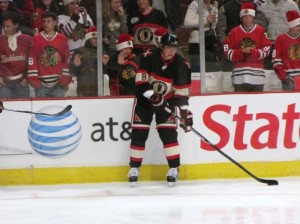 E-Mac's Take:
Eldon MacDonald of The Next Ones had this to say about Jurco's game in his 2011 draft preview back in June; for the record he's been more "on" than "not" this season:
When he is on, Tomas shows puck handling skills that few can equal in this year's draft. He can also score goals – he is one the stars of the YouTube viewers because he uses those slick hands that make the impossible come true. He can also exhibit a determined and persistent effort on the forecheck and will not avoid physical contact. He also has the size and balance to be effective down low.

When he is not on, it must be because of bad wiring because he doesn't appear to have much connection with the game, particularly without the puck. Yes, there are other areas of his game that he could improve on but it is only the uneven compete level that is holding him back from that top 10 or top 15 pick.
Video:
Jurco is definitely one to watch as this World Junior tournament unfolds.
Note: His stats for this year's World Juniors will be updated in real time at the beginning of this post.
***