Drafting and developing a franchise goaltender is a tough thing to do. It is made so difficult because there is a set learning curve at the position. Traditionally, netminders develop at a much slower pace than skaters. When the mental part of the game is factored in, it is no wonder that so many top prospects never hit the big time. With that being said, it is time to take a look at the top 10 NHL goaltending prospects.

As far as criteria go, a goaltender is no longer considered a prospect if he has played more than 25 NHL games in any single season, more than 50 career NHL games, or older than age 24 as of Jan. 1, 2022. With that being said, here is my list of what could be the next wave of NHL starters.
10. Daniil Tarasov, 23, Columbus Blue Jackets
Daniil Tarasov is from Novokuznetsk, Russia, the same hometown as Sergei Bobrovsky, who had a pretty nice run for the Blue Jackets. He is part of a pretty deep organizational goaltending pipeline. Before last season, the only time he had been in North America was to participate in the team's developmental camps.
The Blue Jackets took the 6-foot-5 netminder in the third round (86th overall) of the 2017 Entry Draft. He spent most of the 2018-19 season playing for Toros Neftekamsk of the VHL, Russia's equivalent to the AHL, posting a 1.71 GAA and .928 SV% in 25 games. He put up even better numbers during Neftekamsk's impressive 17-game playoff run with a .930 SV% and 1.87 GAA.
Tarasov spent 2019-20 playing for Assat in Liiga, Finland's professional top league, after signing an entry-level contract with Columbus in June of 2019. In 41 games, he had a .899 SV% with a 2.72 GAA. He was back in Russia to start this season, where he played made his Kontinental Hockey League (KHL) debut. He played in 16 games for Salavat Yulaev Ufa, where he went 11-3-2 with a 9.25 SV% and 2.07 GAA.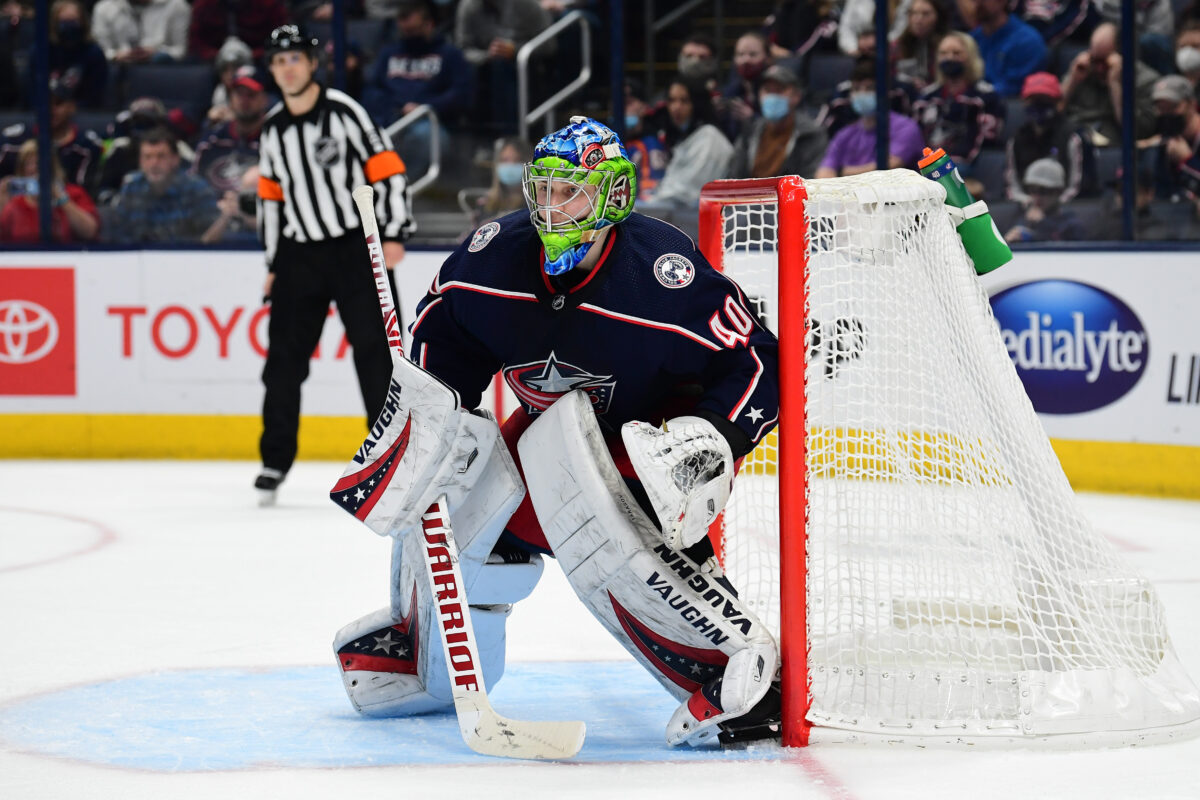 Once his KHL season was completed, Tarasov made his way over the pond to play in the AHL where he had a .896 SV%, 3.16 GAA, and four wins in six games with the Cleveland Monsters. Starting the 2021-22 season in the minors, he made his NHL debut on Dec. 2, 2021, against the Dallas Stars where he made 34 saves in a 3-2 loss. Two games later, he was back in the AHL until Jan. 1, 2022, when he started against the Carolina Hurricanes – a game he sustained a hip injury that eventually ended his season.
Barring a setback, Tarasov should be ready to continue his journey to the NHL this season behind the tandem of Elvis Merzlikins and Joonas Korpisalo. Despite it being a small sample size, he did look good in the four games he played finishing with a 2.40 GAA and .937 SV%. So, there's definitely still solid starter potential in the now 23-year-old – if he can stay healthy, that is.
9. Erik Portillo, 21, Buffalo Sabres
Erik Portillo has developed into a very solid goaltending prospect. Selected 67th overall by the Buffalo Sabres back in 2019, he spent his draft year in the J20 SuperElit league where he posted a 1.99 GAA and .931 SV% along with three shutouts and an almost spotless record of 21-5-0. Then, having been selected fifth-overall by the Dubuque Fighting Saints in the 2019 United States Hockey League (USHL) Entry Draft, he came over to play in North America and put up almost identical numbers finishing with a 2.11 GAA and .915 SV% with a record of 19-5-1.
Committed to the University of Michigan for the 2020-21 season, Portillo got into limited action playing behind San Jose Sharks prospect Strauss Mann and completed his freshman campaign with a 1.67 GAA and .935 SV% appearing in only seven games. Then, firmly placed in the starter's role and backed by a star-studded defence anchored by top-five draft picks Owen Power and Luke Hughes, he put himself on the map with a 2.14 GAA and .926 SV% in 42 appearances.
The first thing you notice about Portillo is his size, as he stands at a massive 6-foot-6 and weighs in at 225 pounds. Described by scouts as being calm and composed in the crease, he has all the tools to become a starter in the NHL one day. As for when Sabres fans will see him in the blue and gold or at least in Rochester, that will have to wait until at least 2023-24 since he has decided to return to Michigan for his junior season in 2022-23.
8. Drew Commesso, 20, Chicago Blackhawks
Similar to the Minnesota Wild, the Chicago Blackhawks might need the services of their top goaltending prospect sooner rather than later. With a bare cupboard in the NHL that includes Petr Mrazek and Alex Stalock as bandaid solutions, Drew Commesso could in fact be in the starter's crease as soon as 2023-24.
The now 20-year-old Norwell, MA native is another United States National Development Team product that chose the college route and has spent the last two seasons with Boston University. Fresh off a sophomore year that saw him improve on his numbers from his freshman campaign to post a 2.52 GAA and .914 SV% and get named to the United States Olympic team, he will be looking to improve even further as he heads into his junior season in 2022-23.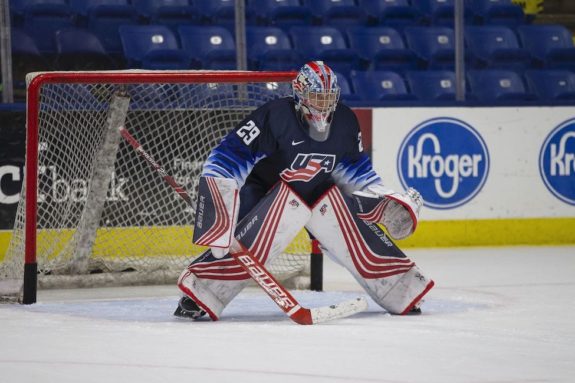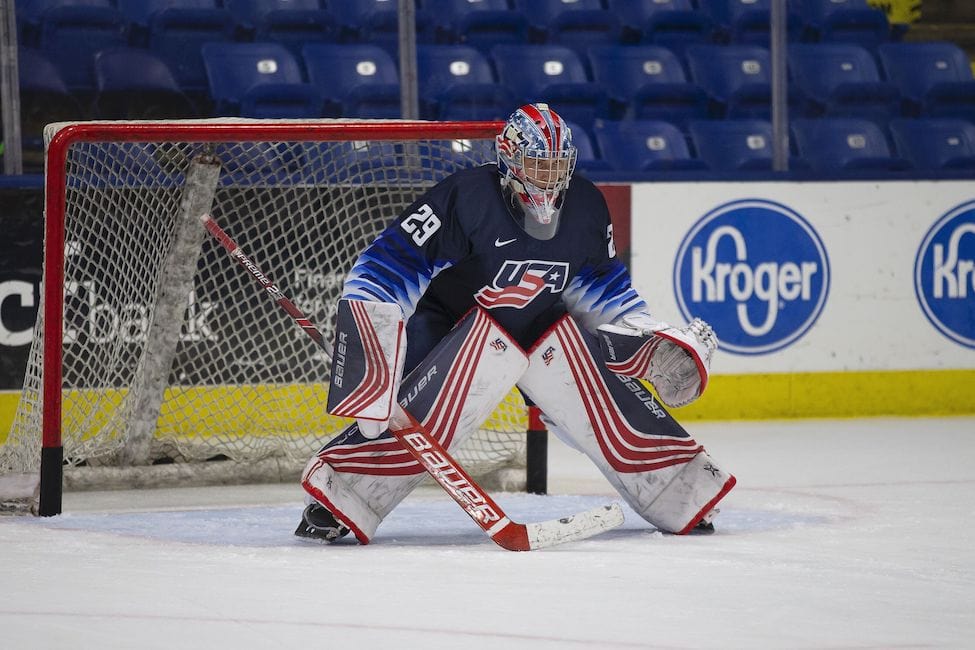 Selected in the second round of the 2020 Draft by the Blackhawks, Commesso has the stature (6-foot-2) every goaltender needs to succeed in the NHL these days. Known for his aggressiveness in the crease and ability to read the play, he definitely has the toolbox to take over the starting role in Chicago one day.
7. Stuart Skinner, 23, Edmonton Oilers
Stuart Skinner's development has been a slow and steady process since his hometown Edmonton Oilers drafted him in the third round (78th overall) of the 2017 NHL Entry Draft. It has taken him some time to adjust to the professional ranks, but last season saw him get his footing and hit his stride.
The 23-year-old netminder spent three and a half seasons as the starter for the Lethbridge Hurricanes in the Western Hockey League (WHL). He played the final half of his last season with the Swift Current Broncos. Overall, he posted a .908 SV%, 3.22 GAA, and 12 shutouts in 207 regular-season games in his junior career. He stepped up during his 50 postseason games, where he finished with a .922 SV%, 2.66 GAA, and six shutouts.
Skinner turned pro at the start of the 2018-19 season and spent much of it with the Wichita Thunder of the ECHL, and played six games in the AHL for the Bakersfield Condors. After putting up pedestrian regular-season numbers, he made the most of his four Calder Cup Playoff appearances by picking up two wins with a .918 SV% and 2.39 GAA.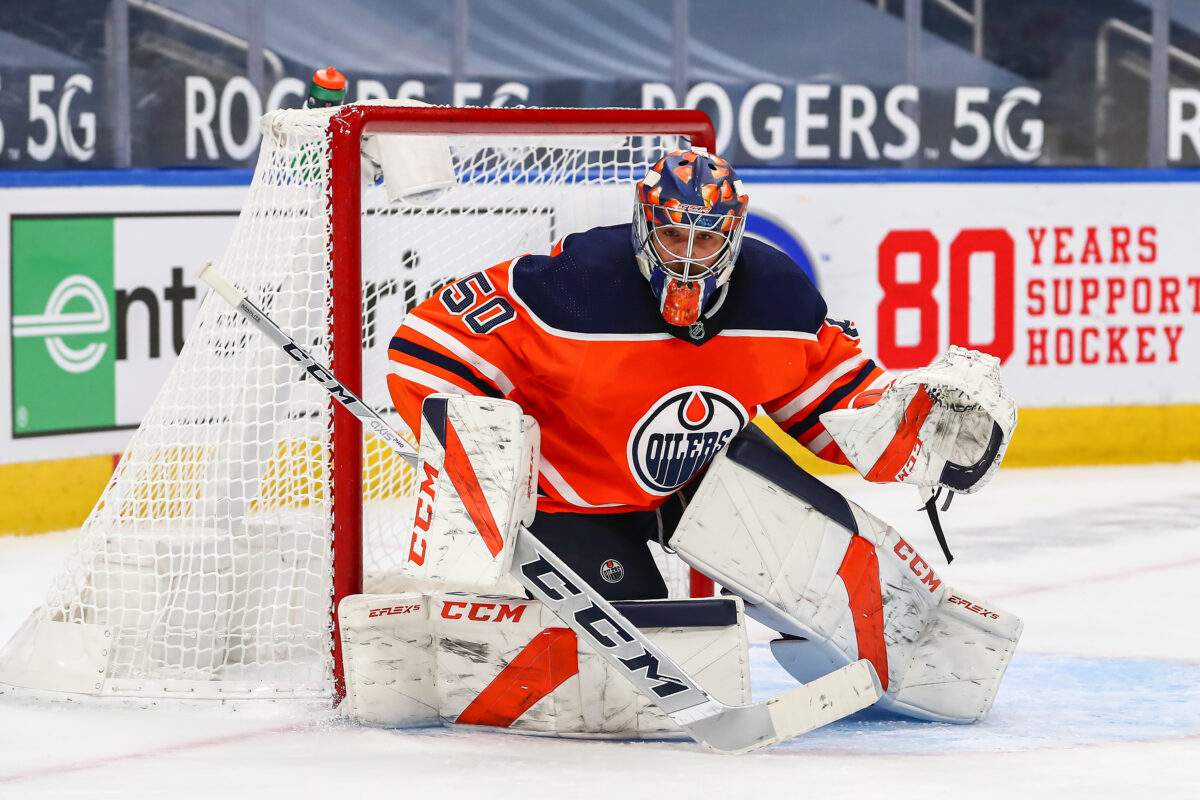 Skinner struggled during his first full season in the AHL but rebounded nicely in his sophomore season. He finished 2020-21 with a .914 SV%, 2.38 GAA, 20 wins, and two shutouts in his 31 games for the Condors. He even made his NHL debut on Jan. 31 versus the Ottawa Senators, where he gave up five goals on 38 shots in an 8-5 Oilers victory.
Skinner broke out in 2021-22 with the Condors finishing with a stellar 2.21 GAA and .920 SV% along with a sparkling record of 22-7-7 and five shutouts. He also spent some time in the NHL filling in for injuries to both Mike Smith and Mikko Koskinen, appearing in 13 games and recording a 2.62 GAA and .913 SV% with one shutout.
There is little doubt that Skinner has the size and athleticism that NHL teams look for in their goaltenders. He has struggled with his consistency, which is typical for a young netminder. With Koskinen jumping overseas to Europe for the 2022-23 season and beyond, the road is clear for him to be a full-time backup to new starter Jack Campbell, who the Oilers signed as a free agent in the offseason. As a result, he should be able to find that consistency knowing that he won't be shuttled up and down between the minors and the NHL this season.
6. Dylan Garand, 20, New York Rangers
Fresh off a gold medal performance at the rescheduled 2022 World Juniors in Edmonton, Dylan Garand is ready to turn pro full-time in 2022-23. While he had a taste of it during the COVID-ravaged 2020-21 season with the Hartford Wolf Pack, he will likely get a starting role this season rather than just spot duty.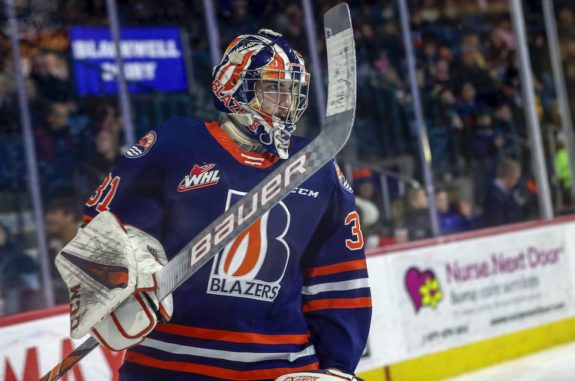 Selected all the way down in the fourth round in 2020 by the New York Rangers, Garand has moved his way up to top-10 prospect status by dominating in the WHL over the last two seasons with the Kamloops Blazers. On a team brimming with elite talents like Team Canada teammate Logan Stankoven and 2023 Draft eligible forward Zach Benson, he finished his junior career with a 2.34 GAA and .918 SV% in 135 appearances. He also had 12 shutouts and a sterling record of 89-31-7, which included a tremendous swan song campaign that saw him finish with a career-best 2.16 GAA and .925 SV% in the regular season and a 1.92 GAA and .933 SV% in the playoffs. Oh yes, he also walked away with the CHL's Goaltender of the Year and WHL's Top Goaltender awards. Talk about a great final go-around in the WHL.
Now poised to bring his game to the AHL and eventually the NHL, Garand's athleticism, size (6-foot-1), and overall focus should be enough to earn employment in the big leagues one day. It remains to be seen if it will be with the Rangers though, considering burgeoning superstar Igor Shesterkin appears to be following in the footsteps of Henrik Lundqvist. But wherever he ends up, the NHL has yet another solid Canadian goaltender of the future on its hands.
5. Devon Levi, 20, Buffalo Sabres
Speaking of solid Canadian prospects and World Juniors performers, Devon Levi has emerged from the depths of the NHL Draft (212th overall in 2020) to become one of the biggest up-and-coming goaltenders in the sport. Now a Sabre after being included in the Sam Reinhart trade in July of last year, his ascent started at the 2021 World Juniors when he broke Carey Price's SV% record and finished with a minuscule 0.75 GAA and almost-perfect .964 SV% in seven games. Surprisingly walking away with only a silver after losing to the Americans in the gold-medal game, he still was deservedly named as the tournament's best goaltender, a top-three player on Team Canada and was included on the All-Star ballot.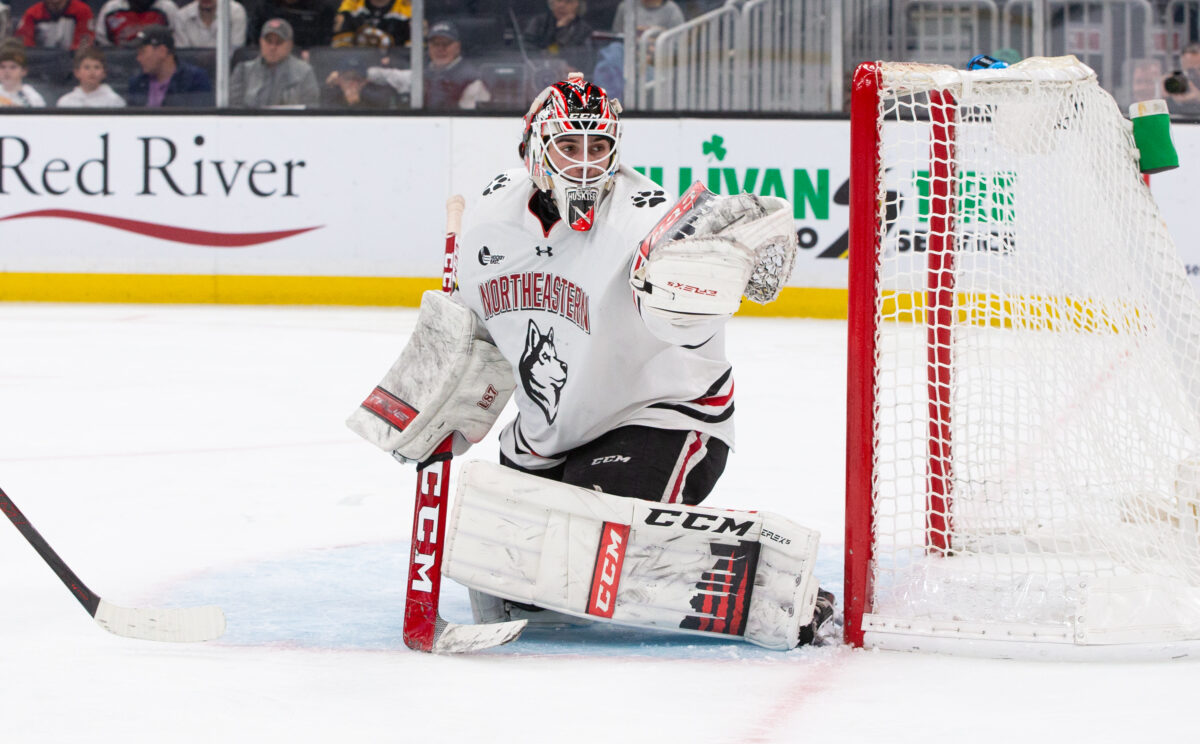 However, Levi didn't let the disappointment of losing gold derail his development. No, he used it as fuel to dominate the NCAA with the Northeastern Huskies. Showered with accolades throughout the 2021-22 season, he was named an NCAA (Hockey East) Player of the Week six times, Rookie of the Week once, and Rookie of the Month three times. He also filled his trophy case with the Mike Richter Award given to the NCAA's best goalie and the Tim Taylor Award given to the NCAA's top rookie. Then to top it all off, he was named a finalist for the Hobey Baker. To say he had a good year would be a massive understatement.
Related: Sabres' Goaltending Future Bright with Devon Levi
Returning to the NCAA for his sophomore season in 2022-23, Levi will look to continue the dominance and prove that being drafted in the seventh round doesn't mean you can't become a top-five goaltending prospect. Despite being slightly undersized at 6-foot, he uses speed and athleticism to make highlight-reel saves on a nightly basis and has proven to be difficult to beat at the college level. If he can translate those skills to the pro game, the Sabres' crease might actually be a strength for the first time since Ryan Miller and Dominik Hasek were perennial All-Stars and Vezina Trophy candidates.
4. Sebastian Cossa, 19, Detroit Red Wings
Surprisingly drafted ahead of who is now the number-one prospect on this list, Sebastian Cossa is still in the running to become a solid starter in the NHL one day. In what some would call an underwhelming season in his draft-plus-one year, he led the powerhouse Edmonton Oil Kings to a WHL Championship and a Memorial Cup Final appearance but did it with inconsistent play throughout the year. He also posted the worst GAA and SV% of his WHL career finishing with a 2.28 GAA and .913 SV% in 46 appearances and lost the starting job to Garand at the 2022 WJC in August.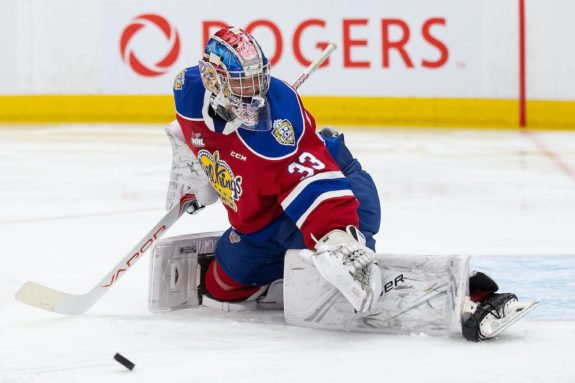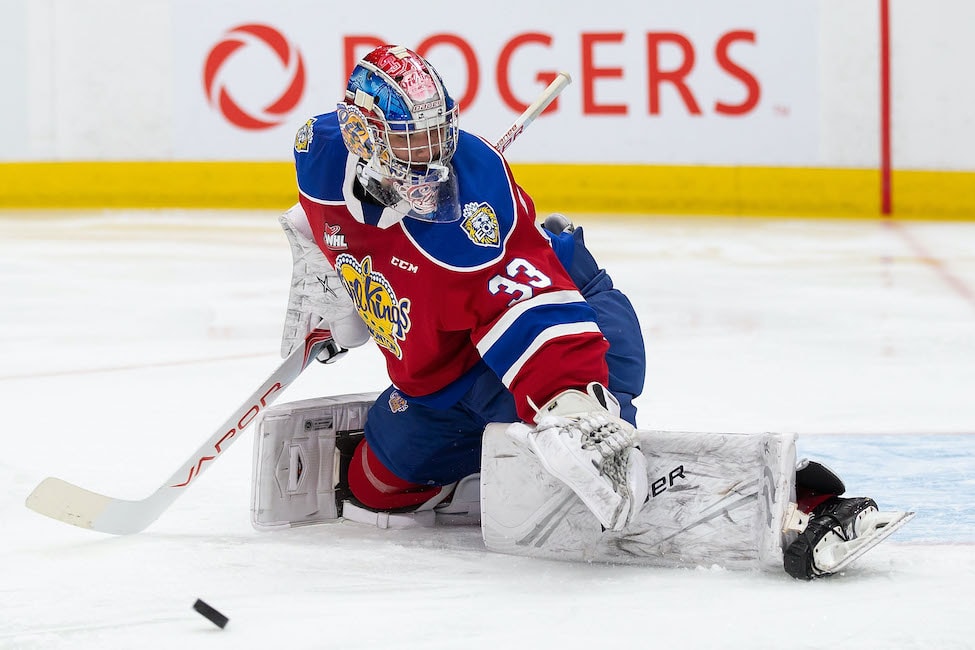 As I said off the top, that's not to say Cossa won't eventually make his mark in the NHL as a starter with the Detroit Red Wings someday, as his toolbox of size (a gaudy 6-foot-6), athleticism and ability to make saves in a variety of ways are things every goaltending coach, scout and general manager (GM) drool over. Basically what I am saying is, don't give up on him yet. There's a reason he's still ahead of Garand and only slightly ahead of Dustin Wolf who takes up the third spot on this list. Furthermore, with how much success Red Wings general manager Steve Yzerman has had with his draft picks so far (see Moritz Seider and Lucas Raymond), it's probably best not to doubt his choice of Cossa over Jesper Wallstedt.
3. Dustin Wolf, 21, Calgary Flames
Dustin Wolf's run in the WHL was quite impressive as he finished his career with 106 wins, a .935 SV%, 1.84 GAA, and 24 shutouts in 124 games. He led all WHL goaltenders in SV% and GAA during the 2018-19 season and again in 2019-20. He was also named the 2020 Canadian Hockey League (CHL) Goaltender of the Year after finishing the season with a spectacular .940 SV% and 1.88 GAA in 46 games.
The 2020-21 season was quite eventful for the now 21-year-old netminder. His first action of the season came for Team USA in the World Junior Championship. He made two appearances and did not allow a single goal as he and the Americans took home the gold medal.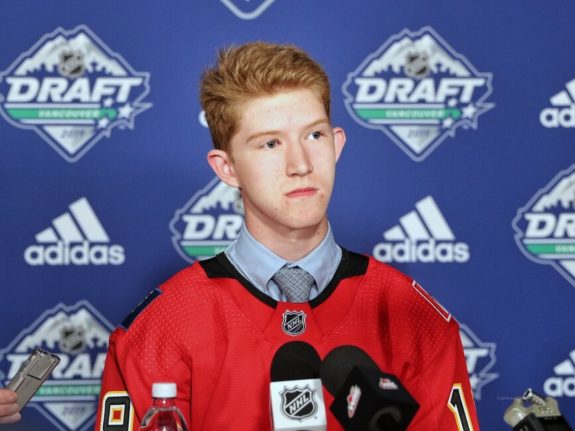 From there, Wolf made his professional debut with the Stockton Heat in the AHL. He won two of his three starts with a .895 SV% and 3.24 GAA. He headed back to Washington for the start of the WHL season and excelled again with Silvertips, posting a .940 SV%, 1.80 GAA, and four shutouts in 22 games.
Wolf then transitioned to the AHL full-time in 2022-23 and continued to dominate, putting up a 2.35 GAA and .924 SV% along with a stellar record of 33-9-5. He also made hay in the Calder Cup Playoffs, finishing with a 2.23 GAA, .929 SV% and three shutouts as the Heat got eliminated in the Western Conference Final by the eventual champion Chicago Wolves. Suffice it to say, his ascent up the goaltending prospect ranks has been a steady burn (no pun intended).
Wolf is undersized compared to the prototypical NHL goaltender these days at just 6-foot. That is a big reason why he fell to the Flames all the way in the seventh round (214th overall) of the 2019 NHL Entry Draft. What he lacks in height, he makes up with agility and athleticism in the blue paint. He has outstanding lateral movement and protects the bottom of the net well. If he can translate his success in juniors and the AHL to the NHL level, he will turn out to be quite the steal for Calgary.
2. Yaroslav Askarov, 20, Nashville Predators
The foundation of Predators' success for the past decade was laid down in the crease. Pekka Rinne has built a Hall of Fame resume in Music City and has since passed the torch to Jusse Saros. With the future in mind, Nashville used the 11th overall pick of the 2020 NHL Entry Draft to select Jaroslav Askarov.
The teenage sensation was the highest-rated goaltender heading into last October's draft. He was coming off a season that saw him dominate all three levels of Russian hockey, as he played nine games for SKA St. Petersburg in the KHL and put up a .920 SV% and 2.00 GAA as a 17-year-old.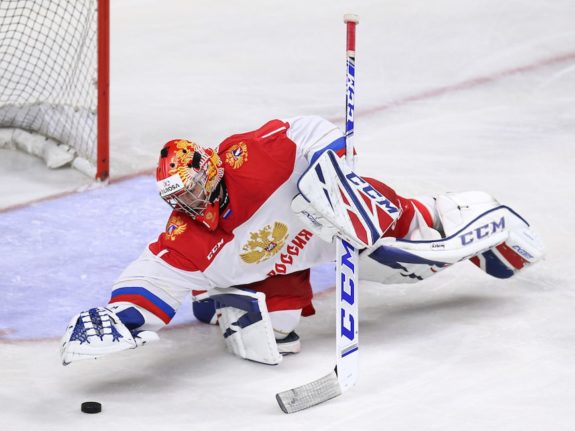 Following the draft, he had another great season in Russia with another nine games in the KHL. He improved his numbers from 2019-20 with a .951 SV and 1.21 GAA and somehow went 5-4-0. Askarov's performance at the World Junior Championship left a bit to be desired. Russia entered the tournament as one of the gold medal favorites, but he gave up five goals in a loss to the United States to open the tournament. He played well to get Russia into the elimination round but then allowed five goals to Canada in a semifinal loss and another four in the bronze medal game against Finland.
Askarov split his 2021-22 season between the KHL and VHL (Russia's version of the AHL), where he posted a 1.81 GAA and .913 SV% with SKA St. Petersburg (KHL) and a 2.57 GAA and .899 SV% with SKA-Neva St. Petersburg (VHL). He also played three games in the VHL Playoffs where he recorded a 2.01 GAA and .937 SV%.
Askarov has all the tools to be a successful goaltender at the NHL level. His athleticism and powerful legs allow him to move from post to post at lightning-quick speed. His positioning in the crease is at an elite level, but he uses that quickness to recover on the rare occasion he is caught out of place. In what was a contract year for him in the KHL, he is now expected to turn pro in 2022-23 and play for the Milwaukee Admirals in the AHL. With a strong training camp, he might even push for a job as the backup behind Saros. However, given his age and the need to play a lot as a young goaltender, he will probably spend most of his rookie campaign in Milwaukee unless injuries strike the crease in Nashville.
1. Jesper Wallstedt, 19, Minnesota Wild
Wallstedt was selected 20th overall by the Minnesota Wild and looks to be the franchise's future in net. At 6-foot-3 and 214 pounds, he has the size that NHL GMs crave between the pipes. He is large and very active in the blue paint. He doesn't shy away from the spotlight as he tends to show up large in the game's biggest moments. He has the smarts to go along with his elite technique, which has him considered a "can't miss" prospect.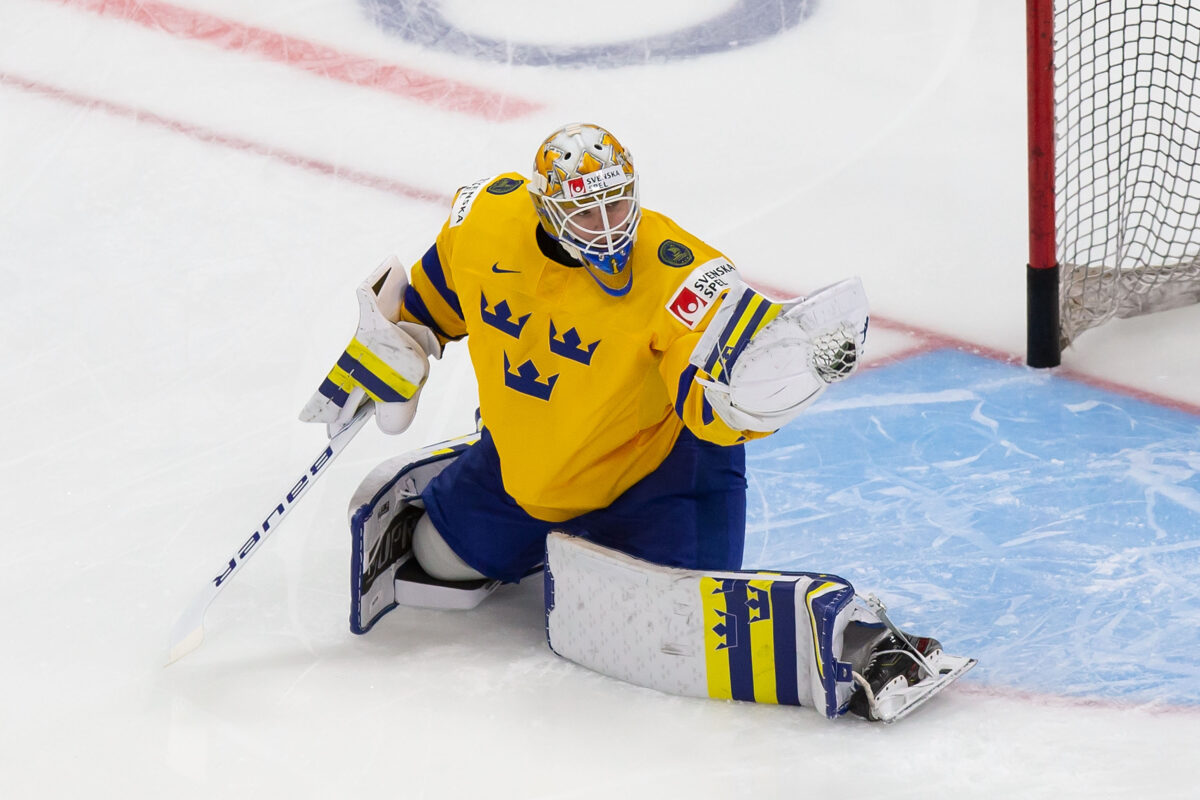 Wallstedt made the jump to the Swedish Hockey League (SHL) straight from juniors in 2020-21. He played very well in his 22 games for Lulea HF, going 12-10-0 with a .908 save percentage (SV%) and a 2.23 goals-against average (GAA) playing against Sweden's top pros as a teenager. He also posted a .923 SV% and 2.40 GAA in his two appearances at the 2021 IIHF World Junior Championship.
After being drafted by the Wild, Wallstedt returned to the SHL and continued to dominate as a 19-year-old. In fact, he ended up improving on the numbers from his draft year, finishing with a 1.98 GAA and .918 SV% along with three shutouts. Starring for Sweden at the 2022 rescheduled 2022 World Juniors in August, he outshined Cossa (who was selected five spots ahead of him) to the tune of a 1.62 GAA and .940 SV%; eventually leading his country to a bronze medal. He also was named the tournament's top goaltender and a top three player on his team.
Long story short, Wallstedt is ready to make some noise in North America as he will likely begin his journey to NHL stardom in the AHL with the Iowa Wild in 2022-23. With veteran Marc-Andre Fleury and unproven youngster Filip Gustavsson in the crease with the parent club, his time could be coming as early as the 2024-25 season when Fleury's contract comes to an end. I think it's safe to say that Wild fans are in for a treat when that happens.
All 10 of these netminders have the raw talent to become starting goaltenders in NHL. However, we all know that talent alone doesn't always make it to the highest level of the game. As such, it will be fun to watch the journey of these youngsters and how many of them live up to their full potential.
---
---
---
Latest News & Highlights
---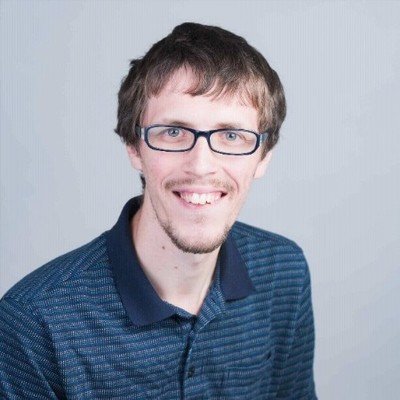 Matthew Zator is the assistant managing editor at THW and a writer who lives and breathes Vancouver Canucks hockey, the NHL Draft, and prospects in general. He loves talking about young players and their potential. Matthew is a must-read for Canucks fans and fans of the NHL Draft and its prospects. For interview requests or content information, you can follow Matthew through his social media accounts which are listed under his photo at the conclusion of articles like this one about Tyler Motte.
Matthew also hosts The Hockey Writers Prospect Corner on YouTube and is the co-host of The Hockey Writers Podcast & Western Centric Podcast.