Drafting and developing a franchise goaltender is a tough thing to do. It is made so difficult because there is a set learning curve at the position. Traditionally, netminders develop at a much slower pace than skaters. When the mental part of the game is factored in, it is no wonder that so many top prospects never hit the big time. With that being said, it is time to take a look at the top 10 National Hockey League goaltending prospects.

As far as criteria go, a goaltender is no longer considered a prospect if he has played more than 25 NHL games in any single season, more than 50 career NHL games, or older than age 24 as of Jan. 1, 2021. This has been a strange season with so many young netminders being related to taxi squad duty and missing out on a season of development. With that being said, here is my list of what could be the next wave of NHL starters.
10. Jesper Wallstedt, 18, Lulea HF (SHL)
Wallstedt holds the distinction on this list for being the only goaltender drafted in 2021. He was drafted 20th overall by the Minnesota Wild and looks to be the franchise's future in net.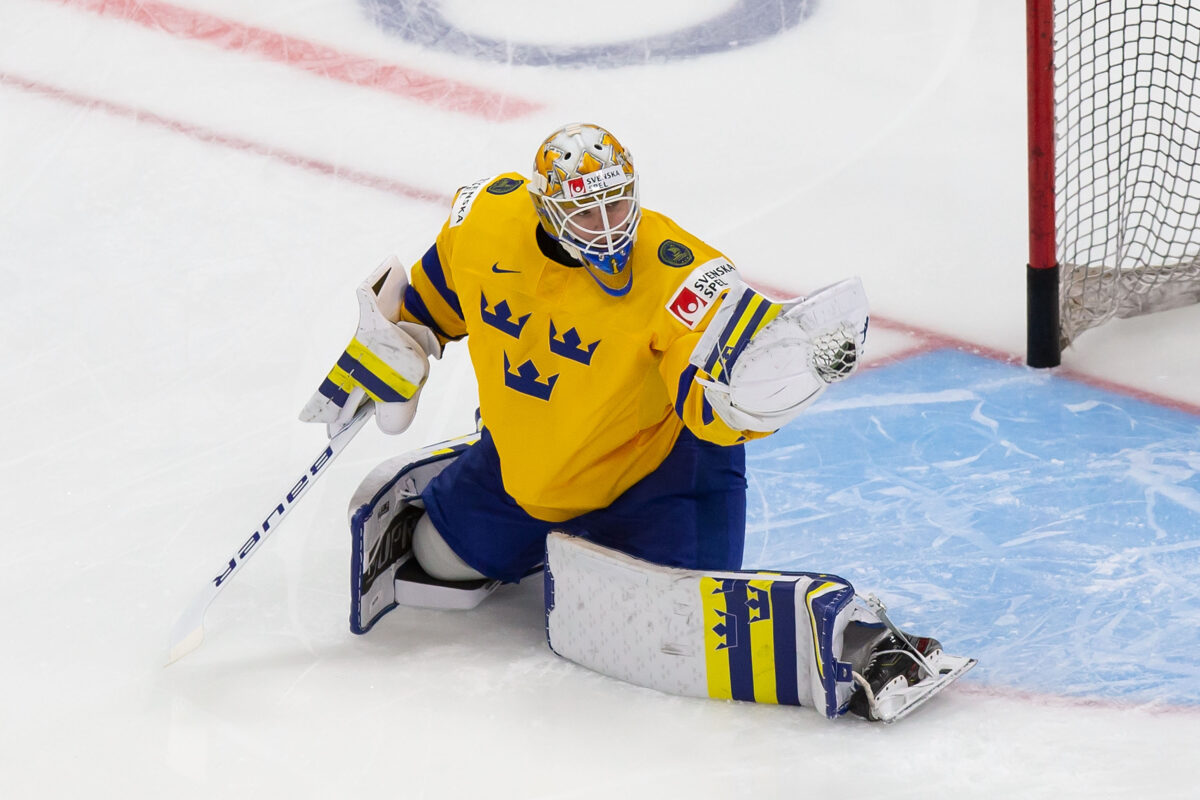 In his April draft rankings, THW's Matthew Zator has Wallstedt as the eighth overall prospect. At 6-foot-3 and 214 pounds, he has the size that NHL general managers crave between the pipes. He is large and very active in the blue point. He doesn't shy away from the spotlight as he tends to show up large in the game's biggest moments. He has the smarts to go along with his elite technique, which has him considered a "can't miss" prospect.
Wallstedt made the jump to the Swedish Hockey League straight from juniors in 2020-21. He played very well in his 22 games for Lulea HF, going 12-10-0 with a .908 save percentage (SV%) and a 2.23 goals-against average (GAA) playing against Sweden's top pros as a teenager. He posted a .923 SV% and 2.40 GAA in his two appearances at the 2021 IIHF World Junior Championship.
9. Cayden Primeau, 22, Montreal Canadiens
With Carey Price under contract through the 2025-26 season, the Canadiens are hoping not to be in the market for a franchise goaltender for some time. However, they have one of the best prospects in their system in Primeau, the son of former NHL forward Keith Primeau.
Primeau had a short yet remarkable college career at Northeastern University. He won 19 games and helped the Huskies reach the postseason in his freshman season. He was named to the Hockey East All-Rookie team and had the lowest GAA in the conference.
He won a school-record 25 games the following season, reaching the NCAA tournament and winning the Mike Richter Award for being voted the most outstanding goaltender in college hockey. He also posted a 1.61 GAA and .936 SV% helping the United States win a silver medal at the 2019 World Junior Championship.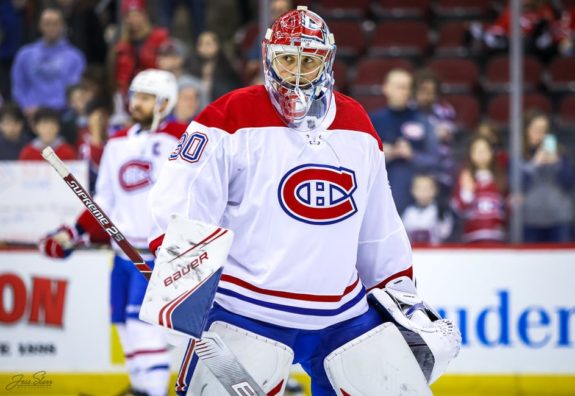 His college career ended when he signed his entry-level contract with the Canadiens in 2019. In his first professional season, he went 17-11-4 with the Laval Rocket in the American Hockey League (AHL), posting a .908 SV%, 2.45 GAA and four shutouts. He even made the first two starts of his NHL career in Montreal, allowing five goals on 72 shots.
Like many young goaltenders, finding ice time during the 2020-21 season has been a challenge. Primeau has been great in his 16 AHL games, going 11-3-0 with a .911 SV%, 2.07 GAA, and a pair of shutouts. He has moved back and forth between Laval and the Montreal taxi squad and eventually made his NHL season debut. He made four starts with the Habs, posting a less-than-desired .849 SV% and 4.16 GAA.  
Primeau has both the physical and mental makeup to be a high-end NHL starter one day. He has excellent rebound control and likes to use his stick to take away the lower part of the net and break up passes. With Price firmly in place in the Montreal crease, the Canadiens can take their time bringing their prospect along.
8. Daniil Tarasov, 22, Columbus Blue Jackets
Tarasov is from Novokuznetsk, Russia, the same hometown as Sergei Bobrovsky, who had a pretty nice run for the Blue Jackets. He is part of a pretty deep organizational goaltending pipeline. Before this season, the only time he's been in North America was to participate in the team's developmental camps.
The Blue Jackets took in the 6-foot-5 netminder in the third round (86th overall) of the 2017 Entry Draft. He spent most of the 2018-19 season playing for Toros Neftekamsk of the VHL, Russia's equivalent to the AHL, posting a 1.71 GAA and .928 SV% in 25 games. He put up even better numbers during Neftekamsk's impressive 17-game playoff run with a 930 SV%. And 1.87 GAA.
Tarasov spent 2019-20 playing for Assat in Liiga, Finland's professional top league, after signing an entry-level contract with Columbus in June of 2019. In 41 games, he had a .899 SV% with a 2.72 GAA. He was back in Russia to start this season, where he played made his Kontinental Hockey League (KHL) debut. He played in 16 games for Salavat Yulaev Ufa, where he went 11-3-2 with a 9.25 SV% and 2.07 GAA.
Once his KHL season was completed, Tarasov made his way to the over the pond to play in the AHL. He had a .896 SV%, 3.16 GAA, and four wins in six games with the Cleveland Monsters. He has seemed to overcome injury issues that affected his early career and can now focus on adjusting to the North American game. The Blue Jackets can take their time with Tarasov based on his age and their depth at the position.
7. Stuart Skinner, 22, Edmonton Oilers
Skinner's development has been a slow and steady process since his hometown Oilers drafted him in the third round (78th overall) of the 2017 NHL Entry Draft. It has taken him some time to adjust to the professional ranks, but this season has seen him get his footing and hit his stride.
The 22-year-old netminder spent three and a half seasons as the starter for the Lethbridge Hurricanes in the WHL. He played the final half of his last season with the Swift Current Broncos. Overall, he posted a .908 SV%, 3.22 GAA, and 12 shutouts in 207 regular-season games in his junior career. He stepped up during his 50 postseason games, where he finished with a .922 SV%, 2.66 GAA, and six shutouts.
He turned pro at the start of the 2018-19 season and spent much of it with the Wichita Thunder of the ECHL, and played six games in the AHL for the Bakersfield Condors. After putting up pedestrian regular-season numbers, he made the most of his four Calder Cup Playoff appearances by picking up two wins with a .918 SV% and 2.39 GAA.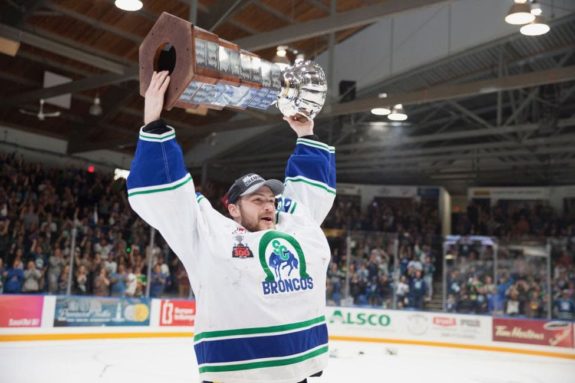 Skinner struggled during his first full season in the AHL but has rebounded nicely this season. He finished 2020-21 with a .914 SV%, 2.38 GAA, 20 wins, and two shutouts in his 31 games for the Condors. He even made his NHL debut on Jan. 31 versus the Ottawa Senators, where he gave up five goals on 38 shots in an 8-5 Oilers victory.
There is little doubt that Skinner has the size and athleticism that NHL teams look for in their goaltenders. He has struggled with his consistency, which is typical for a young netminder. He has made the best of his situation this season as he doesn't exactly have the best team in front of him. The Oilers can be patient with his development as finding a long-term solution to their goaltending issues is key. While he isn't quite ready for the big time, his progression over the past three seasons is encouraging.
6. Justus Annunen, 21, Colorado Avalanche
The Avalanche are currently one of the top favorites to win the Stanley Cup with Darcy Kuemper between the pipes. The 29-year-old veteran netminder will be an unrestricted free agent this summer. Whether or not he returns to Denver, the Avalanche are hopeful that Annunen will be the franchise goaltender of the future down the road.
Colorado drafted the 6-foot-4 goaltender in the third round (64th overall) of the 2018 NHL Entry Draft. The combination of his size and athleticism gives him the feel of a starting goaltender in the NHL. His calm demeanor in the crease is another plus as he never seems to let a goal against bother him. He is not the most athletic goaltender, but his quick and active hands mean he doesn't have to be.
Annunen made his Liiga debut for Kärpät at the tail end of the 2018-19 season. He became a full-time player in Finland's top league the following season. He went 15-5-2 with a very impressive .929 SV% and 2.77 GAA with six shutouts during 2019-20. He also performed well for his native country at the 2020 World Junior Championship despite not winning a medal.
The 2020-21 season has not been one to write home about for Annunen. In 24 Liiga games, he went 7-9-7 with a .884 SV% and 2.43 GAA. He did make the trek to North America after his season wrapped up in Finland. He appeared in a pair of AHL games with the Colorado Eagles and gave up six goals on 60 shots. A full season in the AHL starting this fall should do wonders for his development.
5.  Ukko-Pekka Luukkonen, 22, Buffalo Sabres
When you first glance at Luukkonen's numbers, you may wonder why he is on the list. He has a .886 SV% and 3.35 GAA in 25 career AHL career games with the Rochester Americans. While his numbers in the AHL leave much to be desired, he was great for the Cincinnati Cyclones in the ECHL. In 22 games, he posted a .916 SV% and 2.16 GAA.
After being drafted 54th overall by the Sabres at the 2017 Entry Draft, Luukkonen had an impressive first season in North American. During the 2018-19 season, he set the Sudbury Wolves' franchise record for most wins in a season while leading the Ontario Hockey League (OHL) in wins, SV%, and shutouts.
After playing 13 games on loan to TPS in Liiga, he returned to Rochester for the start of the AHL season this past January. His numbers weren't great during his 14 starts (.888 SV% and 3.60 GAA), but the Sabres still recalled him in April. He made his NHL debut on April 23 and beat the Boston Bruins.
Even though his numbers in his four NHL games don't look great, Sabres head coach Don Granato compared him to Corey Crawford.
"Ukko looks like that," Granato said. "It doesn't matter what happens around him. He wants to make a save. So, great concentration, great focus, and clearly that's a good trait if you're a goaltender."
Luukkonen uses his 6-foot-4 frame to avoid traffic and see over screens. Scouting reports tout his great positioning and ability to move well from side to side. He has shown the ability to handle the puck well and make stretch passes to start the break out of his own zone.
4. Dustin Wolf, 20, Calgary Flames
The Everett Silvertips of the WHL is becoming a goaltending factory. After producing Carter Hart, they have enjoyed having Wolf in the crease for the past four seasons. His run in the WHL was quite impressive as he finished with 106 wins, a .935 SV%, 1.84 GAA, and 24 shutouts in 124 games.
Wolf led all WHL goaltenders in SV% and GAA during the 2018-19 season and again in 2019-20. He was named the 2020 Canadian Hockey League (CHL) Goaltender of the Year after finishing the season with a spectacular .940 SV% and 1.88 GAA in 46 games.
The 2020-21 season was quite eventful for the 20-year-old netminder. His first action of the season came for Team USA in the World Junior Championship. He made two appearances and did not allow a single goal as he and the Americans took home the gold medal.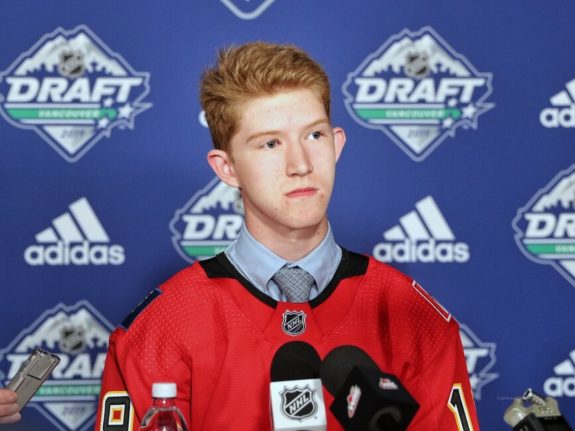 From there, Wolf made his professional debut with the Stockton Heat in the AHL. He won two of his three starts with a .895 SV% and 3.24 GAA. He headed back to Washington for the start of the WHL season and excelled again with Silvertips, posting a .940 SV%, 1.80 GAA, and four shutouts in 22 games.
Wolf is undersized compared to the prototypical NHL goaltender these days at just 6-foot. That is a big reason why he fell to the Flames all the way in the seventh round (214th overall) of the 2019 NHL Entry Draft. What he lacks in height, he makes up with agility and athleticism in the blue paint. He has outstanding lateral movement and protects the bottom of the net well. If he can translate his success in juniors to the pro level, he will turn out to be quite the steal for Calgary.
3. Jeremy Swayman, 22, Boston Bruins
At 34, the clock is ticking on the career of Tuukka Rask, however, the Bruins have a pair of young goaltenders in their system. They already had Dan Vladar, who led the AHL in both SV% and GAA last season, and now they have added Swayman.
The Bruins drafted the Anchorage, AK native back in 2017 with the fourth-round pick (111th overall). After being drafted, he spent three seasons as the No. 1 goaltender at the University of Maine. In 100 games for the Black Bears, Swayman went 47-34-18 with a .927 SV%, 2.51 GAA, and four shutouts.
His final season at Maine, 2019-20, was a special one. He started 35 games and went 18-5-11 with a .939 SV% and 2.07 GAA. He was named both the Player and Goaltender of the year in Hockey East. He also took home the Mike Richter Award and capped off a tremendous season by being a finalist for the Hobey Baker Award, given to the top player in the collegiate ranks.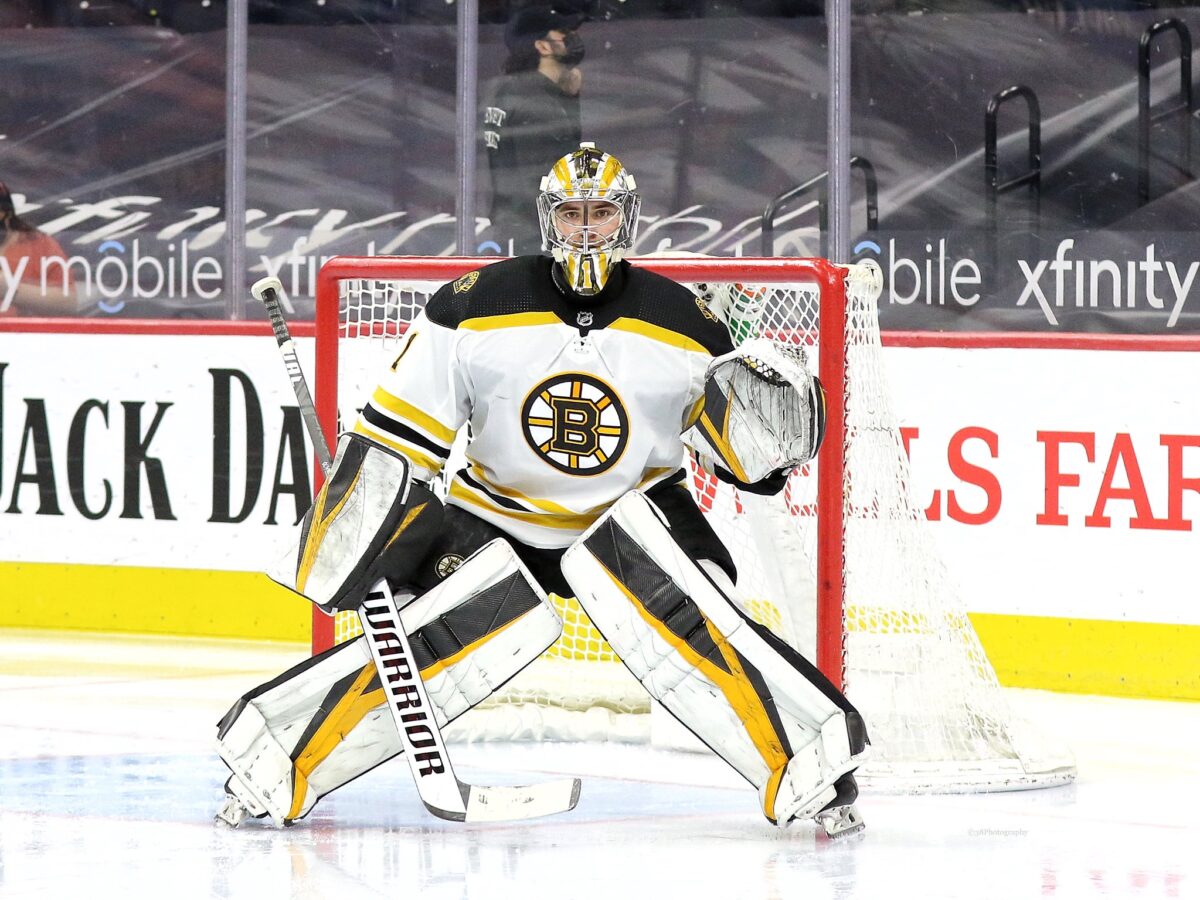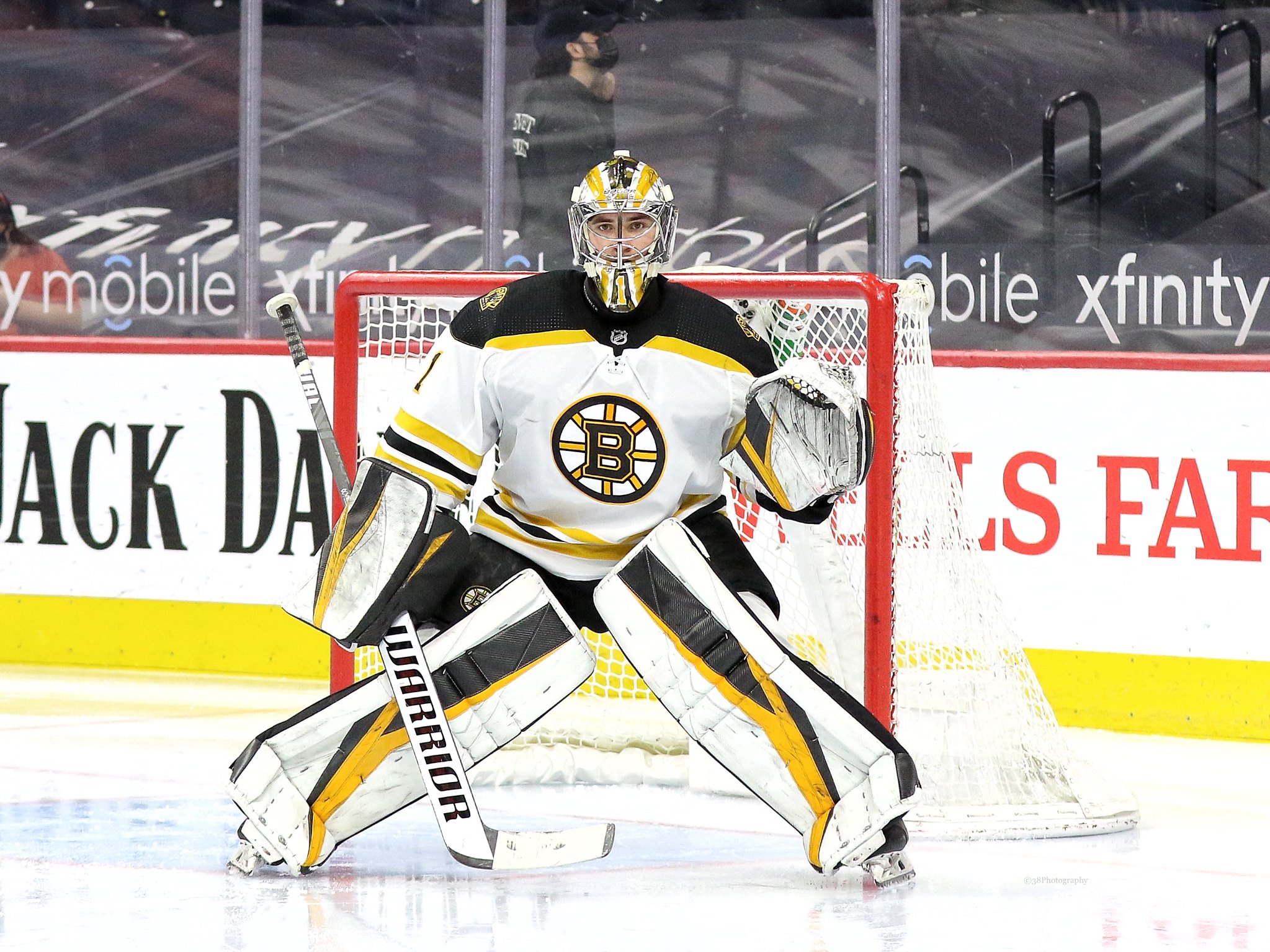 Swayman made an immediate impact after turning pro with the Providence Bruins in the AHL. Splitting time with Vladar, he put up a .933 SV% and 1.89 GAA while winning eight of his nine starts. Due to injuries in Boston, he found himself with the big club. He made his NHL debut on April 6 and beat the Philadelphia Flyers 4-2. He picked up his first NHL shutout with a 3-0 blanking of the New York Islanders on April 16. In 10 NHL games, he won seven times with two shutouts while posting a very impressive .945 SV% and 1.45 GAA.
He played so well that he has taken over backup duties from Jaroslav Halak in the Stanley Cup Playoffs. The 22-year-old has the size NHL teams want in their goaltenders. He boasts quick hands and plays a very aggressive style in the crease. He can both protect the bottom of the net and still get to the high shots while in the butterfly. At this rate, it is not if he will the No. 1 starter in Boston but rather when.
2. Yaroslav Askarov, 19, Nashville Predators
The foundation of Predators' success for the past decade was laid down in the crease. Pekka Rinne has built a Hall of Fame resume in Music City and has since passed the torch to Jusse Saros. With the future in mind, Nashville used the 11th overall pick of the 2020 NHL Entry Draft to select Askarov.
The teenaged sensation was the highest-rated goaltender heading into last October's draft. He was coming off a season that saw him dominate all three levels of Russian hockey. He played nine games for SKA St. Petersburg in the KHL and put up a .920 SV% and 2.00 GAA as a 17-year-old.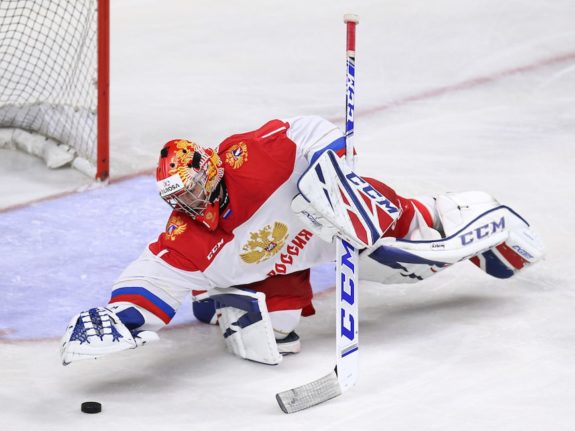 Following the draft, he had another great season in Russia with another nine games in the KHL. He improved his numbers from 2019-20 with a .951 SV and 1.21 GAA and somehow went 5-4-0. Askarov's performance at the World Junior Championship left a bit to be desired. Russia entered the tournament as one of the gold medal favorites, but he gave up five goals in a loss to the United States to open the tournament. He played well to get Russia into the elimination round but then allowed five goals to Canada in a semifinal loss and another four goals in the bronze medal game against Finland.
Askarov has all the tools to be a successful goaltender at the NHL level. His athleticism and powerful legs allow him to move from post to post at lightning-quick speed. His positioning in the crease is at an elite level, but he uses that quickness to recover on the rare occasion he is caught out of place. His KHL contract runs through the 2021-22 season, so he will have at least one more season in Russia before making the trek across the pond.
1. Spencer Knight, 20, Florida Panthers
The Panthers invested the 13th overall pick of the 2019 Entry Draft just days before they signed Bobrovsky to a huge contract. This was the earliest a goaltender had been drafted since the Dallas Stars selected Jack Campbell 11th overall in 2010. They have already gotten a quick return on their investment.
As a 17-year-old, he helped the United States win a bronze medal at the U18 World Junior Championship with a tournament-best 1.51 GAA and .936 SV%. In 2020, he appeared in four World Junior Championship games and posted a very respectable .913 SV%.
Knight's freshman season at Boston College was a successful one. He has been the number one netminder for the majority of the season. In 31 games, he has 22 wins and five shutouts to go along with his impressive .929 SV% and 1.97 GAA. He followed that up this past season with a 16-4-1 record and a .932 SV%. He also led the United States to the gold medal at the U20 World Junior Championship.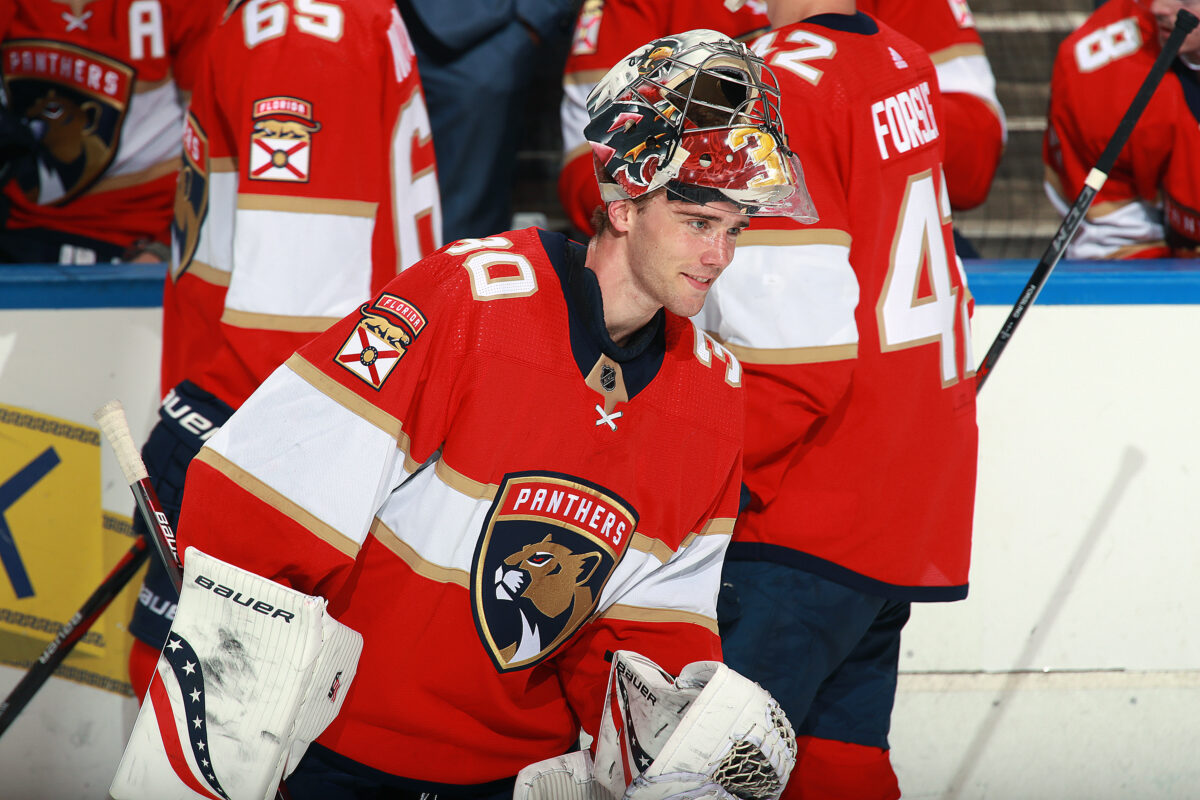 Days after his college season ended, Knight his NHL entry-level contract and reported immediately to the Panthers. He made his NHL debut on April 20 and beat the Blue Jackets. He picked up his first shutout a week later over the Predators. He went undefeated in his four starts with a .919 SV% and 2.32 GAA. In fact, he might even start tonight's playoff game versus the Tampa Lightning.
A prototypical butterfly goalie, Knight takes away the bottom of the net well and uses his size to cover the upper half. He has excellent rebound control for such a young netminder. Scouts love his metal makeup as well. He is always a calming presence between the pipes.
The Panthers still have Bobrovsky under contract for five more seasons. Chris Driedger, who played very well this season, will be an unrestricted free agent this summer and due a big pay raise. General manager Bill Zito has some big decisions to make, but Knight should be part of the long-term plans.
All 10 of the netminders have the raw talent to become starting goaltenders in NHL. However, we all know that talent alone doesn't always make it the highest level of the game. It will be fun to watch the journey of these youngsters and how many of them live up to their full potential.
---
---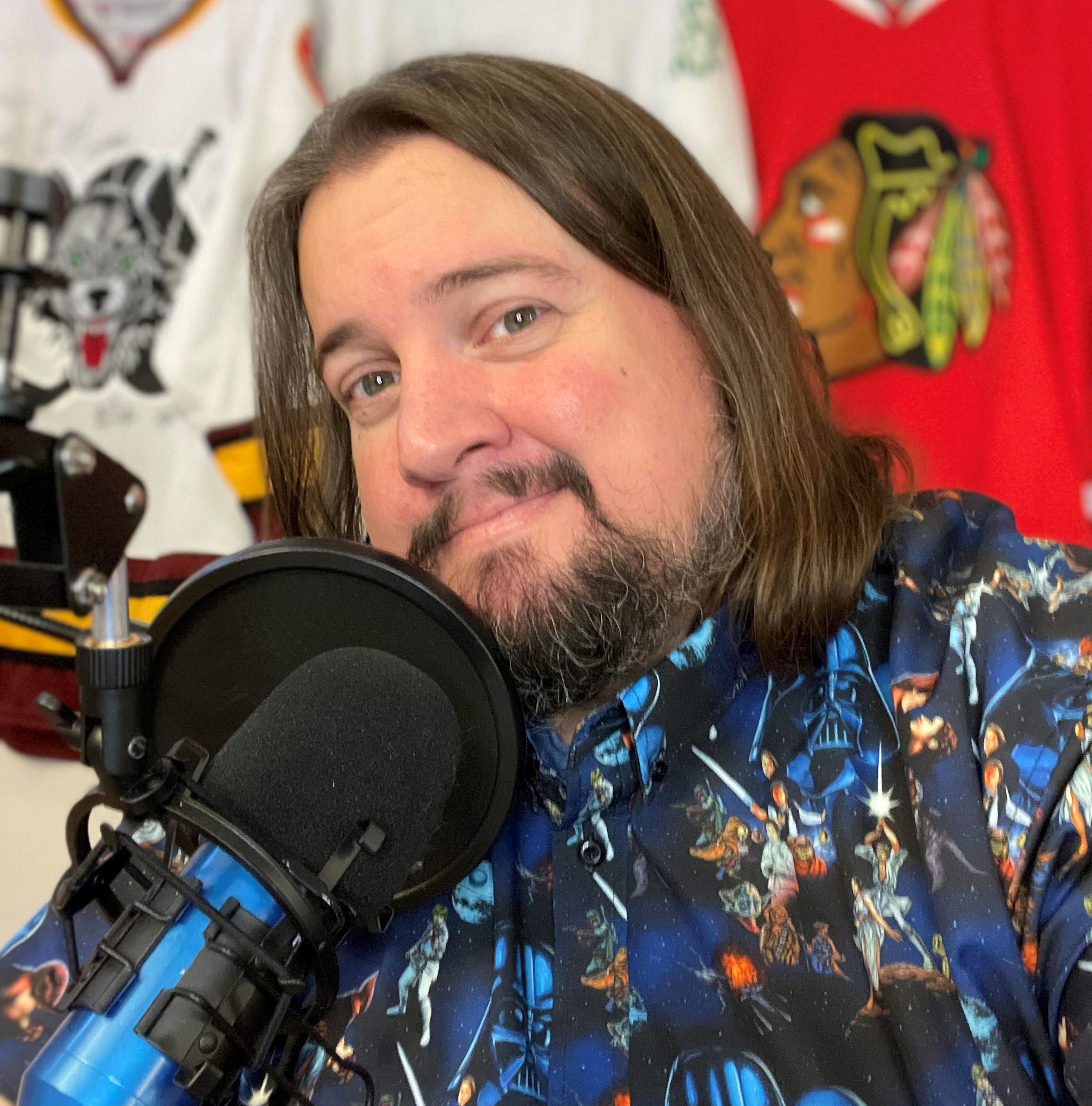 Greg Boysen has been writing about the Chicago Blackhawks since 2010 and has been a site manager for both FanSided and SB Nation. He has been published in The Hockey News and was fully credentialed for the 2013 Stanley Cup Final. Among his various roles with The Hockey Writers are covering the Blackhawks, the AHL, writing the daily "Today in Hockey History" column, serving as a copy editor, and appearing and hosting multiple YouTube shows, including Blackhawks Banter. He is credentialed with the Chicago Wolves, Rockford IceHogs, and Milwaukee Admirals, while also being a regional scout for the NAHL. And, just because his plate isn't full enough, Greg hosts trivia in the Chicago area two nights a week. For interview requests or to provide topic suggestions, follow Greg on Twitter and reach out.