If you want to go far and be one of the best teams in the NHL, you have to draft and develop your prospects so you can build for the future. Looking at top teams in the league like the Carolina Hurricanes, Toronto Maple Leafs and Colorado Avalanche have developed through the draft and continue to build their prospect system for the future. Having a deep farm system can go a long way for a team's long-term success. We're seeing that with a number of teams looking to join them as a result of building their prospect pool to be competitive.
Related: The NHL's Top-100 Prospects
As we get into the rankings, here are a few things to keep in mind. The farm system rankings are going to be based on the quality and potential of each team's prospect pool, taking into effect there players age and production. Players are going to be listed alphabetically.
Related: THW's Wall-to-Wall Prospect & Draft Coverage
Much like the top 100 prospects and last year's farm system rankings, I will use the same definition that Corey Pronman uses to define a prospect: "A skater no longer qualifies as an NHL prospect if he has played 25 games in the NHL in any campaign, regular season and playoffs combined, or 50 games total; or reaches age 27 by Sept. 15. A goalie no longer qualifies as an NHL prospect if he has played 10 games in the NHL in any campaign, regular season and playoffs combined, or 25 games total; or reaches age 27 by Sept. 15." (From: "Pronman: 2019-20 NHL Farm System Rankings").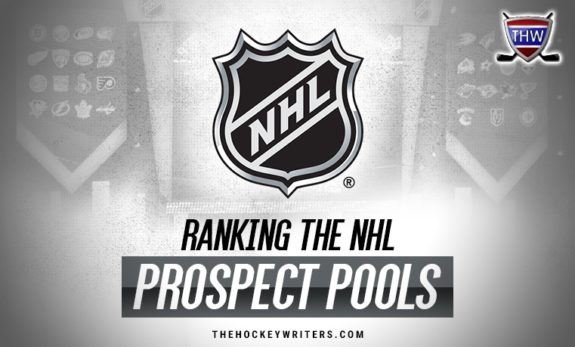 After the 2021 NHL Draft, there is a lot of movement and a lot of new faces for each team's prospect pool. Some team;s are deeper than ever, while others are starting to, or continuing, to rebuild their farm system. Without further ado, here are the preseason farm system rankings for the 2021-22 season.
32) Pittsburgh Penguins
Previous Ranking: 31
Top 5 Prospects: Joel Blomqvist, Tristan Broz, Jonathan Gruden, Pierre- Olivier Joseph, Samuel Poulin 
Key Graduates/Subtractions: N/A
Key Additions: Tristan Broz
After being ranked in last year's ranking, the Penguins' farm system is still very bare in terms of depth in all positions. They do have some quality pieces, but it isn't going to be enough to push them further up the rankings unless they stop trading away first round picks. 
Samuel Poulin is still viewed as the team's top prospect. A versatile player who can make an impact both offensively and defensively, he continues to show his smarts, speed and vision as he prepares to reach the pro level. After being traded early in the 2020-21 season, Poulin finished the season with 31 points in 24 games with the Sherbrooke Phoenix and Val-d'Or Foreurs in the Quebec Major Junior Hockey League.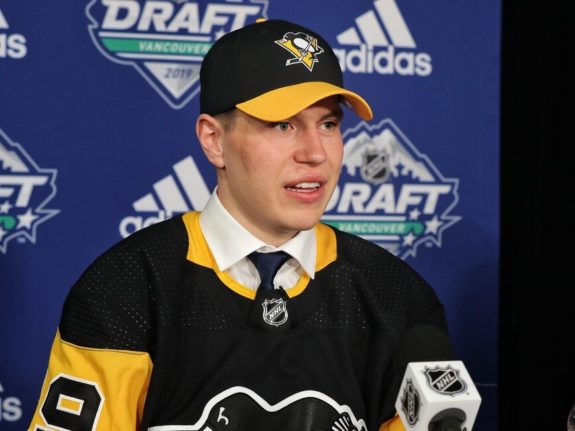 The Penguins do have some stability in net with Joel Blomqvist as he does have good mobility and vision to be a quality goaltender in the NHL. He posted a .907 save percentage and 2.67 goals against average with Hermes in the Metis League being on loan from Kärpät.
Pierre- Olivier Joseph remains their top defensive prospect, as he possesses a strong two-way game. He got his first taste of NHL action this past season scoring five points, including his first NHL goal, in 16 games played. 
With Sidney Crosby, Evgeni Malkin and Kris Letang getting up in age and a below average prospect pool, now is the time to start stock piling picks and prospects. Drafting Tristan Broz is a good start, as he was under a point per game (51 in 54 games) with the Fargo Force. He's always on the go with his offensive mindset. He's strong in transition and on the cycle as he's always generating chances and creating plays at a quick pace. 
31) Seattle Kraken
Previous Ranking: N/A
Top 5 Prospects: Matthew Beniers, Ryker Evans, Justin Janicke, Ville Ottavainen, Ryan Winterton
Key Graduates/Subtractions: N/A
Key Additions: Matthew Beniers
The newest NHL franchise is just starting out to build their prospect pool and develop players that will be coming through the pipeline. They have a promising top-line centre with strong two-way tendencies in Matthew Beniers, who could potentially be another Jonathan Toews for the future.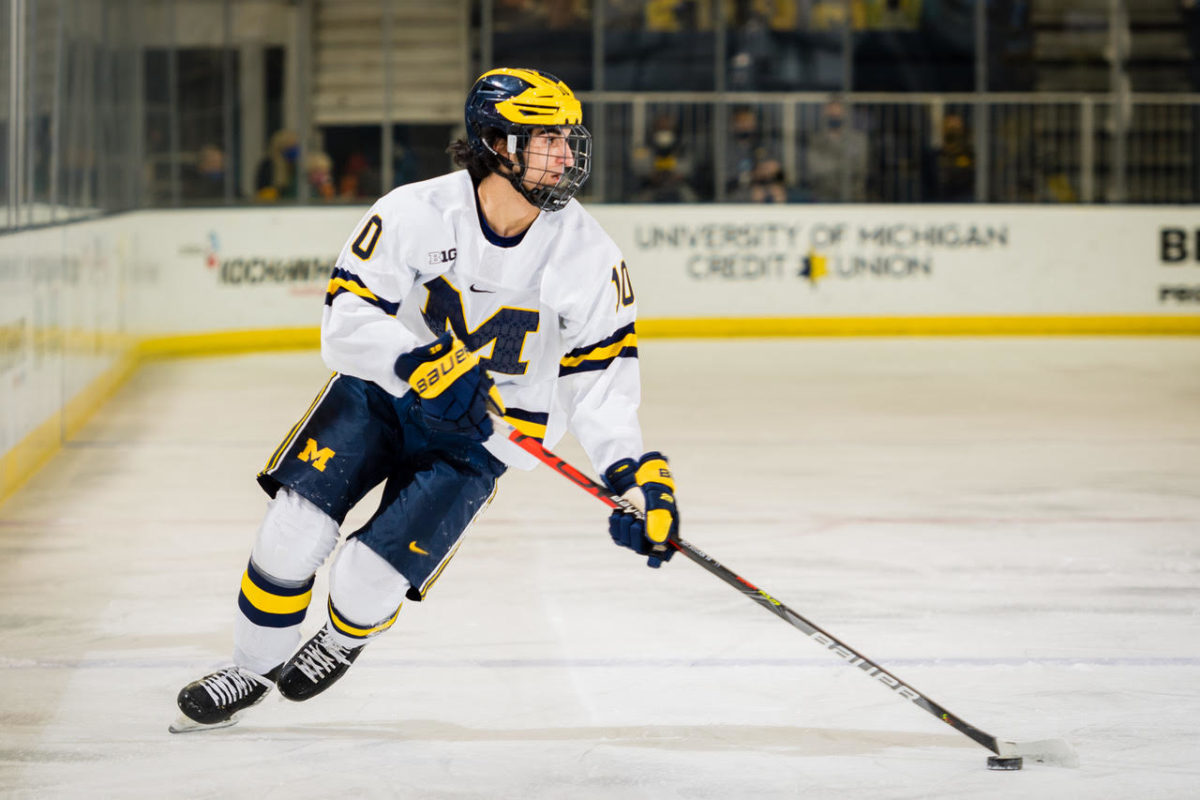 It'll probably be a few years before he makes the transition to the NHL, but the potential is there. Heading back to the University of Michigan to be on a very talented and dominant team is going to be an added bonus for him to continue to learn and get better.
Ryker Evans is an over-ager with a strong offensive mindset, Justin Janicke brings a physical presence as he always plays with an edge and Ville Ottavainen has some upside as a very sound defenseman, being drafted in the fourth round. The Kraken are starting off their system by having a balance in all aspects of the game.
30) New York Islanders
Previous Ranking: 30
Top 5 Prospects: Kieffer Bellows, Otto Koivula, Tristan Lennox, Aatu Raty, Bode Wilde 
Key Graduates/Subtractions: Oliver Wahlstrom
Key Additions: Aatu Raty, Tristan Lennox
Back to back years without a first-round pick, the New York Islanders traded the 29th pick to the New Jersey Devils for Kyle Palmieri to pursue a deep playoff run. While they found a potential steal with Aatu Raty falling to them in the second round, they lack in depth and talent. 
Related: Islanders Top Prospects for 2021-22 Seasosn
Raty was once regarded as the top pick in the 2021 draft, but inconsistencies in his play and ability to take the next step in his draft year played a factor in his declining draft stock. While many– including here at The Hockey Writers­– saw him as a first-round talent, it was a shock to see him fall that late in the second round. If there's any glimmer of hope, Raty dominated the World Junior Summer Showcase recording six goals and 14 points in six games.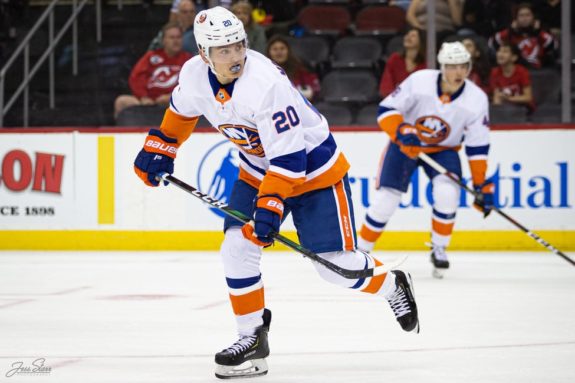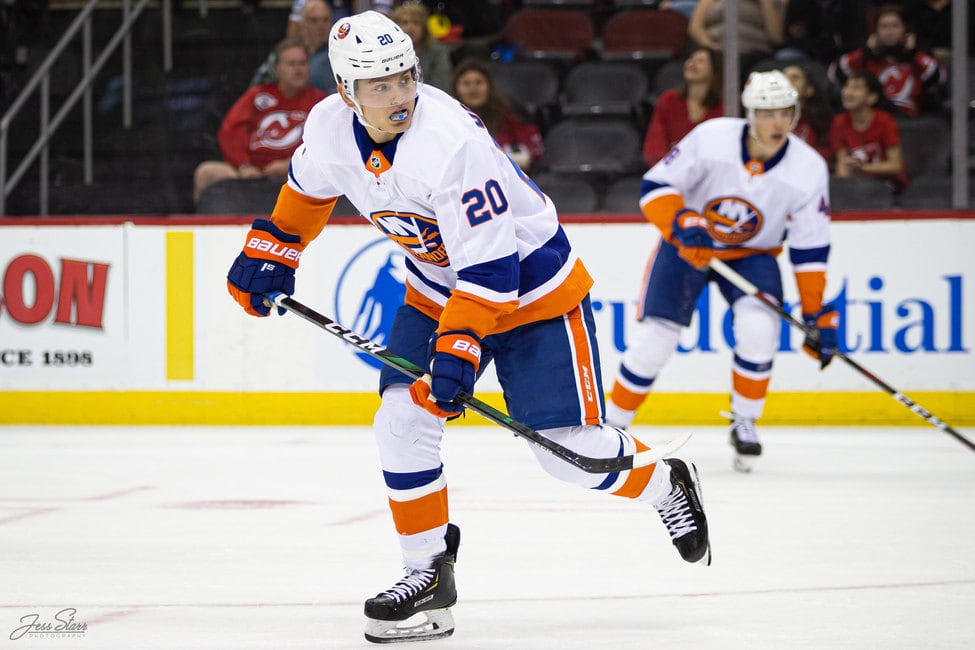 Drafted 19th overall in 2016, Kieffer Bellows remains one of the Islanders' top prospects but has a hard time to try and crack a roster spot with the team. Even though he's 23 years old, he needs to find a way to make a strong transition. He has a powerful shot and plays an aggressive style of puck possession game that the Isles emulate. 
Otto Koivula has been very productive in the American Hockey League with the Bridgeport Sound Tigers, recording 22 points in 36 games. He continues to be a name to keep an eye on as he has tremendous size and plays a very skilled game with his soft hands.
29) Arizona Coyotes
Previous Ranking: 26
Top 5 Prospects: John Farinacci, Dylan Guenther, Liam Kirk, Jan Jenik, Victor Soderstrom
Key Graduates/Subtractions: N/A
Key Additions: Dylan Guenther
Before the 2021 NHL draft, the Coyotes were without a pick after forfeiting it violating the NHL's combine and testing rule. The Coyotes have good pieces like John Farinacci, Jan Jenik and the emergence of Liam Kirk at the World Hockey Championship as his potential continues to rise. Though their prospect pool lacks any top tier talent– aside from the potential of Victor Soderstrom and his ability to be a top-four defenseman. 
Related: Arizona Coyotes 'Untouchable' Prospects
However, they were able to acquire the Vancouver Canucks' ninth overall pick in the Oliver Ekamn-Larsson deal to draft Dylan Guenther. An all-around power forward with high-end offensive vision, Guenther immediately becomes the team's top prospect.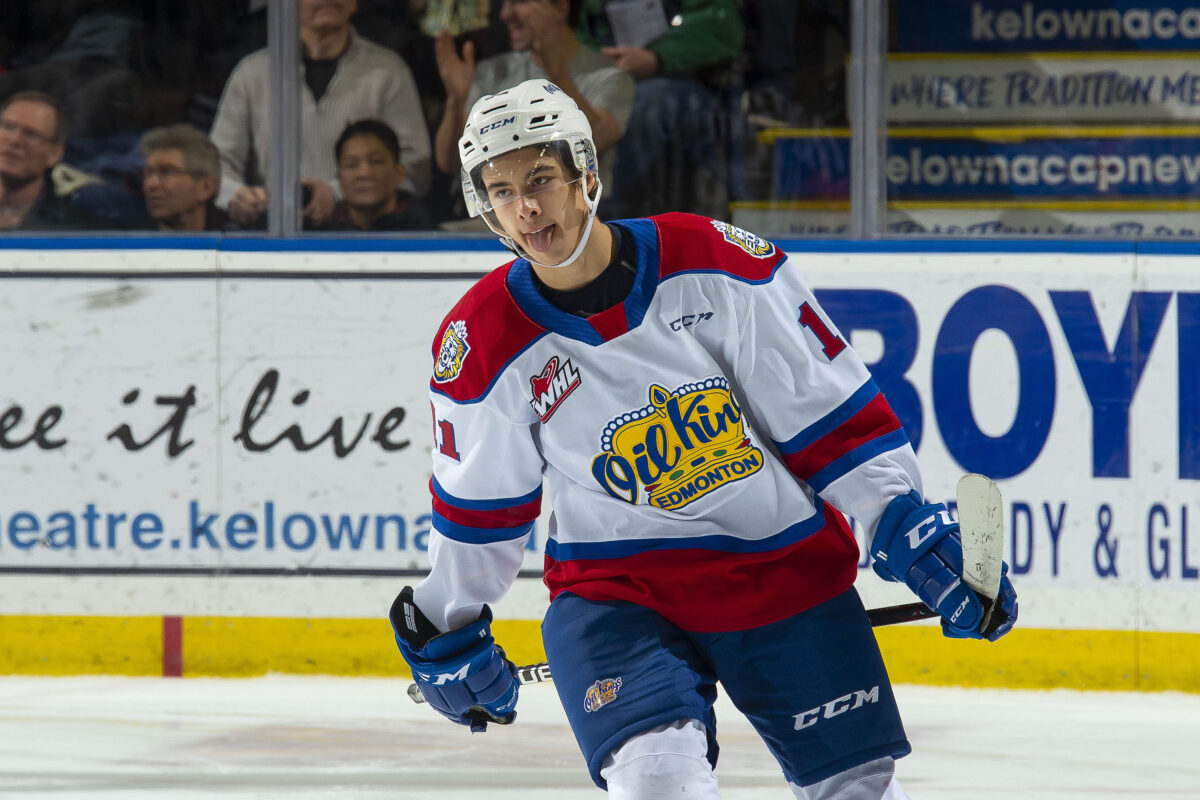 While the team is going to struggle over the next few seasons, the Coyotes have already started to stock pile picks as they have seven in the first two rounds in the 2022 draft.
28) Chicago Blackhawks
Previous Ranking: 23
Top Five Prospects: Evan Barratt, Nicolas Beaudin, Colton Dach, Drew Commesso, Lukas Reichel 
Key Graduates/Subtractions: Brandon Hagel, Philipp Kurashev
Key Additions: Nolan Allan, Viktor Stjernborg, Ethan Del Mastro
Dropping five spots to 28th, this is a mixed bag for the Blackhawks. They saw some key players in Brandon Hagel and Philipp Kurahsev make the jump to the NHL and they had a chance to try and bolster their prospect pool at the 2021 draft and it was very disappointing. 
Related: Blackhawks 'Untouchable' Prospects for 2021-22
Nolan Allan was a projected third-round pick and the Blackhawks drafted him over other defenseman with higher upside. While Allan could develop into a good prospect, it wasn't the right spot to select him. Colton Dach has some good offensive tools at his disposal, but selecting him over players like Sasha Pastujov or Simon Robertsson probably isn't the best decision.
Overall their best picks came in the later rounds with a gritty player with speed in Victor Stjernborg and shutdown defender Ethan Del Matro.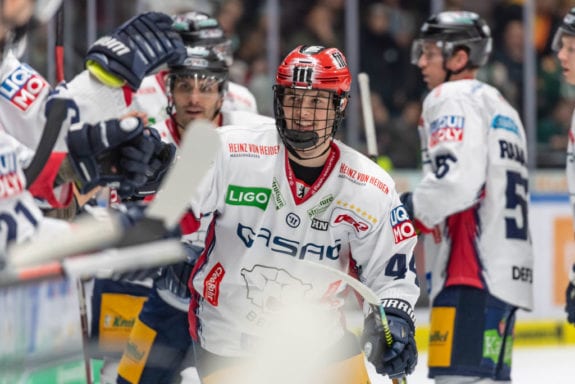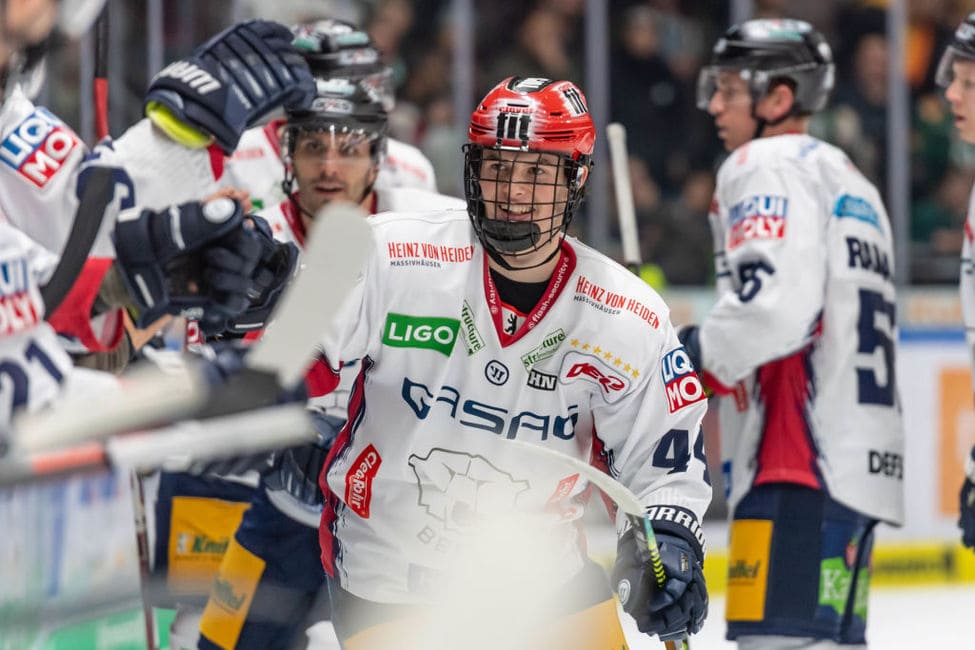 The Blackhawks had an opportunity to strengthen it's prospect depth and went with a completely different outlook. Despite the questionable decisions, there's still hope as Lukas Reichel continues to showcase his hockey IQ and skillset that made them draft him 17th overall in 2020. 
Drew Commesso's development looks promising, as he has posted great numbers with Boston University in 2020-21. He went 6-3-1 with a .915 SV% and a 2.99 GAA. Earning more ice time in 2021-22 should definitely help as he continues to potentially find himself in the Blackhawks crease in the coming years. 
27) St. Louis Blues
Previous Ranking: 29
Top Five Prospects: Zachary Bolduc, Joel Hofer, Jake Neighbours, Scott Perunovich, Simon Robertsson 
Key Graduates/Subtractions: N/A
Key Additions: Zachary Bolduc, Simon Robertsson
Even though the Blues are facing a potential move with Vladimir Tarasenko, they have some nice pieces with their forward depth. Jake Neighbours is a very strong playmaker and, while he's not mentioned, Klim Kostin is a very speedy and crafty winger. 
The Blues added Zachary Bolduc and Robertsson at the 2021 Draft. Bolduc is a reliable two-way centre and Robertsson boasts a strong goal scoring ability with his powerful shot. These were two strong additions to the Blues prospect pool.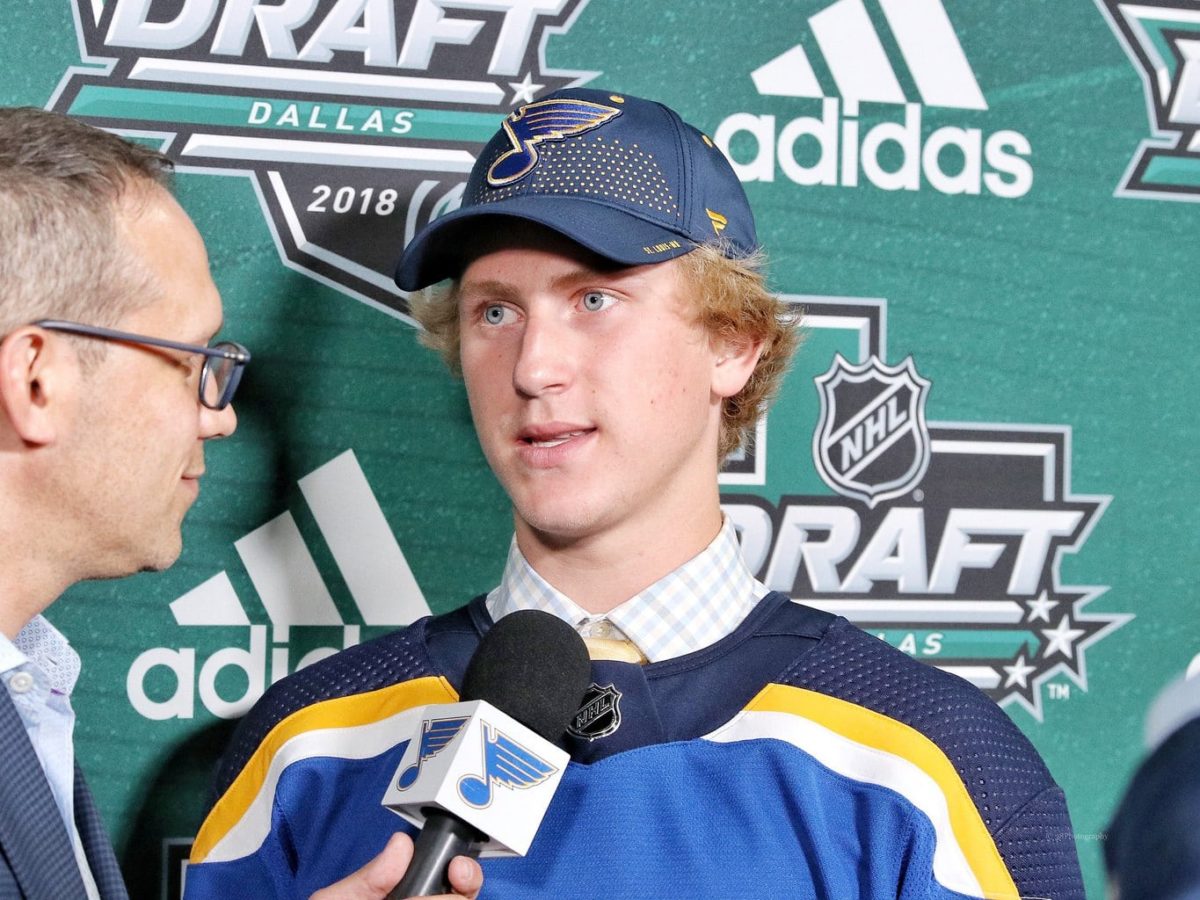 Their depth on defense isn't strong, as Scott Perunovich is their only viable option on the backend. He had a strong 2019-20 with 40 points in 34 games with the University of Minnesota- Duluth. He has a chance to battle and even earn the third left defense spot as he appears poised to make the jump to the pro level.
26) Boston Bruins
Previous Ranking: 28
Top Five Prospects: John Beecher, Mason Lohrei, Fabian Lysell, Jack Studnika, Urho Vaakanainen
Key Graduates/Subtractions: Trent Frederic
Key Additions: Fabian Lysell, Ty Gallagher
The last few drafts for the Bruins haven't exactly been promising as most of their picks could pan out to be depth players. They do have good pieces in John Beecher and Jack Studnicka that could be decent middle-six players. 
Related: Boston Bruins 'Untouchable' Prospects for 2021-22
They have also have a great defensive-minded defenseman in Urho Vaakanainen. Their prospect pool was average at best, but the 2021 draft was their best in some time. Selecting players like Harrison, Andre Gasseau and Ty Gallagher gives them some players with good upside with their current group of prospects.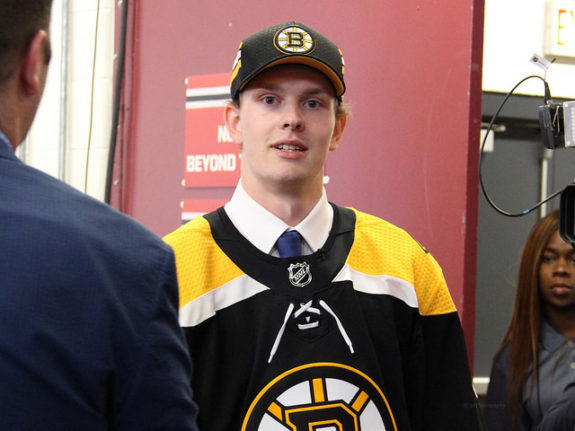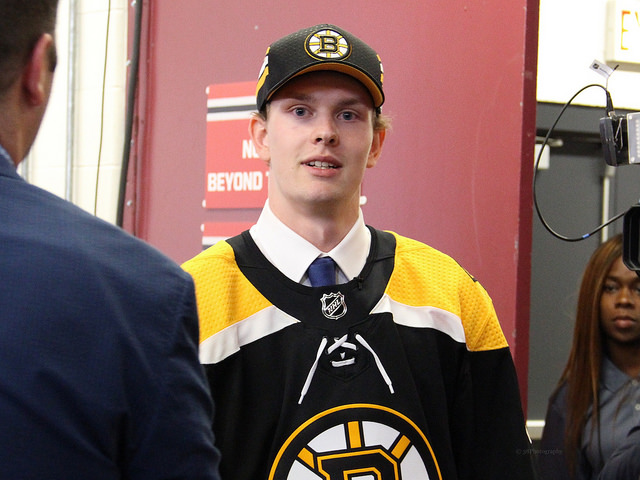 Their best selection comes in the form of Fabian Lysell. He is a very creative player with the puck as he's a strong offensive dynamo. He recently signed his entry-level contract with the Bruins in hopes of bringing him over to North America to develop. 
Mason Lohrei has great size and is a really stronger skater, bringing an offensive mindset on the blueline. If there's one player that could fly under the radar, it's him.
25) Washington Capitals
Previous Ranking: 27
Top Five Prospects: Alexander Alexeyev, Hendrix Lapierre, Vincent Iorio, Brent Johnson, Connor McMichael 
Key Graduates/Subtractions: N/A
Key Additions: Vincent Iorio, Brent Johnson
The Capitals definitely seem to be in a better spot prospect wise than their rival in the Penguins. Despite not having a first round-pick in 2021, the Capitals have done a fantastic job scouting in selecting Connor McMichael in 2019 and Hendrix Lapierre in 2020.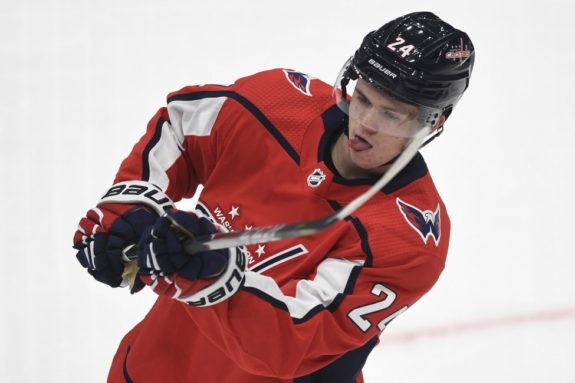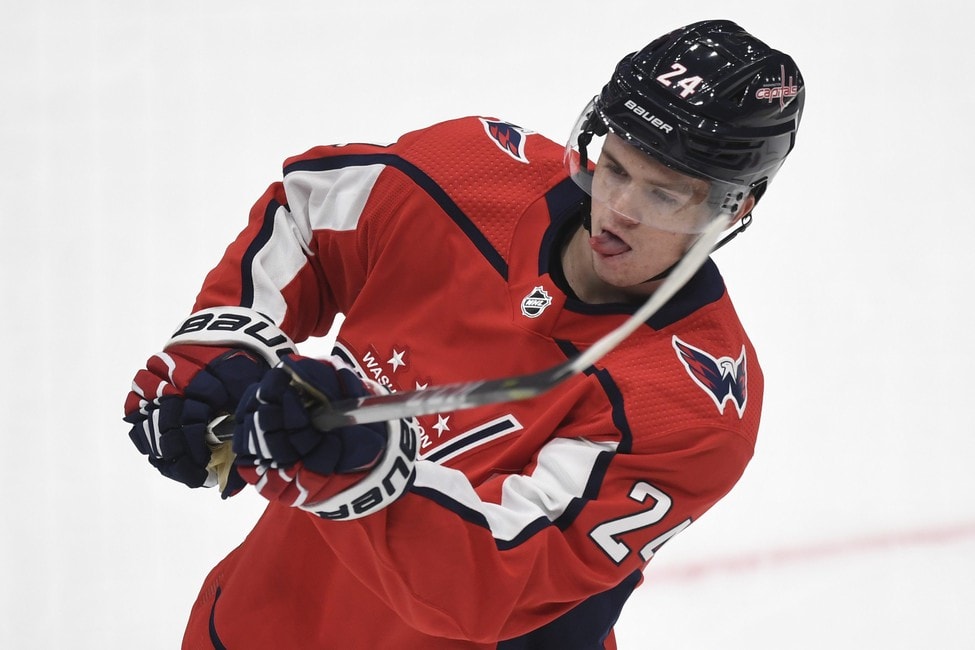 McMichael already has the vision and power in his shot of an NHL player. He dominated in back-to-back World Juniors scoring nine goals in total winning a gold medal in 2020 and a silver in 2021.
Lapierre boasts a strong play-making, two-way game as a centreman. He's dealt with concussions in his draft year, but his smarts and decision-making stand out and is well worth the selection.
While the Capitals have two strong forwards up front, they added some depth on defense in the 2021 draft with Vincent Iorio and Brent Johnson. Both are promising two-way defenders and capable of making an impact at both ends of the ice. They both want to be factors every time they're on the ice.

The Capitals also have some other intriguing names like Alexander Alexeyev, Alexei Protas and Brett Leason, who was a late bloomer at the junior level.
24) Tampa Bay Lightning
Previous Ranking: 21
Top Five Prospects: Hugo Alnefelt, Alex Barré-Boulet, Dylan Duke, Jack Finley, Taylor Raddyish 
Key Graduates/Subtractions: Cal Foote
Key Additions: Dylan Duke
The reigning back-to-back champs have had to pay a lot in terms of prospects and picks in order to get to where they are. With Cal Foote making the jump and playing well in the NHL, their farm system is starting to look thin. Even though the Lightning have fallen three spots down, they know how to develop their prospects even without any big name standouts.
While they have the quality talent of Steven Stamkos, Nikita Kucherov and Brayden Point up front. We've seen the impact that Matthieu Joseph has had in a bottom-six role and they have other quality pieces like Alex Barré-Boulet, Taylor Raddyish and the newly drafted Dylan Duke, who have the potential to come on up and provide a steady presence in a depth role.
Even though they rely heavily on Andrei Vasilevksiy, Hugo Alnefelt is a great option in the crease and could be a serviceable back up to help ease his workload in the future. 
23) Calgary Flames
Previous Ranking: 20
Top Five Prospects: Matthew Coronato, Yan Kuznetsov, Jakob Pelletier, Dustin Wolf, Connor Zary 
Key Graduates/Subtractions: N/A
Key Additions: Matthew Coronato
Even though it's a slight dip from last year's ranking, the Flames still have some talented players coming through the pipeline. Despite the team going through difficult results during the regular season, there are always players ready to step in and make an impact as we've seen with Dillon Dube recently.
Related: Calgary Flames' Top 20 Prospects After 2021 Draft
They had a great selection with Connor Zary at 24th overall in the 2020 draft as his smarts and ability to read plays is his greatest asset. He got a taste of pro level hockey with the Stockton Heat in the AHL, which is beneficial for his development. The previous year, they selected Jakob Pelletier 26th overall in 2019 as he has great skill and speed. He also had a strong showing at the 2021 World Junior championships with seven points in seven games.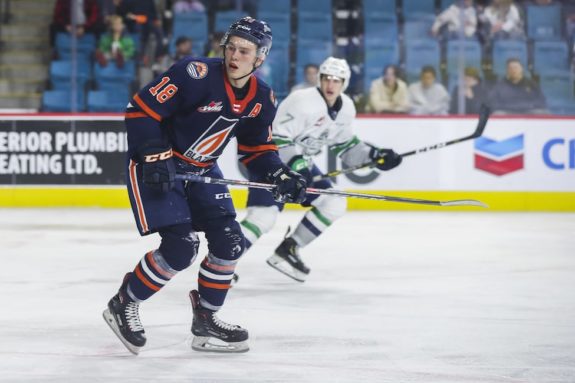 Some names like Dmitri Zavgorodny, Adam Ruzicka and William Strömgren can really be players that can fly under the radar. Drafting Matthew Coronato 13th overall in the 2021 draft really strengthens their depth up front as he displayed elite level vision in the USHL with the Chicago Steel. 
The Flames are stockpiling on defense as well. Yan Kuznetsov is a defensive defenseman that plays with an edge; something that we've seen in Rasmus Andersson's play on a nightly basis. On the flip side of things, Jeremie Poirier is an excellent puck mover but he definitely needs to work on his defensive game. Cole Jordan is a name that many should keep an eye on as he was a great late-round selection in 2021. 
22) San Jose Sharks
Previous Ranking: 24
Top Five Prospects: Thomas Bordeleau, William Eklund, Benjamin Gaudreau, Tristen Robins, Ozzy Weisblatt 
Key Graduates/Subtractions: N/A
Key Additions: William Eklund, Benjamin Gaudreau
After drafting Thomas Bordeleau, Tristen Robins and Ozzy Weisblatt in the 2020 draft to start and fill out their prospect system, the Sharks continued that trend by selecting two players that can end up being very crucial pieces to their success in the 2021 draft.
Related: San Jose Sharks' 'Untouchable' Prospects
William Eklund shoots up as the Sharks' top prospect. There was the potential that he could be in the conversation for the top spot in the draft, as he has a high ceiling and can be a good point producer at the NHL level. He has a great work ethic, quick hands and great speed making dangerous plays in all three zones.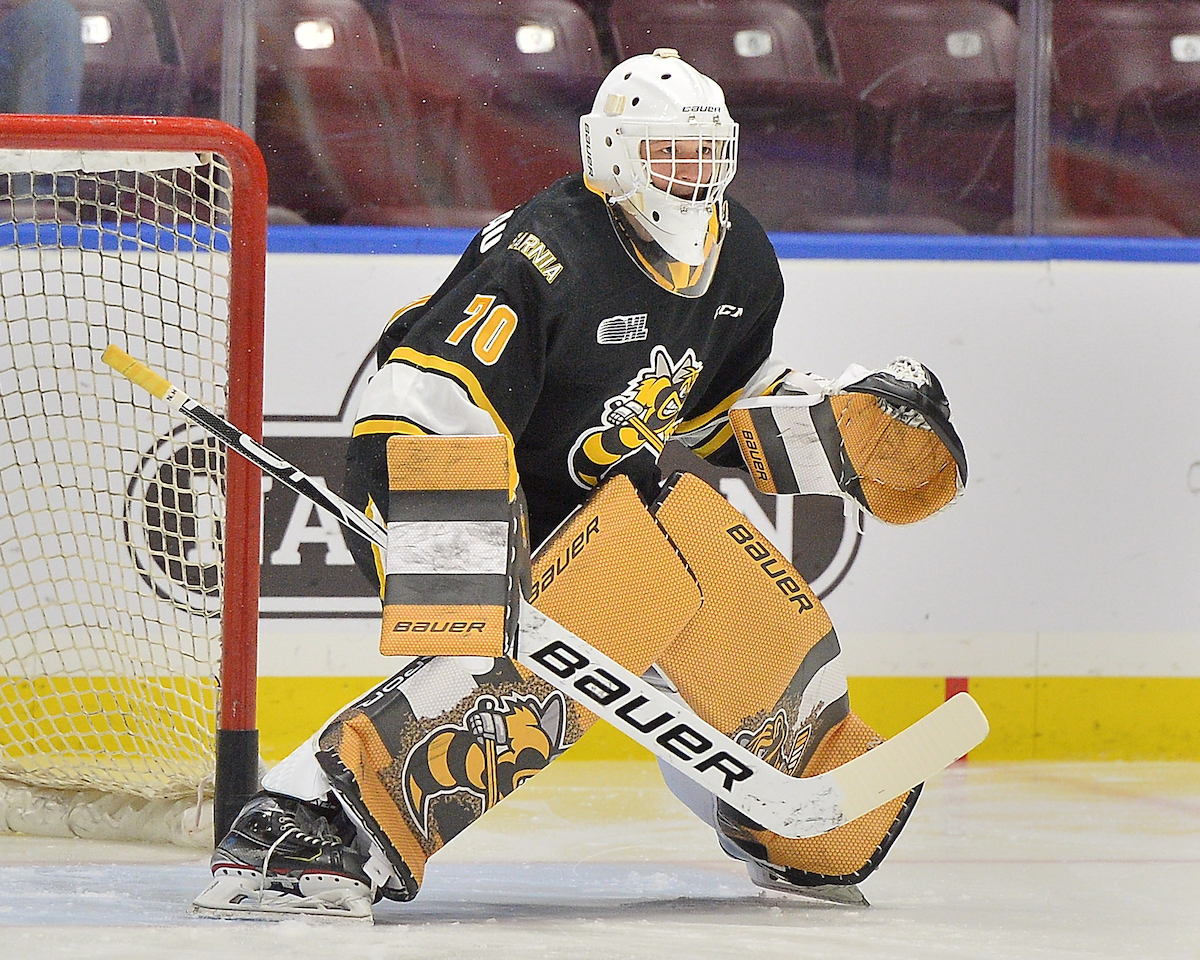 The biggest concern for the Sharks was their goaltending situation. They addressed that with Benjamin Gaudreau as he brings a calm and steady presence in net. He was steady in net for Canada at the World U18 Championship as he went 5-0-0 with 2.20 GAA and .919 SV%, winning a gold medal. 
21) Columbus Blue Jackets
Previous Ranking: 25
Top Five Prospects: Corson Ceulemans, Yegor Chinakov, Liam Foudy, Kent Johnson, Cole Sillinger 
Key Graduates/Subtractions: N/A
Key Additions: Corson Ceulemans, Kent Johnson, Cole Sillinger, Stanislav Svozil
If there was a team that needed to have a strong draft and improve their farm system, it was the Blue Jackets. After a major surprise selecting Yegor Chinakov in the first-round of the 2020 draft, they made their first three first-round picks count. 
Kent Johnson is a very creative player with quick hands and the ability to make moves at a very fast pace. He joined University of Michigan teammates Owen Power (first overall) and Beniers (second overall) as being selected in the top-five in the draft, fifth overall.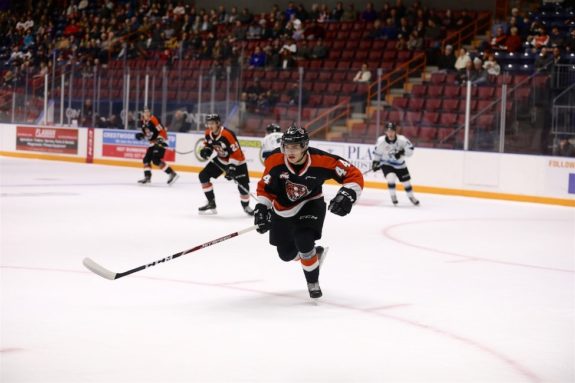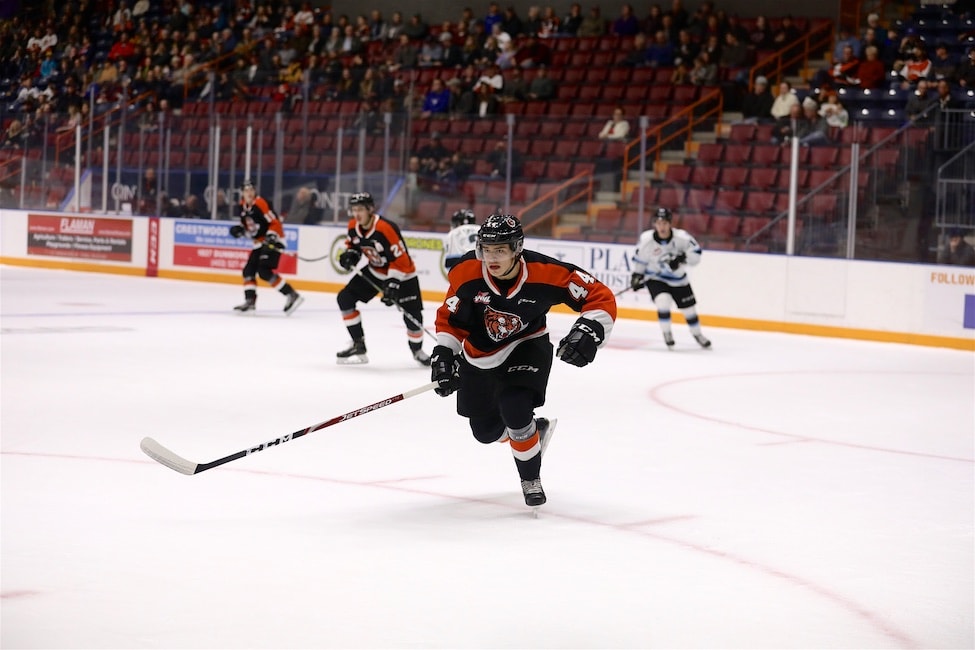 The Blue Jackets then selected high scoring winger Cole Sillinger 12th overall and the highly talented puck-moving defenseman in Corson Ceulemans at 25th overall. That's a pretty good haul to start building at both the forward and defense position. They were even lucky to draft Stanislav Svozil in the third-round, who was projected to be a first-round talent. 
With those players in the system to an already budding farm system with Kirill Marchenko up front and Samuel Knazko on defense, the Blue Jackets are heading in the right direction as they embark on their rebuild. 
20) Vancouver Canucks
Previous Ranking: 11
Top Five Prospects: Michael Di Pietro, Olli Juolevi, Joni Jurmo, Vasili Podkolzin, Jack Rathbone 
Key Graduates/Subtractions: Nils Hoglander
Key Additions: Danila Klimovich
The Canucks have had moments of success in drafting and developing players like Bo Horvat, Elias Pettersson, Brock Boeser Quinn Hughes and even Nils Hoglander graduating to the NHL. 
Related: Vancouver Canucks Top-10 Prospects in 2021-22
In a year where they had a top-10 pick, they traded it away to Coyotes, which would've been the high scoring Guenther to try and stay competitive in the Pacific Division. To me, that's a situation where you would want to hang onto that pick instead of making a major reach selection like Danila Klimovich in the second round. Klimovich does have some upside with great size and aggressive offensive instincts, but he needs to work to be an all around offensive threat.
They still have Vasily Podkolzin as their top prospect in their system, a strong power forward with a high motor and strong offensive instincts. He'll do whatever it takes to gain control of the puck. It probably won't be long before he finds his way over and suits up for the Canucks.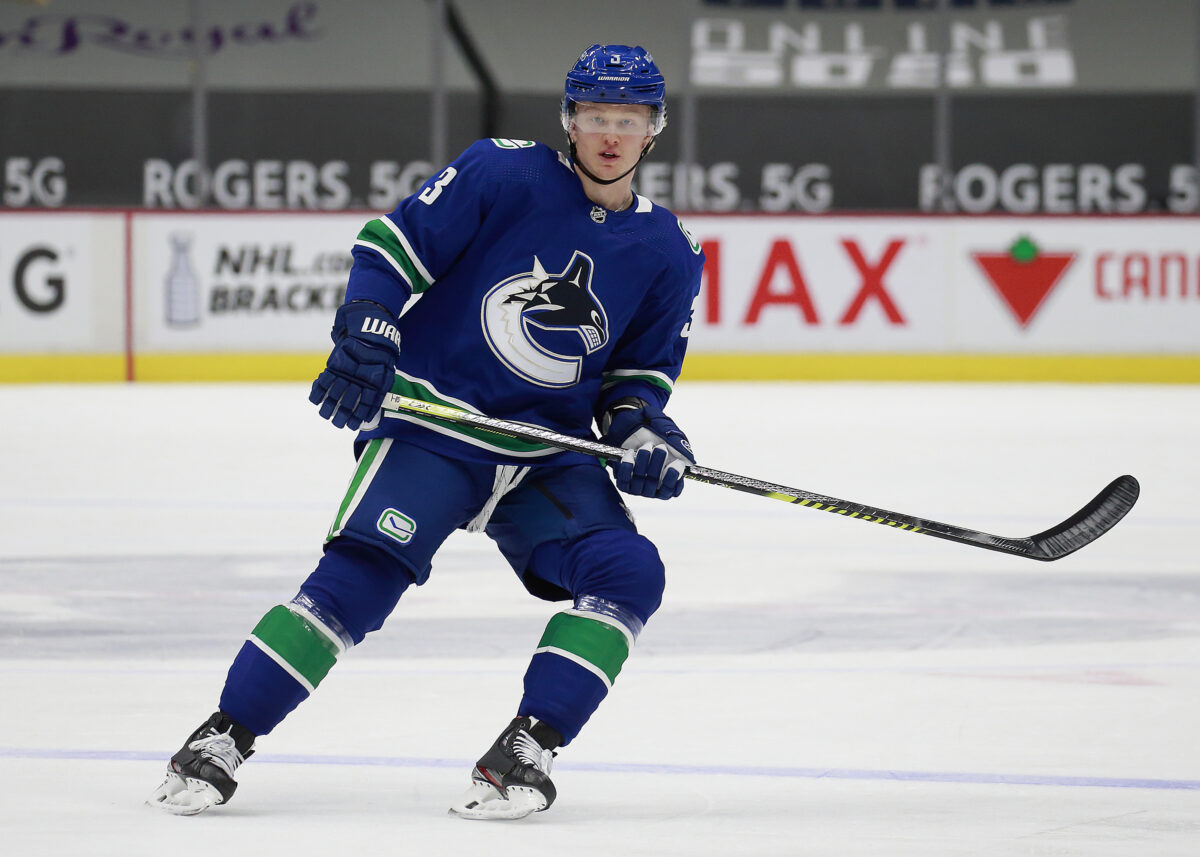 I'm very high on Jack Rathbone as he plays a very reliable two-way defender with great hockey IQ. I project him as a top-four defenseman who can drive the play forward from the back-end or even balance out the play of Hughes to be a very strong pairing. 
19) Vegas Golden Knights
Previous Ranking: 17
Top Five Prospects: Brendan Brisson, Lukas Cormier, Pavel Dorofeyev, Kaedan Korczak, Peyton Krebs 
Key Graduates/Subtractions: N/A
Key Additions: Zach Dean
When a team gives up top prospects for immediate help, the depth in your system isn't going to be as strong. With the Vegas Golden Knights trading Nick Suzuki to the Montreal Canadiens and Erik Brannstrom traded to the Ottawa Senators, the Knights' depth isn't where it was when they entered the league.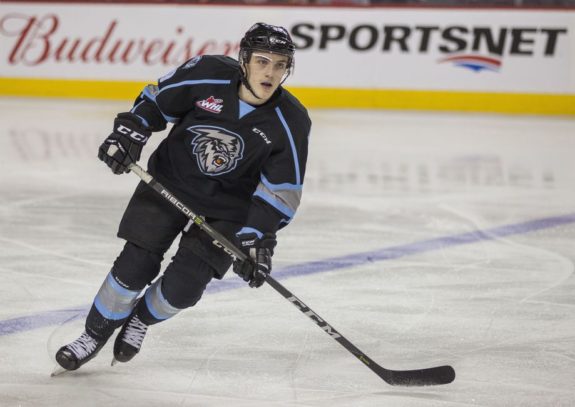 Peyton Krebs is still at the top of the Knights' depth chart as he has all the makings to be a real impact forward. He's got great skill, strong on the attack and brings a lot of energy when he is on the ice.
Pavel Dorofeyev and Brendan Brisson are both offensively gifted players with limitless potential and Kaedan Korzcak is a physical defender with some offensive upside to his game. Cormier is dynamic puck mover with great speed and a smooth stride that makes him very dangerous in transition. Even names like Jack Dugan and Peter Diliberatore can prove to be quality NHLers in the future.
While they traded away quality prospects to be Stanley Cup contenders, the Knights still have depth and talent within their system. Drafting Zach Dean in 2021 is a great start as he always plays with a high level of energy and takes charge of every shift.
18) Winnipeg Jets
Previous Ranking: 22
Top Five Prospects: Nikita Chibrikov, Ville Heinola, Chaz Lucius, Cole Perfetti, Dylan Samberg 
Key Graduates/Subtractions: N/A
Key Additions: Nikita Chibrikov, Chaz Lucius
The Winnipeg Jets have done a great job to add for the future over the past few seasons. With a promising defender in Ville Heinola and landing Cole Perfetti 10th overall in 2020, the Jets lucked out again in 2021.
Related: Winnipeg Jets' 'Untouchable' Prospects
Chaz Lucius was one of the top goal scorers in this year's draft somehow fell to the Jets at 18thoverall. He's a dynamic player in the offensive zone as he has slick hands to make moves around defenders and a quick and powerful release. While he's known for his goal scoring, he's a very smooth playmaker as well.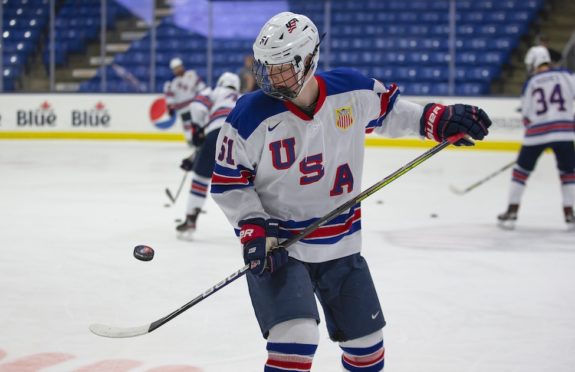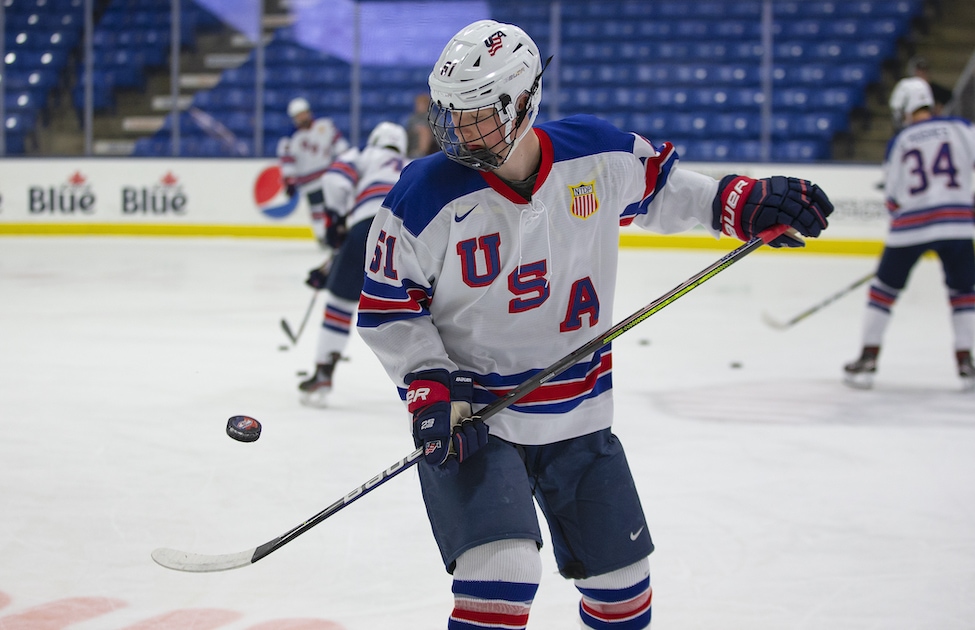 Nikita Chibrikov was also viewed as a possible first round player, falling to 52nd overall, the Jets would get another potential steal as they added two highly skilled forwards to follow in the footsteps of Mark Scheifele and Kyle Connor. The Jets have a really lethal offensive trio with Perfetti, Lucius and Chibrikov waiting to make the NHL. GOOD****
Dylan Samberg is still a player to keep an eye on as he's still looking to take the next step and make the NHL. The Jets are already crowded on the left side, but Samberg still possesses strong breakout passing and speed in his play.
17) Toronto Maple Leafs
Previous Ranking: 15
Top Five Prospects: Rodion Amirov, Roni Hirvonen, Timothy Liljegren, Topi Niemela, Nick Robertson 
Key Graduates/Subtractions: N/A
Key Additions: Matthew Knies
Despite moving a number of draft picks in the 2021 draft to make a strong playoff push, the Maple Leafs still have a strong farm system that they've stockpiled over the last few years.
Related: Toronto Maple Leafs' Top 10 Prospects
Nick Robertson remains their top prospect and he's a potential top-six offensive point producer. He had a strong showing in his first AHL season with the Toronto Marlies recording 16 points in 25 games. Whether that's enough for him to make the jump is the big question, but his development is on track.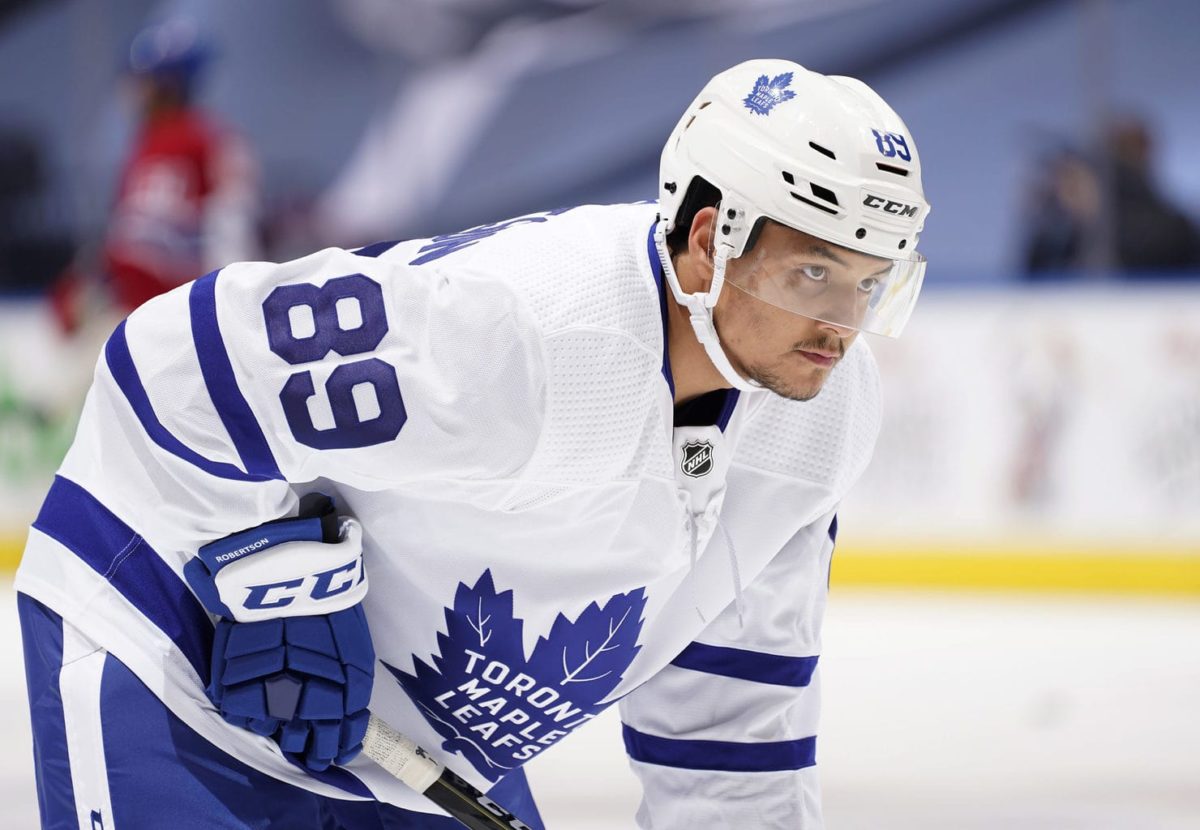 Rodion Amirov is a very impactful player on both sides of the puck. The two-way winger has great patience with the puck and is reliable to help on the backcheck. Roni Hirvonen is also becoming a standout player. Undersized at 5-foot-9, he's relentless with the puck and has a really great shot and was a major offensive threat at the World Junior Summer Showcase scoring eight goals and finishing with 10 points. 
All eyes should be on the 2021 top defenseman at the World Juniors in Topi Niemela. He has great mobility and hockey IQ in the offensive zone. He's a quick an effective passer but isn't afraid to shoot when he has his opportunity. Former director of amateur scouting John Lilley said that he has the best defensive instincts when the Maple Leafs drafted him 64thoverall in 2020. 
Selected 57th overall in 2021, Matthew Knies is slowly getting recognition for his ability to be a strong power forward with a scoring touch. He has great power and accuracy and has soft hands to make moves in tight situations. 
16) Nashville Predators
Previous Ranking: 18
Top Five Prospects: Yaroslav, Askarov, Yegor Afanaseyev, Zachary L'Heureux, Philip Tomasino, Fydor Svechkov 
Key Graduates/Subtractions: N/A
Key Additions: Zachary L'Heureux, Fydor Svechkov
After trading away one of their goal scorers in Viktor Arviddson and top pairing defenseman in Ryan Ellis, it signaled that the Nashville Predators are in a rebuild. While they made the playoffs, a shakeup with their roster was going to happen. 
With Pekka Rinne retiring, there isn't any doubt that Yaroslav Askarov is going to be the starter once he's ready. Selecting him 11thoverall in the 2020 draft was a smart decision. He has elite vision, reflexes and mobility in the crease as he can make the most difficult saves look easy.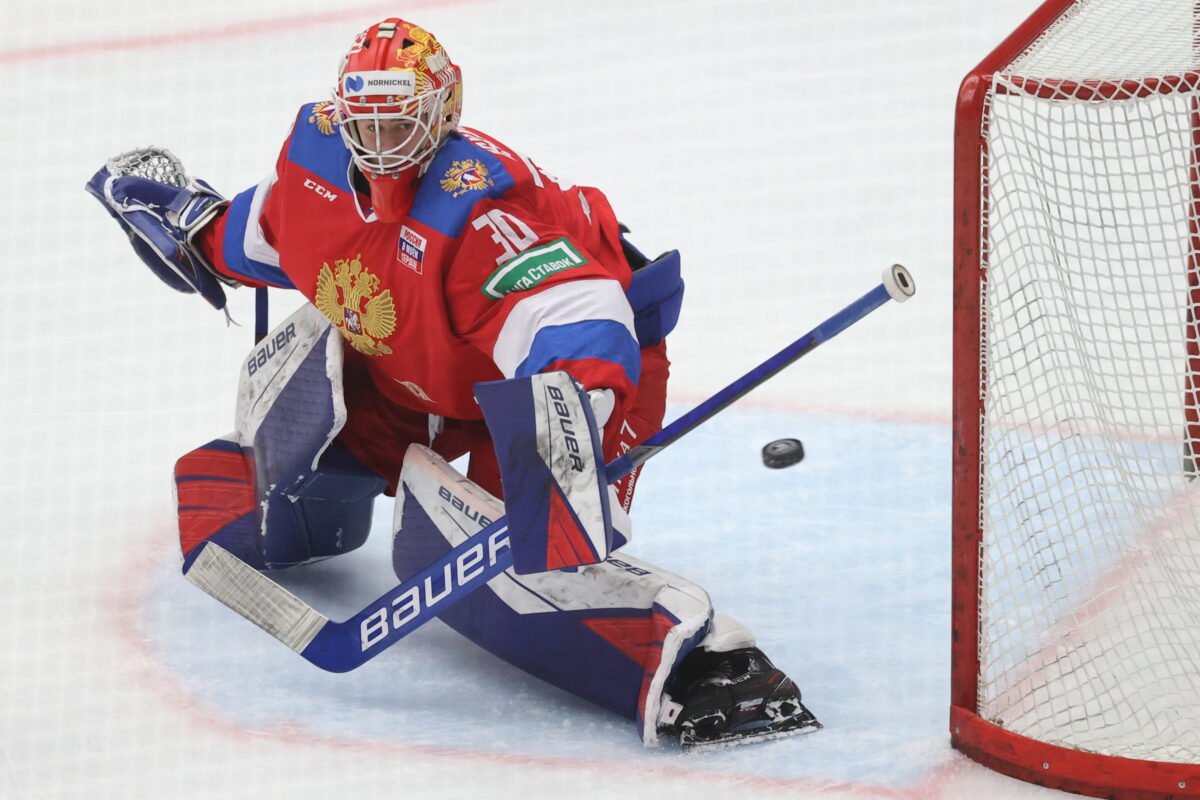 Philip Tomasino is their top forward prospect, as he possesses a powerful and explosive release with his shot. He has great agility and is quick with his skating, making him an absolute force on the rush. Even with no season in the Ontario Hockey League, he won a silver medal for Canada at the 2021 World Juniors scoring four goals and six points in seven games. He was lights out as a rookie in the AHL tallying 32 points in 29 games. The Predators have a very talented offensive producer. 
In 2021, they added two potential top-six forwards in Fydor Svechkov and Zachary L'Heureux. Svechkov is a very skilled two-way centreman and L'Heureux is a future power forward in the making. The way he plays reminds me of Brad Marchand and he developed into a really good forward. 
The Predators also added some potential names to watch with Anton Olsson and Ryan Ufko to help out with their defense. They might be a few years away, but the potential is there as the team enters a critical point to remain a competitive team for years to come. 
15) Edmonton Oilers
Previous Ranking: 14
Top Five Prospects: Xavier Bourgault, Evan Bouchard, Philip Broberg, Raphael Lavoie, Dylan Holloway 
Key Graduates/Subtractions: 
Key Additions: Xavier Bourgault
The Edmonton Oilers dropped only as a result of other teams getting better, but they still have a talented group. It could be only a matter of time before their top prospects find themselves in the NHL.
They have two strong offensive blueliners in Evan Bouchard and Philip Broberg. Bouchard has an NHL-shot from the point with great velocity and power, while Broberg is a smooth skater who likes to be the one leading a rush. Having two promising defenseman in the system is a great start for a team looking to improve in that department.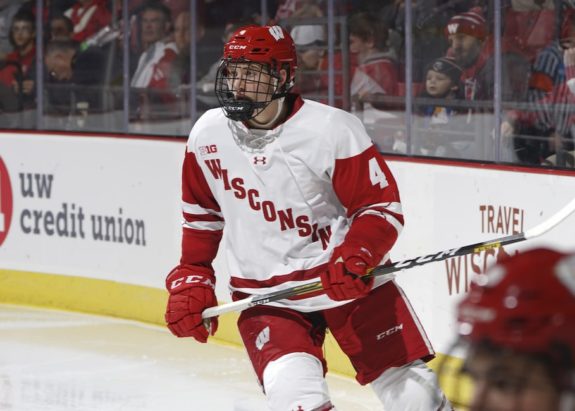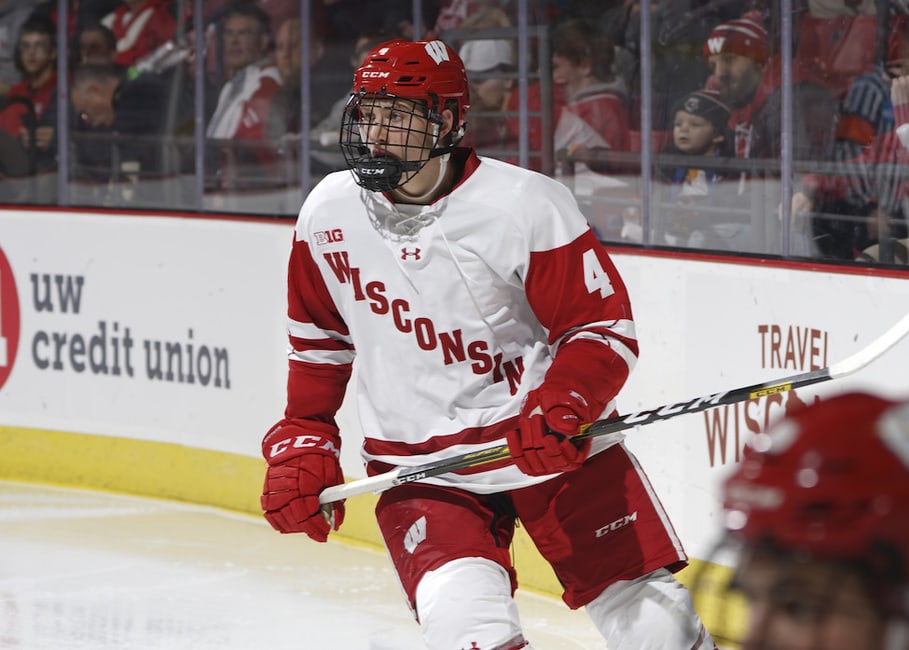 Up front, Dylan Holloway continues to dazzle with his explosive speed. He plays with an aggressive mindset that allows him to get in and establish a forecheck. He has a quick shot and has great size to protect the puck. While he struggled in his freshman season, he bounced back in his sophomore season with 35 points in 23 games. 
The Oilers also have some really great names down their depth chart. Raphael Lavoie has a shoot-first mentality, while Tyler Tulio and Carter Savoie are very quick and agile with their puck handling abilities. Xavier Bourgault, the Oilers 2021 first-round pick, thinks the game at a fast pace and is a very responsible two-way centre. 
14) Minnesota Wild
Previous Ranking: 13
Top Five Prospects: Calen Addison, Adam Beckman, Matt Boldy, Marco Rossi, Jesper Wallstedt 
Key Graduates/Subtractions: Kirill Kaprizov
Key Additions: Carson Lambos, Jack Peart, Jesper Wallstedt
With Kirill Kaprizov lighting it up in the NHL winning the Calder Trophy, it's hard to not get excited about what is coming through the pipeline with the Minnesota Wild. 
Related: Minnesota Wild's Top 10 Prospects for 2021-22
It starts with the Wild's next backstop in net with Jesper Wallstedt. Viewed as a potential top-10 pick, the Wild snagged him 20th overall in 2021. His high-end vision to track the puck and calm demeanor in net makes him the top candidate to be their starter for years to come. He's part of the next wave of young and talented goaltenders to take the league by storm.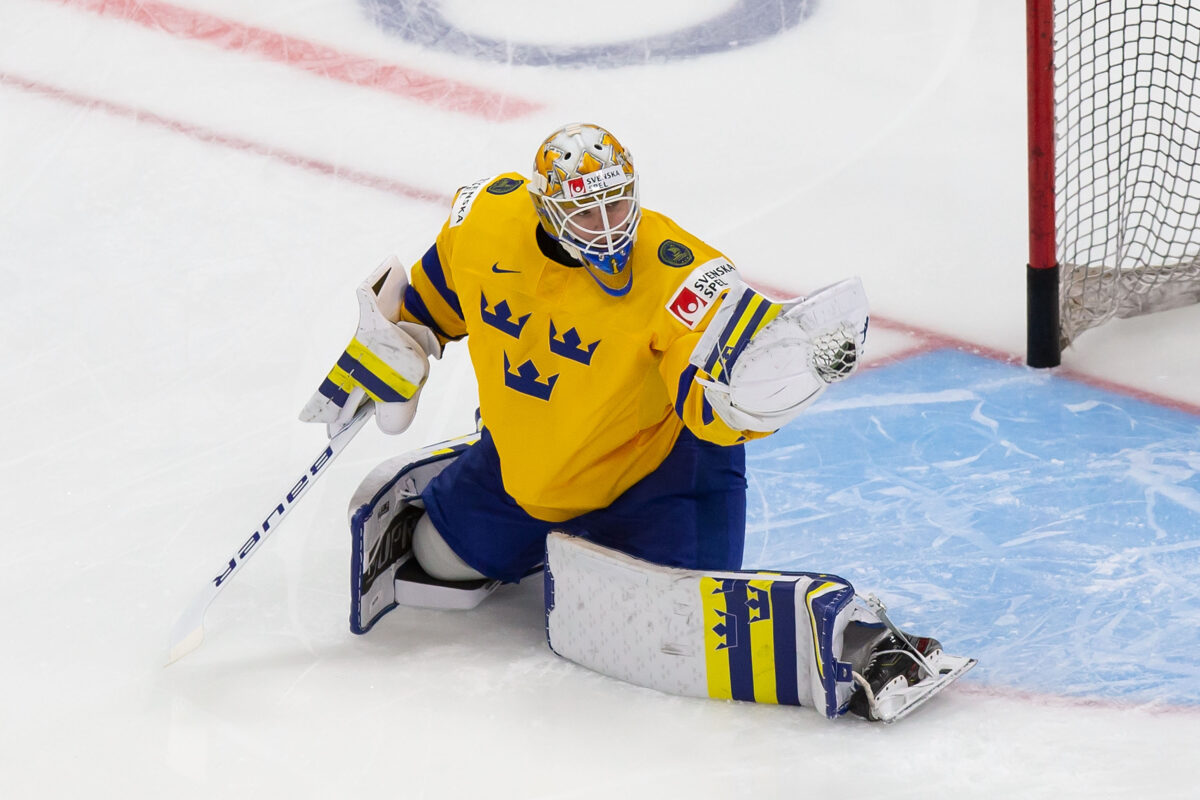 Drafted ninth overall in 2020, Rossi has a high-end compete level and drive that just won't quit. It was a scary year for him as he was dealing with COVID-19 and the complications that followed afterwards as he was diagnosed with myocarditis. It appears that he is healthy and back on the ice training. 
The Wild have ample forward depth behind Rossi. Adam Beckman brings a shooter mentality, Matthew Boldy brings a strong work ethic and Marat Khusnutdinov and Alex Khovanov are smart playmakers that give the Wild different player types to work with.
On the blueline, Calen Addison is a dynamic offensive minded player and is very composed when he's on the ice. I was a big fan of Ryan O'Rourke in the OHL. The Wild have a strong two-way defensemen that likes to get under the opposition's skin. Add in Carson Lambos and Jack Peart and the Wild have great balance on defense.
The Wild have ample depth throughout their farm system with a great balance of speed, skill and smarts. 
13) Dallas Stars
Previous Ranking: 19
Top Five Prospects: Mavrik Bourque, Thomas Harley, Wyatt Johnston, Ayrton Martino, Logan Stankoven 
Key Graduates/Subtractions: Ty Dellandrea, Jason Robertson, Jake Oettinger
Key Additions: Wyatt Johnston, Ayrton Martino, Logan Stankoven
The Dallas Stars saw some success with their prospects joining the NHL. Jason Robertson was a finalist for the Calder Trophy and Jake Oettinger looked really good as the team's potential starter.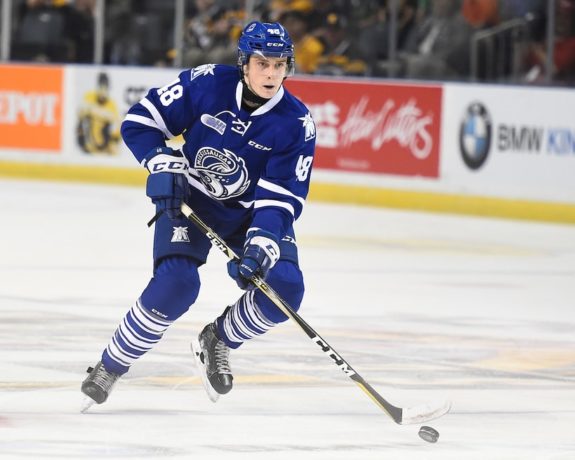 The Stars' farm system is still led by defenseman Thomas Harley as he had 25 points in 38 games with the Texas Stars in the AHL. He's a very smooth skater and there's a lot to like about his production offensively, but he still needs to work on his defensive game. He's a name to remember on defense as the Stars have a plethora of talented defenseman already in the NHL. 
2020 30th overall pick Mavrik Bourque's IQ and decision making is his best asset. With the QMJHL league up and running, he had a 1.53 point per game and added additional five points in six games in the AHL. He can still use some time to round out his game, but he has the offensive skillset to succeed. 
The 2021 NHL draft was a big win for the Stars landing a two-way pivot in Wyatt Johnston, an explosive skater and high-energy player in Logan Stankoven and a very sleek playmaker in Ayrton Martino. Not to mention the addition of Artyom Grushnikov and Jack Bar on defense really improved their prospect pool to replace some of the talent that has already graduated. All of the players have tremendous upside.
Before the 2021 draft, Stars' system was average. Now, they managed to improve tremendously by making really great selections. With the depth they have in all positions they appear to be poised to continue the trend of great talent that others may have passed on.
12) Buffalo Sabres
Previous Ranking: 16
Top Five Prospects: Owen Power, Ukko-Pekka Luukkonen, J.J. Peterka, Jack Quinn, Isak Rosen 
Key Graduates/Subtractions: Dylan Cozens
Key Additions: Owen Power, Isak Rosen, Prokhor Poltapov
After another disappointing season, the Buffalo Sabres are in desperate need to rebuild their farm system and hope to change their fortunes. They made some good moves in 2020, selecting sniper Jack Quinn and J.J. Peterka who is always in constant pursuit for the puck. Even Arttu Ruotsalainen has shown some promise as a prospect.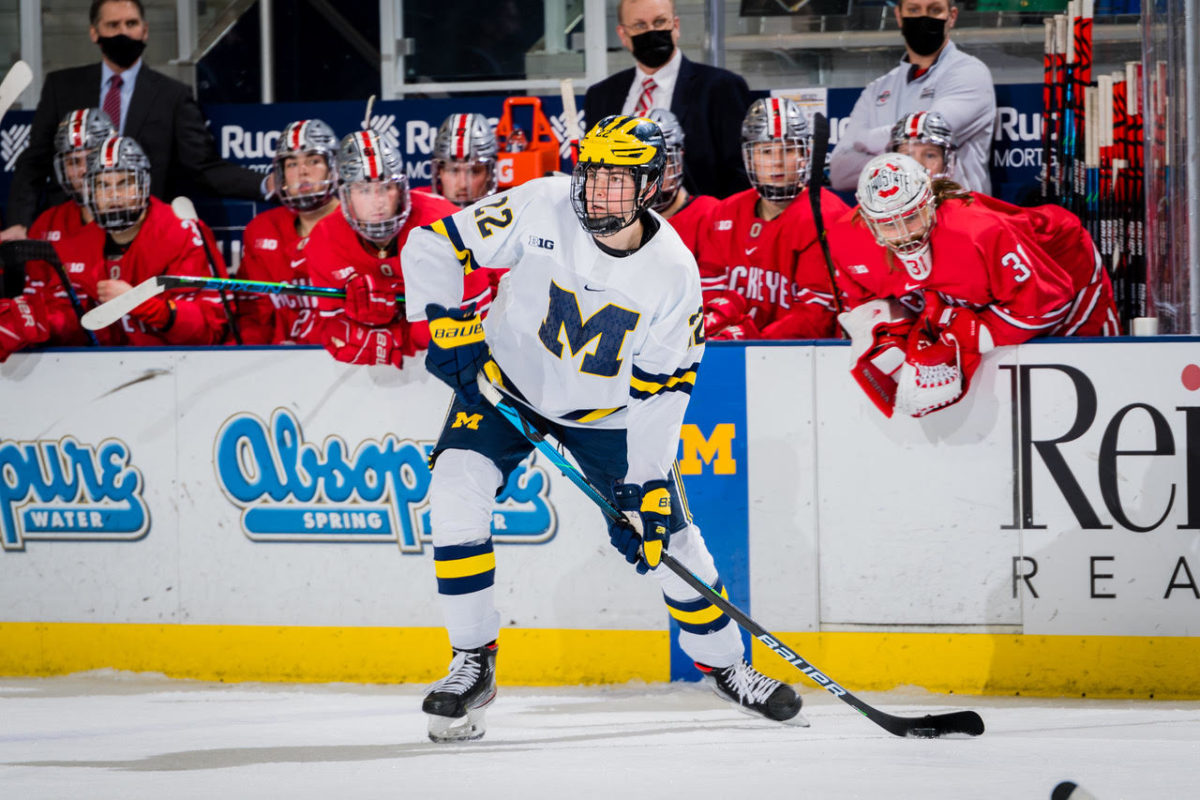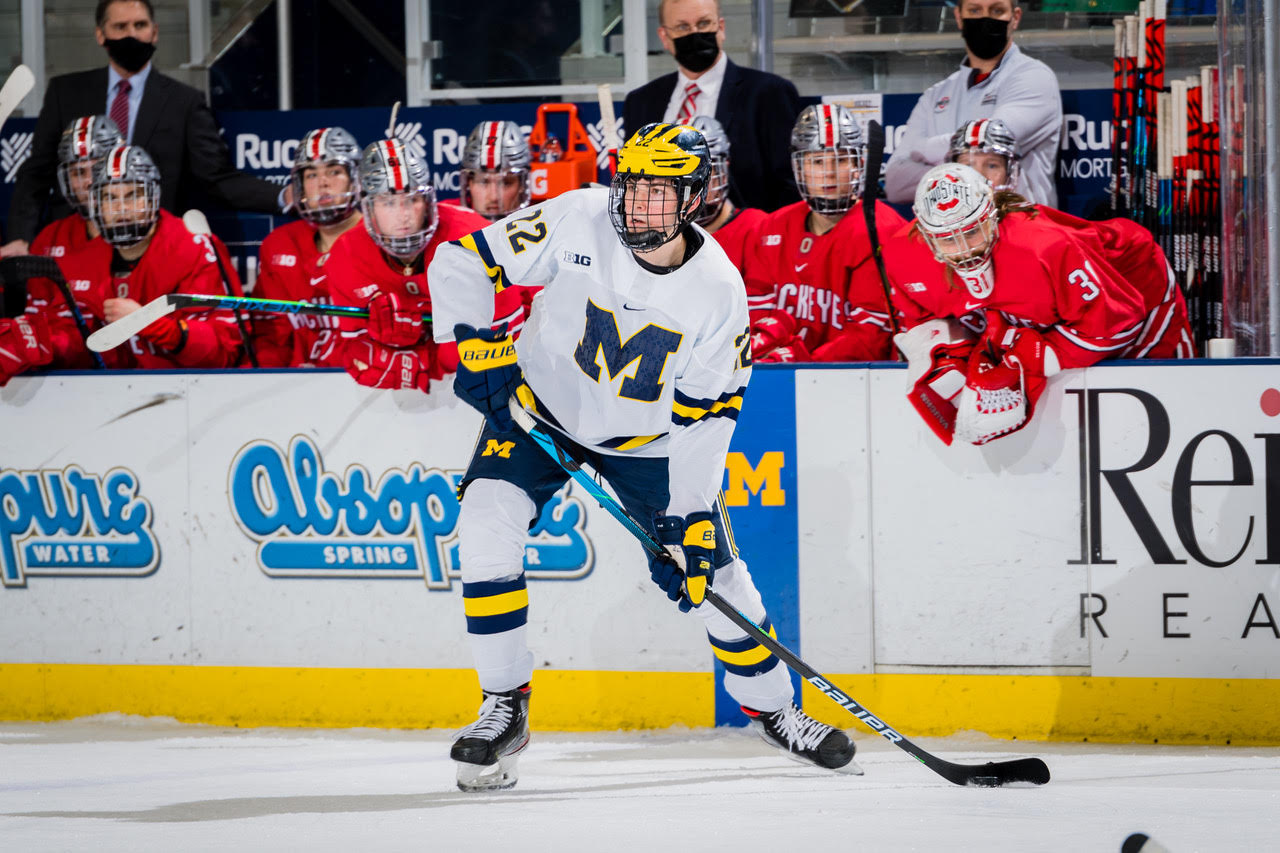 This year, they were lucky to get the first overall pick and select highly touted defenseman Owen Power. He is a complete package defender that can play in any situations. As an 18-year-old, he didn't look out of place at the World Hockey Championships earning more important assignments and making an impact on both sides of the puck. He's a smooth skater and has a bullet of a shot from the point. 
Others thought they could've benefitted by selecting Beniers to get a talented forward, but they did select Isak Rosen. He's a strong skater and has a powerful shot, which was on display at the World U18 Championship. 
The Sabres have a potential starter Ukko-Pekka Luukkonen as he has great size and technical skills in the crease. As he continues to develop, it won't be long before he finds himself with the Sabres consistently in the future.
11) Florida Panthers
Previous Ranking: 12
Top Five Prospects: Grigori Denisenko, Spencer Knight Anton Lundell, Evan Nause, Mackie Samoskevich 
Key Graduates/Subtractions: Eetu Luostarinen, Owen Tippett
Key Additions: Mackie Samoskevich
Even though the Florida Panthers are dangerous team on paper, they're still doing their part to keep the cycle going by drafting quality prospects. It starts with future starter Spencer Knight.
Related: Florida Panthers' Top 10 Prospects
Knight played in four games with the Panthers this season, going 4-0-0 with a .919 SV% and 2.32 GAA. He then went 1-1 in the playoffs with .907 SV% and 2.33 GAA. A small sample but impressive numbers to start off heading into the 2021-22 season. With Sergei Bobrovsky not living up to his contract and Chris Driedger signing with the Kraken, it's Kngiht's crease now. 
Up front the Panthers have two lethal players in Grigori Denisenko and Anton Lundell. Denisenko displays strong offensive awareness and great foot speed to be a very dangerous player. Lundell is a powerful 200-foot player with a high-end scoring touch, while displaying his smarts. Having another version of Aleksander Barkov on the same team is not going to be fun for the opposition.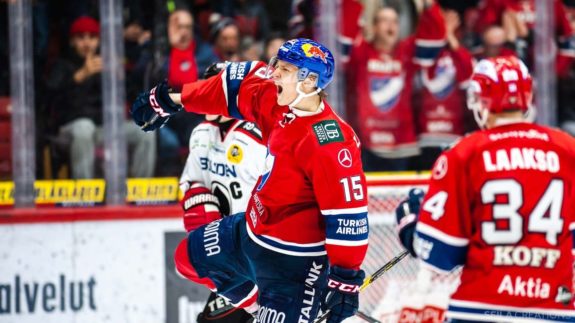 The depth gets better with the quick playmaking abilities of Mackie Samoskevich and the quick skating Ty Smilanic. I was very high on Evan Nause for the 2021 draft and the Panthers must have liked what they saw to draft him 56thoverall. He displays great patience with the puck and has great speed to be effective in transition. He's defensively responsible and can be used in any situation.
The Panthers have an abundance of wealth in their system and it can only get better. Even as a playoff team, they continue to find great value wherever they pick.
10) Montreal Canadiens
Previous Ranking: 5
Top Five Prospects: Cole Caufield, Sean Farrell, Kaiden Guhle, Josh Brook, Jan Mysak 
Key Graduates/Subtractions: Alexander Romanov
Key Additions: Oliver Kapanen
Even with top defensive prospect Alexander Romanov graduating to the NHL, the Montreal Canadiens have kept the farm system stock piled with quality prospects. 
Though he played 10 games during the regular season and another 20 in the playoffs, top prospect and noted sniper Cole Caufield remains on this list. He's a clutch goal scorer with impeccable speed and hands. The knock on him in his draft year was that he was undersized at 5-foot-7. Safe to say, it's definitely a non-factor.  His five points in the regular season games and additional 12 in the playoffs was just the beginning for his path to stardom. 
Related: Montreal Canadiens' Prospect Pyramid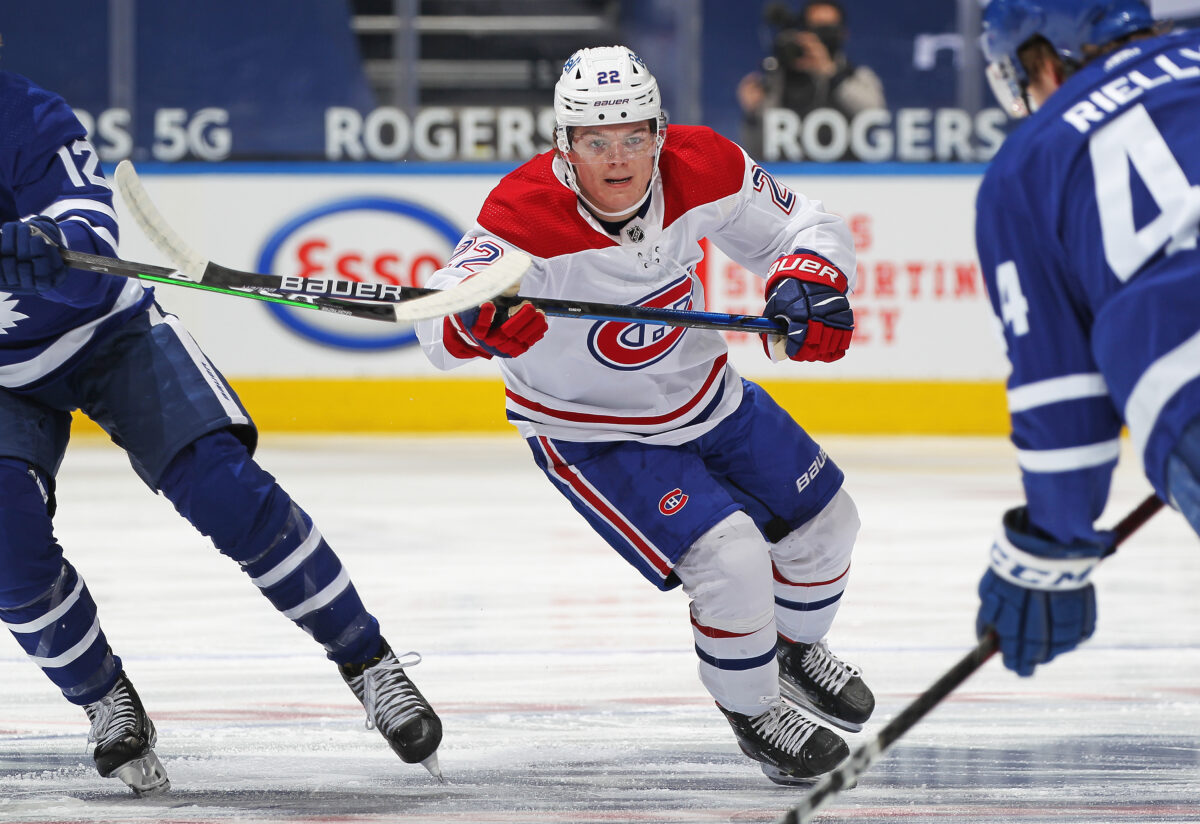 Kaiden Guhle and Josh Brook are the team's top defensive prospects as they start to emerge as a future presence. Guhle is a great transitional player, being a factor on the rush and has a really powerful shot from the point. Brook has the ability to bring a steady defensive presence that can compliment the offensive game that Guhle plays with. Brook bested his 13 points form in 2019-20 with the Laval Rocket, finishing with 15 points in 33 games last season. 
One player to keep an eye on should be 5-foot-9 left winger Sean Farrell. Drafted 124th overall in 2020, Farrell is a very strong playmaker that plays at such a great pace. He dominated the USHL leading the league in points with 101 and was 16 points ahead of Chicago Steel teammate in Coronato. He's very crafty with the puck and knows how to locate his teammates with his crisp passing.
9) New York Rangers
Previous Ranking: 3
Top Five Prospects: Vitali Kravtsov, Ryder Korczak, Nils Lundkvist, Brennan Othmann, Braden Schneider 
Key Graduates/Subtractions: Alexis Lafreniere, K'Andre Miller
Key Additions: Brennan Othmann, Ryder Korczak
Despite drop in the rankings as a result of Alexis Lafreniere and K'Andre Miller making the NHL, the New York Rangers still have a respectful talent pool. They are headlined by some promising names on the back end and intriguing forward options. 
Related: New York Rangers' 'Untouchable' Prospects
Braden Schneider and Vitali Kravtsov are the main names to watch for. Schneider is physical, two-way defender with a booming shot. He's has great speed and active stick to defend against the rush and in his own end. Kravtsov is a physical, yet skilled winger that excels in every aspect on the ice. He looked really good in his first 20 games with he Rangers scoring two goals and recording two assists.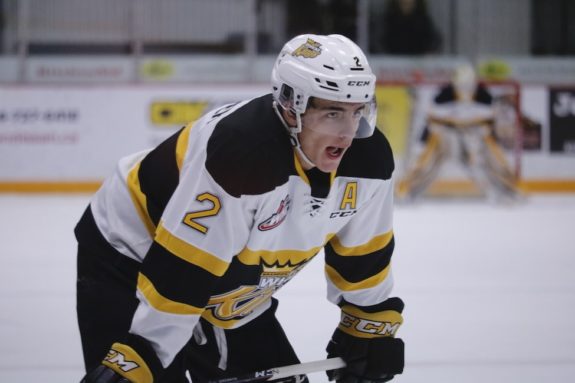 The next name behind Schneider is Nils Lundkvist, as he shows great poise and conviction when the puck is on his stick. He has great control and vision, as he's another promising defenseman to come up through the Rangers system. 
Even adding names through the 2021 draft like Brennan Othmann and Ryder Korczak gives this team some steady depth at the forward position. Othamann is a gritty goal scorer that can make any opportunity dangerous and Korczak possesses great puck skills as he's very deceptive in the offensive zone.
With Igor Shestyorkin in goal for the foreseeable future, they have other options in the crease with Dylan Garand. I think he's a prospect to keep an eye on as he has great lateral and quick movements in net, forming a solid tandem.
8) Colorado Avalanche
Previous Ranking: 6
Top Five Prospects: Justin Barron, Bowen Byram, Shane Bowers, Alex Newhook, Oskar Olausson 
Key Graduates/Subtractions: N/A
Key Additions: Oskar Olausson
After drafting Cale Makar fourth overall in 2017, the Avalanche have continued to draft talented players consistently since. Two years later in 2019, they drafted another promising star defenseman in Bowen Byram.
A talented puck mover and distributor, once Byram gets going it's hard for him to stop as he's always consistently a dangerous threat on the ice. He has excellent mobility and can skate around everyone with ease. While the Avalanche have great depth already on defense, Byram is just another intriguing name that'll make them deeper at that position.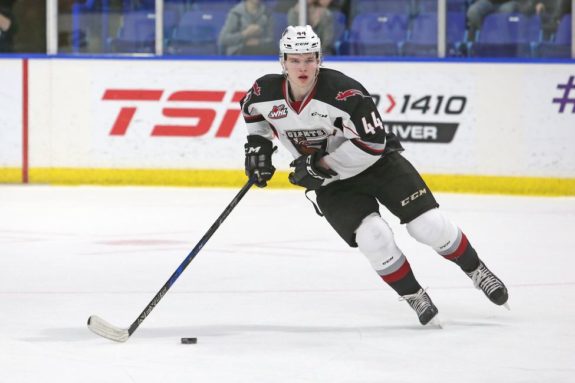 I took note of Alex Newhook's speed a few years back at Team Canada's selection camp for the World Juniors. Even though he didn't make it for 2020, he made the 2021 roster winning a silver medal with six points in six games. His foot speed and agility was flawless and it's still his greatest strength. It seems that no matter who he's up against, he will always win a puck battle based on that alone. 
Shane Bowers was a critical piece in a three-team deal sending Matt Duchene to the Ottawa Senators. While he hasn't cracked the roster yet, he's still a name that should garner some attention as he could potentially provide some strong secondary scoring for the future.
The Avalanche also have the steady, two-way defender in Justin Barron and the size and skill of Martin Kaut. Throw in 2021 picks Oskar Olausson and the high-flying defenseman Sean Behrens into the mix; they still have a pretty great group of players in their farm system.
7) Philadelphia Flyers
Previous Ranking: 8
Top Five Prospects: Emil Andrae, Bobby Brink, Tyson Foerster, Morgan Frost, Cam York 
Key Graduates/Subtractions: N/A
Key Additions: Samu Tuomaala
Despite a disappointing season, the Philadelphia Flyers still have a lot to look forward to with a prospect pool as talented as theirs. Remaining in the top-10 as a result of their scouting team is a good sign that they want to remain competitive for years to come.
Related: Philadelphia Flyers' Prospects to Watch
Morgan Frost leads the way as he's an impressive play-making centre with great hands, speed and edges. He's definitely going to be in the fold for a centre spot and it wouldn't surprise me if he makes a lasting impression on the coaching staff.
They also have a strong offensive weapon in the palm of their hand with Tyson Foerster. A right-handed shot, he boasts a powerful shot, especially on his one-timer as he likes to set up in the same office as Alex Ovechkin. He had 10 goals in 24 games with the Lehigh Valley Phantoms in the AHL and continues to impress showing his goal scoring abilities.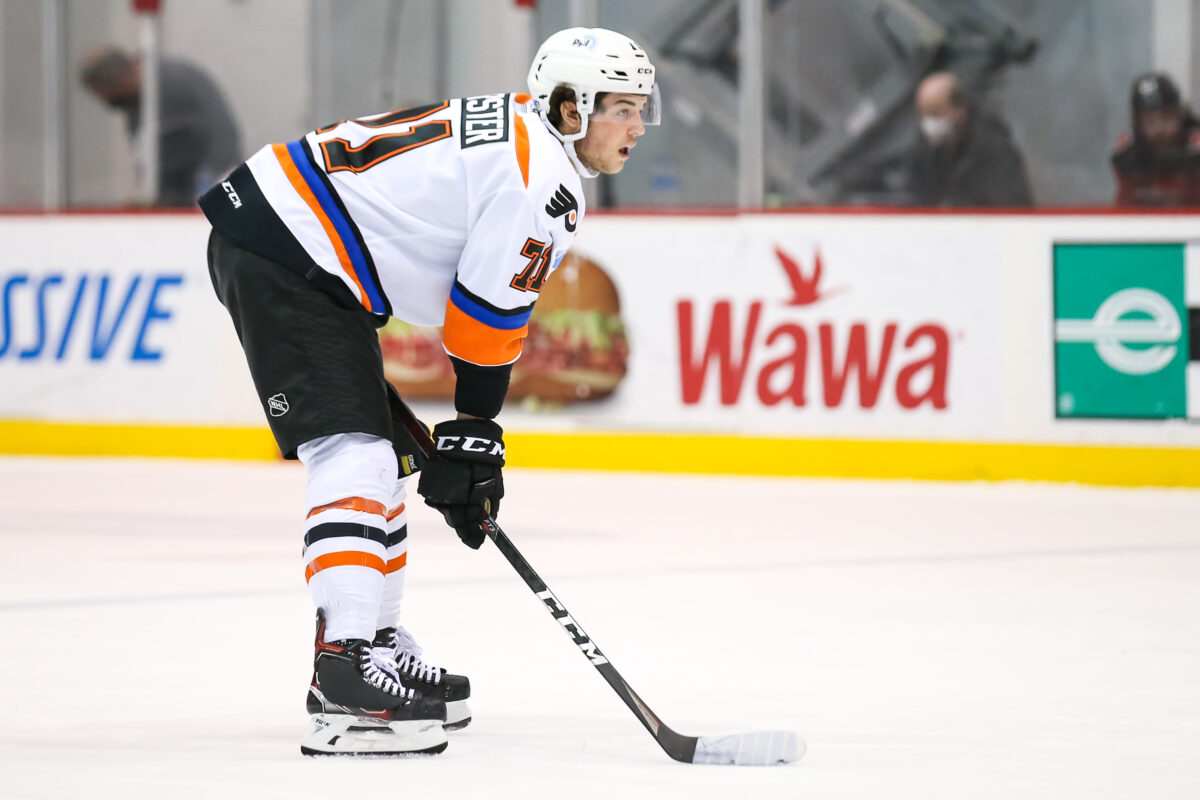 The Flyers defense is led by the highly mobile and offensively talented Cam York who was drafted 14thoverall in 2019. A strong passer with great awareness, he isn't afraid to join in and lead the rush. York had a really great 2020-21 season with 20 points in 24 games on a stacked Michigan team, captained Team USA to a gold medal at the World Juniors and had a successful stint with the Phantoms. 
Emil Andrae has a work ethic and level of compete that sets him apart from many other defenders his size (5-foot-9). He's always committed to putting his best foot forward and never takes a shift off. 
Even without a first round pick in 2021, the Flyers continued their trend of finding great talent by selecting high flying Finnish sniper Samu Tuomaala. He has blinding speed and will make a dangerous scoring duo with Foerster in the future. 
6) Ottawa Senators
Previous Ranking: 2
Top Five Prospects: Logan Brown, Jacob Bernard- Docker, Alex Formenton, Shane Pinto, Jake Sanderson 
Key Graduates/Subtractions: Josh Norris, Tim Stützle
Key Additions: Tyler Boucher
The Ottawa Senators missed the mark with their picks in the 2021 draft, notably their 10th overall selection of Tyler Boucher was a real reach. Despite the selection and having Josh Norris and Tim Stützle make a name for themselves in the NHL, the Senators still have a number of players to keep them in the top-10.
Defenseman Jake Sanderson is currently the team's top prospect. The 2020 fifth overall pick is a very mobile two-way player, he knows exactly when to pick his spots to attack. He's strong, physical and has all the characteristics you want to have in a defenseman. He's definitely close to being NHL ready. 
He may not have the offensive vision like Sanderson, but Jacob Bernard-Docker has proven to be a very reliable defensive stalwart. He played in five games with the Senators this season, but will need some more time to develop. 
After recording 32 points in 28 games with the University of North Dakota, Shane Pinto looked primed and ready for a chance to play in the NHL. And he didn't disappoint. His high-end speed and skill was on full display as he finished with seven points in 12 games. A promising centre in the making, he could push for the second line spot this season.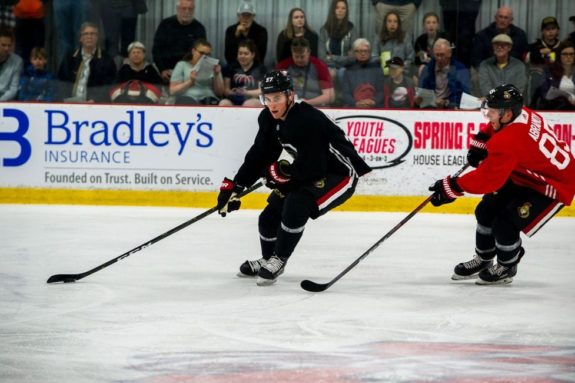 Whether or not the 2021 draft class could make significant contributions with this current group remains to be seen. Their top prospects are extremely skilled and will be critical for the Senators future.
5) Carolina Hurricanes
Previous Ranking: 4
Top Five Prospects: Noel Gunler, Seth Jarvis, Zion Nybeck, Jamieson Rees, Ryan Suzuki 
Key Graduates/Subtractions: Jake Bean (traded to Blue Jackets)
Key Additions: Aleksi Heimosalmi, Ville Koivunen, Scott Morrow
Year after year, the Carolina Hurricanes continue to be winners at the NHL draft as they have an abundance of talent in the farm system. From Sebastian Aho to Andrei Svechnikov, the Hurricanes continue to scout and draft the best talent available.
Related: Hurricanes' Top 20 Prospects for 2021-22
Seth Jarvis, the 13thoverall pick in 2020, is a typical Hurricanes player. He displays a fantastic amount of skill, is a great puck handler and major driver on offense. Zion Nybeck is another player who is small in stature but plays a fast pace game with speed. Both players have great upside and are going to be big producers in the league.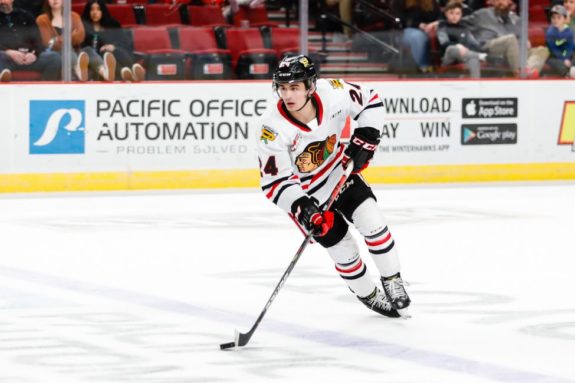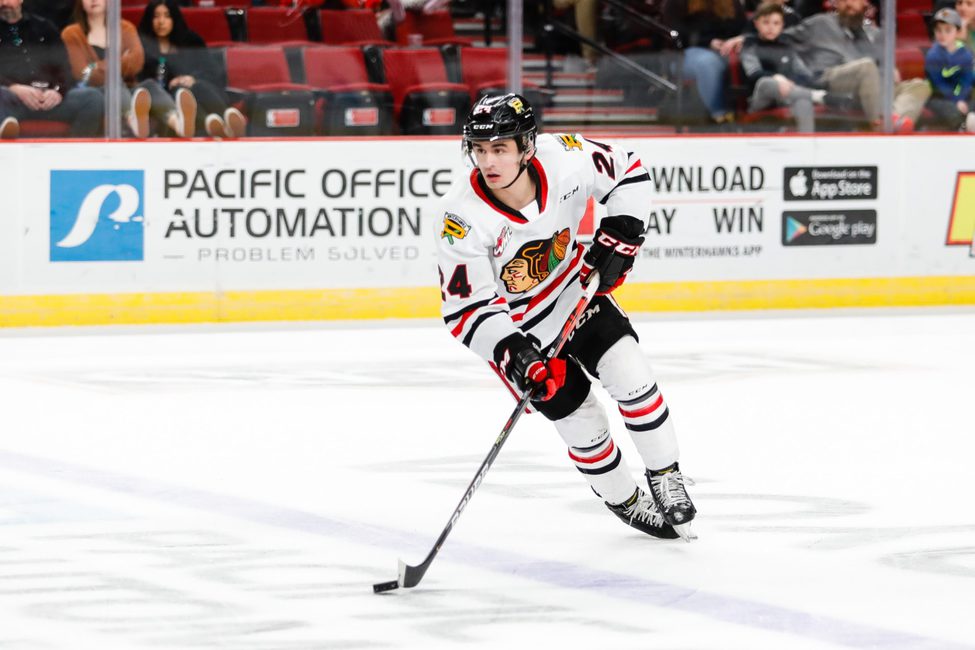 It doesn't stop there as there's also Jamieson Rees, Ryan Suzuki, Noel Gunler in their system. On defense they have a potential strong defender in Anttoni Honkka.
There are also the prospects from 2021 such as Scott Morrow, Ville Koivunen and Aleksi Heimosalmi all in the second round. They also picked up players such as Robert Orr and Justin Robidas in the later rounds. 
A player that I've always liked that could be a big difference maker for the Hurricanes is Vasili Ponomaryov. He's a two-way centre with great energy and always plays with a purpose. During the 2020-21 season, he had 38 points in 30 games with the Shawinigan Cataractes, being an alternate captain. 
4) New Jersey Devils
Previous Ranking: 10
Top Five Prospects: Nolan Foote, Alexander Holtz, Luke Hughes, Dawson Mercer, Jaromir Pytlik 
Key Graduates/Subtractions: Ty Smith
Key Additions: Luke Hughes
With Ty Smith graduating to the NHL and put up a strong rookie season, the New Jersey Devils farm system isn't short on talent. Another wave of prospects are going to be on their way to the big club.
Related: New Jersey Devils' Top 20 Prospects
It all starts with Alexander Holtz. He's a sharp shooter with great power and accuracy and is always making himself open for a prime scoring chance. He projects to be a top-line scorer and he continues to live up to that expectation. It's going to be very exciting to see him alongside centre Jack Hughes for the foreseeable future.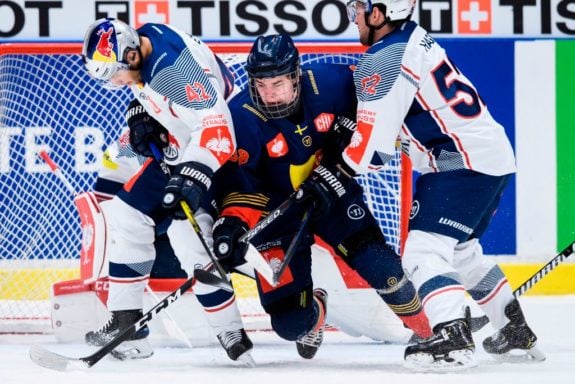 Nolan Foote is looking to be an NHL regular really soon. After tallying 17 points in 24 games in the AHL with Binghamton, he was called up and scored his first NHL goal, finishing with two points in six games. Foote has great size to protect the puck and is always powering his way through his opponents. 
It won't be long before there is another Hughes player on the Devils. The fourth overall pick in 2021, Luke– the younger brother of Jack is a smooth skating defender with great vision. He's not as fast as his older brother and Canucks defenseman Quinn, but he still has great speed and puck skills. He'll project to be a perfect option as a top-four defender. 
3) Detroit Red Wings
Previous Ranking: 7
Top Five Prospects: Jonatan Berggren, Sebastian Cossa, Simon Edvinsson, Lucas Raymond, Moritz Seider 
Key Graduates/Subtractions: N/A
Key Additions: Sebastian Cossa, Simon Edvinsson
General manager Steve Yzerman has done a fantastic job in rebuilding the Detroit Red Wings with high-end, elite level talent. Since drafting Moritz Seider, who continues to excite everyone in the Red Wings fan base with his physical play and two-way abilities, he continues to make every selection right.
Related: Detroit Red Wings' 'Untouchable' Prospects for 2021-22
Drafting Lucas Raymond was a no brainer as he was the best player available in the 2020 draft. His quick hands, puck skills, shot and speed are the kind of qualities that a rebuilding franchise needs. He has the potential to be a very strong and dangerous playmaker.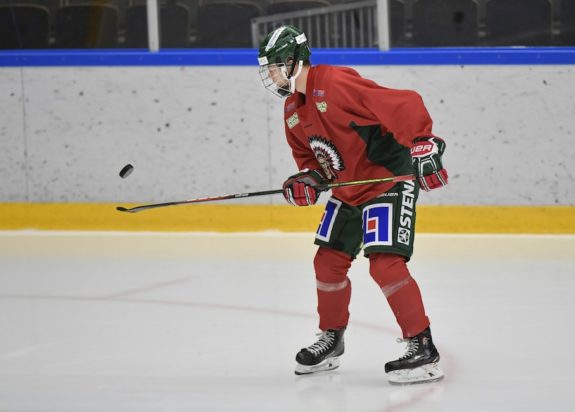 Jonatan Berggren is a player that seems to be getting lost in the hype around Seider and Raymond. He has very great control of the puck and is very deceptive with his movements. He plays at a very fast pace and can be very elusive in the offensive zone.
Then there's Albin Grewe, Theodor Niederbach, Eemil Viro, Jared McIssac and Donovan Sebrango are also names that should be kept a close eye on. All of which have great upside and continue to show progress with their play. 
Then there's the class of 2021. They selected another big and mobile, two-way defender in Simon Edvinsson, a potential starter with Sebastian Cossa as cornerstone pieces for the franchise. Costa's got excellent vision and mobility in the crease. He went 17-1-1 with a .941 SV% and am1.57 GAA with the Edmonton Oil Kings last season.
The future is definitely starting to look very bright for the Red Wings. 
2) Anaheim Ducks
Previous Ranking: 9
Top Five Prospects: Jamie Drysdale, Lukas Dostal, Mason McTavish, Jacob Perrault, Trevor Zegras 
Key Graduates/Subtractions: Isac Lundestrom
Key Additions: Mason McTavish, Sasha Pastujov, Olen Zellweger
The Anaheim Ducks find themselves in a really great spot, building up their prospect pool with two highly talented players. Centre Trevor Zegras and defenseman Jamie Drysdale are leading the way as cornerstone pieces for this franchise.
Related: Anaheim Ducks' Top 10 Prospects for 2021-22
Zegras' two-way game and his blend of playmaking and shot selection makes him a very versatile threat offensively. He was great in the AHL with the San Diego Gulls posting 21 points in 17 games and continued to show some strong play in the NHL. 
Drysdale's mobility and ability to create plays makes him a driving force on defense. After winning silver with Team Canada at the World Juniors, he didn't miss a beat at the pro level, recording 10 points in 14 games with the Gulls. The Ducks called him up and had a great showing in his 24 games played, displaying his skating, patience and IQ.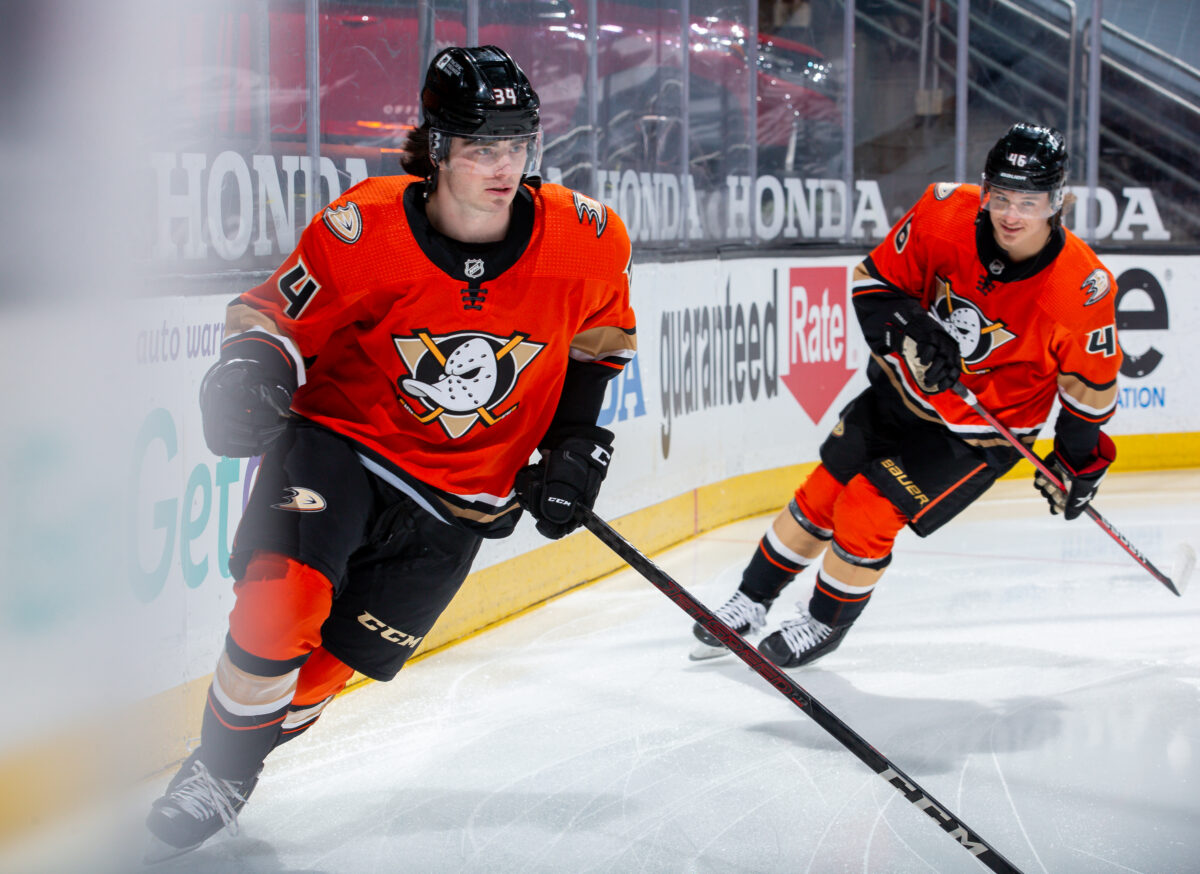 The Ducks have two lethal shooters in Jacob Perrault and 2021 third overall pick, Mason McTavish. Perrault always has offense on his mind and has a shoot first mentality. McTavish tends to play a more aggressive style, engaging on the forecheck and being the one to bring the energy. When the puck is on his stick, he has a quick release and accuracy.
Let's not forget that the Ducks also drafted Olen Zellweger, a swift skating puck mover on defense and a playmaker in Sasha Pastujov in the third round in the 2021 draft. The Ducks found really great value in the later stages of the draft. 
Even though the Ducks have John Gibson in net, Lukas Dostal remains a great option as he's put up some strong numbers in the AHL. After going 10-1-0 and posting a .941 SV% in the Liiga, Dostal went 15-9-0 with .916 SV% and 2.87 GAA showing excellent composure in net. 
1) Los Angeles Kings
Previous Ranking: 1
Top Five Prospects: Quinton Byfield, Brandt Clarke, Arthur Kaliyev, Francesco Pinelli, Alex Turcotte 
Key Graduates/Subtractions: Jaret Anderson-Dolan, Tobias Bjornfot, Gabe Vilardi
Key Additions: Brandt Clarke, Francesco Pinelli
It isn't any surprise that the Kings still have the greatest farms systems and wealth of options in terms of prospects. Even with the promotions of Jaret Anderson-Dolan, Tobias Bjornfot and Gabe Vilardi, this team is deep at every position.
Related: Los Angeles Kings' 'Untouchable' Prospects
The Kings have a three-head beast up front at the forward position and it starts with Quinton Byfield. Byfield is an elite level centreman with amazing size and incredible skill. He didn't look out of place at all in his first pro season with the Ontario Reign in the AHL. He could very well get his chance to impress and make the NHL.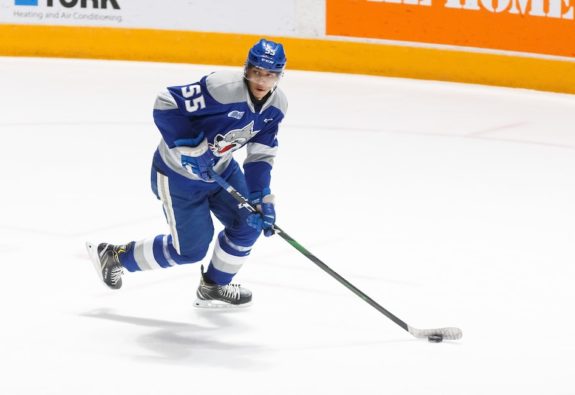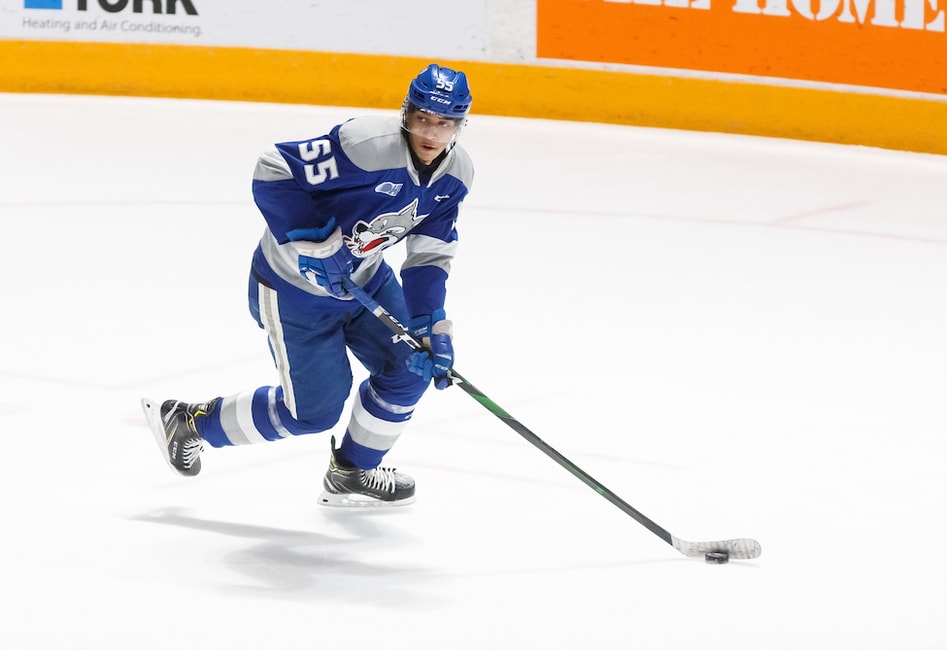 Arthur Kaliyev has been a consistent goal scorer wherever he has played and Alex Turotte has excellent play-making abilities. These three players are going to lead the charge offensively for this team in the future as all three have a great blend of size, speed and offensive talent. 
There's still the skill and speed that Rasmus Kupari, Akil Thomas and Samuel Fagemo up front, making it the deepest team at the forward position out there. It'll be really entertaining to see all of them in the NHL once they make the jump.
The talent continues on the blueline with Kale Clague, Brock Faber, Helge Grans, Jordan Spence and 2021 first-round pick Brandt Clarke, who is an excellent puck-moving defenseman. The Kings have a great blend of mobility and defensive awareness with their current crop of defensive prospects.
It also helps that the Kings had a steal of the draft, taking Francesco Pinelli– who should've been a first-round pick– in the second round. If the Kings continue to scout and evaluate talent like they have over the last few seasons, then they'll have no problem staying at the top as the team with the best farm system.
---
What are your thoughts on your favourite team's ranking? Leave a comment below!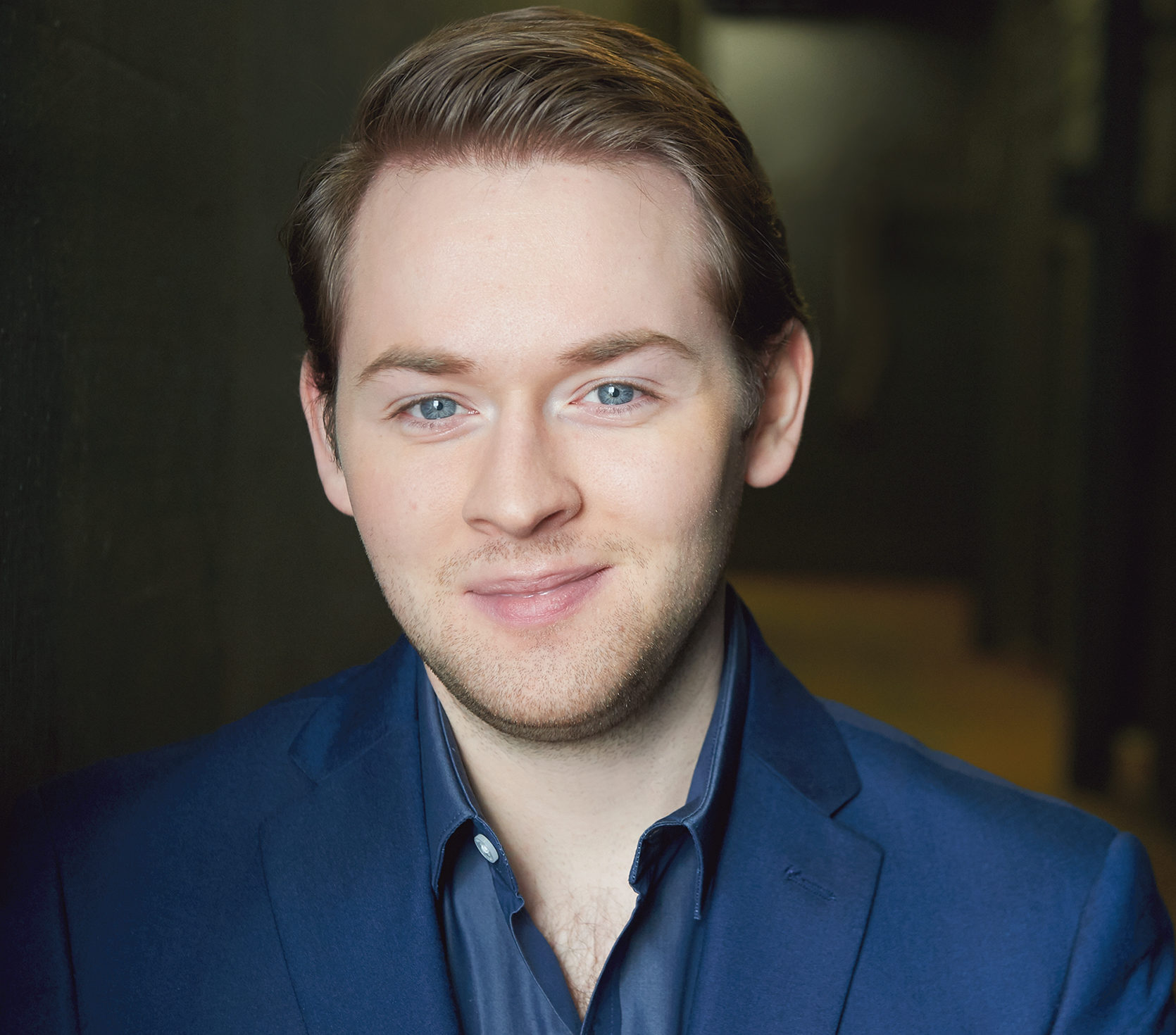 Hockey has been a big part of my life since watching my first Leafs game to currently coaching minor hockey. I previously interned at The Hockey News and worked on Toronto Marlies broadcasts for Rogers TV. Aside from hockey, I also enjoy drumming, animation and impressions/ voices.