Daniil But
2022-23 Team: Loko Yaroslavl (MHL)
Date of Birth: February 15, 2005
Place of Birth: Yaroslavl, Russia
Height: 6-foot-5, Weight: 203 pounds
Shoots: Right
Position: Left Wing
NHL Draft Eligibility: First Year Eligible
Rankings
Daniil But is one of the most polarizing players in the 2023 NHL Draft, with some scouts, like The Athletic's Corey Pronman, seeing him as a top-10 talent while others, like TSN's Craig Button, see him as a mid-second round pick. As is often the case, the truth most likely lies somewhere in the middle. So what is it about But that has evoked such differing opinions? Let's take a look.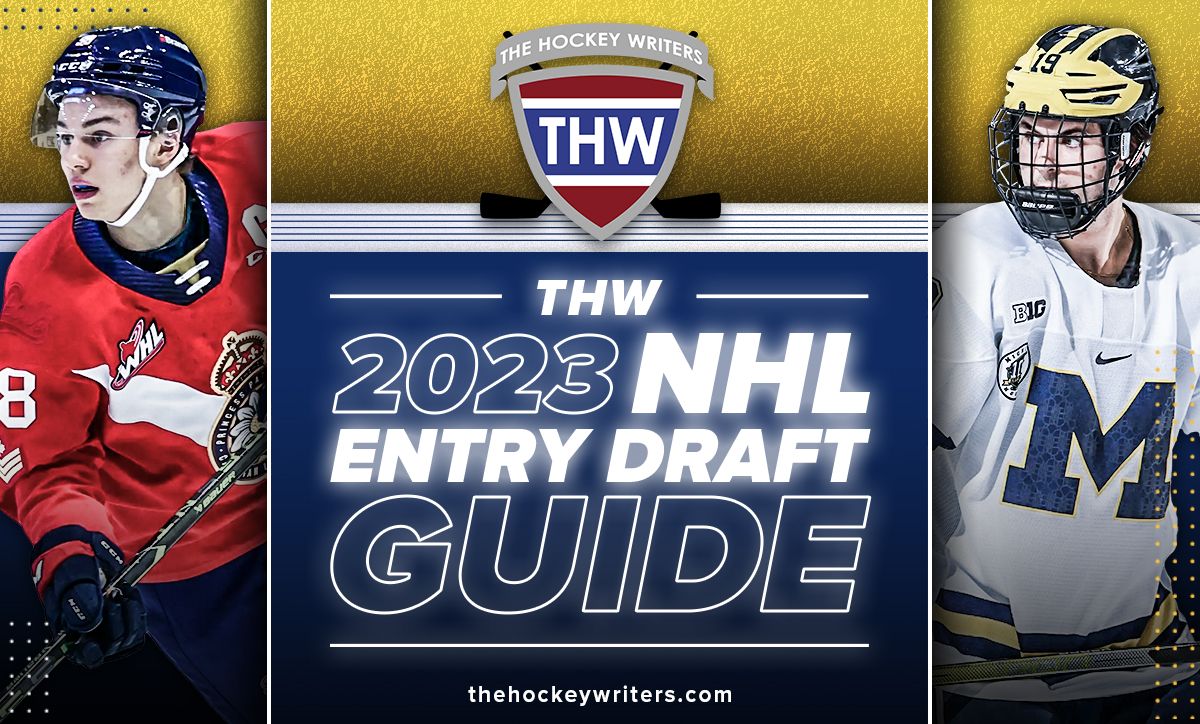 But is one of the larger players in the entire draft class standing at 6-foot-5 despite just turning 18 in February. He has the size that NHL general managers dream of, and he has great puck skills and shooting mechanics for a player of his size. However, his skating is a bit sub-par at the moment, as is common for taller players, and might hold him back from ultimately reaching his full potential in the NHL someday.
But's shot is heavy, a symptom of his raw strength and his shooting mechanics, and he can even be seen pulling the puck towards his skates in the moment before shooting to change the angle and make the opposing goalie's life even tougher. The power and cleverness to his release make it clear that his shot will be an NHL-caliber weapon, especially as a finisher on the powerplay. Despite being so much bigger than the vast majority of his competition in the Russian junior leagues, But isn't the most adept physical player, though I think it's fair to assume he'll become more comfortable with his large frame once he stops growing.
He's got solid puck skills, and is capable of driving to the middle of the ice off the boards, a very useful skill in today's NHL. But is also a faster skater than one might expect considering his size, and can be difficult to stop once he gets up to speed. The problem is how long it takes for him to accelerate adequately, making him dangerous in situations where he's afforded plenty of open ice, and significantly less so when there's traffic immediately in front of him. 
Related: 2023 NHL Draft Guide
The 2021-22 season was But's first in the MHL, and he made himself known quickly, with 17 goals and 44 points in just 49 games. That was enough for him to lead all U17 MHL players in goals, points, and point-per-game (min. 5 games played). He continued to grow and fill into his tall frame, and he has delivered on increased expectations this year.
But has played 32 MHL games so far this season, scoring 18 goals and 32 points along the way. He earned a callup to his team's KHL squad, scoring his first two professional goals in 15 games of action where he saw minimal ice-time as is common for teenage players in Europe. Just the fact that he was in the lineup for the third place team in the KHL is impressive, showing that the organization values his development as well as his skill and size.
Other THW Draft Profiles
Daniil But – NHL Draft Projection
But offers a Rorshach test of sorts to scouts, what do you see when you look at him? Do you see a big, skilled winger with good enough skating to be a great middle-six winger, or do you think he's got interesting tools but won't be able to keep up with the pace of play at the North American pro level? It's tough to say at the moment, but But's size/skill combo is so unique that I think an NHL team would be right to take a bet on him in the first round, probably in the 20-32 range.
Quotables
"But makes a lot of crafty plays with the puck in small areas, and with his massive wingspan he's able to pull pucks past a lot of checkers. He can both make and finish plays well, but he's more of a goal scorer." – Corey Pronman, The Athletic (2023 NHL Draft prospects: Connor Bedard leads Corey Pronman's midseason ranking, January 31, 2023)
"His large stature and unique skillset make him an attractive winger, drawing attention with his ability to play with the puck off of the wall. He has nice outside-in skill, allowing him to beat defenders inside and force his way to the net." – Jake Janso, FC Hockey
Related: 2023 Entry Draft – Horn's Mock Draft 1.0
"If he's able to improve his leverage and be a more consistently hard player to play against, he could be an effective middle-six winger who can score goals for his line, all while being a shooting threat on a power play unit." – Jordan Harris, Dobber Prospects
Strengths
Size
Goalscoring
Good hands for his size
Decent speed
Under Construction – Improvements to Make
Improved acceleration and agility would go a long way
Puck protection/physicality in puck battles
NHL Potential 
But will likely be a solid contributor in an NHL middle-six with a dangerous shot and enough skill to worry defenders. If things go well in his development and he takes a few strides when it comes to his skating (pun intended), then we could be looking at a legit top-six winger with the size, skill, and shot to impose his will in the NHL. However, I'd advise you not to expect him to become Tage Thompson 2.0 and rather to look at his ultimate potential as more of a Thompson-lite.
Risk-Reward 
Risk – 2.5/5, Reward – 4/5
Fantasy Hockey Potential
Offense – 8/10, Defense – 6/10
Daniil But Stats
Videos
---
---
---
Latest News & Highlights
---