Will Smith
2022-23 Team: USA U18 (NTDP)
Date of Birth: March 17, 2005
Place of Birth: Lexington, Massachusetts, USA
Height: 6-feet, Weight: 172 pounds
Shoots: Right
Position: C
NHL Draft Eligibility: First Year Eligible
Rankings
Will Smith is a dynamic offensive player who is centering the NTDP's top line this year and is very creative offensively while being reliable defensively. This year's U18 team in the NTDP is a bit more sparse when it comes to top-notch draft prospects, with Smith being one of just four prospects who are generally considered to be first-round level talents. Smith is an above average skater, especially when it comes to maneuverability, which gives him an advantage in all three zones. He's agile enough to quickly switch coverage on defense and usually fast enough to separate himself from defenders on the rush at the junior level.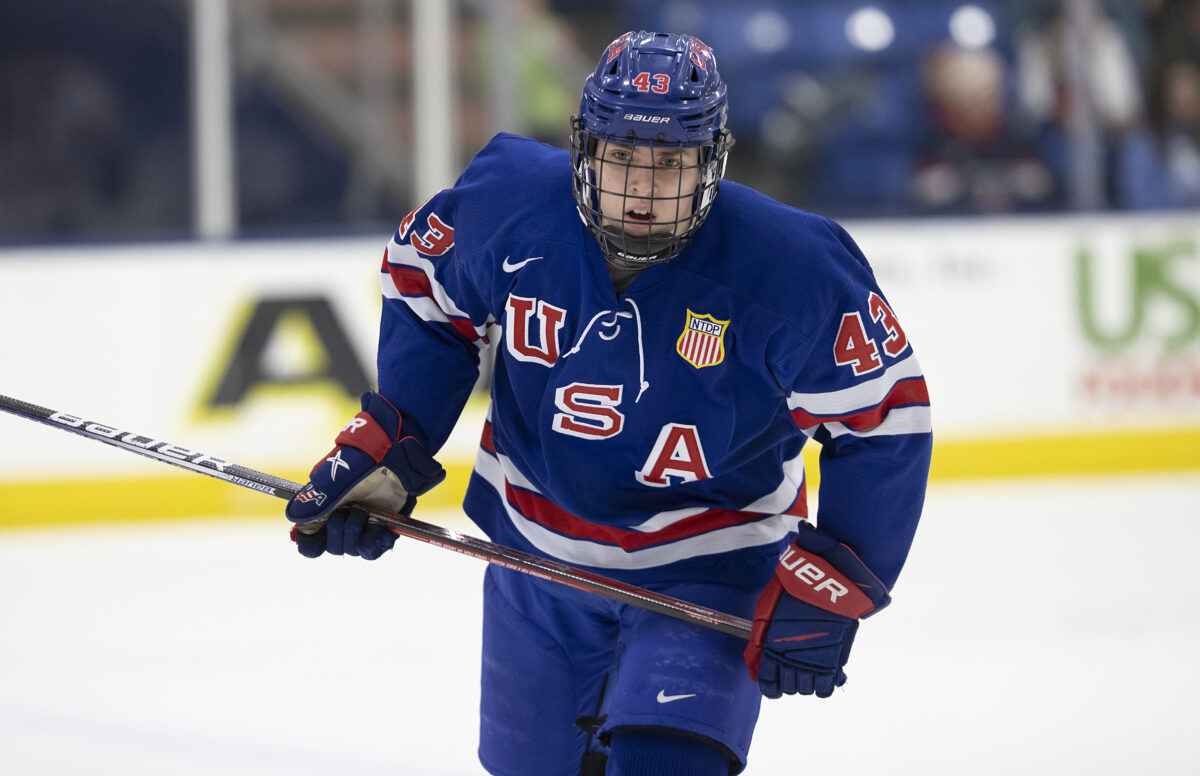 Smith attracts a lot of attention in the offensive zone, drawing multiple defenders in his gravity before making a deft pass out of pressure to one of his lucky teammates. He has a ton of deception built into his game, and is capable of faking opponents with his head, eyes, shoulders, and skates. It's very difficult for defenders to predict where he'll go next, and as soon as they commit one way he zips off in another.
The ability to make tough plays under pressure at high speeds is often referred to as "pace", and it is one of the biggest indicators that a player will find ways to succeed in the NHL someday against the fastest and smartest competition in the world. No matter what you call it, Smith has it. In fact, he thinks so quickly that he's often making plays in an effort to predict what defenses will do next which can sometimes be as dangerous as it is exciting. 
Related: 2023 NHL Draft Guide
Smith's skating might limit him a little bit in the NHL, as it won't look quite as great against professional competition, though his hands and playmaking are so good that it might be a non-factor. His confidence and poise to wait just long enough to bait a pokecheck that opens up a passing lane is impressive for a player of any age. Smith's decision making can be a little bit suspect at times as well, often passing up on safe/easy plays in favor of the flashier and more dangerous plays. While that has worked pretty well for him this year, he will likely need to reign in those decisions a little bit as he heads to the NCAA and eventually the NHL. 
Producing points is not a problem for Smith as he's currently on pace to score right around two points per game for the U18 NTDP squad, a nearly unheard of scoring pace. He's right up around that same pace in the handful of USHL games as well, and I expect him to be a real point producer as a freshman with Boston College next season, in part because of the chemistry he has developed with his line mates Gabriel Perreault and Ryan Leonard who are also going to be freshman at Boston College next year.
Other THW Draft Profiles
Will Smith – NHL Draft Projection
Smith is almost certainly going to be a top-10 pick on draft day, with a good chance at ending up in the top-six or so. He's clearly not in the top tier of the draft class with guys like Connor Bedard and Adam Fantilli, but there's no doubt he's near the very top of that next group. Although Smith is still the favorite to be the first American player off the board, his NTDP teammate Oliver Moore has been really making a name for himself this year and has a chance to leapfrog Smith on draft day.
Quotables
"He's one of those players that's got a real subtle excellence to him," Button said of Smith. "All of the sudden, he needs to go a little bit faster, and he does. He needs to make a pass, and he does. He needs to maneuver the puck into a shooting position, and he does. You better know where he is on the ice because if you don't, chances are you're about ready to get slayed." – TSN's Craig Button
It doesn't take many viewings to know he's deceptive and handles the puck well on the rush. Smith drives a lot of the play on his line and his confidence to make quick dekes is sky-high. Nothing specifically makes Smith stand out compared to someone such as Bedard or Matvei Michkov. Smith isn't the most skilled player out there, and he isn't going to blow you away speed-wise. But there are very few weaknesses in Smith's game, and he can play just about any role needed quite reliably. – Daily Faceoff's Steven Ellis
"When Smith is cutting and dashing through the middle of the ice, he draws attention as defenders feel the need to assist their teammates who are generally a step behind and making a desperation play themselves. Once he draws a double team – or even triple team at times – he dishes to linemates, showing deft passing with his forehand and backhand." – The Hockey News' Tony Ferrari
Strengths
Two way game
Deception 
Confidence
Stick Handling
Makes plays at high speeds (high pace)
Under Construction – Improvements to Make
Skating isn't especially dynamic
Safer decision making
Better physical game
NHL Potential
Smith has the potential to be a top line center with a great two-way game and he's a pretty safe bet in my mind to become at least an excellent second line center. He will control an NHL powerplay from the flank both as a finisher and a distributor, and could even turn into a guy you want on your penalty kill as well. Smith has 90+ point potential and his ability to pull off the absurd things he does at such a high speed gives me hope that he'll be able to execute similar moves in the NHL someday.
Risk-Reward
Risk – 1.5/5, Reward – 5/5
Fantasy Hockey Potential
Offense – 9.5/10, Defense – 8/10
Awards and Achievements
U18 WJC Silver Medal (2021-22)
Will Smith Stats
Videos
---
---
---
Latest News & Highlights
---