Welcome back to my 2023 NHL Draft Rankings.
With the World Junior Hockey Championship coming to a thrilling conclusion, the attention for many in the scouting and prospect world begins to shift their focus to the 2023 NHL Entry Draft. 
This year's crop continues to be as a deep of a draft since the 2015 class that featured the likes of Connor McDavid, Jack Eichel and Mitch Marner and many more elite level talents. Many hockey fans were given a treat as many of those up for this year's draft showcased their talents at the World Junior Championship in hopes of improving their stock and make a lasting impression on the scouts.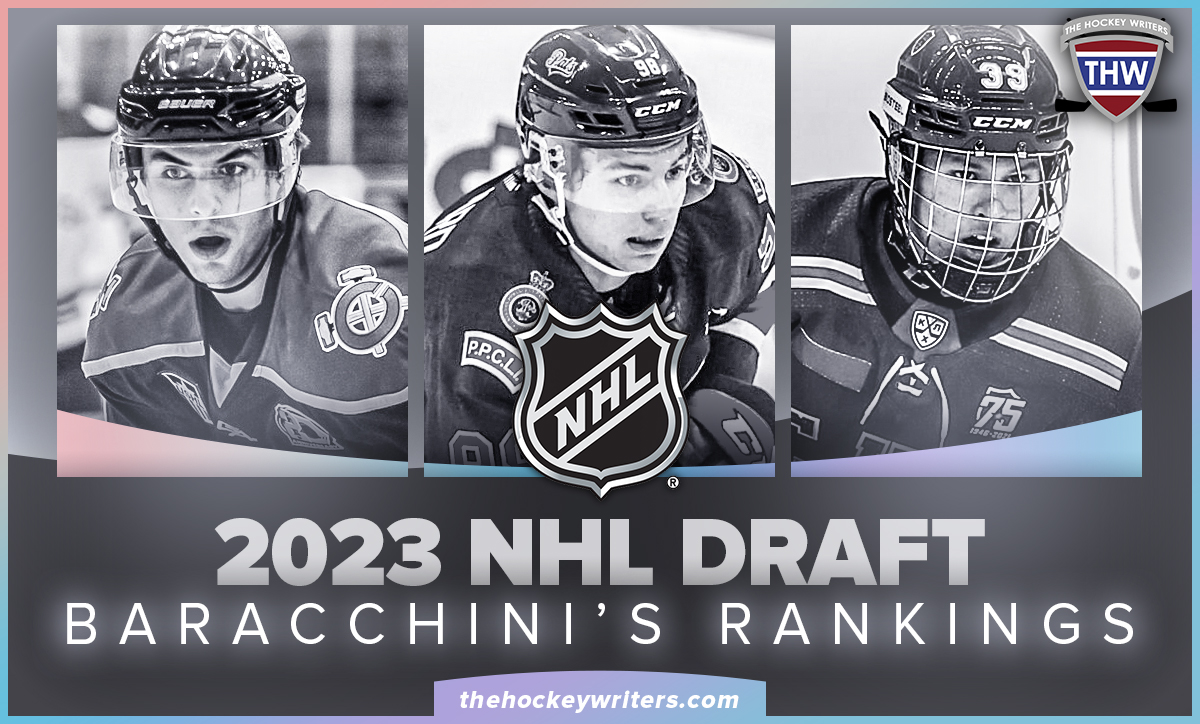 As is the case with any rankings, there has been a lot of movement and some new faces in my second ranking compared to my first one done in September. From an elite level generational talent, highly skilled centres and wingers and even defenders making big time surprises, this list has it all. This really is shaping up to be a very exciting and talented group of prospects with possibly first round talent slipping into the second round as well.
This time around instead of highlighting a select few prospects, I go in depth with my top-32 and then round it out with my second round. Without further ado, here is my January rankings with no surprise at who number one is.
First Round
1. Connor Bedard, C, Regina Pats (WHL) 
After a record setting performance from a Canadian at the World Junior Championship, Connor Bedard is still number one. If I could have him higher than first, I would. There are plenty of words to describe him: elite, generational, dominant, exceptional, extraordinary, sensational and the list goes on. Despite not playing games in the Western League for a few weeks, he made his presence felt with a four-goal, six-point performance when he returned. He's still leading the Western Hockey League in points, averaging 2.41 points per game.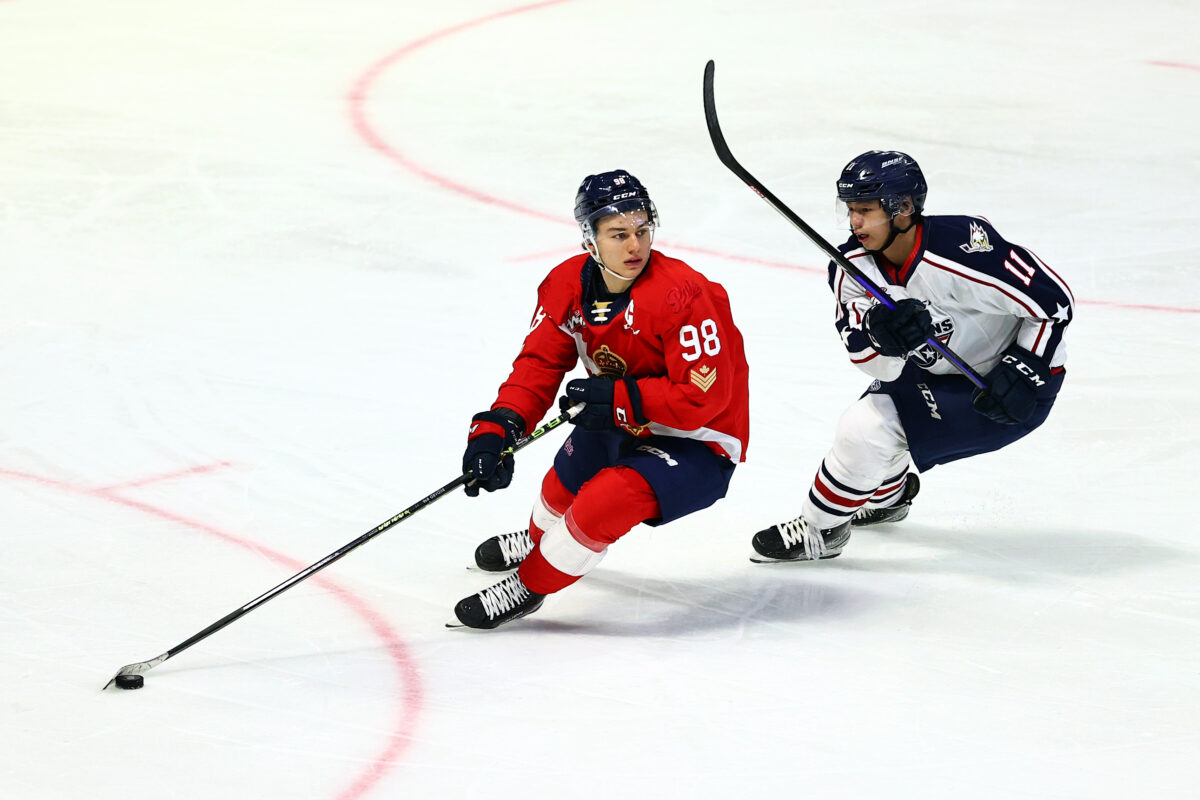 He's a highlight reel, elite level talent. He displays an electrifying, deceptive and dynamic skillset every time he's on the ice as he's always taking control of a shift and dictating a high pace of play. He's got elite level vision to process each play, isn't afraid of pulling off moves in high traffic areas and his shot is just as powerful, deceiving and accurate to that of Auston Matthews. His long stick is able to fool goaltenders and defenders as he curls his stick to adjust the angle in order to pick his spot. No matter where he is on the ice, there's a high probability that the puck will be in the back of the net. 
2. Adam Fantilli, C, University of Michigan (NCAA) 
Adam Fantilli is slowly starting to cement himself as the second pick as he's another gifted and dynamic offensive player. He's currently fourth in freshman scoring with 26 points as he continues to dominate the collegiate scene. He has the size, physicality, smarts, skillset and deceptive movements to be a consistent offensive threat. He's got great balance, smooth edges and great speed as he's a fantastic skater leaving everyone in the dust. He's constantly following the puck and is always in position to make a play. The way that he's able to create plays and make decisions at a quick pace, being miles ahead of the opposition, is what makes him dangerous. He's got great strength with his size, engaging in battles and is excellent at getting the inside edge of opponents to regain possession. 
---
---
3. Leo Carlsson, C, Örebro HK (SHL) 
Probably my favourite player in this draft, Leo Carlsson is already proving that he's ready for the pro level, not looking out of place as an 18-year-old in the SHL. While he has cooled off since a hot start, his 14 points in 25 games is still impressive. Carlsson possesses excellent smarts and IQ as he has the awareness to always find the open ice to be in the right spot at the right time. He's got excellent poise and is never thrown off his game. He's a smooth skater with a long stride and his speed combined with his soft hands can get around defenders effortlessly. He's a smart playmaker, a hard shooter and utilizes his size to his advantage to win puck battles. His defensive play is just as impressive showing his ability to pressure puck carriers and take away passing options. 
4. Matvei Michkov, RW, HK Sochi (KHL) 
Michkov was a goal per game player last season in the MHL and just under that mark this season at that level. Being on loan from SKA St. Petersburg to HK Sochi in the Kontinental Hockey League, he's continuing his goal scoring with four goals in eight games. It's extremely hard to contain him as he has the speed and agility to evade pressure and find the open ice and unleash his shot. No matter where he is, like Alex Ovehckin, shooting and scoring is always on his mind as he has a powerful and accurate release. Being under contract for the next three seasons in the KHL may see his stock fall, but if a team is willing to wait, it'll be worth it.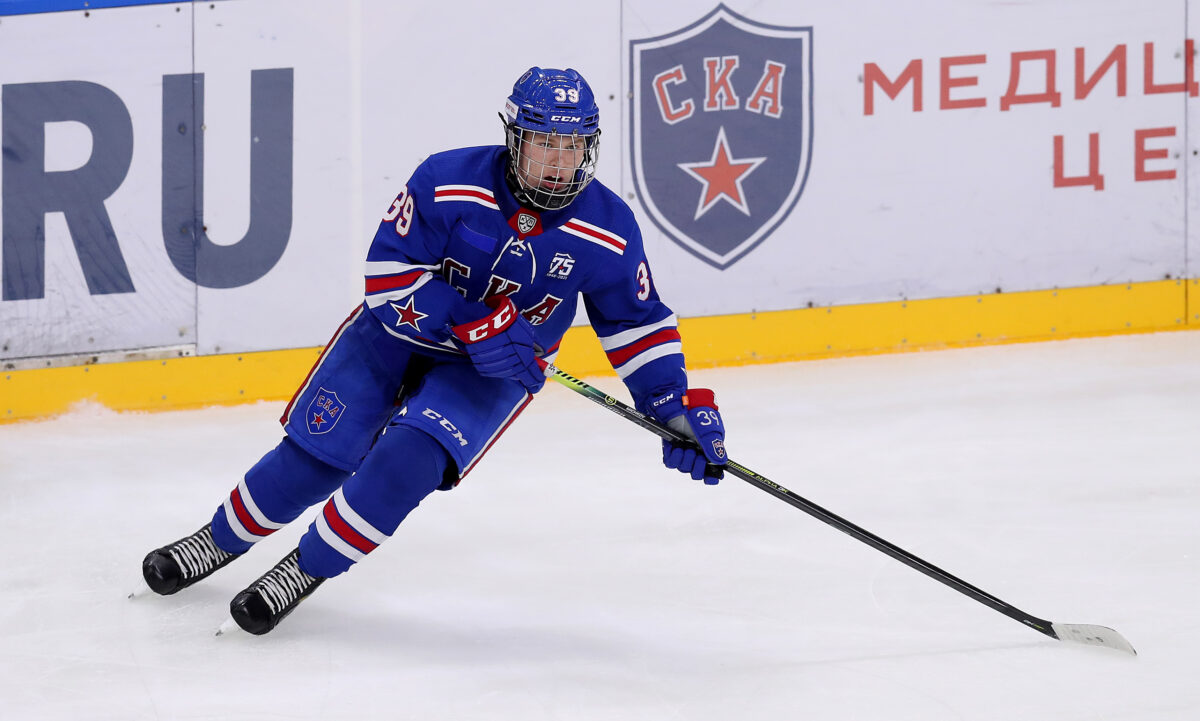 5. Will Smith, C, USA U18 (USDP) 
Will Smith got off to a torrid start with the U18 team to start the season. Since then, he hasn't slowed down one bit as he has 54 points with the U18 team. Smith does everything so well as he's a very deceptive playmaking centre. He's quick with his decision making, and is always driving hard to the middle of the ice with a high pace of play. He has great puck skills and the combination of his edgework and excellent hands allows him to make moves around defenders with such ease at break neck speed. He does a great job to draw opponents in and spot his teammates in the open ice, making crisp and strong passes. Goaltenders have a hard time getting a read as when you think he's going to shoot, he passes it off without any hesitation. 
6. Zach Benson, F, Winnipeg Ice (WHL
Displaying a high IQ and constantly pushing the pace of play, Benson's dynamic and high octane play with the puck constantly gets you out of your seat. He's not the fastest skater, but he makes that up with his relentless attack and strong work ethic when on the attack to get the inside edge engaging in battles. He's extremely deceptive with his movements and extremely skilled when he has possession of the puck. Even without the puck, Benson is buzzing and constantly making an impact by pressuring the opposition. Among players in their draft year minus one season, Benson had the second-best even strength primary point per game rate of 0.65, only behind Bedard. 
7. Eduard Šalé, RW, HC Kometa Brno (Czechia) 
A highly creative and extremely calculated winger, Šalé's attention to detail and offensive awareness easily makes him a top-10 pick. When he has possession of the puck, he's always in playmaker mode, finding the cross seams with well-timed passes to his teammates. He has the size and strength to easily separate the player from the puck when battling along the boards or in the open ice and his long smooth skating stride helps create separation easily. He's got soft hands, has great control and a lethal shot, making him a well-rounded offensive threat. He's made a smooth transition playing amongst men in Czechia and isn't out of place.
---
Latest News & Highlights
---
8. Andrew Cristall, LW, Kelowna Rockets (WHL) 
Many will overlook the fact that Cristall is 5-foot-10, 165 pounds, but that hasn't affected his production as he's second to only Bedard in WHL scoring with 62 points. Aside from Bedard in their DY-1 season, Cristall had the second-best primary point per game average with 0.88. He's very deceptive, shifty, evasive and crafty as a playmaker as he's always finding an open passing lane to make a play. Even when there's nothing there, he always finds a way. The way that he handles the puck is outstanding, especially at how quickly he moves around the ice. The most difficult plays look so easy for him to execute. His skating and edgework make him extremely elusive as he's always able to get around defenders easily. 
Related: NHL Draft Rankings: Horn's Top 32 for December
9. Brayden Yager, C, Moose Jaw Warriors (WHL) 
Above a point per game, Yager is having a productive draft year with his overall IQ, off the puck play and goal scoring abilities. When he gets to the high danger area, he always seems to have the time and space to unleash his blazing release with his shot and get it on net. He's got strong hands to turn defenders inside out and even fool goaltenders in tight. He's a great strong skater being able to attack swiftly in transition and evade pressure situations when coming out of the corners. He's confident offensively, but he's just as responsible defensively having great awareness without the puck and is sound positionally.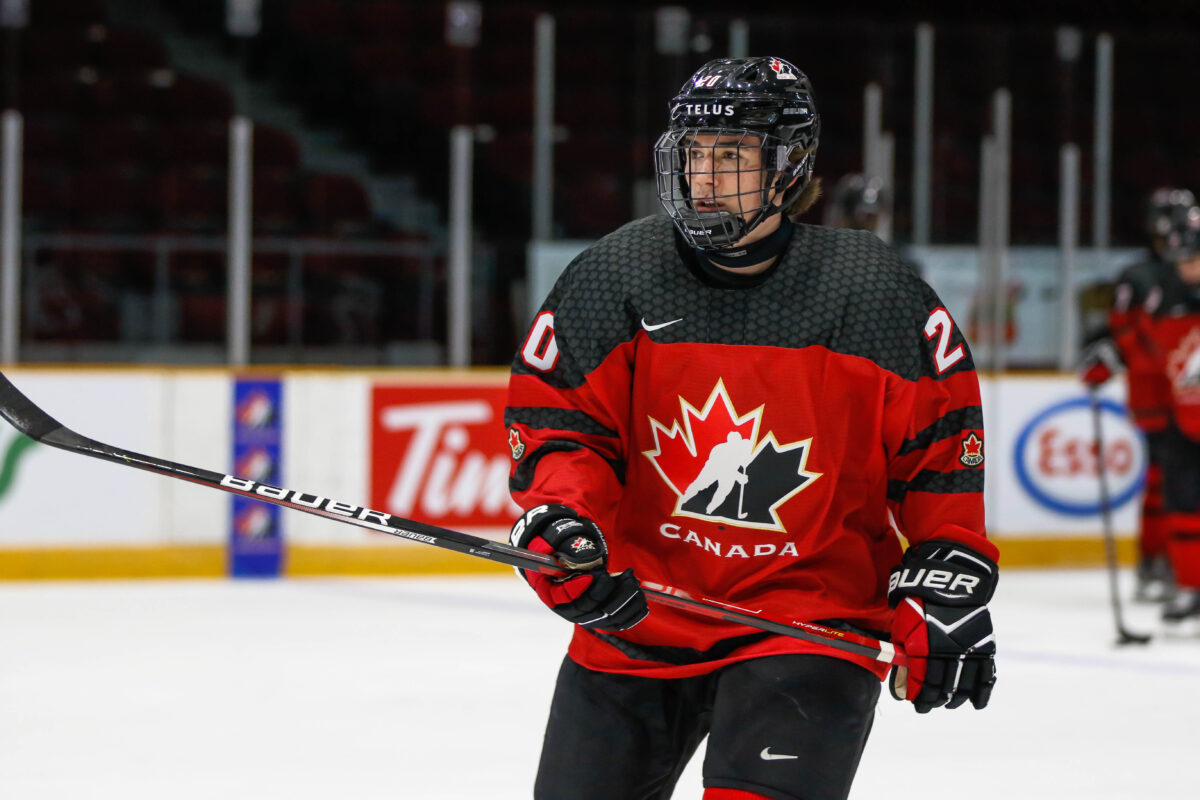 10. Dalibor Dvorsky, C, AIK (HockeyAllsvenskan) 
The wave of high-end Slovak talent continues as Dvorsky is next in line. He is a highly creative, smart and excellent offensive mind. He's got a great compete level and is a dual threat both at setting up plays and scoring goals. He's extremely patient with the puck, showing great vision and waiting for the passing lanes to open while also having a bullet of a shot with a lightning quick release. He's got good puck protection skills to fend off defenders and maintain possession and while he's not the quickest skater, his long skating stride can get him out of trouble. While he can be passive at times and needs to engage more, he still remains an offensive threat. 
11. Riley Heidt, C, Prince George Cougars (WHL) 
I was very impressed with Heidt at the Hlinka Gretzky Cup as he was a dynamic force helping Canada win gold. That play has continued into his draft year. He's an exceptional playmaker, finding the cross seams and passing lanes while displaying the patience to draw in the opposition and protects the puck very well. He's a quick and agile skater always locating the open spaces to lead an attack, has strong edges and has great top speed that puts defenders on their heels. He doesn't get enough credit with his shot as he has great power in his release and has the mindset to make himself open for a scoring chance.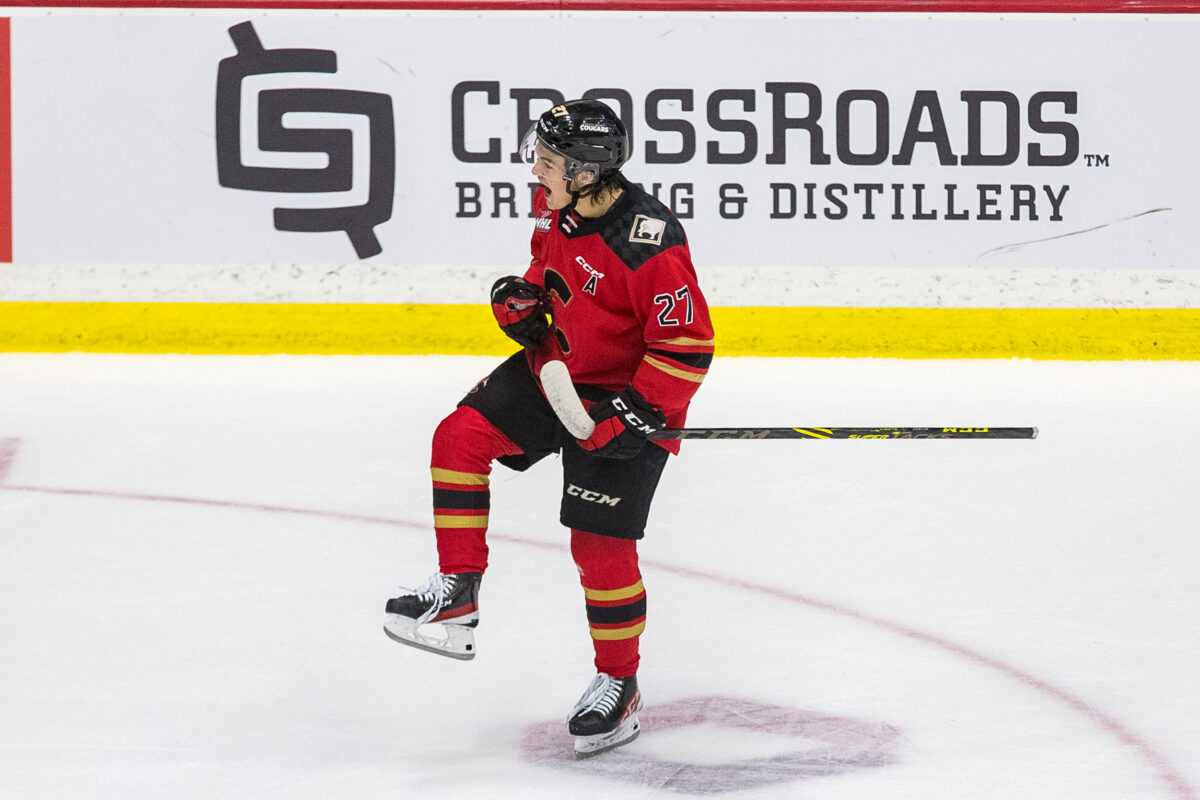 12. Colby Barlow, LW, Owen Sound Attack (OHL) 
Barlow is now my top player from the Ontario Hockey League and the definition of a player that can play a power forward-like game. Barlow displays a high-end work ethic and the goal scoring abilities that teams value. He has the compete, the size and strength to win puck battles and get to the open ice for a prime scoring opportunity. He's got great edges and speed to attack the outside then quickly cut back to the middle to wire it on net. Whether it's from far out or in tight locating a rebound, Barlow is there. While offense is on his mind, he has also shown to provide a strong, 200-foot game and being responsible in his own zone, as THW's own Mark Scheig wrote.
13. Axel Sandin Pellikka, D, Skellefteå AIK J20 (Nationell) 
Sandin Pellikka was heavily relied on as a 17-year-old defender at the WJC and he made the most of his opportunity with those minutes. As a result, he's thrown his name into the top defender conversation for this draft. He displayed great confidence with his puck moving abilities and transitional play. He's deceptive with his movements and puck handling and his effortless skating makes him extremely dangerous when leading an attack. He has great accuracy with his shot and he's even more accurate of a passer with his ability to find the lanes and connect with his teammates.  
14. Ryan Leonard, C, USA U18 (USDP) 
Leonard is a highly energetic and lethal goal scorer that plays with a high level of intensity every time as he shows no quit to his game. He's always in attack mode and displays a shooters mentality with a quick snap of his wrist. He has great velocity and accuracy and is always finding the back of the net as his 22 goals with the U18 squad shows. He displays soft hands in tight spaces, fooling both defenders and goaltenders. He plays at an incredible pace and speed as he's always one step ahead of the competition. 
15. Otto Stenberg, C/W, Frölunda J20 (Nationell) 
Fresh off winning bronze at the World Jr. A Challenge, Stenberg continues to have success no matter what level he's playing at, as he was captain of that team and at the Hlinka Gretzky Cup. He possesses a very well-rounded and responsible game while still being a creative and dynamic player offensively. He has great energy and skill as he's always taking control and being at the centre of the play. He's got strong puck skills; play making abilities and has great attention to detail with his ability to read the game. 
16. Mikhail Gulyayev, D, Omskie Yasterby (MHL) 
Much like Sandin Pellikka, Gulyayev is a confident and creative puck-moving defenseman. He has played at all three levels in Russia this season and has managed to produce in every one of them. He's a terrific and accurate passer and an effortless skater with great speed. He has excellent vision and offensive awareness as he excels at finding and identifying the open ice to lead an attack, make timely pinches or join on the cycle in the offensive zone. He needs to add more strength, but the skillset is definitely evident.
17. Jayden Perron, F, Chicago Steel (USHL) 
A dynamic playmaker, Perron is definitely worth keeping an eye on as he's been dominating the USHL this season. Everything that he does is effortless as he's scanning the ice to create plays with his offensive awareness and high IQ. He can make crisp and accurate passes and his soft hands to maintain great control of the puck, but his speed and skating is what stands out. He's great at catching defenders off guard with his agility, being able to push them back in order to create more space for himself or his teammates. He has strong edges and movements that make him difficult to contain. He needs to get stronger, but he has a lot of upside.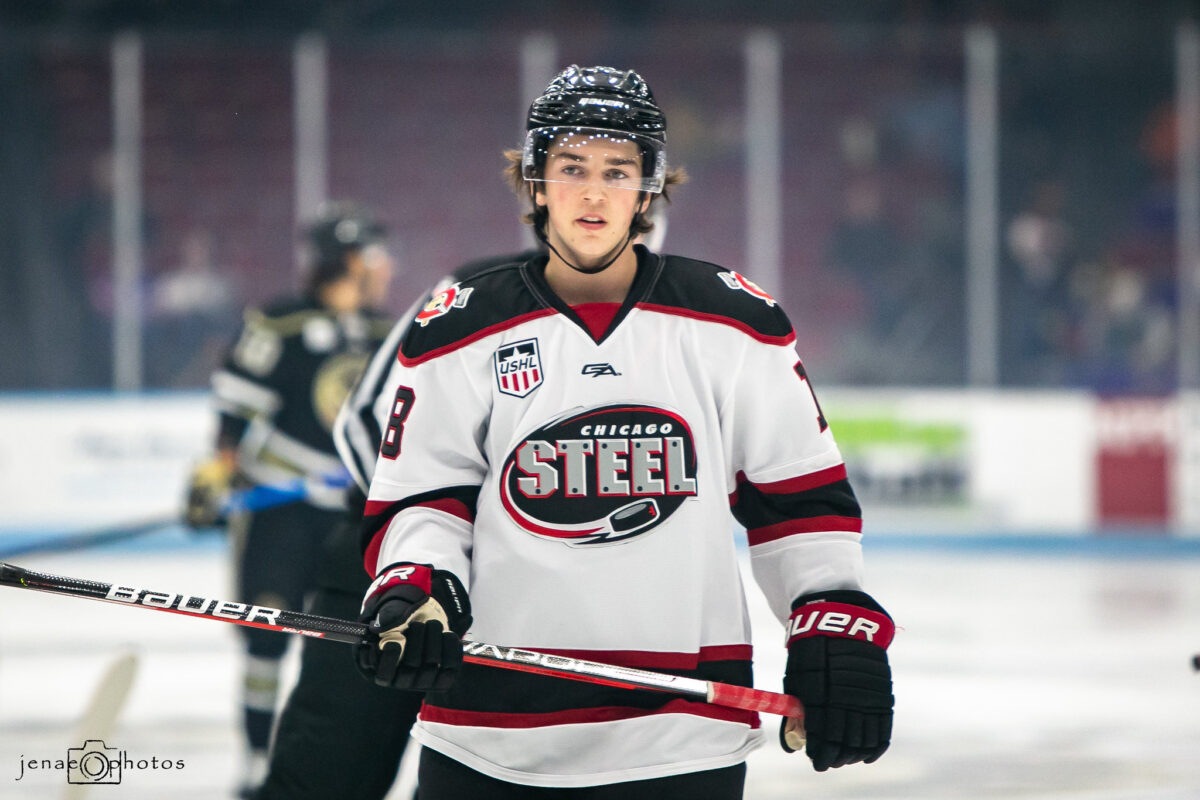 18. Matthew Wood, F, University of Connecticut (NCAA) 
After dominating the Alberta Junior Hockey League with 45 goals last season, Wood is continuing to produce as a freshman in the NCAA with 17 points in 22 games. With his ability to put the puck in the net, Wood is a very dangerous offensive powerhouse. He has one of the top shots in this class as he has the power, accuracy and deceptive wrister that could do some major damage at the NHL level. His ability to generate scoring chances and maintain offensive zone time is outstanding. He has great awareness to spot the open ice and attack with force or even work quick passing plays to quickly get back into position to receive a pass. 
19. Kasper Halttunnen, RW, HIFK (U20 SM-sarja) 
Halttunen has been another favourite of mine for some time now as he brings an excellent blend of goal scoring abilities, size and speed. He's the perfect blend of skill and physicality as there are going to be teams that will want that kind of offense and intensity. He has a bullet of a one-timer and a quick release with his wrist shot. He has the speed to be quick in transition, engage on the attack and establish the forecheck or even lay a punishing hit on his opponent. With the package that he brings, he is a force to be reckoned with and he will not stop playing that way.  
20. Ethan Gauthier, RW, Sherbrooke Phoenix (QMJHL) 
Gauthier was an offensive and tenacious player at the Hlinka Gretzky Cup in August and continues to be a two-way force in the Quebec Major Junior League. Gauthier plays with a high-end amount of energy, being a workhorse every shift with great efficiency. He has great IQ and awareness in all three zones and has the speed and intensity to establish an attack. He can do it all as he has an accurate wrist shot, great playmaking abilities and the work ethic needed to succeed at the next level. A well-rounded player of his caliber should hear his name in the first round. 
21. Koehn Ziemmer, RW, Prince George Cougars (WHL) 
While Heidt has impressed quite a bit this season, so has his teammate Koehn Ziemmer. After scoring 30 goals last season, Ziemmer is closing in on and going to surpass his goal and point totals. Much like Hedit, Ziemmer possesses a great amount of hockey sense and offensive awareness. He's strong, has great size and has the drive and ability to attack the net with such force and aggression. He has soft hands and is a slick puck handler being able to beat defenders easily. He has a potent release and shot and does a great job to get to open the ice for those quality opportunities. He utilizes his size to his advantage, winning puck battles and establishing a forecheck and the IQ to process each situation effectively.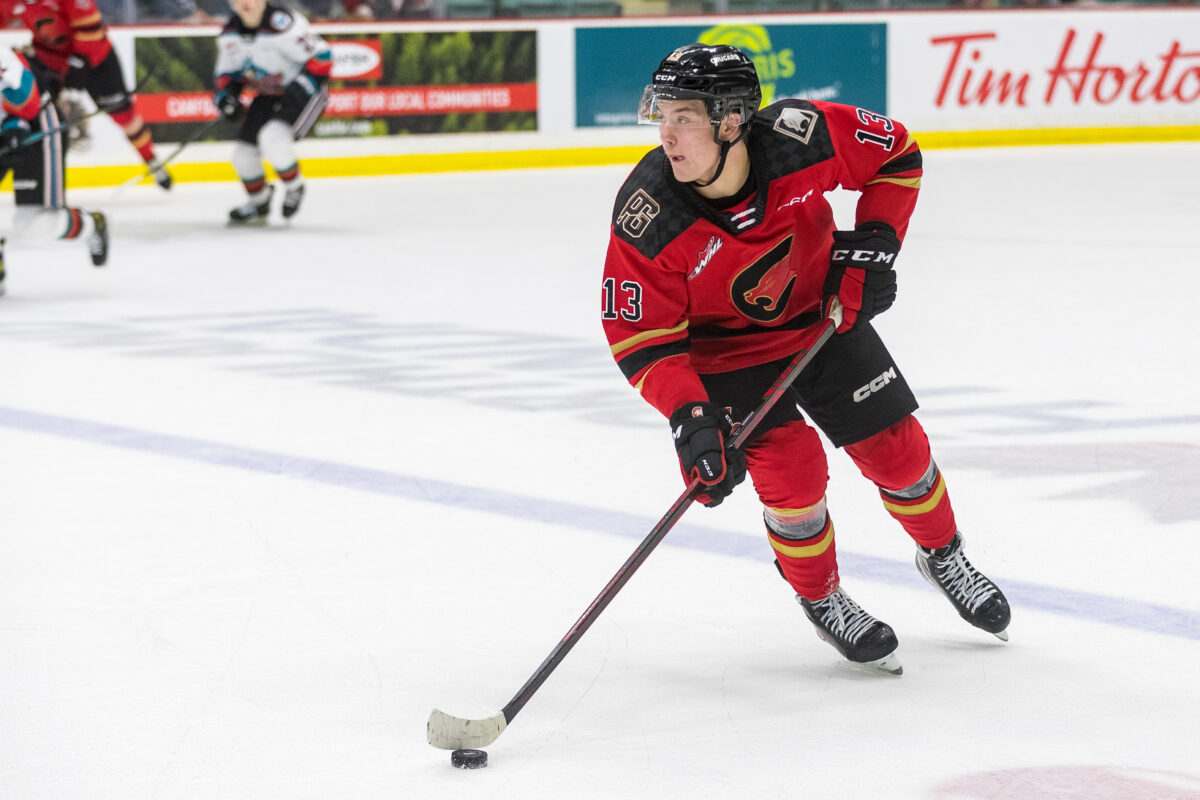 22. Oliver Moore, C, USA U18 (USDP) 
The third member of the USA U18 to show up on my list, Moore is a very gifted playmaker that plays with a great amount of speed and dynamism to his game. He has excellent puck skills and has great control to manoeuvre in tough situations. He displays great smarts in all three zones and problem solves his way out of any situation as he has the ability to change the pace instantly and is very easily deceiving with his movements. He's got strong edges to turn on the opposition and does a great job to open things up in the offensive zone.
23. David Reinbacher, D, EHC Kloten (SUI) 
A right-handed shot, Reinbacher is definitely gaining traction as a well-rounded and responsible two-way defender. He was a standout player for Austria at the WJC, but the way that he has played in the Swiss league as an 18-year-old shows that he can handle tough competition at the senior level. At 6-foot-2, 187 pounds, he's positionally sound and does a great job to box out defenders out in front of the net or on the rush. He has an active stick to break plays and has good mobility to manoeuvre and maintain pace with the puck carrier to keep them to the outside.
24. Nate Danielson, C, Brandon Wheat Kings (WHL) 
Despite this being a deep draft, Danielson should be getting more attention. He's an effective two-way centreman with the ability to find the back of the net. He may not have the flash as other players, but he's always effective and at the centre of the play. He has great speed and agility in transition while also having the ability and hands to distribute the puck at a quick pace. He's an underrated goal scorer as well as he has a strong release and accuracy. He has great off the puck awareness, providing great support for teammates and being sound positionally. He's a dual threat anytime in the offensive zone but has the mindset to transition and prioritize defense and backcheck.
Related: 2023 NHL Draft Rankings: Forbes' Early Top 16 
25. Gabe Perreault, F, USA U18 (USDP) 
The son of Yanic and the younger brother of Anaheim Ducks prospects Jacob, Gabe is a dynamic and extremely gifted offensive talent as he wants to lead and control the play. Currently leading the U18 program with 59 points, he sees the ice very well and displays quick smarts as the play unfolds. He can distribute the puck and is always aware of his surroundings, dealing with high pressure situations or spotting teammates for a timely pass. He is extremely quick in transition with his skating and despite being 170 pounds, he shows no fear engaging in battles as his smarts allow him to get the advantage on opposing players. 
26. Calum Ritchie, C, Oshawa Generals (OHL) 
Compared to other OHLers in this draft, Ritchie hasn't been as dominant this season after a standout tournament at the Hlinka Gretzky Cup. As a result, with his consistency and inability to take a big step, he dropped but he's still worth being a first-round pick. Ritchie is a full package two-way centreman that can excel in all situations. He's got the size and skill to be a factor along the boards and in front of the net as well as the awareness to prioritize defense. He displays a strong work ethic and compete level along with soft hands to be a dominant factor in all areas of the ice.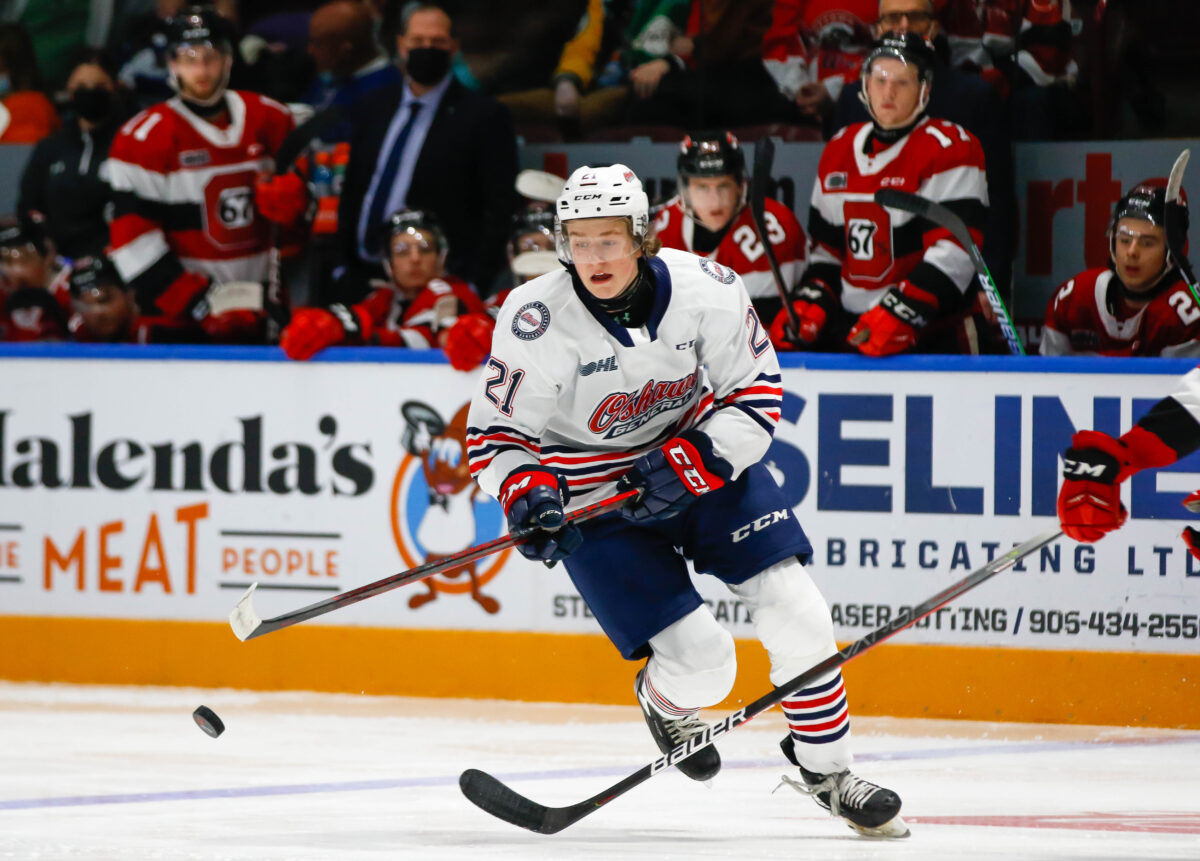 27. Caden Price, D, Kelowna Rockets (WHL) 
The Kelowna Rockets defender really is exciting to watch as he has the tools to be an effective playmaking defenseman. Price has great speed and ability to distribute the puck. He's quick and accurate with his tape to tape passes and is strong with his transitional breakout passes. He's a smooth skater who can lead an attack and great awareness and patience to set plays up at a quick pace. He's also a smart defender, defending the rush very well to keep opposing players to the outside with the positioning of his stick and body to create separation. 
28. Luca Pinelli, C, Ottawa 67's (OHL) 
A high riser from the start of the season, Pinelli has taken the OHL by storm as he's on pace for a 31-goal, 79-point season. He's a creative, dual threat offensive dynamo as he has soft hands to make plays, but a very underrated shot. Though it's his fantastic blend of situational awareness and high-end work ethic with his positioning that stands out. He's constantly scanning the ice with his head always being up and processes the play very well as it unfolds. Much like other smaller players in this draft, it doesn't affect him as he has great strength and still manages to utilize his size to his advantage. 
29. Quentin Musty, LW, Sudbury Wolves (OHL) 
Musty remains an intriguing prospect in this draft class. He has the dynamic and high-end power-forward game that teams want. He has the mindset to constantly attack with power and energy that he's extremely tough to contain given his size and ability to protect the puck. He has a powerful shot and soft hands to make plays in tight. Though his decision-making remains a concern as there are times where he tends to do too much with the puck, lacks the awareness and isn't as engaged with the play as he should be.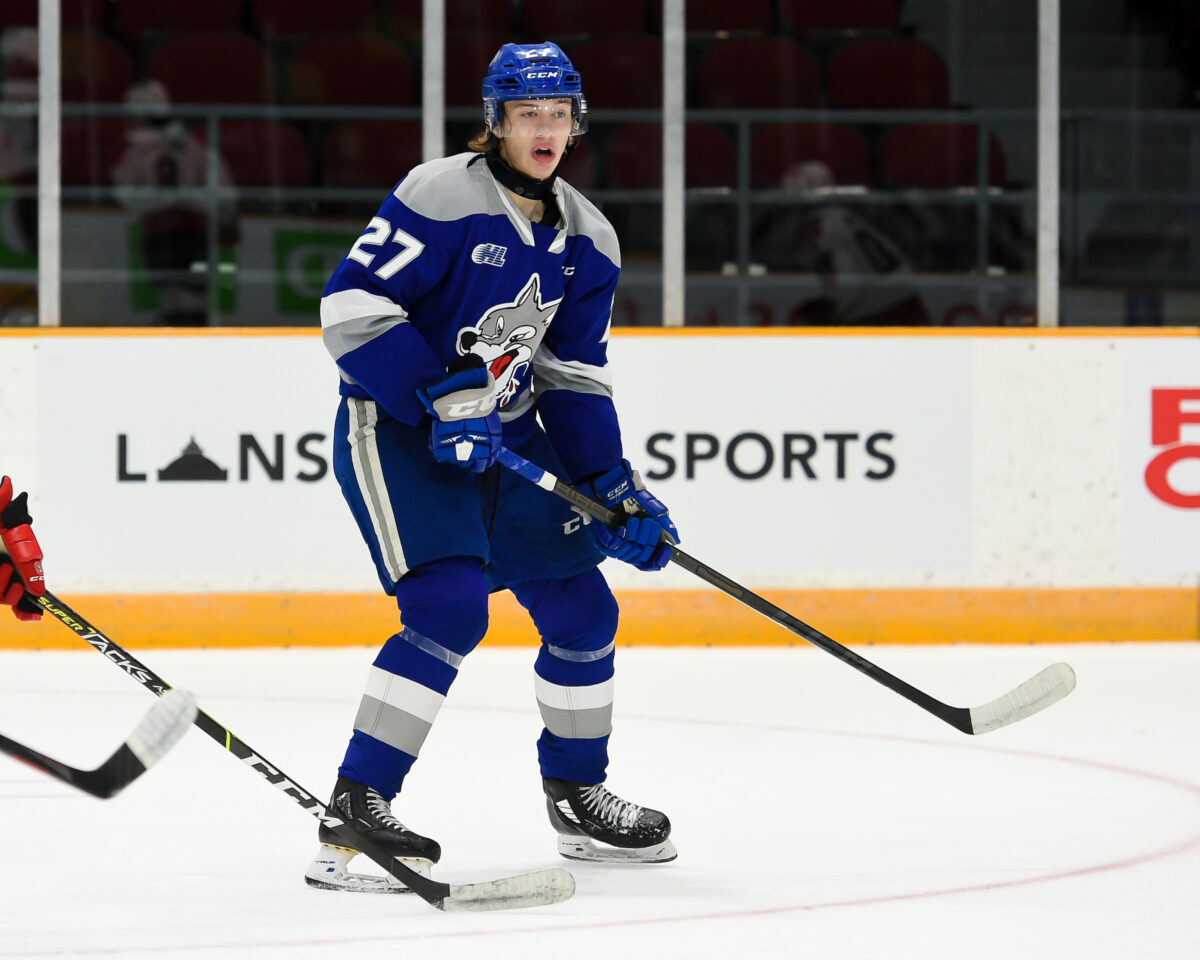 30. William Whitelaw, C, Youngstown Phantoms (USHL) 
Whitelaw looked great at the Hlinka Gretzky Cup, displaying his speed, edgework and offensive flare. The play carried over to the USHL with the Phantoms as his creativity and puck-handling skills are constantly on display. He's quick, elusive and highly creative when he has control of the puck and is extremely dynamic with his control in tight spaces. He's an exciting player to watch as he always plays with a high motor with a great amount of skill.
31. Trey Augustine, G, USA U18 (USDP)
Standing out with the U18 team and a solid performance at the WJC, Augustine is challenging to be the top goaltender in this draft. At 17 years old, he has a 12-0-2 record and a strong .930 save percentage. He has strong lateral movements, great athleticism, tracks the puck very well and has great poise and confidence in the crease. He's positionally sound as he's always square with the shooter and has a great glove hand. All of this makes him a promising goaltending prospect at the next level.  
32. Lukas Dragicevic, D, Tri-City Americans (WHL) 
Dragicevic is among the top offensive, puck-moving defensemen in this class as he's been tearing up the WHL with 46 points in 36 games, leading all defenders. He's extremely confident in transition as he displays great composure when leading a rush or picking his spot to join an attack. He's not the best skater, but his smooth stride and mobility makes up for his average speed as he's not the quickest. He can make risky plays and some poor decisions with the puck, but he does have some upside to his game. 
Second Round
33. Tanner Molendyk, D, Saskatoon Blades (WHL)
34. Luca Cagnoni, D, Portland Winterhawks (WHL)
35. Samuel Honzek, C, Vancouver Giants (WHL)
36. Michael Hrabal, G, Omaha Lancers (USHL) 
Related: 2023 NHL Draft Rankings: Little's Early Top 16
37. Gavin Brindley, RW, University of Michigan (NCAA)
38. Emil Järventie, F, Ilves (Liiga)
39. Carson Rehkopf, C, Kitchener Rangers (OHL)
40. Cameron Allen, D, Guelph Storm (OHL)
41. Charlie Stramel, F, University of Wisconsin (NCAA)
42. Jordan Tourigny, D, Shawinigan Cataractes (QMHJL)
43. Etienne Morin, D, Moncton Wildcats (QMJHL)
44. Oliver Bonk, D, London Knights (OHL)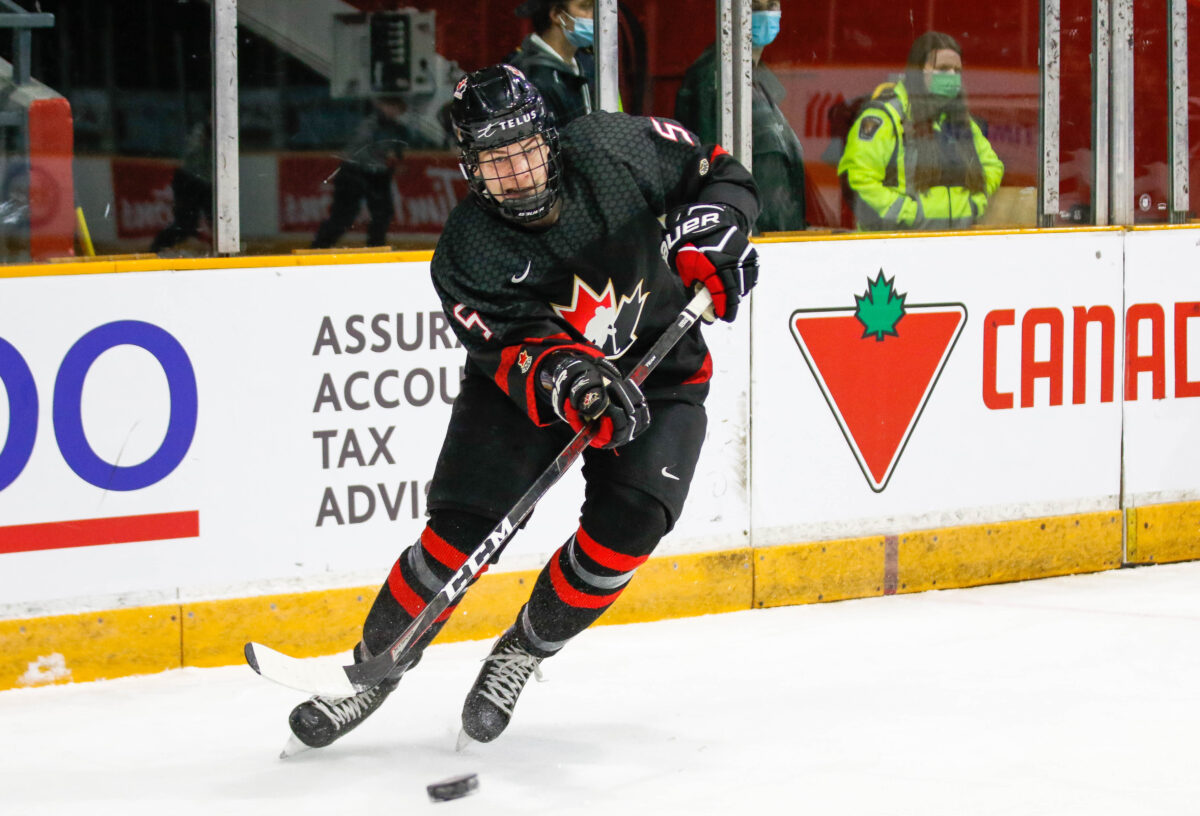 45. Alex Ciernik, LW/RW, Södertälje SK (HockeyAllsvenskan)
46. Kalle Carlsson, C, Örebro HK J20 (Nationell)
47. Theo Lindstein, D, Brynäs IF (SHL)
48. Tom Willander, D, Rögle BK J20 (Nationell)
49. Denver Barkey, C, London Knights (OHL)
50. Maxim Strbak, D, Sioux Fall Stampede (USHL)
51. Beau Akey, D, Barrie Colts (OHL)
52. Noah Dower Nilsson, C, Frölunda HC J20 (Nationell)
53. Scott Ratzlaff, G, Seattle Thunderbirds (WHL)
54. Dimitri Simashev, D, Loko Yaroslavl (MHL)
55. Roman Kantserov, F, Stalnye Lisy Magnitogorsk (MHL)
56. Mathieu Cataford, RW, Halifax Mooseheads (QMJHL)
57. Gracyn Sawchyn, C, Seattle Thunderbirds (WHL)
58. Hunter Brzustewicz, D, Kitchener Rangers (OHL)
59. Noel Nordh, RW, Brynäs IF J20 (Nationell)
60. Carson Bjarnason, G, Brandon Wheat Kings (WHL)
61. Andrew Strathmann, D, Youngstown Phantoms (USHL)
62. Kalan Lind, F, Red Deer Rebels (WHL)
63. Kalem Parker, D, Victoria Royals (WHL)
64. Ethan Miedema, LW, Kingston Frontenacs (OHL)
Honourable Mentions
Tyler Peddle, C/LW, Drummondville Voltigeurs (QMJHL), Daniil But, LW, Loko Yaroslavl (MHL), Carey Terrance, C, Erie Otters (OHL), Jesse Nurmi, F, KooKoo U20 (SM-sarja), Zeb Forsfjäll, C, Skellefteå AIK J20 (Nationell), Matthew Soto, F, Kingston Frontenacs (OHL), Coulson Pitre, RW, Flint Firebirds (OHL), Nick Lardis, LW, Hamilton Bulldogs (OHL) 
Who has been your favourite prospect for the 2023 NHL Draft? Have your say in the comment section below.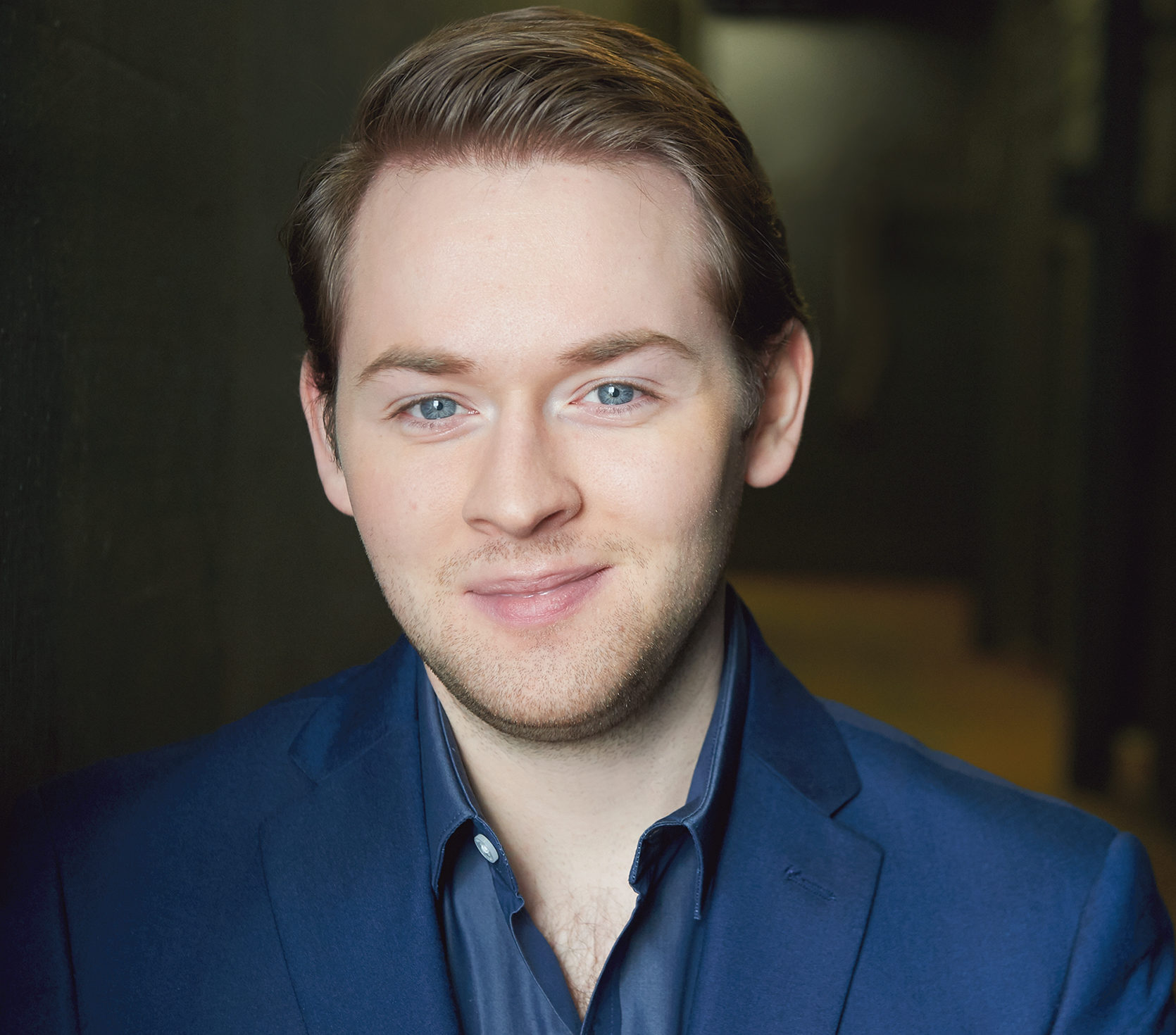 Peter is in his third year with The Hockey Writers, covering the Toronto Maple Leafs and heading the Draft and Prospects section. He has previously interned at The Hockey News and worked on Toronto Marlies broadcasts for Rogers TV. He currently is the co-host of the podcast Sticks in the 6ix and a frequent guest on Maple Leafs Lounge. Aside from hockey, he also enjoys drumming, animation and impressions/ voices.