It's been a stop-start beginning to a career for Quinton Byfield. The Los Angeles Kings selected him second overall in the 2020 NHL Draft, and big things were expected of him. It's been difficult for many of the prospects from that draft to transition to the NHL, given that their first season was heavily impacted by the pandemic. Byfield has certainly had that problem, but he's now getting his chance to prove he is ready for this level.
Byfield's Path Since the Draft
After the Kings drafted Byfield, he was allowed to play in the American Hockey League (AHL) due to different rules with COVID shutting down the Ontario Hockey League that year. He produced decently during his first season in pro hockey, with 20 points in 32 games in the AHL for the Ontario Reign. That earned him a call-up to the big team at the end of the 2020-21 season, when he played six games and picked up his first NHL point.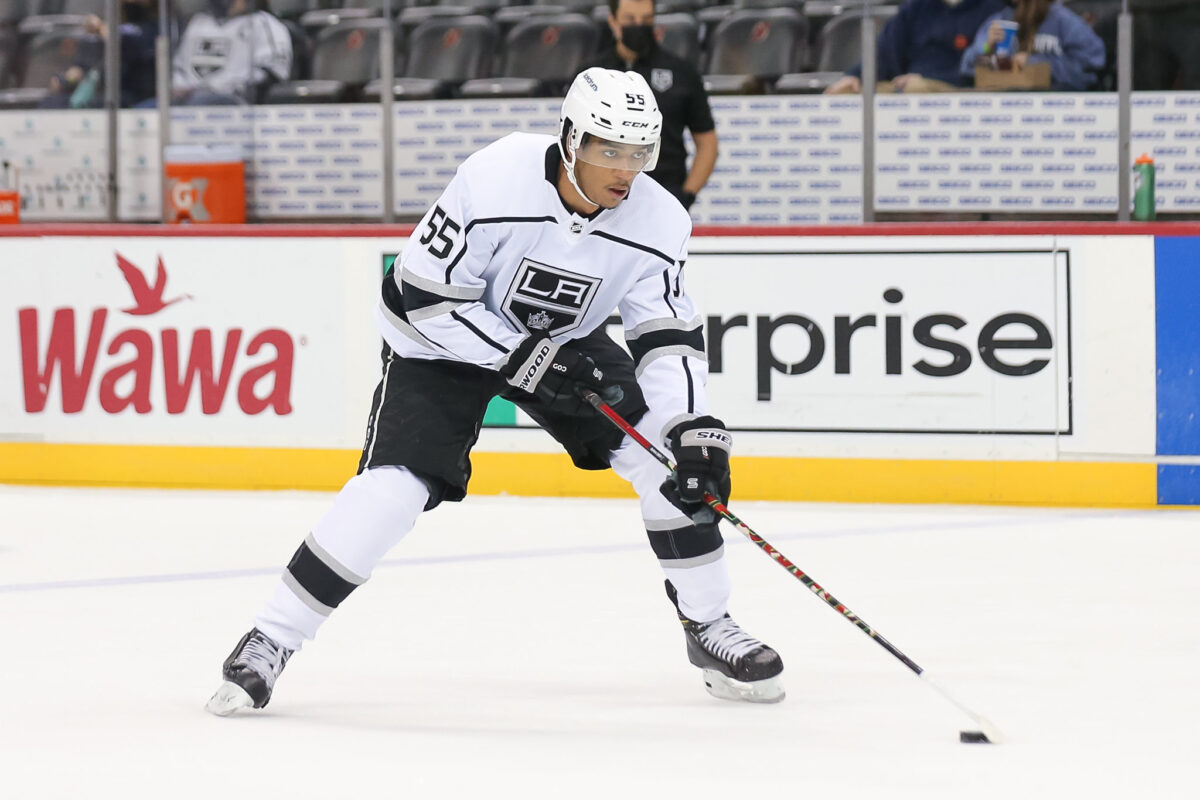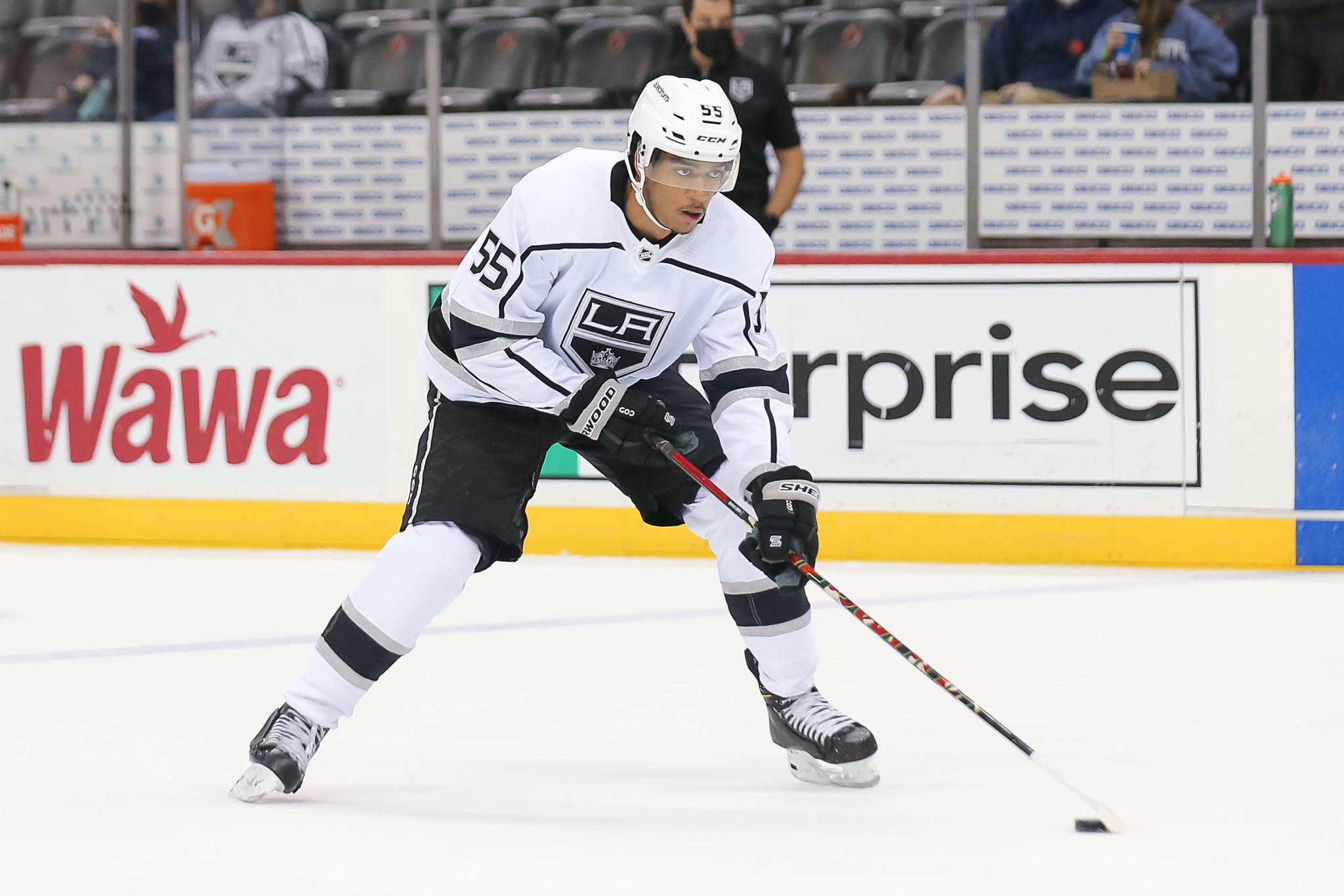 Next season was supposed to be Byfield's breakout year. He was penciled in to start 2021-22 in the NHL before an ankle injury in the preseason had him on the sidelines for months. He wasn't able to get back into the NHL until January, and when he did, the results were not spectacular. He had just 10 points in 40 games, playing mostly in a bottom-six role. The Kings didn't have room to experiment with Byfield, as the top two lines were working well, and the team was pushing hard to make the playoffs for the first time in four seasons.
Related: Byfield's Prospect Profile
---
Latest News & Highlights
---
The underlying numbers for Byfield were also not good in his time during his first two seasons in the league. His relative Corsi percentage was minus-5.47 at five-on-five, which was the third-worst on the Kings for forwards with at least 300 minutes played over the last two years. He hasn't had the best linemates over this period, as the forwards he spent the most ice time with were Dustin Brown at the end of his career and a young Gabriel Vilardi, who had yet to establish himself at the NHL level. Since getting recalled this season, the quality of his linemates has certainly improved.
Byfield's 2022-23 Season
After playing just two of the Kings' seven playoff games last season, Byfield headed into 2022-23 again on a third line centering Vilardi and Alex Iafallo. With two former top 10 picks on this line, the team was likely hoping to have these youngsters take the next step and provide offense. Vilardi started off the season on fire, but Iafallo and Byfield both got hurt early and derailed any plans of this line becoming something useful for the team.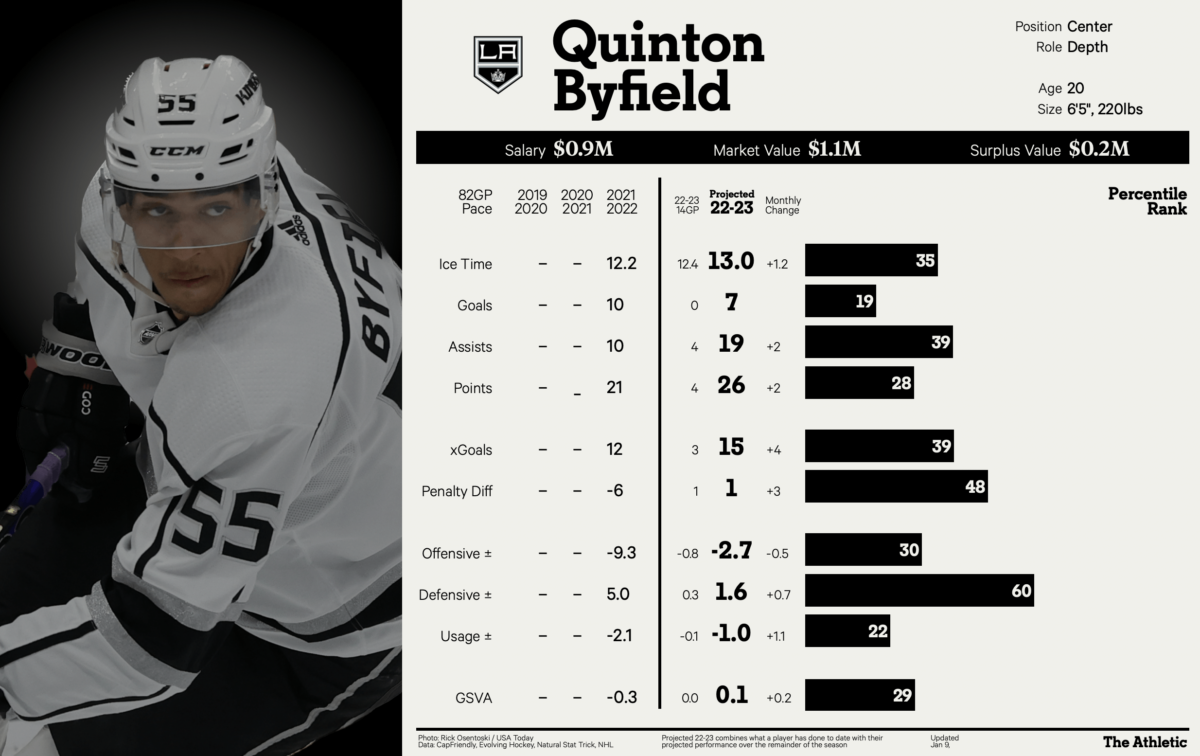 It wasn't until Dec. 27 that the Kings recalled Byfield after a few injuries. Two games later, he received a promotion to the first line with Anze Kopitar and Adrian Kempe. This was significant for two reasons. The first one is that it would give Byfield a chance to play with good offensive play drivers for the first time in his career. The second was that he moved to play left wing, which is definitely a good thing for future playing time, as the Kings have a logjam at center currently.
Byfield hadn't been able to produce much since playing on this line early on. He has just one assist in the first five games since moving up. He had seen at least 14 minutes in every contest until Jan. 9 against the Oilers, where he took a couple of penalties and played just 9:33; that game was an outlier, with lots of penalties on both sides. In his next outing, Byfield finally broke out. He had a goal and an assist, played 16:47, and looked to be showing more confidence overall.
When looking into the advanced numbers showing how Byfield has done this season, there are some improvements. He is attempting more shots per 60 minutes and has scored points at a better rate as well. His possession numbers are actually worse than last season, although this new line has a 53.33 Corsi for percentage and a 3.18% relative Corsi when together, though over a small sample.
Byfield's Future With the Kings
The move to the top line seems to be a step towards development rather than an immediate impact for Byfield, as he has yet to merit the jump with his play so far. The switch to the wing gives him a pathway to more top-six ice time, as Kopitar and Phillip Danault have their spots cemented as the top two centers on the team. It also gives him the chance to not have to focus too much on the defensive side of the puck while he's still getting his feet under him in the NHL.
The Kings can sign Byfield to a new contract starting this offseason. His camp will likely remain patient and wait for his talent to shine through before making a deal to maximize what he will earn in his second contract. That means a deal likely won't get done this summer unless something dramatically changes from now until the end of this season.
It's fair for the Kings to want to see more from a player drafted so highly. It's also fair to say that things beyond his control have impacted the start of Byfield's career. If he continues to play on the first line with great players, he really has to make it count and prove that he deserves this new role he's been given. He has the talent and potential to be a difference-maker for the team, and he could be like a trade-deadline acquisition if he starts producing.
---
---
Nick Vazquez covers the LA Kings for The Hockey Writers. He has been a hockey fan for his entire life, and playing the game since age 6. He loves watching and analyzing the game in different ways, and exploring the great stories from different players, teams and fans.