Mikhail Gulyayev
2022-23 Team: Omsky Yastreby (MHL)
Date of Birth: April 26, 2005
Place of Birth: Novosibirsk, Russia
Height: 5-foot-10, Weight: 170 pounds
Shoots: Left
Position: Defense
NHL Draft Eligibility: First Year Eligible
Rankings
Mikhail Gulyayev is the only defense prospect in this year's draft who I have viewed as a no doubt first round selection for the entire season thus far. Some players like Axel Sandin Pellikka and David Reinbacher burst onto the scene last Fall to establish themselves as top defensive prospects, while others like Cam Allen are no longer expected to challenge for one of the first 32 picks. All the while, Gulyayev has stood out as a remarkable offensive defenseman with some of the best skating and offensive potential in the class.
Gulyayev is a very confident and skilled puck handler, efficiently transitioning the puck out of his zone and into his opponent's. Once he's in the offensive zone, Gulyayev is a willing and able playmaker who excels at walking the blue line to find and create passing lanes.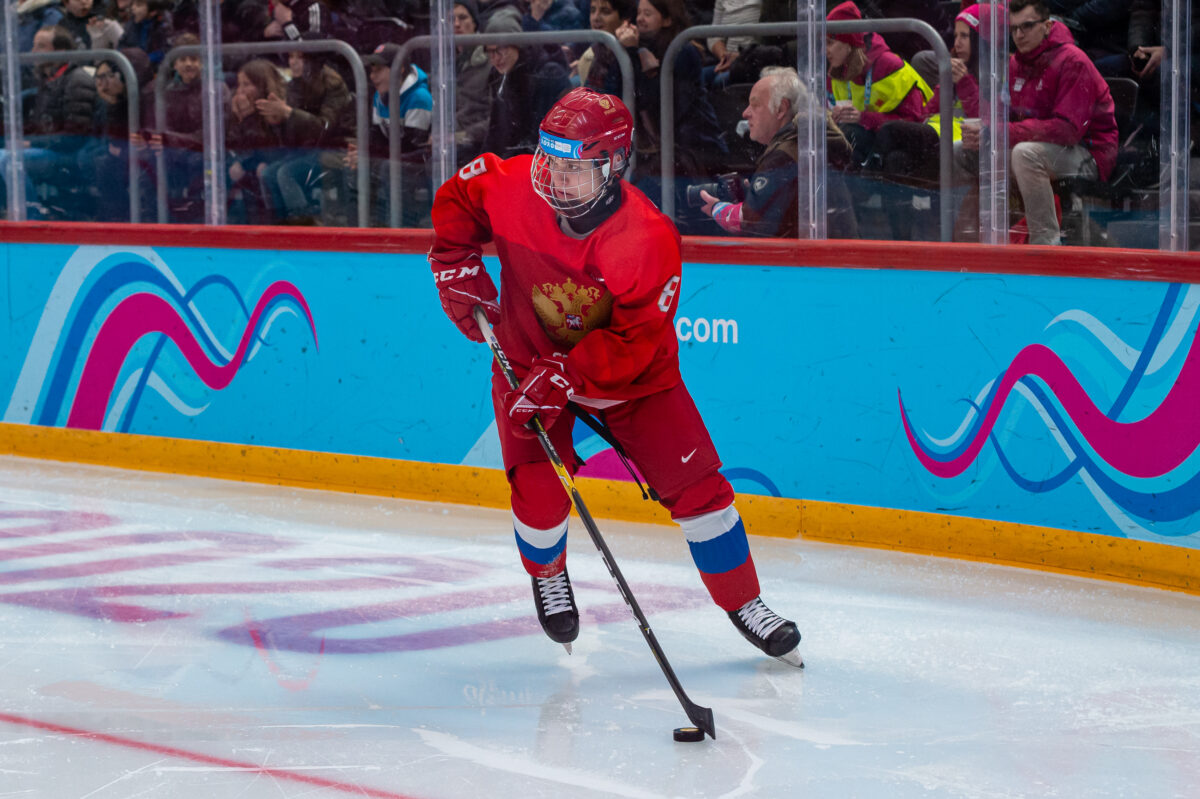 His skating is the biggest stand out trait, making Gulyayev a threat whenever he has the puck and a few strides worth of space. He generates speed well in straight lines as well as through crossovers, and his crossover patterning can be quite elusive, allowing him to break opposing defenders' ankles on the rush. Gulyayev also has great edgework which makes him remarkably agile in any direction. In the defensive zone, he loves to put a forechecker on his back as he races to loop behind his own net, gaining a ridiculous amount of speed to burst out the other side toward the blue line.
Related: 2023 NHL Draft Guide
All of his best defensive skills are really just offensive skills, but hey, the best defense is a good offense right? Not exactly, but nobody tell Gulyayev because he's often joining the rush or getting open in passing lanes as if he's a fourth forward on the ice. His defensive game will need some honing, but that's to be expected for any teenaged defender. However, Gulyayev's size (5-foot-10) will likely put a cap on his defensive potential. Quinn Hughes, a similarly sized offensive defenseman, has taken some serious steps recently to level up his defensive acumen, so nothing's impossible.
He's not an all-around minus on defense, with the smarts to anticipate opposing players' next moves and the speed to do something about it. That doesn't always work though and he can jump into passing lanes a bit early sometimes (a symptom of his high processing speed) which allows his opponents to re-calibrate and make a better play, and he struggles with the physical demands of the position at times. I'm confident he will be an NHL player, but his ability to put on some strength and learn new ways of leveraging his low center of gravity will go a long way in deciding what kind of NHL player he will be.
In the 2021-22 season, Gulyayev set a new MHL record for points by a 16-year-old defenseman when he scored 35 points in 54 games. This season, his production has continued to grow, sitting just above a point per game in the MHL, making him the highest scoring defenseman on his team despite only playing half of their games. Gulyayev earned stints in each of Russia's top two tiers of professional hockey, scoring one point in 14 KHL games and four points in 13 VHL games.
Gulyayev has signed a contract that will keep him playing in Russia until the 2024-25 season, meaning he's got at least two more years to develop in Russia, with most of his ice time next season likely coming in the VHL before he will look to play in the KHL full time. If he makes the jump to North American pro hockey the following year, Gulyayev should be expected to play in the AHL at first to acclimate to the North American game before inevitably cracking the NHL roster. 
Other THW Draft Profiles
Mikhail Gulyayev – Draft Projection
Gulyayev is a bit of a wildcard, with many outlets ranking him as a lottery selection (top-16) despite his lack of size and his contract/nationality situation. Both the Russian Factor and the "Undersized Offensive Defenseman" (UOD) Factor can drastically alter a player's draft stock, just look at prospects like Danila Yurov and Lane Hutson in the 2022 Draft who fell on draft day due to the Russian and UOD factors respectively. Regardless, I am confident that Gulyayev will be a first round pick, and his talent level makes him a no-brainer selection in the top-20.
Quotables
"Gulyayev is a highly-intelligent and creative puck-mover and can make tough plays at a quick pace. He creates a lot of controlled exits and entries, he projects to run power plays at higher levels and be a point producer versus men." – Corey Pronman, The Athletic (2023 NHL Draft prospects: Bedard No. 1 on Corey Pronman's ranking, Fantilli and Michkov next, March 7, 2023)
"In the offensive end, Gulyayev maneuvers around the ice with great mobility, picking appropriate opportunities to drive to the net for either a shot or to open up a lane to hit a winger on the opposite side with a cross-ice pass. He possesses a solid shot but will make his money from his playmaking and puck distribution." – Nick Richard, Dobber Prospects
"Gulyayev is an exciting offensive-leaning defenseman who's play revolves around his ability to move with the puck. His first few steps are explosive as he's able to generate great speed with the puck." – Jake Janso, FC Hockey
Strengths
Skating/Agility
Playmaking vision
Powerplay playmaking
Transition offense
Under Construction – Improvements to Make
Size/strength
Defensive timing
Puck battles
NHL Potential 
Mikhail Gulyayev has the potential to be a top-four offensive defenseman in the NHL who provides tons of value on the power play despite lackluster defensive play. Think like a Tyson Barrie who can rack up the points, especially at the man advantage, but who won't be on the ice when you're protecting a one goal lead in the final minutes of a game. Gulyayev's size will hinder him defensively in the NHL, but if he can learn to manage his share on defense while providing the offense that I expect he will, there's real potential for him to be a top pairing defender on the right team.
Risk-Reward 
Risk – 2.5/5, Reward – 4.5/5
Fantasy Hockey Potential
Offense – 8.5/10, Defense – 5/10
Interviews/Links
Mikhail Gulyayev Stats
Videos
---
---
---
Latest News & Highlights
---