The Detroit Red Wings have had an interesting month to say the least. After storming back into the playoff race with an impressive run of play in February, they had no answer for the Ottawa Senators, losing two games in two nights against one of their biggest competitors in the standings. Clearly General Manager Steve Yzerman wasn't sold on the team's success and made Detroit one of the clearest sellers at the 2023 NHL Trade Deadline.
---
---
Both Filip Hronek and Tyler Bertuzzi were seen as important pieces of the Red Wings' rebuild from 2016 until the present, with each of them coming into their own in the NHL quite recently as good players. While both of them were traded away for packages that included a first round pick, providing a ton of value for the team going forward, their loss will be a tough pill to swallow for many fans. Losing your top scoring defenseman and your second highest scoring forward from the 2021-22 season in under 24 hours is tough, but it shows that the Red Wings have made a clear choice about their core and their contending window.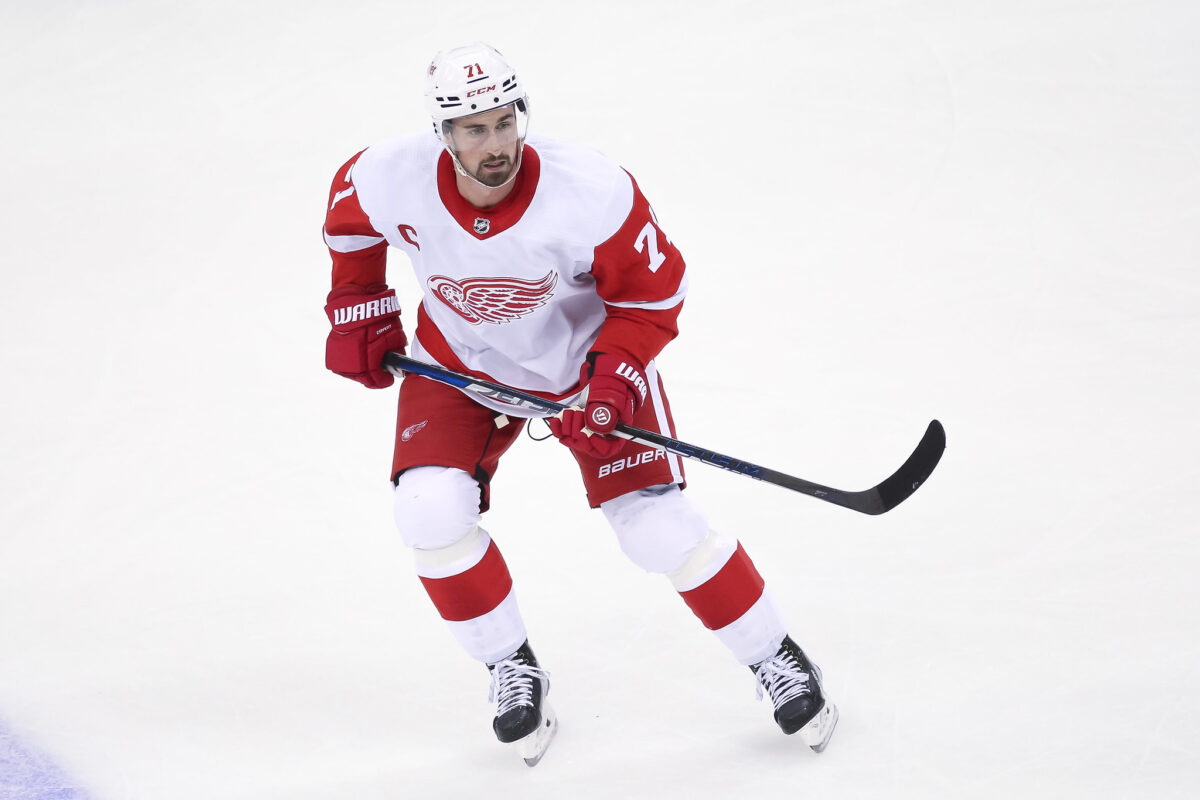 Red Wings captain Dylan Larkin was signed to a long-awaited contract extension just hours before the Hronek trade, so it's clear that he is a part of the team's long-term plans, and that Hronek and Bertuzzi were not. So which players/prospects make up the core, what is their rough contending window, and why weren't Hronek and Bertuzzi a part of that? Lets take a closer look.
Was it the Right Time to Move On?
Trading players in their prime like Hronek (25) and Bertuzzi (28) says to me that management doesn't believe that those players will still be meaningful contributors on efficient deals by the time this Red Wings team is a perennial playoff team in serious contention for the Stanley Cup. Contenders rely on bargain contracts (Brad Marchand or Nathan MacKinnon's discount deals anyone?) when building a team and that includes serious contributors who are still on their entry-level contracts as well as veterans on deals that come in below the market value for their services. Larkin (26) is someone that they clearly expect will be an important part of a contending Red Wings group, with a shiny new 8-year extension to prove their commitment.
Related: 2023 NHL Draft Guide
---
Latest News & Highlights
---
No trustworthy information has come out about Bertuzzi's extension talks with Red Wings management, but it's safe to assume that they weren't quite seeing eye-to-eye if they traded him away at the deadline. Frank Seravalli (Daily Faceoff) has reported that he expects Hronek's next contract (beginning in the 2024-25 season) will begin with a $7 (million), and I can only assume that Detroit was aware that was the type of contract that Hronek's camp was looking to land.
While they weren't actively shopping Hronek at the deadline, as confirmed by Steve Yzerman in his post trade deadline media availability, they were willing to move him when a desperate Vancouver Canucks team reached out and was willing to pay more than Detroit has likely expected in a 1st and 2nd round pick, both in this year's draft. It's also fair to think that Yzerman sold high on Hronek after his breakout showing in November where we saw his glorious moustache lead the team to victory on more than one occasion. 
So, Who is in Detroit's Core?
A team's core is always subject to change until those players are showing signs of success in the NHL, but what follows is my best guess of the core group of potential star-caliber players that the Red Wings have committed to: Larkin, Lucas Raymond, Moritz Seider, Simon Edvinsson, Marco Kasper, Sebastian Cossa (if his pro trajectory continues), and possibly whichever prospects they land with their two 1st round picks in the 2023 Draft.
Guys like Carter Mazur and William Wallinder could very well become important players as well with each of them having the potential to completely replace the on-ice value lost by the trading away of Bertuzzi and Hronek respectively. Mazur has the goal scoring ability and physical game to be a complementary top-six piece some day and Wallinder has the size, positional versatility, and two-way game to be a top-four mainstay. 
Related: 5 Early Targets for the Red Wings in the 2023 NHL Draft
It's obviously tough to lose players who have been with the team through their darkest years in recent memory, but if this is your core, then the team's contending window won't truly open for a few more years. That's why the team was willing to move players who are good now for picks that will hopefully turn into players who can help the team even more once they are actually ready to be competitive. It's reasonable to expect that Kasper, Edvinsson, and Wallinder to be in the NHL at the start of the 2024-25 season, and there's a chance that a prospect selected early in the 2023 Draft could be closing in on a roster spot as well, so that would be the earliest that I could see this core doing some serious damage in the NHL all together.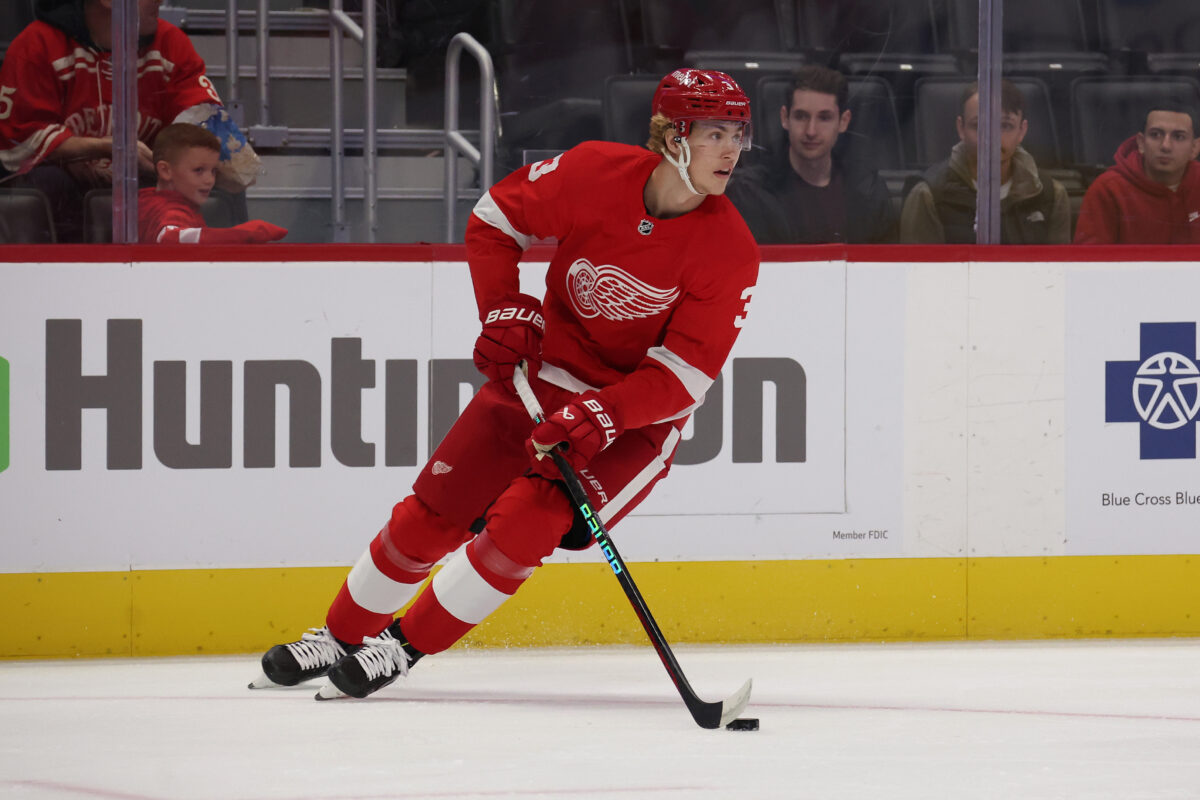 Building an NHL team is all about maximizing your contending window which is why you see teams like the Tampa Bay Lightning and Toronto Maple Leafs handing out future draft picks like they're candy. To teams in their position, picks mean nothing when compared to a player who can improve your current roster. The Red Wings are taking the same approach, they're just at the earlier stage of it, having now established their core and taking short term losses to bolster the team in the years that they will truly be ready to compete.
2025-26 Opening Night Roster Prediction
Obviously, it is quite premature to take a stab at guessing the opening night roster from more than two years away, but I just wanted to give you a sense of what the core of this team will look like all laid out. I've included only players who are either signed through the 25-26 season or who will almost certainly be extended between now and then, with just a few roster spots remaining open for the team to solve either through the draft, trades, or free agency. 
Mazur – Larkin – Raymond
Berggren – Kasper – 2023 1st? (Heidt/Leonard/Barlow/Wood/etc.)
Soderblom – Rasmussen – ???
??? – Copp – ???
Walman – Seider
Edvinsson – 2023 1st? (David Reinbacher/Axel Sandin Pellikka)
A. Johansson – Chiarot
Cossa
???
Success is on the Horizon . . . Still
The chance of this lineup being absolutely correct is exactly 0%, but I think it's an encouraging group of young players that this team has gathered, with incredible talent and versatility. However, while the future may be exciting, it is still in the future. Many fans are upset that it seems the team has gone back into rebuild mode after trading two good players, and that's a totally fair reaction after that team looked like they were planning to take a major step forward this year when they spent big in free agency. I'd argue that the team is not nearly as depleted as those people may think, with the team already playing much of the season without Bertuzzi, though I completely understand the sentiment.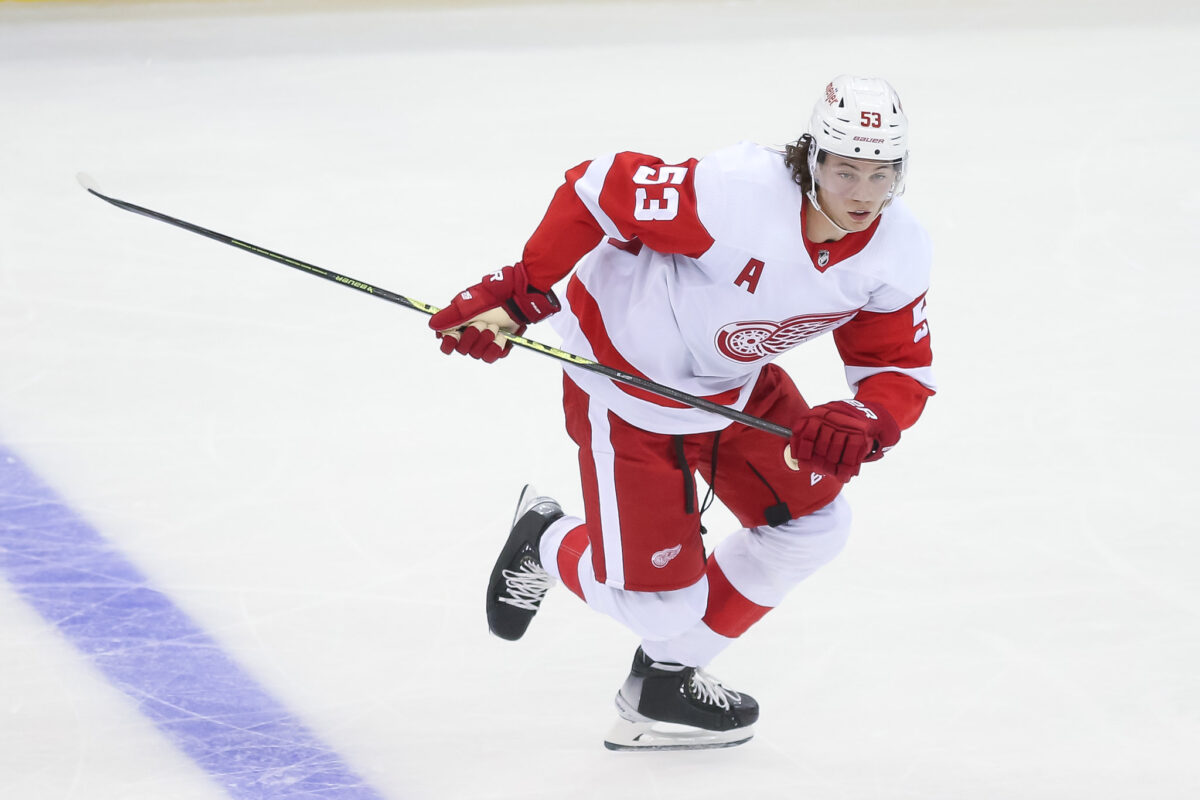 The Red Wings aren't about to fall back into the dark ages of the 2019-20 season, but it's not exactly smooth sailing ahead as the team likely won't figure into the playoff race for the rest of this season and must set their sights once again on the offseason where they'll do whatever they can to end a franchise record playoff drought in the Spring of 2024.