Connor Bedard
2022-23 Team: Regina Pats (WHL)
Date of Birth: July 17, 2005
Place of Birth: North Vancouver, B.C.
Height: 5-foot-10, Weight: 185 pounds
Shoots: Right
Position: C
NHL Draft Eligibility: First year eligible
Rankings
Connor Bedard is going to be a special player in the NHL sooner rather than later and any team that lands the first overall pick this year is going to be absolutely ecstatic. He has such an incredible wrist-shot that you could drop him in the NHL this year and he'd feast. Bedard's wrist shot will be one of the absolute best shots in the NHL from the moment he arrives (at least top-five), with the power and deception to make professional goalies tremble in their creases.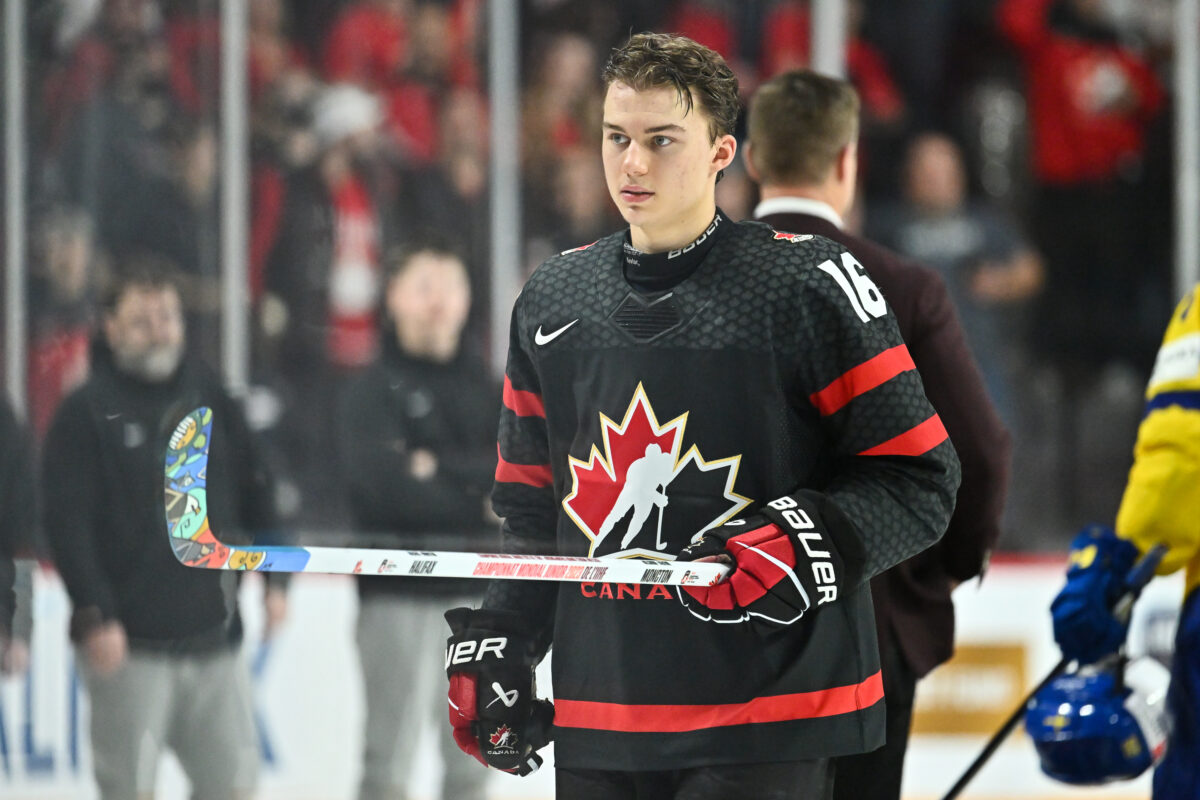 However, Bedard is more than a shot. Think of an offensive attribute and he has it in spades. Stickhandling? Check. Playmaking vision/execution? Check. Skating? Check. Everything you could want out of an offensive player he excels at, from transitioning the puck through the neutral zone to reverse hits while under pressure. Bedard will put up points in the NHL and that isn't really up for debate at this point. 
Before the 2023 World Juniors in Halifax and Moncton, the debate had begun that Adam Fantilli might be the better choice at first overall considering his historic production in the NCAA for a draft eligible prospect. Bedard's 23 points in seven tournament games silenced that pretty quickly. It wasn't just the points but how he earned them, carving through opposing defenses before faking a shot and passing to a wide open teammate. That's the kind of thing that happens when Bedard is in the offensive zone, entire defensive systems collapse around him, leaving his teammates wide open. Can you blame them?
The only things about his game that may still be up for debate are his defensive play and his chances of being a true centerman in the NHL. I believe that he has the skating and compete level to be a respectable defender down the middle, but we aren't seeing that now because his WHL team is in such need of offense that they need him to cheat on defense a bit for some goals. In the NHL I expect he'll be a bit more intentional in his own zone, calming some fears about his position, although I wouldn't be too upset if I had him on my team as a winger.
Related: 2023 NHL Draft Guide
After entering the WHL a year early, Bedard showed the world what he's made of in his second year with the Regina Pats, scoring an absurd 51 goals and 100 points in 62 games. This year he has somehow taken his production to another level despite a decidedly mediocre roster surrounding him. Bedard has already surpassed his record of 100 points in just 40 games, and there is a very real chance he puts up a 70-70-140 season making him the first person to score 140 points in a single WHL season in nearly 25 years.
Bedard is scoring at a rate of more than a goal per game and he's just automatic on the power play, picking defenses apart with passes, one-on-one skill and his shot. He has a stranglehold on the WHL scoring race already, with a roughly 20-point gap between him and the next highest scorer despite missing several WHL games while playing at the World Juniors. He is the best player in this draft without a doubt, and anyone who tells you otherwise is likely just a contrarian who is fishing for clicks.
Other THW Draft Profiles
Connor Bedard – NHL Draft Projection
Connor Bedard is going to be the first overall pick in the draft unless an NHL GM "galaxy brains" their way into selecting Adam Fantilli. Bedard shut down his doubters at the World Juniors where he absolutely dominated as a 17-year-old in a tournament for 18 and 19 year olds. Fantilli and Leo Carlsson were good at the same tournament, but Bedard was in a different universe. This should be as close to a consensus first overall selection as we've seen in the NHL since Connor McDavid's draft year back in 2015. 
Quotables
"[D]ominating the 2023 World Junior Championship in Halifax as Bedard did — nine goals and 23 points in seven games to lead Canada to the gold medal — quelled any and all talk of a legitimate mid-season challenge to his No. 1 status. Not that there was widespread anticipation or fervent belief of that necessarily happening." – TSN's Bob McKenzie
"You keep hearing about him, Connor Bedard is really good. And then you go to World Juniors and you play with him, [it's] incredible what he can do." – Tyson Hinds, Bedard's teammate at the 2023 World Juniors
"The minute Connor Bedard started in the Western Hockey League, and every minute thereafter, right up until last night, all he has done is dominate. He's obliterated everything. U18, World Junior, Western Hockey League. If Connor Bedard is to be doubted, every other single player in this draft deserves to be doubted to a far greater extent." – Craig Button (https://www.tsn.ca/nhl/draftcentre/craig-s-list-connor-bedard-rises-to-generational-status-in-nhl-draft-ranking-1.1904128) 
Strengths
Elite shot
Incredible hands
Deceptive playmaker
Agile skater
Draws tons of attention
Excels under pressure
Under Construction – Improvements to Make
Grow two inches?
More consistent defensive game
Continue adding strength to stay at Center in the NHL
NHL Potential
Bedard has the potential to be a Nikita Kucherov level offensive threat with the shot to be a perennial 40+ goal scorer at the game's highest level. He will run your offense at even strength and with the man advantage, likely potting a few 100-point seasons over the course of his career. I need to see him in the NHL before I put him on the level of guys like Connor McDavid and Sidney Crosby, but he certainly has the potential to join that group as the undisputed best player in the world during his prime.
Risk-Reward
Risk – 1/5, Reward – 5/5
Fantasy Hockey Potential
Offense – 10/10, Defense – 7/10
Awards and Achievements
WHL Rookie of the Year (2020-21)
U20 WJC Gold Medal (2022, 2023)
U20 WJC MVP (2023)
Interviews/Links
https://whl.ca/video-channels/2022-23-season-previews/2022-23-season-preview-interview-connor-bedard
Connor Bedard Stats
Videos
---
---
---
Latest News & Highlights
---