Backup goalies in the NHL are tragically underappreciated. It's hard enough for a team to find a starting goaltender that they can rely on game in, game out. It is an outright luxury to have a dependable backup goalie. Top NHL backups need to be able to perform well during their intermittent opportunities, but they also need to be ready to step up for long stretches if their partner goes down to injury. It's a thankless, tireless, and underpaid position. But the bests are some of the most valuable players in the league.

Backup goalies get their position in numerous ways. They might be former starters near the end of their career or future starters getting their first shot in the big leagues. The names on this list come from all backgrounds. Some are even among the top goaltending prospects in the NHL. They have different backgrounds and different futures, but they share one thing in common: they can be relied on in a pinch, and their teams are very thankful to have them.
10) Kevin Lankinen — Nashville Predators
After struggling through two brutal seasons with the Chicago Blackhawks, Kevin Lankinen needed a change of scenery. He got that by signing a one-year, $2 million deal with the Nashville Predators. Backing up Juuse Saros is a cushy job — a lot of nights off, watching one of the best goaltenders in the world. But every backup is going to be called on at least 15-20 times a season, and when the Predators dialed Lankinen's number, he answered dutifully.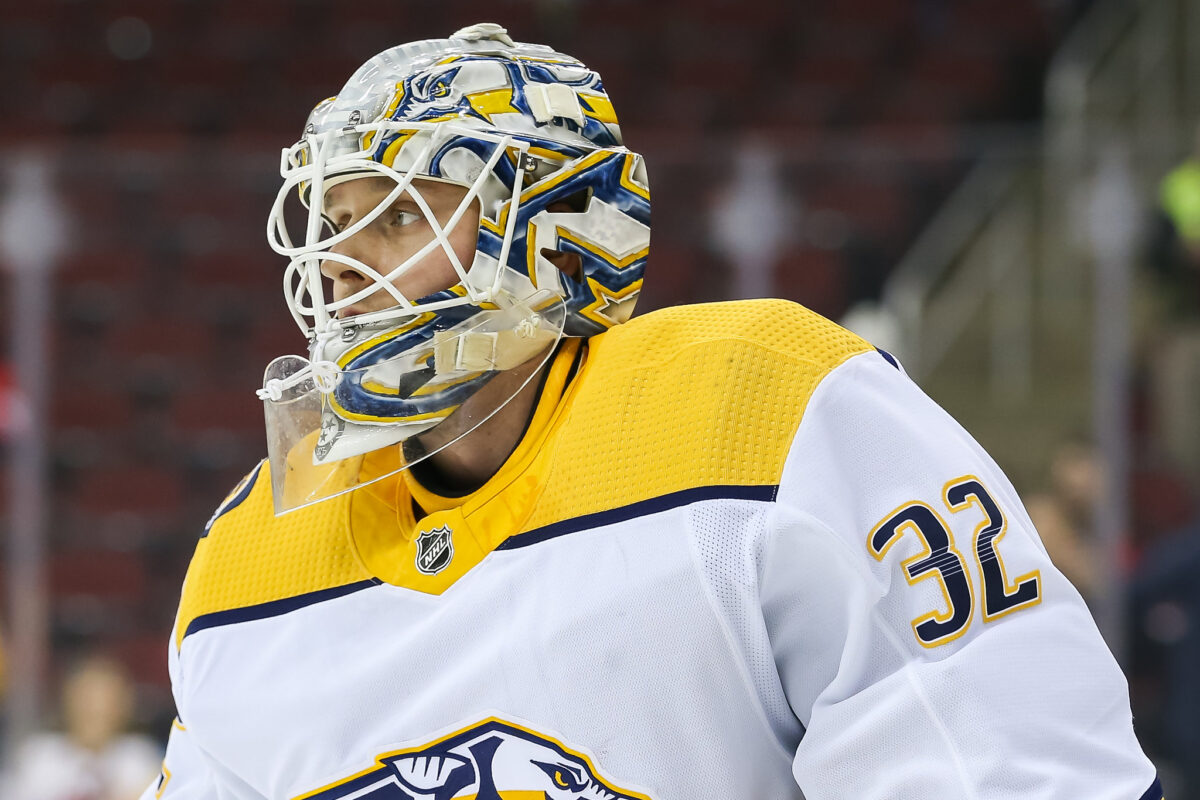 Lankinen performed well in his 18 starts, going 9-8-1 with a .916 save percentage (SV%), a 2.75 goals-against average (GAA), and 6.8 goals saved above average (GSAA). 61 percent of his starts were "quality," meaning his SV% surpassed the league average mark for the season. Those aren't mind-blowing numbers, but they are certainly respectable enough for a goalie who has to stay ready for just two or three appearances each month. And it will be a strong enough performance to earn Lankinen another contract — whether in Nashville or elsewhere.
9) Pheonix Copley — Los Angeles Kings
Pheonix Copley effectively played three full seasons away from the NHL before reemerging with the Los Angeles Kings this season. Perhaps appropriately, given his name, he confidently rose from the ashes to become a lifeline for the Kings that arguably saved their season and got them into the postseason. Copley started 35 games, and while he finished with minus-1.3 GSAA, he also had a quality start percentage (QS%) of 60.
---
Latest News & Highlights
---
More importantly, he won 24 games, just over half of the Kings' total on the season. For a stretch, he was the unquestioned starter and the team's best option in net. At the trade deadline, Los Angeles traded for Joonas Korpisalo to upgrade between the pipes, and Copley drifted to the background. But the Kings did sign him to a one-year contract extension, a testament to how important he was to their season.
8) Scott Wedgewood — Dallas Stars
Much like backing up Saros, there are harder jobs than backing up Jake Oettinger, one of the best young goalies in the NHL. But these jobs do present unique challenges, including staying ready for rare appearances and jumping in on the rare occasion that your starter has a bad night. Scott Wedgewood did a great job when called upon this season.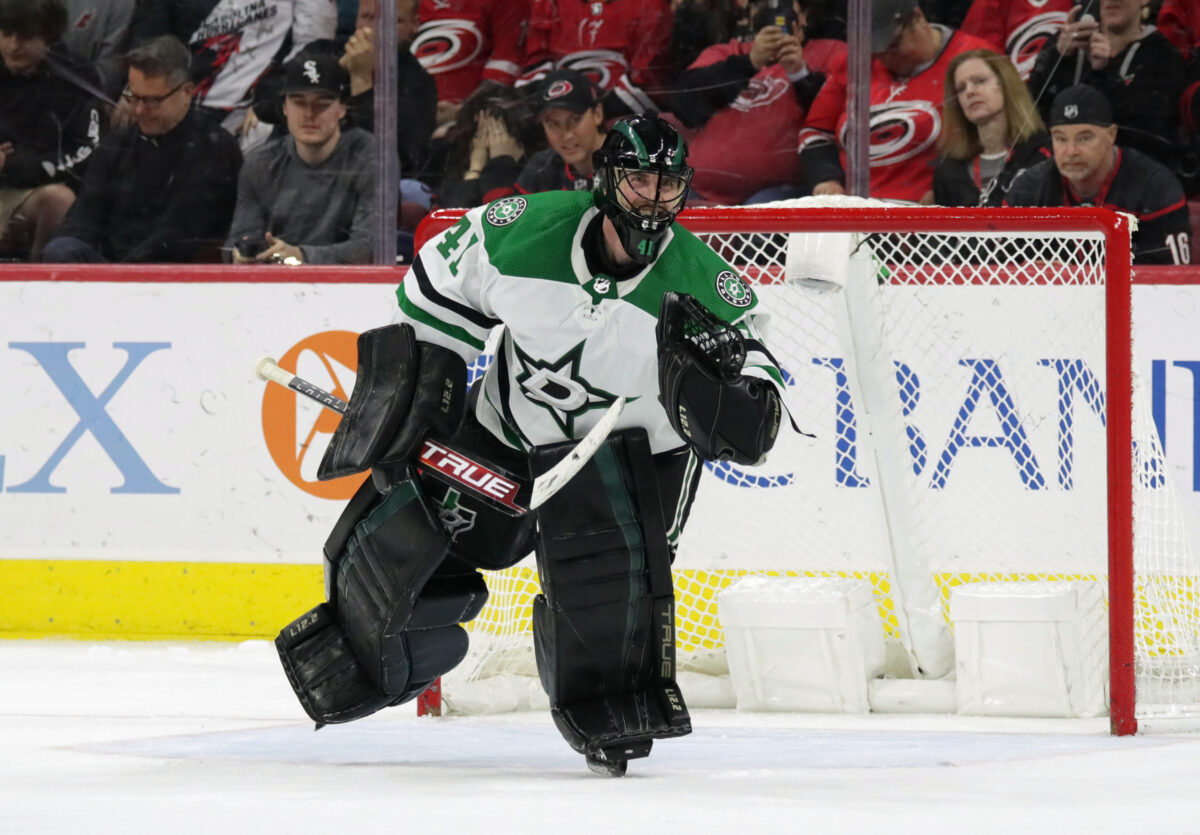 Similar to Lankinen, he started 18 games and went 9-8-1. He had a fantastic 72.2% QS%, and 6.7 GSAA, to go along with a .915 SV%. Of course, he had a great defense and a solid team all around him, but his contributions were still important. The Stars appreciate having him, which is why they signed him to a two-year contract extension in June 2022.
7) Alex Lyon — Florida Panthers
Maybe this is too high to put a goalie who started just 14 games this season and has started only 39 his entire career, but Alex Lyon's story this season was incredible. After starting just 10 NHL games combined over the last four campaigns, Lyon got red hot as he and the Panthers roared down the stretch towards the playoffs. He started 14 games, winning 9, with a fantastic 71.4 QS%. Most importantly, he went 4-1-0 in April, with an incredible .946 SV% and a 1.83 GAA, a stretch that included his first NHL shutout. Lyon was so hot entering the postseason that the Panthers fingered him as their starter against the fearsome and historic Boston Bruins. And while he ultimately gave way to Sergei Bobrovsky, the first playoff win of his career in Game 2 became pivotal in the Panthers' incredible upset. He deserves his flowers after a heroic stretch that will go down in Florida Panthers lore — especially if their postseason continues to snowball.
6) Antti Raanta — Carolina Hurricanes
Some goalies become backups for a period; others serve for longer. But few occupy the role as long as Antti Raanta has. No matter where he has gone in his career, he can't seem to lock up a starting role. And yet, in 253 career games, he has a .918 SV%, a 2.43 GAA, 61 percent of his starts have been quality, and he carries 48.3 goals saved above average (GSAA). He even locked up the Jennings Trophy with teammate Frederik Andersen during the 2021-22 campaign. He'll be a 34-year-old free agent this summer, but someone will certainly give him a look as a backup option. He's clearly proven his value over his career.
5) Pavel Francouz — Colorado Avalanche
In his first full NHL season, Czech Republic import Pavel Francouz was a revelation. Playing in relief of Philipp Grubauer, he won 21 of 30 starts, held a .923 SV%, and carried a 2.41 GAA. On top of that, he managed 13.1 GSAA as a rookie (though he was 29 years old ad had played many seasons of professional hockey in Europe). Since then, he has struggled mightily with injury. He missed the entire 2020-21 season due to double hip surgery.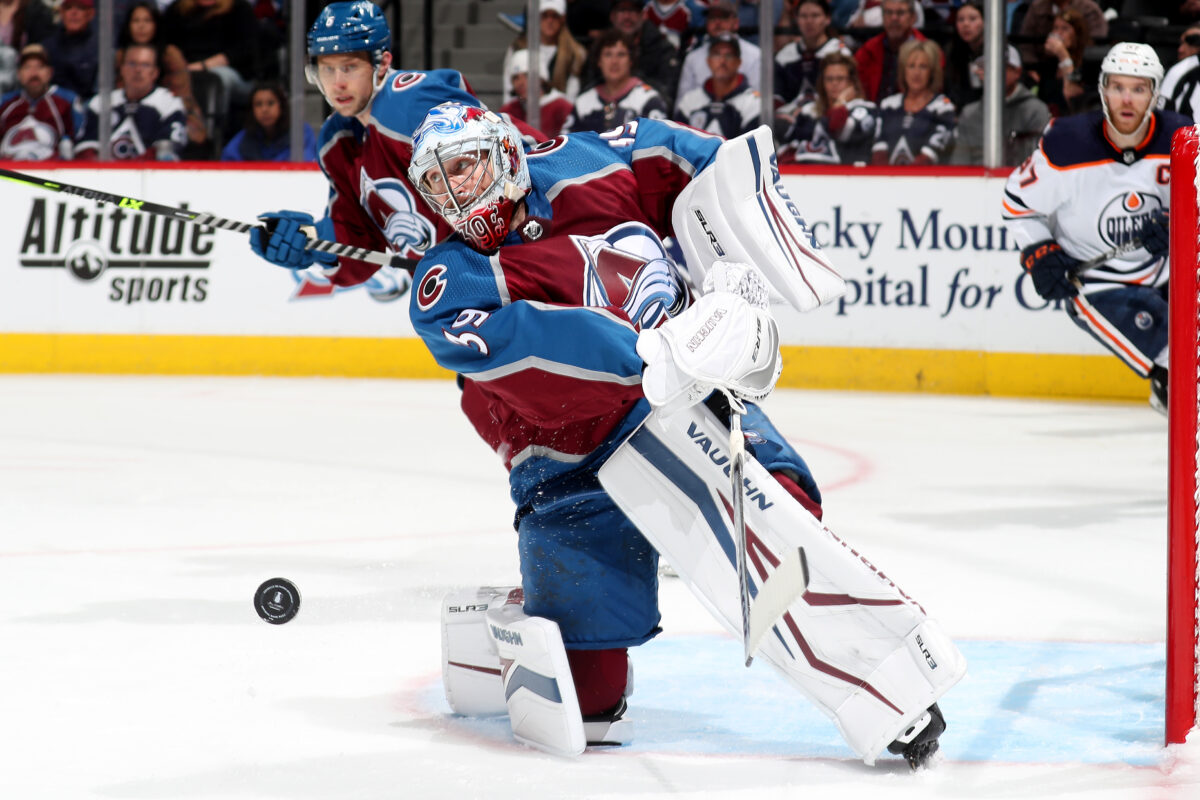 But Francouz bounced back during the 2021-22 season. He won six of seven starts in relief of an injured Darcy Kuemper en route to the Stanley Cup in 2022. And backing up Alexandar Georgiev during the 2022-23 season, he had a .915 SV%, a 2.61 GAA, and 5.2 GSAA. He's been very consistent when healthy, and he's cheap, with one season left at $2 million — a critical factor for the cap-strapped Avalanche.
4) Adin Hill — Vegas Golden Knights
Coming into the season, the Vegas Golden Knights' goaltending picture was cloudy. But Logan Thompson emerged as the clear starter early on. Meanwhile, Adin Hill, whom the Golden Knights acquired from the San Jose Sharks as an additional option, settled in as a backup and performed fantastically well. He went 16-7-1 with a .915 SV%, 2.45 GAA, and 8 GSAA. 64 percent of his starts were quality. He helped propel Vegas back to the top of the Pacific Division. Now a 27-year-old free agent, Hill will certainly have offers and might even get a look as a starting option for teams who are out of other options.
3) Akira Schmid — New Jersey Devils
Akira Schmid might be the feel-good story of the NHL season. A 2018 fifth-round draft choice, he was still playing exclusively in the USHL as recently as the 2020-21 season. He got a cup of coffee with the New Jersey Devils last season, but was drafted into action in a serious way during the 2022-23 season. He started 14 games during the regular season, going 9-5-0 with an incredible .922 SV% and a 2.13 GAA. But he didn't really start to shine until the postseason.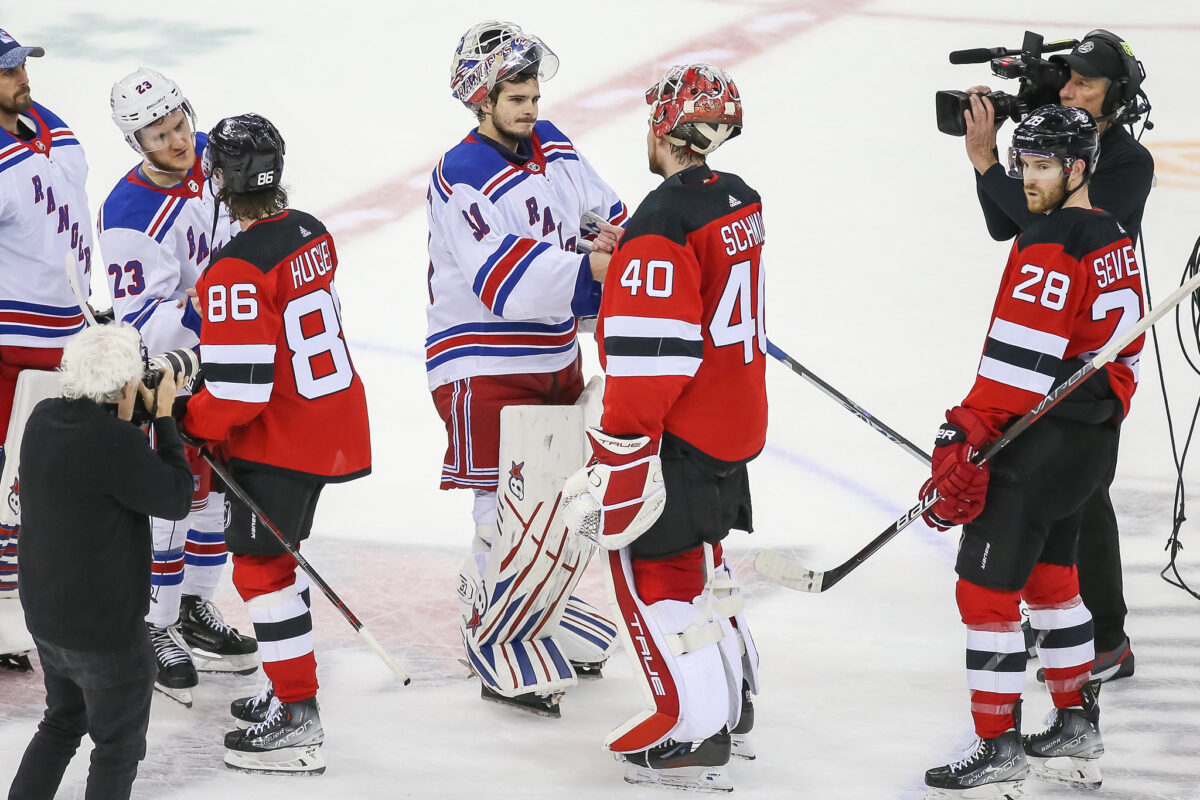 Beaten twice by the archrival New York Rangers, the Devils were desperate for answers in their first postseason series in five years. They turned to the then-22-year-old Schmid, who proceeded to undeniably outduel the mighty Igor Shesterkin, widely viewed as one of the best goaltenders in the world. At the time of publication, Schmid is now 4-2-0, and leading all playoff goalies with a .935 SV% and two shutouts. The way this postseason run is going, Schmid might not be eligible for a spot on this list when we next update it, because he probably won't remain a "backup" for very long.
2) Jeremy Swayman — Boston Bruins
The 111th overall pick in 2017, Jeremy Swayman made his way to the Boston Bruins fairly quickly for a low-drafted goaltender. He is still just 24-years-old, backing up the presumptive Vezina Trophy winner, Linus Ullmark. Even as dominant as the Bruins were, his stats are still impressive: 24-6-4, with a .920 SV%, 2.27 GAA, and 6.9 GSAA.
Related: Ranking the NHL's 32 Starting Goalies — 2022-23 Season
Swayman is owed a contract extension this summer, and it will be interesting to see how the Bruins play it. They could give him a bridge deal, trying to close the gap until Ullmark's deal expires after the 2024-25 season. But even a bridge deal for Swayman will certainly be expensive. His body of work demands that he be compensated well. The alternative will be for the Bruins to shop Swayman this summer. If they do, they'll certainly make a killing for him. Goaltenders like him don't come around often. It's arguably a good problem to have for Boston, but it's still a problem and one that needs an immediate solution.
1) Filip Gustavsson — Minnesota Wild
This was a tough call. Can you really call Filip Gustavsson a backup after what he did this season? Some will certainly argue "no," but others would have complained had he been left off the list. Ultimately, if Marc-Andre Fleury is your counterpart, there's always going to be an argument that you're the backup, and moreover, Gustavsson deserves recognition for an unbelievable season, so he'll get it here.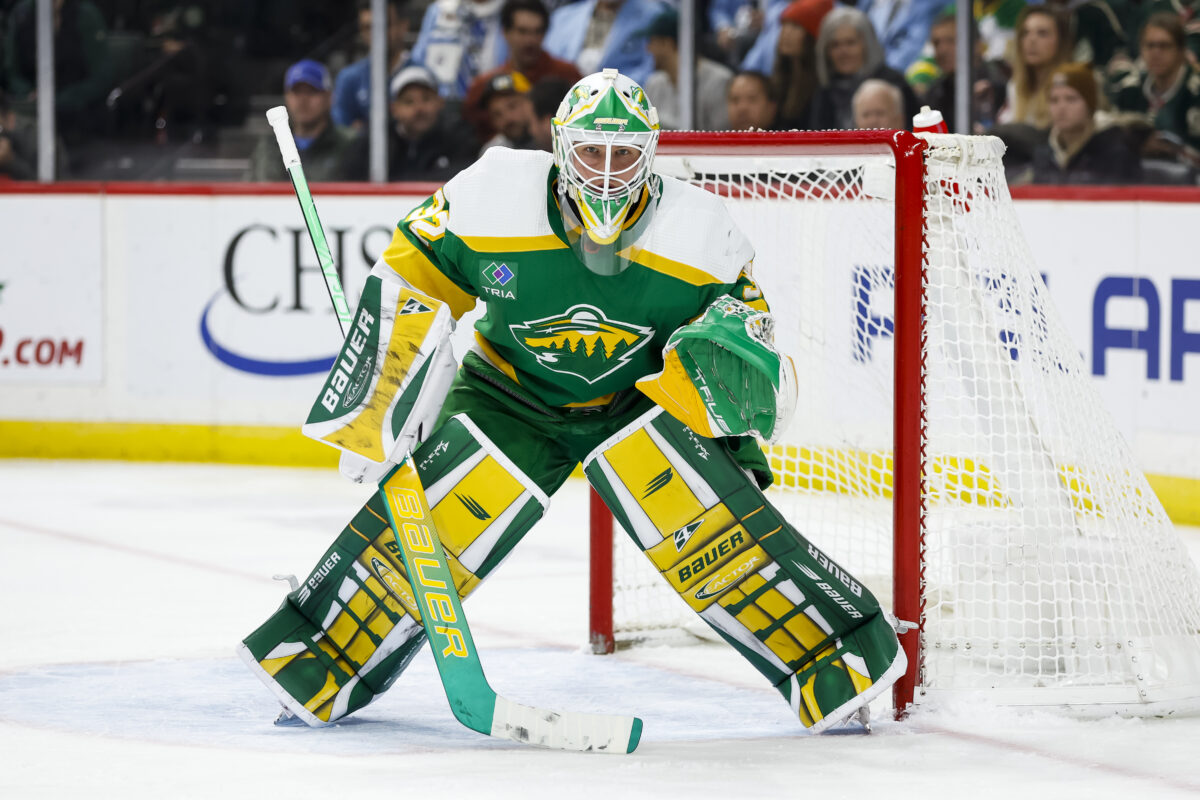 Gustavsson's numbers this season are simply jaw-dropping: in 37 starts he won 22 games, delivering a 73% QS% and taking seven of his 16 losses to overtime, earning the Wild critical points. He maintained a .931 SV%, a 2.10 GAA, and a phenomenal 31.3 GSAA. Those numbers are among the best in the entire league, backup or not. Due a contract extension this summer, he has certainly done enough to prove he's a starter going forward, which leads to questions about whether the cap-strapped Wild might trade Fleury this summer. (Fleury, for his part, has denied the rumors). Either way, Gustavsson looks to be the long-term answer for the Wild, and this season might be the start of an incredible career.
Who Did We Miss?
Do you think your backup belongs on this list? Do you think we gave someone too much credit? Let us know in the comments below. The role of a backup goaltender in the league is a volatile and ever-changing one. But right now, we believe these are the ten best in the world.