The Russian hockey legend and 1989 Hockey Hall of Fame inductee Vladislav Tretiak once said: "there is no position in sport as noble as goaltending." Perhaps what Tretiak ought to say is that no position is as noble as the backup goaltender.
As much as the 31 NHL starting goalies have a heavy burden to bear, the men who play behind them face even more unique challenges. They have all of the burdens of starters but get fewer opportunities, and the scrutiny on them in those opportunities is intense.
Backup goalies are underpaid and in short supply. Many teams struggle to field a sufficient starting goalie, so employing a terrific backup is one of the greatest luxuries in the NHL. In this article, we'll take a look at the cream of the backup crop, the top 10 secondary goalies in the league. We'll be focused on goaltenders who were viewed as a backup entering the season, even if due to injury or superior play, they may have ended up with the lion's share of the starts.
Some of them are the 1B in a tandem, some are career backups, some are veterans in what may be their final stop, and some are bright young goalies on the rise who will probably take over starting duties soon. But one thing unifies them all: their teams should be very thankful to have them.
10) Laurent Brossoit — Winnipeg Jets
Laurent Brossoit has the challenge of playing behind reigning Vezina Trophy winner Connor Hellebuyck, which typically means he gets limited opportunities to shine. But this season, he has been fantastic in those opportunities. In 13 games, he is 6-5 with a .920 save percentage (SV%) and a 2.36 goals-against average (GAA). Impressively, he has 4.0 goals saved above average (GSAA). Brossoit is 28 now, and likely isn't a goalie who is going to take the next step and get a shot at regular starts. But behind one of the best goalies in the league, he's a steady hand. And sometimes, that's all you need.
9) Jake Allen — Montreal Canadiens
The Montreal Canadiens made the decision to trade for Jake Allen and form by far the most expensive goaltending tandem in the NHL, even extending the New Brunswick native with a two-year contract at a $2.875 average annual value (AAV). So clearly, they saw plenty of value in the former St. Louis Blues backup, despite some inconsistency in his past.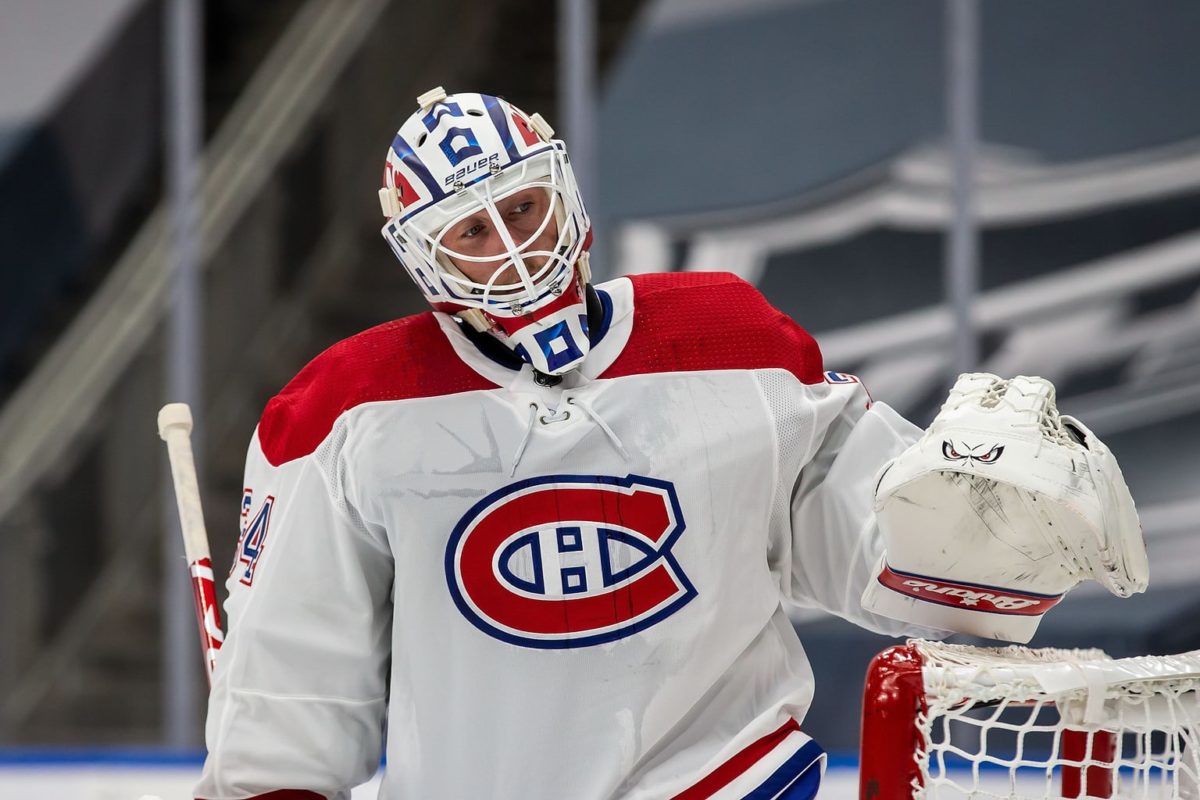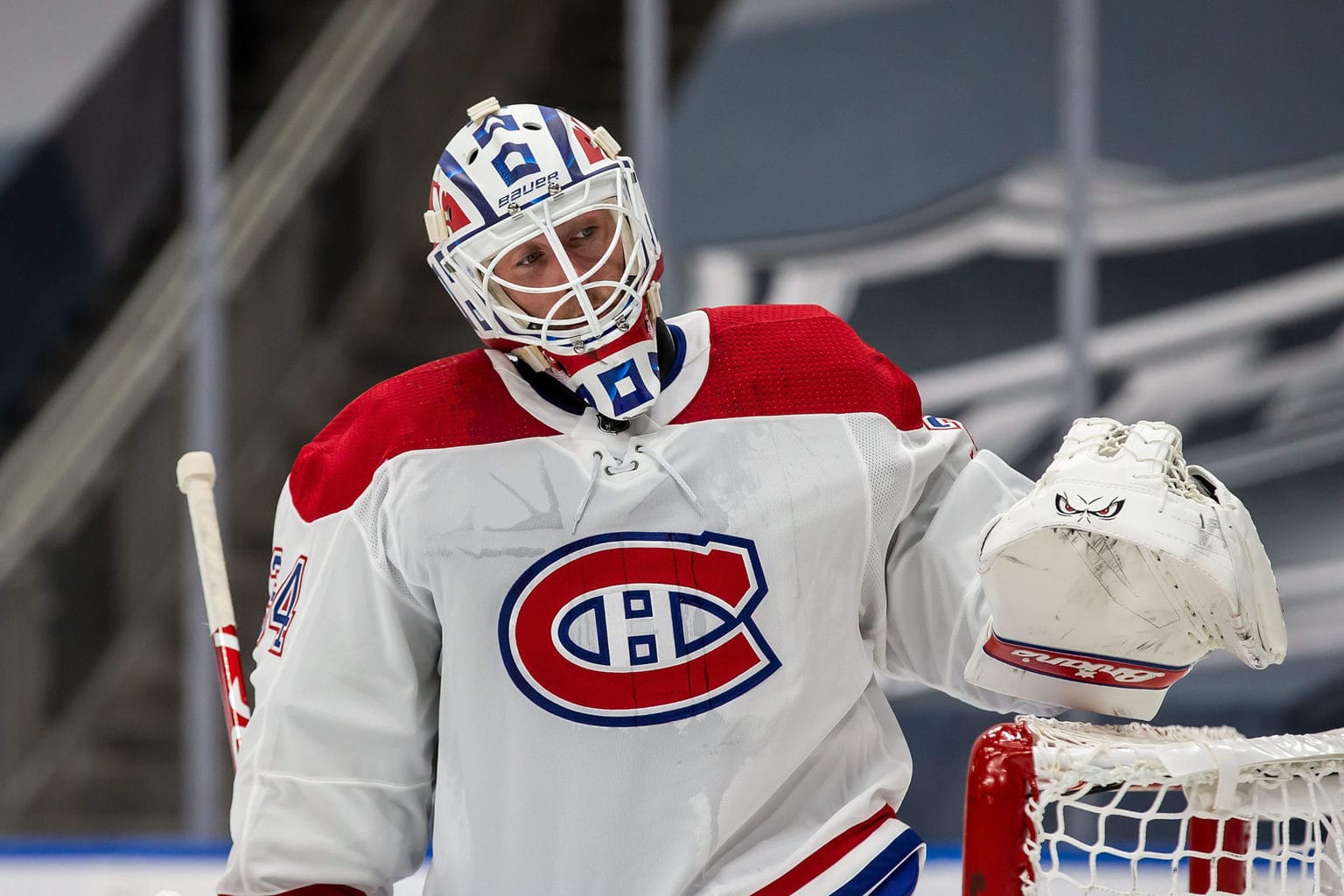 Allen possesses strong enough lifetime stats, with a .912 SV% and a 2.52 GAA. But if you remove the three seasons where he was a starter (from 2016-2019), his SV% climbs to .917 and his GAA drops to roughly 2.14, a very impressive number. For whatever reason, Allen has always thrived in a backup or tandem role.
In his first season playing near home behind one of the most respected goaltenders in the world, Allen has been steady once again. He has cooled off from a red hot start to the season, and now carries a .908 SV% and a 2.63 GAA. But for the most part, Allen provides exactly what you want in a modern-day backup: reliable performance at a reasonable price. You don't often expect him to steal the game for you, but you're confident he won't cost you the game, either, and in that, Allen has performed well.
8) Jake Oettinger — Dallas Stars
Moving on to a series of goalies who certainly are the future for their franchise, the Dallas Stars selected the towering Jake Oettinger in the first round in 2017. He shined for several seasons at Boston University, spending some time with the American Hockey League Texas Stars, before Dallas decided to give him the call with Ben Bishop injured this season.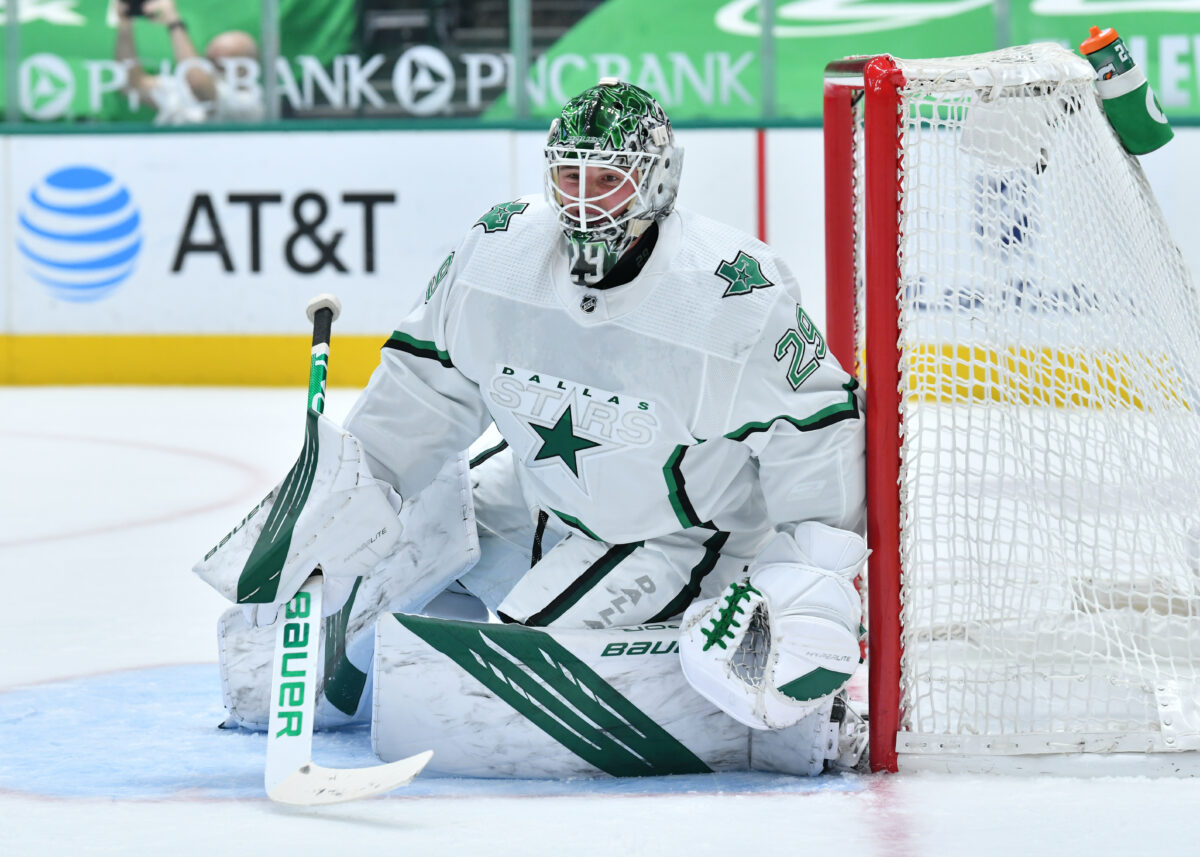 Oettinger has been called upon in 28 games this season, hardly a gentle transition given the NHL's compressed schedule. But he's performed well, despite a 10-8-7 record. He carries a .914 SV% and a 2.30 GAA, both fantastic numbers, and he has 4.2 GSAA. 12 of his 23 starts have been "quality," meaning his SV% was above league-average SV% for the year. Oettinger is just 22, so he's got plenty of time to continue to grow, but his early returns are very promising.
7) Ilya Sorokin — New York Islanders
It seemed like forever in coming, but the New York Islanders finally managed to sign 25-year-old Ilya Sorokin, the young Russian netminder who some consider to be the best of the Russian goaltenders taking over the Metropolitan Division. But Semyon Varlamov has been fantastic in two seasons with the Islanders, and they don't seem rushed to anoint Sorokin as the starter. Even in limited duty, though, he's sparkled: he carries a 13-6-2 record, a .918 SV%, a 2.16 GAA, and 5.8 GSAA. The future is exceedingly bright and when it's time for him to carry the load, he'll be more than ready.
6) Cal Petersen — Los Angeles Kings
It's probably a bit of a stretch still calling Cal Petersen a backup, considering that he's starated more than half of the Los Angeles Kings' games this season. But he entered the season as a backup, and with Jonathan Quick's legacy on the team, he's still probably viewed as the backup by many, even if the team's goaltending is transitioning. Either way, Petersen has been fantastic on a struggling team. His record may look poor, and his 2.82 GAA may not jump off the page, but managing a .914 SV% and 6.6 GSAA in a shortened season on non-playoff team is impressive, and it's likely to only get Petersen more starts going forward.
5) Jaroslav Halak — Boston Bruins
It's almost absurd how little credit Jaroslav Halak gets for the remarkable career he's assembled. The greatest Slovakian goaltender of all time, he's played 15 seasons in the NHL for the Canadiens, the Blues, the Islanders, and the Bruins. Whether a backup, in a tandem, or a true starter, his numbers have rarely dipped below good-to-great, and now, in Boston, with Tuukka Rask at his side, he is one of the very best backups in the league.
Halak's career numbers speak for themselves: 281-173-62, a .916 SV% and 2.48 GAA, 97.5 goalie point shares, and several seasons with a double-digit GSAA are just a few of his many accomplishments. During the 2019-20 campaign, he recorded his 50th career shutout and, having collected two more this season, now sits tied with Rask, two behind Jonathan Quick at 26th all-time. Together, Halak and Rask won the 2019-20 Jennings Trophy for the fewest goals allowed by a tandem in the league.
While his incredible career may be overlooked around the league, no one in Boston underestimates Halak's value. He is good enough to start almost anywhere, but the Bruins are fortunate enough to be able to sit him behind Rask, forming the most formidable goalie pair anywhere in the league. He's seen limited playing time this season and it's clear Jeremy Swayman is on the rise, which has caused Halak to sink a bit down this list. But there's no question that if the 36-year-old wants to continue his career in the NHL, there will be no shortage of suitors.
4) Elvis Merzlikins — Columbus Blue Jackets
Elvis Merzlikins and Joonas Korpisalo split time with the Columbus Blue Jackets last season, and Merzlikins looked like the best goalie in the world for stretches when Korpisalo was out with injury. But he ended up starting fewer games in both the regular season and the postseason and entered the 2020-21 season as the presumptive backup, despite signing a two-year, $8 million extension back in April. Once again, he's started fewer games than Korpisalo, in some part due to injury, and once again, he's been a fantastic goaltender.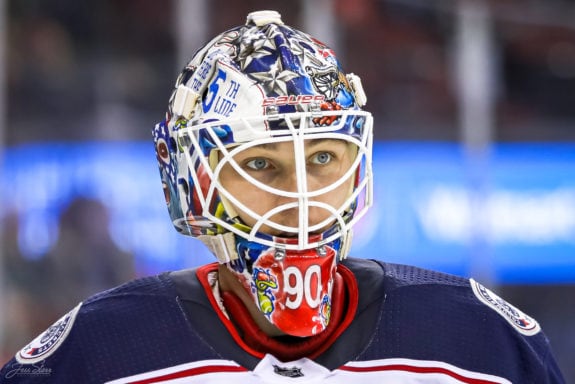 Merzlikins had elite numbers in his first NHL season with a .923 SV%, a 2.35 GAA, and a 12.10 GSAA to go along with five shutouts, three of which he got in the same four-game stretch in January. He also looked fantastic in two postseason starts. This season, despite a paltry 8-12-5 record, he's maintained a .916 SV% and a 2.77 GAA with 6.85 GSAA. The lack of goal support he gets is hardly his fault. The Blue Jackets may well look at Merzlikins as their long term starter going forward, but for the time being, he is one of the best backups in the league.
3) Chris Driedger — Florida Panthers
Chris Driedger has been one of the feel-good stories of the season, helping the unassuming Florida Panthers secure a high playoff seed in a season where expectations were low. A castoff of the Ottawa Senators, he found a home in South Florida, and with Sergei Bobrovsky underperforming, got his shot to carry the load early in the 2020-21 season. He has amassed a 13-6-3 record, but his other stats are even more impressive: a .923 SV%, a 2.17 GAA, and 9.1 GSAA. Driedger likely will depart in free agency this summer, as the Panthers will have to protect Bobrovsky, and 20-year-old goalie of the future Spencer Knight has won his first four NHL games, but wherever he goes, he'll likely get a hefty salary bump and be viewed either as a prized backup or perhaps even a fringe starter.
2) Jack Campbell — Toronto Maple Leafs
If any goalie's story has surpassed Driedger this season, it's Jack Campbell, who set an NHL record by winning his first 11 starts in the 2020-21 season. Most Toronto Maple Leafs fans probably view Campbell as the starter now, with Frederik Andersen injured and likely to depart as a free agent, so his time on this list may be short-lived. But he deserves recognition for the season he's had.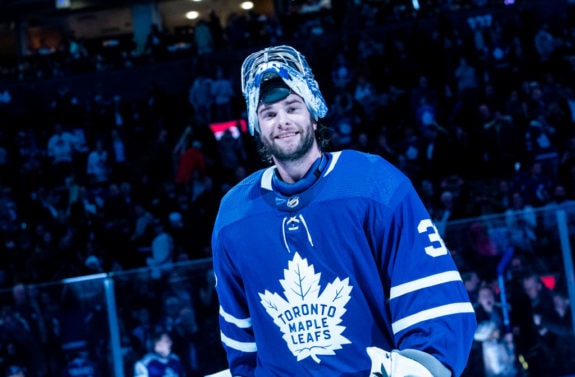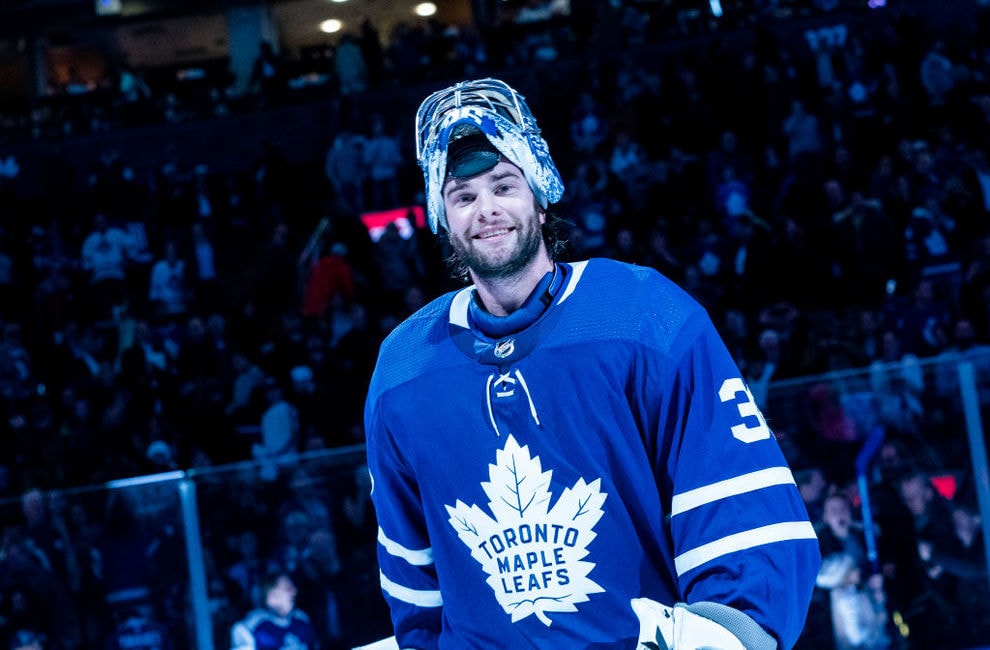 Campbell hardly faltered after his streak ended. He's now 17-2-2 in 21 starts, holding a .923 SV% and a 2.11 GAA along with 8.7 GSAA. He's given a quality start 61.9 percent of the times he's taken the ice. Not bad for a backup who was likely viewed as the second most valuable of two pieces in the deal that brought him to Toronto a few weeks before the 2020 trade deadline. Maple Leafs general manager Kyle Dubas will have to decide whether he trusts Campbell to shoulder full-time starter duties going forward, but for now, he's shining under the brightest spotlight in the NHL.
1) Marc-Andre Fleury — Vegas Golden Knights
Marc-Andre Fleury didn't expect to be left holding the bag as the Vegas Golden Knights' backup, which led to significant controversy during the 2019-20 playoffs (thanks in part to his agent). But entering the 2020-21 season, he clearly was the 1B in one of the strongest and highest-paid tandems in the NHL. The 36-year-old Fleury could have sulked and hoped for a trade. Instead, with Lehner missing significant time due to injury, he's turned in one of the best campaigns of his career.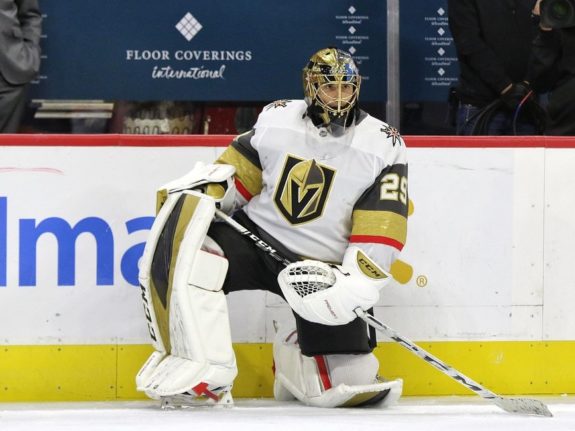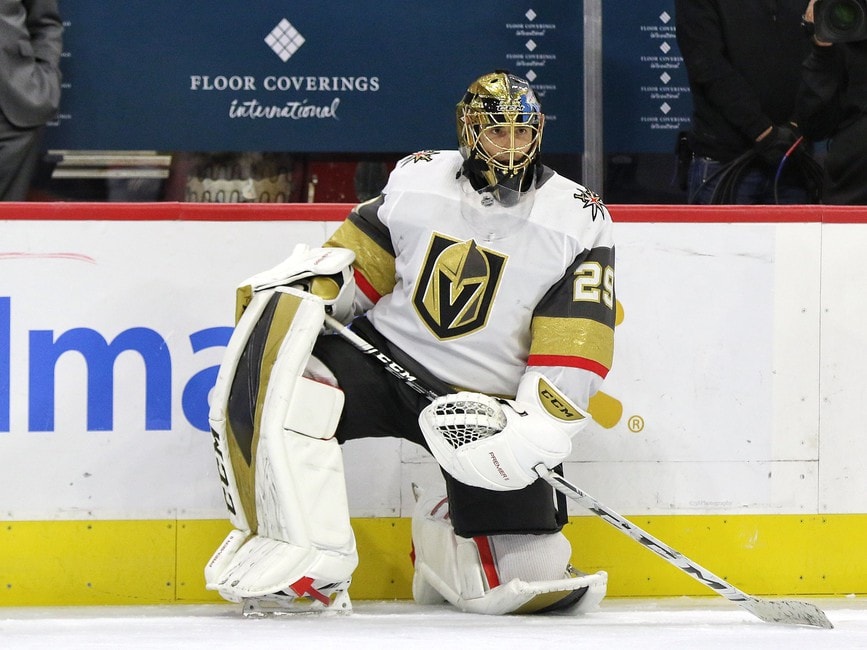 Fleury has played 35 games and is 25-10-0 in that time. He has a .927 SV%, tied for the best mark in his career (with 2017-18), a .714 QS%, far and away the best he's ever done. His 18.2 GSAA also ranks behind only the 2017-18 season as the best he's ever performed.
Even despite starting the lion's share of the games, Fleury clearly isn't the goaltender the Golden Knights are married to long term. In fact, there's some chance Fleury — who came to Vegas via the expansion draft — could leave for the Seattle Kraken over the summer. After the campaign he's had, why wouldn't the Kraken be interested? For the time being, though, his home is in Vegas, and with the playoffs approaching and Lehner healthy again, it will be interesting to see how head coach Pete DeBoer manages his goaltenders this time around.
Who Did We Miss?
Do you think your backup belongs on this list? Do you think we gave someone too much credit? Let us know in the comments below. The role of backup goaltender in the league is a volatile and ever-changing one. But right now, we believe these are the ten best in the world.
---
---
Stephen Ground is an author with The Hockey Writers and is co-host of the Two Guys No Cup Podcast. He enjoys studying the numbers and providing fresh looks at various stories.