If NHL teams collect and possess assets, then elite goalie prospects are like Vincent van Gogh paintings: They're either extremely rare or—in most cases—a knock off.

Top-notch goalie prospects are valuable because netminders develop somewhat unpredictably. As you'll see in the list below, draft slot does not always equal talent. Some of the NHL's best netminders were selected in later rounds. On the flip side, there have been plenty of first- and second-round busts over the past decade.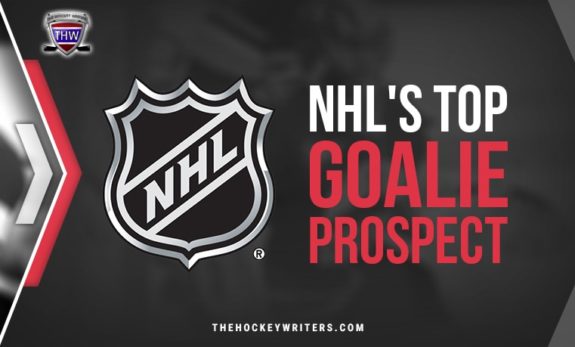 With that being said, the NHL's best goaltending prospects rose up through a variety of developmental paths. Some were highly touted netminders at an early age. Others took the road less traveled to become elite prospects.
Related: The Best Goalies in NHL History
To identify the NHL's top young goalies, I evaluated several netminders on an array of physical and technical attributes using a 20-80 rating scale, with 50 being average. Below are my top 10 goalie prospects, plus a few who just missed the cut.
Graduated to the NHL
Two goalies from last year's edition of this list have now established themselves in the NHL:
Jeremy Swayman – Boston Bruins
Spencer Knight – Florida Panthers
Which netminders will be the next to graduate to the NHL?
Just Outside the Crease
These goalies were close to cracking the top 10, but ultimately fell short. Fear not, they still have bright futures ahead of them.
Ukko-Pekka Luukkonen – Buffalo Sabres
Erik Portillo – Buffalo Sabres
Daniil Tarasov – Columbus Blue Jackets
10. Justus Annunen – Colorado Avalanche
Age: 22
Height: 6-foot-4
Weight: 210 pounds
There's a lot to like about Justus Annunen. The Colorado Avalanche prospect has great lateral movement and tracks the puck well. In addition, his crease adjustments are very smooth as he's following play in close. If there's a knock on his skating, it's that he tends to overcommit and lose the crease from time to time, though he's generally economical with his movements. His rebound control could be better as well, but that's something that can be refined over time.
---
Latest News & Highlights
---
Annunen made his NHL debut during the 2021-22 season, playing in two games for the Avalanche. Otherwise, he's been a mainstay in the AHL with the Colorado Eagles. Still, Annunen could be a long-term solution in net for the Avalanche, since neither Alexandar Georgiev nor Pavel Francouz are clear-cut No. 1 goaltenders.
9. Hugo Alnefelt – Tampa Bay Lightning
Age: 21
Height: 6-foot-2
Weight: 177 pounds
While researching the 2019 draft, I became a huge fan of Hugo Alnefelt. Sweden's next great netminder has the potential to be an NHL starter and will likely figure into many international competitions over the next decade-plus.
Alnefelt's greatest strength is his skating. He has above-average lateral push strength and navigates the crease well. But perhaps his best skating attribute is his adjustment to play around him. Alnefelt's edgework is terrific. He makes tiny adjustments to stay square and seal off the bottom of the net effectively. Alnefelt's elite pivoting, adjusting, and edgework makes the randomness of hockey that takes place in front of him a little easier to manage.
In addition, Alnefelt gets good depth as he's tracking the puck in preparation for a shot. His rebound control is solid – his quick glove doesn't drop many pucks. My one knock on Alnefelt is that he can be somewhat complacent with his stick positioning. Otherwise, he's as technically sound as they come.
8. Lukas Dostal – Anaheim Ducks
Age: 22
Height: 6-foot-2
Weight: 174 pounds
In Lukas Dostal, the Anaheim Ducks have an heir apparent to franchise netminder John Gibson. The 22-year-old goaltender has a compact stance that he rarely breaks while tracking the puck. He's very calm in net and moves into position effortlessly with economical crease adjustments. Dostal's rebound control is above average as well.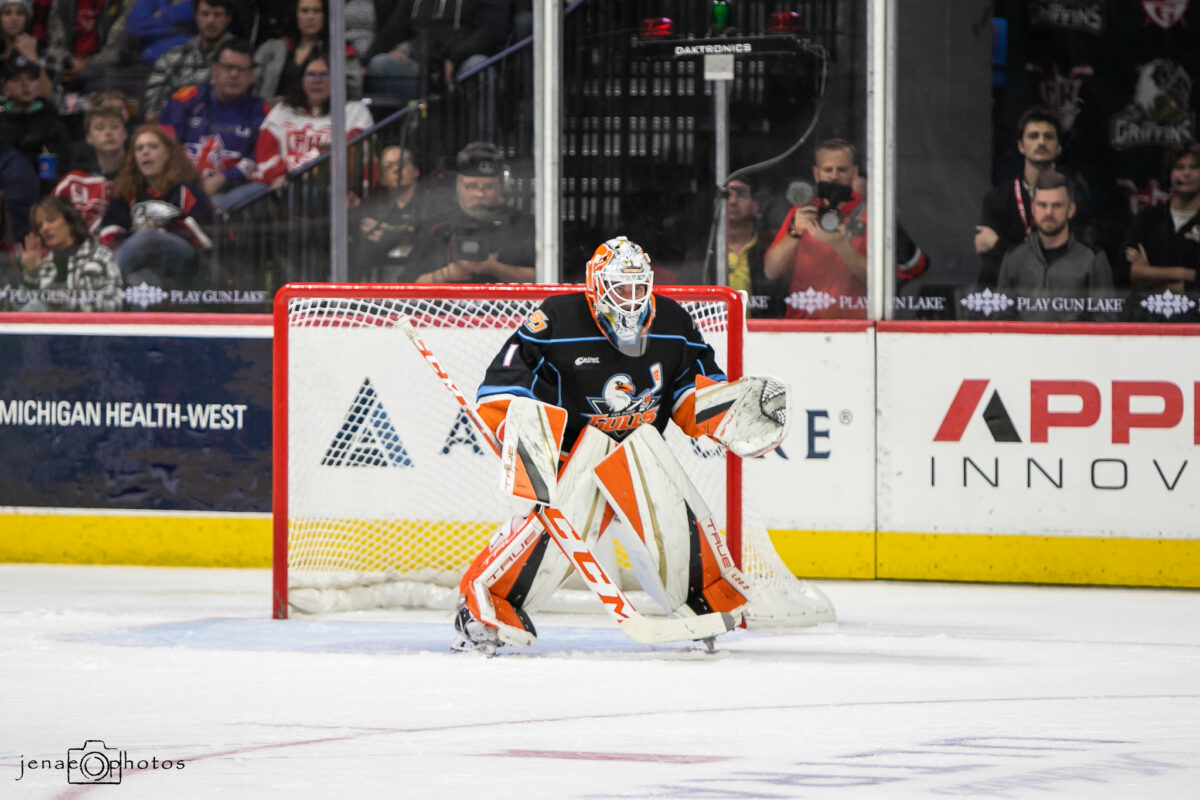 Since arriving in North America, Dostal has had moderate success at the AHL level. He's had a few cups of coffee with the Ducks, too. But for now, Anaheim is prioritizing Dostal's development by stashing him in the minors where can start most games for the San Diego Gulls.
7. Dylan Garand – New York Rangers
Age: 20
Height: 6-foot-1
Weight: 172 pounds
Many people resolve to be better versions of themselves in the New Year. I don't know if Dylan Garand had any New Year's resolutions, but he has certainly accomplished a lot in 2022:
WHL Goalie of the Year
WHL First All-Star Team
CHL Goalie of the Year
2022 World Junior Championship (WJC) Gold Medal
Made the AHL's Hartford Wolfpack 
Though Igor Sheshterkin is firmly entrenched as the New York Rangers' goalie of the future, the franchise also has a great prospect in Garand. The 20-year-old goaltender has great poise in net and tracks play well. His skating isn't pretty, but it works. Garand is always in position to make the initial save.
Garand's rebound control could use work, though. As he advances through the ranks, he'll need to refine this aspect of his game.
6. Devon Levi – Buffalo Sabres
Age: 20
Height: 6-foot-0
Weight: 185 pounds
It's fair to say that Devon Levi has greatly improved over the last calendar year. And he was already a quality netminder to begin with.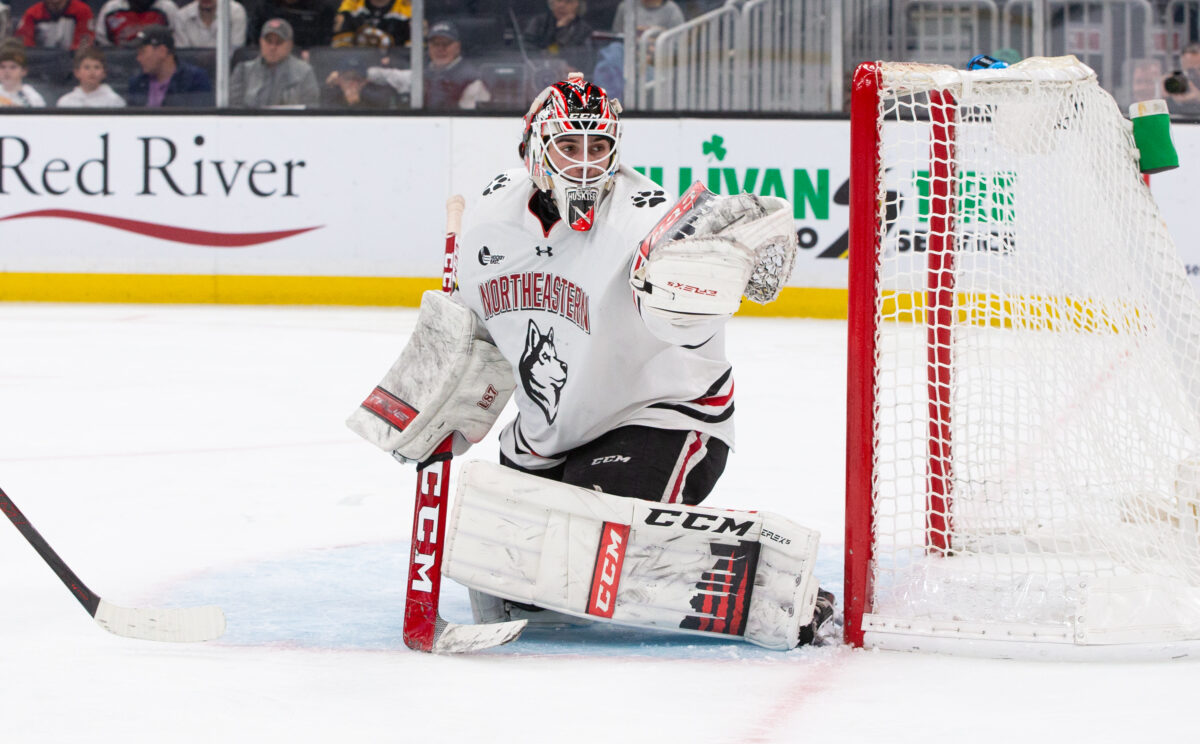 Levi has great poise in net, and it was on full display during the 2021 WJC, when he backstopped Canada to a silver medal. The Montreal-native manages the crease well by making subtle adjustments to stay square to the puck. He doesn't flail around often – instead he's efficient with his crease movement.
In addition, Levi's rebound control is outstanding. Pucks rarely bounce back into the slot when he's in net. Overall, there's a reason why Levi was named the top goaltender of the 2021 WJC and the 2021-22 Mike Richter Award winner as the NCAA's best netminder. He's that good.
5. Dustin Wolf – Calgary Flames
Age: 21
Height: 6-foot-0
Weight: 156 pounds
Everywhere Dustin Wolf goes, he's doubted—based solely on his size—at first, but then succeeds. First, it was in the WHL with the Everett Silvertips after teammate Carter Hart graduated to the NHL. Now, it's in the AHL.
The truth is that Wolf absolutely dominated the WHL, finishing with sub-2.00 GAA all three seasons he started. He's starting to take charge in the AHL, too. He finished his first professional campaign with a 2.35 GAA and .924 SV%.
The pride of Tustin, California effortlessly glides around the crease and has above-average lateral push strength. Additionally, Wolf has great poise in net. He has confidence in his save selection strategies and decision-making, which are both terrific attributes of his.
To succeed at the NHL level, Wolf needs to track the puck better through traffic. He already does a good job seeing through screens and reading the play when the puck is in tight – he just needs to apply that tracking better when the puck is around the perimeter. In addition, Wolf's rebound control needs some improvement. Based on my viewings, he gives up a few too many juicy rebounds off his chest and far-side leg pad. However, these issues can be addressed through practice. Wolf already has the strength, poise, and intangibles to be a successful goalie. He just needs to refine a couple things.
4. Pyotr Kochetkov – Carolina Hurricanes
Age: 23
Height: 6-foot-3
Weight: 205 pounds
Though he's played a handful of NHL games, I still consider Pyotr Kochetkov to be a prospect. He's third on Carolina's depth chart and received ice time after the Hurricanes' other goalies got hurt.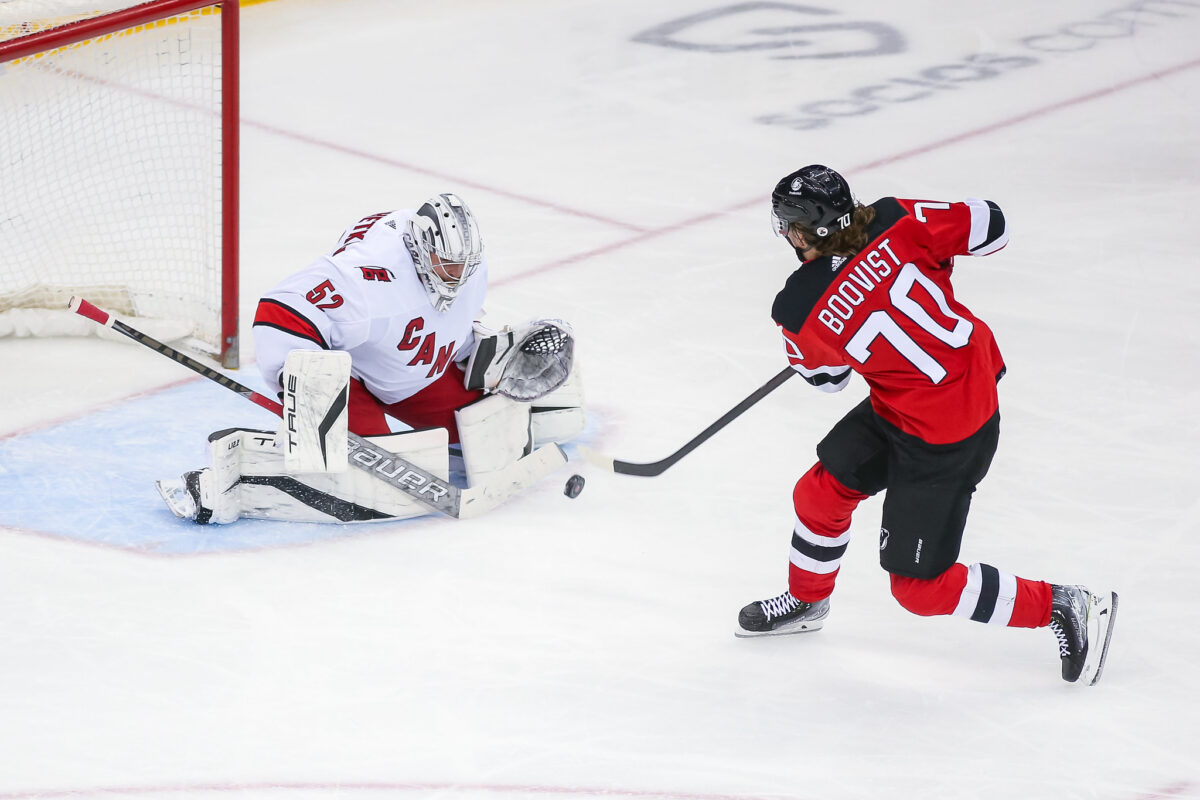 From a technical standpoint, Kochetkov is quite talented. He uses his edges very well to adjust around the crease and burst laterally. In addition, his tracking and reflexes jumped out as above average. Kochetkov also has a wide butterfly and covers the bottom half of the net well, giving shooters little room in tight.
That said, the netminder still has room for improvement. Kochetkov tends to stretch for the puck out of his butterfly in response to a broken play rather than adjusting within his butterfly stance. This can leave him vulnerable sprawled out on the ice. I've also seen him favor the short side on a few occasions following a cross-ice pass. Nonetheless, Kochetkov has the athleticism to be an effective NHL goalie.
3. Sebastian Cossa – Detroit Red Wings
Age: 20
Height: 6-foot-6
Weight: 210 pounds
Finally, the Red Wings have a bonafide "goalie of the future" in Sebastian Cossa. Detroit traded up to select the netminder in the first round of the 2021 NHL Draft and chose him over Sweden's Jesper Wallstedt.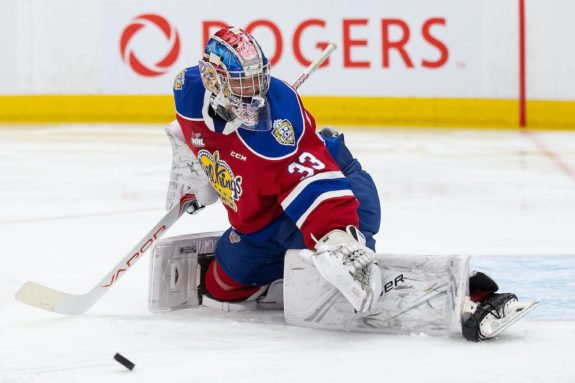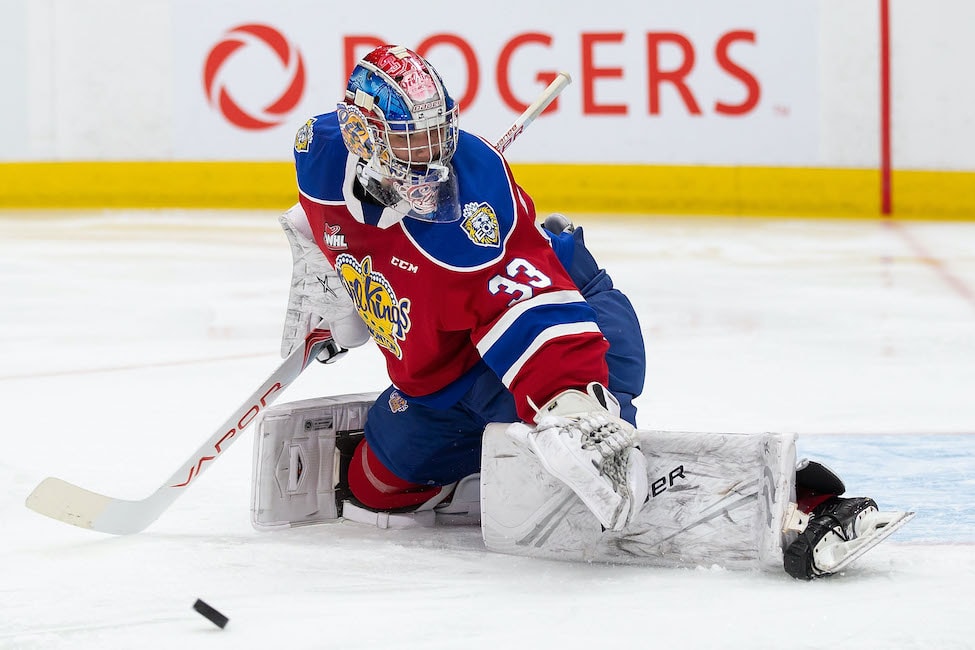 Cossa certainly uses his 6-foot-6 frame well. He's able to track pucks over and through traffic and has a wide butterfly that takes up most of the bottom half of the net. In addition, he's pretty consistent at staying square to the puck and managing his depth. Cossa doesn't sit back – he can be aggressive with his depth when it's appropriate. And finally, he has explosive lateral movement – something you typically see with taller goalies.
A few things about his game could be refined, though. His crease management is just average – Cossa could be more efficient and precise with his little movements around the crease. And like I mentioned with Kochetkov above, he tends to stretch out of his butterfly to follow the play, rather than calmly butterfly-slide into position. His rebound control could use some improvement, too. 
It shouldn't be too difficult for Cossa to elevate these aspects of his game. He has the internal drive and confidence that you often see in elite NHL players who constantly work on their game.
2. Jesper Wallstedt – Minnesota Wild
Age: 20
Height: 6-foot-3
Weight: 214 pounds
Wallstedt straight up looks like a robot in net, which can be a good and bad thing. First, the good – his crease movement and adjustments to track the puck are outstanding. He's so precise and tends to make quick, rapid movements look effortless, which they most certainly are not. 
On the flip side, Wallstedt's positioning can be predictable – he over-relies on the RVH and can focus solely on the shooter, neglecting the threat of players in his periphery. That said, the good outweighs the bad. 
In addition to the positive attributes I noted above, Wallstedt also does a great job of sealing off the bottom of the net when play is in tight. He also tracks the puck very well through traffic.
Overall, the Minnesota Wild have a fantastic goalie prospect on their hands. Wallstedt is certainly a long-term solution in net for the franchise.
1. Yaroslav Askarov – Nashville Predators
Age: 20
Height: 6-foot-3
Weight: 178 pounds
Make no mistake, Yaroslav Askarov is the real deal. The elite goaltending prospect has future NHL All-Star written all over him.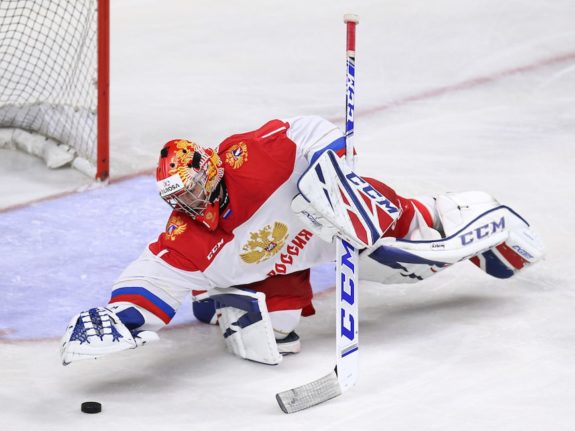 From a technical standpoint, Askarov already displays advanced decision-making and skating for his age.
"He's a rare talent in net who can steal games. He's a long, flexible and fast athlete. He has quick-twitch reflexes in net. He has great anticipatory hockey sense and elite movement skills. He's the closest thing I've seen to Marc-Andre Fleury."

–NHL scout to The Athletic's Corey Pronman (from 'Pronman's scouting report: Why goalie Iaroslav Askarov is a top NHL prospect' – The Athletic – 6/10/20)
Expect Askarov to be an elite NHL netminder in the near future. Nashville is quite lucky to have both Askarov and Juuse Saros on their hands.
Stats courtesy of EliteProspects.