The goaltending position is notoriously harsh. Every goalie is a man on an island, and fans are more likely to blame him for a loss than credit him for a win. Beyond that (or perhaps because of that) goaltenders are hard to predict season to season. Sometimes they will follow a dominant season with a lackluster campaign, or vice versa.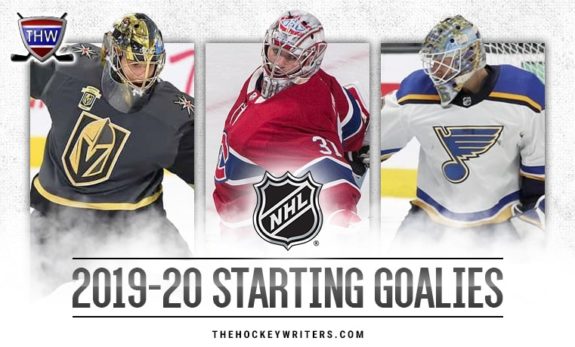 With that in mind, we like to take a look twice a season at the rankings of all 31 starting NHL goalies. Last season saw the ascension of goaltenders like David Rittich and Jordan Binnington, and the collapse of old, reliable options like Jonathan Quick, so the rankings we made at midseason need significant updating. Let's take a look at the methodology for these rankings.
Methodology
Because of the aforementioned fickle and transient nature of goaltending, we focused on numbers from the 2018-19 season to make these rankings. When two goalies were roughly equal, then track record was taken into account, so while Quick may have had a worse statistical season than, say, Mikko Koskinen, the one-time Conn Smythe and two-time Jennings Trophy winner falls slightly higher than the second-year Russian netminder.
Jonathan Quick (AP Photo/Mark J. Terrill)

Mikko Koskinen (THE CANADIAN PRESS/Jason Franson)
A number of statistics were considered. Two metrics were given primary emphasis: goals saved above average (GSAA) and quality start percentage (QS%). GSAA is a statistical calculation of a goaltender's performance as compared with his peers. It considers the number of shots he faced and measures it against the league average save percentage on the same number of shots. QS% measures the percentage of starts in which the goalie's save percentage (SV%) surpassed the league average SV% for the season. Anything above 60 percent is considered very good, anything below 50 percent is poor, and 53 percent is league average.
In addition to these metrics, we'll examine the number of games started (GS), SV% and goals against average (GAA), and shutouts (SO). Finally, we'll occasionally consider two statistics we calculated, shutout percentage (SO%), which is simply the number of shutouts divided by the number of games started, and its inverse, games started per shutout (GS/SO). With that in mind and without further ado, let's get to the rankings.
31) Craig Anderson: Ottawa Senators
At age 37 and on the worst team in the NHL, one couldn't expect a lot from Craig Anderson. He is a beloved figure and rightfully won the Bill Masterton Trophy in 2017 due to his inspiring devotion to his wife during her cancer treatment; however, his best days between the pipes are behind him.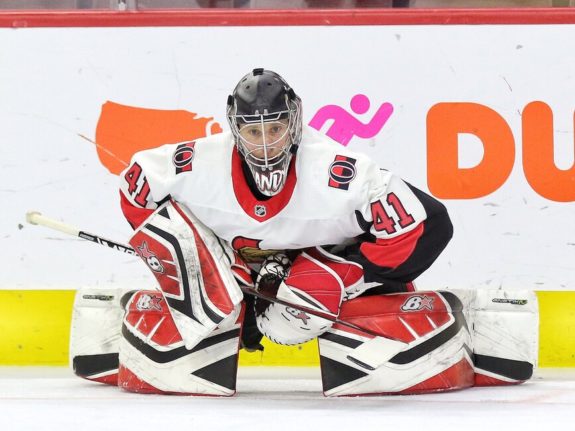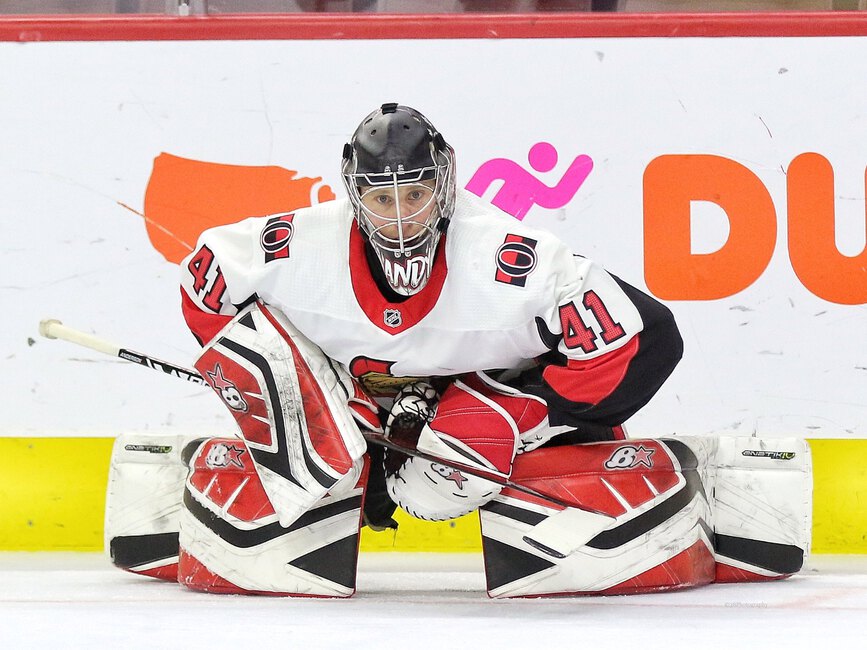 Anderson fell at or near the bottom of this list of goalies in many categories. His minus-11.94 GSAA was third-to-last, and his .404 QS% placed him second from the bottom. He did start a solid number of games, 47, as the last line of defense for the Senators, and his 3.51 GAA, which ranks distantly last in this group, is hardly solely his responsibility. But the veteran simply didn't show enough to warrant a higher spot on this list. Ottawa will ride Anderson until the wheels fall off completely, or until the next young goalie prospect arrives in town.
30) Joonas Korpisalo: Columbus Blue Jackets
The Columbus Blue Jackets have pinned their hopes to Joonas Korpisalo after the departure of Sergei Bobrovsky for the Florida Panthers, but the promising, young, Finnish goaltender has a lot to prove to justify that hope. His .381 QS% was the only number to trail Anderson in that category, and he posted a minus-8.32 GSAA with no shutouts, but to his credit, he only started 21 games, the fewest on this list. Korpisalo is the presumptive starter entering the 2019-20 season, but he will have to establish himself quickly, or the Blue Jackets will take a long look at his Latvian counterpart Elvis Merzlikins for the role.
29) Cory Schneider: New Jersey Devils
Injuries have plagued Cory Schneider, the one-time Jennings Trophy winner (2010-11) and 2016 All-Star. Last season, he started just 23 games, second least only to Korpisalo, in a disastrous campaign. He had a .903 SV% and a 3.06 GAA in those games and simply couldn't remain healthy enough to contribute more. He finished 6-13-4 on the season.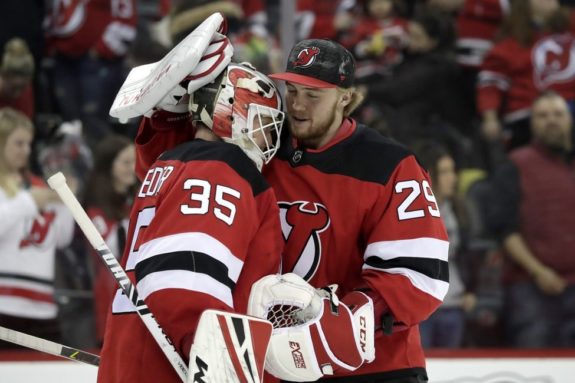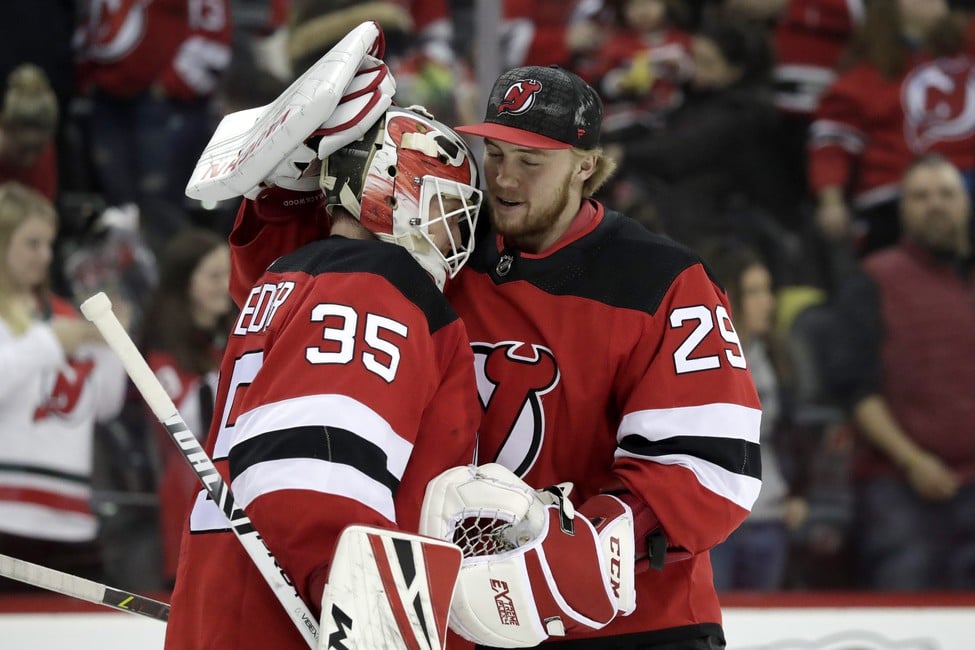 In Schneider's stead, MacKenzie Blackwood began to rise, going 10-10-2 with a .918 SV% and a 2.61 GAA. The former 2015 second-round pick in the future, but the Devils have $6 million committed to Schneider each of the next three seasons. They'll likely give him the first crack but with New Jersey's massively overhauled roster, they won't hesitate to switch to Blackwood if Schneider can't handle the load.
Related – Goaltending Will Make or Break Devils' Season
28) Mikko Koskinen: Edmonton Oilers
Mikko Koskinen of the Edmonton Oilers helped generate one of the most shocking headlines of last season, with his three-year, $13.5 million signed shortly before the Oilers fired general manager Peter Chiarelli. His minus-6.21 GSAA and .471 QS% suggest that it will be yet another poor contract with which Chiarelli saddled his former team, but the Finnish netminder showed some promise early in the season. Perhaps he can rebound in 2019-20.
27) Martin Jones: San Jose Sharks
Martin Jones was an absolute disaster last season, and could arguably be lower on this list, but for a track record that suggests he should rebound going forward. His abhorrent minus-22.87 GSAA was second to last in the entire league, and his .435 QS% was fifth from the bottom.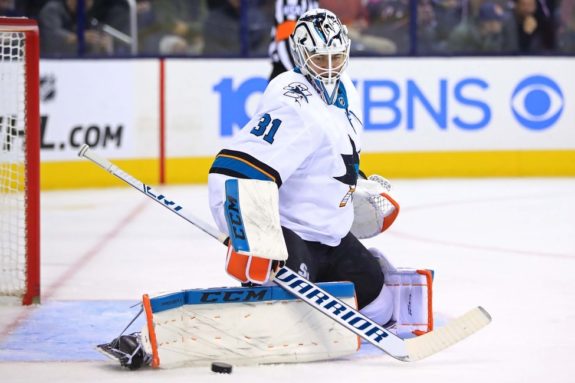 Despite his struggles, Jones tied for third in the league with 62 games started, because his backup, Aaron Dell, was somehow even worse. Jones got a lot of credit for his playoff performance, but the numbers don't justify even that. In 20 postseason starts, he still had minus-10.59 GSAA and a .898 SV%. 2018-19 was a total loss for Jones, who will have to improve in 2019-20 to bolster an aging Sharks core devoid of Joe Pavelski for the first time in almost 15 years.
26) Jonathan Quick: Los Angeles Kings
The first sentence we wrote about Jones could be copied and pasted here but in bold. Quick's numbers were abysmal last year; arguably the worst in the league. His minus-29.21 GSAA put him distantly last among starters, and he mustered only a .888 SV% and a 3.38 GAA, good for worst and second-worst (to Anderson) respectively. No one expected the Los Angeles Kings to fall off the table so quickly, least of all former head coach John Stevens, whom the Kings fired just 13 games into the season. Perhaps with an offseason to prepare, the team, and Quick along with it, will improve. But it was a shockingly bad campaign for the former Conn Smythe Trophy winner.
25) Carter Hutton: Buffalo Sabres
The Buffalo Sabres took a chance on Carter Hutton after a strong career as a backup with the Nashville Predators and St. Louis Blues. In his first season as a starter, he wasn't terrible, but he certainly wasn't the value-priced diamond in the rough the Sabres had hoped they were signing.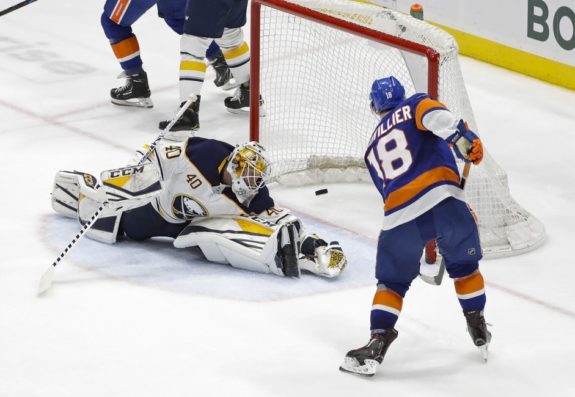 Hutton's numbers aren't jump-off-the-page bad, but a 3.00 GAA and a .908 SV% are nothing to write home about. He split time with Linus Ullmark, whose numbers were similar. Both will need to rebound this season to return the Sabres to the playoffs for the first time since the 2010-11 season, but they are likely just keeping the net warm until top prospect Ukko-Pekka Luukkonen, who dominated the Ontario Hockey League last season, arrives from the Sudbury Wolves.
24) Jimmy Howard: Detroit Red Wings
Jimmy Howard is a picture of consistency, but that consistency is nothing special. He had an okay season next year, with a .909 SV% and a 3.07 GAA. His minus-1.96 GSAA wasn't great, but he did have a .577 QS%, which is well above average. Much luke Hutton, Ullmark, and Anderson, Howard is waiting for the next face of Detroit Red Wings goaltending to arrive, but he will return to the Motor City on a one-year contract this season.
23) Semyon Varlamov: New York Islanders
In his final season with the Colorado Avalanche, Semyon Varlamov battled for playing time with future starting goaltender Philipp Grubauer. The Russian Varlamov did well enough in his 49 starts to convince the New York Islanders to take a chance on him with a four-year, $20 million contract this summer.
Varlamov posted an acceptable .909 SV% and a 2.87 GAA last season and gave a quality start just over half the time (51 percent). Allowing Robin Lehner to walk to replace him with Varlamov is a curious move by general manager Lou Lamoriello, but maybe he sees Varlamov as a better potential mentor to fellow Russian Ilya Sorokin, whom many analysts consider one of the most promising goaltending prospects in the league. For now, Varlamov will split time with Thomas Greiss in the final season of his contract.
22) Henrik Lindqvist: New York Rangers
Henrik Lundqvist is known as "the King" for a reason. Though he's never won a Stanley Cup, he is one of the most prolific and enduring goaltenders in league history and is likely headed for the Hockey Hall of Fame. But he's 37 now, and these are his final seasons in the NHL. His. 907 SV% and 3.07 GAA weren't terrible, but they weren't great, and Lundqvist will increasingly split the net with Alexander Georgiev and, in the not-too-distant future, Igor Shestyorkin.
21) David Rittich: Calgary Flames
David Rittich emerged as the best goaltender with the Calgary Flames last season, though head coach Bill Peters didn't acknowledge when he refused to play "Big Save Dave" in the postseason, a series they lost in five games. Rittich's most impressive stat was his .619 QS%, good for sixth in this group of starters.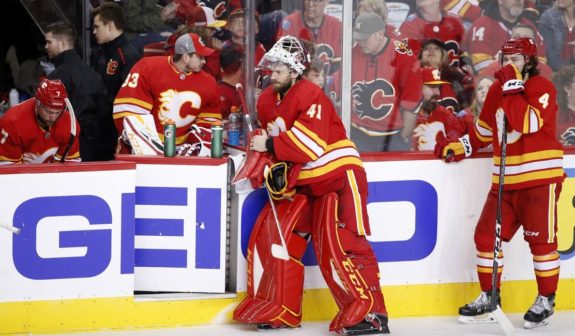 Rittich's .911 SV% and 2.61 GAA were middling, as was his 1.68 GSAA. But he was clearly superior to Mike Smith, and he earned a two-year, $5.5 million contract for his efforts. Now, with Cam Talbot brought in as his backup, he's the clear number one, and he won't need to be much better than average to propel the high-powered Flames back into the playoffs for his shot at redemption.
20) Braden Holtby: Washington Capitals
Braden Holtby of the Washington Capitals has the reputation as one of the league's best goalies, and he's earned it with a Vezina Trophy, a Jennings Trophy, and a Stanley Cup to his name (the only active goalie who can claim that). But Holtby's numbers were just middle of the pack last season, with a 1.79 GSAA and a .569 QS% in 58 starts. It's possible the short offseason wore on him, and he could easily reestablish himself near the top of this list with a good 2019-20 campaign. But for now, he belongs solidly in the lower-middle.
19) Connor Hellebuyck: Winnipeg Jets
Entering the 2018-19 season, many viewed the Winnipeg Jets' Connor Hellebuyck as one of the league's top young goaltenders. The Jets concurred as they awarded the then 24-year-old Hellebuyck with a six-year, $37 million extension prior to that season. But the first year of that deal was not what either side hoped for.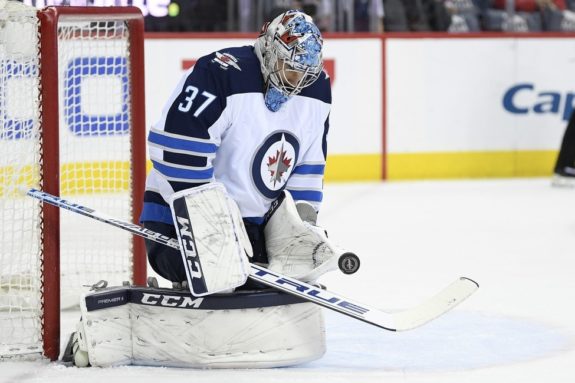 Hellebuyck was tied (with Jones) for third in the league with 62 starts, and his 5.86 GSAA is respectable. But his .452 QS% was sixth-worst in the league, and his 2.90 GAA was 22nd among these starters. He only collected two shutouts as well. Some of that might be due to defense, but with the departure of Jacob Trouba and now possibly Dustin Byfuglien, it sounds like Hellebuyck won't get any help in that department.
Coming off a season where he finished second in the Vezina Trophy voting and led the league with 44 wins, 67 games played, and 14.0 goalie point shares (GPS), a measurement of a netminder's contribution to his team's place in the standings, Hellebuyck's season can only be read as a disappointment. With five years of an expensive contract left, it's time for him to steady himself and regain his 2018-19 form.
18) Petr Mrázek: Carolina Hurricanes
Petr Mrázek has built a long career out of being a "fine" platoon goaltender, but 2018-19 was a real return to form for the Czech native who had struggled in two previous seasons. The Carolina Hurricanes cobbled together fairly decent goaltending out of the unlikely pairing of Mrázek and Curtis McElhinney, who moved onto the Tampa Bay Lightning.
Mrázek averaged a shutout every 10 starts, the seventh-best rate amongst starters, and his 2.39 GAA was fifth in the league. Realistically, the team could put almost any goaltender (besides perhaps Scott Darling) behind Carolina's elite defense and they would do pretty well, so the two-year, $6.25 million contract Mrázek earned is a solid deal for both sides.
17) Jacob Markström: Vancouver Canucks
Jacob Markström isn't the future of the Vancouver Canucks, as they have two of the league's better goaltending prospects in Thatcher Demko and Michael DiPietro. But he revitalized his career with a strong 2018-19 campaign regardless. He started an impressive 60 games, had 4.89 GSAA, and even received some votes for the Vezina Trophy.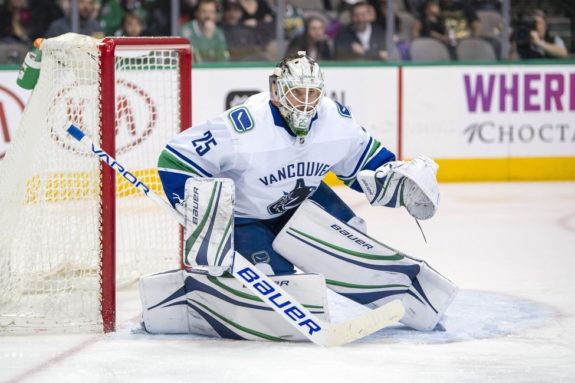 Markström's 2.77 GAA was a little high, but playing behind the suspect Canucks defense, that's to be expected. His .567 QS% was an impressive improvement on a .509 mark the season before. Markström's future is uncertain. He's in the final year of his contract, and Demko should be ready to shoulder more of the load in 2020-21. But with another season anything like his last, he will find a home somewhere.
16) Carter Hart: Philadelphia Flyers
Carter Hart broke out with the Philadelphia Flyers well before most expected him to arrive in the NHL. But a second look at his numbers is a little disappointing, particularly his .467 QS%. But he had a .917 SV% in the top-third, and a solid 6.97 GSAA. Hart's future is extraordinarily bright, and there is no cause for concern, but his 2018-19 numbers weren't much above the pack, especially in only 30 GS.
15) Philipp Grubauer: Colorado Avalanche
Grubauer did enough for the Avalanche to convince general manager Joe Sakic to let Varlamov move onto New York. He had very respectable numbers, including 7.53 GSAA, a .917 SV%, and most impressively, a .606 QS% that put him seventh amongst these presumptive starters, though in only 33 GS. The Avalanche do have former KHL goalie Pavel Francouz waiting if something unexpected happens, but all signs suggest Grubauer is poised to break out this season.
14) Devan Dubnyk: Minnesota Wild
Devan Dubnyk didn't have his best season in 2018-19, but the Minnesota Wild netminder is one of the most consistently overlooked and underestimated in the league. Since the 2015 trade that brought him to the Twin Cities, he has been a fixture between the pipes for the Wild.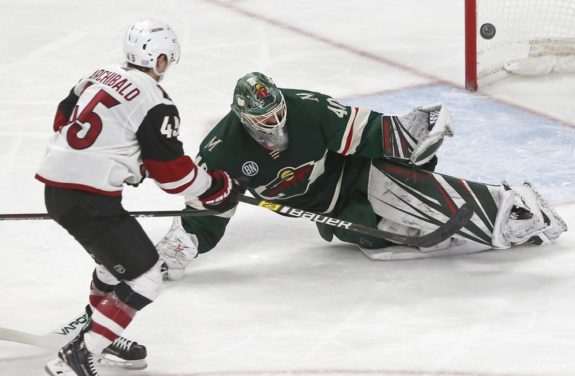 Dubnyk led the league in starts and had 11.1 GPS. His .913 SV% and 2.54 GAA were both middling, but Dubnyk was the least of the Wild's concerns en route to a playoff miss. Dubnyk is 33, but as a goalie, he should still have several good years ahead.
13) Tuukka Rask: Boston Bruins
Tuukka Rask would have inarguably won the Conn Smythe Trophy last season if his Boston Bruins had pulled out Game 7 of the Stanley Cup Finals. He had an incredible .934 SV%, 2.02 GAA, and jaw-dropping .792 QS%. But his regular season wasn't quite so impressive.
Rask posted just 3.21 GSAA in 45 starts, and started the season so poorly it briefly looked like Jaroslav Halak would steal the starting role. But Rask, a former Vezina Trophy winner, regained his footing later in the season and was sterling throughout the postseason. That helped him climb back up this list to a more prominent spot.
12) Matt Murray: Pittsburgh Penguins
The two-time Stanley Cup-winning, 25-year-old Matt Murray had a rough go of it in the 2017-18 season. But he rebounded significantly last season. His 14.67 GSAA was good for sixth among starters, and he had four shutouts in 50 GS.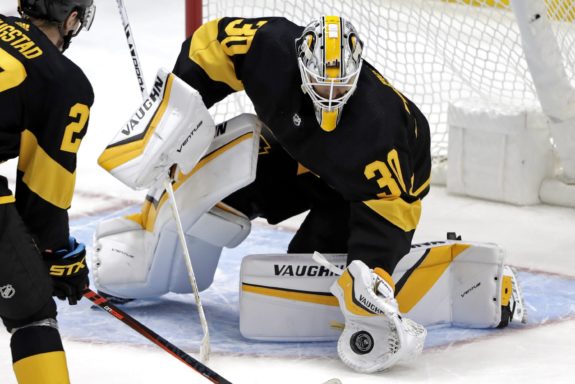 Murray is one of the league's impressive young goalies, and he assuaged fears that he might not perform without Marc-Andre Fleury as a safety net. 2019-20 is a contract year for Murray, so expect big things from the Thunder Bay, Ontario native in the months ahead.
11) Pekka Rinne: Nashville Predators
Pekka Rinne has consistently been one of the league's best goalies for a decade now, and the 2018-19 season was no exception. Coming off of a Vezina Trophy-winning campaign, the Finnish netminder posted impressive numbers: a 12.50 GSAA, a .918 SV%, and a 2.42 GAA. There isn't much more to be said about Rinne. At almost 37, he doesn't have many years left in the league, but he's still playing at a very high level.
10) Jordan Binnington: St. Louis Blues
Binnington was the league's inspiring breakout story last season. Beginning the campaign as a backup American Hockey League goalie who was an afterthought in the organization, he exploded onto the scene, becoming a Calder Trophy finalist. He finished the season hoisting the Stanley Cup, becoming the first-ever goaltender to win 16 games in the playoffs as a rookie. Then he signed a two-year, $8.8 million contract to remain with the Blues.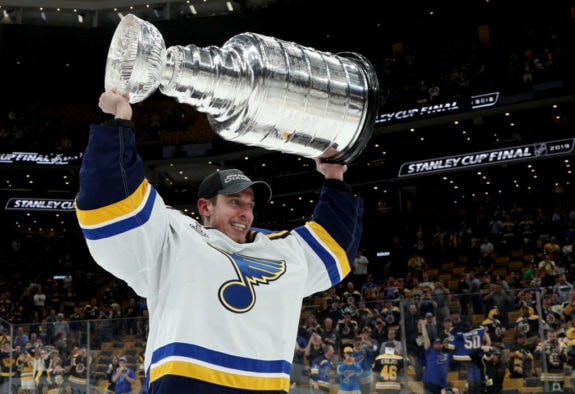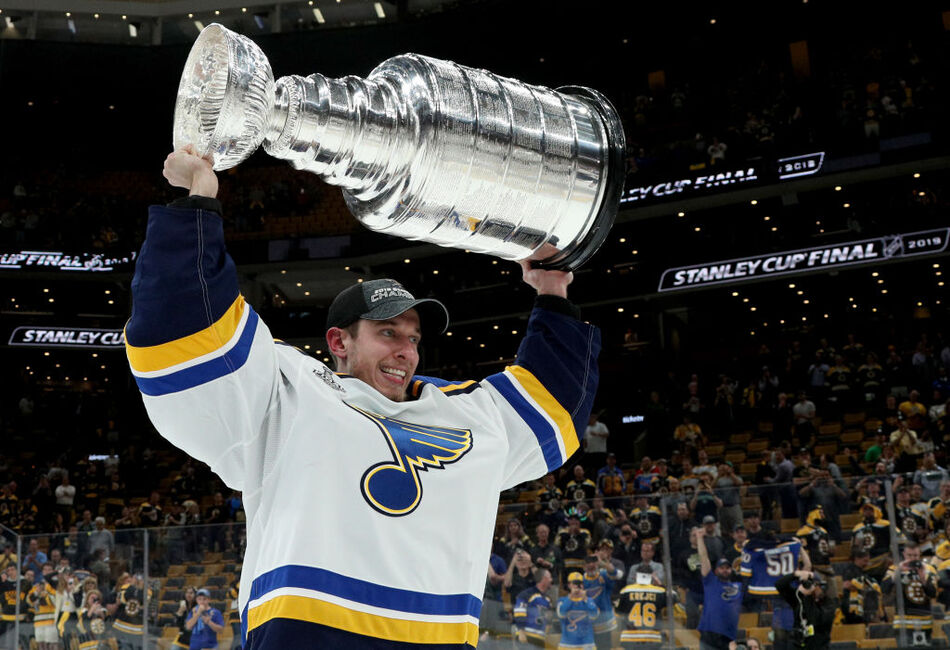 While his postseason numbers were more terrestrial, Binnington's statistics during the regular-season were absurd. He was third among starters with a .927 SV% and led the group with his 1.89 GAA. His 13.74 GSAA was very impressive in just 30 starts, where he went 24-5-1. His GS/SO was just six, the best mark in the league. Binnington is still relatively unproven, so he cannot be higher on this list yet. But he's already done everything he needs to do to remain a legend in St. Louis forever.
9) Darcy Kuemper: Arizona Coyotes
Darcy Kuemper was every bit the breakout sensation with the Arizona Coyotes as was Binnington, though with no opportunity at postseason glory. His 25.06 GSAA was fourth in this group, and his .655 QS% was third. He was also near the top with his 2.33 GAA and a .925 SV%, and his 9.09 SO% was ninth, making him top-ten in almost every category.
Kuemper's opportunity arose due to Antti Raanta's unfortunate injury, but he did enough to displace Raanta as the starter entering the season. Still, there should be stiff competition for starts, but that's a good problem for the Coyotes to have.
8) Marc-André Fleury: Vegas Golden Knights
Marc-André Fleury, affectionately known as "Flower," is one of the most popular and consistent goaltenders in the league. Even though the Penguins let him go in the expansion draft, he has really revitalized his career with two sterling seasons in the desert with the Vegas Golden Knights.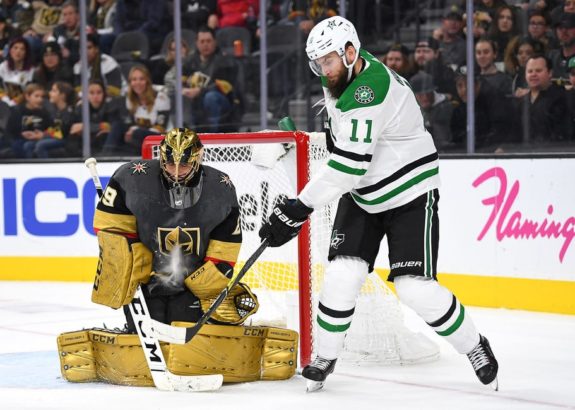 Fleury was a workhorse last year, with 61 GS at age 34. He was second in the league in shutouts, with 8, good for fifth in SO% at 13.1 percent. That, combined with his 35-21-5 record earned him a fourth-place finish in Vezina voting. Even though the Quebec native is still pursuing his first individual trophy, there's no question he's one of the league's best in the net.
7) Sergei Bobrovsky: Florida Panthers
Only Bobrovsky passed Fleury in shutouts last season (9), and he had a. 14.8 percent SO%. Those were the best of his numbers, as the Russian had a difficult final season in Columbus. Still, as the only active multi-time Vezina Trophy winner, Bobrovsky earned his seven-year, $70 million contract in Florida. He is one of the league's elite goaltenders until a string of really poor play proves otherwise.
6) Carey Price: Montreal Canadiens
At his best, there's no goalie in the league better than Carey Price, which is why he is the highest-paid netminder in the NHL. The former fifth-overall pick has been a stalwart for the Montreal Canadiens for over a decade now and set the franchise record for wins with 315 in March (he finished the season at 321). But 2018-19 needed to be a rebound year after arguably the worst season of his career.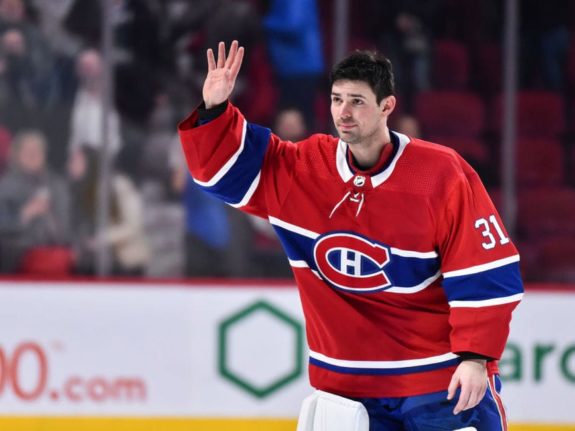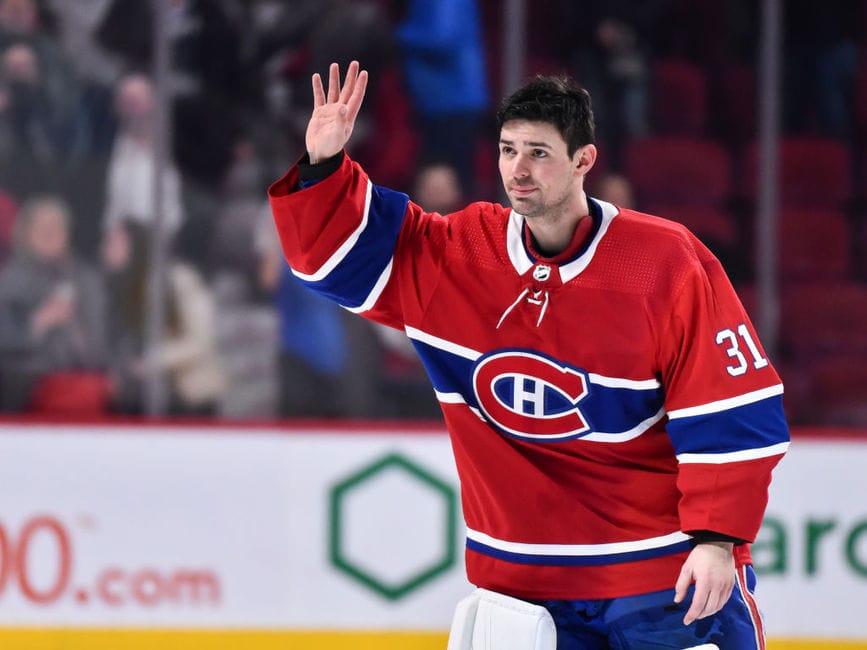 Fortunately, it was just that. He was second in the league with 64 GS and was fifth amongst starters with 14.94 GSAA. His 12.5 GPS led the league as well, and his other stats (.918 SV%, 2.49 GAA, and .578 QS%) were all good to great. Price remains among the league's best goalies, but his contract will continue to haunt his reputation.
5) Robin Lehner: Chicago Blackhawks
Robin Lehner had the most inspiring season of any player in the NHL, overcoming his mental illness and addiction issues to put together an incredible goaltending season. For it, he won the Bill Masterton Trophy, also bringing home the Jennings Trophy and finishing third in Vezina voting. He had many impressive stats, including a .930 SV%, 2.13 GAA, and 26.24 GAA that ranked second, third, and third respectively.
After that campaign, the Chicago Blackhawks wagered a one-year, $5 million contract on Lehner. The cap hit alone suggests that the Blackhawks front office doesn't expect Corey Crawford to play regularly in the 2019-20 season, which should set up Lehner for a starting role, and hopefully another stalwart campaign.
4) Frederik Andersen: Toronto Maple Leafs
Frederik Andersen was incredibly good with the Toronto Maple Leafs last year, despite playing behind a porous defense that was largely responsible for his elevated 2.77 GAA and his having only one shutout. Beyond that, the Danish goaltender was incredible, with 14.48 GSAA (7th), a .633 QS% (5th), 12.5 GPS (t-1st) and a .917 SV% (t-9th) in 60 GS (t-7th). Very few starters have started 60-plus games in three-straight seasons, but Andersen has, which makes him one of the league's most dependable backstops.
3) Andrei Vasilevskiy: Tampa Bay Lightning
There will certainly be some controversy about the Tampa Bay Lightning's Andrei Vasilevskiy falling third rather than first. He is the reigning Vezina Trophy winner, after all. He certainly earned it, with a league-leading 39 wins (a category he topped in back-to-back seasons), six SO, and 26.40 GSAA. That earned him an eight-year, $76 million contract that will make him the third-highest-paid goaltender in the league (behind Price and Bobrovsky).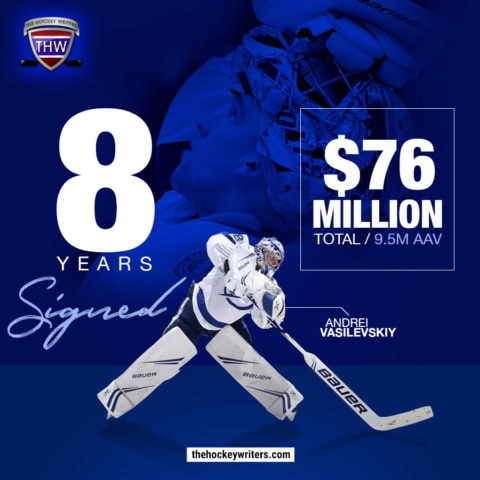 Still, Vasilevskiy fell apart in the postseason, as his .856 SV% and 3.82 GAA helped the Blue Jackets shock the world by sweeping the Lightning. Even so, his falling third is more a reflection of how good the goalies in front of him are than any flaw in Vasilevskiy's game.
2) John Gibson: Anaheim Ducks
If the Anaheim Ducks haad made the playoffs, John Gibson would have deserved consideration for the Hart Trophy. That's how important he is to his team. The 26-year-old Pittsburgh native had 12.66 GSAA, a .596 QS%, a 2.84 GAA, and a .917 SV% in 57 starts.
None of those numbers jump off the page, but consider that Gibson did it on the Ducks, whose defense allowed the sixth-highest number of shots per game with 33.23. Only two of the other goalies in the top ten finished outside the playoffs, and Price's Canadiens barely missed with 96 points. Gibson deserves more recognition as one of the league's truly elite goaltenders, and he gets it by finishing second on this list.
1) Ben Bishop: Dallas Stars
Ben Bishop's numbers for the 2018-19 season are jaw-dropping, and if he'd started more than 45 games, he would have won the Vezina Trophy. He had 7 SO and a SO% of 15.56 percent, good for second in the league. His .934 SV% and 1.98 GAA were first and second, respectively. But his metrics truly blew away the competition: his .689 QS% and outrageous 32.24 GSAA both topped the list.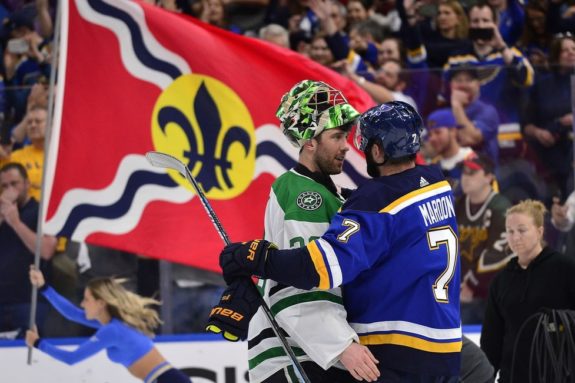 Bishop didn't lose a step in the playoffs, where he had a .933 SV% and a 2.22 GAA. Though his season didn't end as he hoped, it was hardly his fault. In his final game, a double-OT loss in Game 7 of the second round, Bishop stopped 52 of 53 shots before fellow St. Louisan Patrick Maroon knocked in the game-winning goal.
Bishop is one of the league's most underappreciated goalies. The three-time Vezina bridesmaid (he's had two second-place finishes and a third-place finish) has four seasons left at under $5 million per, so he's on one of the team-friendliest deals anywhere. Health has been the only concern throughout Bishop's career, but when he's on the ice, he is as significant a difference-maker as any goalie in the league.
The Bottom Line
Goalies change like the weather, and in a few months, many of these netminders will have climbed up or slid down this list. But for now, these are an accurate representation of the cream of the crop in the NHL.
Matt Murray (Charles LeClaire-USA TODAY Sports)

Jordan Binnington (AP Photo/Tom Gannam)

Andrei Vasilevskiy (AP Photo/Chris O'Meara)

John Gibson (Gary A.Vasquez-USA TODAY Sports)
Despite the unpredictability of the position, the league has as strong a crop of goalies under 26 as it ever has. The future is bright between the pipes around the NHL.