Guarding the net in the NHL may be one of the toughest jobs in professional sports. It's a lonely world in the crease, and when the team falters, the goaltender is often the first to receive blame. That's why finding a quality goalie is so critical for long-term success.
In this article, we'll take a stab at ranking all 31 starting goaltenders in the NHL. In making these rankings, we've relied primarily on last year's numbers, focusing on two statistics above others: Goals Saved Above Average (GSAA) and Quality Start Percentage (QS%). GSAA is an evaluative metric that compares a goalie's save percentage and the shots he faced to the league's save percentage on the same number of shots. QS% is the percentage of a goalie's starts in which his save percentage surpassed the league average for the year. These are two of the best metrics to evaluate a goaltender's overall performance, and so we will lean on them heavily here.
Without further ado, let's take a look at the rankings.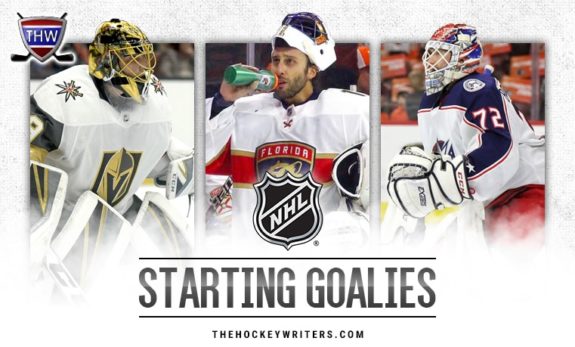 31) Scott Darling: Carolina Hurricanes
There's no surprise here. Darling looked promising as the backup to Corey Crawford in Chicago, and in 2016-17 he filled in for a lengthy stretch, posting a .924 save percentage and a 2.38 goals against average in 32 games. That performance was enough for the Hurricanes to trade a third-round pick to secure his free agent rights, quickly signing him to a four-year deal valued at $16.6 million.
But the wheels fell off for Darling in his first season as the Hurricanes' starter. His hockey card stats were abysmal (.888 SV% and a GAA of 3.18) and his metrics may have been worse. He posted a GSAA of -28.22, ranking him dead last among qualified goalies, and a QS% of .350, third to last among goalies that started twenty plus games. The bad news for Hurricanes fans is that Petr Mrazek, the goalie Carolina brought in to challenge Darling this year, is one of the two goalies that did worse in QS%. It will be another year lost to bad goaltending in Carolina if Darling or Mrazek don't have dramatic turnarounds in 2018-19.
30) Robin Lehner: New York Islanders
With his openness and vulnerability about his mental health this week, Robin Lehner is a goalie most will want to root for in 2018-19. But he'll need to make a big turnaround from last season's numbers to revitalize his career. Playing for the Sabres, Lehner posted a SV% of .908 and a GAA of 3.01. It was a poor enough performance for the Sabres to cut ties entirely and move on from Lehner.
Now, Lehner has landed with the Islanders, where he'll compete with Thomas Greiss, who had an even weaker season than Lehner in 2017-18. It looks like goaltending will be a major weakness for the transitioning Islanders unless one of these two orchestrates a massive revival.
29) Craig Anderson: Ottawa Senators
Two years ago, Craig Anderson was one of the brightest stories in hockey. While his wife was battling cancer, he was posting unreal numbers, helping the Senators to the Eastern Conference Final and earning the Bill Masterson Trophy in the process.
Last year was a lot different for Anderson, as it was for the whole Senators' organization. His numbers dropped to .898/3.32, and his metrics weren't any better. Now, at 37, and playing for a team many assume will be the worst in the NHL, things look bleak for Anderson. But as one of the bigger contracts remaining on the Senators, Anderson may be able to find new life if he's traded to a new team.
28) Jacob Markström: Vancouver Canucks
By numbers alone, Markström was a pretty average goaltender last season. He had a .912 SV%, a 2.71 GAA, and his QS% was .522, just below the league average of .530. Markström also played in 60 games, a very high number for most goaltenders.
Markström's issue is what's coming. The Canucks have a very promising goaltending prospect in Thatcher Demko, who is looking to unseat Markström sooner rather than later. Markström's numbers have been consistently average throughout his career, but Demko's upside is considerable. He will be taking the reins soon, and Markström will likely become a backup, either in Vancouver or elsewhere.
27) Brian Elliott: Philadelphia Flyers
Speaking of goalies whose days are numbered, Brian Elliott is merely keeping the net warm for one of the most promising goaltending prospects in the league, Carter Hart. Elliott shined brightly during his days in St. Louis, posting a .925 SV% and a 2.01 GAA across five seasons. But since being traded to Calgary, his numbers have slipped considerably.
His baseline numbers are still decent, and he's maintained a .529 QS% in the two years since he left St. Louis, but his GSAA number dropped from 16.76 in his final year in St. Louis to -4.22 this past season. Elliott is now 33 and is beyond his prime. When Hart arrives full time, which may be this year, Elliott will probably return to a backup role, and could stay in that kind of role for the rest of his career.
26) Jimmy Howard: Detroit Red Wings
Jimmy Howard deserves some credit for starting 57 games for a struggling franchise and still escaping with a .910 SV% and a 2.85 GAA. Nothing about Howard's game leaps off the page in any way, but that works in both directions. He's 34 now and there's no "upside" left, so he'll continue to be a pretty average goalie until Detroit finds a long-term replacement.
25) Jake Allen: St. Louis Blues
Jake Allen is far and away the biggest question mark left in the Blues' organization. He's had incredible highs, posting a .935 SV% and a 1.96 GAA in the 2016-17 playoffs, but his lows are very, very low. In recent years, he's endured a long stretch where the bottom has dropped out entirely on his play. In January and February last season, he posted a .875 SV% in 11 games.
There's no question Allen has the athletic ability to rebound, but questions remain about his mental toughness. Whether Allen becomes a dominant goalie or not is a less significant question for the Blues than whether he can become a consistent goalie. If he can, then the Blues will look like an entirely different team in 2018-19.
24) Cory Schneider: New Jersey Devils
Cory Schneider has had great seasons in the past, but the last two seasons have been disappointing ones for the Devils' netminder. He's had a QS% of just .464 in those two seasons. Additionally, he's had seven "Really Bad Starts" (a stat developed by Rob Vollman, the inventor of quality starts, tracking every time a goalie finishes a game with a save percentage below .850) in each of his last four seasons.
Schneider's play was so poor that he lost time last season to Keith Kinkaid, who for his part was fairly average. Given that the Devils are committed to Schneider for four more years to the tune of $6 million per, he's certain to get every chance to regain his confidence. New Jersey needs him to if they're going to capitalize on last year's success and continue to be a playoff team.
23) Cam Talbot: Edmonton Oilers
Much like Schneider, Talbot has had considerable highs in his career. He's posted three seasons with a GSAA in double digits, and he received Vezina votes in two different seasons: 2014-15 and 2016-17. Talbot is also the most overworked goalie in hockey, as the Oilers haven't seen fit to provide him with a suitable backup in recent years. No goalie has started more games than Talbot in the past three seasons. He's played in 196 games in the last three years, including an absurd 140 starts in the past two seasons.
Dear @NHL, can the Save of the Year be from the pre-season?! pic.twitter.com/z4mJyDycnf

— Edmonton Oilers (@EdmontonOilers) September 19, 2018
Perhaps Talbot is just exhausted. That could explain his poor performance last year, with a .908 SV% and a 3.02 GAA in his 67 starts. He also had a -9.30 GSAA that ranked 57th last year. This season, the Oilers have brought in former KHL goaltender Mikko Koskinen to back up Talbot, a bigger investment than they've made in recent years. It's quite possible that starting ten fewer games will give Talbot the revival he needs to improve his numbers, which would benefit him greatly in the final season of his contract.
22) Mike Smith: Calgary Flames
Mike Smith is difficult to place on a list like this. He's thought of as a phenomenal puckhandler, and has had some incredible seasons in his career. In the 2011-12 season, Smith started 67 games for the Coyotes and led the league with 34.63 GSAA. Smith was strong again last season, with a .916 SV% and a 2.65 GAA. He's a fine goaltender, and may be the best Calgary has had since Miikka Kiprusoff retired in the 2012-13 season. But Smith's 36 now and probably isn't far from retirement himself. His placement on this list should not be read as an indictment on his consistency, but rather on his future, which is limited at this point.
21) Matt Murray: Pittsburgh Penguins
Moving on to what will be one of the more controversial rankings in this article, the Penguins' Matt Murray will be looking to recover from a dreadful season as he enters the 2018-19 campaign. Yes, Murray struggled with injury last season, but that doesn't explain away all of his struggles. Murray finished the year with a -8.11 GSAA and a meager .422 QS%, to go along with six RBS performances.
Yes, Murray's talent is evident, and yes, he already has two Stanley Cups to his name at the tender age of 24, but last season was bad enough to warrant a lower placement on this list. The fact that his regression coincided with losing the world's greatest goaltending safety net, Marc-Andre Fleury, in the Vegas expansion draft has to worry some Penguins fans as well. More than likely, Murray will regain his form in the upcoming season and rocket up this list, but the statistics indicate he belongs nearer the bottom for the time being.
20) Henrik Lundqvist: New York Rangers
The King still reigns in the Garden, but Henrik Lundqvist will turn 37 this season and his best days are probably behind him. His numbers were still okay last year, particularly considering how the team performed around him. With the Rangers still rebuilding, Lundqvist's abilities will be squandered a bit in his final pro years. Unless Lundqvist approves a trade elsewhere, though, he will likely spend the sunset of his incredible career in Madison Square, where he belongs.
19) Ben Bishop: Dallas Stars
Anyone who has followed Ben Bishop's career may have sarcastically asked at some point: is Ben Bishop actually a good goalie, or is he just tall? While Bishop's height is his most immediately noticeable quality (standing at 6-foot-7, he's the league's tallest goaltender), the Stars' netminder has more than just size to his name. He's been a finalist for the Vezina Trophy twice, 2013-14 and 2015-16, both with the Lightning, and when healthy, Bishop continues to put up strong numbers.
Last season, he finished with a .916 SV% and a 2.49 GAA, recording five shutouts along the way. His metrics are average, with his .529 QS% hovering right at the league mean (.530). While Bishop may not give the Stars a superstar in net, he's certainly solid enough to solve the goaltending problem they've had ever since Kari Lehtonen's play dropped off in the 2014-15 season.
18) Semyon Varlamov: Colorado Avalanche
Semyon Varlamov took the league by storm in the 2013-14 season, when he carried the Colorado Avalanche to a Central Division championship despite facing more shots than any other goalie in the league. Varlamov posted a league-high 27.45 GSAA and 15.5 Goalie Point Shares (a stat designed to calculate how many points a player is responsible for in the standings), while maintaining a phenomenal .927 SV% and 2.41 GAA.
Since then, Varlamov has been a tale of two goaltenders. The great goalie is still in there, and was present most of last season (he finished with 11.99 GSAA and a .596 QS%), but he's had a couple of seasons where he's struggled with injury and inconsistency, as well. The trade the Avalanche made to acquire Philipp Grubauer signals that Varlamov may be seeking a new home when his contract ends at the end of this season, but teams looking to take a shot on a goalie with a potentially high ceiling could do worse than signing Varlamov.
17) Carey Price: Montreal Canadiens
Let's be real: Carey Price's lamentable 2017-18 campaign is probably an anomaly; however, when a team is committed to its goaltender at $10.5 million a year for eight years, anomalies have to be avoided. Price's contract extension hadn't even kicked in last season when he delivered a -17.49 GSAA, a .438 QS%, and 10 RBS games, so now Montreal has to wonder whether the goaltender they paid to be the best in the league has lost his edge. He probably hasn't, but one thing is for sure: the Canadiens will go only as far as Price can carry them, so if the Habs are to have any success this season, they need the old Carey Price to return.
16) Tuukka Rask: Boston Bruins
It's a testament to how many great goaltenders there are in the NHL that a player of Tuukka Rask's quality could place in the dead middle of this list. But Rask has not been in peak form the last few seasons, which has allowed him to slide to this middle position.
The 2017-18 season was the best of Rask's last three, and he returned to a solid 7.79 GSAA and a .566 QS%. But he struggled in the playoffs, posting just a .903 SV% and 2.88 GAA. It's tough to know which Rask is the real Rask these days, and as a result, it's tough to put him higher on this list.
15) Martin Jones: San Jose Sharks
Martin Jones is one of the league's more overlooked, solid goaltenders. Nothing necessarily flashes about his game, but he is consistently solid. He's had a .600 QS% each of the last two seasons, and has never had a SV% below .912 as a starter nor a GAA above 2.55. He also ranks fourth in wins over the last three years, and posted the league's best save percentage in last year's playoffs. There's not too much to analyze about Jones' game. He's yet to have that truly dominant season, which keeps him lower on this list than some, but given the absurdly stout defense the Sharks have now assembled, perhaps this is the year for Jones to prove he's one of the league's elite.
14) Frederik Andersen: Toronto Maple Leafs
Only Cam Talbot started more games last season than Frederik Andersen, and only Connor Hellebuyck, Andrei Vasilevskiy, and Pekka Rinne collected more wins. Andersen's GAA was high at 2.81, but that's likely more a reflection of his team's suspect defensive core than it is his skills. After all, Andersen also led the league in shots against, with an average of 33.5 shots per game.
Andersen is the kind of goaltender, like Talbot, who could benefit from a more suitable backup. He fell apart in last year's playoffs, collapsing to a .896 SV% and a 3.76 GAA, probably due to exhaustion from his 66-start season, and perhaps some lingering effects of an injury he suffered late in the season. The arrival of John Tavares alone won't change the Maple Leafs' playoff fate if Andersen performs like this again, so they need to find some relief for him in net.
13) Braden Holtby: Washington Capitals
Now we move to what will likely be the second most controversial placement of this list: Braden Holtby. Considering that it was Holtby that lifted Lord Stanley's Cup at the end of the season, it would be easy to forget how poor his regular season performance was. But we shouldn't overlook the fact that it was Philipp Grubauer, not Braden Holtby, who began the postseason as Washington's goalie. This is because Holtby's performance during the regular season was so poor that he temporarily lost his job to his back-up.
The metrics reflect why Holtby was removed from the starting role. He had a negative GSAA score at -8.35, down over 27 points from his 2016-17 campaign. His GAA was 2.99 and his SV% was just .907. Holtby's performance during the regular season earned him some time on the bench, but his performance during the playoffs enabled the Capitals to trade his backup. Now, Caps fans hope Holtby has permanently regained his form, or else they may be in trouble, although they do have one of the league's top goaltending prospects waiting in the wings in Ilya Samsonov.
12) Carter Hutton: Buffalo Sabres
While it may be a surprise to see him this high on the list, Carter Hutton's performance last season alone would warrant an even higher placement. Playing 32 games in relief of Jake Allen, Hutton led all goalies that played in 25 games or more in both GAA and SV% (2.09 and .931 respectively). His peripheral numbers further established his dominance, with a 15.06 GSAA and a .731 QS% (which was fourth in the league amongst all goalies).
Hutton was simply stellar last season, but he's never been given a shot at a starter. Still, his performance was strong enough to convince the Sabres to take a chance on him for three years at $2.75 million per season. It's an almost risk-free commitment for the Sabres. In the best case, the 2017-18 Hutton was the real deal and the Sabres just signed him for pennies on the dollar. In the worst case, Hutton will return somewhat to the mean, which will give more time for up-and-coming goalies like Linus Ullmark and, in the long term, Ukko-Pekka Luukkonen.
11) Roberto Luongo: Florida Panthers
Age doesn't seem to affect Roberto Luongo like it does other men. Though he turned 39 at the end of last season, his stats still put him amongst the leagues best goalies. Admittedly, he started in only 33 games because of injury, but two-thirds of those starts were quality, and he collected a GSAA of 19.32 in that short time. His .929 SV% and 2.47 GAA were impressive as well.
Eventually, the train will have to come to a stop for Luongo, and perhaps the retirement of his former Vancouver teammates Henrik and Daniel Sedin last season will remind him that he's only human, as well (at least, we think he is). But Luongo needs just 14 more wins to pass Ed Belfour for third on the all-time NHL wins list, and he should be able to easily collect those if he can stay healthy this year. Perhaps, once he's notched that achievement, he will join Henrik and Daniel in retirement at season's end. If he does so, he will doubtlessly be joining them in the Hockey Hall of Fame not long thereafter.
10) Jonathan Quick: Los Angeles Kings
Sometimes, even the most extraordinary players crumble under pressure, but sometimes, the best become even better when the spotlight shines on them. The latter is certainly true of Los Angeles' Jonathan Quick, who remains one of the best goaltenders in the NHL largely because of his numbers in the playoffs. To be clear, nothing is wrong with Quick in the regular season: last year, in 63 starts, he posted a .921 SV% and a 2.40 GAA. His career numbers in those categories are .916 and a whopping 2.28 respectively, but his numbers in the playoffs are somehow even more impressive.
The year Quick won the Conn Smythe trophy (just 26 years old at the time) he played in 20 games, leading the Kings to the Stanley Cup with an inconceivable .946 SV% and 1.41 GAA. He collected three shutouts, just one fewer than the four total losses he and the Kings suffered during one of the more dominant runs to the Stanley Cup in recent history. In his career, Quick has maintained a .922 SV% and a 2.23 GAA in the playoffs, while making a quality start 62% of the time. While he may not always be the borderline inhuman goaltender that we saw in the 2011-12 playoffs, Quick has that ability to come alive when the pressure is on, and as such, he deserves a high spot on this list.
9) Devan Dubnyk: Minnesota Wild
Back in January of 2015, the Minnesota Wild made an under-the-radar trade for a backup goaltender named Devan Dubnyk. Even the most hopeful projections within the Wild organizations could never have foreseen the caliber of goaltender they'd be acquiring in that deal. Dubnyk immediately became the hottest goalie on the planet. After the trade, he started 39 games for the Wild, collecting a .936 SV% and a 1.78 GAA. His performance was so good that he came in third in for the Vezina Trophy and fourth for the Hart, despite not being a starter until January.
While Dubnyk hasn't been quite as hot since then, he's continued to be a stellar goaltender in Minnesota. He's had a .923 SV% and a 2.26 GAA in four years there, and his starts have been quality just over 60% of the time. Dubnyk still doesn't seem to get his due as a great goaltender, but who knows where the Wild would be without him.
8) Corey Crawford: Chicago Blackhawks
This placement comes with a sizable asterisk about Crawford's health. If he misses a large part of the season again this year, the Blackhawks will be in dire straits once again. With a healthy Crawford, they have a much better chance of recovering from last year's collapse.
Before his injury, Crawford was having another stellar season, with a .630 QS% and 13.90 GSAA. He's one of the more consistent goaltenders in the entire league. While the upside may not quite be as high as some of the younger goaltenders above him on this list, no one can deny what Crawford has accomplished in his career, and the league will be more fun to watch if he's healthy again this season.
7) Antti Raanta: Arizona Coyotes
The Coyotes knew what they were doing when they surprised the league by trading a young defenseman and a top pick to acquire Antti Raanta and Derek Stepan. Stepan remains one of the league's most undervalued players, and Raanta is perhaps the best-kept secret between the pipes in the entire league. For his career, Raanta has recorded a quality start 66.1% of the time, almost two of every three starts, and for the naysayers who might suggest that Raanta did most of that as a backup, his mark actually improved to .696 in his first year as a starter.
Raanta finished sixth in the league in that category, and third in GSAA last year. More than anyone else, it was Raanta who made the Coyotes one of the hottest teams in the league late last season. If he performs anywhere near that well again this year, the Coyotes are a legitimate threat to make the playoffs in a pretty even Pacific Division.
6) Andrei Vasilevskiy: Tampa Bay Lightning
Now we're moving into the cream of the crop. Vasilevskiy is just 24 years old and is establishing himself as one of the strongest goalies in the league. He finished third in Vezina voting last season after leading the league in wins (44) and shutouts (8). He carried a .563 QS% and a 15.12 GSAA, both great marks. And again, he's just 24.
Vasilevskiy did even better in the playoffs, with a .918 SV% and a 2.58 GAA with a .706 QS% as well. It was enough to help the Lightning into the third round, where they met the red-hot Washington Capitals. And, one last time, Vasilevskiy is just 24 years old. The young Russian has all the tools to step into a permanent role in the very top tier of the league's goaltenders, if he hasn't earned one already, and he is just another tool that makes the Lightning so dangerous.
5) Connor Hellebuyck: Winnipeg Jets
Speaking of disgustingly young goaltenders making a name for themselves in the upper echelon, Connor Hellebuyck edged out Vasilevskiy last season by coming in second in the Vezina Trophy voting. His metrics were better as well, with a .603 QS% and a 23.75 GSAA. He led the league in goaltending minutes while collecting the most wins, 44, of any goalie as well.
Hellebuyck did well in the playoffs, too, though he and the Jets did run afoul of the seemingly predestined Vegas Golden Knights. Like Vasilevskiy, Hellebuyck is one of the NHL's great young netminders, and they will likely be fighting for Vezina Trophies for the next decade or more.
4) John Gibson: Anaheim Ducks
John Gibson may be the most criminally overlooked goalie in the NHL. He was second in the league in GSAA with a 25.30 mark, and had a very impressive .650 QS% as well. Only four of his 60 starts last season qualified as "really bad," a percentage to be proud of as well.
It's hard to understand why Gibson isn't consistently looked at as an elite goaltender. It could have something to do with his age (25) and the fact that he plays in Anaheim, often looked at as "the other LA team." But Gibson's play has risen to such a level that he may have made Jonathan Quick the "other" LA goalie, although most don't know it yet.
3) Sergei Bobrovsky: Columbus Blue Jackets
Only two goaltenders have won two Vezina Trophies in the last decade: Tim Thomas and Sergei Bobrovsky. In fact, those two join Martin Brodeur and Dominik Hasek as the only goalies to collect multiple Vezina Trophies in the last twenty years. That's pretty elite company to be in for the Blue Jackets' goaltender.
Whether Bobrovsky remains the goaltender in Columbus remains to be seen. There is controversy surrounding the fate of both Bobrovsky and his teammate Artemi Panarin, each of whom are in contract years. But that is immaterial to this discussion. in his time in Columbus, Bobrovsky has maintained a .923 SV% and a 2.37 GAA, both very impressive numbers. He's one of the league's best by any measurement.
2) Marc-Andre Fleury: Vegas Golden Knights
Perhaps Marc-Andre Fleury, or "Flower" as he is affectionately known, will be lower on this list in years to come. But there's no denying what he accomplished when he was healthy last season. He was the absolute heart and soul of the scrappy Vegas Golden Knights when he was healthy, particularly during their remarkably improbable run to the Stanley Cup Final.
Perhaps the strangest little accomplishment in Fleury's impressive campaign was that his playoff statistics exactly mirrored his regular season performance: in each, he had a .927 SV% and a 2.24 GAA. That's a statistical anomaly, to be sure, but it highlights Fleury's incredible consistency holding aloft one of the most improbable teams in NHL history. Maybe Fleury will move on this list in future years, but to have put him anywhere else this season would have been an unfair accounting of his accomplishments.
1) Pekka Rinne: Nashville Predators
Pekka Rinne has had an up and down career at times, but the ups have been very high, and the absolute crescendo of his career was last year's Vezina Trophy-winning performance. He led the league in shutouts (8) and GSAA (27.49) while offering a quality start in over two-thirds of his appearances (.678). He had a .927 SV% and a 2.31 GAA. He rightly deserved the Vezina Trophy, particularly as he'd never won one in his incredible career.
Rinne is now in the final year of his contract, and young Finnish countryman Juuse Saros is primed to try and take his job. Rinne struggled somewhat in the playoffs (though he did so largely against one of the league's true offensive powerhouse in the Winnipeg Jets). We can't know what the future holds for Rinne. But he won the Vezina Trophy, he deserved to win the Vezina Trophy, and right now, he stands at the top of the goaltending mountain.
The Bottom Line
Few positions in any sport are as fickle and as unpredictable as is goaltending in the NHL. Like a quarterback in the NFL, no team can succeed without consistency at the position, but goaltending is more subject to the winds of chance than are quarterbacks. One year a goaltender can be on top of the world (as was Rinne most of last season), the next, he can be at the bottom of the heap (see: Matt Murray).
The reality is that it's difficult to pin down the greatest goaltender in the league, which is why this list is so fluid. When we revisit it in the months and years to come, changes will probably be made. But the goalies at the top of this list have earned their day in the sun, and while there might be arguments about the rankings one thing is sure: there are a lot of great goaltenders in the NHL right now, which is something to be thankful for as hockey fans.