The poet John Donne famously wrote, "no man is an island unto itself." But he wrote that in 1623, long before the game of hockey was invented. Had he survived to see it, Donne might have instead written: "no man is an island, except for NHL goaltenders."
The job of an NHL goalie is one of the hardest in all of professional sport. It is a solitary and often thankless task, where one night can be a shutout and the next day can be a nightmare. As such, it is a difficult position to evaluate. Which is why it is vital to do so frequently.
At The Hockey Writers, we evaluate goaltenders several times a season, accounting for the instability of the position. Goalies change teams and lose their jobs more frequently than many others. Because of changes like that, we regrade goalies regularly. With that in mind, let's take a look at the methodology for our evaluation.
Methodology
Because of the fleeting nature of goaltender success, our rankings prioritize numbers from the most recent season, in this case, the 2019-20 season. With that said, it would be ludicrous to ignore history or overemphasize a six-month run. Where two goalies are more or less equal, track record will become a factor in determining a final position. And goalies who have performed at a high level for longer will receive the benefit of the doubt, whereas goalies with great numbers who are relative newcomers may sink a spot or two accordingly.
A number of statistics were considered. Two metrics were given primary emphasis: goals saved above average (GSAA) and quality start percentage (QS%). GSAA is a statistical calculation of a goaltender's performance as compared with his peers. It considers the number of shots he faced and measures it against the league average save percentage on the same number of shots.
QS% measures the percentage of starts in which the goalie's save percentage (SV%) surpassed the league average SV% for the season. Anything above 60 percent is considered very good, anything below 50 percent is poor, and 53 percent is league average.
In addition to these metrics, we'll examine SV% and goals-against average (GAA), shutouts (SO), and really bad starts (RBS) where the goalie has a SV% below .850. Judging by those numbers, a composite score was created to represent overall goalie effectiveness. Then, we made adjustments based on experience and track record and settled on a final order.
So, without further ado, here are your goaltender rankings at the start of the 2020-21 season. Given the abbreviated end to the 2019-20 season due to COVID-19, and the uniqueness of the playoff bubble format, we will wait until midseason to update these rankings further. For now, we will be reevaluating the goalies' performance in the final few months of the regular season.
31) Martin Jones: San Jose Sharks
Previous Rank: 27
A 2020 article in The Athletic posed hypothetical trade scenarios to an NHL executive with the popular Twitter question: "who says no?" One such trade suggested that the San Jose Sharks should send goaltender Martin Jones to the Vegas Golden Knights in exchange for "a sack of pucks." The executive quipped: "Vegas says no. Maybe San Jose could afford to just go buy some pucks if they hadn't given Jones all that money" (from 'Who says no? NHL executives evaluate your trade proposals,' The Athletic NHL, 01/28/2020).
That just about sums up the dark reality of Jones' performance in San Jose, where the Sharks owe him a $5.75 million per season cap hit through the 2023-24 season. His GSAA was minus-15.01 at season's end, and he had an .896 SV% and 3.00 GAA to boot. He also leads the league in really bad starts at 11, tied with three others. No one knows better how rough the San Jose net can be than Peter DeBoer, former Sharks head coach. He's likely glad to see the back of Jones, whose poor performance led to the Sharks firing DeBoer last season.
30) Rinne Pekka: Nashville Predators
Previous Rank: 26
Sometimes, goalies just lose it. And for Pekka Rinne of the Nashville Predators, it seems like Father Time may have claimed the Finnish legend. The 37-year-old finally won the Vezina Trophy in the 2017-18 season, but now, a season and a half later, he is struggling significantly.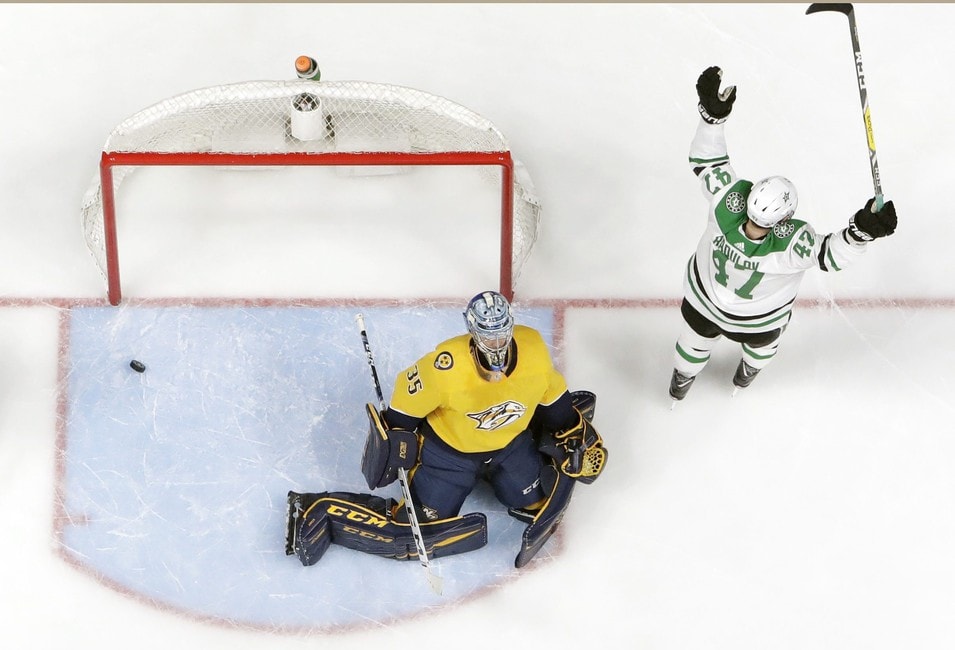 Rinne had 11 RBS last season, tied for worst in the league. He also carried minus-14.22 GSAA, an .895 SV%, and a 3.17 GAA. He did actually improve his QS% over the last two months of the season, from .318 to .457. But his team simply cannot rely on him to perform well on the ice at this point. His poor performance is a big part of the reason the Predators fired Peter Laviolette. There is one season left on Rinne's deal, and at this point, he seems to just be playing out his time.
28) Jonathan Quick: Los Angeles Kings
Previous Rank: 28
Jonathan Quick actually improved throughout the season in 2019-20, but the stats he finished with show just how high a hill he had to climb. He set himself up for failure by going 2-8 in his first 10 games.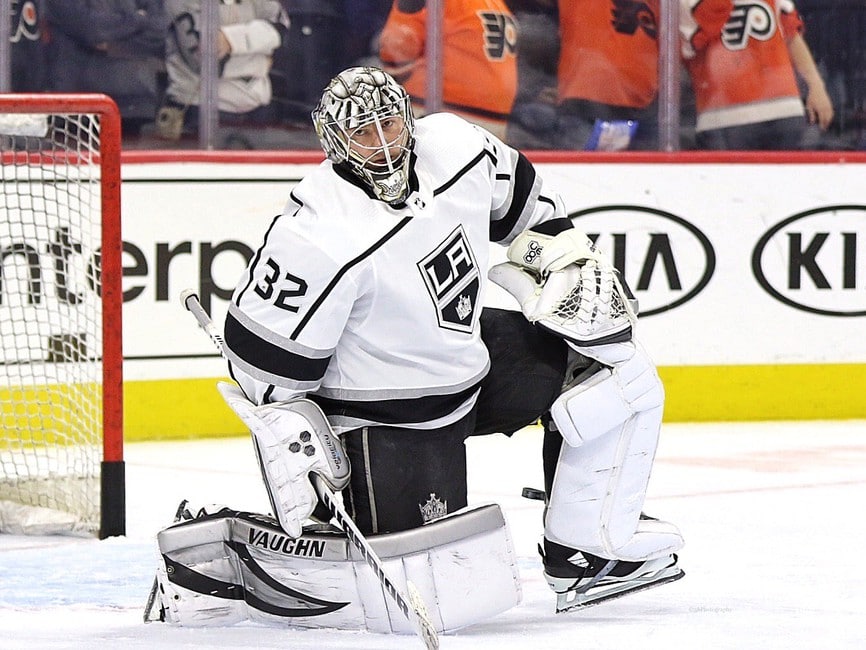 Quick helped bring the Stanley Cup to Los Angeles for the very first time, and fans won't soon forget it. But his glory days appear to be behind him. He finished with a .904 SV% and a 2.79 GAA, along with minus-6.32 GSAA and five RBS (two of which were his first two games of the season). It's a bleak picture with a bleaker cap hit: $5.8 million per season through 2022-23.
28) Kevin Lankinen: Chicago Blackhawks
Previous Rank: Unranked
The Chicago Blackhawks entered the season with probably the worst goalie battery in the league, and one of the most questionable in recent memory. But Kevin Lankinen, a 25-year-old signed as a free agent out of Finland in 2018, has emerged as a bright spot. He has the lion's share of appearances right now, and has a .931 SV% in four starts. It's still too early to put him any higher than this, but he could soar up the list if he continues these numbers.
27) Sergei Bobrovsky: Florida Panthers
Previous Rank: 21
Sergei Bobrovsky has been horrendous since signing with the Florida Panthers before last season. Players often struggle in their new homes, and as the only active two-time Vezina Trophy winner, he deserves some leniency in the rankings. But his statistics wouldn't let us place him any higher than this.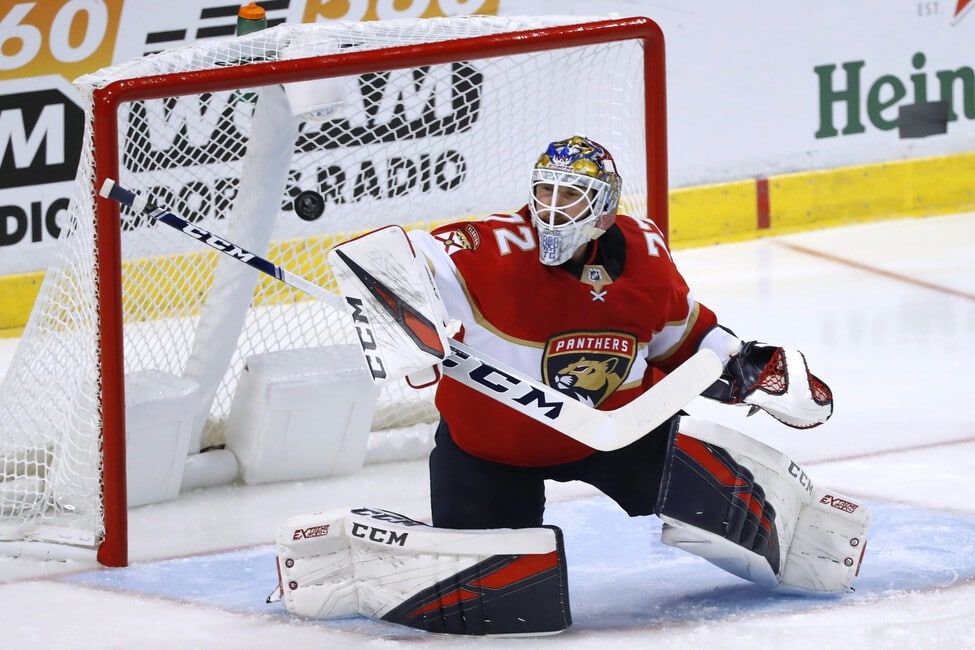 Bobrovsky's minus-14.91 GSAA and .417 QS% really hurt him here. He had some hot streaks but still possessed just a .900 SV% and a 3.23 GAA, and he had 10 RBS. The sun in South Florida may not have been the cure-all he needed after a rough ending in Columbus. But at least the money is good. We'd bet on Bobrovsky to rebound eventually, but no one quite expected this performance.
26) Braden Holtby: Vancouver Canucks
Previous Rank: 25
The Vancouver Canucks made the decision to bring in veteran and Cup winner Braden Holtby after a season in which he finished with minus-16.76 GSAA, but they avoided the mistake of overpaying. Holtby is the starter for now but is mostly in as a supplement to Thatcher Demko until the latter can take over full time. Early in the season, the former Capitals mainstay seems to be in a bit stronger form, with a .906 SV% and a 3.17 GAA.
25) Thomas Greiss: Detroit Red Wings
Previous Rank: Unranked
Thomas Greis emerged from his position as a career platoon backup to sign with the Detroit Red Wings as a clear number one starter. Even at the age of 35, he clearly has a lot still to offer at the NHL level, and Detroit will be leaning on him as they continue their lengthy rebuild process.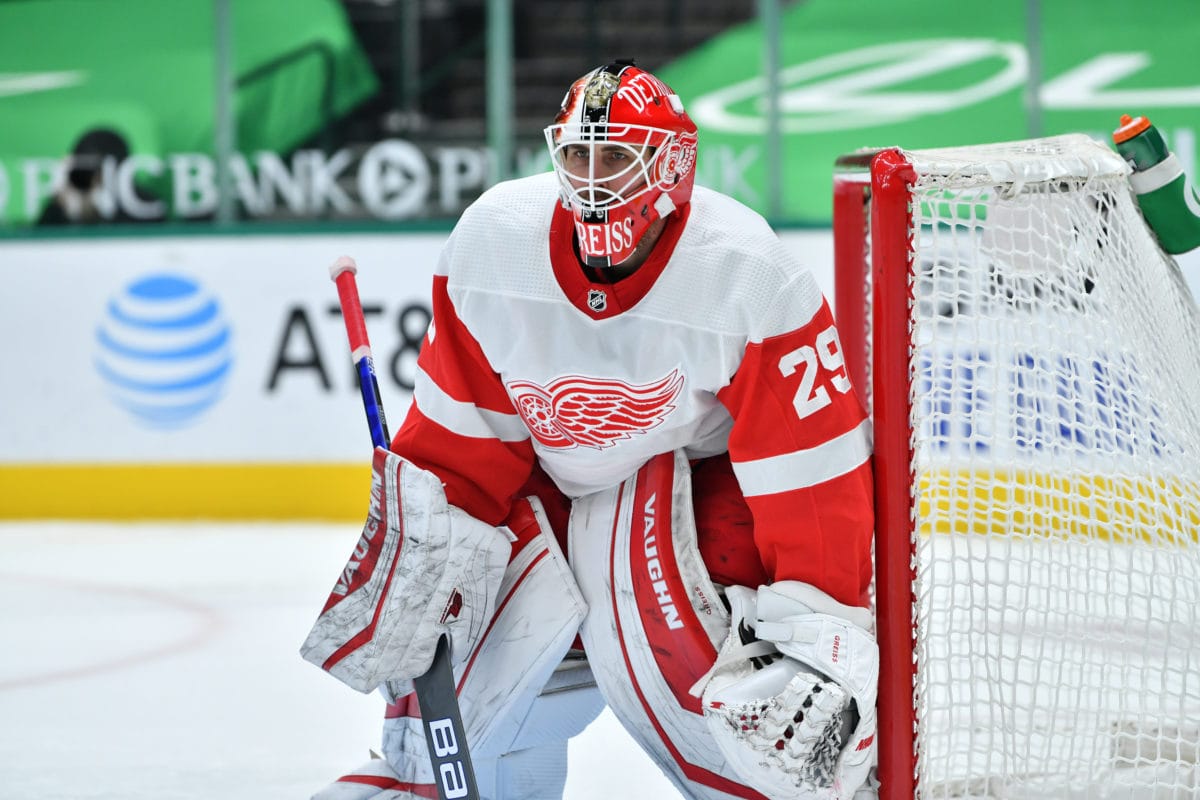 Over his career, the German Greiss has a .914 SV% and a 2.63 GAA in 287 games. His best season came in 2018-19, when he started 39 games, managed a 23-14-2 record, and maintained a .927 SV% and 2.28 GAA. He also had 19.81 GSAA above average that season. With that said, his age, his limited experience as a starter, and the fact that he likely will be overexposed behind a young Detroit defense, he is still low on this list for the time being.
24) Matt Murray: Ottawa Senators
Previous Rank: Unranked
By the time we last completed these rankings, Matt Murray had sunk below Tristan Jarry in the pecking order in Pittsburgh, removing his name from the list temporarily. But the Ottawa Senators clearly still believe in what the 26-year-old Thunder Bay, ON native has to offer. They traded for him over the summer, and signed him to a four-year, $25 million contract extension.
Unfortunately, Murray is off to a brutal start with his new team. In just six games, he has amassed minus-8.28 GSAA and a 4.39 GAA. It's far too early to give up on the two-time Stanley Cup winner completely; however, he is in a tough spot. The Senators are close to taking the next step in their rebuild, and they've put a lot of faith in Murray for their future. He needs to find his footing soon.
23) Cam Talbot: Minnesota Wild
Previous Rank: Unranked
2019-20 was a redemptive season for Cam Talbot, who proved that when not heavily overworked by the Edmonton Oilers, he still had something to offer. In 22 games with the Calgary Flames, Talbot managed a .919 SV% and a 2.63 GAA. That performance convinced the Wild to sign Talbot to a three-year, $11 million deal.
Early returns are promising, with the Wild red hot and Talbot posting 2.01 GSAA early in the season. At just 33, Talbot should be able to play out that contract, giving way to a youngster like Kaapo Kahkonen or Hunter Jones over time. It's a shrewd addition for general manager Bill Guerin and his team.
22) Ilya Samsonov: Washington Capitals
Previous Rank: Unranked
Another young Russian goaltender with an incredibly bright future, Ilya Samsonov was the backup-plan that convinced the Capitals that they could let Holtby leave. But his early results this season have been disappointing, and an .868 SV% and 3.36 GAA has given rookie goalie Vitek Vanecek a number of starts. Long term, there's still no question that Samsonov is the starter. But right now, it's too early in his career to rank him much higher.
21) MacKenzie Blackwood: New Jersey Devils
Previous Rank: 24
MacKenzie Blackwood is officially the starting goalie for the New Jersey Devils. And with Corey Crawford's sudden retirement, he doesn't have much of a safety net. It's an unfortunate turn of events, but safety net or not, Blackwood still has a bright future.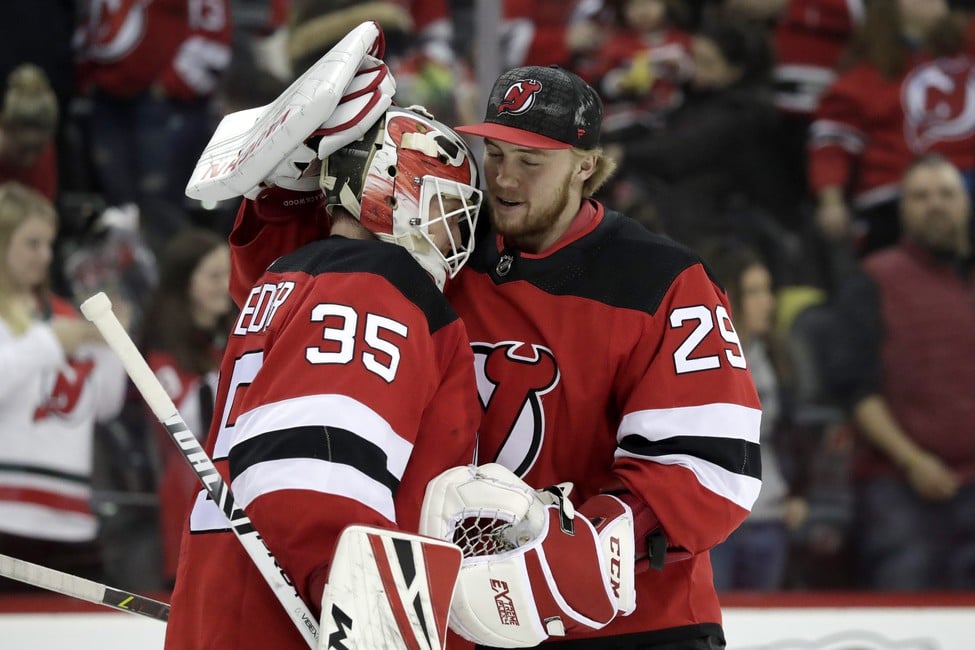 He made the best of his circumstances last season, with a .915 SV% and a 2.77 GAA. It's honestly pretty great for a team with the league's fourth-worst goals against per games played (GA/GP). Blackwood, 24, is still young, and the Devils will eventually improve. One only hopes his psyche is still intact when that day arrives.
20) Igor Shesterkin: New York Rangers
Previous Rank: Unranked
Henrik Lundqvist's days as the fixture at Madison Square Garden are over, and now Igor Shesterkin is the future of goaltending in the Big Apple. The hype around this 25-year-old Russian is off the charts, and with good reason. He had a .932 SV% and 2.52 GAA in his first NHL season, with 9.34 GSAA. It's too early to place him too high on this list, but he is likely to climb higher and higher in the future.
19) Mikko Koskinen: Edmonton Oilers
Previous Rank: 22
Though his numbers aren't electric, Mikko Koskinen is proving some naysayers wrong after the Edmonton Oilers signed him to a questionable extension two seasons ago. A 9.25 GSAA is positive, and it pairs nicely with a .917 SV% and a 2.75 GAA. Those were his stats at the end of last season. He's not one of the elite goalies in the league, and at $4.5 million he is still probably overpriced. But the Oilers needed consistency from Koskinen, and they got that in 2019-20. Early results in 2020-21 are worrisome, but it's too early to condemn him too much.
18) Petr Mrázek: Carolina Hurricanes
Previous Rank: 17
The question has seemingly always been "can the Carolina Hurricanes win with Petr Mrázek," and the answer has always been a resounding "maybe." There are worse things than having a very middling goalie (see: Jones or Quick) but Mrázek isn't soon going to inspire anyone, and other goalies behind that stout Carolina defense might perform better.
As evidence, look at the difference between Mrázek's SV% (.905) and his GAA (2.69). More often than not, you'll see a goalie whose SV% looks better than his GAA, meaning he is outperforming his team. In this case, the opposite appears true. Carolina's defense is among the best in the league and Mrázek does fine because of it. But as his minus-5.35 GSAA demonstrates, he's not going to make a lot of game-changing saves.
17) Carey Price: Montreal Canadiens
Previous Rank: 20
Many still view Carey Price as the best goaltender in the world, including his peers in the NHL. In The Athletic's annual player survey, he was once again the first choice for the question: "Game 7 of the Stanley Cup final — aside from your own goalie, who do you want starting in goal?" 33 percent of NHL players polled responded with Price (from 'The 2020 NHL Poll: Players have their say on best player, worst referee, drinking buddies and more,' The Athletic NHL, 01/20/2020).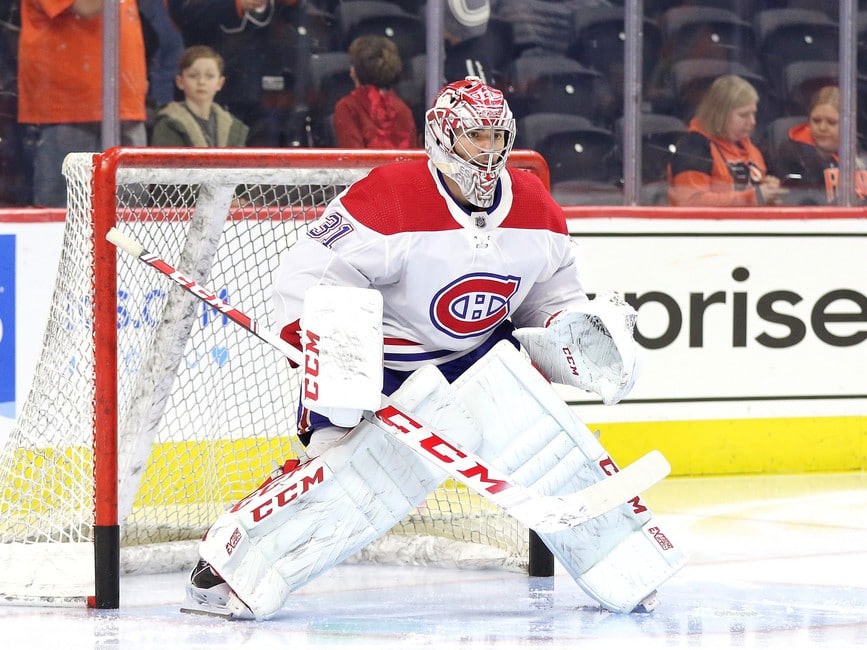 One unidentified Pacific Division player even admitted his bias: "I don't think he has the numbers that he normally has this year. But he's pressure tested. He's battle-tested." He's certainly right about the numbers. Price had more goals against than any other goalie last season (though some of that comes from overexposure) and his GSAA closed at minus-1.31 (down from 14.94 last season). Still, Price has a well-deserved reputation for greatness, and if anyone is going to bounce back in 2020-21, it's probably him, especially with new, reliable backup Jake Allen.
16) Carter Hart: Philadelphia Flyers
Previous Rank: 18
Carter Hart of the Philadelphia Flyers entered the league with so much hype that it's difficult to remember that he is still only 22-years-old. Some struggles were to be expected in his second season. He largely weathered the storm and still had a 2.42 GAA and a .914 SV%, along with 4.46 GSAA. He did have nine RBS if you're looking for reasons for concern, but that's stretching a bit. There's honestly not much to say about Hart: he's not quite in the truly elite class of goaltenders in the NHL, but there's every reason to believe he will be before long.
15) Philipp Grubauer: Colorado Avalanche
Previous Rank: 15
It's possible we've found him: the world's only consistent goaltender. Philipp Grubauer of the Colorado Avalanche was ranked at 15th last season, and he is again in our rankings this season. Grubauer had a tremendous start to his first season as the true number one in Colorado but struggled with some injuries late in the season.
His statistics still looked fine, though. He's got a .916 SV% and 2.63 GAA. His .472 QS% is worrying, but he's got 6.48 GSAA and only four RBS. His backup, Pavel Francouz, has looked sensational, but it still seems to be Grubauer's job for now, and the Avalanche could do a lot worse.
14) Tristan Jarry: Pittsburgh Penguins
Previous Rank: 7
Tristan Jarry had a strong enough 2019-20 to convince the Penguins to promote him to starter and then trade away Matt Murray. They capped off that decision by signing him to a three-year, $10.5 million contract in the offseason.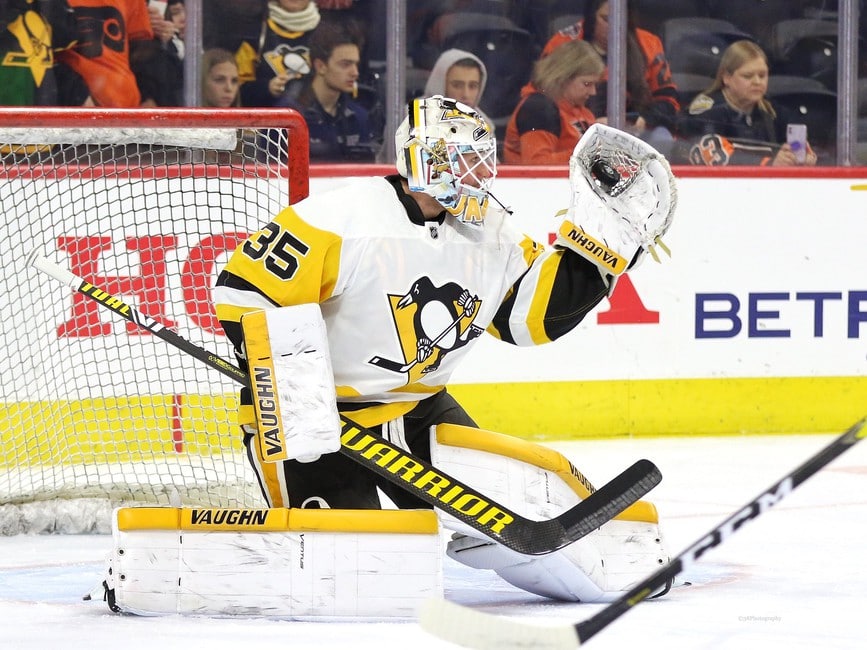 Early in the season, there is reason to be seriously concerned about Jarry. He has started six games and has minus-6.92 GSAA, along with a .859 SV% and a 3.92 GAA. After a very strong 2019-20 season, he deserves a little leeway. Backup Casey DeSmith hasn't been much better, as the early season has been concerning for the Penguins overall. Jarry will be key in getting their season back on track.
13) Joonas Korpisalo: Columbus Blue Jackets
Previous Rank: 14
Korpisalo was 30th on this list just a season ago, mostly because no one knew what to expect as he stepped into a full-time starting role. GM Jarmo Kekäläinen seems to have taken the right gamble, as Korpisalo put together a very strong campaign before succumbing to injury late in December. He collected a .913 SV% and a 2.60 GAA last season, along with 1.14 GSAA and a .600 QS%. He had five RBS to go along with two shutouts.
All of those numbers dipped somewhat between returning from injury and the end of the regular season; however, we're happy to attribute that to his recovery. Korpisalo was a big difference for the Blue Jackets in the bubble, as he helped the Blue Jackets get past the Toronto Maple Leafs in the qualifying round. So far in the 2020-21season, he seems to have rebound to his top form, with a .928 SV% and a 2.45 GAA.
12) Frederik Andersen: Toronto Maple Leafs
Previous Rank: 13
Speaking of the Maple Leafs, Frederik Andersen has been their stalwart since arriving but has struggled lately, and now his future in Toronto is in question, as he's in the last season of his contract. His numbers were still okay last season: .908 SV%, 2.85 GAA, just minus-0.40 GSAA, and a .519 QS%. There's nothing too concerning there, but he did have eight RBS. Andersen will be interesting to watch this season.
11) Linus Ullmark: Buffalo Sabres
Previous Rank: 16
No one expected much from the Buffalo Sabres' goaltending tandem, but Linus Ullmark was a pleasant surprise before suffering a knee injury that sidelined him 3-4 weeks. The Lugnvik, Sweden native finished with 5.39 GSAA and a .559 QS% through 34 starts.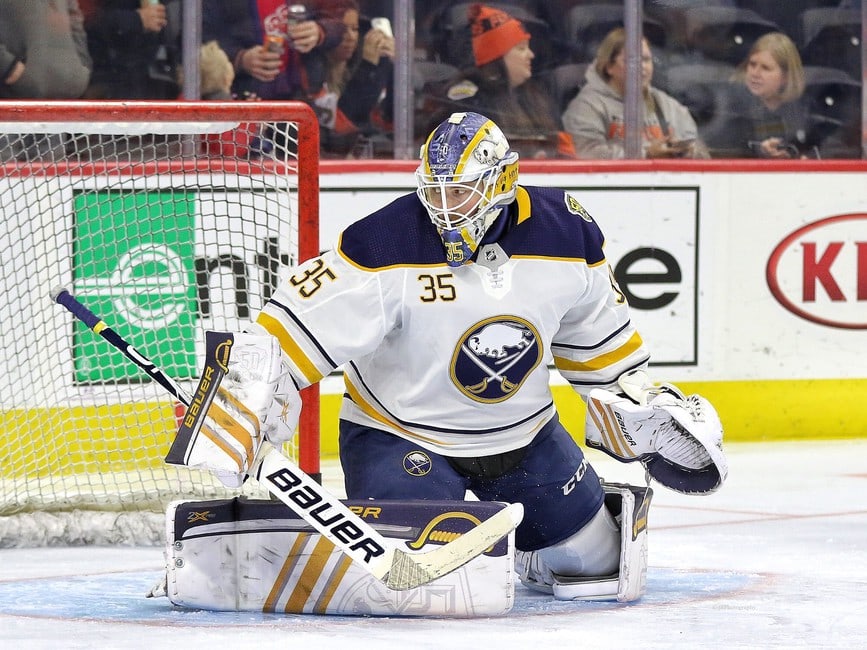 Ullmark also carried a .915 SV% and 2.69 GAA, along with just two RBS on the season. It was a breakout performance all around. And while it may appear he is just keeping the Sabres' net warm until Ukko-Pekka Luukkonen arrives, Ullmark's recent performance will force new general manager Kevyn Adams and other NHL executives to take a second look at his future.
10) Semyon Varlamov: New York Islanders
Previous Rank: 11
When the New York Islanders let Robin Lehner walk only to offer Semyon Varlamov a much larger contract, there were many questions that needed answering. The former Avalanche goalie has answered all of those questions positively so far, as he had a strong regular season and then helped the Islanders reach the Conference Final in the bubble.
Varlamov had an impressive .914 SV%, 2.62 GAA, and 5.56 GSAA behind Barry Trotz's stout defense on Long Island. He is also the ideal mentor for the young Russian superstar Ilya Sorokin as he begins his NHL career. Right now, it seems that even if the Islanders rolled the dice on Varlamov, they landed on sixes.
9) Jacob Markstrom: Calgary Flames
Previous Rank: 10
Jacob Markstrom finished an incredible two-season run in Vancouver by leaving for greener pastures in Calgary. After signing a six-year, $36 million contract with the Flames, he is clearly the new big man on campus in the Saddledome.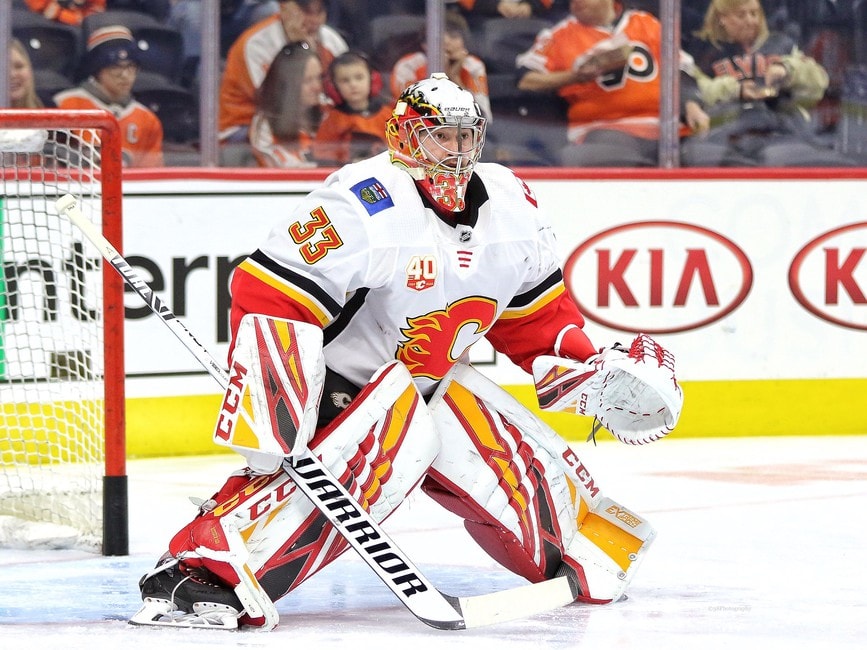 Markstrom wrapped up his time in Vancouver with a .918 SV% and a 2.75 GAA with 11.40 GSAA. His .581 QS% showed that even in spite of a somewhat suspect defense, he was able to put together consistently strong performances. Now, he takes over starting duties from the beloved but inconsistent David Rittich. At 31, though, will a six-year contract remain a good investment for the Canucks?
8) John Gibson: Anaheim Ducks
Previous Rank: 12
Next up, Andersen's former teammate in Southern California, John Gibson of the Anaheim Ducks. There are some, myself included, that believe that in the right situation, he could be the best goaltender in the NHL. Last season, he was not able to overcome the flightless Ducks and prove that. But early this season, he is once again the hottest goalie in the league.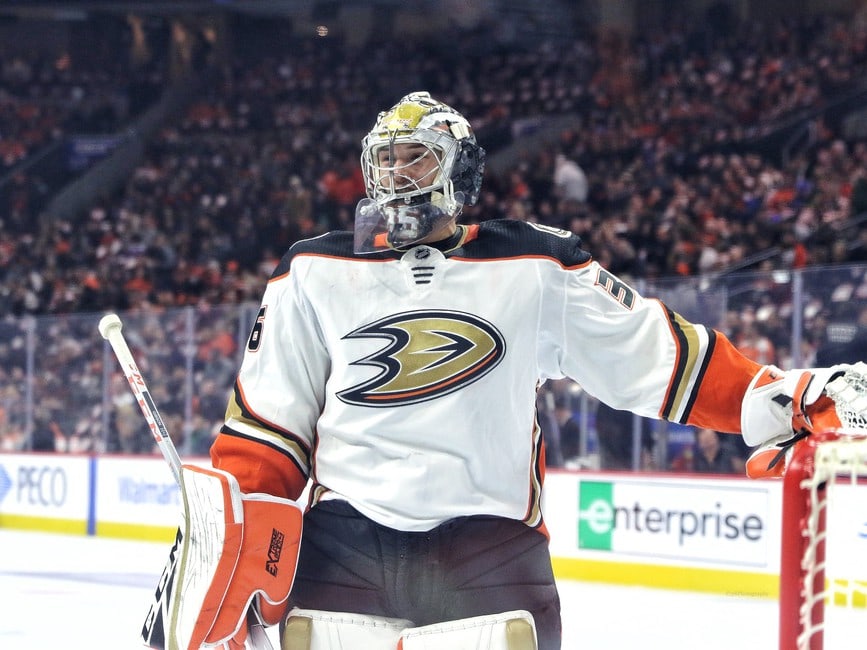 Gibson's .904 SV% and 3.00 GAA from 2019-20 were still fairly remarkable given the team he plays for. But his minus-8.66 GSAA and .431 QS% were troubling, as were the 10 RBS and the league-leading 26 losses. Still, on the team with the fifth-worst goal differential in the NHL, what more could you expect? So far this season, he has a .942 SV%, a 1.87 GAA, and 8.26 GSAA in just seven games, once again proving that at his best, there are few better.
7) Jordan Binnington: St. Louis Blues
Previous Rank: 8
Despite winning the Stanley Cup and finishing second in Calder Trophy voting, Jordan Binnington entered the 2019-20 season with a lot to prove. The St. Louis Blues' breakout star had started just 30 regular-season games before this season. Therefore, there were questions about how he would stand up to the rigors of a full NHL campaign, especially as film on his strengths and weaknesses spread.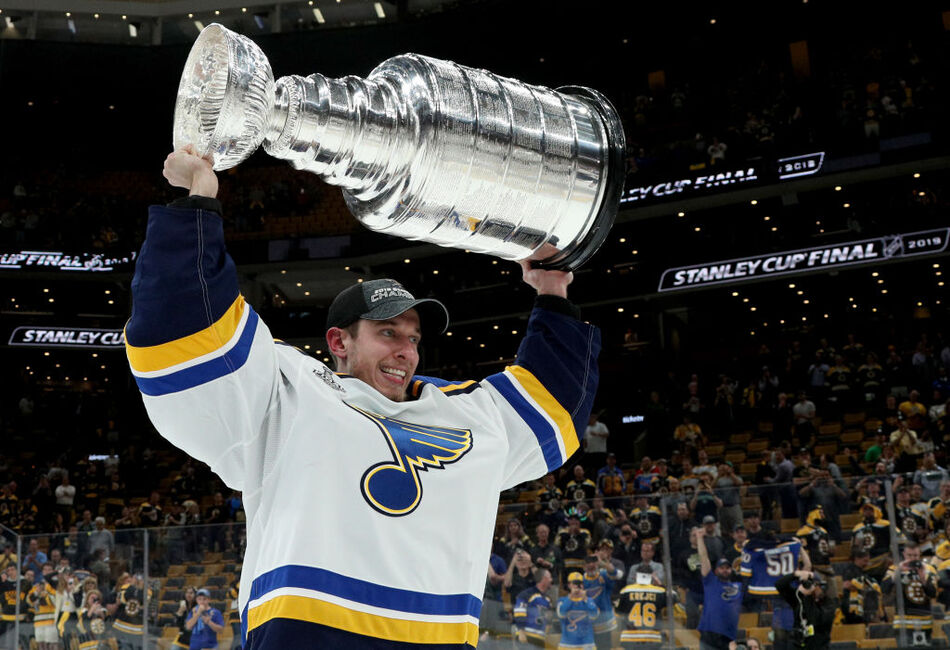 While some questions still linger about Binnington, especially after a rotten performance in the playoffs, the idea that midnight will strike and he will transform back into a pumpkin must be abandoned. He had a perfectly fine season, despite some ups and downs, finishing with a .912 SV% and a 2.56 GAA, a .560 QS% and 3.30 GSAA. The Blues moved on from Allen, and early in the season, he's performed well despite shoddy defense in front of him.
6) Anton Khudobin: Dallas Stars
Previous Rank: Unranked
Well, if there is any worry that Anton Khudobin was a flash in the pan, they are quickly evaporating. Though the start of the Dallas Stars season was severely delayed by a COVID-19 outbreak, Khudobin has an absurd .958 SV% and 0.99 GAA in his three starts so far.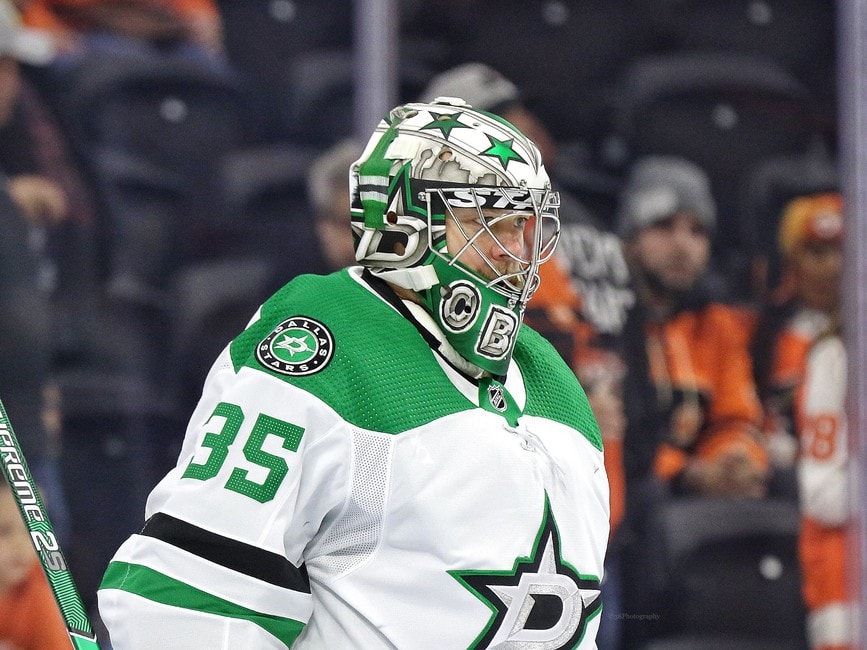 That's how Khudobin is following up on a .917 SV% and a 2.69 GAA in 24 playoff starts last season. The lifelong backup was thrust into a starting role at the most critical time and owned it. His success, and the uncertainty about Ben Bishop's health, led to his re-signing with the Stars for three years at $10 million. With Bishop's health still in question, Khudobin seems to be the starter now, and so far, he is owning the role.
5) Darcy Kuemper: Arizona Coyotes
Previous Rank: 6
Speaking of revelations, Darcy Kuemper has been precisely that for the Arizona Coyotes. Though he was injured in late December, and only returned for four games before the season ended abruptly, his numbers were still spectacular. His .928 SV%, 2.22 GAA, 16.65 GSAA, and his jaw-dropping .759 QS% are all remarkable. He is clearly justifying the Coyotes' decision to extend him last October.
4) Robin Lehner: Vegas Golden Knights
Previous Rank: 4
Robin Lehner is now the starter for the Vegas Golden Knights, and he's secured the high-dollar contract he coveted so rightly. For several seasons running, Lehner has proved himself to be one of the very best goalies in the game. And, considering his public battle with mental health, he's one of the NHL's best stories as well.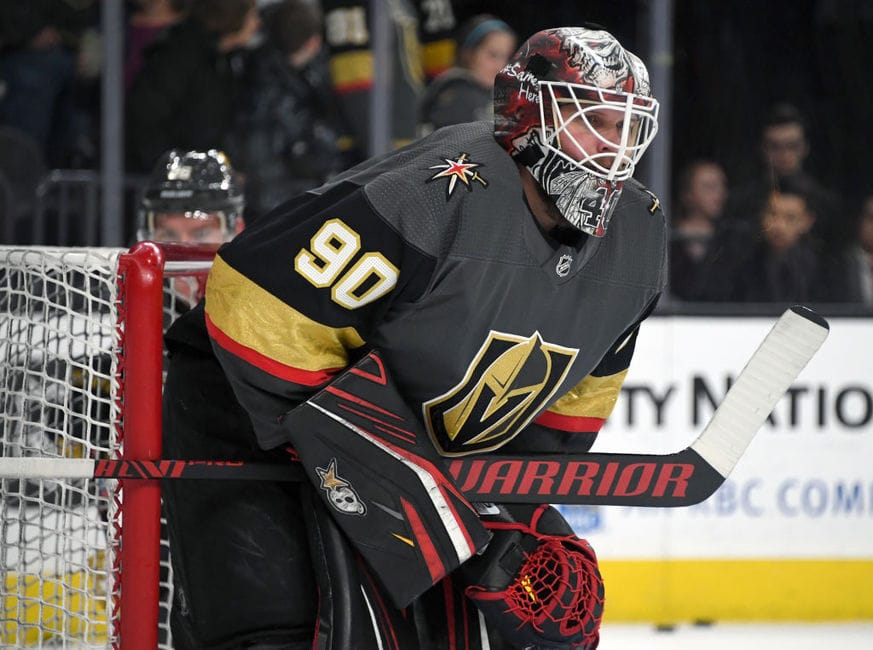 Lehner closed the 2019-20 season with the Golden Knights after a midseason trade. And despite the controversy of his replacing Marc-Andre Fleury, there's no question that he is the better goalie at this point in their respective careers. He finished the season with 12.67 GSAA and a .920 SV%, ranked among the best in the league. Now, Lehner has finally found a longterm home in Vegas, and he'll stay with the Golden Knights for many seasons to come.
3) Andrei Vasilevskiy: Tampa Bay Lightning
Previous Rank: 3
When you think of the NHL's elite goaltenders, Andrei Vasilevskiy is probably the first name that comes to mind. He is the pillar of consistency, as good and as predictable as any netminder in the league. Even during the 2019-20 season, when he struggled out of the gate, it seemed certain he would return to form and return he did.
Vasilevskiy finished with a league-leading 35 wins, the third straight campaign in which he's had that lead. He had a .917 SV% and a 2.56 GAA, to go along with 12.13 GSAA and a .596 QS%. Even though some goaltenders surpass those numbers, few have been as consistent as Vasilevskiy over the last several seasons. There's a reason he has his team in the Stanley Cup Final with sensational numbers, including a 1.97 GAA.
2) Connor Hellebuyck: Winnipeg Jets
Previous Rank: 2
Rebounding from a difficult year, Connor Hellebuyck's 2019-20 season earned him the Vezina Trophy and even a sixth-place finish in Hart Trophy voting. He also captured the Jets' franchise shutout record, an impressive achievement for a former fifth-round pick.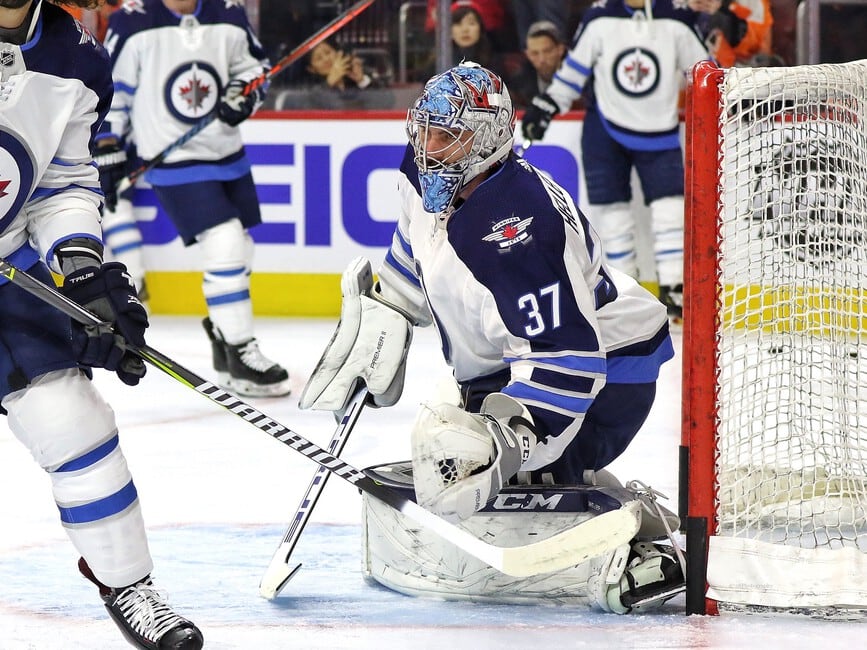 Hellebuyck's 22.40 GSAA ranked second to only number one on our list, and his .922 SV% was near the top of the league, impressive considering he faced the most shots of any NHL goalie. In the wake of Jacob Trouba and Dustin Byfuglien's departures, playing behind a severely inexperienced defensive group, Hellebuyck should be lauded for putting up such a strong performance.
1) Tuukka Rask: Boston Bruins
Previous Rank: 1
Ever since the playoffs started in 2019, Tuukka Rask has been a man possessed. He fell one win short of a Stanley Cup and an almost certain Conn Smythe Trophy, after posting a .934 SV% and a 2.02 GAA in 24 playoff games. Rather than sulk, he has seemingly used it as motivation, and came back the same determined netminder the season following.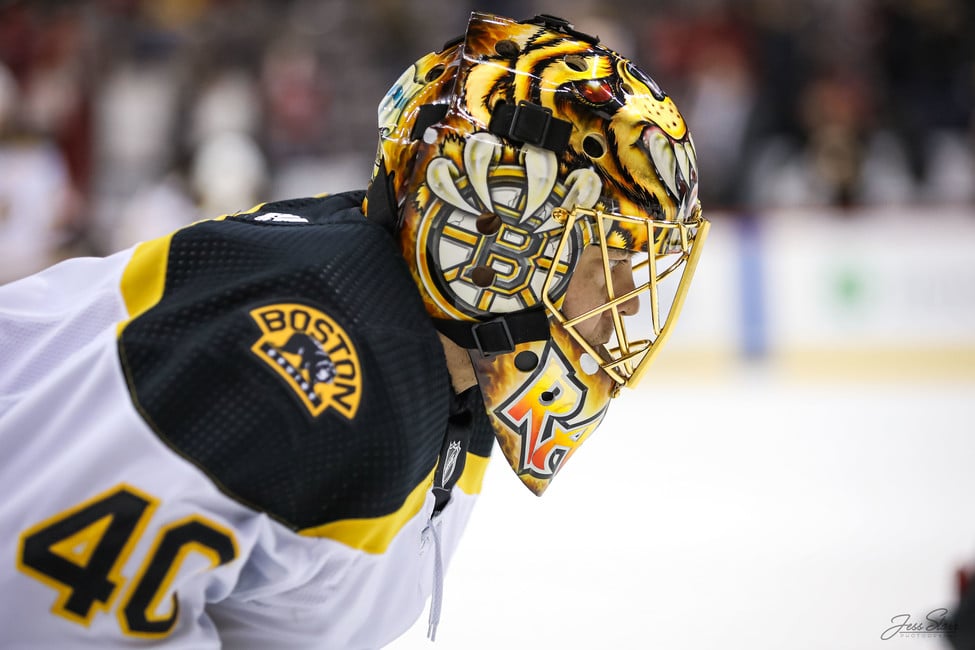 Rask's .683 QS% is unreal, as is his .925 SV%. His 2.12 GAA and 22.51 GSAA both led the league, which is why he finished second in Vezina Trophy voting. Hellebuyck took the nod based not on statistics, where Rask was a clear leader, but based on the respective teams they played for. We can't know what might have been for the Bruins had Rask not left the playoff bubble, but no one — well, no one sane, at least — blames him for making the best decision for his family.
---
Get all the latest NHL Goalies news and rumors from THW
---
The Bottom Line
Goalies can change like the winds, and there's no telling who will fall where when we next rank them entering next season. But this is an accurate representation of the best and worst in the league right now. What's exciting is the age of many of these netminders and the reality that top prospects like Shesterkin, Sorokin, Demko and Luukkonen are still to come. The future of goaltending in the NHL is as bright as it has ever been.
---
Stephen Ground is an author with The Hockey Writers and is co-host of the Two Guys No Cup Podcast. He enjoys studying the numbers and providing fresh looks at various stories.