Updated Aug. 2021
Despite how often people try to evaluate a draft class as players are selected, it can take years for new draftees to grow into their roles with the teams that selected them. As time rolls on, you can begin to see who struck gold with their first-round selections, and who would love to take a mulligan on their pick.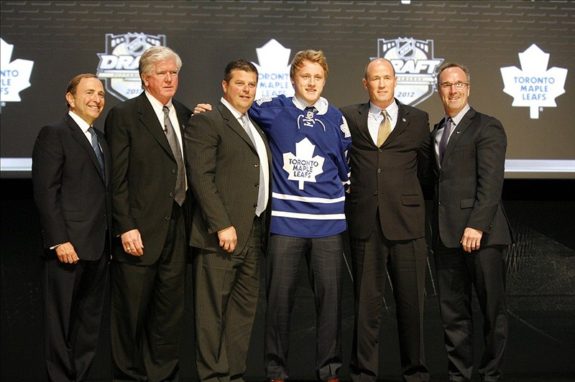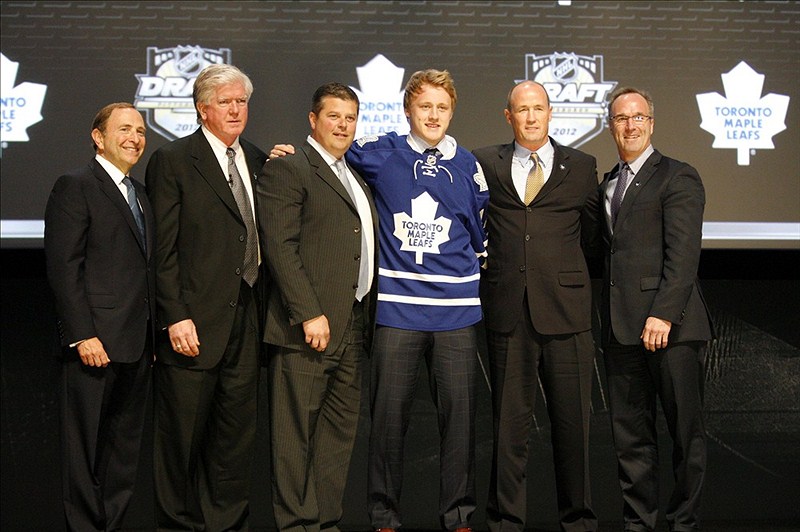 With the 2012 NHL Draft now a distant memory, it is a good time to look back at the first 10 players selected in order to see who developed into their projected talent, and who ended up as a draft-day bust. The 2012 NHL Entry Draft was held June 22 & 23 at the Consol Energy Center (now PPG Paints Arena) in Pittsburgh, Pennsylvania.
#1. Nail Yakupov – Edmonton Oilers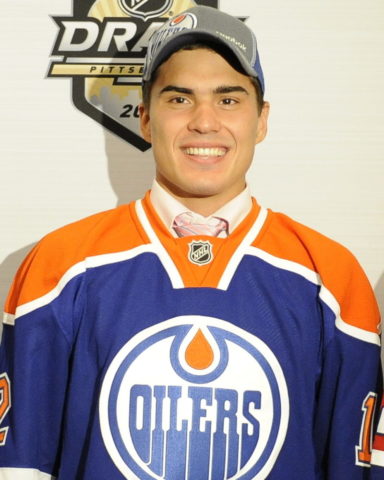 Of the four first overall picks made by the Edmonton Oilers throughout the 2010s, Nail Yakupov was the most disappointing by a wide margin. While he had top-end scoring talent, he lacked the hockey IQ and intangibles necessary to make the step from juniors to the NHL.
Yakupov's rookie season was his best in Edmonton, as he scored 17 goals and 31 points in a lockout-shortened campaign. Despite this strong start, his career stalled as he only managed to break 30 points once more with the Oilers. In 2016, after playing four seasons in Edmonton, he was traded to the St. Louis Blues for a conditional third-round pick and prospect Zach Porchiro. He spent one year with the Blues before signing with the Colorado Avalanche in 2017, where he put up nine goals and 16 points as a depth winger for the team.
At all points in his NHL career, Yakupov failed to meet the expectations of a first-overall pick. Even as a depth winger, he was unable to find that scoring magic that made him the top prospect within his draft class.
After this disappointing NHL career, Yakupov returned to the KHL when he signed a one-year contract with SKA St. Petersburg in July 2018. Perhaps he will be a late bloomer and find his game in KHL, but for now, he is one of the biggest draft busts of the last decade.
#2. Ryan Murray – Columbus Blue Jackets
When the Columbus Blue Jackets drafted Ryan Murray second overall, they did so with the expectations that they had found the top defensive prospect in a draft loaded with high-end defensive talent. While it is difficult to judge defensemen due to how long it can take for them to develop a complete game, it looks likely that Murray will never become the top-pairing defender the Blue Jackets hoped he could.

This isn't necessarily his fault, either. Injuries severely limited Murray's development throughout his professional career, with the young defender only playing a complete season once in six years with Columbus. His point totals also fell dramatically from 2016 through 2018, as he as only posted 23 points over those two seasons.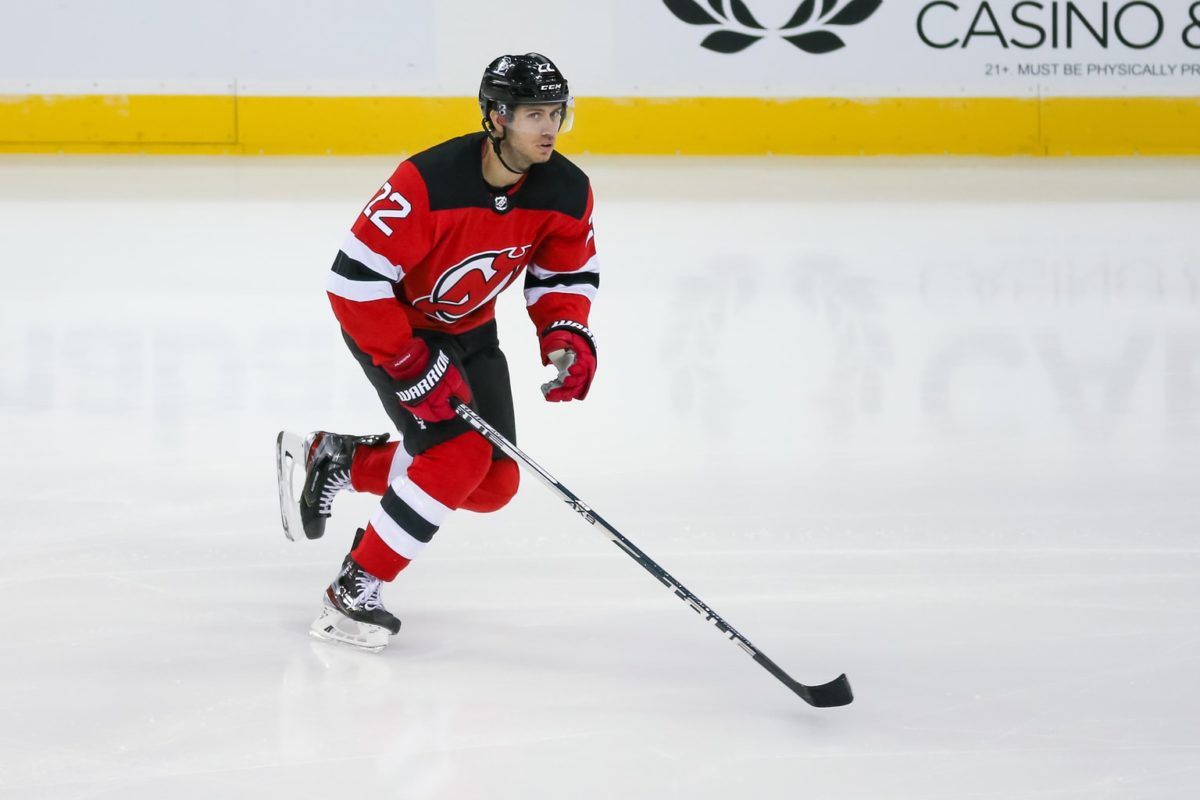 Despite his inability to live up to being a second-overall pick, Murray is far from a bad player. After having a bounce-back 2018-19 season, where he posted 29 points in 56 games, the Blue Jackets re-signed him to a two-year, $9.2 million contract, before trading him to the New Jersey Devils in the 2020 offseason for a fifth-round pick.
While in New Jersey, Murray has the opportunity to be a veteran presence on a young, developing team. In 2020-21, he averaged 18:37 of ice time per game in 48 contests, showcasing that he still has a lot of NHL ice-time left in him. In the 2021 offseason, he signed a one-year deal with the Colorado Avalanche.
#3. Alex Galchenyuk – Montreal Canadiens
Throughout his career with the Montreal Canadiens, Alex Galchenyuk struggled with one thing: consistency. He has shown flashes of greatness throughout his career since being drafted third overall and joining the team as an 18-year old, but he hasn't been able to reach this dominating play each and every night.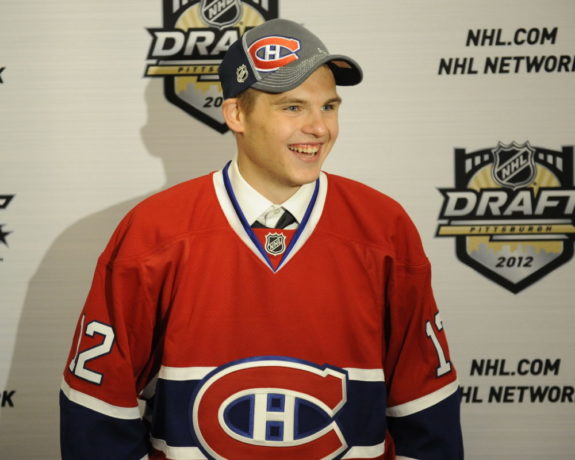 In 2014-15, he appeared to be the next star in Montreal after scoring a career-high 30 goals and 56 points in 82 games. Over the next two seasons, though, he failed to break the 20-goal mark, while only posting 44 and 51 points, respectively. During these seasons, he was moved up and down the Canadiens nightly lineup, playing at both center and wing. As said by Kyle Meideros about the start of Galchenyuk's sixth season with the team:
Now entering his sixth NHL season, his descriptors have become: a defensive liability, an underachiever, untrustworthy.
After years of rumors and speculation, the Canadiens traded Galchenyuk to the Arizona Coyotes for Max Domi in June 2018. While this change of scenery was hoped to jumpstart the talented forward's career, it didn't have the effect the Coyotes had hoped.
Just one year after that trade, Galchenyuk was sent to the Pittsburgh Penguins in a deal for Phil Kessel. However, his time in Pittsburgh was far from fruitful, with the 25-year-old forward only posting 17 points in 45 games before being shipped to the Minnesota Wild and then signing with the Ottowa Senators in the 2020 offseason.
Related: Senators Could Win Big With Galchenyuk
Galchenyuk appears to be a man out of place, as he lacks that dominant scoring touch needed to be a top-six NHL forward, but he also struggles defensively, meaning he can't take on bottom-six ice time either. Due to this, he may continue to bounce around the league until he finds a way to round out his game.
#4. Griffin Reinhart – New York Islanders
Sometimes you have to know when to admit you were wrong and try to turn around a bad situation. After drafting Griffin Reinhart fourth overall, he was sent back to the WHL to continue development until the 2014-15 season, when the New York Islanders decided to pull the plug on their top pick of 2012. They sent an underachieving Reinhart, who had played just eight games with the team, to the Oilers for a first and second-round pick in the 2015 Draft.
This trade has since become infamous for both teams, as Reinhart became a staple of the Oilers' AHL team after floundering through just 29 games with the franchise. Eventually, he was left open at the 2017 Expansion Draft and was claimed by the Vegas Golden Knights, where he played for their AHL affiliate, the Chicago Wolves, before leaving to play in the KHL for the 2019-20 season.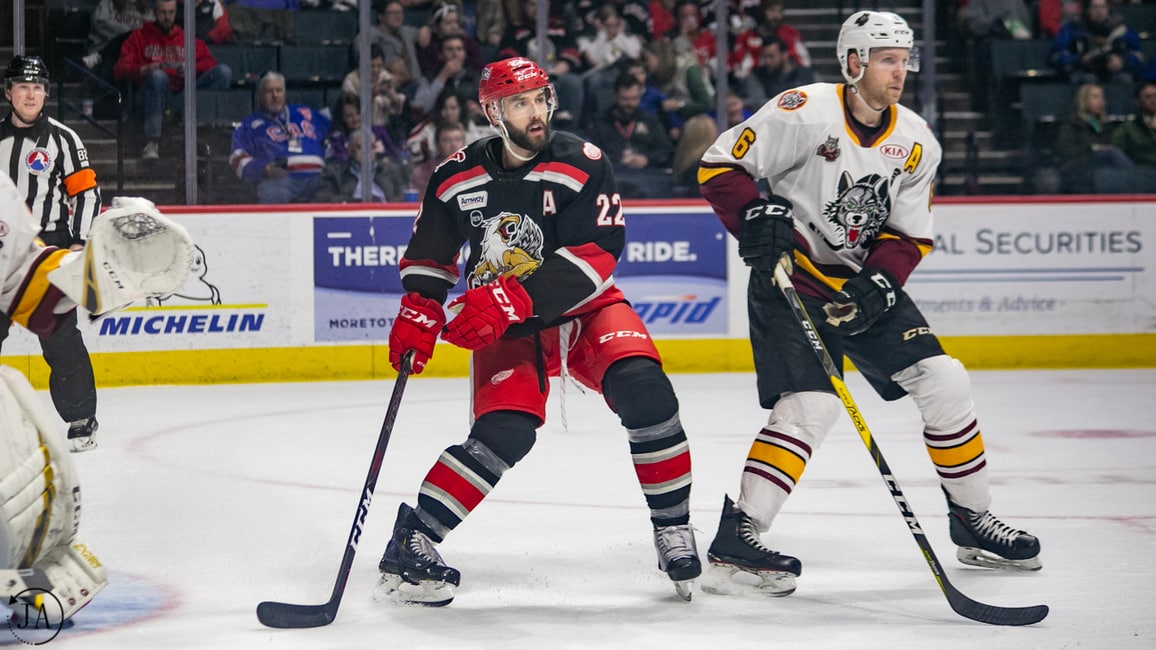 That first-round pick the Islanders got back for Reinhart, however, was used to draft Mathew Barzal, who went out and had one of the best rookie seasons in over a decade en route to winning the Calder Memorial Trophy in 2018. While Reinhart was a bust for them, they still salvaged the situation and turned a mistake into a true star.
#5. Morgan Rielly – Toronto Maple Leafs
For the better part of a decade, the Toronto Maple Leafs struggled with a mediocre defensive corps that held them down as a team. When they drafted Morgan Rielly fifth overall in 2012, they were attempting to address this area of weakness by bringing in a young, top-end defenseman whom they could build their team around.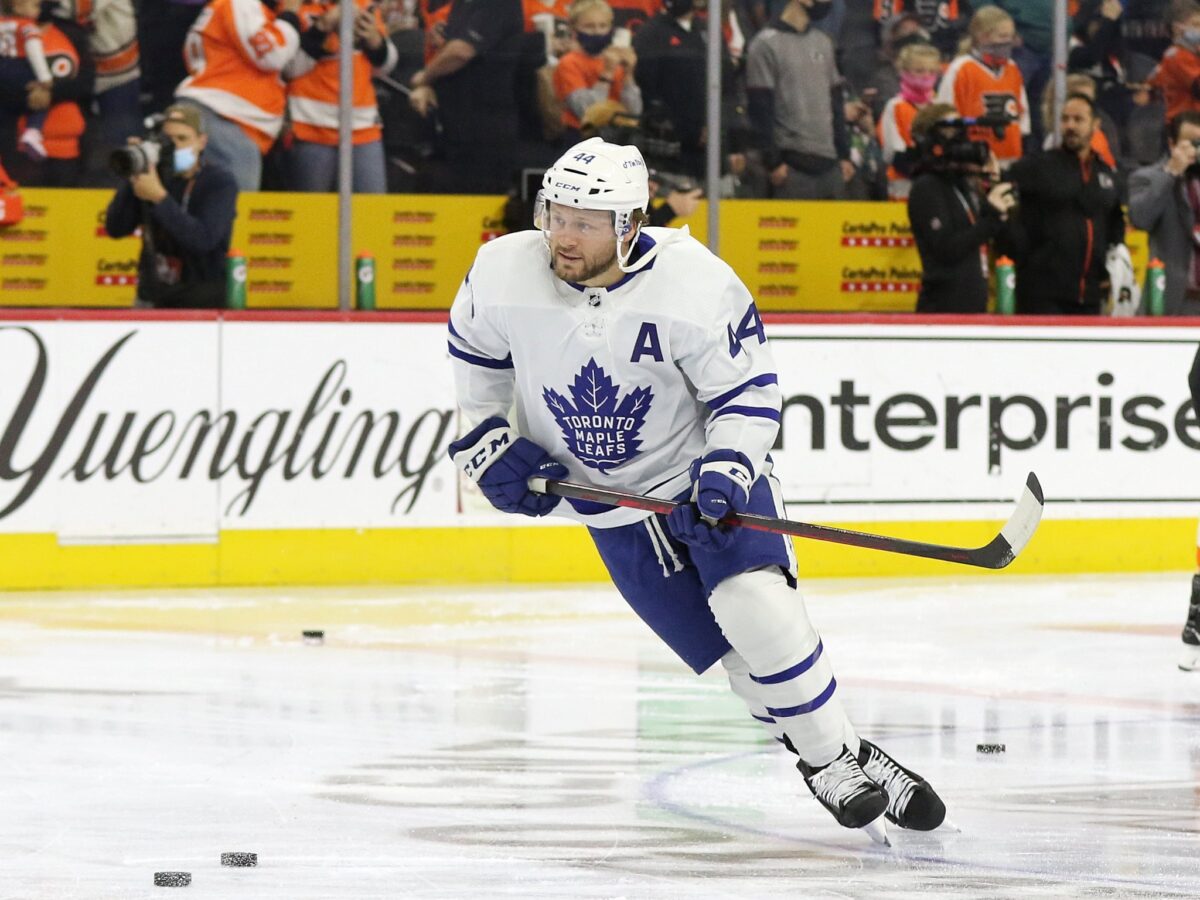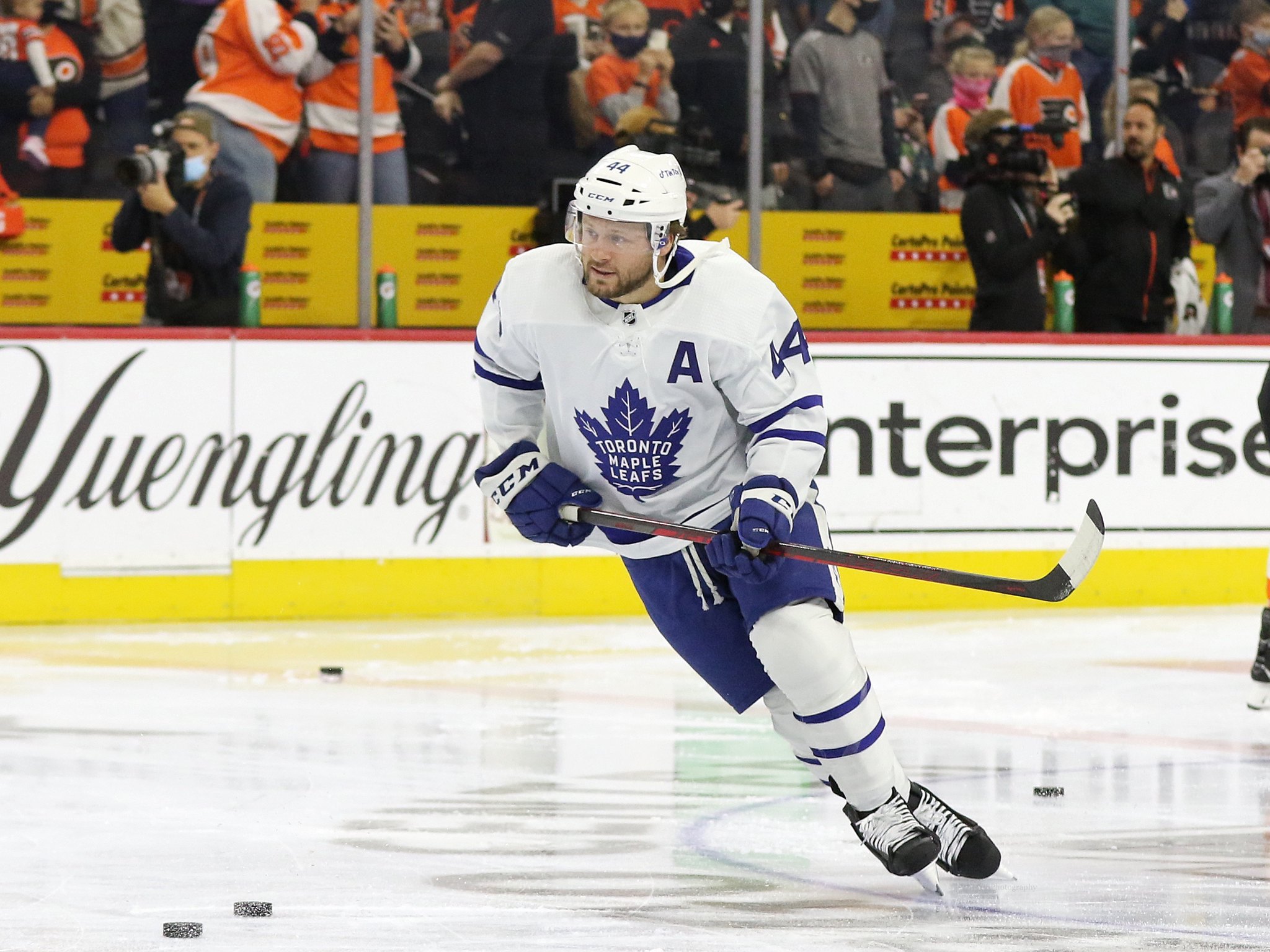 Eight years into his professional career with Toronto, one can safely say that the Maple Leafs found their man on defense. Throughout the 2017-18 season, Rielly experienced a breakout year, scoring 52 points in 76 games. He followed that up with a 72 point campaign in 2018-19, where the blooming defensive star made a serious case for Norris contention.
The best part for Toronto, though, is the fact that Rielly is only 26 years old and signed through 2022 at a reasonable $5 million cap hit. So, not only do the Maple Leafs have a lynchpin defenseman to build their future around, but they also got him signed below market. Needless to say, this selection has been the best-case scenario for the Maple Leafs.
#6. Hampus Lindholm – Anaheim Ducks
On the day of the draft, Hampus Lindholm was expected to be a mid-first-round pick with high upside. The Anaheim Ducks, however, believed he was the real deal and took him with the sixth-overall pick, well ahead of projections. As Collin Insley of THW said in his draft day profile of Lindholm:
Lindholm is an awfully intriguing prospect that, in time, might be considered a steal for Anaheim.
While he may not have reached 'steal' status as a high draft pick, the Ducks still have to be satisfied with their selection. When healthy, Lindholm is that smart, two-way defenseman that every franchise wants to build around. While his scoring numbers are not staggering, he has consistently posted around 30 points each season since joining Anaheim.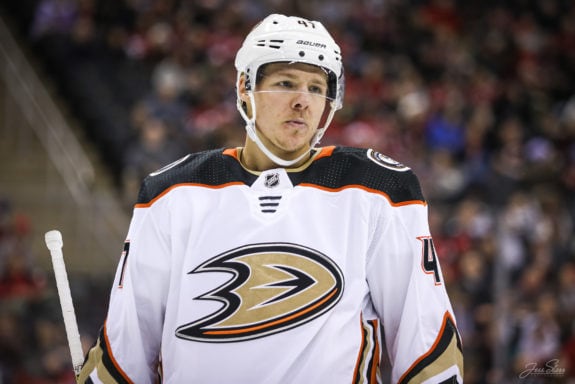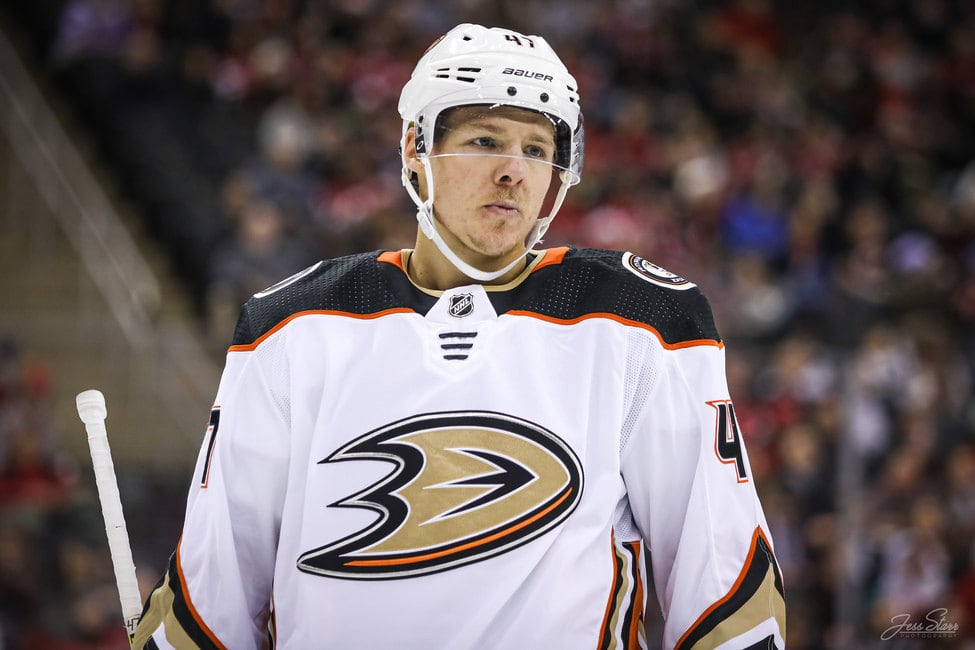 As one of the many young and talented defenders who started with the Ducks, Lindholm looks to be a major keystone for the future of the franchise. As long as he can stay healthy, he will continue developing alongside the franchise's young core, and could still grow into a top all-around player in the league.
#7. Mathew Dumba – Minnesota Wild
There was little doubt about the quality of player that the Minnesota Wild were getting when they drafted Mathew Dumba seventh overall. With the size, drive, and grit necessary to become a top-pairing defender, he had the full toolkit coming into his professional career. If given the proper time and space, he seemed like a player who would quickly put it all together.
During the 2015-16 season, Dumba experienced a breakout with the Wild, playing in 81 games and collecting 10 goals and 26 points along the way. After increasing his scoring totals in 2016-17, he had a career year in 2017-18, scoring 14 goals and 50 points, all while playing upwards of 23 minutes each night. After this successful season, he was rewarded by Minnesota with a five-year, $30 million extension to keep him with the team through the 2022-23 season.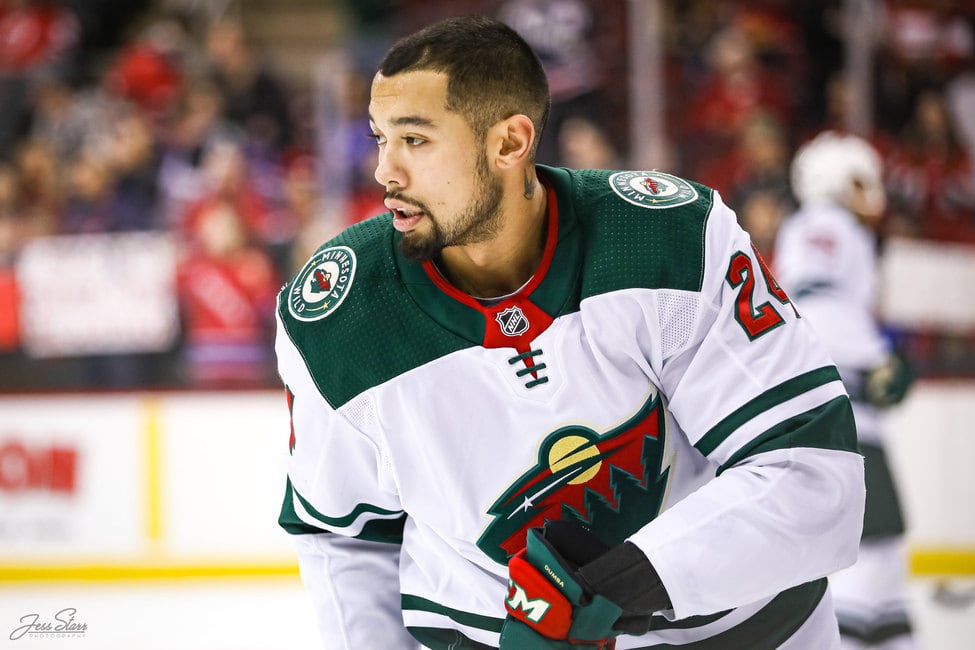 At 26 years old, Dumba is just starting to reach his prime years. If he continues to develop his game and can stay healthy, he will find his way into the discussion as one of the elite defenders in the league. While his career is still young, the Wild have already struck gold with Dumba.
#8. Derrick Pouliot – Pittsburgh Penguins (From Carolina Hurricanes)
The mood around the Pittsburgh Penguins after the 2012 Draft was pure excitement due to a massive trade that sent Jordan Staal to the Carolina Hurricanes and brought Brandon Sutter, Brian Dumoulin and the eighth-overall pick back to Pittsburgh. With this pick, the Penguins selected Derrick Pouliot, who was seen at the time as a sure-fire NHL defenseman.
As time went on, though, Pouliot was unable to establish himself on the stacked and highly-talented Pittsburgh blue line. He went on to play less than 70 games with the franchise over three seasons before being traded to the Vancouver Canucks in 2017. This change of scenery did Pouliot relatively well, as he played 71 games in Vancouver in the 2017-18 season, registering 22 points along the way.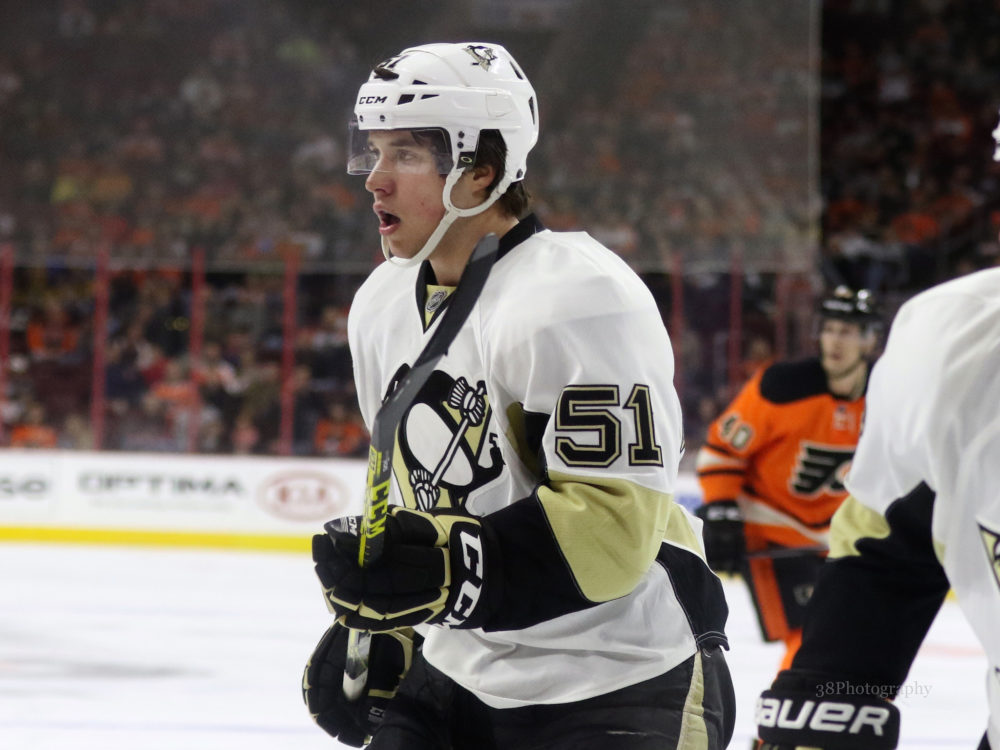 No, this is not the type of production you would expect out of a top-10 draft pick, but there still was promise for Pouliot's future. He signed a one-year contract with the St. Louis Blues in the 2019 offseason, but he factored in little for the 2019 Stanley Cup champions, only playing two games with them.
#9. Jacob Trouba – Winnipeg Jets
If you are looking purely at production, the Winnipeg Jets made a fantastic pick when they took Jacob Trouba ninth overall in 2012. Since becoming a full-time NHLer in the 2013-14 season, Trouba was a stalwart along the Jets' blue line, averaging more than 22 minutes on the ice each night. During his best season in 2018-19, he scored 50 points in 82 games, putting him in the discussion as an elite defender.
However, once you look past his production, you could see that things may not all be well for Trouba in Winnipeg. First of all, he struggled with injuries, only playing more than 70 games twice in his first six seasons.
Trouba also requested a trade in Sep. 2016 after he felt that he was not being given the full opportunity to thrive with the Jets. While this issue was worked through and he received a two-year bridge deal to keep him with the team, he was unable to garner a long-term extension when that bridge deal ended in the 2018 offseason. Instead, he was awarded a one-year, $5.5 million contract in arbitration, which kept him with the Jets through the 2018-19 season.
Once that extension ended, the Jets decided that it was time to move on from Trouba. They sent him to the New York Rangers before the 2019 draft for a first-round selection and Neal Pionk.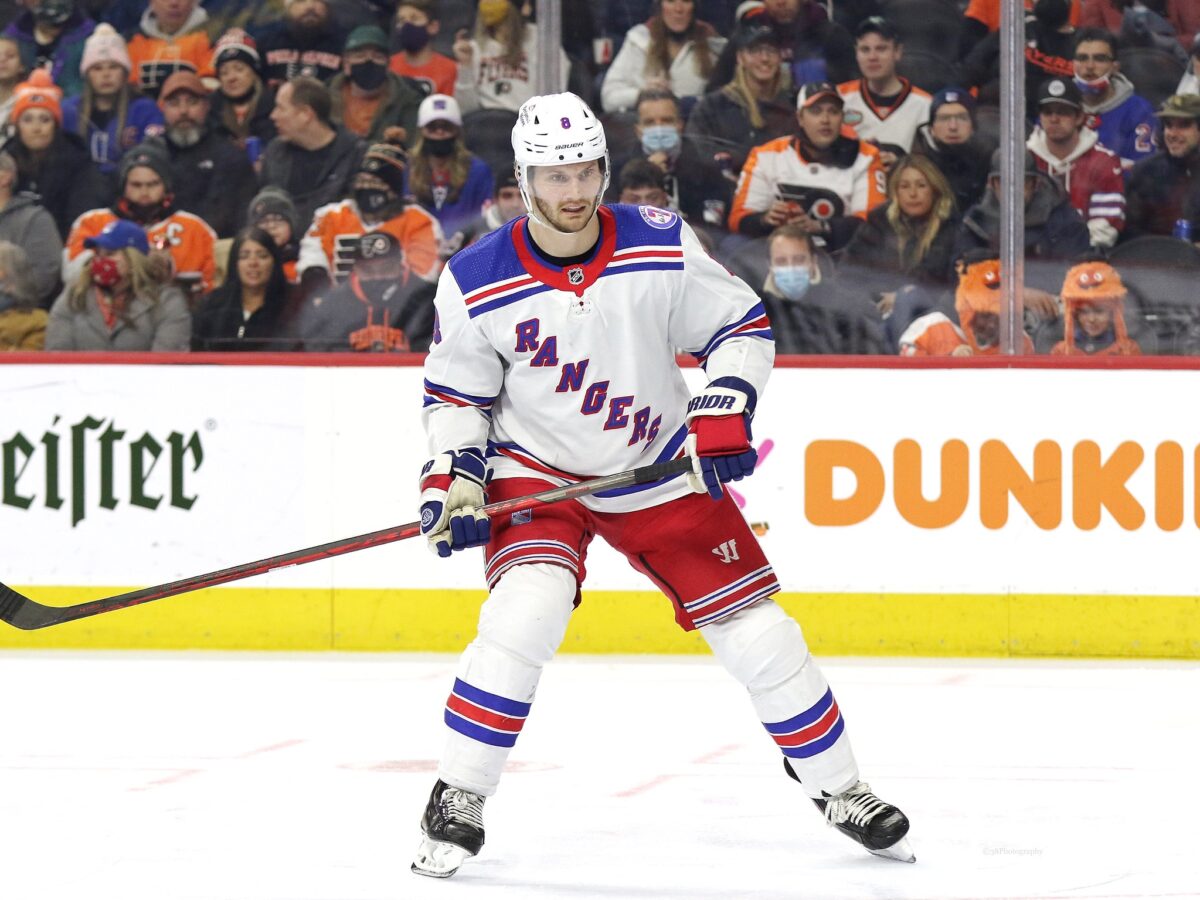 After he was acquired, the Rangers wasted no time signing Trouba to a long-term extension, giving him a seven-year, $56 million contract. With a commitment like that, New York is saying that the Michigan native will be one of the faces of the franchises' return to prominence. Given his past success, all signs point toward Trouba being more than ready to take on that role.
#10. Slater Koekkoek – Tampa Bay Lightning
Coming into the 2012 Draft, everyone knew that the Tampa Bay Lightning were looking to select a defenseman and goaltender in the first round. With their 10th-overall pick, they chose defenseman Slater Koekkoek, much to the surprise of, well, everyone. With a high-talent forward like Filip Forsberg still left on the draft board, Koekkoek seemed like a real stretch for Tampa Bay.
Injuries can dictate the course of a career more than actual play on the ice, which has been the case for Koekkoek. He struggled with injuries both before and after the draft, which stunted his development. While he certainly is a talented defenseman, he was pushed down the Lightning's depth chart, failing to find consistent ice time with the team. In the 2017-18 season, he spent the majority of the season as a healthy scratch, playing in just 35 games.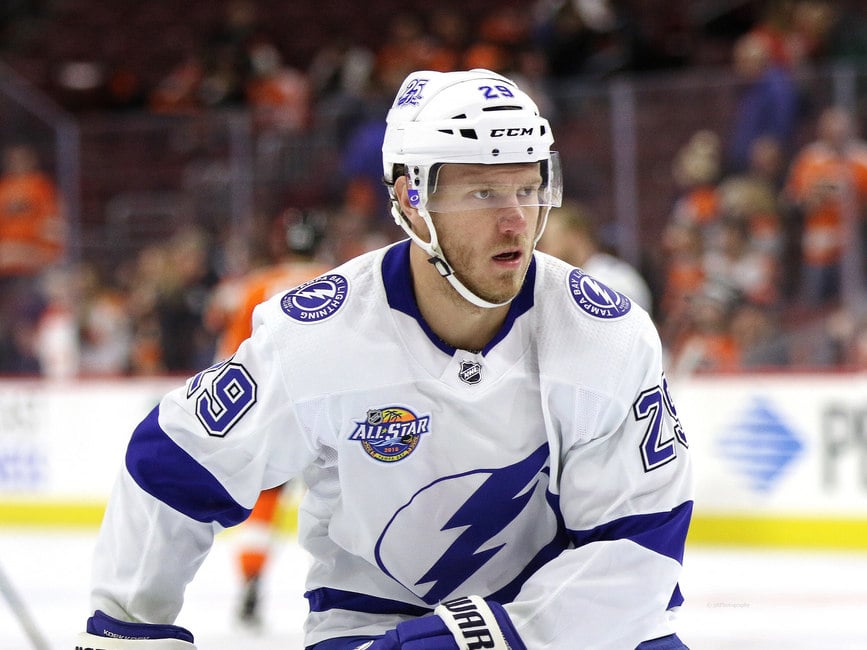 In 2018-19, Koekkoek only started nine games throughout the Lightning's first half of the season, clearly showing that his time in Tampa was short. After weeks of speculation and chatter, the 2012 first-round pick was traded to the Chicago Blackhawks for defenseman Jan Ruuta, ending a disappointing career with the team that drafted him.
After two season with the Blackhawks, Koekkoek signed a one-year deal with the Oilers in the 2020 offseason, meaning that he was sticking around the league in a depth role.
Complete List of 2012 NHL Entry Draft First-Rounders
| | | | |
| --- | --- | --- | --- |
| 1 | Nail Yakupov (RW) | Russia | Edmonton Oilers |
| 2 | Ryan Murray (D) | Canada | Columbus Blue Jackets |
| 3 | Alex Galchenyuk (C) | United States | Montreal Canadiens |
| 4 | Griffin Reinhart (D) | Canada | New York Islanders |
| 5 | Morgan Rielly (LW) | Canada | Toronto Maple Leafs |
| 6 | Hampus Lindholm (D) | Sweden | Anaheim Ducks |
| 7 | Mathew Dumba (D) | Canada | Minnesota Wild |
| 8 | Derrick Pouliot (D) | Canada | Pittsburgh Penguins (From Carolina) |
| 9 | Jacob Trouba (D) | United States | Winnipeg Jets |
| 10 | Slater Koekkoek (D) | Canada | Tampa Bay Lightning |
| 11 | Filip Forsberg (RW) | Sweden | Washington Capitals (From Colorado) |
| 12 | Mikhail Grigorenko (C) | Russia | Buffalo Sabres |
| 13 | Radek Faksa (C) | Czech Republic | Dallas Stars |
| 14 | Zemgus Girgensons (C) | Latvia | Buffalo Sabres |
| 15 | Codi Ceci (D) | Canada | Ottowa Senators |
| 16 | Tom Wilson (RW) | Canada | Washington Capitals |
| 17 | Thomas Hertl (C) | Czech Republic | San Jose Sharks |
| 18 | Teuvo Teravainen (RW) | Finland | Chicago Blackhawks |
| 19 | Andrei Vasilevskiy (G) | Russia | Tampa Bay Lightning (From Detroit) |
| 20 | Scott Laughton (C) | Canada | Philadelphia Flyers |
| 21 | Mark Jankowski (C) | Canada | Calgary Flames (From Nashville via Buffalo) |
| 22 | Ollie Maata (D) | Finland | Pittsburgh Penguins |
| 23 | Mike Matheson (D) | Canada | Florida Panthers |
| 24 | Malcolm Subban (G) | Canada | Boston Bruins |
| 25 | Jordan Schmaltz (D) | United States | St. Louis Blues |
| 26 | Brendan Gaunce (C) | Canada | Vancouver Canucks |
| 27 | Henrik Samuelsson (C) | United States | Phoenix Coyotes |
| 28 | Brady Skjei (D) | United States | New York Rangers |
| 29 | Stefan Matteau (C) | United States | New Jersy Devils |
| 30 | Tanner Pearson (LW) | Canada | Los Angeles Kings |
---
---
---
Latest News & Highlights
---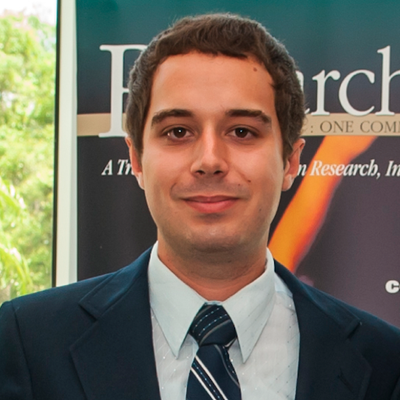 Eugene Helfrick is a Tampa Bay Lightning writer who is actually from Tampa Bay. He has written about the Lightning for six years, covering everything from their run to the 2015 Stanley Cup Final, to their crushing first-round exit in 2019, to their redemption in the bubble in 2020. While he is happy to talk about just about anything from cows to cars to video games, hockey will always remain one of his favorite pastimes.