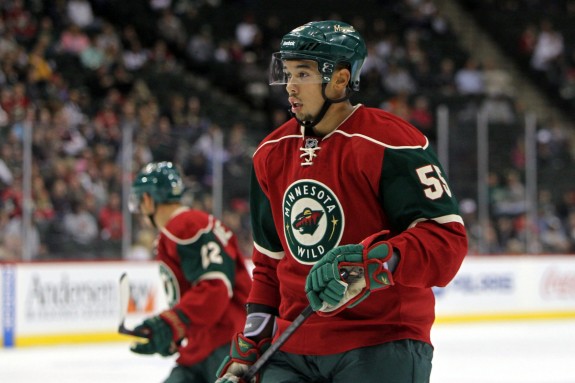 What's next for Wild Prospect Mathew Dumba?
The return of Mathew Dumba to the Minnesota Wild may be put on hold until next season despite his return to the Twin Cities following the World Juniors to be seen by the team doctors. Dumba took several spills during the WJHC, including going face first into the boards in a scary tripping incident. Dumba also was said to be battling the flu throughout the entire tournament, losing weight and suffering from dehydration. Dumba began the season with the Wild appearing in 13 games which put him past the maximum of 10 games in the NHL this season before he had to be returned to the Red Deer Rebels of the WHL without activating the first year of his entry-level contract. Dumba was loaned to Team Canada to provide him the opportunity to get his season back on track playing top pairing minutes. Dumba's WJHC produced very similar results in performance that Wild fans saw from him during the first two months of the NHL season. Just before Dumba departed his WHL rights were traded from Red Deer to the Portland Winter Hawks. The trade of Dumba's WHL rights surely was a move negotiated behind the scenes with some sort of input from the Wild's front office. Even before Dumba departed for the WJHC it looked like he was destined to be returned to the WHL rather than find himself watching Wild games from the press box. In trying to understand why Dumba's dynamic combination of aggressive open-ice checking and offensive capabilities have not translated for him at the NHL level, I watched nearly every minute of the WJHC for Team Canada.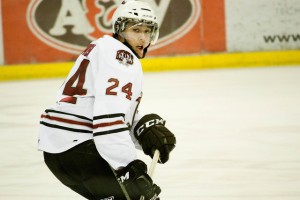 Flaws in his Play Cost Dumba a Roster Spot in Minnesota
Dumba is struggling with his gap control and defensive positioning cause him to be out of position far too often. Dumba must improve his reads in the defensive end to better equip his ability to diagnose the evolution of the play. Dumba currently finds himself chasing the puck too often. He has taken too many penalties with his stick. Dumba also needs get stronger physically to compete at the NHL level. Once Dumba is able to gain confidence in his positioning and assignment/responsibility in his own zone, I believe he will again be empowered to unleash the dynamic ability that has been on display in his YouTube highlight reel.   The decision to assign Dumba to the WHL speaks volumes about how his season has gone both in production and development. The Wild is currently banged up, missing key pieces for extended periods due to injuries. The loss of Jared Spurgeon to a lower-body injury had to weigh heavy in general manager Chuck Fletcher's decision but after the WJHC was completed he made the expected move.
Dumba Assigned To Portland Winter Hawks of Western Hockey League
The Portland team Dumba may finds himself assigned to looks to be on the verge of a deep playoff run at the Memorial Cup. Dumba will be playing significant minutes with other top prospects in a Winter Hawks sweater. It has even been rumored that the Wild brass was pushing the idea of 2013 second round pick Gustav Olofsson to leave Collorado College and join Portland to be paired up with Dumba. Olofsson declined the overtures and has returned to his college squad but it speaks volumes about the current trajectory of each of these Wild defensive prospects.   The year began so hopeful for Dumba as he made the roster out of camp but his development has not gone according to plan this year, making his assignment to the Winterhawks of the WHL so crucial to fixing his play and confidence. Depending on when Dumba's season ends with Portland he could find himself playing a couple games in Iowa but his Wild future in Minnesota will be put on hold until next summer.
My name is Tony Dean, I am from Saint Paul, Minnesota and currently work in Law Enforcement. I have been writing about the Minnesota Wild for nearly four years now. I am also a United States Marine. I can be followed on Twitter @TonyDeanTHW
Please track me down to provide feeback and talk hockey I appreciate every read of my content and welcome your thoughts!