As we approach the start of the 2021-22 season, it's always a great time to start taking a deep look and talk about the up and coming crop of prospects for this season. We've seen a number of prospects make the jump to the NHL last season, like Alexis Lafreniere, and there could very well be a good number of players who potentially find a home with their respective teams. Before we get into the rankings, here are a few notes.
---
Related: THW's Wall-to-Wall Prospect & Draft Coverage
---
What makes a player a prospect varies, but here are the criteria for this list. A player is considered a prospect if he has played less than 25 games in one campaign (regular season and playoffs combined), less than 50 games total in their career, and is 25 years old by Sept.15.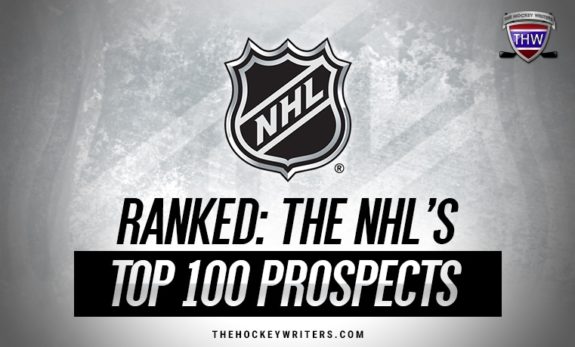 I'm very happy to have members of our draft ranking show Greg Boysen, Andrew Forbes and Matthew Zator to provide the prospect reports. There will be a mid-term ranking, so please stay tuned for when that post drops.
There are no goalies ranked on this list, but you can see the top 10 goalie prospects here. 
While it was fun to work on this ranking, it was difficult, as some names may have been left off this list that could've made their way on. Without further ado, here are the top 100 prospects.
100: Ryan Merkley, San Jose Sharks
The San Jose Sharks have preached patience with their 2018 first-round pick. Ryan Merkley had a huge 2019-20 season with the London Knights, putting up 15 goals and 76 points in 60 OHL games. In his first American Hockey League season, he had a goal and 11 points in 31 games with the San Jose Barracuda.

He will continue to work on his craft in the AHL this season. The 21-year-old defender is a dynamic skater with elite puck skills. He is great on the rush and excels on the power play. Like most young blueliners, he still needs to work on his play in the defensive zone before taking the next step in his career.– Greg Boysen 
99: Logan Brown, Ottawa Senators
What's happened to Logan Brown? Still inside our top 100 prospects, but after going 11th overall in 2016 to the Ottawa Senators, Brown really hasn't found his footing at the NHL level. A big centre, he's played 30 games scattered over four seasons with the big club and has just one goal and nine points to show for it. And while he's had some success at the AHL level, it has yet to translate into offensive numbers in the NHL. There's still time as he's just 23 years old, but if he doesn't land a full-time gig with the Senators soon, don't expect him to make Ottawa a permanent home.– Andrew Forbes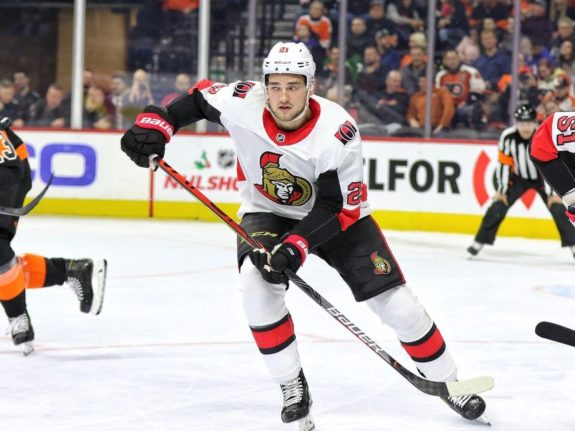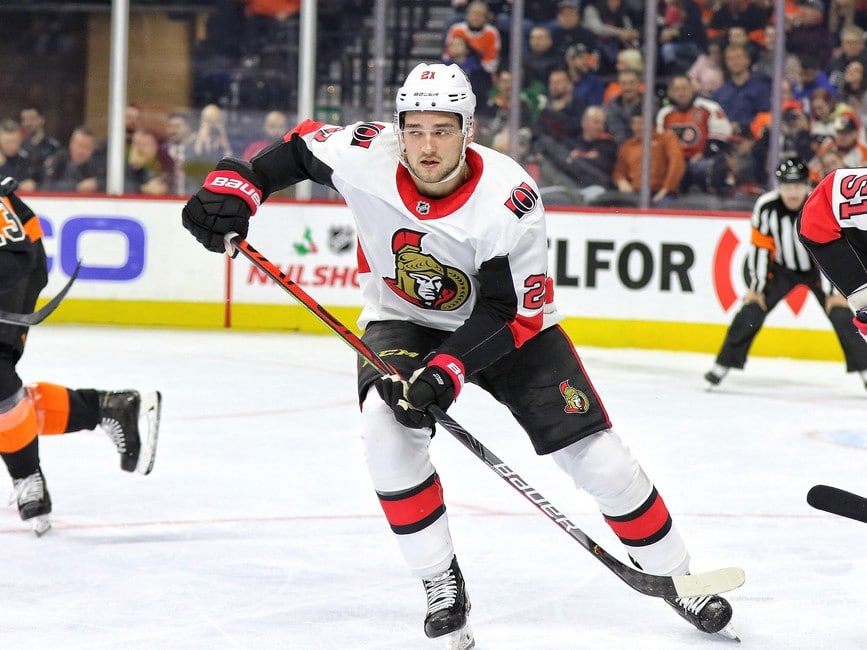 98: Olli Juolevi, Vancouver Canucks
When Olli Juolevi was in the lineup last season, he showed tremendous poise with the puck on his breakouts and seemed to gain significant chemistry with Tyler Myers. In fact, Myers played some of his best hockey with him by his side. Similar to how Chris Tanev settled Keith Ballard's game, Juolevi did the same for Myers. He has all the tools, now he has to put them together consistently. With his ability to transition the puck out of the zone and kill penalties, the Canucks desperately need him to take the next step in his development this season.– Matthew Zator
97: William Wallinder, Detroit Red Wings
A towering defender at 6-foot-4, 190 pounds, William Wallinder was drafted 32ndoverall in 2020. He's an extremely mobile defender and strong puck carrier. He needs to work on his defensive game and round out his strengths but the offensive instincts make him a very good option for the Detroit Red Wings on defense.– Peter Baracchini 
96: Veeti Miettinen, Toronto Maple Leafs
The Toronto Maple Leafs hope they've found a late-round gem with Veeti Miettinen after selecting him 168th overall in 2020. The Finnish-born winger came to the U.S. last season and performed well for St. Cloud State. In 31 games, he scored 11 goals and 24 points. He has a quick and accurate release on his wrist shot and is dangerous on the power play. He is an excellent skater that can change speed and direction with little effort. Miettinen will return to St. Cloud State this season to further his development and build off a nice freshman year.– GB 
95: Bobby Brink, Philadelphia Flyers
While Brink continues to remain unsigned by the Philadelphia Flyers, developing his game at the NCAA level with the University of Denver, the Flyers' second-round pick in 2019 hasn't found the same level of success in the NCAA as he did in the USHL. Still, aside from his skating, he's a prospect that could add depth to the Flyers' lineup at a low cost if and when they get a deal done. That said, don't expect to see Brink in orange, black and white until a few years down the road.– AF 
94: Luke Hughes, New Jersey Devils 
Mark my words, Luke Hughes won't be in the bottom-half of this list come next season. As talented as his older brother Quinn, but with the added benefit of a 6-foot-2, 185-pound frame, he could turn out to be better than both his brothers one day. Slated to join the powerhouse that is the Michigan Wolverines next season, look for him to solidify his status as one of the NHL's most anticipated prospects very soon.– MZ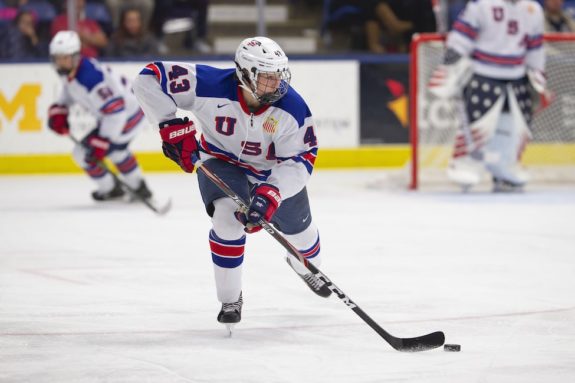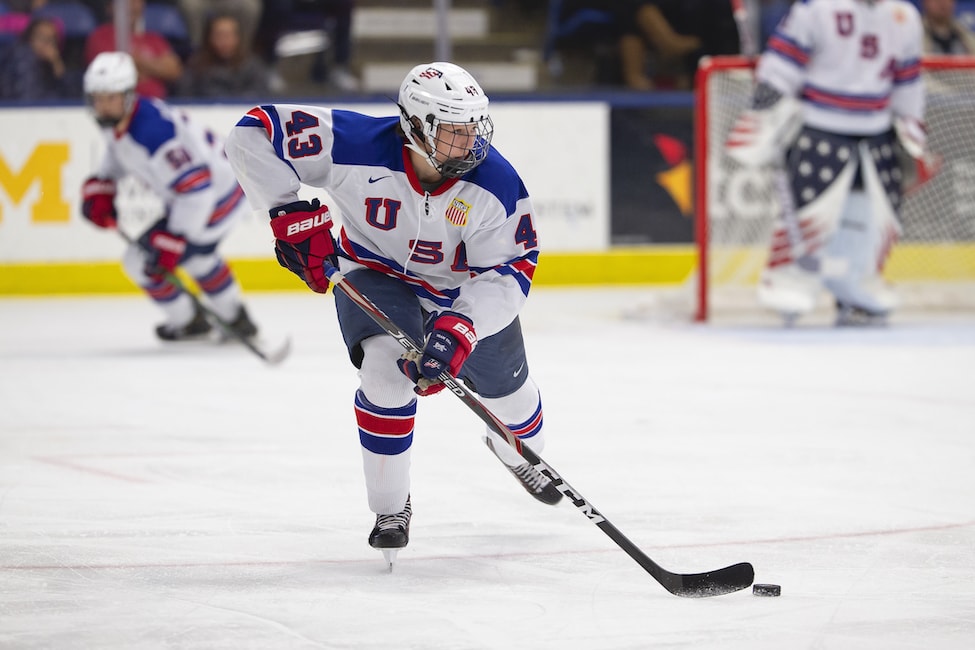 93: Brandt Clarke, Los Angeles Kings
Brandt Clarke boasts some of the best offensive smarts and decision-making with the puck as a defenseman in his draft class. Selected eighth overall pick in 2021, Clarke can take control of a shift or lead a rush chance whenever he's on the ice with his skating and speed. Despite not playing in the Ontario Hockey League, he played well with HC Nove Zamky in Slovakia tallying 15 points in 26 games. He then won a gold medal for Canada at the World U18 Championship recording seven points in seven games.– PB 
92: John Beecher, Boston Bruins
While he may not get the attention that some of his University of Michigan teammates do, John Beecher has become a solid NHL prospect. He has 13 goals and 24 points in 47 games for the Wolverines over the past two seasons. At 6-foot-3 and 209 pounds, he has the large frame NHL teams love to insert into their lineup. He loves to park his big body in front of the goaltender and make life difficult. He is a good skater who is a good passer with a decent shot and is hard to separate from the puck. Beecher may never wow you with a highlight-reel play, but he has all the tools to be a solid NHL forward.– GB 
91: Vasili Ponomarev, Carolina Hurricanes
He's small. But, oh, is he ever quick. His speed might be the key to what makes him such a legitimate two-way centre and that provides him with a lot of opportunity at both ends of the ice. Even lacking size, he's able to win puck battles along the boards and that's what pushed him to average over a point per game in the Quebec Major Junior League last season with the Shawinigan Cataractes. Playmaking is his specialty and with the Carolina Hurricanes due to continue this youth movement under Rod Brind'Amour, Ponomarev could be just the piece they're looking for come 2022-23.– AF
Prospects #90-81
90: Helge Grans, Los Angeles Kings
With Helge Grans, the Los Angeles Kings might already have Clarke's future defensive partner in the system. One of the rare right-side defenseman, his efficient two-way style should be the perfect compliment to Clarke's game. He is also mobile and can play a sound defensive game in every zone on the ice.– MZ
89: Jamieson Rees, Carolina Hurricanes
Jamieson Rees looked really good in his first pro campaign, finishing with 14 points in 29 games with the Chicago Wolves in the AHL. An energetic and reliable centreman, his IQ both offensively and defensively makes him a real threat on both sides of the puck. He's a great playmaker and brings the energy every time he's on the ice.– PB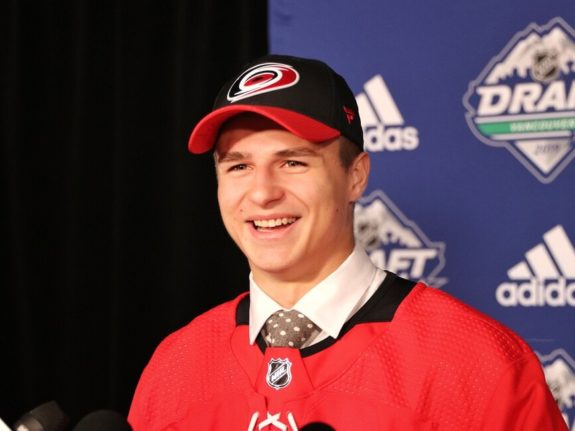 88: Anttoni Honka, Carolina Hurricanes
The Hurricanes drafted Anttoni Honka in the third round (83rd overall) of the 2019 NHL Entry Draft, but they have yet to offer him an entry-level contract. The 20-year-old has spent the last two seasons playing full-time for JYP in Finland's top professional league. In 2020-21, he set career-highs with four goals and 27 assists. He has been called a "boom or bust" prospect by some. His ability to push the puck up the ice and join the rush has never been questioned, but there are concerns about his commitment to playing defense in his own zone. He will spend at least one more season in Finland before trying to make a name for himself in the NHL.– GB 
87: Carter Savoie, Edmonton Oilers
One of the major reasons Carter Savoie is so far down this list is simply that he has had less time to develop his overall game to make it NHL ready. Offensively, he's so deceptive. He can dangle, and create off the boards, but he can make plays and deceive the opposition as good as anyone. He reads the play well and takes the shot when needed, but isn't afraid to dish the puck if a teammate has a clear opportunity. The Edmonton Oilers are a team that will be looking to add some pieces over the next couple of seasons – so you can imagine that they will be looking at what they have in the pipeline. Mind you, that opportunity likely won't come for Savoie until 2022-23 at the earliest.– AF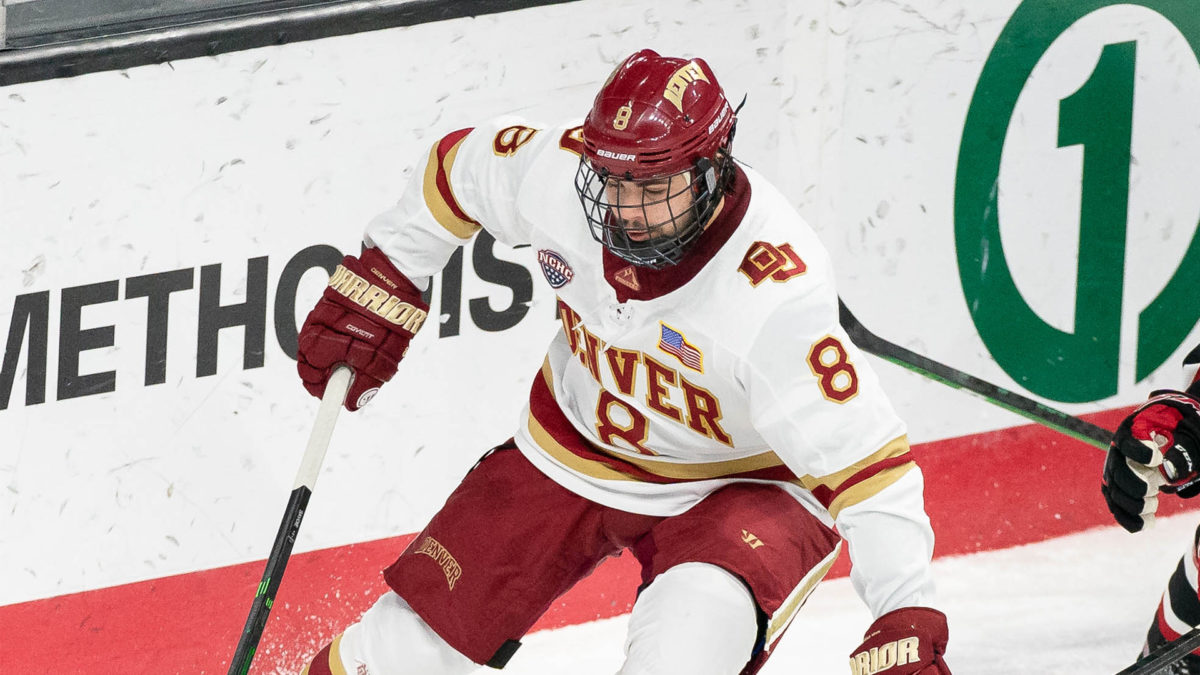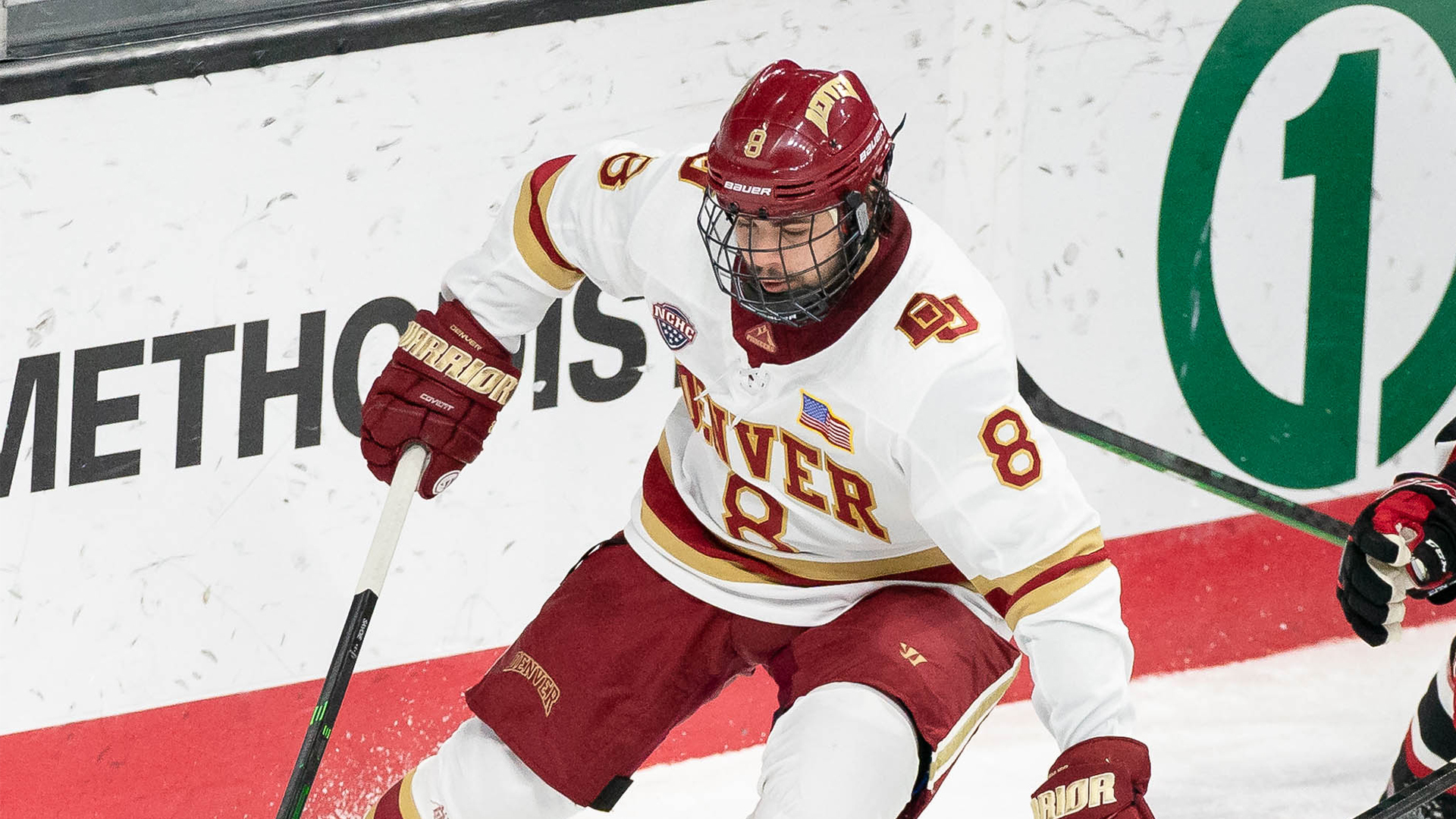 86: Jan Mysak, Montreal Canadiens
Czech forward Jan Mysak was ranked to go in the first round in 2020 by everyone except for TSN's Bob McKenzie. And the Montreal Canadiens got him in the second round at 48thoverall. A tenacious forechecker and transitional threat, he might turn out to be the steal of his draft class. Making his pro debut in the AHL last season and captaining his Czech team during the 2020 WJC, he scored his first two pro goals and ended up playing 22 games overall. With his skillset, I could see him turning into a very effective top-nine option for the Canadiens in the future.– MZ
85: Patrik Puistola, Carolina Hurricanes
Patrik Puistola seemed to have a rough going in the 2020-21 season with JYP finishing with 14 points in 50 games. However, he's still an extremely talented goal scorer. He possesses a very strong shot, quick hands and creativity that the Hurricanes seem to value in terms of their prospects. He was a dominant force for Finland at the 2020 World Junior Championship finishing with eight points in seven games. If he's able to regain his form, look out because he can do some damage.– PB 
84: Akil Thomas, Los Angeles Kings
Akil Thomas is coming off a nice first professional season. The 2018 second-round draft pick scored 11 goals and 26 points in 40 AHL games for the Ontario Reign. He has shown that he can take on a leadership role serving as captain for the Niagara IceDogs during his junior career. Thomas is a speedy skater down the middle of the ice and is aggressive on the forecheck. He has great vision and a nice set of hands to go with it. He has played well in all situations during his young career, including on the power play.– GB 
83: Roni Hirvonen, Toronto Maple Leafs
An underrated pick by the Maple Leafs, Roni Hirvonen is a utility type player that can retrieve the puck in all situations and plays a responsible game in his own end. While he's able to read the play away from the puck, Hirvonen also sees the game well as a playmaker and makes key passes that offers teammates high-danger opportunities. There's a major logjam in the Maple Leafs organization right now, which Hirvonen will likely fall victim to for at least the next couple of seasons.– AF
82: Dylan Guenther, Arizona Coyotes
Recently drafted by the Arizona Coyotes using the pick they acquired in the Oliver Ekman-Larsson deal, Dylan Guenther was quite the prize at ninth overall. A pure sniper in junior and ranked as high as the top-three in some circles, his NHL ceiling is massive. If all goes to plan, he likely will be the Coyotes' top scorer for the next decade. Multiple 30-goal campaigns are not out of the question either.– MZ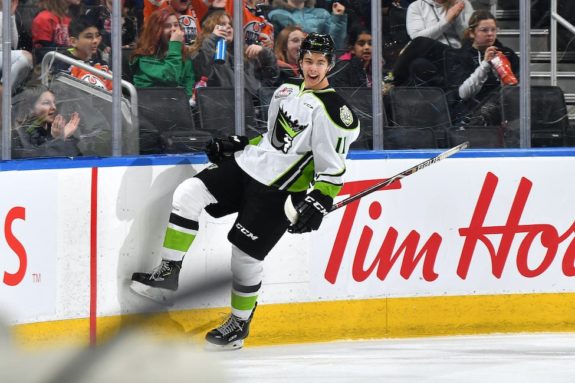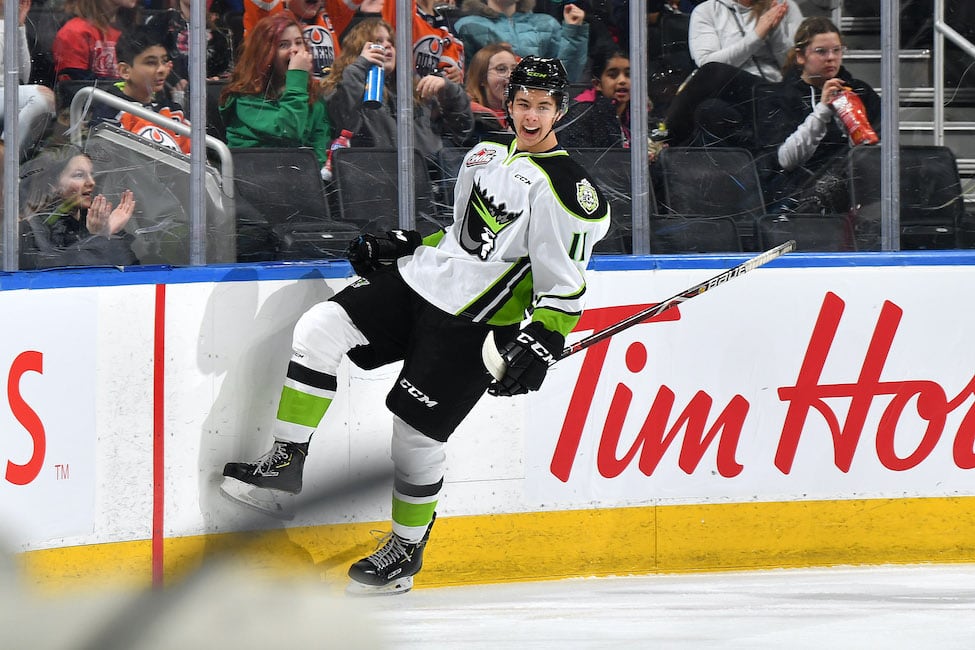 81: Mason McTavish, Anaheim Ducks
I was a little surprised that the Ducks took Mason McTavish with the third overall pick in 2021, but I liked it, as he possesses a lot of NHL ready qualities. He's got great size, physicality, work ethic and a powerful shot. The Ducks are already deep with talent in their system and they have another quality top-six player that could make a major impact down the line. Even though there was no OHL season, McTavish had nine goals and 11 points in 13 games with EHC Olten and was relied on heavily for Canada at the World U18 Championship with 11 points in seven games.– PB
Prospects #80-71
80: Pierre-Olivier Joseph, Pittsburgh Penguins
Pierre-Olivier Joseph has made waves since turning pro in 2019 following a successful junior career in the QMJHL. Originally drafted 23rd overall by the Coyotes in 2017, he was sent to Pittsburgh in part of the Phil Kessel trade. He has 75 games of AHL experience over the past two seasons and had a goal and five points with the Pittsburgh Penguins in 16 NHL games. The 22-year-old's biggest asset is his performance in the transition game. He is a smart defender who makes quick decisions with the puck and has already proven he can handle tough assignments and big minutes in the NHL.– GB 
79: Jan Jenik, Arizona Coyotes
Playing between North America and overseas over the past three seasons, Jan Jenik has shown offensive success at each level he's played at. An underrated offensive threat, Jenik has a high hockey IQ and controls the puck in tight situations. He dominated the OHL with the Hamilton Bulldogs in 2019-20 and spent the majority of 2020-21 with the AHL Tucson Roadrunners where he put up 14 points in 29 games. The Coyotes did call him up for two games at the NHL level and he didn't miss a beat, tallying two goals in those games and showing that he deserves to be recognized as a top NHL prospect.– AF 
78: Noel Gunler, Carolina Hurricanes
Once ranked as high as 18th overall in the 2020 Draft, Noel Gunler surprisingly fell to the second round and landed in the Hurricanes' lap. A steal if there ever was one, he turned it up to eleven during his second season in the Swedish Hockey League (SHL) and finished with a career-high nine goals and 15 points in 39 games. That may not sound like a lot, but that's pretty impressive when you consider he was doing it at 19 years old. The guy just knows how to generate offence. Whether it be with his shot, hands or insane offensive instincts, he will be a top-six threat in the NHL in no time.– MZ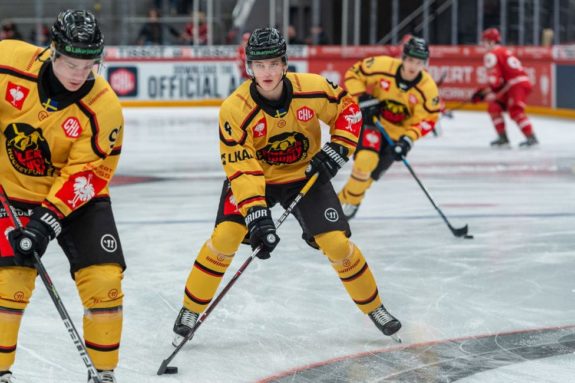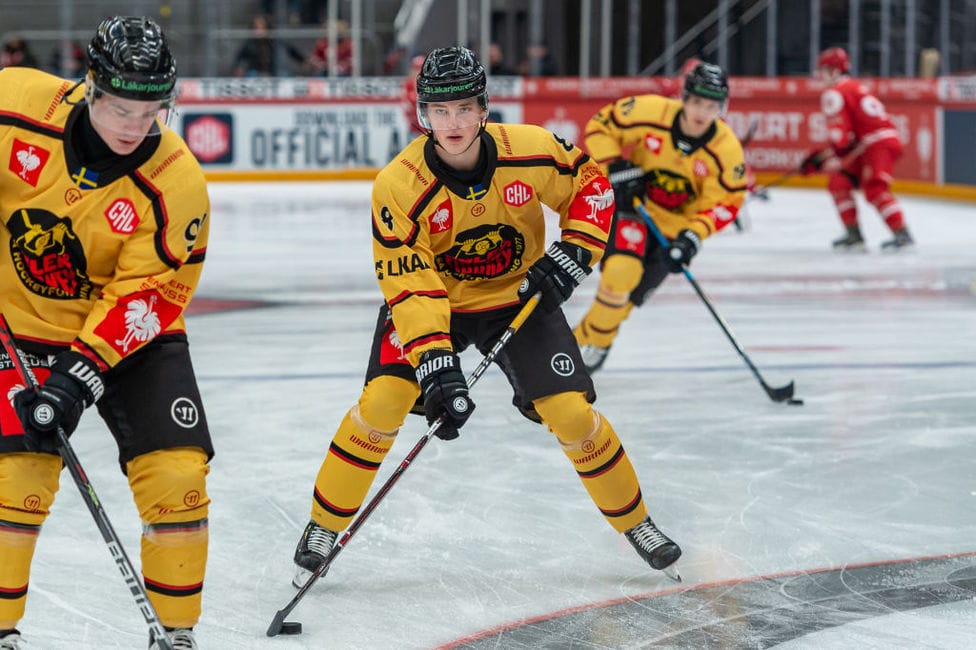 77: Kirill Marchenko, Columbus Blue Jackets
Kirill Marchenko took a major step forward with his development this year with SKA St. Petersburg of the Kontinental Hockey League. He scored 15 goals and finished with 28 points in 41 games, showcasing his powerful shot. He possesses great puck control and strength as he's extremely difficult to knock the puck off of. He's with a growing pipeline and he's a player to keep an eye on in the Columbus Blue Jackets system.– PB 
76: Samuel Fagemo, Los Angeles Kings
Samuel Fagemo flies a bit under the radar with the prospect depth the Kings currently have. However, the Swedish-born forward is coming off an impressive 2020-21 season. After starting the season back home, he made his way to North America for the start of the AHL season. He had 10 goals and 18 points in his 32 games with the Reign. He has an accurate slapshot and quick wrist shot. His biggest problem is that he doesn't shoot as much as he should. Fagemo also has good hands and speed, which makes him a dual-threat on the ice.– GB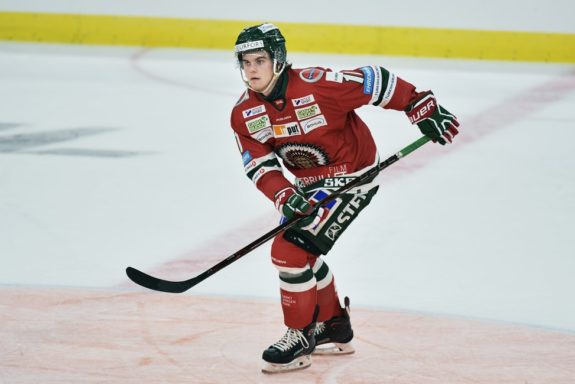 75: Dylan Samberg, Winnipeg Jets 
After three seasons with the University of Minnesota-Duluth – his best season coming in 2019-20 with 21 points in 28 games – Dylan Samberg sits in our top 75 prospects after playing 32 games for the AHL's Manitoba Moose last season. While he'll be hard-pressed to lock down major minutes with the Winnipeg Jets on a regular basis over the next few seasons, his defensive ability might be a solid attribute for the Jets to look to push in their five or six spot at some point in the near future.– AF 
74: Raphael Lavoie, Edmonton Oilers
Ranked in the first round by many pundits going into the 2019 Draft, the Edmonton Oilers are looking like bandits getting him a round later at 38th overall. The 6-foot-4, 198-pound forward has size and an NHL-caliber shot and he's made great strides in his game since being drafted. After a banner season in the HockeyAllsvenskan and AHL where he put up 45 points in 51 games and 10 points in 19 games respectively, he could be ready to challenge for a bottom-six spot with the Oilers this coming season.– MZ 
73: William Eklund, San Jose Sharks
The San Jose Sharks struck gold with William Eklund at seventh overall in the 2021 draft. Out of the prospects in that draft, he probably has the highest ceiling as he plays the game with a high level of pace. He's a 200-foot player with high-end skill and IQ. For a rebuilding team like the Sharks, this is the kind of player you would want as part of the core going forward.– PB 
72: Justin Barron, Colorado Avalanche
The Colorado Avalanche keep cranking out young defensemen, and Barron is another blueliner who should be part of their long-term plans. Taken 25th overall in 2020, the 19-year-old captained the Halifax Mooseheads last season. In 33 games, he put up eight goals and 31 points. He made his professional debut following the QMJHL season with seven games for the Colorado Eagles. He had a goal and four points in his first taste of AHL action. Barron is great at leading the rush up the ice and has an excellent shot from the point. He will spend another season developing with the Eagles before making a serious push to play in Denver.– GB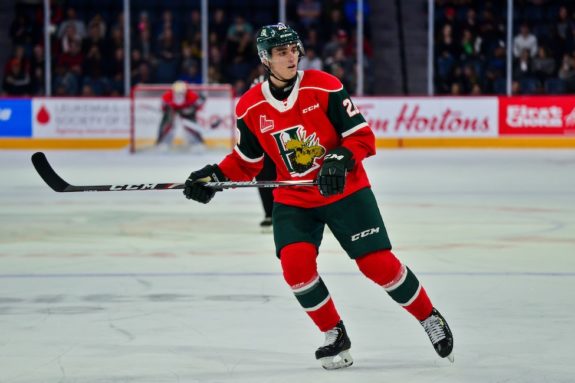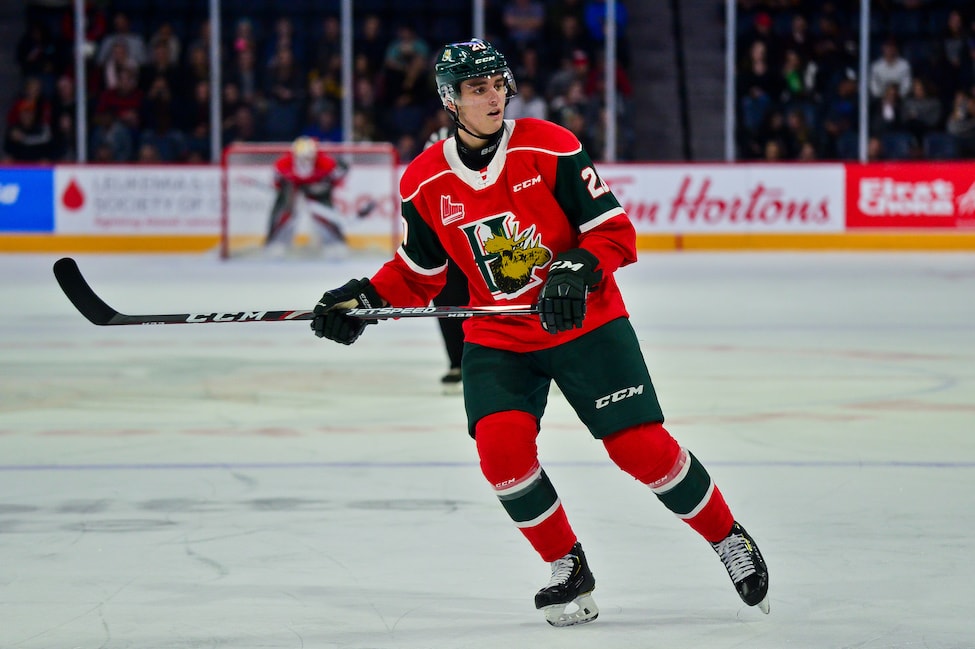 71: Thomas Bordeleau, San Jose Sharks
From the U.S. Development Program to the University of Michigan, Thomas Bordeleau is a pass-first offensive threat. On the smaller side, he plays a perimeter game, but can steer opposing defense off the puck to open up space in the offensive zone. Considering what the Wolverines are setting themselves up for in the 2021-22 season, Bordeleau will spend the season there, but he could crack the Sharks lineup in 2022-23 with some turnover up front.– AF
Prospects #70-61
70. Timothy Liljegren, Toronto Maple Leafs
A 2017 draftee, Timothy Liljegren has been part of the Toronto Maple Leafs' organization for three seasons now, and he has only 13 NHL games on his resume. Apart from the career-high 30 points he recorded during the 2019-20 season, he hasn't been very impressive either. With his mobility and overall two-way game, he might still make it as a bottom-pairing defenceman. Though, that's probably not what Kyle Dubas envisioned when they drafted him 17th overall.– MZ 
69: Samuel Poulin, Pittsburgh Penguins
Probably viewed as the Penguins' top prospect in their system, Samuel Poulin is a very reliable and strong two-way player who is always giving it his all every shift. From his aggressive ability to pursue the puck and playmaking abilities to his active stick and defensive awareness, he's a very dependable player to have.– PB
68: Scott Perunovich, St. Louis Blues
As one of the oldest players on this list at 23, Scott Perunovich is turning pro after a very successful college career. In 115 NCAA games with the University of Minnesota-Duluth, he had 20 goals and 105 points from the back end with a plus-49 rating. He was a key piece of back-to-back National Championship wins in 2018 and 2019. He is undersized at just 5-foot-10 and 174 pounds, but his offensive upside will get him plenty of looks. Perunovich is an elite skater with great vision who makes crisp and accurate passes.– GB 
67: Josh Brook, Montreal Canadiens
Drafted in 2017 by the Montreal Canadiens, Josh Brook is still looking to push the envelope when it comes to his development. In his final year in junior in 2018-19, he finished with 75 points in 59 games, but he hasn't found that offensive output at the AHL level with the Laval Rocket. He is, however, finding stability in their lineup and maturing as a player. That, along with playing alongside Karl Alzner, has helped Brook develop his game at 5v5 and allowed him to become a more structurally sound defenseman. While there's no immediate timeline for a possible taste of the NHL – with Kaiden Guhle the frontrunner for that – Brook should use the opportunity to continue to grow his game with hopes of finding some consistency on both sides of the puck.– AF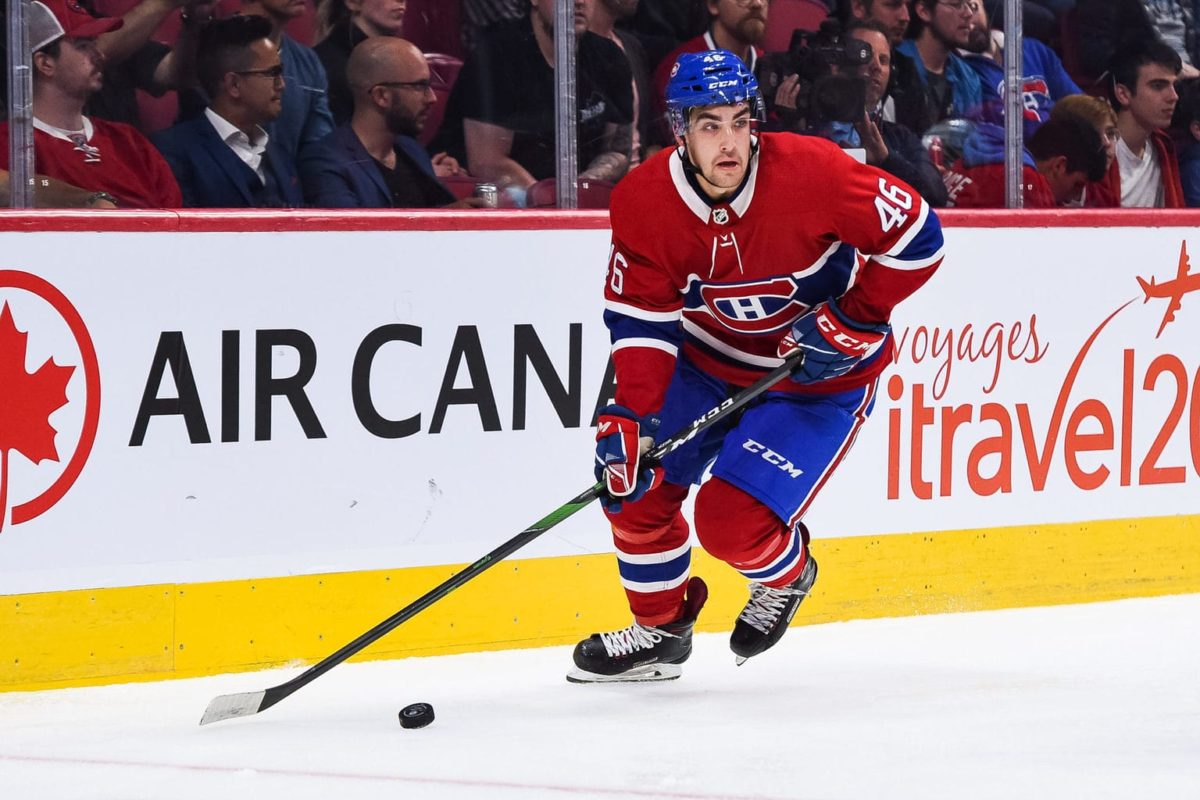 66: Aleksi Heponiemi, Florida Panthers
Aleksi Heponiemi is another 2017 draftee. Also recently making the jump to the NHL, he only played nine games with the Florida Panthers last season. Finishing as a point-a-game player in the AHL with the Syracuse Crunch, he has the skills to become a top-six forward in the NHL. Dynamic and with speed to burn, he will be looked upon to take the next step in his development when training camp gets going in September.– MZ 
65: J.J. Peterka, Buffalo Sabres
The Buffalo Sabres second-round pick from 2020, is constantly engaging and being a force battling for the puck. Even if he comes up on the losing end of a battle, he's right back at it to apply pressure on the puck carrier. He shined at the 2021 World Junior Championship with 10 points in five games along with fellow countryman Tim Stützle. His relentless play style is something the Sabres will benefit from.– PB 
64: Pavel Dorofeyev, Vegas Golden Knights
With the current Vegas Golden Knights salary cap situation, they will need to find some young and cheap talent to contribute in the near future. Pavel Dorofeyev, drafted in the third round (79th overall) of the 2019 NHL Entry Draft, just may fit that bill. He is a creative forward with excellent puckhandling skills and a heck of a release. He played in all three levels of Russian hockey last season with most of the time in the VHL before making his way to the U.S. He had nine goals and 13 points in 24 AHL games with the Henderson Silver Knights. He will likely spend another season in the AHL but could be one of the first players called up once as an injury replacement.– GB 
63: Rasmus Kupari, Los Angeles Kings
A few years removed from his 2018 draft year, Kupari has been playing in North America for the past two seasons and took a step towards the next level in 2020-21. He's seen as an offensive threat every time he touches the puck and that came to fruition more this past year where he put up eight goals and 23 points in 32 games with the Reign of the AHL. He saw seven games of NHL action with the Kings as well with one goal to show for it. While his development has taken a little longer than they first expected, Kupari could see a depth role on the Kings in 2022-23 if he can have another solid season in the AHL in 2021-22.– AF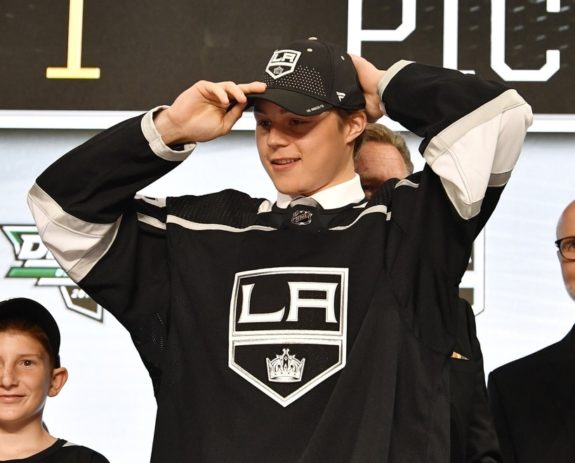 62: Jack Studnicka, Boston Bruins
Jack Studnicka should finally graduate from prospect status by mid-season. One season removed from a breakout campaign that saw him score 23 goals and 49 points with the Providence Bruins, he got his feet wet with the Boston Bruins where he scored his first NHL goal. He wasn't all that noticeable in his appearances, which is a bit concerning considering he is already 22 years old. Hopefully the former Oshawa Generals star can take the next step in 2021-22.– MZ 
61: Nolan Foote, New Jersey Devils
The Foote hockey lineage continues with Nolan, the son of Adam and brother of Cal. Originally drafted by the Tampa Bay Lightning he was acquired by the New Jersey Devils in the Blake Coleman deal. Foote has tremendous size, excellent vision and the ability to drive hard to the net. He's got a wicked shot and his size and strength makes him extremely difficult to contain.– PB 
Prospects #60-51
60: Jacob Bernard-Docker, Ottawa Senators
A member of the Ottawa Senators' pipeline, Jacob Bernard-Docker, will make a push this fall to earn a full-time roster spot at the NHL level. The second of two first-round picks by Ottawa in 2018, the 21-year-old blueliner wrapped up his college career this past season. In 27 games for the University of North Dakota, he had three goals and 18 points to go with a plus-17 rating. When his NCAA season finished, he played five games for the Senators before representing Canada at the World Championships. He and Jake Sanderson played together and North Dakota. If everything goes right in Ottawa; they could be a pairing for a long time.– GB 
59: Yegor Chinakhov, Columbus Blue Jackets
Easily the biggest surprise in the first round of the 2020 NHL Draft, Yegor Chinakhov showed up following his draft year and displayed the offensive capabilities that the Columbus Blue Jackets drafted him for. He finished with 27 goals and 69 points in 56 games with the MHL's Omskie Yastreby in 2019-20 and put up 17 points in 32 games with Avangard Omsk of the KHL in 2020-21. He reads the game well and breaks up plays before they unfold, turning it back the other way. His skating is high-end and he knows when to push the play. With his entry-level contract signed with the Blue Jackets, it's not out of the question that we could see him make the jump to North America in the next year or two.– AF
58: Brock Faber, Los Angeles Kings
As a freshman with the University of Minnesota, Brock Faber finished with as many points as he did with the U.S. National U18 Team during his draft year, only in 19 fewer games. With 12 points in 27 games along with an impressive plus-17 in the plus/minus column, his first season in the NCAA was a rousing success. Continuing to display the attributes that got him selected in the second round by the Kings in 2020, he has the mobility and defensive game to make it as a top-four defenseman one day.– MZ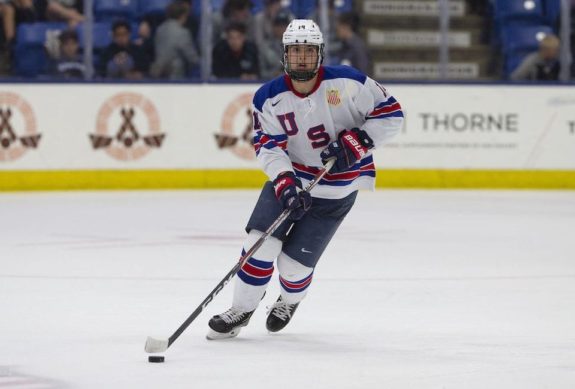 57: Brendan Brisson, Vegas Golden Knights
Brendan Brisson was on a stacked University of Michigan team, finishing fourth in team scoring with 21 points in 24 games. To top it all off, Brisson won gold for Team USA at the 2021 World Junior Championship. He has great smarts and is always thinking about his next move before the opposition. He's a deceptive skater and is very evasive when the puck is on his stick.– PB 
56: Jack Rathbone, Vancouver Canucks
Vancouver Canucks fans got a small taste of Rathbone as he dressed for eight NHL games during the 2020-21 season. He impressed with a goal and three points and did not seem out of place against the speed and skill at the game's highest level. He has the potential to be a future power-play quarterback, and his mobility from the back end is precisely what NHL teams crave. There is little reason why Rathbone won't start this season in Vancouver, and he should be a big part of the defensive corps for years to come.– GB 
55: Tyson Foerster, Philadelphia Flyers
A big-bodied center, Tyson Foerster dominated the OHL in 2019-20 with 80 points in 62 regular season games for the Barrie Colts. Making the jump to the AHL in 2020-21, he scored 10 goals in 24 games and that's from a player that is also known for his playmaking abilities. He has great instincts in his own end and that kind of ability could push him over the top when it comes to the Flyers' depth chart. He's still just 19 years old and while it will likely take a couple more seasons for him to be a full-time Flyer, they've got a significant piece down the middle when it comes to Foerster.– AF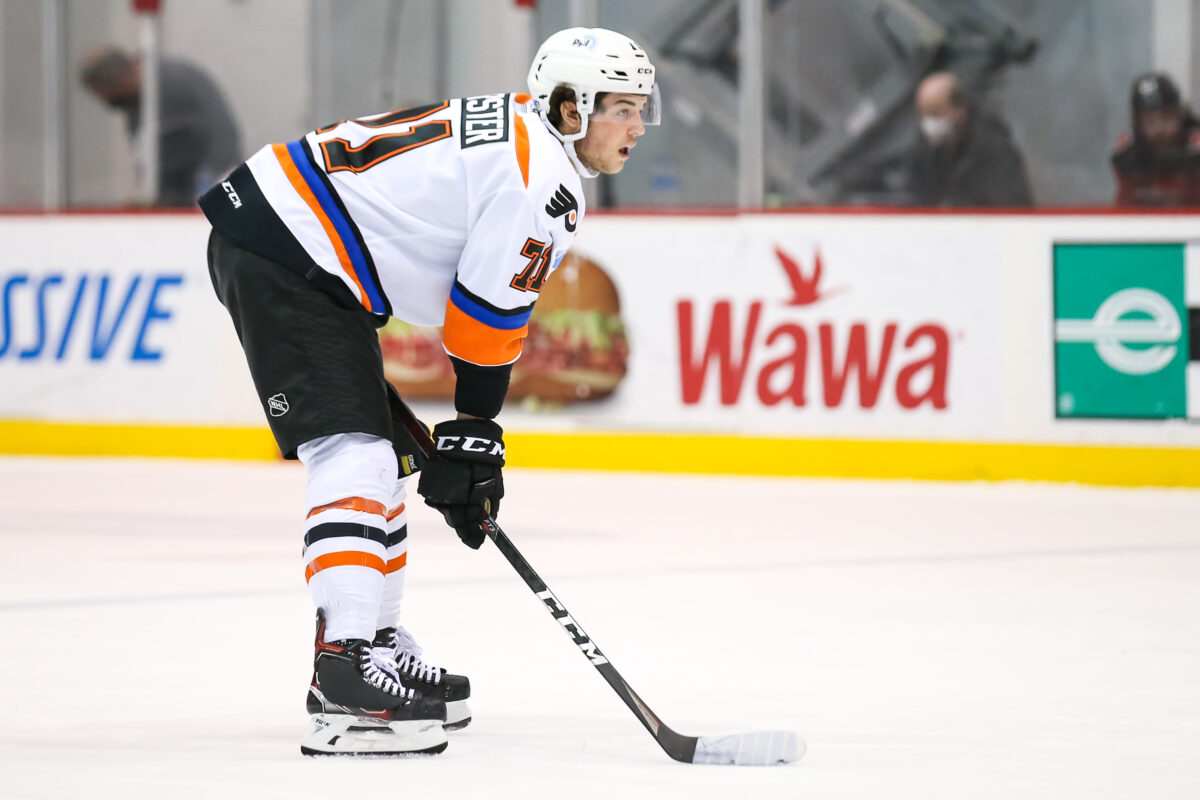 54: Adam Beckman, Minnesota Wild
Another player with a high hockey IQ, Adam Beckman absolutely blew away his competition in the Western Hockey League (WHL) when he put up 107 points in 63 games with the Spokane Chiefs. Following that up with 27 points in 21 games and five points in nine games with the Iowa Wild, he should be bringing his quick release to the NHL as soon as the 2021-22 season.– MZ 
53: Ryan Suzuki, Carolina Hurricanes
The brother of Montreal Canadiens centre Nick, Ryan is a very strong playmaker. He relies on his quick hands and skating to do a lot of damage in the offensive zone. He has great puck skills to make moves in tight areas and has great vision to spot and locate his teammates with clean, crisp passing. Much like his brother, he's deceptive and displays excellent smarts on the ice.– PB
52: Jacob Perreault, Anaheim Ducks
Jacob Perreault has the NHL in his DNA as his father Yanic played over 800 games in the league with six different teams. Jacob is a pure sniper with a hard and accurate shot he uses to score from anywhere on the ice. He excels at receiving passes and getting off a quick shot, even if they aren't in his wheelhouse. He spent the 2021-22 season splitting time between the AHL and the Ducks' taxi squad. In 27 games with the San Diego Gulls, he had three goals and 17 points in 27 games. He is part of a talented group of young prospects but will need more time in the AHL before challenging for a spot in Anaheim.– GB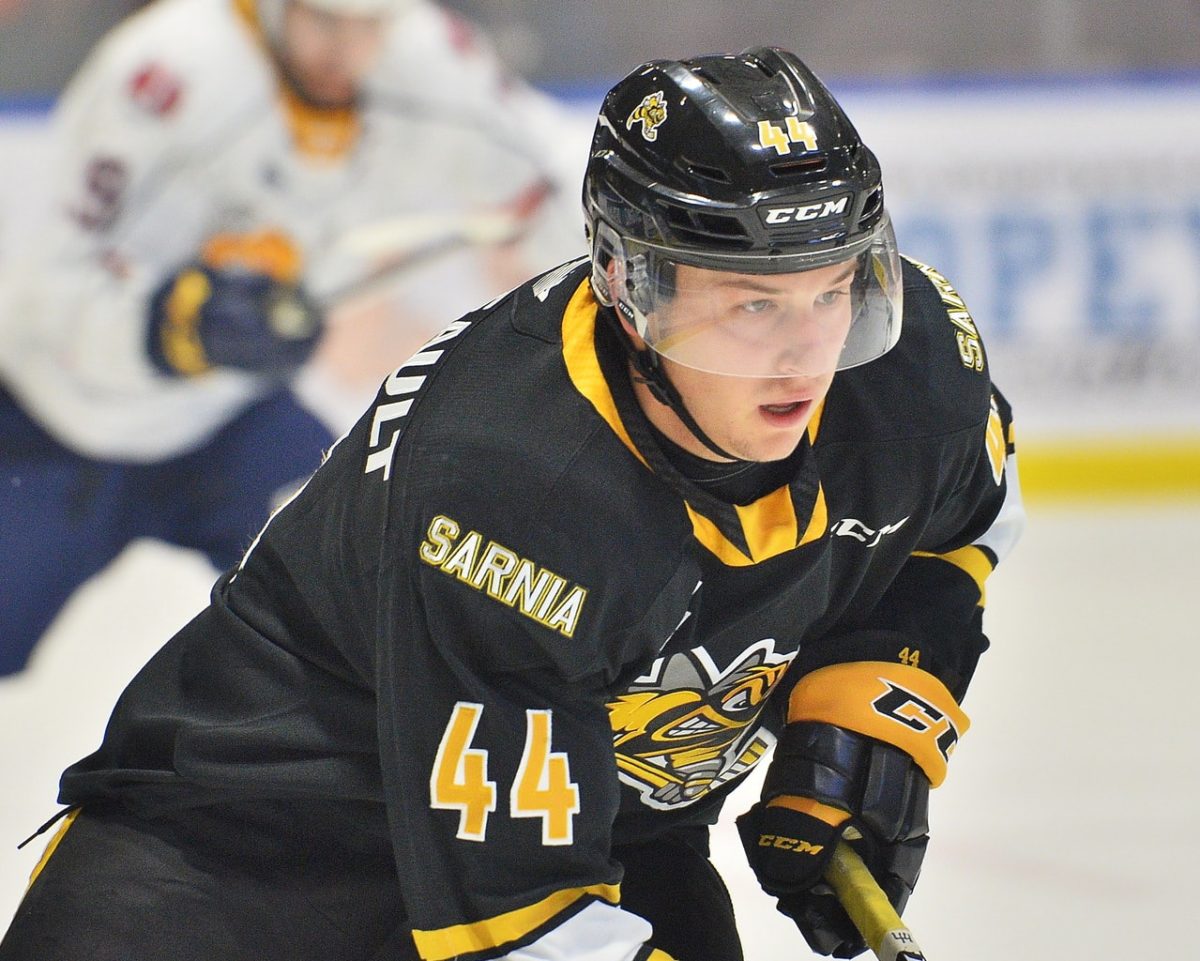 51: Topi Niemela, Toronto Maple Leafs
The Maple Leafs have a backlog of defensive prospects which could ultimately stunt Topi Niemela's movement within the organization for a couple of seasons. That said, the third-round pick in 2020 is making a strong argument to crack the Leafs' roster ahead of some others within the organization. He was named the best defenseman at the 2020-21 World Juniors and, while he still has some holes in his defensive game, he'll be an interesting prospect to watch if the Maple Leafs choose to hold onto him moving forward. However, don't expect to see him at the NHL level until at least 2022-23.– AF
Prospects #50-41
50: Mavrik Bourque, Dallas Stars
In his first season with the "C" stitched to his jersey, Mavrik Bourque continued to dominate the QMJHL with his second-straight season at over a point-a-game pace. He also got a taste of professional hockey with the Texas Stars where he almost hit the point-a-game mark again with five points in six games. Described as an efficient two-way player with speed and hockey IQ, he should develop into a top-nine forward in the future.– MZ 
49: Matthew Boldy, Minnesota Wild
At 6-foot-2, 204 pounds, Matthew Boldy brings great size and strength to his game. He's always delivering the intensity every time he's on the ice. Boldy has excellent vision, either getting into the right spot for a shot on net or displaying great patience to make a play and distribute the puck. Selected 12thoverall in 2019, he's one of many Minnesota Wild prospects to emerge from their farm system.– PB 
48. Alex Formenton, Ottawa Senators
Alex Formenton is a player on the edge of no longer being considered a prospect and should be a big part of the Senators' future. He has five goals and seven points in his 30 games of NHL experience spread out over four seasons. The 21-year-old winger established himself during the 2019-20 season with 27 goals and 53 points in 57 AHL games for the Belleville Senators. He has the speed and skating ability to be a difference-maker at the NHL level. He should get plenty of time to earn a middle-six spot in Ottawa this season.– GB 
47: Jakob Pelletier, Calgary Flames
He plays more physically than his size might lead you to believe, but Jakob Pelletier is an offensive threat with a little mustard in his game. Still, it's his play-making and natural puck- handling skills that make him such an impressive prospect for the Calgary Flames. There is some uncertainty upfront with the Flames and Pelletier could push for a spot in the next two years. Still, it's more realistic to expect him to land in the NHL by 2023-24.– AF
46: Joe Veleno, Detroit Red Wings
Fresh off his first NHL goal with the Red Wings, Joe Veleno will try to push for full-time duty this coming season. Highly touted coming out of the QMJHL's Drummondville Voltigeurs where he finished with 104 points in 59 games, he has yet to blow the socks off anyone in the AHL so far. Having said that, he is still a top prospect for the Winged Wheel. His short NHL stint was marked with solid two-way hockey, so he could be tagged as a middle-six forward going into 2021-22.– MZ  
45: Jonatan Berggren, Detroit Red Wings
With all the hype surrounding Lucas Raymond, and rightfully so, there should be a lot of talk with Joanatan Berggren. Drafted 33rd overall in 2018, Berggren was tied for first on Skellefteå AIK in scoring this past season with 45 points. His game is built on speed, as he's got strong movement and great agility. He's got great vision to spot his options and look for the right time to distribute the puck. He's just one of many prospects that's going to make an impact for the Red Wings for years to come.– PB 
44: Connor Zary, Calgary Flames
Connor Zary split time between the AHL and WHL last season. He had three goals and seven points in his nine games with the Stockton Heat. He then returned to the Kamloops Blazers, where he served as captain. He had six goals and 24 points in just 15 games before suffering a season-ending injury due to a hit to the head. The 19-year-old center's shot is his biggest weapon. His release is deceptively quick, and he can place his shot anywhere he wants. He loves to make things happen around the net and is constantly driving the play.– GB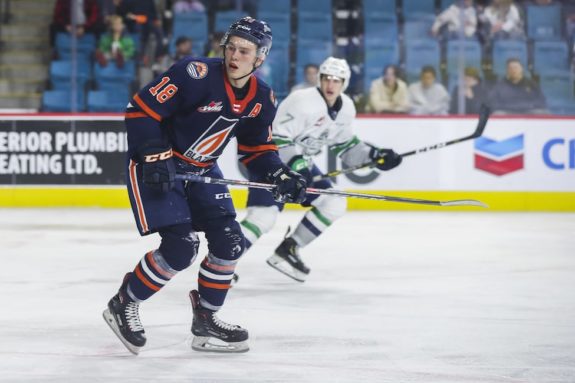 43: Calen Addison, Minnesota Wild
Already moved once, Calen Addison went to the Wild as the major piece in the Jason Zucker deal with the Penguins. Another smaller defensive prospect, Addison sees the ice very well and can move the puck among some of the best in the game right now. In his first full stint in the AHL with the Wild in 2020-21, he had 22 points in 31 games, including 16 assists. He landed with the big club for three games and with the Wild moving on from Ryan Suter, there's a good chance that Addison could find himself in the NHL in 2021-22 in a second or third pairing role.– AF 
42: Hendrix Lapierre, Washington Capitals
Hendrix Lapierre's development path has been a rocky one to say the least. Since 2019, he has only played 40 games and while over a point-a-game in that time, he has not seen a full season in his career yet. He did dominate the QMJHL Playoffs last season tallying five goals and 12 points in nine games, so maybe there's hope for the 19-year-old yet. He is still a fast skater with soft hands, so hopefully injuries are a thing of the past and he can start trending in the right direction as he inches closer to his pro debut with the Hershey Bears. –MZ 
41: Arthur Kaliyev, Los Angeles Kings
A perennial goal scorer in the OHL with the Bulldogs, Arthur Kaliyev possesses offensive strong awareness to get to the open areas for a prime scoring opportunity. His shoot first mentality makes him extremely dangerous. He has a quick wrist shot but its his booming slap shot and one-timer that makes defenders think twice of getting in front of the shot for a block. He didn't look out of place with the Reign of the AHL scoring 14 goals and 31 points in 40 games and even scored in his first game with the Kings.– PB
Prospects #40-31
40: Nils Lundkvist, New York Rangers
The New York Rangers' second pick in the first round of the 2018 NHL Entry Draft is coming off a big season in his native Sweden. He put up 14 goals and 32 points in 52 SHL games for Luleå HF. The left-shot defender is a mobile puck mover. He is very confident when he has the puck on his stick and loves to join the offensive rush. Look for Lundkvist to make his NHL debut at some point during the 2021-22 season.– GB 
39: Kaiden Guhle, Montreal Canadiens
Size, skill and physicality. Those all describe Canadiens' defensive prospect Guhle who has an innate ability to separate opposing players from the puck quickly and with ease before they hit the hashmarks in his defensive end. Add to that his speed and skill and you're talking about an eventual top pairing defenseman. Now, considering what's going on within the Canadiens' organization with Shea Weber, could Guhle get an earlier opportunity than what was first expected? Could he play in 2021-22 with the big club? Don't write it off just yet.– AF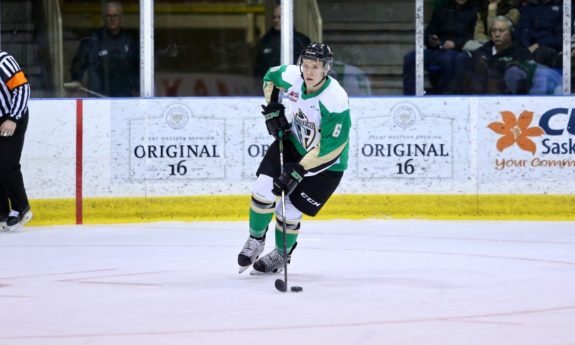 38: Jack Quinn, Buffalo Sabres
Selected eighth overall by the Sabres in the 2020 Draft, Jack Quinn turned pro during the 2020-21 season with the AHL's Rochester Americans. Struggling a bit with the defensive side of the game finishing with a minus-14 in the plus/minus column, he put up a modest two goals and seven points before surgery ended his season. Likely headed back to the OHL, he will look to use this pro experience to improve his overall game this season.– MZ
37: Braden Schneider, New York Rangers
With Adam Fox and K'Andre Miller making a major impact for the New York Rangers, Braden Schneider is another defensive player that makes them deeper on the back end. A mobile, two-way defender, Schneider has a powerful shot from the point and is smart to pick his spots to join the rush. He's got great strength as he's tough go up against in one-on-one situations and isn't afraid to step up and make a big hit.– PB
36: Lukas Riechel, Chicago Blackhawks 
The Chicago Blackhawks have quickly gone from rebuilding to retooling with their offseason moves. Even with bringing in veterans like Marc-Andre Fleury and Seth Jones, they are still looking towards the future and Lukas Riechel is their top-rated prospect. He missed representing Germany at the World Junior Championship due to a positive COVID test, but he still had a nice season in the DEL. In 38 games for Eisbaren Berlin, the 19-year-old forward had 10 goals and 27 points. Reichel is relentless on the forecheck and backcheck, and always gives a high effort. He signed his entry-level contract back in June and will get a chance to make the NHL roster this fall.– GB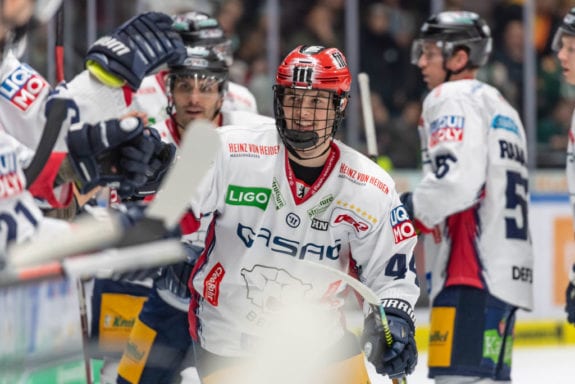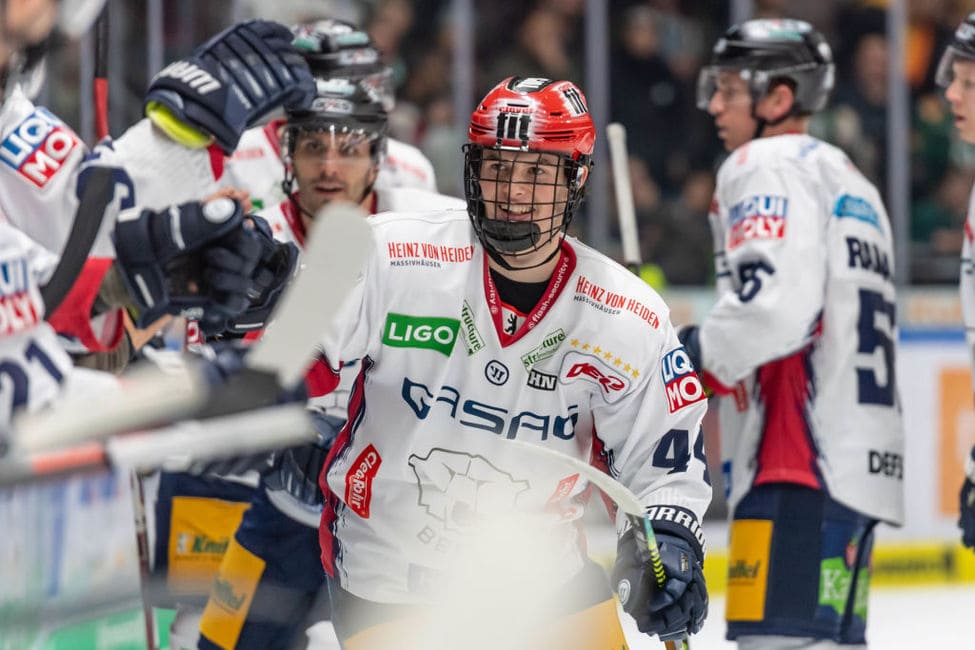 35: Dawson Mercer, New Jersey Devils
The Devils are building a deep pipeline and Dawson Mercer will be a major piece in the coming years. Unlike his OHL counterparts, Mercer was able to get into some action in 2020-21 with his QMJHL Chicoutimi Saguenéens where he put up 19 goals and 36 points in 23 games. He's deceptive with the puck and can break down opposing defenses extremely well. And his shot shouldn't be taken lightly either. Give it another year, but it's safe to say that by 2022-23 Mercer will be suiting up for the Devils.– AF 
34: Vitali Kravtsov, New York Rangers
Vitali Kravtsov made his NHL debut last season. Originally drafted ninth overall by the Rangers, he came over from the KHL's Traktor Chelyabinsk after a career-high 16 goals and 24 points in 49 games. He also averaged 20 minutes of ice time most nights. Playing with the Rangers towards the end of the season, he was able to put up two goals and four points in 20 games. Known for his versatility, size and solid two-way game, he should be a valuable top-nine forward in the NHL for many years to come.– MZ 
33: Evan Bouchard, Edmonton Oilers
Right-handed defensemen are always coveted by NHL teams. Evan Bouchard has been major offensive threat since his days with the London Knights of the OHL. He's got great vision to make strong outlet passes but it's his powerful slap shot and accuracy from the point that makes him dangerous. Give him the time and space to shoot and he'll wire it on net. In 14 games in 2020-21, Bouchard recorded two goals and five points as he continues to make a case for a roster spot.– PB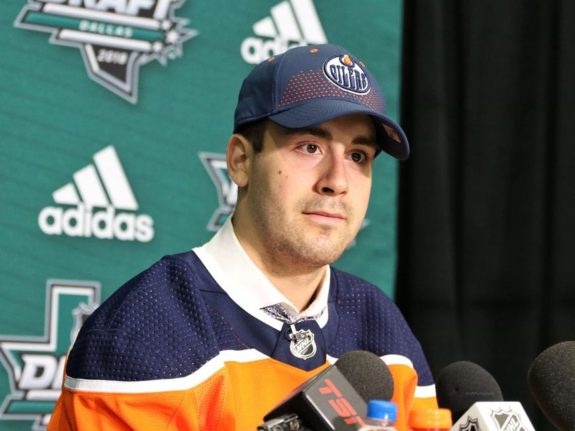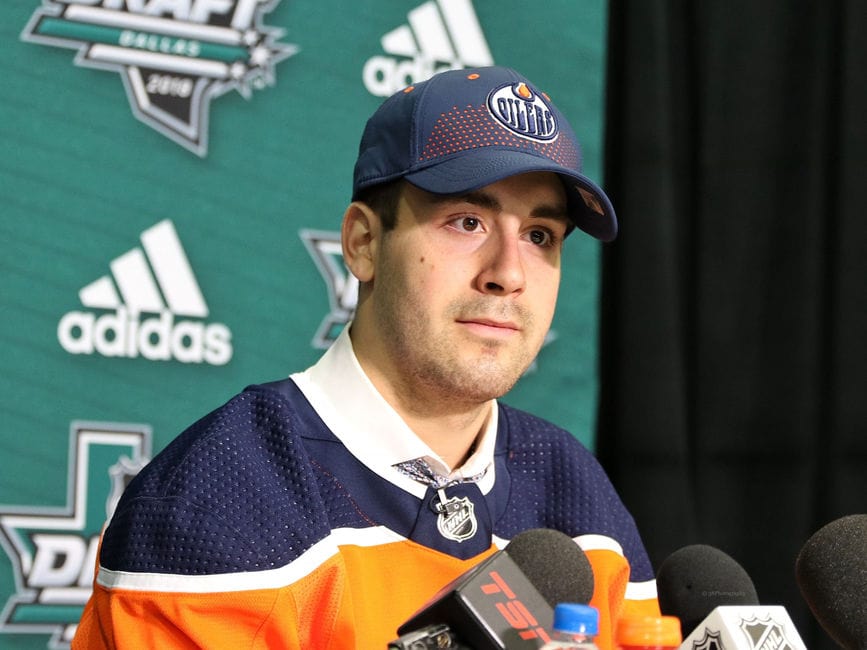 32: Victor Söderström, Arizona Coyotes
After playing 12 games in his native Sweden, Victor Söderström came over for his first trip to North America. He played 32 games for the Tucson Roadrunners, scoring two goals and 10 points and finishing with a minus-16 rating. He also had a goal and two points in four NHL games with the Coyotes. With Ekman-Larsson now with the Canucks, the youngster will have a chance to cement himself in the Arizona lineup. He excels at getting the puck up the ice, whether with a crisp first pass or skating with it himself. Söderström is a smooth skater who plays well in all three zones and is not afraid to be physical when the situation calls for it.– GB 
31: Cam York, Philadelphia Flyers
Another smaller defenseman, Cam York makes up for his lack of size with what he can do on the offensive side of the puck. He had 20 points in 24 NCAA games with the University of Michigan and even made a quick jump the Flyers' NHL squad in 2020-21, but didn't hit the scoresheet. Still, in eight games with the AHL's Lehigh Valley Phantoms, he had two goals and five points and should find a permanent home with the Philadelphia Flyers in the next two seasons as a second or third pairing defenseman until he gets his footing under him.– AF
Prospects #30-21
30: Shane Pinto, Ottawa Senators
Graduating to the NHL after two seasons at the University of North Dakota, Shane Pinto burst onto the scene with an impressive seven points in 12 games, which included his first goal. Known around the prospect world for his hard shot and lethal one-timer, he looked comfortable playing on a line with Tim Stützle and Connor Brown. The trio was, at times, one of the Senators' best combinations. Look for him to graduate from this list when these rankings return mid-season.–MZ 
29: Dylan Holloway, Edmonton Oilers
The Oilers 14th overall pick in 2020, Dylan Holloway always plays with a power forward's mentality. He's extremely quick with his skating and speed and is always active on the forecheck using his 6-foot-1, 203- pound frame to his advantage and get the inside edge in puck battles. He didn't have a strong freshman year with the University of Wisconsin (17 points in 35 games), but he bounced back in his sophomore season 35 points in 23 games this season.– PB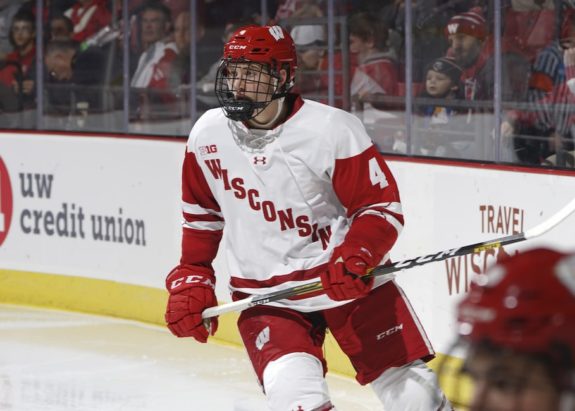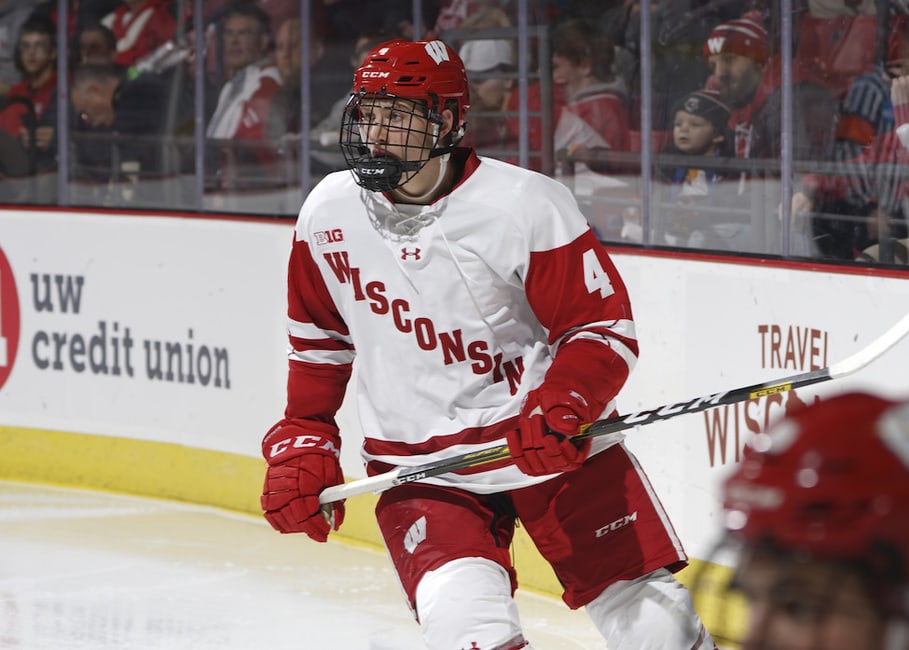 28: Morgan Frost, Philadelphia Flyers
Now that the Flyers have moved on from Nolan Patrick, Morgan Frost gets the pressure of being the "first-line center of the future" in Philadelphia. He got a chance to fill the role when Sean Couturier went down to injury during the second game of the 2020-21 season. However, he was lost for the season with a dislocated shoulder just two games later. Frost is the quintessential play-making center who can both score and set up his teammates. He reads the play quickly in all three zones of the ice and reacts well. This could be a make-or-break season for the 22-year-old center as he looks to live up to the expectations of being a first-round pick.– GB 
27: Philip Broberg, Edmonton Oilers
The Oilers made some moves this offseason to sure up their blue line for now, but they still have their big Swede waiting in the winds in Philip Broberg. Broberg is an incredible skater and manages the puck well – especially in his own end. He might not put up top-end offensive numbers, but you can be sure he's going to be a top-two or three defenseman once he does finally crack the Oilers' lineup. Time will tell when that will be, but with Bouchard in the mix as well, Broberg might have a slightly longer road to the NHL – at maybe another year or two.– AF
26: Grigori Denisenko, Florida Panthers
Finally making his debut in North America after two seasons in the KHL with Lokomotiv Yaroslavl, Grigori Denisenko had a pretty solid professional debut last season. Starting in the AHL with the Crunch, he put up nine points in 15 games and earned a call-up to the Panthers. Once there, he proceeded to put up four points in seven games while showcasing his speed, creativity and playmaking skills in the process. If all goes well, he could be a regular in the top six of a Panthers' team that is poised to make some noise in the Atlantic Division this season.– MZ 
25: Thomas Harley, Dallas Stars
The Dallas Stars have an extremely deep defensive unit in the NHL with Miro Heiskanen and John Klingberg. Thomas Harley is another blueliner to come up in the future and potentially be a key factor for them. Harley's a very smooth skater with great speed and has a great pass first mentality. He still needs to round out his game on the defensive side of things, but when he does he'll be another weapon on the Stars defense.– PB
24: Seth Jarvis, Carolina Hurricanes
Seth Jarvis got to make his pro debut in the AHL while he waited for the delayed WHL season to start. The 19-year-old forward quickly became one of the best players on a stacked Wolves team. He had seven goals and 11 points in nine games before returning to the Portland Winterhawks. In 24 WHL games, he scored 15 goals and 27 points. He is outstanding at performing in tight spaces and doesn't fold under defensive pressure. He is a high-quality shooter and an equally good passer, making him a dual-threat on the ice. It's not a matter of if Jarvis will be a contributor for the Hurricanes, but rather when.– GB 
23: Ville Heinola, Winnipeg Jets
The Jets' first-round pick in 2019, Heinola has seen 13 games at the NHL level so far with a goal and four assists to show for it. While he spent the majority of the 2020-21 season with Lukko of the Liiga and the Manitoba Moose of the AHL, Heinola's offensive capabilities and the lack of security on the Jets' blue line could force the team's hand to get him to the NHL sooner than later. He's creative with the puck and it allows him to be more mobile, and if the Jets don't get him into the lineup full time this season, be sure he'll be there in 2022-23.– AF 
22: Rodion Amirov, Toronto Maple Leafs
Yet another player with a sound two-way game, Rodion Amirov has the tools to become a Selke Award winner in the NHL one day. He already had a dangerous arsenal of offensive weapons at his disposal before he was drafted. Now, with an improved shot, his top-line winger ceiling got a whole lot clearer.– MZ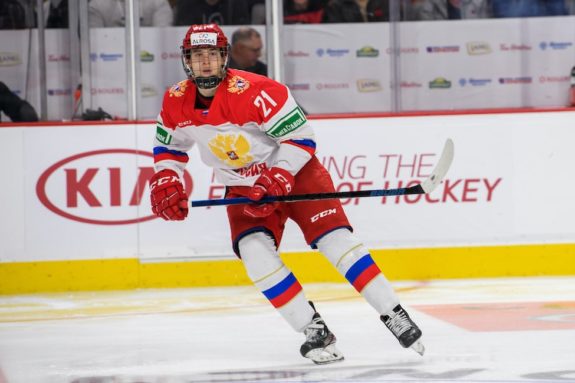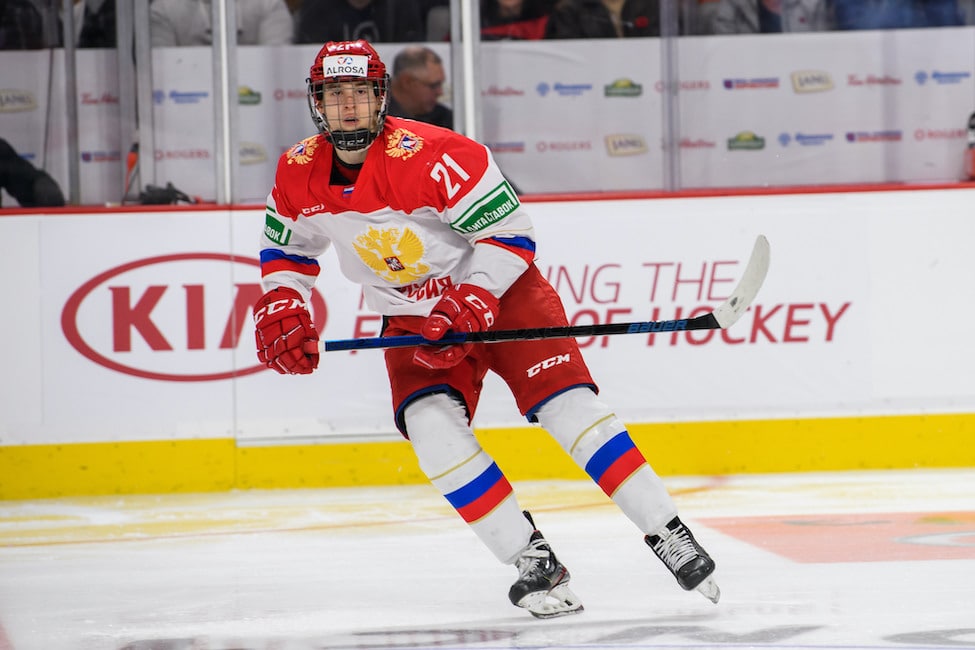 21: Matthew Beniers, Seattle Kraken
The second overall pick in 2021 and Seattle Kraken's top prospect has a lot of qualities that you would want in a top-line centreman. He's got great poise, vision, and skill that allows him to excel in any situation. He proved that he could play at the senior level suiting up for Team USA at the World Hockey Championships. He played extremely well, before sustaining a lower body during the tournament. Heading back to Michigan, he'll look to dominate at the collegiate level.– PB 
Prospects #20-11
20: Nicholas Robertson, Toronto Maple Leafs
There are high expectations for Robertson in Toronto as fans hope he will join Auston Matthews, Mitch Marner, and William Nylander as a member of the team's core. The 19-year-old left winger was another OHL player who was able to play at the pro level last season. He had five goals and 16 points in 21 AHL games for the Toronto Marlies. He had one assist in six appearances with the Maple Leafs. His puck skills make up for his smaller stature, as he is a threat every time he's on the ice. Robertson still needs some seasoning before he can be expected to be an everyday NHL player.– GB 
19: Philip Tomasino, Nashville Predators
Now might be the perfect time to be a prospect in the Predators' organization. There will be ample opportunity and Philip Tomasino is a player who will take full advantage of it. He's a fearless player that is highly-skilled with and without the puck. He's a blue-collar player that adds all of the intangibles while still contributing offensively. With 32 points in 29 regular season games with the AHL Wolves last season, it wouldn't be a surprise to see him crack the Preds' lineup to kick of the 2021-22 campaign.– AF 
18: Marco Rossi, Minnesota Wild
After a health scare that could have cost him his life, Marco Rossi is skating again and feels great. The slippery Austrian almost made his NHL debut this past season, but COVID-19 and a heart condition prevented that from happening. Now that he is healthy, he will be able to resume the pursuit of his childhood dream. Fast, creative and dangerous almost every shift, he should become the Wild's top-line center one day.– MZ 
17. Peyton Krebs, Vegas Golden Knights
Peyton Krebs is a utility knife kind of player as he has a great blend of tools in his game and excels in every aspect. He brings a strong two-way presence as he can skate, shoot, set up plays and be reliable in defensive situations. He continues to get better and is going to be a dependable centreman for the future.– PB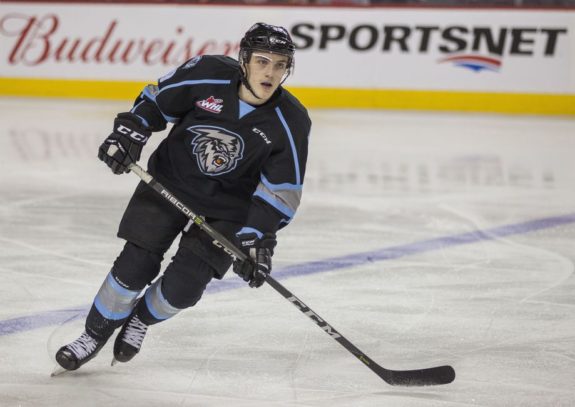 16. Connor McMichael, Washington Capitals
Connor McMichael spent the entire 2020-21 season in the AHL thanks to the OHL season getting canceled. In 33 games for the Hershey Bears, he had 14 goals and 27 points. He is a smart center who reads the game well. He anticipates the play at an elite level, which allows him to get himself into scoring positions before defenders can react. The 2019 first-round pick plays a solid defensive game as well. His active stick allows him to break up plays in the neutral zone, and he reads the game well while in the defensive zone.–GB 
15: Cole Perfetti, Winnipeg Jets
In 2019-20, Cole Perfetti soared past the 100-point plateau, putting up 111 points in 61 games for the Saginaw Spirit. Making the jump to the AHL last season, he still recorded 26 points in 32 regular season games for the Moose and that should translate to the NHL level. To say he's a top 15 prospect, takes into consideration his ability to maintain puck control, create space and open up the game for himself as well as his teammates. There's a reason he had 74 assists in 2019-20 and that's his vision and ability to create openings. Still, don't expect him to be a full-time NHLer right away. He's still likely another year from stepping into the Jets' rotation.– AF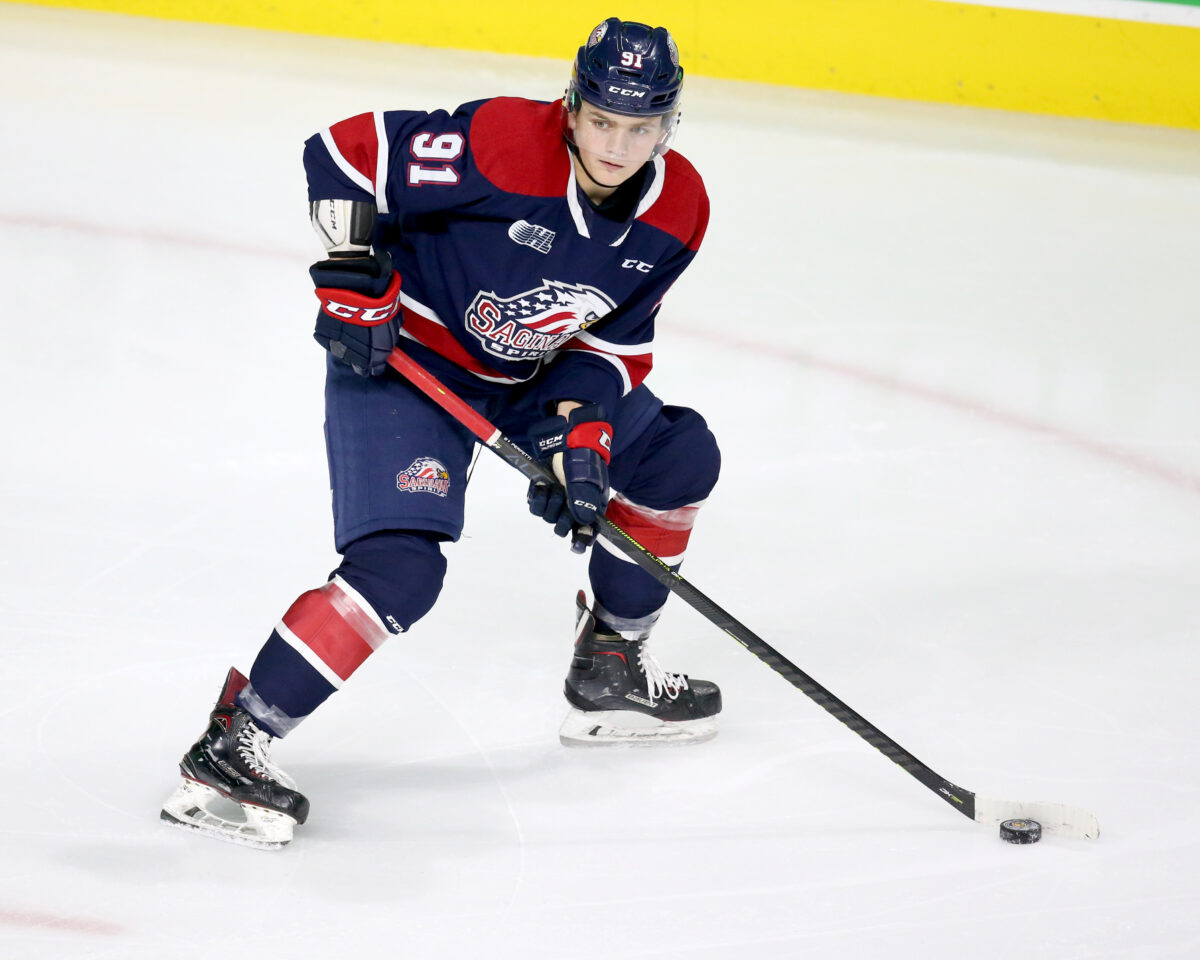 14. Alex Turcotte, Los Angeles Kings
Part of the embarrassment of riches the Kings have going at center ice, Alex Turcotte transitioned perfectly to professional hockey in 2020-21. Spending all of his time in the AHL with the Reign, he recorded six goals and 21 points in 32 games. He also won a gold medal with Team USA at the 2021 WJC where he scored three goals and eight points in seven games. His two-way game, playmaking skills and wicked shot will definitely get him time with the Kings this season as a call-up.– MZ 
13. Vasili Podkolzin, Vancouver Canucks
If there is any prospect that does a good job at bullying his way through the competition, it's Vasili Podkolzin. He plays with such force and intensity every shift and does everything right. He'll look to gain more of an opportunity with the Canucks in his rookie season so that he has a chance to excel. Already deep with talented forwards, Podkolzin would benefit in a third line role and could very well thrive in that spot.– PB 
12: Alex Newhook, Colorado Avalanche​
Alex Newhook is coming off a very busy 2020-21 season that saw him play at Boston College, the World Junior Championship, the AHL, and NHL. He had three assists in his six regular-season games with the Avalanche. He also appeared in eight Stanley Cup Playoff games, scoring a goal and adding an assist. The 20-year-old is an explosive forward who does his best work when the puck on his stick. He has a quick release that makes him dangerous from anywhere on the ice. He showed that he is ready to be an everyday NHL player as he tries to move up Colorado's depth chart.– GB 
11. Jake Sanderson, Ottawa Senators
With NHL pedigree, Sanderson will make the Senators' back end a lot tougher to play against when he cracks that lineup, which won't be far into the future now. He fits everything that you want in a top four defenseman and should push for a top-pairing spot in the next three to five years. He's physical and discipline and, while he's defensively sound, he can create off the rush as well, knowing when to pinch at the offensive blue line.– AF
Prospects #10-1:
10: Owen Power, Buffalo Sabres
Selected first overall by the Sabres at the 2021 NHL Draft, fans will have to wait another season to see Owen Power in action. Electing to return to the Michigan Wolverines for his sophomore season, it might be a while before we see him in the NHL. The 6-foot-5 Mississauga native has everything you want in a top-pairing blueliner. From his size, mobility and impressive hockey IQ to his ability to play in all situations, he will be a handful when it comes time for his debut.– MZ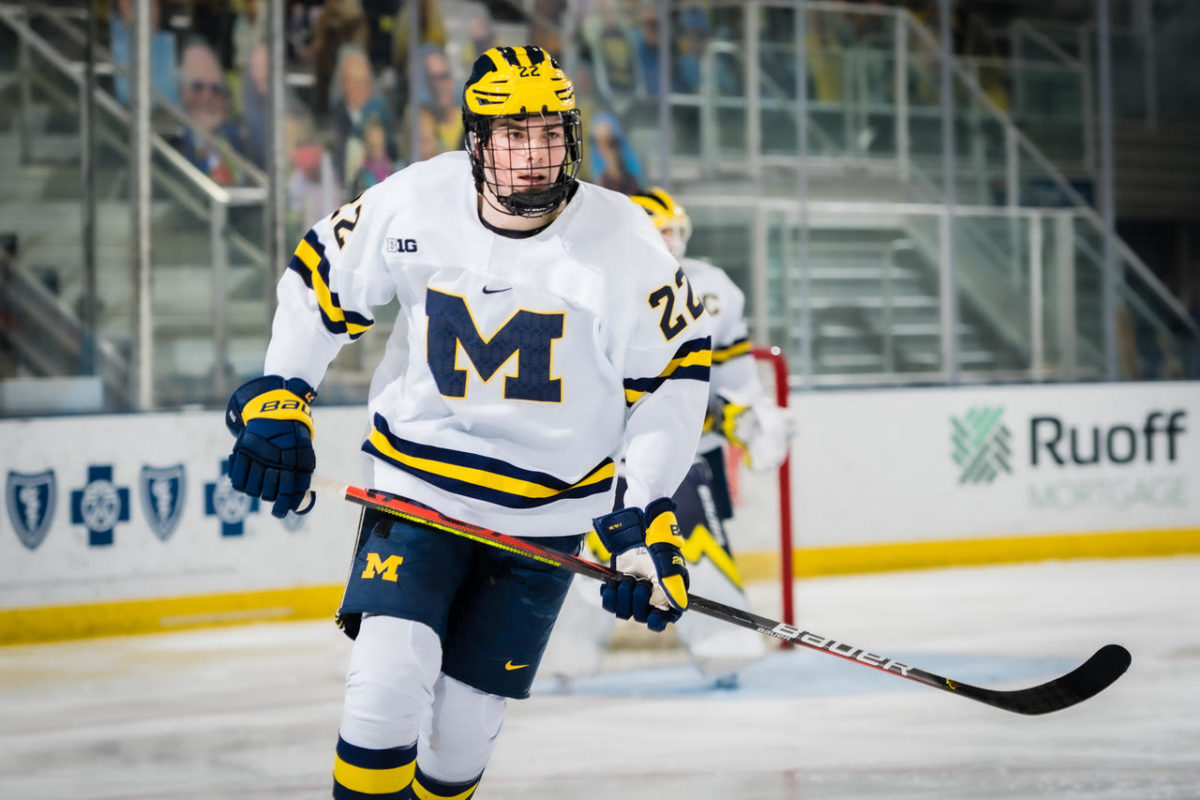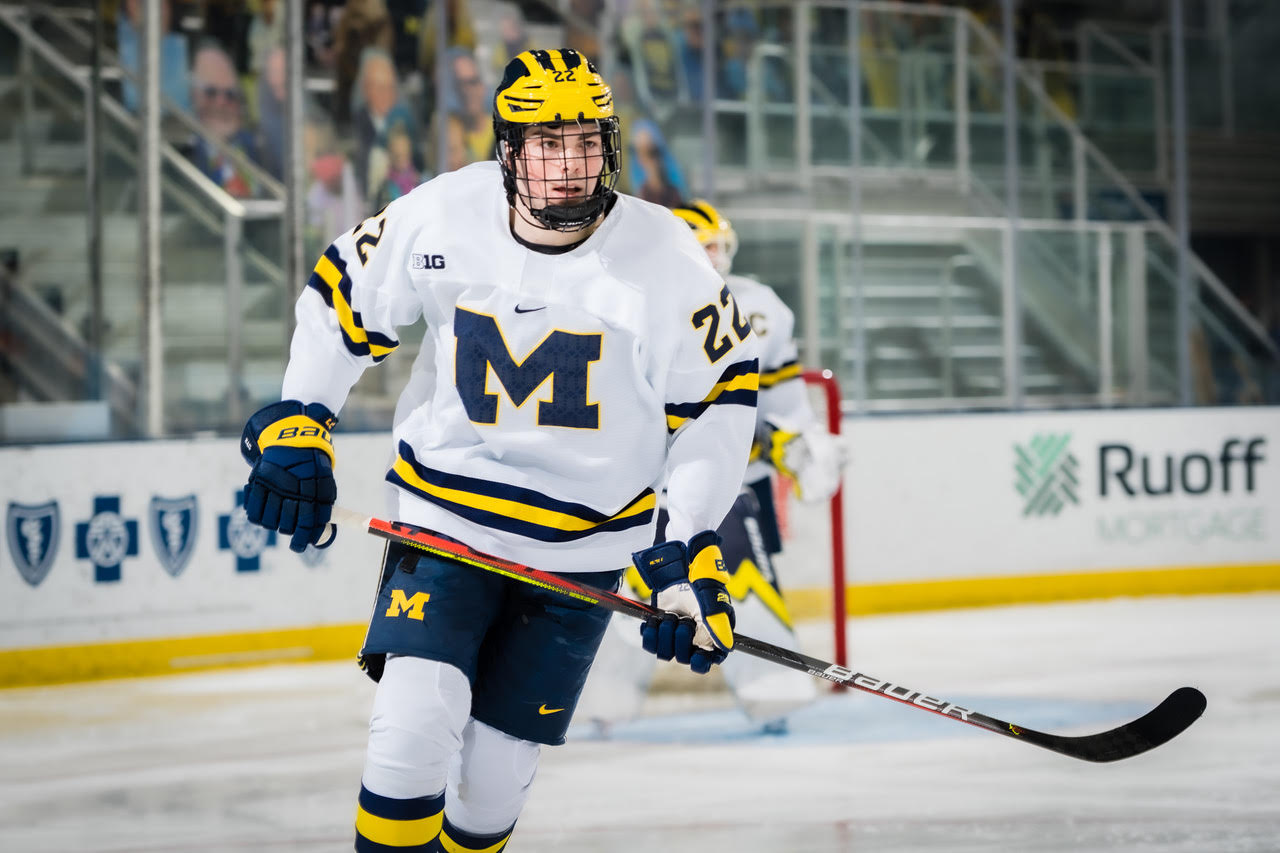 9. Alexander Holtz, New Jersey Devils
An extremely talented sniper, Alexander Holtz possesses a powerful release with great accuracy. He was labeled as having one of the best shots in the 2020 draft class. He's only 19 years old and already got a taste of playing in North America, finishing with three points in 10 games with Binghamton Devils in the AHL. With Jack Hughes continuing to elevate his play, Holtz would be a fantastic finisher on his wing forming a strong top-line duo.– PB 
8: Bowen Byram, Colorado Avalanche
The Colorado Avalanche are already one of the most talented teams in the NHL, and they have some exciting young players still on the way. Defenseman Bowen Byram played 19 games for Colorado last season, putting up two assists and taking 23 penalty minutes. He doesn't shy away from physical play, which led to a pair of significant injuries last season, including a concussion that caused him to miss the final 25 games of the regular season. The 20-year-old is an elite skater, and plays an up-tempo style of hockey. He is defensively sound while being creative in the offensive zone.– GB 
7: Moritz Seider, Detroit Red Wings
The Red Wings are inching closer to finishing off their rebuild and a major piece of that will be Moritz Seider – their first-round pick from 2019. A smart, mobile defencsman, Seider has impeccable vision in the offensive zone. He finished with 28 points in 41 games with Rögle BK of the SHL last season and could be a full-time NHL defenseman in the next year or two. Don't be surprised to see him as a top four defenseman within the next three years in Detroit.– AF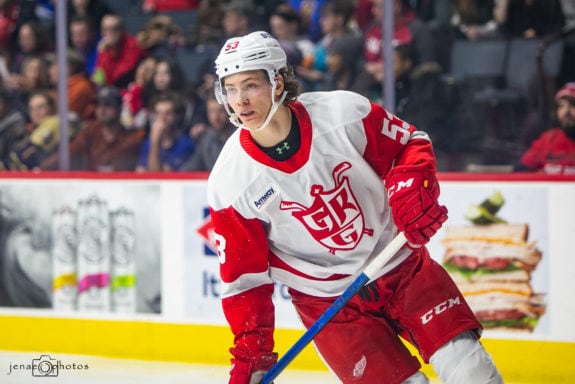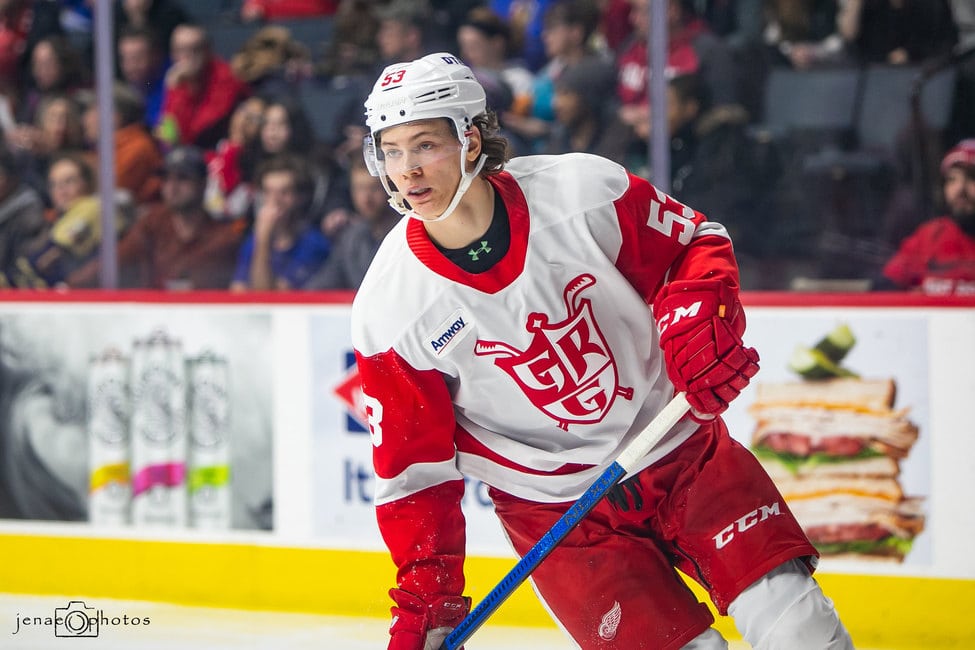 6: Anton Lundell, Florida Panthers
After putting together a monster season in the Liiga that saw him score 16 goals and 25 points in 26 games, Anton Lundell is ready to make his mark on the NHL. Blessed with tremendous speed, smarts and an efficient two-way game, he could play a bottom-six role as soon as the 2021-22 season.– MZ 
5: Jamie Drysdale, Anaheim Ducks
A dynamic puck-moving defenseman, Jamie Drysdale has the speed and awareness that makes him extremely dangerous. He has excellent patience and his decision making with the puck is already at an NHL level. He can quarterback a power play and can be used on the penalty kill. He earned a call up last season playing in 24 games and recording eight points after excelling with the San Diego Gulls in the AHL and he didn't look out of place. He's going to be a main fixture on the Ducks' defense for years to come.– PB 
4. Lucas Raymond, Detroit Red Wings
Raymond is the top prospect in a very deep and talented Red Wings pipeline. He is a dynamic winger with a well-rounded game. He has all the tools to be succeed at the NHL level with great speed, excellent hands and tremendous instincts. The fourth-overall pick in 2020 has a strong two-way game, and can be fearsome on the forecheck. He had six goals and 18 points in 34 games for Frölunda HC in the SHL. The Red Wings signed Raymond to his entry-level contract back in April, and he is expected to get his first taste of North American hockey this season.– GB 
3. Cole Caufield, Montreal Canadiens
If his play to close out the 2020-21 season and playoffs wasn't any indication of why Cole Caufield belongs in the top five NHL prospects, then the fact that he's a favourite for the Calder this season should be. While his size might still be a question mark among some around the game, his pure skill offsets any doubt. At just 20 years old, he ignited the Canadiens' first-round comeback against the Maple Leafs and has a very real chance to lock down the Calder Trophy in 2021-22 after taking home the Hobey Baker Award last season.– AF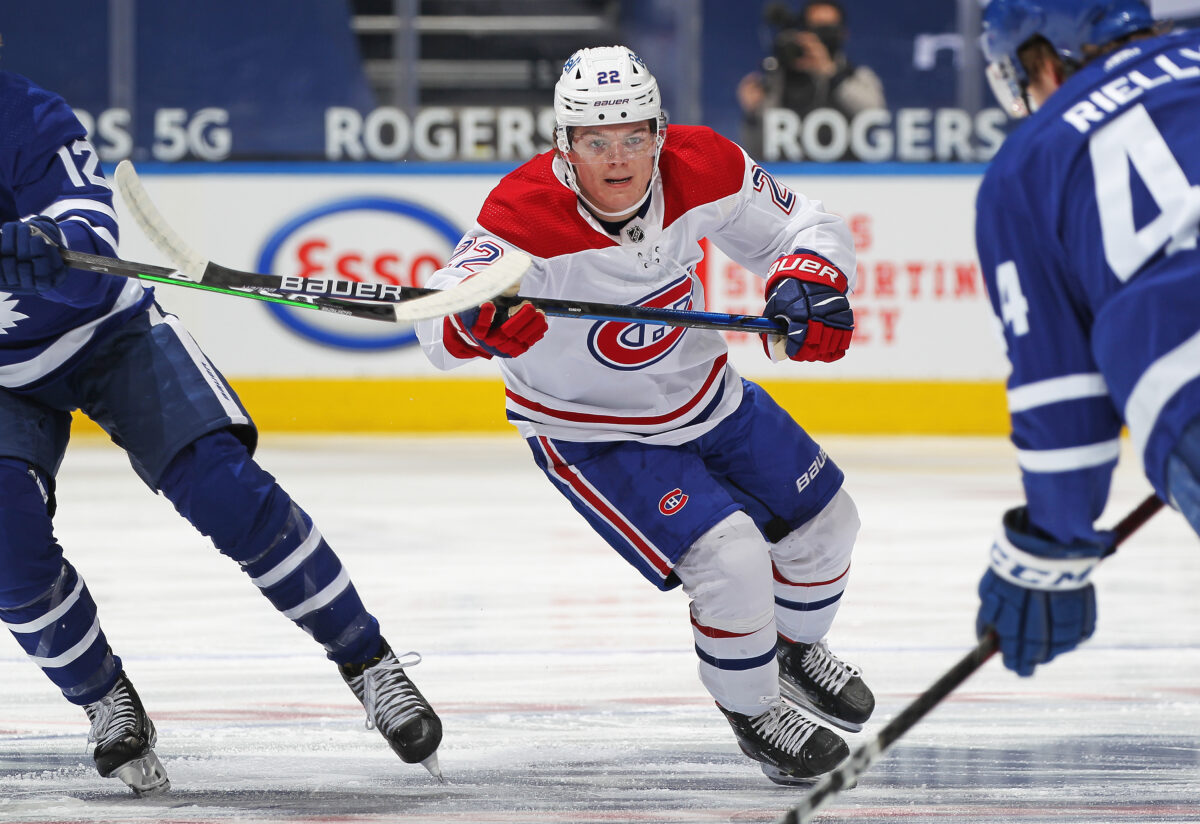 2. Trevor Zegras, Anaheim Ducks
Trevor Zegras took a massive step this past season with the Ducks playing a top-six role and recording three goals and 13 points in 24 games. He showed off his usual elite playmaking skills and soft hands, and drove play to the tune of a 54.1 Corsi-for percentage (CF%). Going into 2021-22, he will be given the chance to fill Ryan Getzlaf's massive shoes on the top line as the veteran takes a smaller role on the team. Given Zegras' elite toolbox, he's more than capable of doing it.– MZ 
1: Quinton Byfield, Los Angeles Kings
The second overall pick in 2020, Quinton Byfield has all the tools that can translate as a number one centre. He's an excellent skater with a quick first step and has no trouble weaving his way through traffic with his sleek puck handling skills. His size allows him to gain an inside edge and matchup against the competition physically. As a result of his strength he'll always come out on top of a puck battle. Byfield looked great with the Reign in the AHL recording 20 points in 32 games. His path to being a franchise centre for the Kings is looking very promising for a team that's looking to finish off it's rebuild and compete again.– PB 
---
Who's too low? Who's too high? Who do you think should have made the list? Leave a comment below!
---
---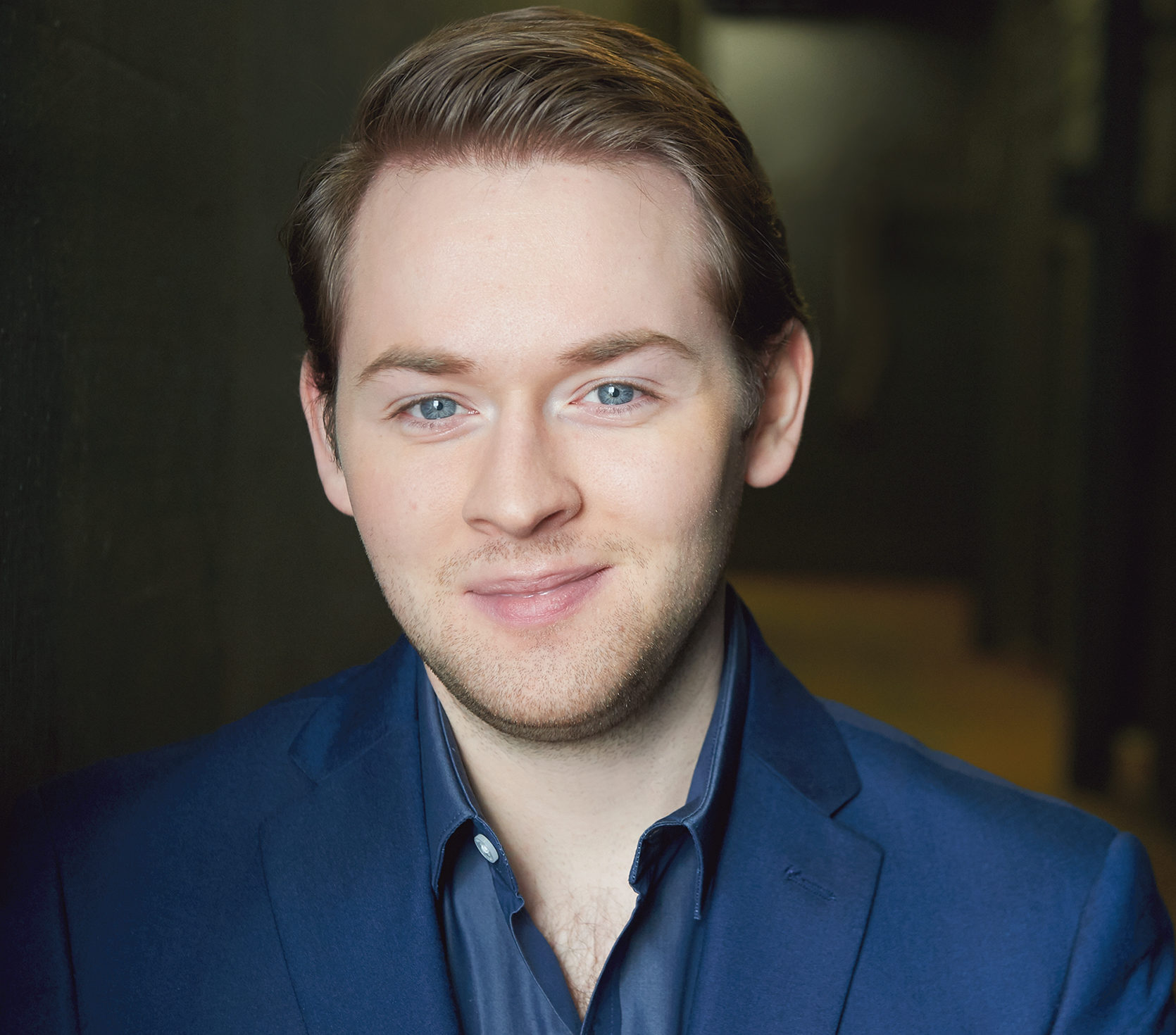 Hockey has been a big part of my life since watching my first Leafs game to currently coaching minor hockey. I previously interned at The Hockey News and worked on Toronto Marlies broadcasts for Rogers TV. Aside from hockey, I also enjoy drumming, animation and impressions/ voices.