As we approach the start of the 2022-23 season, it's time for the top 100 NHL prospects to be released. We've seen Moritz Seider win the Calder Trophy as the top rookie, while other names like Lucas Raymond and Trevor Zegras take a major jump as some top names to keep an eye on for the future. Before we get into the top 100 prospect ranking update, here are a few notes.
---
Related: THW's Wall-to-Wall Prospect & Draft Coverage
---
What makes a player a prospect varies, but for this list, I will follow Corey Pronman's rules as a guide. Here are the criteria for this list: A player is considered a prospect if he has played less than 25 games in one campaign (regular season and playoffs combined), less than 50 games total in their career, and is 25 years old by Sept 15. (From: "Pronman: 2019-20 NHL Farm System Rankings").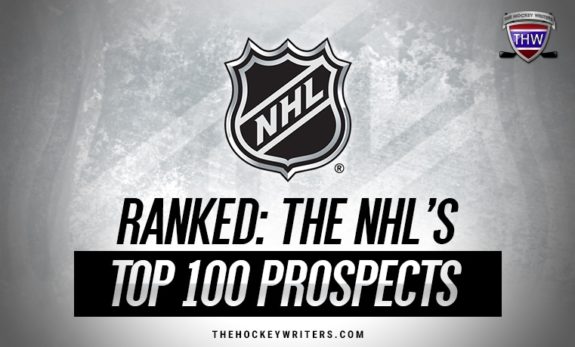 While it was fun to work on this ranking, it was difficult, as some names may have been left off this list that could've made their way on. This list was compiled with the help and input of fellow prospect experts and Prospect Corner line mates Matthew Zator and Devin Little, as they contributed with the reports as well.
While goalies weren't included in this ranking, we have a separate one for that position. The top-10 goalie prospects can be found here.
Without further ado, here are the top 100 prospects.
100. William Wallinder, Detroit Red Wings
A towering defender at 6-foot-4, 190 pounds, William Wallinder was drafted 32nd overall in 2020. He's extremely mobile and has a smooth skating stride and a very strong puck carrier. He needs to work on his defensive game and round out his strengths but the offensive instincts make him a very good option for the Detroit Red Wings on defense. – Peter Baracchini 

99: Connor Zary, Calgary Flames
While Connor Zary didn't have an amazing first season in the American Hockey League, he managed to bounce back from some injury problems that followed him from junior. The former captain of the Kamloops Blazers finished with a decent 13 goals and 25 points in 53 games and if he can stay healthy, should be able to build off that in 2022-23. With a toolbox of skills that will get him a lot of goals in and around the crease, the NHL should be in his future very soon. – Matthew Zator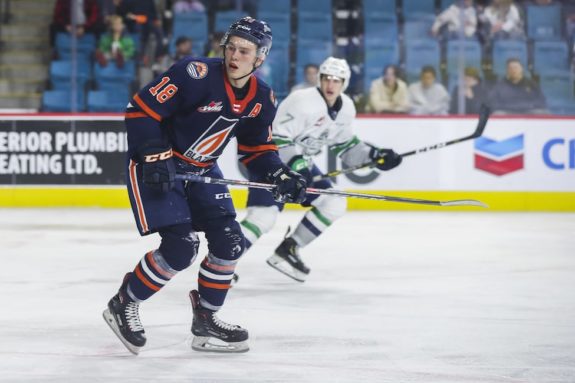 98: Bobby Brink, Philadelphia Flyers
Prior to the news that Bobby Brink had to undergo hip surgery, he was poised to push for an NHL roster spot with the Philadelphia Flyers. Now that he's out until December at the earliest, you have to hope that the 2019 second round pick doesn't lose the momentum he had after recording four points in 10 games with the Flyers late last season. – Devin Little
97: Tristen Robins, San Jose Sharks
Although he dropped from the previous rankings, Tristen Robins is still an exciting and talented prospect. He was an offensive dynamo for the Saskatoon Blades last season, finishing the season with 33 goals and 78 points in 62 games played. He's a crafty and slick puck-handler, while also playing with a great amount of pace. He's able to read moves extremely quick as a result of high-level decision-making. Everything he does with or without the puck is outstanding and the Sharks are going to benefit greatly down the line. – PB 
96: Emil Andrae, Philadelphia Flyers
Continuing our run on defensemen, Emil Andrae gets onto the top-100 list by virtue of his skillful offensive game and intense work ethic. Not to mention that he had a breakout year in the HockeyAllsvenskan where he burst at the seams with nine goals and 33 points in 41 games and 11 points in 10 qualification games that got his team promoted to the SHL. For a team that is in flux on defense, the Flyers seem to have found a good one in Andrae. – MZ
95: Grigori Denisenko, Florida Panthers
As more players join this list, Grigori Denisenko continues to slip further down the order. He's a player whose game is centered around speed and skill, but it hasn't quite translated since the Russian forward arrived in North America. The 15th pick of the 2018 draft is the type of player the Florida Panthers need to take a step; whether or not he can take that step is unclear. – DL
94: Corson Ceulemans, Columbus Blue Jackets
The Columbus Blue Jacket's third first-round pick in 2021, Ceulemans, is a highly mobile defender. He displays a smooth stride, great speed, leading the rush and is strong in breakout situations. He's got great hands to make plays and a powerful shot from the point to get shots on net. He's got great size to keep attackers to the outside and is always engaging in a battle for the puck. The potential remains as he had a decent freshman season with the University of Wisconsin with 22 points in 34 games, but he's still raw overall. – PB
93: Luke Prokop, Nashville Predators
Another sizeable defensive prospect at 6-foot-4, 216 pounds, Luke Prokop is definitely ready to compete in the NHL, especially with that frame. Surprisingly mobile for his size, he had a monster season in his final year in the Western Hockey League. Starting with the Calgary Hitmen, a team he had been with for parts of four seasons, he was traded to the powerhouse Edmonton Oil Kings only three games into 2021-22. Once there, he went on an insane run that saw him score 10 goals and 33 points in 55 games and another 16 points in the playoffs, which ended in a WHL Championship. Suffice it to say, the Predators seem to have yet another up and coming star on defense that already boasts a history that includes Weber, Seth Jones, Ryan Suter, Dan Hamhuis, and Ryan Ellis, among a host of others. – MZ
92: Jan Mysak, Montreal Canadiens
Jan Mysak has always been well-regarded for his two-way game and his ability to make an impact in almost every situation for his team. During the 2021-22 season, he was a star for the Hamilton Bulldogs of the Ontario Hockey League, recording 64 points through 61 games. A 2020 second-round pick, has the potential to be a stand-out this season with the Laval Rocket of the AHL. – DL
91: Elmer Söderblom, Detroit Red Wings
One of the biggest surprises to come out of the Red Wings' pipeline, Söderblom possesses mobility and skill for his size. The 6-foot-8, 249-pound winger made the jump from the Nationell to the SHL in 2020-21 where he had five points in 28 games for Frölunda HC. His production shot up in 2021-22 where he finished with 21 goals and 33 points in 52 games, earning him an entry-level contract in the process. He has soft hands to make moves in tight spaces and has the ability to power through opponents with his size and strength. He's definitely going to continue to turn heads as he continues with his development. – PB 
Prospects #90-81
90: Samuel Poulin, Pittsburgh Penguins
Arguably the only blue chip prospect the Penguins have in their system, Samuel Poulin had a decent rookie season with the Wilkes-Barre/Scranton Penguins in the AHL where he recorded 16 goals and 37 points in 72 games. The former Sherbrooke Phoenix star has all the tools to become an effective power forward in the NHL, he just needs to continue to work on his skating to hit that rather high ceiling that many prospects have tried and failed to in the past. – MZ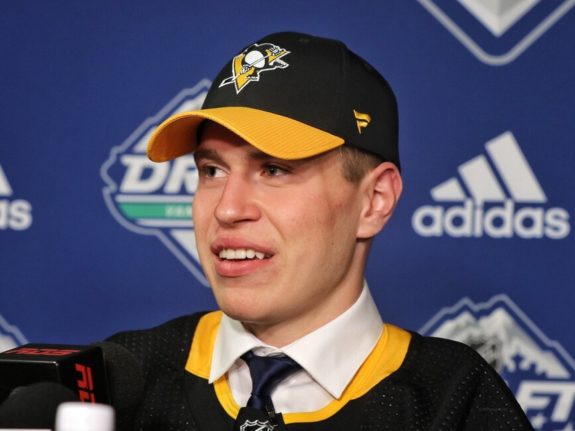 89: William Dufour, New York Islanders
After leading the Saint John Sea Dogs in scoring during their run to a Memorial Cup championship, William Dufour has firmly placed himself on the map. A fifth-round pick in the 2020 draft by the New York Islanders, he can dish the puck just as well as he can bury it, and his ability to elevate his game during the Memorial Cup tournament cannot be understated. He's still a year or two away, but Islanders fans should be very excited about what he could become. – DL
88: Jacob Perrault, Anaheim Ducks
Even though the Ducks system is being filled with high-end talent, Jacob Perreault remains a name that can be a difference maker for them in the future. A quick skating, sharp shooter, Perreault has great power and accuracy in his shot. While that remains his bread and butter, he's great at distributing the puck and setting up his teammates effectively. After registering 17 points in 27 games in his first pro season in the AHL with the San Diego Gulls, he upped his production to 37 points in 55 games, but there were some inconsistencies in his game throughout the season. – PB
87: Jack Thompson, Tampa Bay Lightning
The Lightning seem to always get lucky with their late-round draft picks. If all goes well when he turns pro in 2022-23, Jack Thompson could turn out to be another winning lottery ticket. While his defensive game is still a work in progress, he is starting to show signs of becoming a good two-way defenceman as he brilliantly bounced back from the COVID-19 year with an insane 21 goals and 57 points in 65 games split between the Sudbury Wolves and Soo Greyhounds. He also put up 14 points in the playoffs as his team got eliminated in the second round. Like most defensemen on this list, his skating is one of his strengths and will be one of the primary reasons why he makes it to the show one day. – MZ
86: Theodor Niederbach, Detroit Red Wings
The 2020 second-round pick has continued his steady development over in the SHL. Theodor Nedierbach has established himself as a bit of a jack of all trades who has solid fundamentals and sneaky-good offensive skill. He needs to have something of a breakout campaign in the SHL this season in order to comfortably project him as a middle-six player in the NHL. – DL
85: Josh Doan, Arizona Coyotes
Selected 37th overall by the Coyotes in 2021, Josh Doan had a fantastic freshman season at Arizona State University. The son of former NHLer Shane, Josh finished last season a point per game player with 37 points in 35 games. He's extremely versatile offensively possessing great playmaking vision, but also isn't afraid to shoot. He's aggressive on the attack and never backs down from a battle along the boards or in the corner. He's going to be a big piece of the Coyotes' future. – PB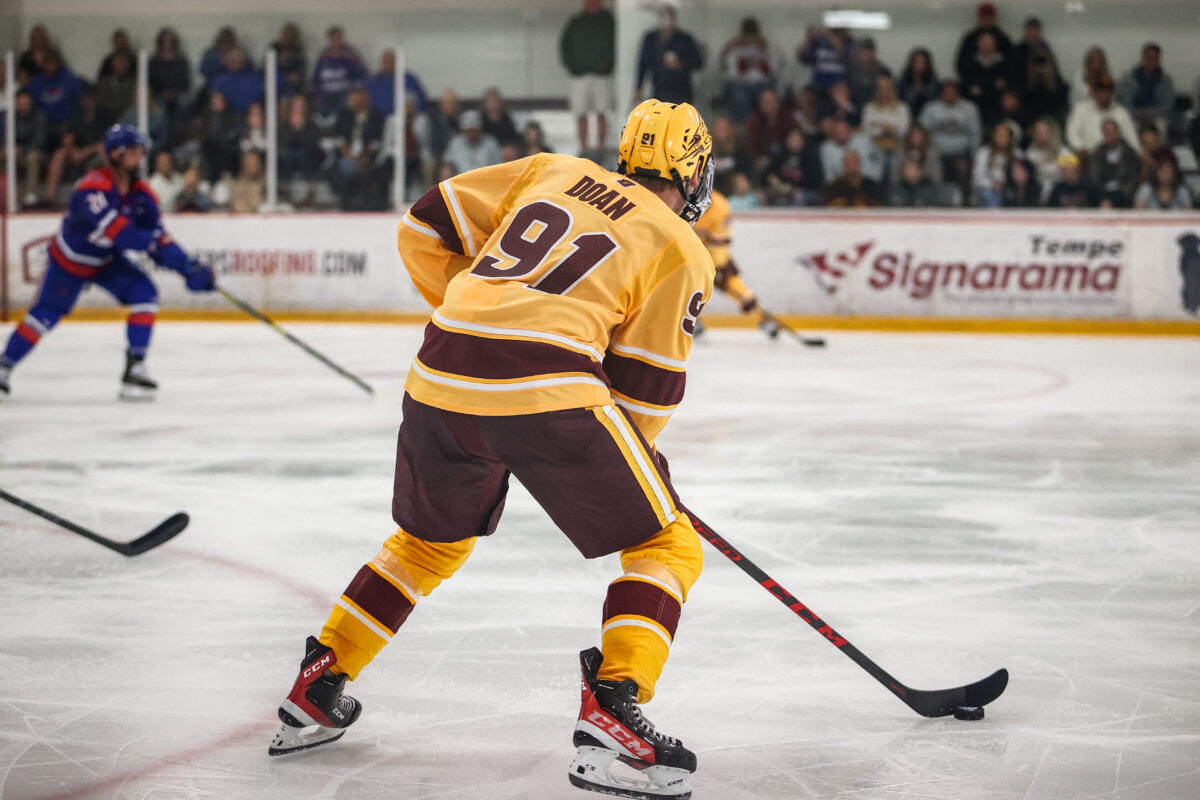 84: Arseni Gritsyuk, New Jersey Devils
Not many fifth-round picks find themselves on top-100 prospect lists, but Arseni Gritsyuk is not just any fifth-round pick. After posting only one goal and two points in 12 games in 2020-21 with Avangard Omsk in the Kontinental Hockey League (KHL), he broke out to the tune of 16 goals and 28 points in 39 games last season. A draft pick of the New Jersey Devils back in 2019, his play in 2021-22 made everyone take notice of his game. He was a consistent presence on Team Russia during the 2021 World Juniors and has now become a prospect to be reckoned with. Blessed with speed and a knack for getting under the skin of his opponents, it will be interesting to see if his game can transfer over to the NHL one day. – MZ 
83: Matthew Samoskevich, Florida Panthers
Despite playing in a lesser role for a stacked University of Michigan team, Matthew Samoskevich was still highly effective for the Wolverines. He recorded 29 points through 40 games, and he had his high hockey-IQ on display throughout the season. He'll return to Michigan, where an elevated role awaits him on a team that should still be one of the best in the NCAA. – DL
82: Ryan Suzuki, Carolina Hurricanes
Just like his older brother Nick, Ryan Suzuki is a quick, smooth and elusive skater with great hands. He's got strong edges to make tight turns, avoid pressure and has strong vision at spotting his teammates and making a timely pass. He's great at opening the game up, whether baiting in the opposition or driving hard to the open areas for prime scoring opportunity. The Hurricanes are extremely deep with their prospect pool and Ryan is one of the top names in their system. – PB
81: Adam Beckman, Minnesota Wild
Another player with a high hockey IQ, Adam Beckman made a great transition from junior to the pro level as he finished his first full season in the AHL with 34 points in 68 games after getting a nine-game taste in 2020-21. He also got into three games with the parent club, where he recorded his first NHL assist. He should be bringing his quick release to the NHL full-time as soon as 2022-23, as he's just one of many top prospects in the system looking to make the jump. –MZ 
Prospects #80-71
80: Kirill Marchenko, Columbus Blue Jackets
With all of the talent the Blue Jackets have added over the last two years, it's maybe a bit easy to forget about this 2018 draftee. A winger with good size and a lethal shot, Kirill Marchenko will push hard for an NHL roster spot this Fall. With Patrik Laine already in place, Marchenko could learn from one of the best shooters in the NHL – a scary thought for anybody that may be tasked with containing the Russian forward. – DL
79: Brandon Coe, San Jose Sharks
A fourth-round pick in 2020, Coe has taken a major step in his development dominating the OHL last season. He finished fifth in league scoring with 101 points, while averaging 1.63 P/G in the process. His NHL-like frame already stands out giving him the advantage in puck battles and out muscle his opponent. But his positioning and awareness is something to note as he always knows when to be in the right spot at the right time. His breakout season earned him an entry-level contract with the Sharks. – PB 
78: Helge Grans, Los Angeles Kings
Helge Grans made a nice transition to North America with 24 points in 56 games with the Ontario Reign of the American Hockey League. Drafted 35th overall in 2020, he displays an efficient two-way style that's going to bode well for the Kings down the line. He's very mobile and can play a sound defensive game in every zone on the ice. He was also a major factor for Sweden at the World Juniors with three assists before the tournament was paused. – MZ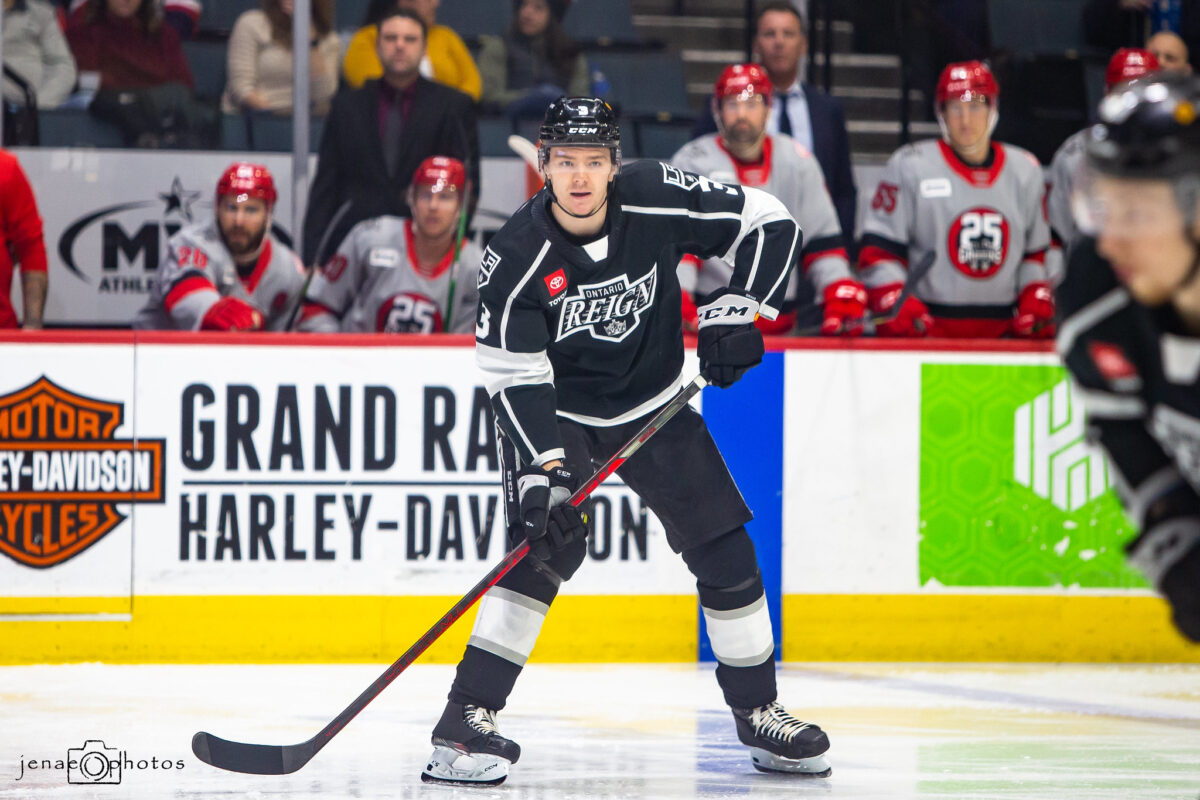 77: Jacob Bernard-Docker, Ottawa Senators
As the Senators continue to inject youthful energy into their lineup, Jacob Bernard-Docker is a prospect that looks to be on the verge of becoming a full-time NHLer. While he did not post eye-popping totals in the AHL this past season, he did show well for himself, never really looking out of place in what was his first pro season. He'll want to start producing if he wants to be anything more than a bottom-pairing guy, though. – DL
76: Tyson Foerster, Philadelphia Flyers
A lethal shooter with a powerful one-timer, Tyson Foerster was sniper in the OHL. After a decent rookie season in the AHL playing for the Lehigh Valley Phantoms in 2020-21, he was dealt with a significant shoulder injury last season. When he was healthy, he was able to return back to the Barrie Colts of the OHL, finishing with 11 points in 13 games. While he's known for putting the puck in the net, he's also an effective puck distributor. – PB 
75: Oskar Olausson, Colorado Avalanche
Despite having a late first-round pick in 2021, the Colorado Avalanche still managed to add another shifty sniper to their arsenal that already includes Nathan MacKinnon, Gabriel Landeskog and Mikko Rantanen. That weapon was Oskar Olausson, the man that just ripped up the OHL with the Barrie Colts and Oshawa Generals. Closing out his first season in Canada with 26 goals and 49 points in 55 games, he will be just another threat the Avs can throw out to make their opponents' lives miserable. – MZ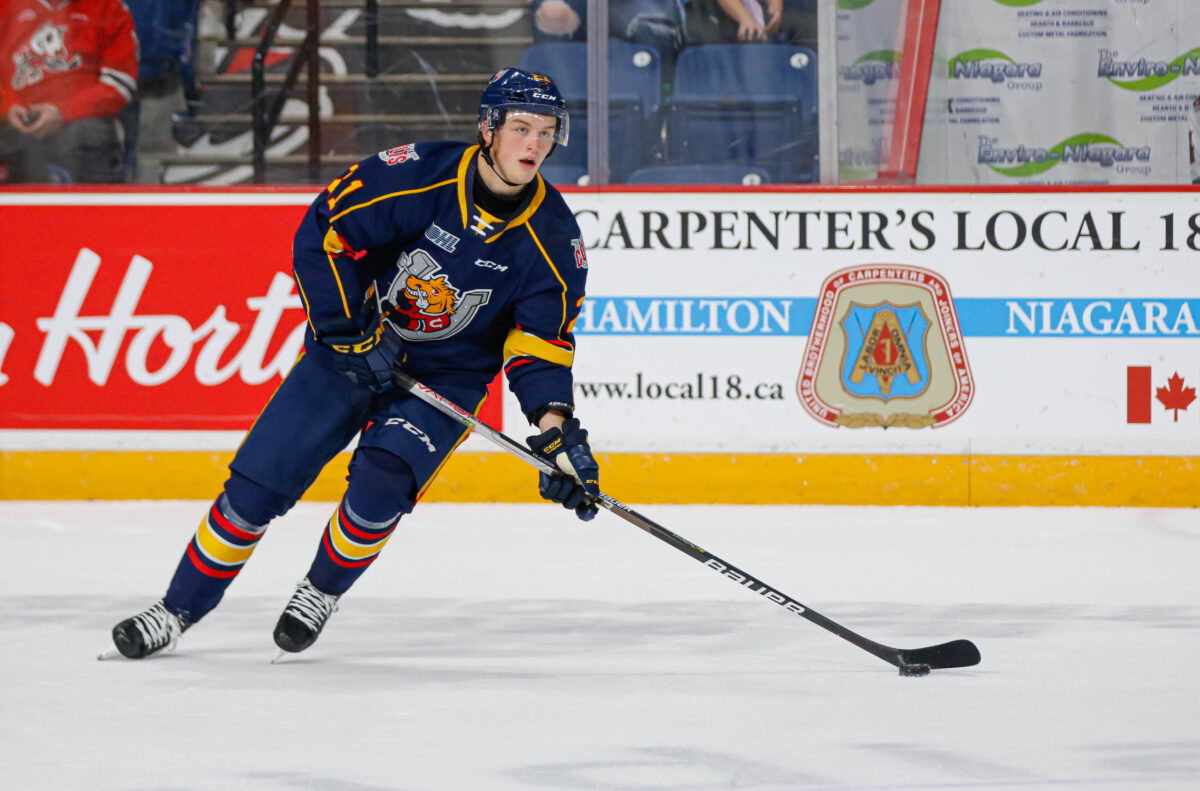 74: Albert Johansson, Detroit Red Wings
After leading all U22 SHL defensemen in scoring last season, Albert Johansson arrives in North America as something of an under the radar prospect for the Red Wings. He can produce points from the blue line, but he is also savvy in his own zone. He should be able to compliment just about any type of defensive partner, and it shouldn't be too long before he makes his NHL debut. – DL
73: Joshua Roy, Montreal Canadiens
If there was one player that took the QMJHL by storm last season, it was Joshua Roy. After seeing his stock fall due to consistency issues in 2021, the Canadiens selected him in the fifth round and he put those concerns to rest. He led the league in scoring with 119 points and was fourth overall in goals with 51. He's always displaying his offensive capabilities and using his size to his advantage in every situation and unleashing his shot. He's shown great awareness and patience in the offensive zone while also playing with some bite and tenacity. – PB 
72: Carson Lambos, Minnesota Wild
Surprisingly selected all the way down at 26th overall in 2021, Carson Lambos has already started to prove his doubters wrong. After struggling to find his footing during the pandemic with several European squads, Lambos returned to the WHL with a vengeance in 2021-22 putting up a career-high 10 goals and 47 points with the high-powered Winnipeg ICE. The prospect who a lot of pundits placed in the air of Owen Power, Luke Hughes and Brandt Clarke in the early rankings of the 2021 Draft is making those experts look pretty good right now. – MZ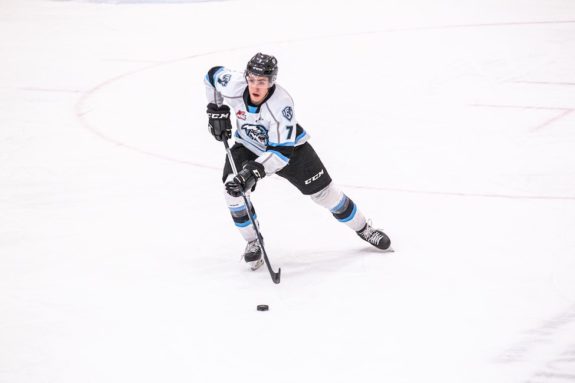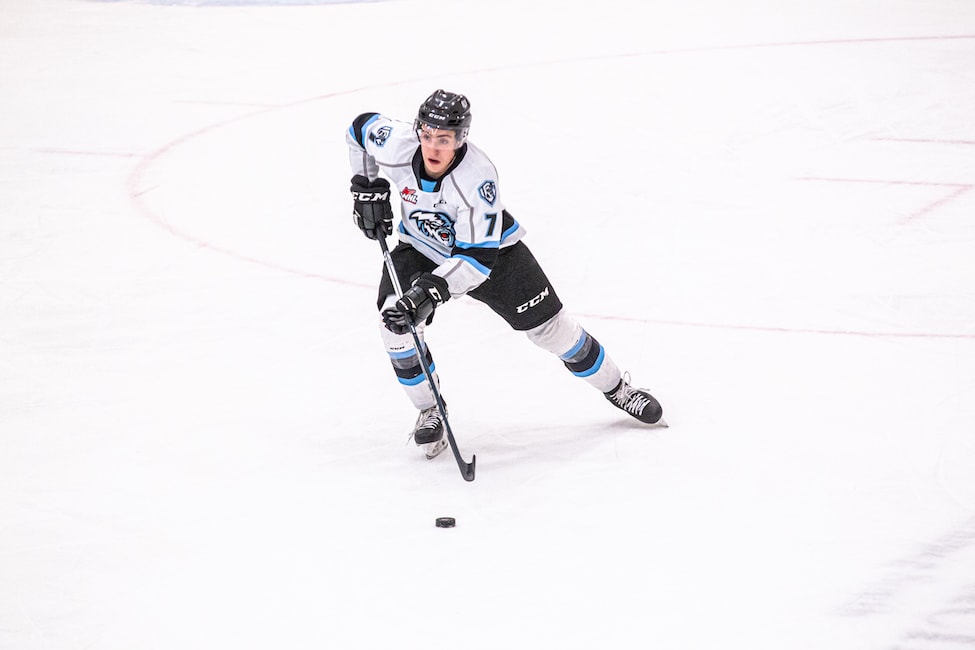 71: Chase Stillman, New Jersey Devils
Chase Stillman's commitment level on and off the puck is unquestionable. He's another one of those players that can bring together a line as his offensive capabilities and effort level should eventually make him a fit on just about any type of line. That being said, he didn't have the offensive output a player with his draft pedigree (29th overall, 2021) is expected to have (49 points through 59 games). – DL
Prospects #70-61
70. Isak Rosén, Buffalo Sabres
Rosén, Sabres' second first-round pick in 2021 (14th overall), is a very strong skater being able to make moves at breakneck speed. He's got soft hands to make plays in tight spaces and his edge work makes him very elusive as a result of it. He's got an underrated shot and if you give him the time and space, he'll hurt you by finding the back of the net with his power and accuracy. Boasting a great combination of playmaking and shoot-first mentality is going to make him a very dangerous player. – PB
69: David Jiricek, Columbus Blue Jackets
Another defenseman selected high in the 2022 Draft, David Jiricek – like Simon Nemec – could be ready for the NHL sooner rather than later. With a projectable frame at 6-foot-3, 190 pounds, he already has the size and smarts to be a regular in the Blue Jackets lineup. While that probably won't happen until 2023-24 or 2024-25, you never can predict these things as Cole Sillinger and Janis Moser both played close to full seasons in the NHL in their draft-plus-one year. –MZ
68: Zachary L'Heureux, Nashville Predators
Zachary L'Heureux is one of the most unique prospects on this list. He can create offensively and has shown he can be a key piece of his team's attack. However, he also isn't afraid to get his hands dirty, and his physicality on the ice is one of his most notable traits. He's the type of player that fans fall in love with, and it should only be a matter of time before "Smashville" falls for this player. – DL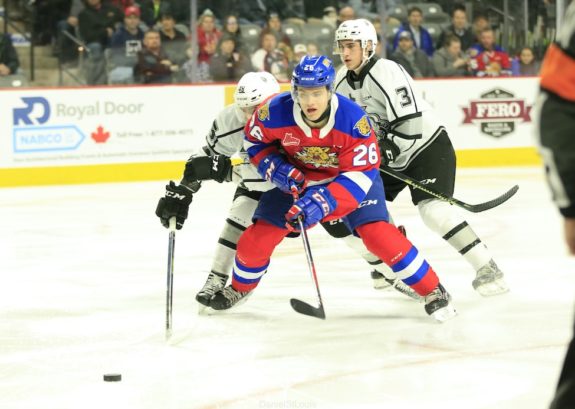 67: Jonathan Lekkerimäki, Vancouver Canucks
There wasn't a player in the 2022 draft class that had the shot and goal scoring abilities like Jonathan Lekkerimäki. He has a quick release from far out and his accuracy is just as impressive, picking corners and beating goaltenders with such ease. He has the awareness to always find the open lane and unleash his shot. Even when there's nothing to work with, he has great patience to curl back and attack defenders head on. He was extremely dynamic for Sweden at the World U18 Championship, leading the tournament in scoring with 15 points and winning a gold medal. The Canucks are no doubt thrilled to have him in the system. – PB 
66: Jack Rathbone, Vancouver Canucks
Sent back to the American Hockey League after only nine games last season, Jack Rathbone is ready to make his mark on the NHL in 2022-23 as a full-time member of the Vancouver Canucks defense corps. With his high hockey IQ, crisp passing and ability to quarterback a power play, he should fit nicely on a team that really needs to improve its speed on the back end. After a career-year in Abbotsford where he hit new heights in goals (10), assists (30) and points (40), the time is now for Rathbone in the big leagues. – MZ
65: Lukas Cormier, Vegas Golden Knights
The 20-year-old defenseman has now had two-straight seasons of dominant play in the QMJHL. Lukas Cormier is a scorer and a facilitator on the blue line who, so far, has not been limited by his lack of size (5-foot-10). He should make his pro debut in 2022-23 for the AHL's Silver Knights. He has the potential to become an important member of the Vegas Golden Knights' defense. – DL
64: Matthew Savoie, Buffalo Sabres
Drafted ninth overall by the Sabres at the 2022 draft, Savoie is a highly creative centreman with a high-end skillset. The combination of speed, hands and stick handling makes him an offensive catalyst maintaining offensive zone time and attacking with force. He's got excellent vision to spot a lane to engage or find his teammates with a perfectly executed pass. He's quick, agile and can play the body at times as well making him extremely effective in all three zones. His even strength production came into question as he relied heavily on his power play production, but that changed as he finished the season with 23 even strength goals compared to his 12 on the power play. Either way he's dangerous in both situations. – PB 
63:Justin Barron, Montreal Canadiens
Now a member of the Canadiens organization after the Avalanche traded him in the Arturri Lehkonen deal, Justin Barron will be in the mix for a regular spot on the Habs blue line in 2022-23. The 20-year-old has a bright future in the NHL as his skating and mobility is tailor-made for a league based on speed and the transition game. His big shot from the point will also come in handy on a power play that really missed the presence of Shea Weber in 2021-22. – MZ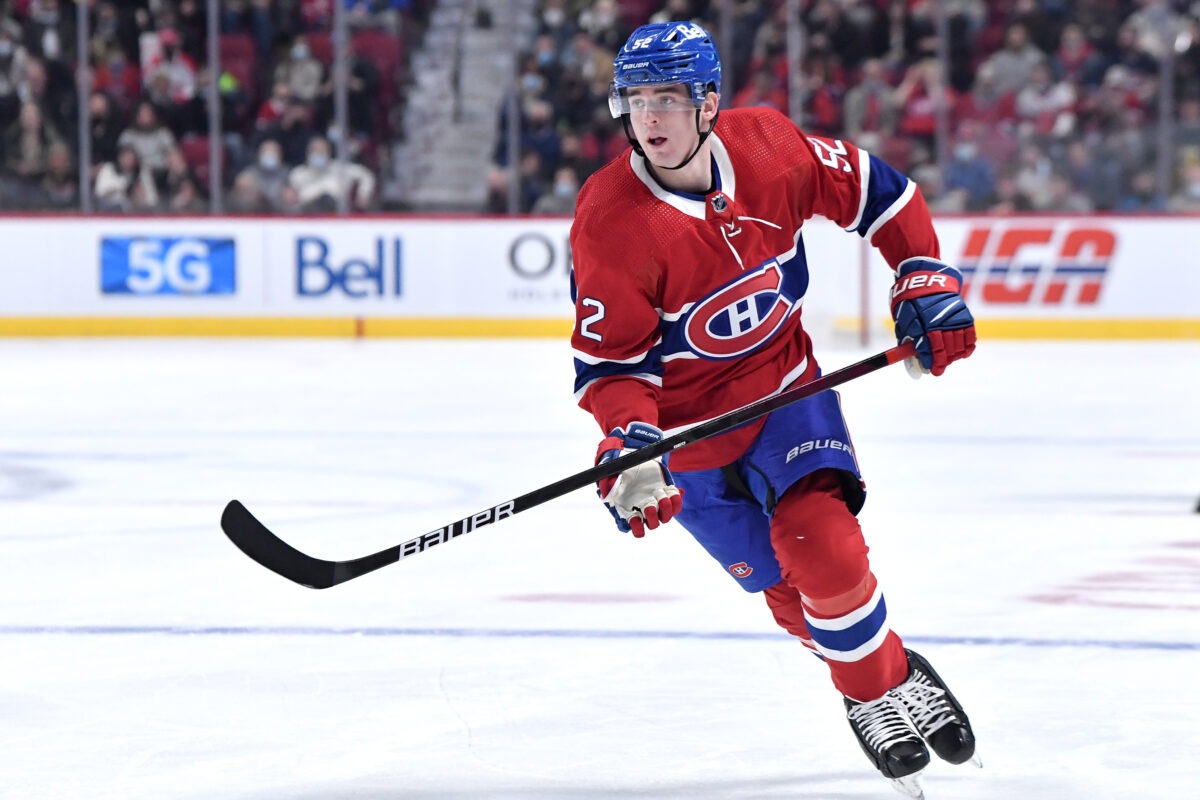 62: Aatu Raty, New York Islanders
The Islanders struck gold when they picked this Finnish forward in the second round of the 2021 draft. After a down year during his draft season, Aatu Raty surged back in a big way, recording 40 points in 41 games while playing in Finland. He rediscovered his ability to make things happen on the ice, and he now looks a lot closer to the prospect that was once considered a top-10 talent in last year's draft class. – DL
61: Shakir Mukhamadullin, New Jersey Devils
Once viewed as a questionable pick in the 2020 NHL draft, Shakir Mukhamadulin's stock has risen for the Devils. He possesses great qualities, but his game is raw and needed to be refined. At 6-foot-4, 194 pounds, he's extremely mobile and has a very smooth stride in transition, not to mention he can make a strong breakout pass to start a play. With his size, he isn't afraid to step up and make a big hit. His defensive game has shown improvement and if he's able to continue being consistent, then the Devils have another quality defender in their system. – PB 
Prospects #60-51
60: Jack Drury, Carolina Hurricanes
Since being drafted 42nd overall in 2018, Jack Drury has been successful everywhere he has played. From the NCAA with Harvard University where he put up 29 goals and 63 points in 60 games to the 30 points in 41 games that he recorded with the Vaxjo Lakers in the SHL, there hasn't been a level of hockey so far that he hasn't conquered. Even when he turned pro during the 2021-22 season with the Chicago Wolves, he excelled to the tune of 20 goals and 52 points in 68 games and another 24 points in the playoffs culminating in a Calder Cup championship. After a brief two-game stint with the Hurricanes where he of course scored two goals, he should be ready for a full-time spot in the NHL as soon as 2022-23. – MZ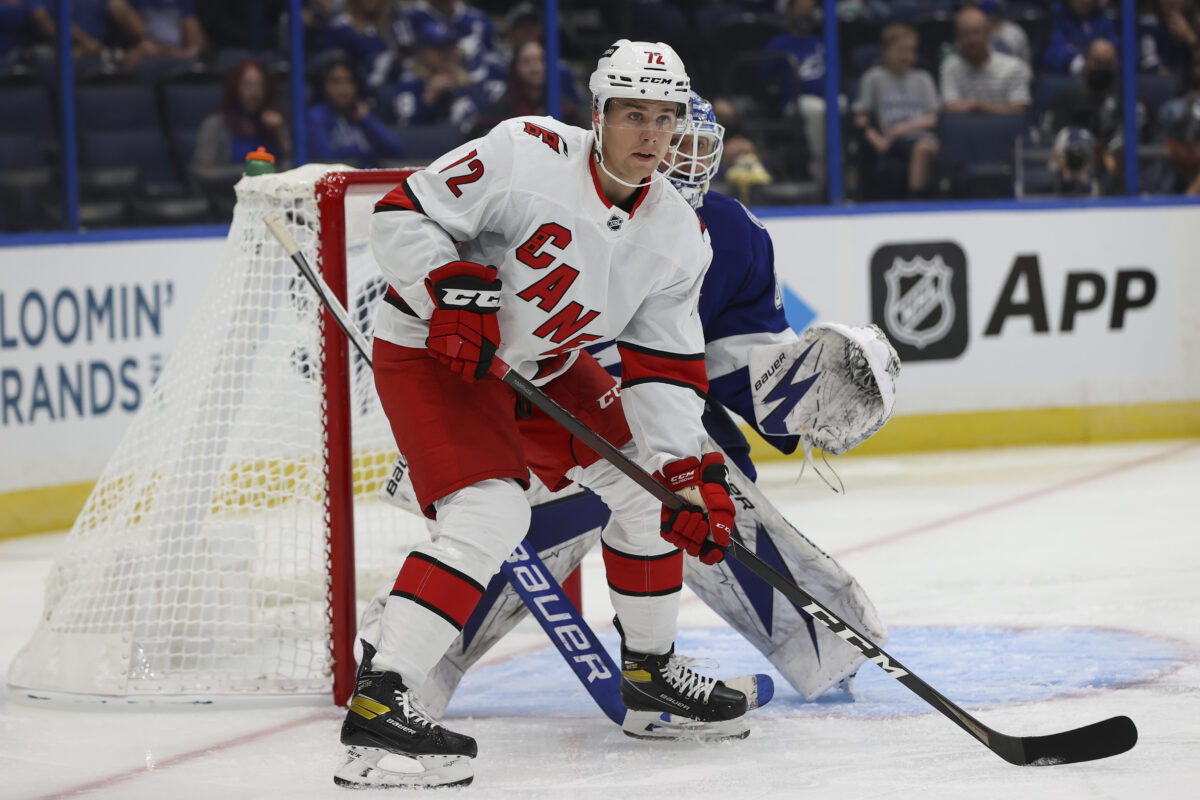 59: Ville Koivunen, Carolina Hurricanes
Ville Koivunen is the type of player that brings a line together. He is offensively skilled enough to dominate on any given shift, but he can also play a game that compliments the players around him. He's a fun prospect to project because he could be a checking forward with some offensive upside, or he could be an offensive winger on a scoring line. Either way, he has loads of potential and if his name isn't on the map yet, it will be soon. – DL
58: Victor Söderström, Arizona Coyotes
It seems like it's been a long time since Victor Söderström was drafted. He's only 21 and still has time to crack the NHL. A determined and reliable defender, Söderström, is strong in transition with his smooth skating stride and puck control. He's just as effective defensively, defending well against the rush, getting into lanes to break plays up and battle in one-on-one situations. It took some time, but with the Coyotes going through a rebuild, now is the time for him to earn a full-time roster spot. – PB
57: Sean Farrell, Montreal Canadiens
When I wrote Sean Farrell's draft profile back in 2020, I compared him to 40-goal scorer Alex DeBrincat, now of the Ottawa Senators. I stand by that as he's just continued to prove to me that he's capable of greatness in the NHL one day. While his lack of size at 5-foot-8 will always attract the doubters, his shiftiness and playmaking are more than enough to overcome that supposed weakness. After putting up 101 points in his final season with the Chicago Steel, the increased competition of the NCAA didn't seem to phase him as he recorded an impressive 10 goals and 28 points in 24 games during his freshman season at Harvard University. All of that to say, I think it's best not to sleep on the ceiling of Farrell, who was surprisingly drafted all the way down in the fifth round.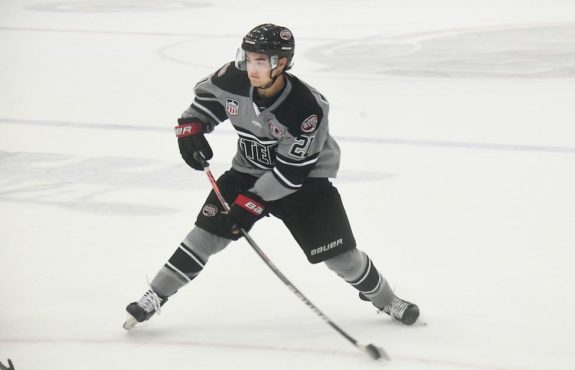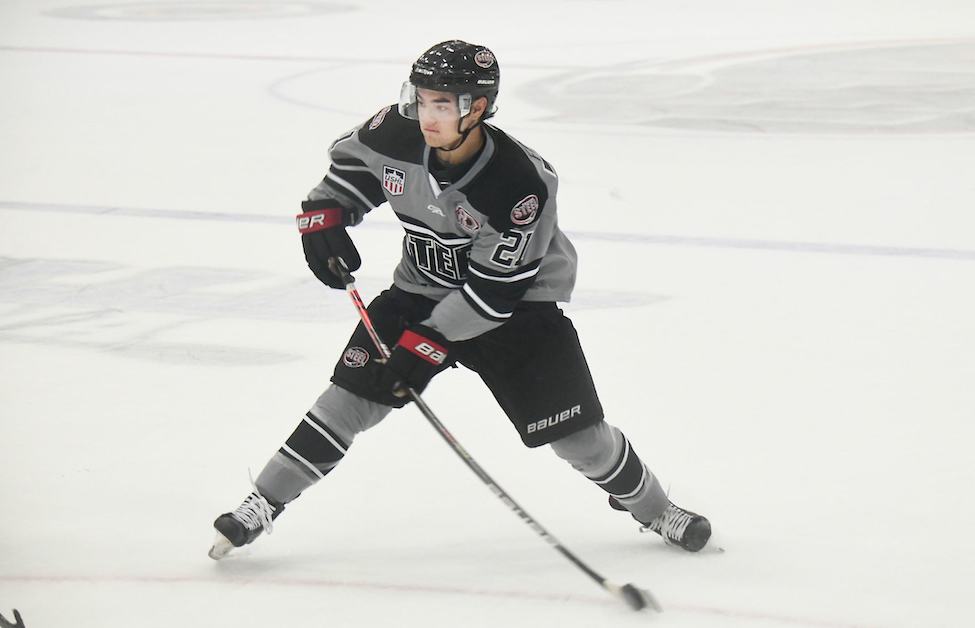 56: Zachary Bolduc, St. Louis Blues
Zachary Bolduc is an offensive centerman that has the ability to make defensemen look silly. The 17th pick of the 2021 draft had a successful 2021-22 season in the QMJHL, recording 99 points while playing for a high-octane Quebec Remparts team. He is prone to some risky decision-making, and it will be very interesting to see if he can develop into a player that the Blues can use in all situations. – DL
55: Juraj Slafkovsky, Montreal Canadiens
The first overall pick in the 2022 draft certainly showed why he was given that label. He played well at the senior level, both in the Liiga and World Championship. However, it was his play at the Olympics that stood out where he scored seven goals helping Slovakia win a bronze medal. His blend of power, speed and skill is always on display as he's able to push his way through opponents without any issue. He does a great job to retrieve the puck and find his way to the middle of the ice for a quality scoring chance. He has a lot of potential and that kind of power and skill is why the Canadiens were high on him. – PB 
54: Vitali Kravtsov, New York Rangers
Vitali Kravtsov made his NHL debut in 2020-21, but was loaned to the KHL for the 2021-22 season after requesting a trade. After recording six goals and 13 points in 19 games, he signed a one-year deal with the New York Rangers in the offseason and will now supposedly compete for a job at training camp – or get traded. Known for his versatility, size and solid two-way game, he should be a valuable top-nine forward in the NHL for many years to come, whether that is with the team that drafted him remains to be seen. – MZ
53: Logan Cooley, Arizona Coyotes
Shifty, smooth, silky, skilled…. There are many "S" words you can use to describe Logan Cooley, but above all, it must be said that he is a spectacular prospect. His creativity in the offensive end knows no bounds, and his speed enables him to lead the charge through the neutral zone. He's got "top center" written all over him, and he should be a foundational piece of the Coyotes' rebuild. – DL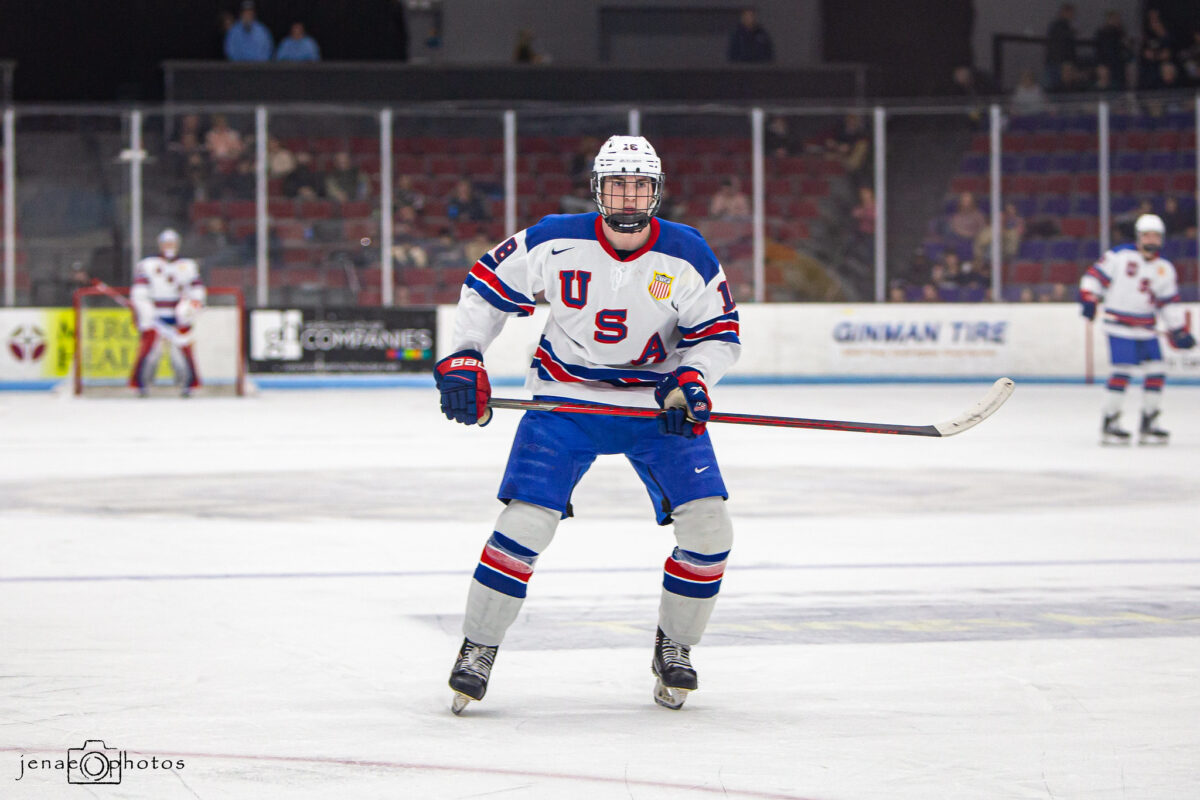 52: Ville Heinola, Winnipeg Jets
It feels like the Jets' promising top defensive prospect is close to making it to the NHL. Ville Heinola's offensive skillset and decision making could be beneficial for a team looking to make a quick turn around after a disappointing season. While he's a driver of offense, Heinola is very steady defensively with great patience and positioning. After recording five assists in 12 games last season when called up by the Jets, Heinola is definitely looking to crack a roster spot and stay there for the foreseeable future. – PB 
51: Aleksi Heimosalmi, Carolina Hurricanes
The Hurricanes have had a lot of success with Finnish players in the past. Not necessarily drafting them, but as soon as they pull on that red jersey with white trim, they become stars. Even though Aleksi Heimosalmi is a defenseman and not a potential top-line winger like Sebastian Aho or Teuvo Teravainen, he has the potential of becoming a top-four option down the road with his mobility and ability to transition the puck through the neutral zone. – MZ
Prospects #50-41
50: Nicholas Robertson, Toronto Maple Leafs
It somehow already feels like we've been hearing this kid's name for YEARS. Nicholas Robertson is now a veteran of 49 AHL games and 16 NHL games, and it seems like 2022-23 is the year he needs to take that next step. He's got great puck skills, and he should be able to compliment players like John Tavares and William Nylander once he plants his feet in the NHL. – DL
49: Scott Morrow, Carolina Hurricanes
Who doesn't love a dynamic puck-moving defenseman who is always in attack mode. Scott Morrow plays that high-octane style as he's always quick and decisive in transition. When leading an attack showing great speed, edges and confidence in his movement. He always has the opposition on their heels thinking what he's going to do next as he's unpredictable with his decision-making. He was extremely productive as a freshman at the University of Massachusetts with 13 goals and 33 points. Defensively, he's still a work in progress, but you can't deny his ability to generate offense and be successful at it. – PB 
48. Simon Nemec, New Jersey Devils
Already into the NHL's top 50 prospects, it won't take too long for everyone to see why Simon Nemec was eventually selected second overall at the 2022 Draft. His mature two-way game is head and shoulders above any defensive prospect chosen on July 7 and will be a perennial all-star for the New Jersey Devils in the not-too-distant future. In fact, don't be surprised if he is a graduate of this list by mid-season of 2022-23. – MZ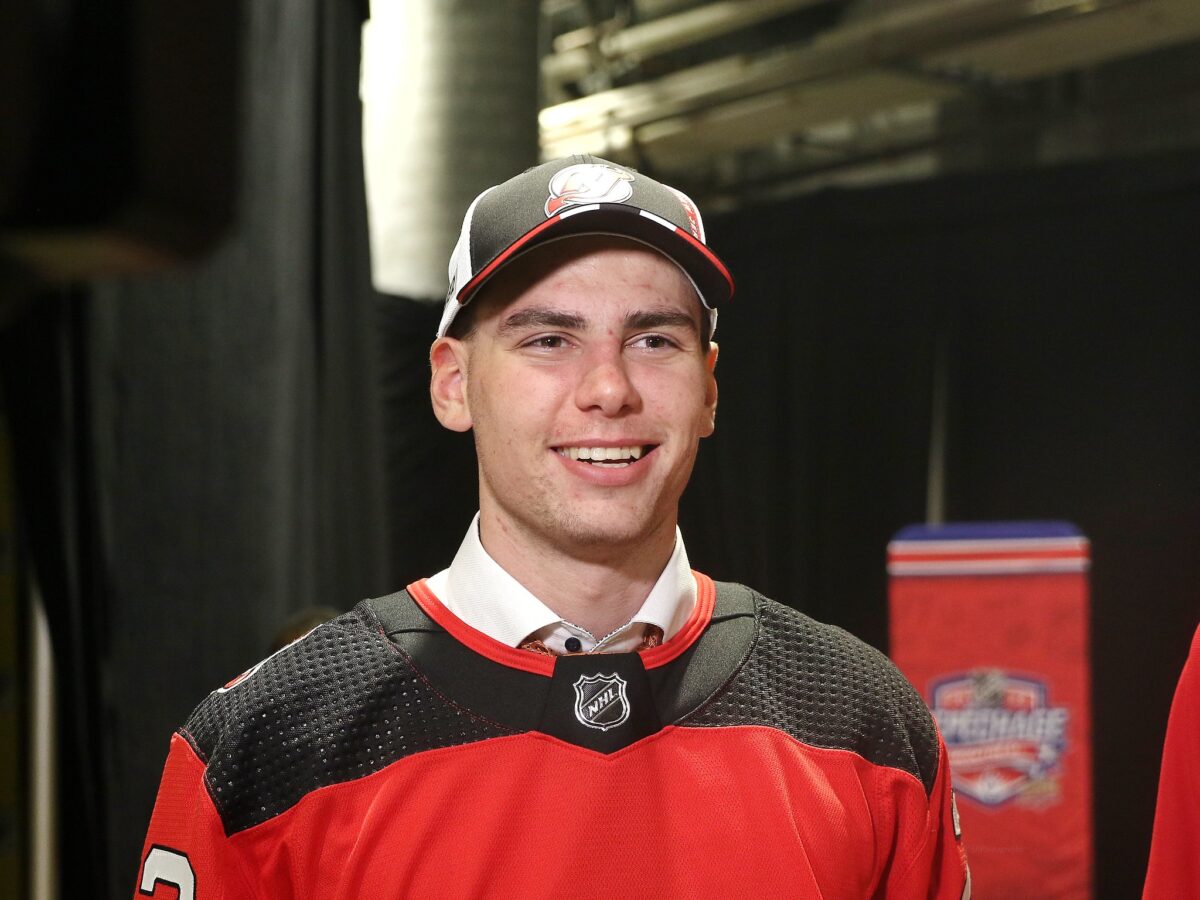 47: Thomas Bordeleau, San Jose Sharks
Another member of that stacked University of Michigan squad, Thomas Bordeleau is a top-notch playmaker that found a way to shine despite playing on a team that featured some of the very best prospects in the world. He is patient with the puck, and that allows him to open up passing lanes and thread the needle over to his teammates. His game is a bit perimeter-centric, but his offensive IQ is a solid foundation to build off of. – DL
46: Shane Wright, Seattle Kraken
Going in as the top prospect in the 2022 NHL Draft, there was a lot of hype surrounding Shane Wright. There were talks of him not being a standout #1 and didn't show the ability to dominate this season. Despite the slow production to start the season, he finished top-10 in OHL scoring with 94 points. Though it still wasn't enough. Wright possesses elite level IQ and decision-making, being a responsible two-way centre. He's a great playmaker and even better shooter with his release and accuracy. The Kraken are instant winners as they now have another high-end centre in their prospect pool for the future. – PB 
45: Chaz Lucius, Winnipeg Jets
Despite losing a lot of time last season rehabbing a knee injury, the Winnipeg Jets still chose Chaz Lucius 18th overall in the 2021 Draft. His elite playmaking abilities and scoring potential were just too enticing to ignore. Now playing for the University of Minnesota after two years with the United States Development Program (USDP), he finished his freshman season with a decent nine goals and 19 points in 24 games. – MZ
44: Ridley Greig, Ottawa Senators
As the captain of the Brandon Wheat Kings this season, Ridley Greig posted an impressive 26 goals and 63 points through 39 games. Along with those points came 92 penalty minutes; he is at his best when he's making an impact in every facet of the game, but the Senators will want him to eventually dial it back a bit. He's set to play his first pro season in the AHL with the Belleville Senators. – DL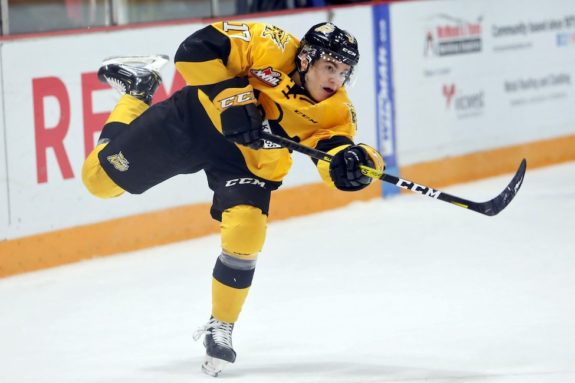 43: Sasha Pastujov, Anaheim Ducks
The list of Ducks prospects continues and Sasha Pastujov is one of many to be a part of that. He's extremely quick as he's got strong foot speed and agility. Mix that with his great puck control and stick handling, he's extremely dangerous when he's weaving his way into the offensive zone and getting around opponents with ease. While he's an effective playmaker, don't underestimate his shot as he's got great power. He was the team leader in goals (34), assists (42) and points (76) for the Guelph Storm last season. – PB 
42: Francesco Pinelli, Los Angeles Kings
Named captain of the Kitchener Rangers at the beginning of last season, Francesco Pinelli not only led his team in the dressing room but also in the stats department. Finishing with a career-high 22 goals and 60 points in 55 games, he was third in points behind only Joseph Serpa and Mike Petizian. Now going into his third campaign in the OHL and second with the "C" on his chest, his hockey IQ, playmaking and quick-strike offense will make him a formidable package with the Los Angeles Kings one day. – MZ
41: Fyodor Svechkov, Nashville Predators
Fyodor Svechkov will spend another season over in Russia as the forward continues to develop his all-around game. After appearing in 4 KHL games this past season, the hope is that he can establish himself as an everyday player in what is considered to be the second-best league in the world. He has pro-ready attributes as his defensive instincts already seem fine-tuned, and he has a knack for playmaking that should continue to translate as the competition gets tougher. – DL
Prospects #40-31
40: Fabian Lysell, Boston Bruins
An elite level skater, Fabian Lysell plays with a great amount of pace and skill. He's quick, dynamic and always fun to watch when the puck is on his stick. He's extremely deceptive when setting up his teammates and has a very underrated shot. He suited up for the Vancouver Giants in the WHL last season and he didn't disappoint when playing meaningful minutes. While the Giants weren't strong as a whole, Lysell was a bright spot leading the team in scoring with 62 points in the regular season and followed that up with 21 points in the playoffs. The Bruins lack depth, but Lysell is one that'll have fans cheering for years to come. ­­– PB 
39: Olen Zellweger, Anaheim Ducks
Another supreme two-way defenceman in the Ducks' system is Olen Zellweger. After an absolutely dominant season in the WHL with the Everett Silvertips that saw him score 14 goals and 78 points in 55 games and another nine points in the playoffs, he has shot up the rankings to become one of top defensive prospects in the NHL. Endowed with excellent skating, playmaking and an emerging two-way game, the Ducks are starting to build an embarrassment of riches on defense with Jamie Drysdale, Pavel Mintyukov, Noah Warren and Tristan Luneau – just to name a few – currently swimming in their pond. – MZ
38: Shane Pinto, Ottawa Senators
A shoulder injury held Shane Pinto out of most of what was going to be his rookie season. In five games before the injury, he had a single assist for the Senators, but confidence was high that he was going to solidify a spot for himself in Ottawa's lineup. The 32nd pick of the 2019 draft has an opportunity to become the Senators' third line center of the foreseeable future; if he can lock that spot down, he may eventually earn the opportunity to play on both special teams units. – DL
37: Rodion Amirov, Toronto Maple Leafs
Rodion Amirov has shown a lot of promise with his speed and high-end two-way game, but some concerning news overshadowed one of the Maple Leafs top prospects. The 15th overall pick in 2020 was diagnosed with a brain tumour back in February forcing him to miss the remainder of the season. After undergoing treatment, there's some positive news as there's the possibility that he could return for the upcoming KHL season. Enduring so much this past season, Amirov is determined to bounce back and continue his development as a top prospect for the Maple Leafs. The fact that he's doing well, is the most important thing. – PB
36: Phillip Broberg, Edmonton Oilers
Transitioning full-time to the pro game in 2021-22, Phillip Broberg is close to becoming a fixture on the Oilers blue line. Getting into 23 games with the big club and scoring his first NHL goal is a good start, but the organization needs him to take a huge step forward in 2022-23 – like Evan Bouchard did with his 12 goals and 43 points in 81 games last season. If he can do even half that, I think everyone will be happy. He certainly has the toolbox to do it as he possesses great mobility and a well-rounded defensive game. While he might never hit the heights of a Bouchard, he might become the ying to his yang one day.
35: Brendan Brisson, Vegas Golden Knights
Brendan Brisson put up 63 points over 62 games and two seasons with the University of Michigan, and now he's set to turn pro. The 29th pick of the 2020 draft is a smart, shifty player that reads the play well and makes the right play more often than not. He should be in for a strong, successful season with the Henderson Silver Knights of the AHL. – DL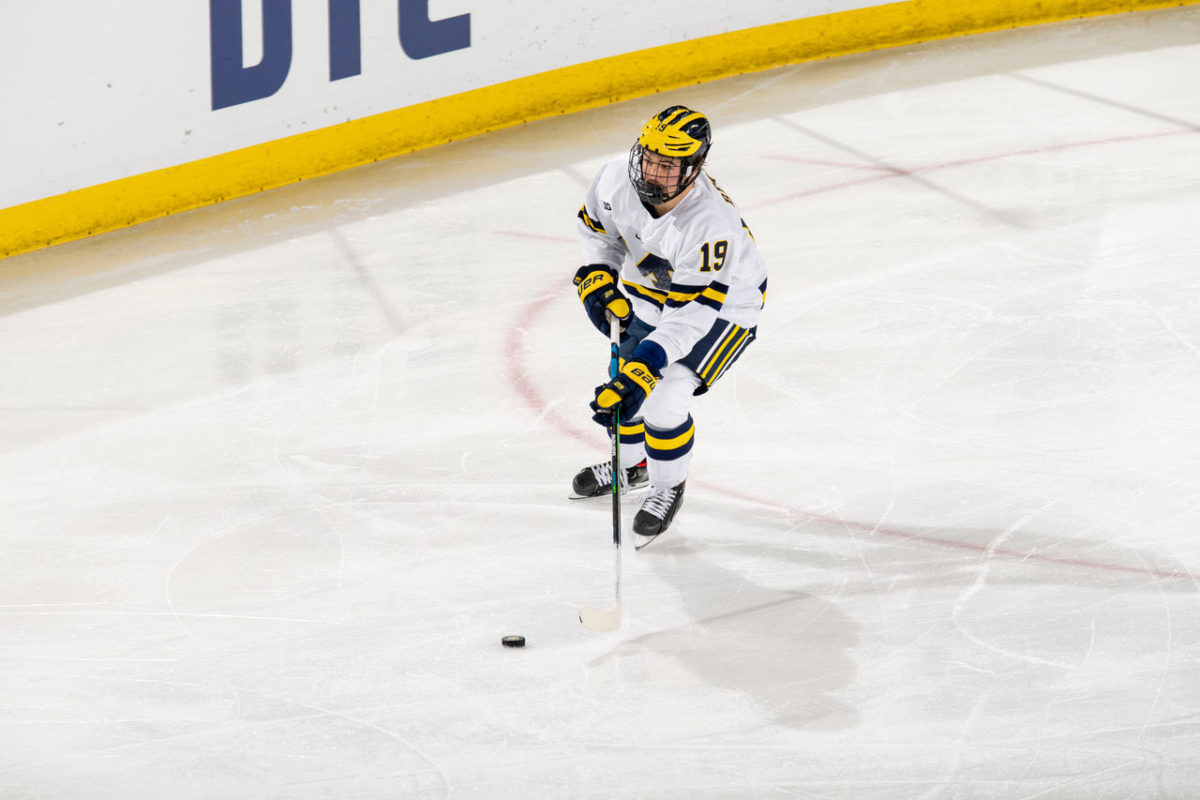 34: Jake Neighbours, St. Louis Blues
Jake Neighbours got a small taste of the NHL last season with his nine-game NHL stint and fared very well in those games scoring his first NHL goal in the process. Neighbours is a very skilled and highly competitive playmaking winger. He does a great job at battling along the boards with his strength and maintains great body position and control of the puck. He's got great vision to set up his teammates and is just as effective without the puck. He was sent back to the Oil Kings of the WHL where he finished with 45 points in 30 games and captained the team to a Championship. – PB 
33: Alex Turcotte, Los Angeles Kings
Part of the embarrassment of riches the Kings have going at center ice, Alex Turcotte transitioned perfectly to professional hockey in 2020-21. Spending all of his time in the AHL with the Reign, he recorded six goals and 21 points in 32 games and had another 18 points in 27 games last season. He also won a gold medal with Team USA at the 2021 WJC  where he scored three goals and eight points in seven games. His two-way game, playmaking skills and wicked shot will definitely get him into the NHL one day – that is if he can manage to stay healthy on a more consistent basis. – MZ
32: Calen Addison, Minnesota Wild
With 18 NHL games under his belt now, Calen Addison is well on his way to graduating from prospect status. He's a fun defenseman to watch, and he has now had two solid seasons playing in the AHL. He'll make his money in the NHL by moving the puck and facilitating play from the back end while playing on either the second or third pairing. – DL
31: Luke Evangelista, Nashville Predators
Luke Evangelista was one of many to standout and tear up the OHL in a big way. After a respectable 61 points in his draft year with the London Knights, the Predators selected him 42nd overall at the 2020 draft. He surpassed that mark last season with 111 points, finishing fourth overall and finished first in goals with 55. Known for being an effective playmaker with his quick hands and strong puck control, Evangelista's new found goal scoring abilities was on full display making him a dual offensive threat. – PB 
Prospects #30-21
30: Brock Faber, Minnesota Wild
In his second season with the University of Minnesota, Brock Faber continued to display the attributes that got him selected in the second round by the Kings in 2020. He has the mobility and defensive game to make it as a top-four defenseman one day. Now with the Minnesota Wild after a trade involving Kevin Fiala, he will now compete for a job in his backyard rather than across the country. – MZ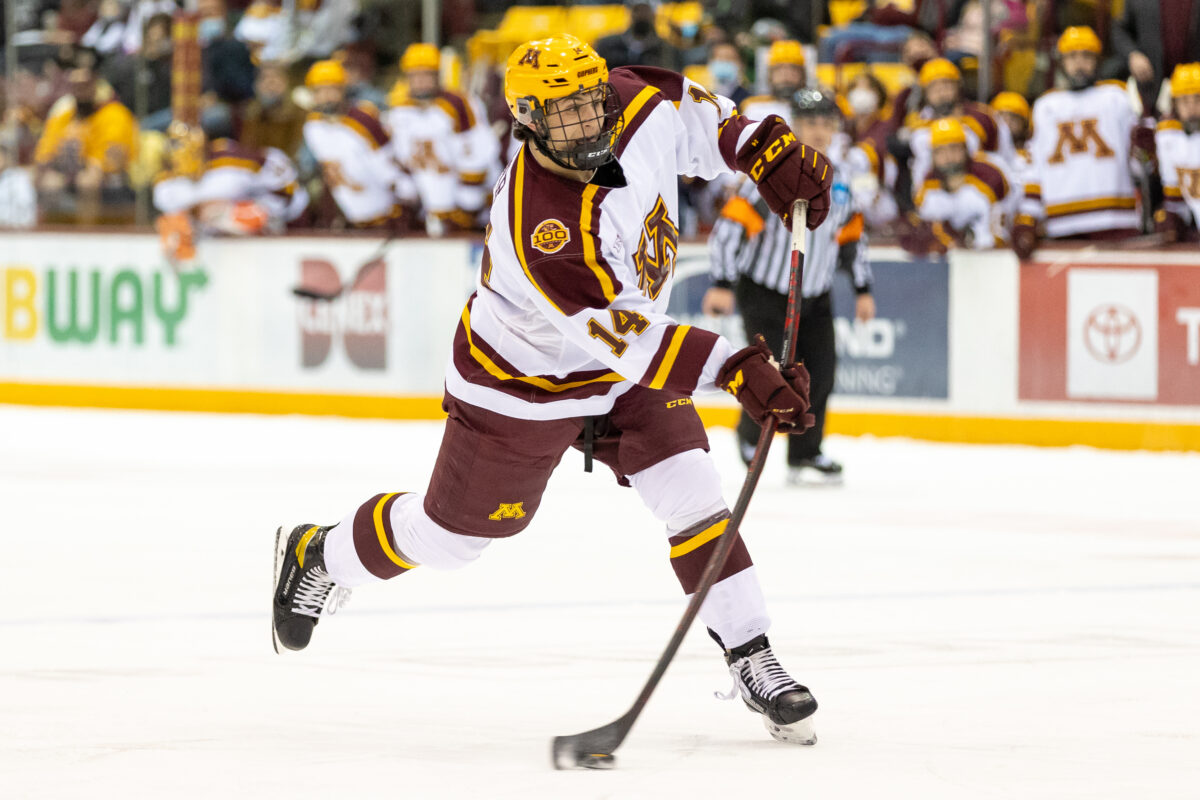 29: Jakob Pelletier, Calgary Flames
Standing at just 5-foot-9, Jakob Pelletier's playmaking abilities make sure that you can't overlook him on the ice. The 21-year-old had a strong rookie season in the AHL, recording 62 points through 66 regular season games; he followed that up with seven points through 13 playoff games. While his two-way game still needs some work, this is a prospect that could put up points in the NHL right now. – DL
28: Hendrix Lapierre, Washington Capitals
After dealing with concussions in his draft year, things might be turning around for the Capitals top prospect. Lapierre looked great in his six-game stint, scoring his first career NHL goal in his first game. Even though he was sent down to the Acadie-Bathurst Titan, he continued his dominance with 51 points in 40 games. His highly skilled two-way game continues to be on display, with flashes of creativity with his hands and playmaking abilities. The hope is that he continues to remain healthy because his upside is tremendous. – PB 
27: Logan Stankoven, Dallas Stars
Another prospect that had an unforgettable year was Dallas Stars 2021 second-round pick Logan Stankoven. If not for the Red Deer Rebels super duo of Arshdeep Bains and Ben King, he would have led the Western Hockey League circuit in goals and points. As it is, he still finished with 45 goals and 104 points, which was just one point back of King and eight points behind Bains. The undersized 5-foot-8 forward is going to be a star in the NHL at one point due to his high-end competitiveness, willingness to go to the dirty areas and surprisingly effective game in front of the net. If you don't know about Stankoven yet, you will in short order. – MZ
26: Topi Niemelä, Toronto Maple Leafs
Steady as she goes for Top Niemelä. The Finnish defenseman, who was named the top defenseman of the 2021 World Junior Championship, had a strong season playing for Kärpät over in Finland. Along with his 32 points in 48 games, he continued to display a strong two-way game. It's becoming easier and easier to envision the former third-round pick playing big time minutes for the Maple Leafs. – DL
25: Dylan Holloway, Edmonton Oilers
The Oilers 14th overall pick in 2020, Dylan Holloway always plays with a power forward's mentality. He's extremely quick with his skating and speed as he's always active on the forecheck using his 6-foot-1, 203-pound frame to his advantage and get the inside edge in puck battles. He didn't have a strong freshman year with the University of Wisconsin (17 points in 35 games), but he bounced back in his sophomore season with 35 points in 23 games. While he missed three months recovering from wrist surgery, upon his return, he produced extremely well with 22 points in 33 games with the Bakersfield Condors in the AHL. – PB 
24: Matthew Knies, Toronto Maple Leafs
Joining Matthew Coronato in the skilled Matthews club is Matthew Knies. Selected by the Toronto Maple Leafs during the second round of the 2021 Draft, he was a force in the NCAA last season playing for the University of Minnesota. The burgeoning power forward finished with 15 goals and 33 points in 33 games and was one of the top point producing freshman in the league at the end of the season. The Leafs may not have had a first round pick in 2021, but they got a first-round talent in Knies and he's showing everyone why that is. – MZ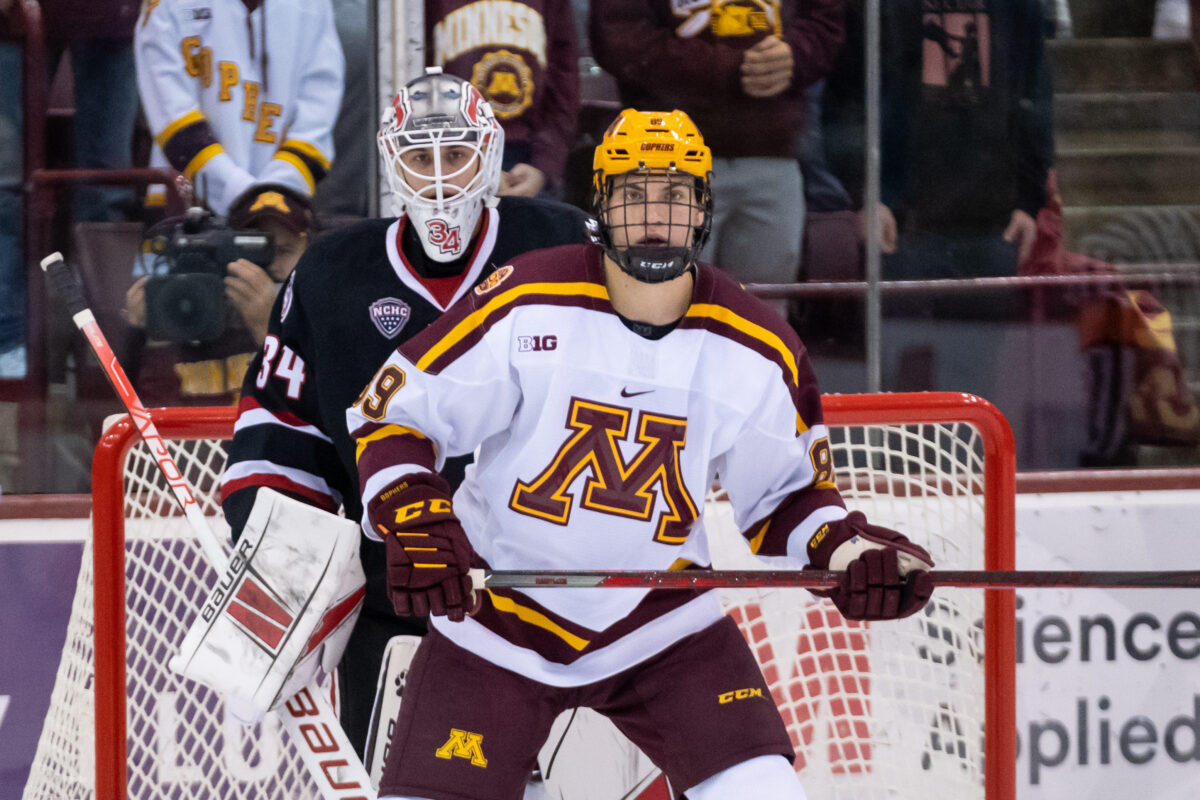 23: Jonatan Berggren, Detroit Red Wings
Make that two seasons in a row now that the 22-year-old has been healthy and productive. In his first season in North America, Jonatan Berggren broke the rookie scoring record for the Grand Rapids Griffins of the AHL, producing 64 points through 70 games. The 33rd pick of the 2018 draft enters the 2022-23 season with his eyes set on a roster spot in Detroit. – DL
22: Mavrik Bourque, Dallas Stars
Even though he only played in 31 games during the 2021-22 season, Mavrik Bourque absolutely dominated the competition finishing with 68 points, a 2.19 P/G. His speed, IQ and decision making remains his greatest strengths every time he's out on the ice. He was an essential piece for the Shawinigan Cataractes as he helped lead them to a QMJHL Championship. In the process, he earned playoff MVP with 25 points in 16 games. The success he had last season is going to be essential for his development going forward. – PB
21: Xavier Bourgault, Edmonton Oilers
Xavier Bourgault had yet another impressive season in the QMJHL, finishing with a career-high 36 goals and 75 points in only 43 games. He was so impressive that NHL.com has projected him to start on the Edmonton Oilers' top line alongside Connor McDavid and Evander Kane when the puck drops on the 2022-23 season. While that is a little far fetched in his rookie season, that doesn't negate the fact his ceiling is high enough to warrant that premium position in the near future. – MZ
Prospects #20-11
20:  Lukas Reichel, Chicago Blackhawks
Lukas Reichel capped a strong 2021-22 season with an impressive showing at the World Hockey Championship. There, he recorded five points in four games as was one of Team Germany's best players when he arrived. He got into 11 games with the Chicago Blackhawks, and now the next step is becoming an everyday NHLer. In the early days of the Blackhawks' rebuild, he shines as one of their most promising prospects. – DL
19: Brandt Clarke, Los Angeles Kings
Brandt Clarke boasts some of the best offensive smarts and decision-making with the puck as a defenseman in his draft class. Selected eighth overall in 2021, Clarke can take control of a shift or lead a rush chance whenever he's on the ice with his skating and speed. He's great at identifying the open lanes and attacking with force to take advantage of an opportunity. He was among the most productive defenders in the OHL where he had a 1.07 P/G and was fifth in scoring with 59 points. – PB
18: J.J. Peterka, Buffalo Sabres
Turning pro in 2021-22, J.J. Peterka had a monster season in the AHL for the Rochester Americans where he joined forces with fellow top prospect Jack Quinn to finish first and fourth in rookie scoring respectively. Logging an insane 28 goals and 68 points in 70 games, he showed everyone that he will be a force to be reckoned with when he hits his prime in the NHL. – MZ
17: Brennan Othmann, New York Rangers
This electrifying winger scored 50 goals through 66 games with the Flint Firebirds of the OHL last season. Brennan Othmann is a high-octane offensive force on the ice that is also known not to back down from the nastier parts of the game. As the captain of the Firebirds, he led his team to the Western Conference Final, notching 24 points in 19 games along the way. He's going to be making things happen for the New York Rangers sooner rather than later. – DL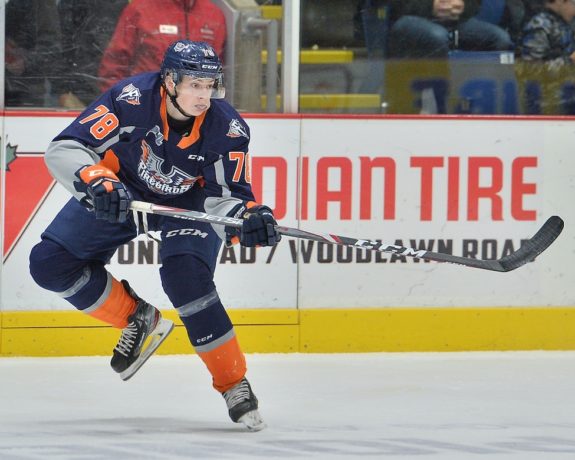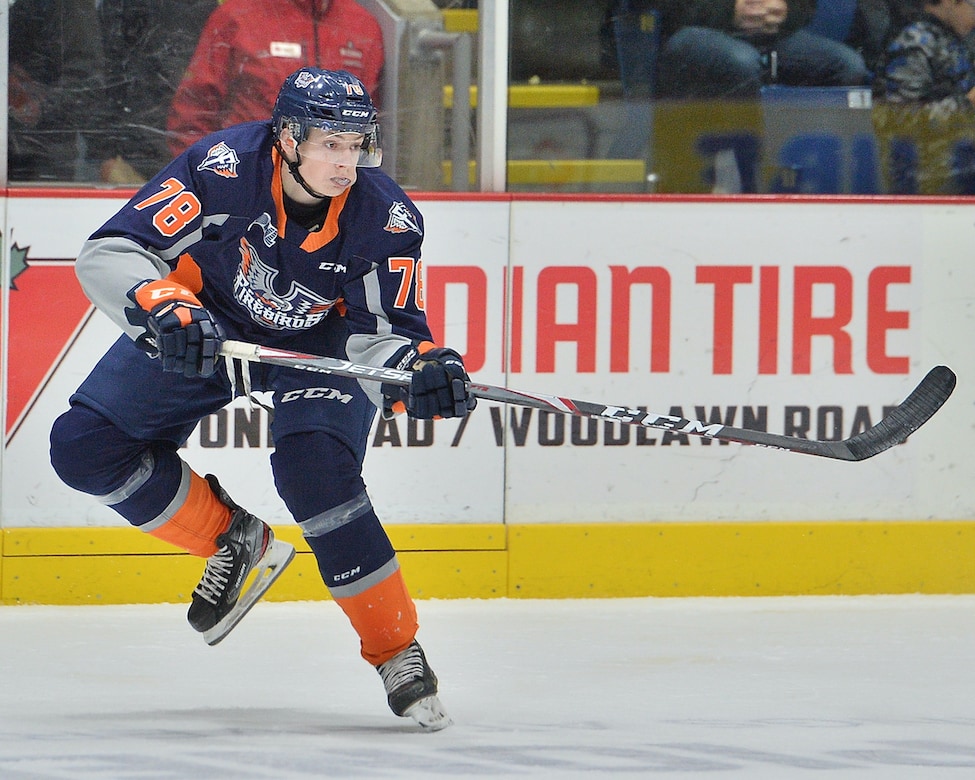 16: Kaiden Guhle, Montreal Canadiens
The 16th overall pick in the 2020, Guhle can do it all as he's a monster every time he's on the ice. He's got the speed to carry the play in transition, a powerful shot from the point and the size and physicality that makes forwards think twice whenever they go up against him. He's steady positionally in his own zone and does a great job at phasing players out in front of the net. A midseason trade sent him to the Oil Kings and ended up winning the WHL Championship. He could make the Canadiens sooner than later. – PB 
15: Matthew Coronato, Calgary Flames
After ripping up the competition in the United States Hockey League (USHL) with the Chicago Steel in 2020-21, Matthew Coronato moved his game to the NCAA and the Harvard Crimson in 2021-22. He didn't post the same ridiculous numbers in his freshman season, but he still led the team in scoring with a solid 18 goals and 36 points in 34 games. His shot and ability to score from virtually anywhere on the ice will do him well when he hits the NHL in a few seasons. – MZ
14: Wyatt Johnston, Dallas Stars
After missing an entire season of action due to the OHL canceling their 2020-21 season, it cannot be understated just how impressive of a season Wyatt Johnston had. With 124 points through 68 games with the Windsor Spitfires, he frequently was the best player on the ice. It's looking more and more like the Stars got an absolute steal with their first pick in the 2021 draft, selecting the 6-foot-1 center 23rd overall. – DL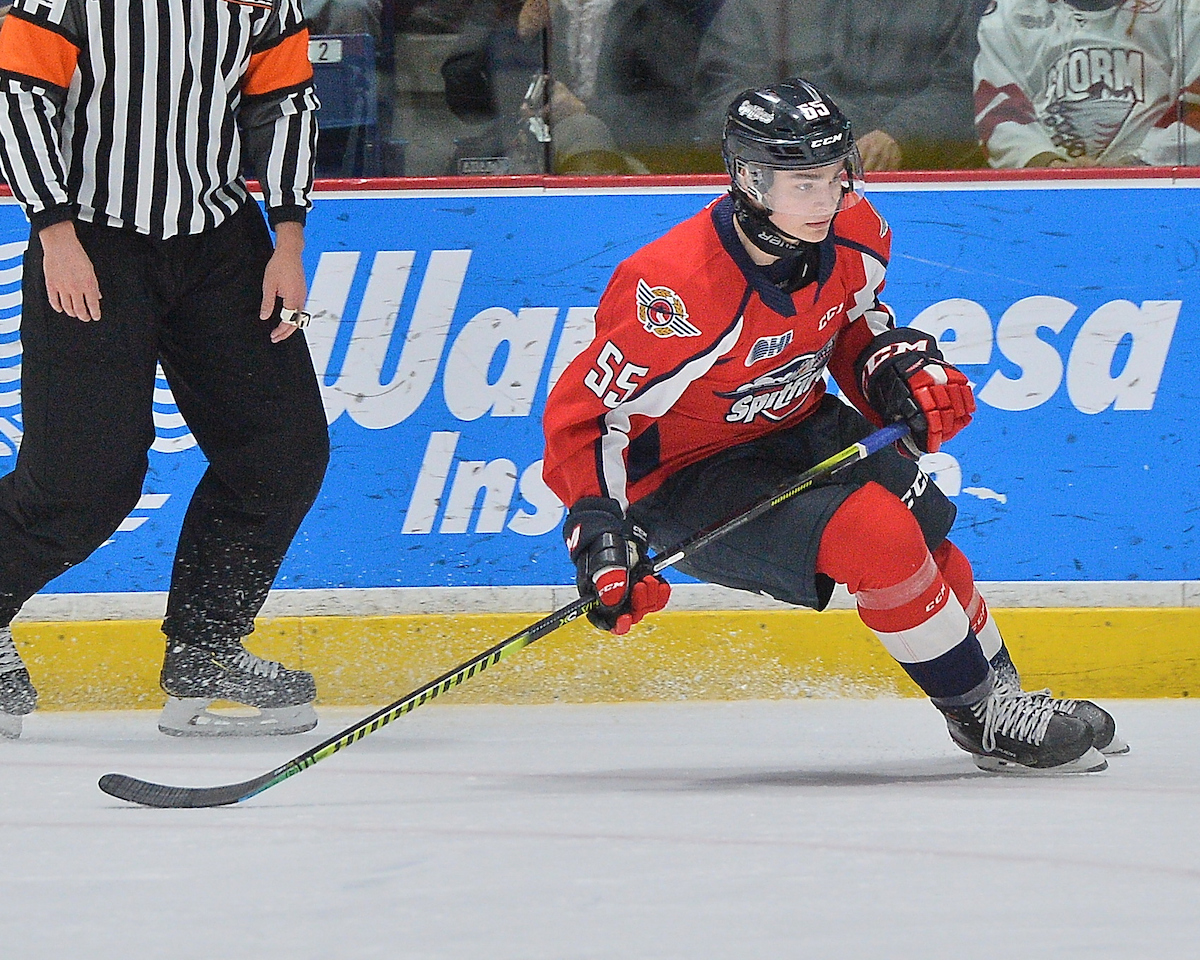 13: Cole Perfetti, Winnipeg Jets
Perfetti's high-end playmaking abilities with speed and skill to burn continues to amaze me. He's got soft hands to make slick moves around defenders and has an underrated shot to go along with it. He's played extremely well at the pro level with 41 points in 49 games with the Manitoba Moose in the AHL. It wasn't long before he got a long look with the Jets in the NHL as he played well in his 18 games with seven points during that span. It won't be long before he makes the roster and becomes a mainstay in the NHL. – PB 
12: Dylan Guenther, Arizona Coyotes 
Drafted by the Arizona Coyotes using the pick they acquired in the Oliver Ekman-Larsson deal, Dylan Guenther was quite the prize at ninth overall. A pure sniper in junior and ranked as high as the top-three in some circles, his NHL ceiling is massive. If all goes as planned, he likely will be the Coyotes' top scorer for the next decade. Multiple 30-goal campaigns are not out of the question either. – MZ
11: Alexander Holtz, New Jersey Devils
Alexander Holtz certainly got New Jersey Devils fans excited last season. He scored 26 goals in 52 AHL games, and his play with the Utica Comets led to nine games with the Devils. After recording two points (both assists) with the Devils, the next step for the Swedish sniper is to find a full-time job in New Jersey. The seventh pick of the 2020 draft could be on the verge of a breakout season in 2022-23. – DL
Prospects #10-1:
10: Jack Quinn, Buffalo Sabres
I was hesitant when the Sabres selected Quinn over Perfetti or Marco Rossi in the 2020 draft. At the moment, it's looking like a great selection. After Quinn struggled at times in his rookie season, the 20-year-old became a P/G player in his second pro season with 61 points in 45 games. This also included a short stint with the Sabres where tallied two points in two games. Quinn is a very deceptive player whenever he's on the ice as he can fool you with his playmaking abilities or his quick release. You never know what he's going to do and that's what makes him dangerous. – PB 
9: William Eklund, San Jose Sharks
Like Mason McTavish, William Eklund began his 2021-22 campaign in the NHL but was sent down after the nine-game cutoff. It was a somewhat surprising move from the San Jose Sharks as he didn't look out of place recording four assists and averaging over 14 minutes a night. Regardless, the 19-year-old was sent back to Djurgardens IF where he finished with one goal and 14 points in 19 games. Going into 2022-23, he should have a permanent spot in the lineup – possibly even in the top six and second power play unit. Forgoing the 2022 World Juniors in anticipation of just that, his dynamic game that had him in the conversation for first-overall in 2021 should make him an early Calder Trophy candidate this year. – MZ 
8: Luke Hughes, New Jersey Devils
The third Hughes brother opted to follow in his brother Quinn's footsteps and return to the University of Michigan for a second season. With 39 points through 41 games with the Wolverines last season, Luke Hughes proved to be one of Michigan's biggest offensive weapons. He has great offensive vision, and he should be a key fixture on Michigan's top power play unit this season, especially with Power, his former teammate, turning pro. – DL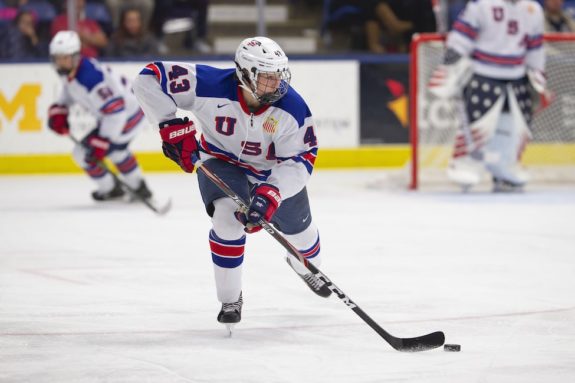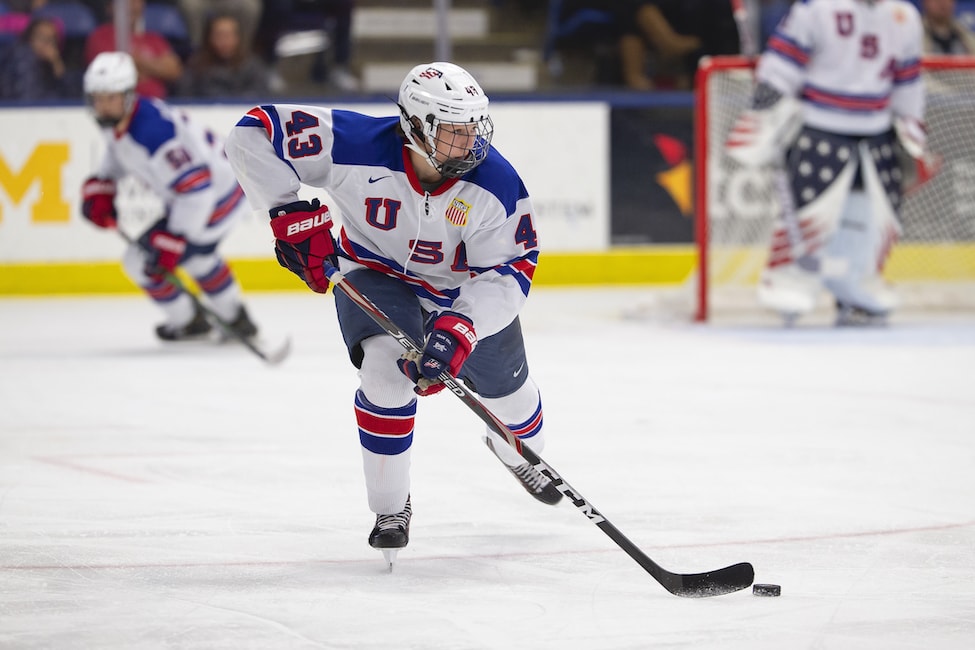 7: Marco Rossi, Minnesota Wild
Even after dealing with complications due to COVID-19, Rossi was able to bounce better than ever before. The speedy, highly competitive and smart two-way centre remains a top-prospect and one that many should look forward to when he makes it to the NHL. He had a strong rookie season with the Iowa Wild in the AHL, posting 53 points in 63 games. He displays great IQ with the puck and does a great job to utilize his teammates with his playmaking abilities. Even though he's 5-foot-9, 180 pounds, he doesn't let that deter him in any way shape or form and he's always battling for possession of the puck. – PB 
6: Jake Sanderson, Ottawa Senators
Likely starting the 2022-23 season on the Senators' opening night roster, Jake Sanderson is ready to be an NHL defenceman. With two years in the books at the University of North Dakota where he wore an "A" on his chest and scored 11 goals and 53 points in 91 games, his mobility and cerebral game will be a welcome sight on a blue line that has struggled to have any consistency beyond Thomas Chabot. With a revamped roster and playoff aspirations, he could become a major part of the defense corps as soon as next season. – MZ
5: Simon Edvinsson, Detroit Red Wings
With a tantalizing blend of size, mobility, and offensive prowess, Simon Edvinsson has the potential to enter the elite class of defensemen in his prime. During the 2021-22 SHL season, he proved to be a reliable player in all areas of the ice, and he made a difference for his team whenever he was on the ice. He should be able to make a case for himself to join the Red Wings right out of the gate in 2022-23. – DL
4: Kent Johnson, Columbus Blue Jackets
Out of all the players in the 2021 draft class, no one possessed the creativity and hands that Johnson had. When the puck is on his stick, he can make the most difficult of moves look effortless with his high-end puck control and ability to make them at a quick pace. He's great at utilizing his teammates to create space or draw in opponents and using the combination of his hands and speed to get around them with ease. He played at all levels during the 2021-22 season, including the Olympics and World Hockey Championship for Canada and a small taste of the NHL. Needless to say, he didn't look out of place as he was productive and displayed his high-end playmaking and control. He scored a highlight reel goal at the World Junior Championship and even scored the golden goal. – PB 
3: Mason McTavish, Anaheim Ducks
After starting in the NHL with the Anaheim Ducks, McTavish was sent back to the OHL to hone his game. Starting the season with the Peterbourough Petes and ending it with the powerhouse Hamilton Bulldogs, he finished what was likely his swan song in the league with 20 goals and 47 points in 39 games. He also added an insane 16 goals and 29 points in the playoffs leading the Bulldogs to an OHL Championship. It would be a huge surprise if he's not part of the graduating class by the time this list is revised midseason. He possesses everything you want in a big-league pivot, from his size and physicality to his powerful shot, he will be a force in Orange County for years to come. – MZ
2: Matty Beniers, Seattle Kraken
Matthew Beniers, the first ever draft pick of the Kraken, had a very successful 2021-22 season, starting with the University of Michigan where he put up 20 goals and 43 points through 37 games. His offensive abilities make him a top-tier prospect for the Kraken, but his two-way abilities and his willingness to set the example for his teammates make him one of the very best prospects in the game. He should make a huge impact for the Kraken this season. – DL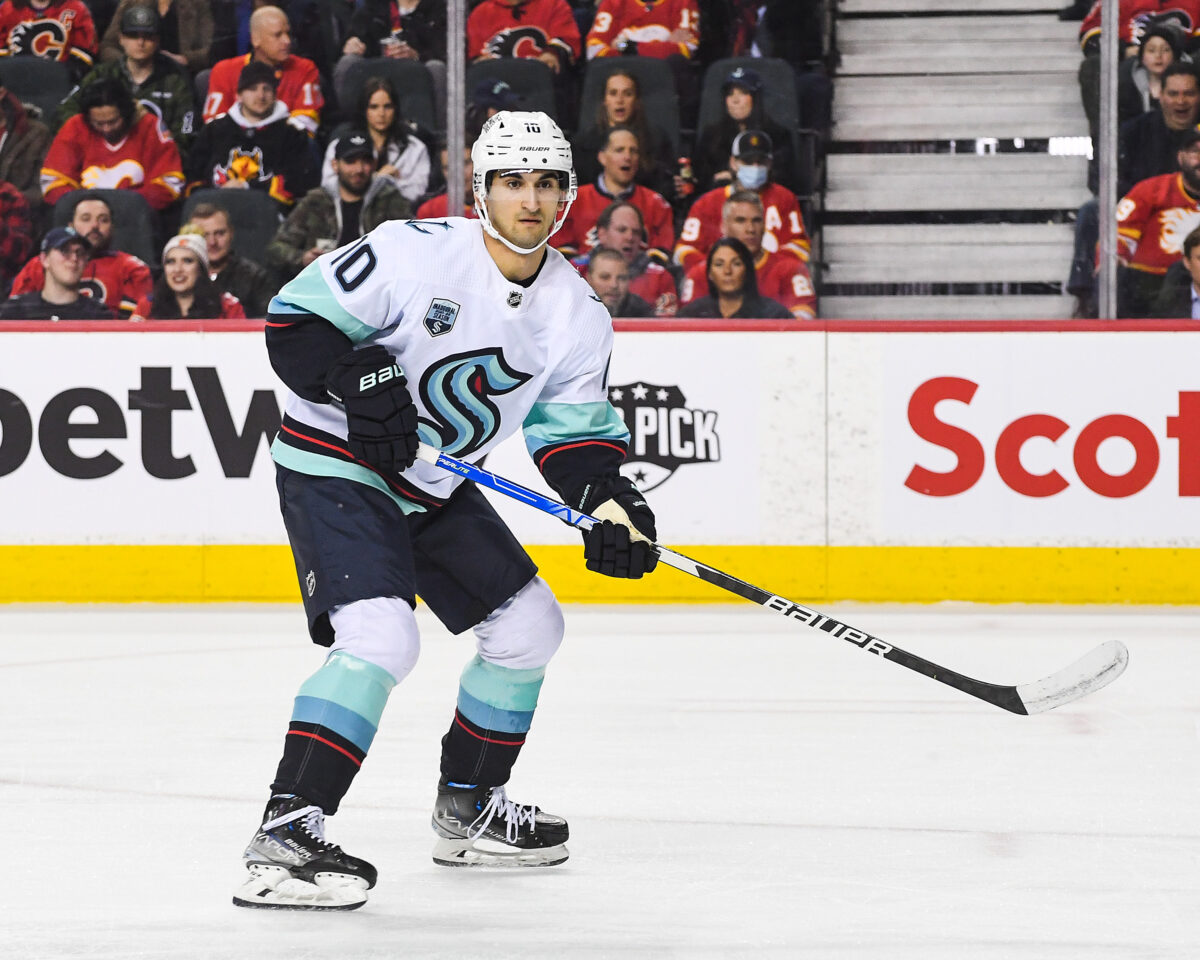 1: Owen Power, Buffalo Sabres
There's no doubt that Power is the top prospect for the start of the 2022-23 season. He's what teams covet in a top pairing two-way defender that can be relied on in all situations. He's an effortless skater with great speed and a smooth stride, possesses great awareness in any scenario and has a booming shot from the point. Defensively, he provides excellent gap control and a strong net front presence. He's responsible, smart and competitive every time he's on the ice.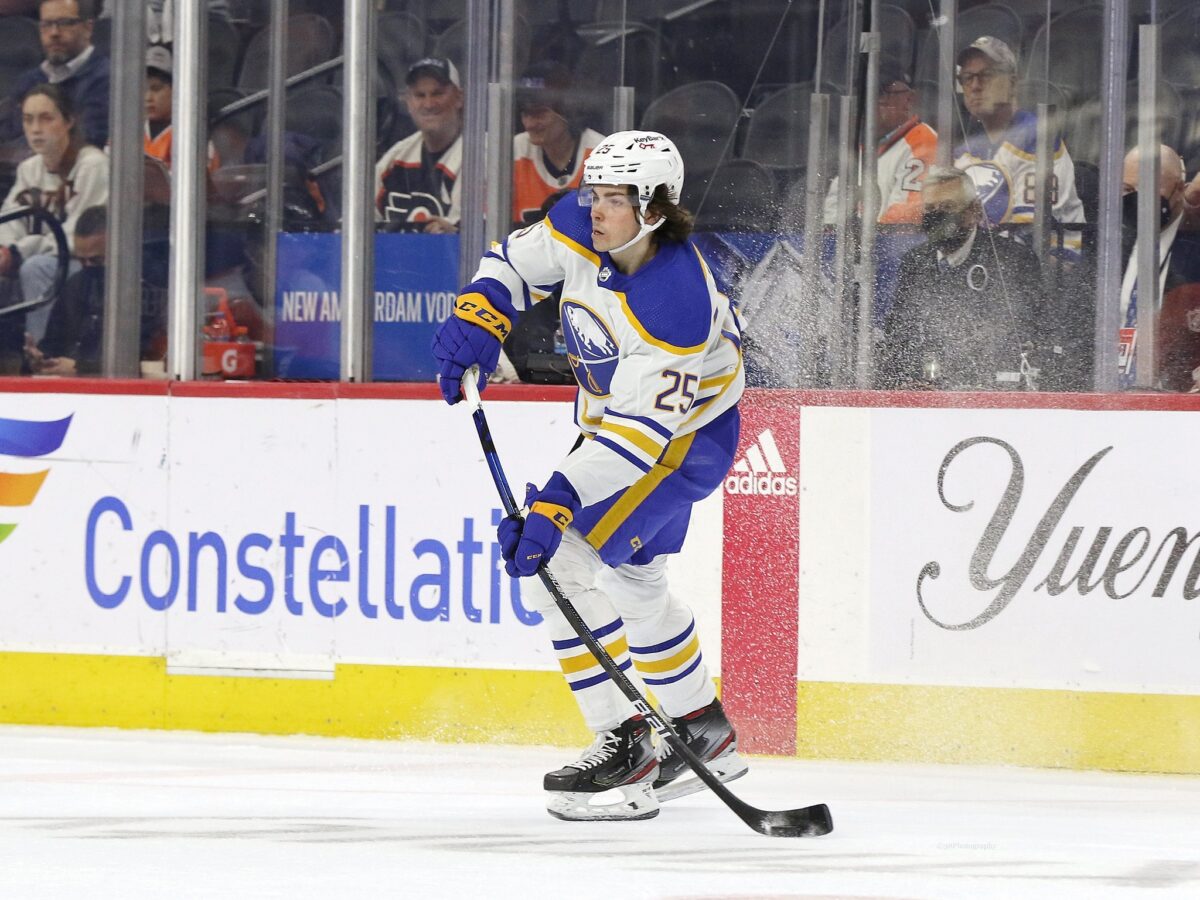 After almost being a P/G player for Michigan in the NCAA (32 points in 33 games), he made the jump to the NHL, finishing with three points in eight games. Already with NHL experience under his belt, Power is poised to take another step further in his development and be the key defender for the Sabres' future. – PB 
---
Who's too low? Who's too high? Who do you think should have made the list? Leave a comment below!
---
---
---
Latest News & Highlights
---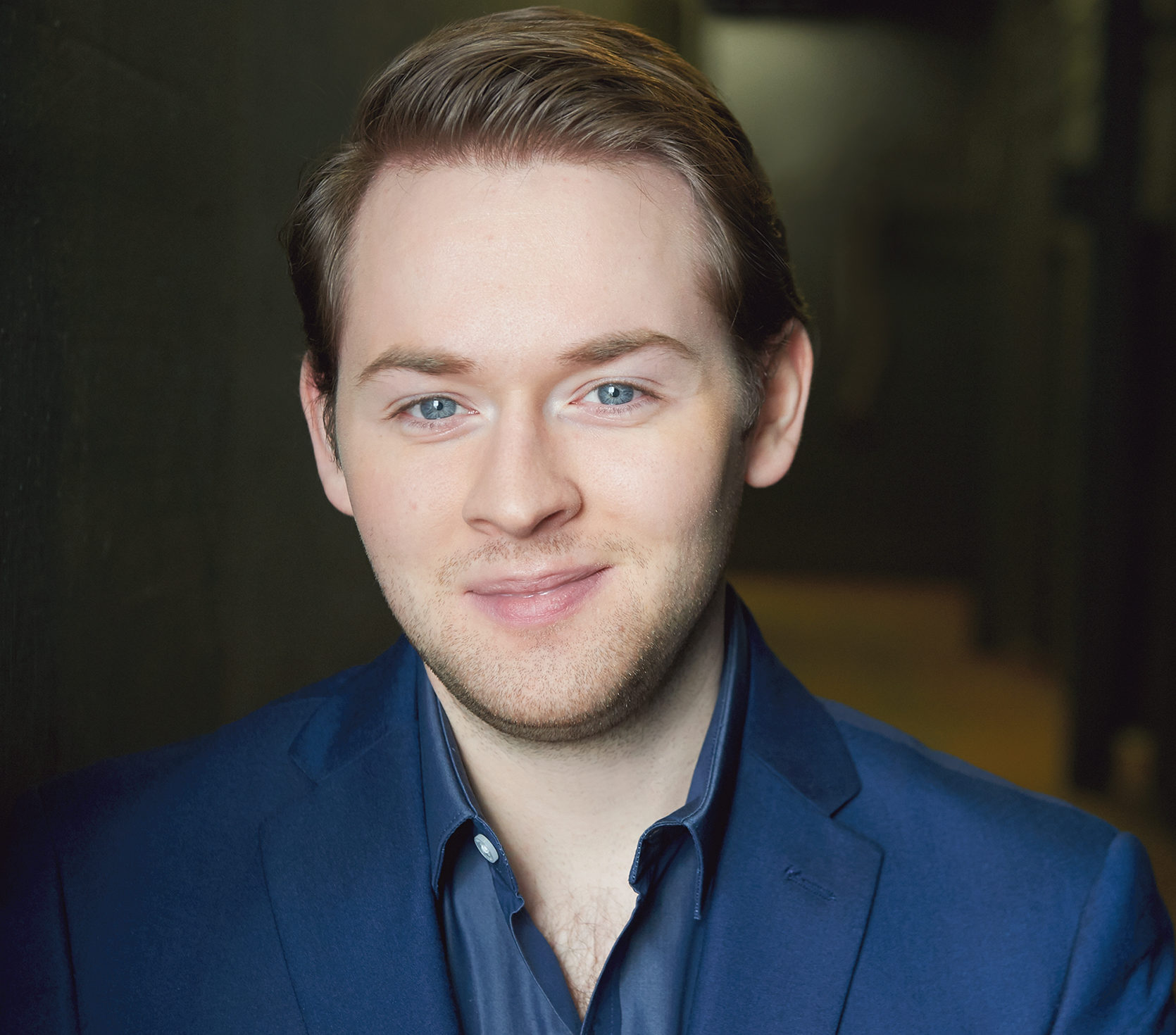 Peter is in his third year with The Hockey Writers, covering the Toronto Maple Leafs and heading the Draft and Prospects section. He has previously interned at The Hockey News and worked on Toronto Marlies broadcasts for Rogers TV. He currently is the co-host of the podcast Sticks in the 6ix and a frequent guest on Maple Leafs Lounge. Aside from hockey, he also enjoys drumming, animation and impressions/ voices.