Now that the 2023-24 NHL season is just around the corner, it's time to update our ranking of the top 100 drafted NHL prospects. In the last year we've seen top prospects like Matty Beniers and Mason McTavish break into the NHL full-time, becoming important players for their respective teams. We've also seen prospects like David Jiricek, Brandt Clarke, and Shane Wright make their NHL debuts, despite not earning roles as NHL regulars quite yet.
The upcoming NHL rookie class is rightfully earning a lot of early attention, with a massive group of talented youngsters who each have a claim at the NHL's Calder Memorial Trophy for the league's best rookie. From Connor Bedard and Adam Fantilli to Logan Cooley and Luke Hughes, the NHL is going to see a massive influx of young talent this upcoming season. Before we get into the top 100 prospect ranking update, here are a few notes on the criteria and content of this list.
---
Related: THW's Wall-to-Wall Prospect & Draft Coverage
---
What makes a player a prospect varies, but for this list, I will follow Corey Pronman's rules as a guide. Here are the criteria for this list: A player is considered a prospect if he has played less than 25 games in one campaign (regular season and playoffs combined), less than 50 games total in their career, and is 25 years old by Sept 15. (From: "Pronman: 2019-20 NHL Farm System Rankings").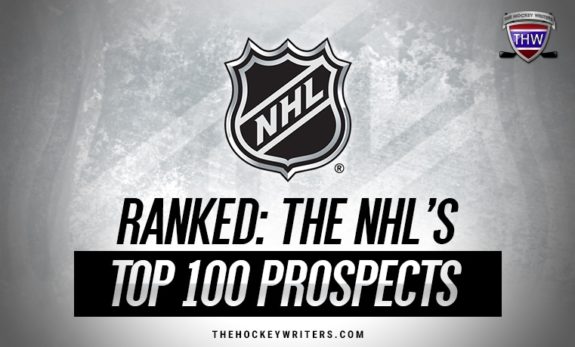 If you're wondering why goalies weren't included in this ranking, that's because we have a separate one for that position. Our ranking of the top 10 NHL goalie prospects can be found here.
---
Latest News & Highlights
---
Without further ado, here is our ranking of the top 100 NHL prospects as well as a few honourable mentions.
Honourable Mentions
HM: Lian Bichsel, LD, Dallas Stars
There are always a few first-round picks who rose in their draft year in large part to their size advantage, and Lian Bichsel is certainly one of them. The 6-foot-5 defender is adept at using his size to get what he wants on the ice, against junior players as well as seasoned pros. 

His offensive game is unlikely to ever really pop in the NHL, but I could see him as a solid complimentary guy you gladly pair with your top offensive defender if all goes well over the next few seasons. Bichsel is physical and mean, and he had a great showing at the World Juniors this year for Switzerland where he looked like a man amongst boys.
HM: Ivan Miroshnichenko, LW, Washington Capitals
After being seen as a clear top-10 prospect in the 2022 NHL Draft class for a year or two leading up to his draft year, Ivan Miroshnichenko slid on draft day as a result of the "Russian Factor" combined with the uncertainty surrounding his diagnosis with Hodgkin's Lymphoma.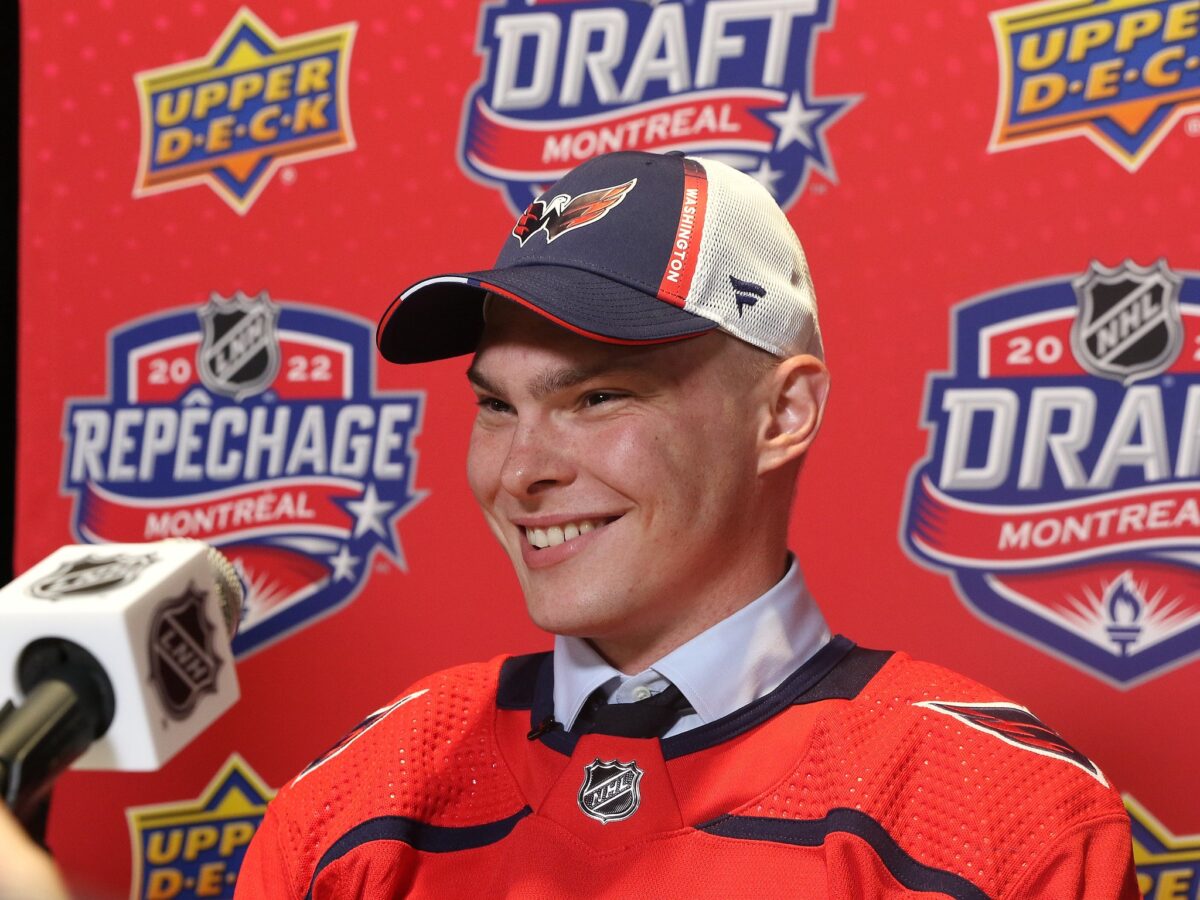 Thankfully, his treatment and recovery have been going well and he returned to play last season. He has absolutely torn up the top junior league in Russia and has been excellent in the second-tier professional league in Russia as well (VHL). It looks like Miroshnichenko's development is right back on track as the Russian sniper makes the jump to North America this year. A stint with the Hershey Bears in the AHL is the most likely spot for him this Fall, but I wouldn't be shocked if he forces his way into the Capitals' opening night lineup after a strong training camp.
HM: Francesco Pinelli, C, St. Louis Blues
Named captain of the Kitchener Rangers at the beginning of the 2021-22 season, Francesco Pinelli has not only led his team in the dressing room but also in the stats department. Finishing with a career-high 90 points in 60 OHL games last year, he took a massive step forward production wise. Hishockey IQ, playmaking, and quick-strike offense will make him a formidable package with the Los Angeles Kings one day. – MZ
HM: Dmitri Buchelnikov, LW, Detroit Red Wings
After going undrafted in the 2021 NHL Draft (the first draft he was eligible for), Dmitri Buchelnikov lit up the MHL (Russia's top junior league) and was drafted by the Red Wings in the second round of the 2022 Draft. Although the diminutive winger was relatively unknown to all but the most thorough European scouts, he has the skill and speed to back up that high of a selection. 
Related: World Junior Championship All-time Leading Scorers
He played his way out of the MHL last year (nine points in three games) and spent most of his time in the VHL, the second-tier Russian professional league. Buchelnikov is a remarkable offensive player with sky-high potential on that side of the ice, leading all U20 players in VHL scoring by a hefty margin. He is signed to play in Russia for a few more years so, hopefully, he continues on this upward trajectory up into the KHL and eventually over to North America. 
HM: Aatu Räty, C, Vancouver Canucks
The Islanders struck gold when they picked this Finnish forward in the second round of the 2021 Draft. After a down year during his draft season, Aatu Räty surged back in a big way, recording 40 points in 41 games while playing in Finland. He rediscovered his ability to make things happen on the ice, and he now looks a lot closer to the prospect that was once considered a top-10 talent in the 2021 Draft. Now a member of the Canucks organization following the Bo Horvat trade, Räty will need to prove that his skating won't be too much of an issue and that he deserves a full-time NHL spot next year on a Vancouver team that has improved their center depth considerably this summer with the additions of Pius Suter and Teddy Blueger.
HM: Filip Mesar, RW,  Montreal Canadiens
After playing in the top professional league in Slovakia for the two seasons leading up to the 2022 NHL Draft, it was hard to determine how Filip Mesar matched up against his peers since he has been playing against grown men for so long. Early returns are good as Mesar was excellent in the OHL last year and had a great showing for Slovakia at the World Junior Championship. He is a remarkable skater and his combination of skating and stickhandling makes him a deceptively good player in transition.
Prospects #100-91
100. Elmer Söderblom, RW/LW, Detroit Red Wings
One of the biggest surprises to come out of the Red Wings' pipeline, Elmer Söderblom possesses great mobility and skill for his size. The 6-foot-8, 249-pound winger made the jump to North America last season where he looked good-not-great in 41 games split between the NHL and AHL. He has soft hands to make moves in tight spaces and has the ability to power through opponents with his size and strength. If Söderblom can turn the flashes of incredible skill that he has shown into consistent momentum, then the Red Wings will have a very fun player on their hands.
99. Stanislav Svozil, LD, Columbus Blue Jackets
After authoring a middling season in the top professional Czechian league in his draft year, Svozil slipped into the third round of the 2021 NHL Draft where the Blue Jackets got an absolute steal. Svozil has played in the WHL ever since and has looked like an excellent pickup, especially after he dominated play at the 2023 World Juniors. He is a two-way defender whose game is entirely predicated on his excellent four-way mobility which allows him to be active on both offense and defense. Svozil is a very intelligent player, and his skating allows him to play the game at the same wicked speed that he thinks the game.
98. Mavrik Bourque, C, Dallas Stars
Even though he only played in 31 games during the 2021-22 season, Mavrik Bourque absolutely dominated the QMJHL competition finishing with 68 points, a 2.19 points-per-game rate. His speed, IQ and decision-making remain his greatest strengths every time he's out on the ice. He was an essential piece for the Shawinigan Cataractes as he helped lead them to a QMJHL Championship. Bourque had a great season in the AHL last year where he established himself as a great pro player with a 47 point rookie year which includes 20 goals.
97. Lukas Cormier, LD, Vegas Golden Knights
The 20-year-old defenseman finished his junior career with two-straight seasons of dominant play in the QMJHL. Lukas Cormier is a scorer and a facilitator on the blue line who has not been limited by his lack of size (5-foot-10). He made his pro debut in 2022-23 for the AHL's Silver Knights where he scored 35 points in 62 games. Cormier has the potential to become an important member of the Vegas Golden Knights' defense, that is if they don't trade him before then of course.
96. David Edstrom, C, Vegas Golden Knights
David Edstrom is someone that I think will go higher on draft day than most fans expect, possibly as high as the 20-24 range. He's a big center (6-foot-3) who is incredibly well-rounded and competes very hard. Edstrom isn't the flashiest player offensively, but he skates well for his size and wins tons of battles, clearing the way for his linemates to produce more offense. I expect he'll earn time on both special teams units in the NHL, and has some top-six center potential if he continues to grow offensively like he did this year. If not, then he has a very safe projection as a good middle-six center. 
95. Conor Geekie, C, Arizona Coyotes
Conor Geekie caught plenty of NHL scouts' attention during his draft year as a 6-foot-4 center with a respectable two-way game in the WHL. He is competitive and uses his size well against shorter and weaker Junior competition, and his playmaking from the perimeter on the power play is likely going to translate to the NHL someday.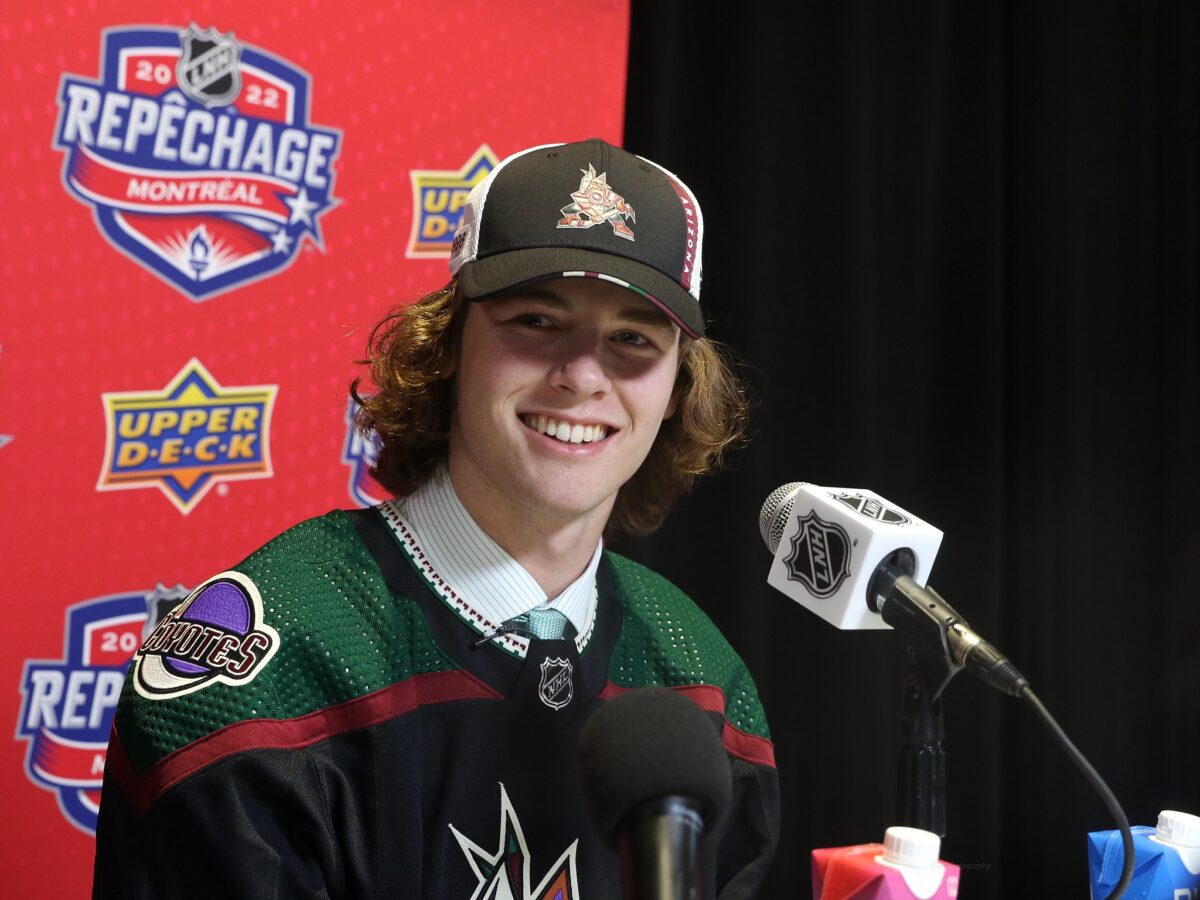 The projection is tantalizing, but the reason people are hesitant about Geekie is that his skating is merely average in the WHL, meaning it's firmly below the NHL average. Mobility has quickly become the most important attribute in the NHL, and the development of his skating will be the biggest determinant of his NHL success. – LH
94. Jani Nyman, RW, Seattle Kraken
The Seattle Kraken are putting in work trying to build a high-end prospect pool from scratch. Drafting Jani Nyman in the second round of the 2022 Draft is a big step in the right direction. Nyman is a big Finnish winger with the size and strength to compete against men in Liiga (the top Finnish pro league) without looking out of place. He has a great shot and playmaking vision but could use some work on his speed to help him separate from defenders on the rush.
93. William Dufour, RW, New York Islanders
After leading the Saint John Sea Dogs in scoring during their run to a Memorial Cup championship, William Dufour has firmly placed himself on the map. A fifth-round pick in the 2020 draft by the New York Islanders, he can dish the puck just as well as he can bury it, and his ability to elevate his game during the Memorial Cup tournament cannot be understated. He's still a year or two away from being an impact player in the NHL, but Islanders fans should be very excited about what he could become. – DL 
92. Nathan Gaucher, C, Anaheim Ducks
Admittedly, I'm higher than most on Nathan Gaucher, but certainly not higher than the Anaheim Ducks were on him when they decided to take him with the 22nd pick in the 2022 Draft. Gaucher doesn't possess the electric offensive skills that are typical for players in the first round of the draft, but he is a reliable two-way center with a decent scoring touch (especially at the net front) and an excellent two-way game. 
Related: 2024 NHL Draft Rankings – Horn's Early Top 16
Anaheim already has at least two of Trevor Zegras, Leo Carlsson and Mason McTavish lined up as their future top-six centers, so they don't particularly need another offensively-minded center prospect. Gaucher is the ideal third-line center who can contribute on offense while also providing a ton of defensive value at even strength and on the penalty kill so I love this pick for the Ducks.  – LH
91. Seamus Casey, RD, New Jersey Devils
There are always a few first-round-caliber talents who drop in their draft year in large part to their size disadvantage, and Seamus Casey is certainly one of them. The 5-foot-9 defender fell to the second round of the 2022 NHL Draft where New Jersey got an absolute steal in my opinion. Casey is an excellent offensive defenseman with the skating ability to make a real impact in the NHL someday despite his lack of size. He has the potential to be a top-four defender who quarterbacks the Devils' power play while providing tons of offense at even strength as well. His skating is so great that I'm not particularly concerned about his defensive game . . . yet. 
Prospects #90-81
90. Oskar Fisker Mølgaard, C, Seattle Kraken
Oscar Fisker Mølgaard might have one of the lowest floors from the 2023 Draft, with the effort and defensive game to become a serviceable bottom-six forward if he makes very little improvement. However, if Fisker Mølgaard can improve his offense a bit, he's got the potential to rise up an NHL lineup considerably. Despite not creating much offense on his own, Fisker Mølgaard led all U18 players in points in the SHL this season, and was fourth in points among U20 players, behind only Carlsson, Marco Kasper, and Filip Bystedt.
89. Bradly Nadeau, C, Carolina Hurricanes
Bradly Nadeau had a dominant season in the BCHL last year, with the goals and points accumulating until they were impossible to ignore. He led the league in goals, assists, and points as a 17-year-old and he's got a wicked shot and the speed to be an absolute terror in transition. The only thing standing in the way of Nadeau becoming a goalscoring top-six winger will likely be his size, standing at 5-foot-10, though his skating and compete level give me hope that he could make it work.
88. Jayden Perron, RW, Carolina Hurricanes
Jayden Perron is an excellent play-driving winger with tons of offensive talent. Although he is just 5-foot-9, Perron earned his fair share of buzz as a potential first rounder in the 2023 Draft due to his excellent skating, playmaking, and offensive awareness. He's great at changing speeds in transition to separate himself from defenders before either making a move around them or passing to an open teammate. Perron is so agile that his lack of size and strength don't often hinder his game and his off-puck offensive game is incredibly impressive. 
87. Mikhail Gulyayev, LD, Colorado Avalanche
Mikhail Gulyayev is an intelligent, offensively-minded defenseman who found moderate success in the top Russian pro leagues last year while dominating the Russian junior circuit whenever he plays against his peers. He is a mobile defenseman who fits the mold of the modern puck-moving defender and power play quarterback. The biggest question is if he will be able to defend in the NHL, as his defensive game looks underwhelming at times, even against his own age-group
86. Nick Robertson, LW, Toronto Maple Leafs
It somehow already feels like we've been hearing this kid's name for YEARS. Nicholas Robertson is needed to show that 2022-23 was the year that he could take that next step, but unfortunately injuries derailed his plans one again. He's got great puck skills, and he should be able to complement players like John Tavares and William Nylander once he plants his feet in the NHL. A healthy Robertson would ease the pain of losing one of Toronto's "core-four" if that is the route they ultimately take over the next 11 months or so.
85. Carter Mazur, LW, Detroit Red Wings
Carter Mazur went undrafted in the 2020 Draft, his first year of eligibility, and followed it up by being named captain of his USHL team and nearly tripling his offensive production. Whatever switch he flipped in that year, whatever fuel he gained by being undrafted, has quickly made him one of the best prospects in hockey.
Related: Grading Each Team's Draft at the 2023 NHL Draft
Mazur had an excellent NCAA career, scoring 75 points in only 81 games. I say "had" because he broke into the AHL at the end of last season and scored six points in six games, effectively cementing a role high in the lineup for the Grand Rapids Griffins next season. His persistence and nose for the net will make him a respected (and perhaps feared) player in the NHL one day.  – LH
84. Ryan Greene, C, Chicago Blackhawks
One of the players from the 2022 NHL Draft who has increased their stock the most since is Ryan Greene, a speedy two-way center who was drafted in the second round by the Blackhawks following a breakout year in the USHL. If the draft were to be re-done today, I am sure he would be taken in the first round because he looked excellent last year in the NCAA as a 19-year-old. His ability to anticipate and shut down plays in the defensive zone before breaking the puck out and taking it on the rush will make him a useful NHL player in the near future. It also doesn't hurt that he's a right-handed center which is quickly becoming one of the hottest NHL commodities.
83. Owen Beck, C, Montreal Canadiens
Owen Beck is an incredibly reliable and versatile two-way centerman who has increased his stock considerably ever since being selected in the 2022 NHL Draft at the beginning of the second round. He is smart, skates well, wins faceoffs, back-checks hard, and has already begun to grow into more of his offensive potential. Beck is going to be a player that coaches love as he works hard and has tons of skill. 
82.  Jonathan Lekkerimaki, RW, Vancouver Canucks
Few NHL prospects have faced stranger circumstances over the last year than Jonathan Lekkerimaki. After fighting through multiple injuries (and a bout with mononucleosis), Lekkerimaki is finally working his way back to his normal self, scoring at an impressive rate during the Allsvenskan playoffs last year.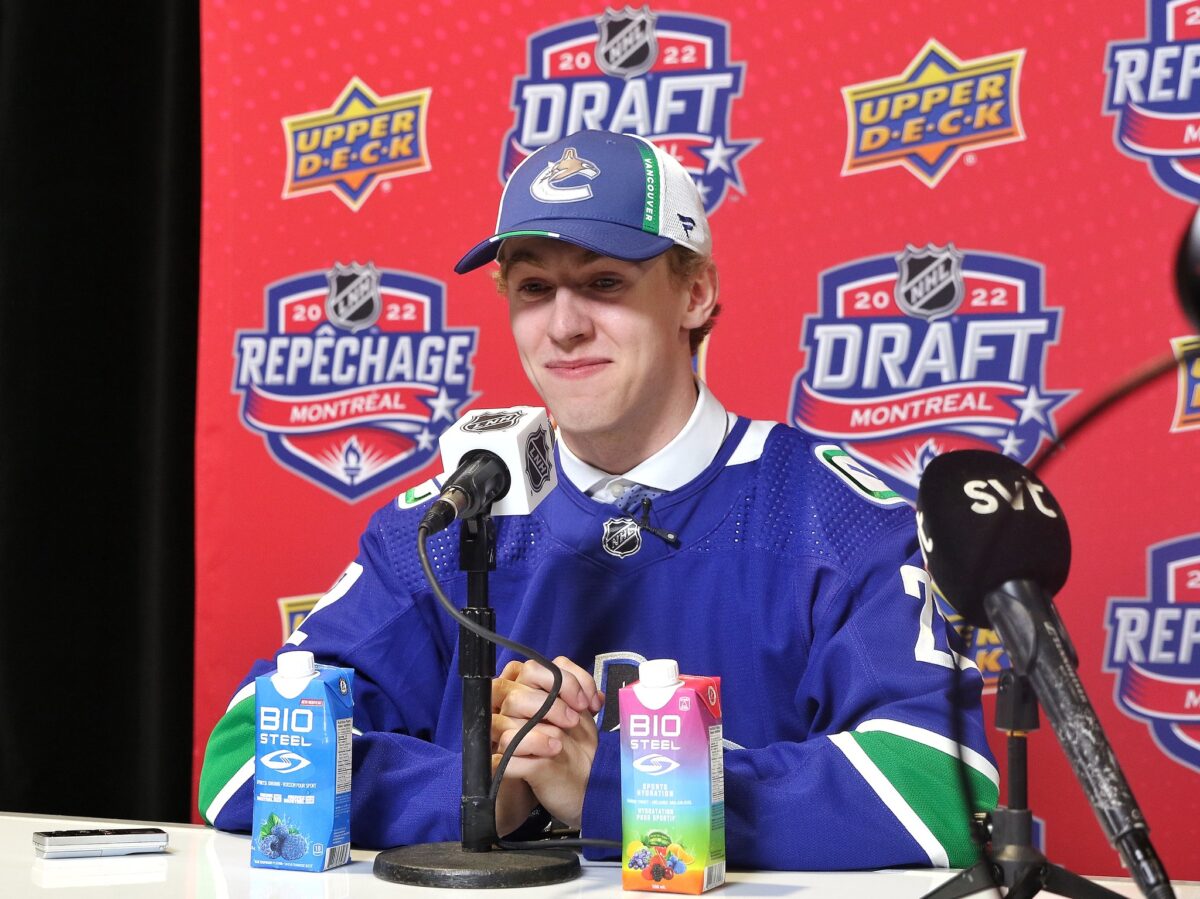 He is a great goalscorer and has a shot that will likely give NHL goalies nightmares someday, but for now he needs to prove that he's the player who scored 15 points in 15 playoff games and not the one who scored nine points in 29 regular season games. I think he's the former and if he can show that level of offensive flash in the SHL next season, he will shoot up these rankings quickly.
81. Fabian Lysell, RW, Boston Bruins
An elite-level skater, Fabian Lysell plays with a great amount of pace and skill. He's quick, dynamic and always fun to watch when the puck is on his stick. He's extremely deceptive when setting up his teammates and has a very underrated shot. Lysell spent last year in the AHL where he was excellent for the Providence Bruins, scoring 37 points in 54 games. He had a very disappointing showing at the World Juniors for Sweden where he scored zero points in seven games, but still has a ton of potential.
Prospects #80-71
80. Noah Ostlund, C, Buffalo Sabres
Noah Ostlund is one of the best pure playmakers on this list as his ability to keep track of his teammates' locations all over the ice leads to plenty of brilliant passes that nobody else seems to see coming. His ability to anticipate the play and make the right play to maximize the scoring chance for his team is remarkable. Ostlund is also a skilled puck handler with the speed and agility to make plays happen both on and off the puck. He works hard in all phases of the game and could become a great middle-six center if all goes well in his development.
79. Zachary Bolduc, C, St. Louis Blues
Zachary Bolduc is an offensive centerman that has the ability to make defensemen look silly. The 17th pick of the 2021 draft had a successful 2021-22 season in the QMJHL, recording 99 points while playing for a high-octane Quebec Remparts team. Bolduc followed that up with a 110 point season and a Memorial Cup championship as one of the most important players on the best team in the CHL. He is prone to some risky decision-making, and it will be very interesting to see if he can develop into a player that the Blues can use in all situations.
78. Gracyn Sawchyn, C, Florida Panthers
Gracyn Sawchyn has a very high motor and is constantly skating and making small, smart plays all over the ice. He's reliable defensively and is a great forechecker, making him an absolute nuisance for opposing forwards who aren't likely to get a lot of space when he's on the ice. Sawchyn forces turnovers at a remarkable rate, and while his shot and playmaking aren't anything to write home about, they should serve him well enough in the NHL. The real calling card of Sawchyn's offensive game is his hands which are incredibly quick. He should play a much larger role for the his WHL next year and I expect his production to increase accordingly.
77. David Goyette, C, Seattle Kraken
David Goyette is finally starting to earn some of the attention that I think he deserved all along. He's an excellent skater who doesn't quit on the play which helps him win a lot of puck battles and races to pucks. Goyette reads opposing defense very well which allows him to attack in a wide variety of ways. He can charge through soft spots, deke through defenders to make space, or draw tons of attention before passing to a teammate who is wide open. Goyette will be one of the best players in the OHL next year and I think he has a chance to be an excellent pro player in just a few short years.
76. Joshua Roy, C/W, Montreal Canadiens
Joshua Roy has proven just about everyone wrong ever since he was drafted 150th overall in the 2021 Draft. He has become one of the best goalscorers in the entire CHL over the last two seasons and has been excellent for Team Canada at the World Juniors, winning two Gold medals. Roy is incredibly competitive, responsible defensively, and protects the puck extremely well. He has shown that he only gets better when the games get important, which is an invaluable attribute to have as someone who projects as a top-nine winger in the NHL.
75. Isak Rosen, C/W, Buffalo Sabres
It's impressive to see teenage players competing at the professional level against grown men, even just for a couple of games. Isak Rosen has laced up for exactly 120 professional hockey games already and he just recently celebrated his 20th birthday. The main reasons he has been so successful against larger and stronger competition are his phenomenal skating and his ability to make good decisions at a very high speed. Rosen has the defensive effort and technique to be a solid two-way winger in the NHL one day, but will likely need to get just a bit stronger (or just a bit more clever) before he will be out-muscling or out-maneuvering NHL players with regularity.  – LH
74. Scott Morrow, RD, Carolina Hurricanes
Who doesn't love a dynamic puck-moving defenseman who is always in attack mode? Scott Morrow plays that high-octane style as he's always quick and decisive in transition. He shows great speed, edges, and confidence in his movement when attacking off the rush and he always has the opposition on their heels trying to predict his next move. Morrow has produced a ton of offense through two NCAA seasons, accumulating 64 points in 72 games played.. Defensively, he's still a work in progress, but you can't deny his ability to generate offense.
73. Jordan Dumais, RW, Columbus Blues Jackets
In the leadup to the 2022 NHL Draft, it became clear that Jordan Dumais was a high-risk, high-reward prospect. So far, he has been a rewarding prospect for the Blue Jackets who selected Dumais in the third round, 96th overall. He has proven himself to be a dominant offensive player in the Quebec Major Junior Hockey League (QMJHL), with incredible hands and playmaking ability. The reason he had to wait until the third round to hear his name called was his small frame (5-foot-9) and his unexceptional skating. Dumais has the work ethic to succeed at the pro level despite his size, but he will need to take another step forward in his skating if he wants to become the dynamic playmaking winger that he has the potential to become at the highest level. – LH
72. Brad Lambert, C, Winnipeg Jets
Brad Lambert is one of the least predictable NHL prospects, alternating between games where he looks like a sure-fire top-six centreman and games where you are left frustrated with his apparent lack of effort. Lambert's skating ability is elite and gives him a standout skill that will translate to the NHL someday.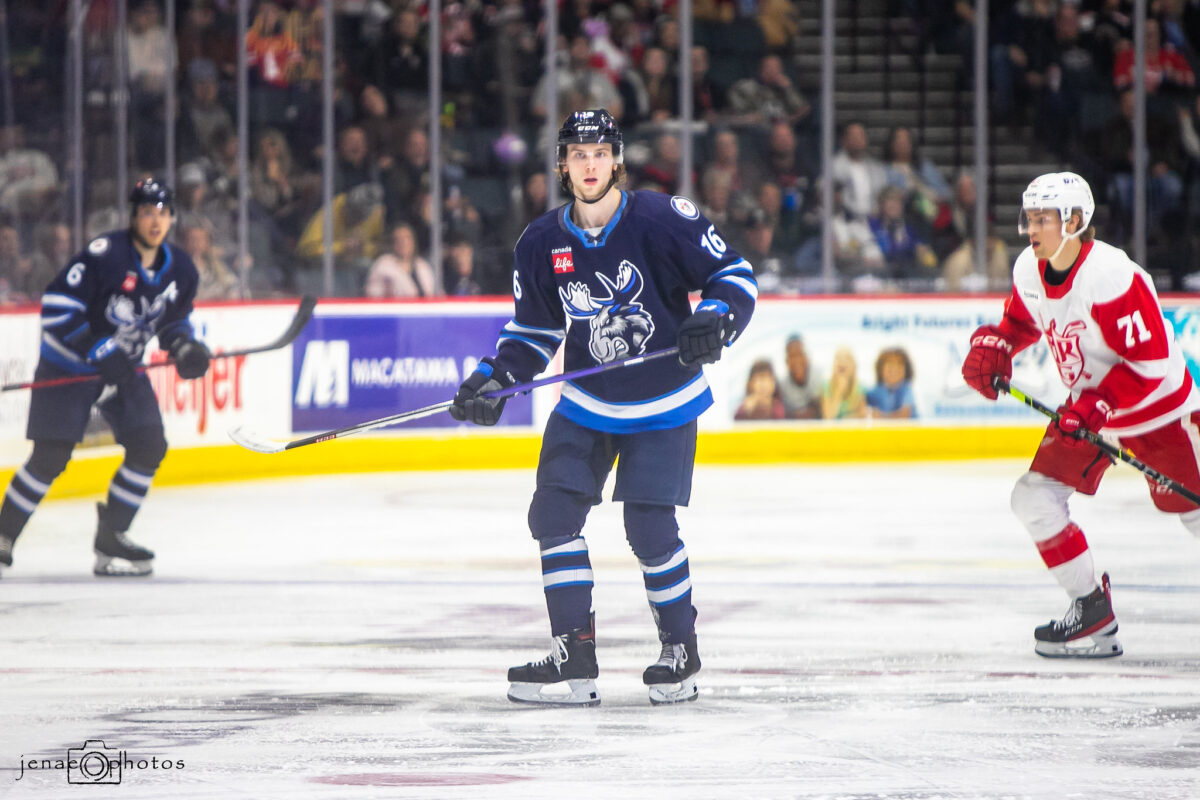 He also has great puck skills and can make great passes or dekes while at his remarkable top speed. Last season was a positive one for Lambert who looked dominant in WHL play and kept up reasonably well in the AHL. If he can maintain the momentum he built through his WHL stint as he returns to professional hockey next year, then he will likely take another strong step forward.
71. Rutger McGroarty, C, Winnipeg Jets
Rutger McGroarty is a true power forward, strong and determined enough to win pucks with great playmaking skills that allow him to make smart plays with the puck once he wins it. His father was the head coach of the United States Hockey League (USHL) team the Lincoln Stars, and McGroarty's maturity, work ethic, and two-way game have clearly benefited from observing and attending practices with players much older than him from such a young age. 
Related: Matvei Michkov – The Best Russian Prospect Since Ovechkin
He is a very complete prospect who is a natural leader, shoots well, and does just about everything else you could hope for from a first-round pick. 
Prospects #70-61
70. Calum Ritchie, C, Colorado Avalanche
Calum Ritchie has great puck skills and sometimes it looks like he has glued the puck to his stick while carving through defenders or when he's on a breakaway. His skills make him very well suited as a center at the next level with good size, a coveted right-handed shot, good defensive habits (kills penalties quite well), and solid faceoff results. He has the tools to be a top-6 forward, but his offensive game will need to bounce back next year if he wants to get back on track. 
69. Danila Yurov, RW, Minnesota Wild
Danila Yurov slid on draft day in the 2022 NHL Draft because of the uncertainty surrounding Russian prospects and the likelihood of them ever making the move to North America. He is a great two-way winger with excellent skating and enough energy on the forecheck to frustrate opponents even in the KHL although he is at least a decade younger than most of his opposition. You know the phrase "work smarter, not harder", well I think somebody told Yurov that one day but he misheard it as "work smart, and harder" because that's what he does on every shift. He had a good season last year in the KHL, and I think he will continue to develop well with increased ice time over the next few seasons. 
68. Tyson Foerster, RW, Philadelphia Flyers
A lethal shooter with a powerful one-timer, Tyson Foerster was a sniper in the OHL. After a decent rookie season in the AHL playing for the Lehigh Valley Phantoms in 2020-21, he dealt with a significant shoulder injury the following year that limited him to just 35 games spread across three teams. Last season he showed that he could create some serious momentum in a full season, scoring 48 points in 66 AHL games as well as making his NHL debut, scoring seven points in only eight games. I expect Foerster to compete for a big role on the Flyers next year right out of training camp and to maybe even be a dark horse contender for the Calder Memorial Trophy.
67. Frank Nazar, C, Chicago Blackhawks
Frank Nazar is a great centre prospect who was drafted 13th overall in the 2022 NHL Draft despite being 5-foot-9. Typically, NHL general managers are wary of selecting players of Nazar's size so early in the draft, but his playmaking vision and excellent skating were enticing enough that the Blackhawks wanted him to be a part of their future.
Related: Grading Every First Rounder in the 2023 NHL Draft
He will likely provide a ton of value off the rush in the NHL someday as his speed and ability to make smart passes while manipulating defenders' skates allows him to create tons of scoring chances. He missed a lot of time last season following offseason surgery, but look for him to bounce back next year with the Michigan Wolverines in the NCAA. 
66. Liam Ohgren, LW, Minnesota Wild
Liam Öhgren is a "jack of all trades, master of none" type of player who will excel in the NHL one day as a complementary winger. He is one of the hardest-working players on the ice every time he plays, and he can do just about anything asked of him. Öhgren has a great shot, good hands, legit playmaking skill, and the skating ability to put all those skills together. He is great at finding open space off the puck and he rewards teammates for passing to him by charging the middle of the ice or ripping a puck mid-stride.
65. Eduard Sale, RW, Seattle Kraken
Eduard Sale is a great offensive winger who led all U20 players in scoring as a 17-year-old in the top Czechian professional league last season. He has struggled a bit against men, looking most comfortable while dictating play from the flanks at even strength and on the power play.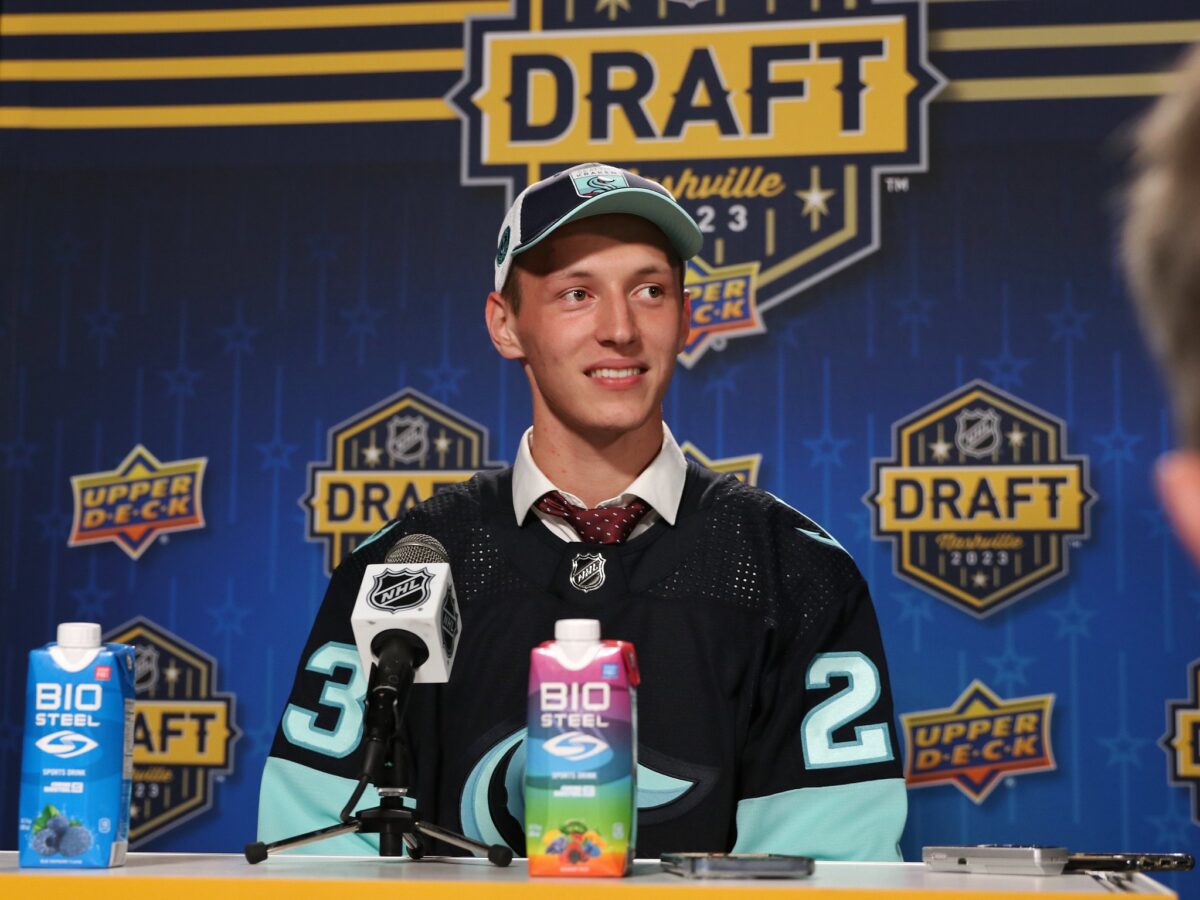 He continued to slide in his draft year as his game was a bit underwhelming with the exception of his Hlinka Gretzky tournament performance which was doing a lot of the heavy lifting of keeping him in the top 10 conversation. The Kraken should be excited about his potential, though he will need to iron out a few issues and inconsistencies if he wants to be a high-end NHLer.
64. Brennan Othmann, LW, New York Rangers
This electrifying winger scored 50 goals through 66 games with the Flint Firebirds of the OHL two years ago. Brennan Othmann is a high-octane offensive force on the ice that is also known not to back down from the nastier parts of the game. He was traded in the middle of last year and was excellent down the stretch for his new team, the Peterborough Petes, helping to lead them to the OHL championship and the Memorial Cup as well.
63. Quentin Musty, LW, San Jose Sharks
After a solid showing at the Hlinka Gretzky Cup last summer, Quentin Musty was considered by many to be the best U.S. born prospect in this draft class. A slow start to the OHL season saw his draft stock swing way down, but his production leveled up significantly in the second half of the season and he rose back up again. Musty is an athletic winger who can beat goalies with his hard shot or by crashing the net and scoring in tight. He isn't much of a factor defensively, and struggles with consistency at times, but his shot and playmaking are his best tools and they could make him a great NHL player someday.
62. Mackie Samoskevich, LW/RW, Florida Panthers
Mackie Samoskevich had a greatly increased role with the University of Michigan this year and he thrived as a result. His high hockey IQ and excellent puck skill was on display throughout the season. Samoskevich even made his professional debut at the end of the season, playing nine games with the Charlotte Checkers of the AHL, scoring six points along the way. Expect him to make a handful of incredible highlight reel plays next year in the AHL and to compete for an NHL spot as soon as the following season.
61. Shakir Mukhamadulin, LD, San Jose Sharks
Once viewed as a questionable pick in the 2020 NHL draft, Shakir Mukhamadullin's stock has only risen ever since. He possesses great qualities, but his game is raw and needs to be refined. At 6-foot-4, 194 pounds, he's extremely mobile and has a very smooth stride in transition, not to mention he can make a strong breakout pass to start a play. With his size, he isn't afraid to step up and make a big hit. Mukhamadullin's defensive game has shown improvement and if he's able to continue being consistent, then the Sharks will be very pleased that he was a piece of the trade return they got for Timo Meier.
Prospects #60-51
60. Riley Heidt, C, Minnesota Wild
Riley Heidt's excellent acceleration and edge work make him a natural choice as the lead puck carrier for zone entries and he has excelled in that role with the Prince George Cougars throughout his junior career. His playmaking skills either at full speed or after settling in the offensive zone are impressive and make him a very mobile and shifty threat whenever he has the puck. Good habits away from the puck lead me to believe he will be a reliable NHLer with top-six forward upside. If he can continue to develop his projectable NHL center tools, the Wild might come out of the 2023 Draft with one of the best value picks after adding Heidt with the 64th overall pick.
59. Ridly Greig, C, Ottawa Senators
As the captain of the Brandon Wheat Kings two years ago, Ridley Greig posted an impressive 26 goals and 63 points through 39 games. Along with those points came 92 penalty minutes; he is at his best when he's making an impact in every facet of the game, but the Senators will want him to eventually dial it back a bit. He looked right at home in his first taste of the NHL last year, scoring nine points in 20 games.
58. Arseni Gritsyuk, RW/LW, New Jersey Devils
Not many fifth-round picks find themselves on top-100 prospect lists, but Arseni Gritsyuk is not just any fifth-round pick. After posting only one goal and two points in 12 games in 2020-21 with Avangard Omsk in the Kontinental Hockey League (KHL), he broke out to the tune of 16 goals and 28 points in 39 games two seasons ago. He followed that up with a 40 point season in 66 games last year, proving that he's the real deal and not just a flash in the pan. He has two more years on his KHL contract, but the Devils could be looking at a top-six level talent when he finally comes over, something that would be a huge difference maker for them as they re-enter their competitive window.
57. Sean Farrell, C/W, Montreal Canadiens
When I wrote Sean Farrell's draft profile back in 2020, I compared him to 40-goal scorer Alex DeBrincat, now of the Ottawa Senators. I stand by that as he's just continued to prove to me that he's capable of greatness in the NHL one day. While his lack of size at 5-foot-9 will always attract the doubters, his shiftiness and playmaking are more than enough to overcome that supposed weakness. After putting up 101 points in his final season with the Chicago Steel, the increased competition of the NCAA didn't seem to faze him as he recorded an impressive 10 goals and 28 points in 24 games during his freshman season at Harvard University as well as an astounding 20 goal, 53 point sophomore season. All of that to say, I think it's best not to sleep on the ceiling of Farrell, who was surprisingly drafted all the way down in the fifth round.
56. Tristan Luneau, RD, Anaheim Ducks
Tristan Luneau has been a big riser in the prospect world over the last 10 months or so, taking his projection from possibly being a third pairing or depth defender in the NHL to someone who can I think could very well become a second pairing guy for the Ducks someday. Luneau reads plays incredibly well, tracking opponents' routes and plans about as quickly as you could ask for.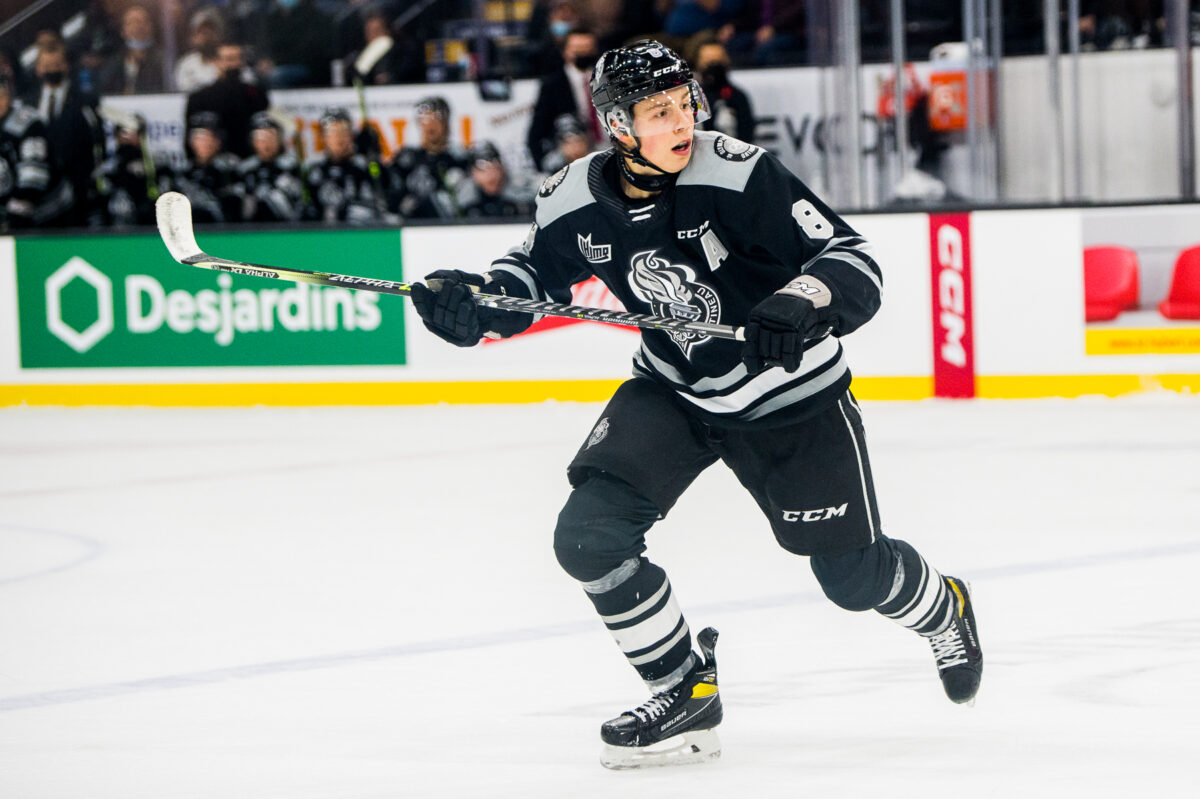 He isn't the most dynamic offensive creator (although his production did increase significantly last year), but he is quite strong when it comes to breaking the puck out of his own zone and turning the play in the right direction. The Ducks should be very excited as Luneau appears to be someone that could be a big part of their NHL lineup in the near future.
55. Marat Khusnutdinov, C, Minnesota Wild
Marat Khusnutdinov is an undersized center who is known for his excellent vision and hockey sense as well as his refined defensive game. He never gives up on a play and works incredibly hard on both the forecheck and the backcheck, often re-gaining possession for his team entirely on his own. Khusnutdinov finally broke through in the KHL last season, finally earning a large enough role to demonstrate his talents, and he rewarded his coaches by scoring 41 points in 63 games. He has one more year on his KHL contract so watch out for the Wild to try and get him signed in the near future.
54. William Wallinder, LD, Detroit Red Wings
A towering defender at 6-foot-4, 190 pounds, William Wallinder was drafted 32nd overall in 2020. He's extremely mobile and has a smooth skating stride and a very strong puck carrier. He has put in a lot of work on his defensive game to round out his strengths, but his offensive instincts are what will make him a very good option for the Detroit Red Wings on defense. Wallinder was one of the best young players in Sweden last season and will make the switch to North America next year with the Grand Rapids Griffins where I expect him to be an all-situations top-four defender from the jump.
53. Corson Ceulemans, RD, Columbus Blue Jackets
The Columbus Blue Jackets' third first-round pick in 2021, Corson Ceulemans, is a highly mobile defender. He displays a smooth stride, great speed, leads the rush and is strong in breakout situations. He's got great hands to make plays and a powerful shot from the point to get shots on net. Ceulemans has great size to keep attackers to the outside and is always engaging in a battle for the puck.
Related: Every NHL Team's Best Prospect
His offensive game has been on display through two NCAA seasons and he made his pro debut with the Cleveland Monsters of the AHL last Spring. Expect him to be a top player for the Monsters for most of next season before competing for an NHL spot.
52. Brock Faber, RD, Minnesota Wild
In his third season with the University of Minnesota, Brock Faber took a massive step forward offensively, becoming a dynamic creator for an excellent team all while maintaining the defensive structure and focus that was previously his calling card. Faber was named captain at the start of the year and was, in all accounts, an excellent leader both on and off the ice. He joined the Wild following the conclusion of his college season and got into two regular season games and six playoff games. While he has yet to register an NHL point, he still made some solid defensive reads and made a few memorable plays along the way. With Matt Dumba moving on, there is a clear opportunity for Faber to be a top-four defender for the Wild next year if all goes well.
51. Gavin Brindley, RW, Columbus Blue Jackets
Brindley is a 5-foot-9 forward who was excellent in the NCAA as an 18-year-old freshman last year, a very impressive feat. His skating is great and his high energy level makes him a possession beast. His combination of speed and effort will make him a very flexible player who can fill in whatever role is needed of him, which earned him time on all four of Michigan's lines last year before landing next to Adam Fantilli for the final months.
Prospects #50-41
50. Andrew Cristall, LW, Washington Capitals
One of the most skilled and slippery prospects in the hockey world is Andrew Cristall, one of the only draft eligible players in the WHL who was able to roughly keep pace with Bedard in terms of production last year. Holding steady at about 1.7 points per game, Cristall has already shown improvements following his impressive 69-point WHL rookie season the year before. He draws tons of attention in the offensive zone and is great at making smart plays under pressure to help open teammates up, making their jobs much easier.
49. Ryker Evans, LD, Seattle Kraken 
Ryker Evans is one of the biggest risers on this edition of this list, going from a great junior player who didn't project to have much offense at the pro level to a rising star who may have top-four potential in the NHL. Evans spent last year in the AHL with the Coachella Valley Firebirds and scored 44 points in 71 games, an incredible season by all accounts. He tied for 11th in scoring among all defenders in the AHL despite being a rookie and was the third highest scoring player in the AHL playoffs with an incredible 26 points in 26 games.
48. Brayden Yager, C, Pittsburgh Penguins
Brayden Yager has been talked about in the public scouting sphere for nearly as long as Connor Bedard, being drafted third overall in the 2020 WHL Bantam Draft and winning the CHL Rookie of the Year award two years ago on the back of a remarkable 34-goal, 59-point rookie season. His transition game, defensive play, and wicked wrist shot make him the most important player on his WHL team on many nights. The Penguins have been without a high-end prospect for quite some time and Yager is exactly that.
47. Colby Barlow, LW, Winnipeg Jets
Ever since scoring 30 goals as a rookie in the OHL two years ago, Colby Barlow has been on my radar as a pro-sized winger with a legit NHL-caliber shot. He's got good tools all around with solid speed, stick skills, and defensive play. Barlow was also named captain of the Owen Sound Attack at just 17 which speaks to his maturity and leadership abilities. Last year he had another excellent year goal-scoring wise with 46 goals in 59 OHL games this year.
46. Chaz Lucius, C, Winnipeg Jets
Despite losing a lot of time in his draft year rehabbing a knee injury, the Winnipeg Jets still chose Chaz Lucius 18th overall in the 2021 Draft. His great playmaking ability and scoring potential were just too enticing to ignore. After playing for the University of Minnesota, where he finished his freshman season with a decent nine goals and 19 points in 24 games, Lucius made his pro debut last year with the Manitoba Moose. He ultimately joined the Portland Winterhawks of the WHL after tearing it up for Team USA at the World Juniors, meaning he has played for five teams in total over the last three seasons alone. Staying in one place next year (probably the AHL) will likely do him some good. 
45. Joakim Kemell, RW, Nashville Predators
There was a time when Joakim Kemell was seen as the second-best prospect in the 2022 Draft. His red-hot start in the Finnish Liiga in his draft year had NHL scouts salivating at his goal scoring potential, and while he ultimately cooled off quite significantly, that potential hasn't disappeared. Kemell had a disappointing second half of his draft year which led to him falling all the way to 17th overall on draft day where the Predators were more than happy to add him to their prospect pool.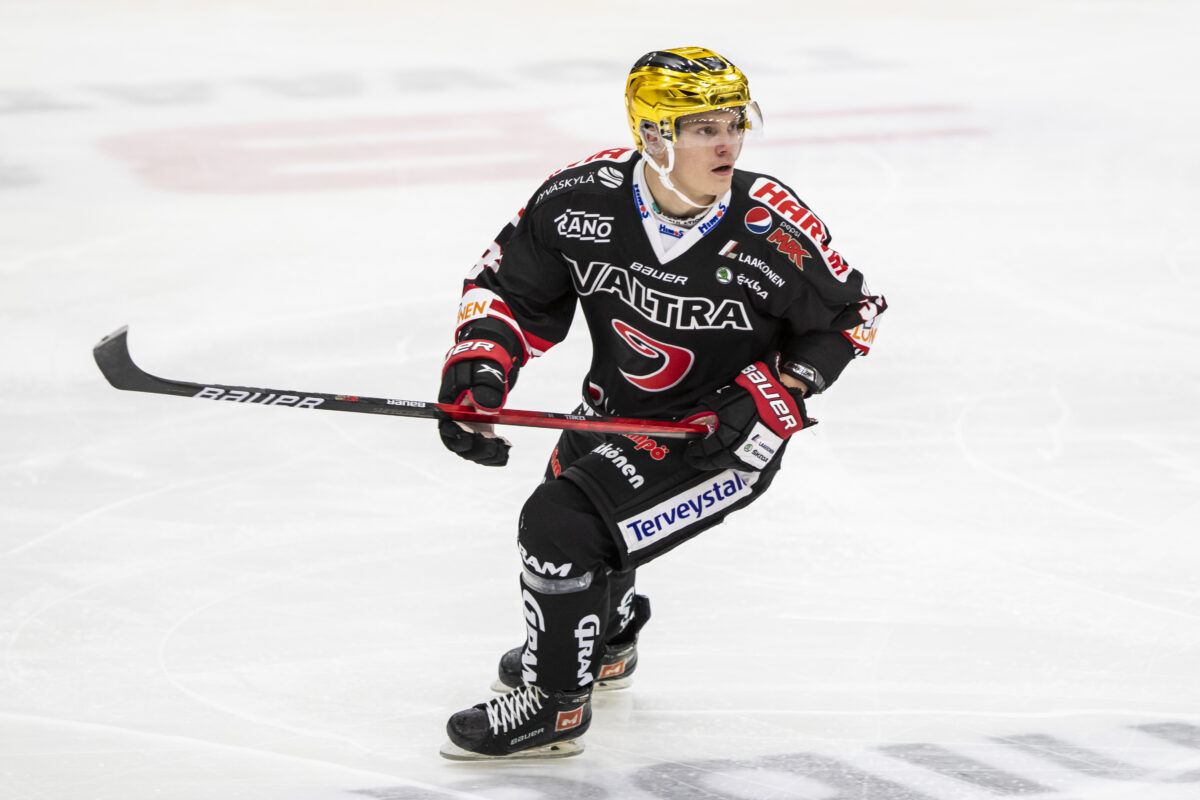 He had another inconsistent year in the Liiga last year, scoring at a lower rate than his draft year, but then he decided to try out the North American pro game and that was a different story entirely. Kemell joined the Milwaukee Admirals of the AHL and was immediately a star, scoring 23 games over 28 games split between the regular season and playoffs. If he can keep that type of play up in North America, there's no reason to believe he couldn't become one of the most entertaining player in the NHL someday with the skill and shot to produce many highlight reel plays. 
44. Filip Bystedt, C, San Jose Sharks
Filip Bystedt is a prospect who would likely rise up the 2022 Draft if it was re-done today. His combination of speed and size (6-foot-4) allowed him to dominate the top Swedish junior league in his draft year, but he still struggled enough with the pace of the pro game that he didn't show all that well in the SHL. Last year, however, was a different story as Bystedt has shown more offensive skill this year and was rewarded with a larger role on the team which in turn turned into more offensive production. It's a great cycle to see, especially if you're a San Jose Sharks fan. Bystedt's ability to charge to the net with the puck is impressive and was a big reason he was so effective for Sweden in the World Junior Championship.
43. Samuel Honzek, C/LW, Calgary Flames
After being selected 10th overall in the 2022 CHL Import Draft by the Vancouver Giants, Samuel Honzek did nothing but impress in his first season in North America. He led the Giants in points per game and was among the top scorers in the WHL at large before suffering an injury at the 2023 WJC with Slovakia. 
Related: Best NHL Prospect From Each Country
Honzek has played and succeeded on both special teams and his size and strength have made him too much for opposing defenders to handle on more than a few occasions. He is a great skater, which makes him a pest on the forecheck where he does a lot of damage both with his high motor and his large frame. 
42. Tom Willander, RD, Vancouver Canucks
Tom Willander is a high end skater, which allows him to carry the puck out of his own zone and lets him take some risks offensively while still recovering quickly enough on the back-check. He's got a good two-way game, though he'll likely provide more value on defense than offense. Willander burst onto the mainstream stage following his excellent showing at the U18s where he anchored Sweden's second pairing and competed with Axel Sandin Pellikka for the title of the best defender on the team. The Canucks can look forward to him being their second best skater the moment he arrives (behind only Quinn Hughes) and providing a ton of two-way value on the right side, a spot that has been a position of great need for them for a very long time.
41. Matthew Knies, LW, Toronto Maple Leafs
Selected by the Toronto Maple Leafs during the second round of the 2021 Draft, Matthew Knies was a force in the NCAA as a freshman last year and he only built on that this last year. He wins puck battles and has great puck hands, but the biggest improvements he has made since his draft year are in his skating and his ability to use his large frame to establish control of the puck. He made his NHL debut following a heartbreaking loss in the NCAA championship, and was an important member of a Maple Leafs team that finally made it out of the first round of the Stanley Cup playoffs.
Prospects #40-31
40. Matthew Coronato, RW/LW, Calgary Flames
After ripping up the competition in the United States Hockey League (USHL) with the Chicago Steel in 2020-21, Matthew Coronato moved his game to the NCAA and the Harvard Crimson in 2021-22. He didn't post the same ridiculous numbers in his freshman season, but he still led the team in scoring with a solid 18 goals and 36 points in 34 games. Coronato scored 36 points in 34 games once again as a Sophomore last year though his defensive game showed serious improvement and he was a dominant force on offense. His shot and ability to score from virtually anywhere on the ice will do him well when he hits the NHL as soon as this coming Fall.
39. Marco Rossi, C, Minnesota Wild
The speedy, highly competitive, and smart two-way center remains a top prospect and one that many should look forward to when he makes it to the NHL. He had a strong rookie season with the Iowa Wild in the AHL two years back, posting 53 points in 63 games.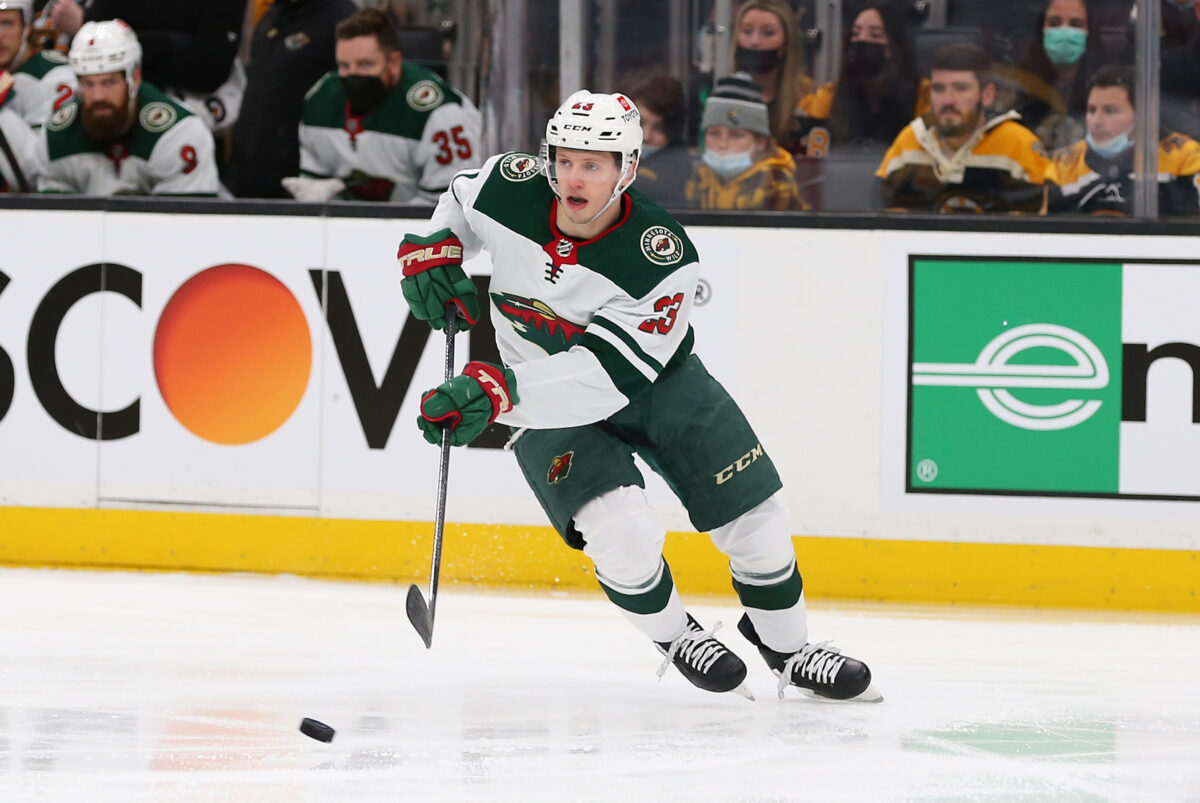 He displays great IQ with the puck and does a great job to utilize his teammates with his playmaking abilities. Even though he's 5-foot-9, 180 pounds, he doesn't let that deter him in any way, shape or form and he's always battling for possession of the puck. He struggled to earn a permanent spot in the NHL last year, but his continued excellence in the AHL leads me to believe it's just a matter of time.
38. William Eklund, C/LW, San Jose Sharks
William Eklund began his 2021-22 campaign in the NHL but was sent down after the nine-game cutoff in order to preserve another year of his entry-level contract. It was a somewhat surprising move from the San Jose Sharks as he didn't look out of place recording four assists and averaging over 14 minutes a night. Regardless, the 19-year-old was sent back to Djurgardens IF in the SHL where he finished with one goal and 14 points in 19 games. He spent most of this past season in the AHL and looked great, scoring 41 points and earning an NHL callup as well. The Sharks' rebuild is in a delicate spot but Eklund still looks like a great offensively minded winger and will likely establish himself as an NHL regular over the course of this next season.
37. Dmitri Simashev, LD, Arizona Coyotes
Dmitri Simashev is a very intriguing prospect with the size/skating combo (6-foot-4) that is so coveted in the modern NHL. He has every physical tool you could hope for, and uses each of them well, with the speed, strength, and reach to be a really great top-four defender in the NHL. However, his offensive production has left much to be desired, leaving many questions about if he will have much offense to provide in the NHL someday. Arizona clearly wasn't too nervous, rushing from their table to take him sixth overall in the 2023 Draft. Clearly they believe in the defensive game and have hope that his offense will follow. It's a bet that I love and I think it will pay off well for the Coyotes.
36. Axel Sandin Pellikka, RD, Detroit Red Wings
Axel Sandin Pellikka is a right-handed offensive defenseman who put up points at a remarkable rate in the J20 Nationell, Sweden's top junior league, last year. Sandin Pellikka had a great showing for Sweden at the World Juniors, improving his draft stock considerably. The way he patrolled the blue line for Sweden on the powerplay was very impressive and the trust that he earned from his coaches as a 17-year-old spoke volumes. He is a force on offense but don't let that fool you, he is a hard-working defender who makes a lot of stops despite his 5-foot-11 frame. 
35. Denton Mateychuk, LD, Columbus Blue Jackets
In just his second full year in the WHL, Denton Mateychuk was named captain of the Moose Jaw Warriors. Mateychuk is a dynamic offensive defenseman who excels when he is the one with the puck and can control the play from the point. His superb skating allows him to break down opposing defenses before making his move and charging to the middle or making a clever pass to an open teammate. While his counting stats didn't improve much from his draft year to last season, his two-way play improved across the board, giving me more confidence that he could become a legit top-four defender in the NHL.
34. Daniil But, LW/C, Arizona Coyotes
Daniil But is one of the biggest players on this list, standing at 6-foot-5 despite just turning 18 in February. He has the size that NHL general managers dream of, and he has great puck skills and shooting mechanics for a player of his size. His skating grew on me throughout the year, with enough speed and agility to really use his size to his advantage, powering through defenders. It may be a little while before we see him playing in the NHL, but I'm sure the Coyotes are willing to wait as they sort out their future in the NHL.
33. Jimmy Snuggerud, RW, St. Louis Blues
Since being selected 23rd overall in the 2022 Draft, Jimmy Snuggerud has proven to be an excellent choice for the St. Louis Blues. His shot is the first thing that stands out about his game, as the power and accuracy of his wrist shot make it a very dangerous tool, but the real reason his shot is so potent is the way he can disguise or alter his shot by suddenly changing the release point. He has smooth hands but doesn't make a ton of plays happen as a passer, though his finishing ability makes up for that. Snuggerud is a responsible defensive player which is impressive for a winger with so much offensive potential and he was one third of the most dominant line in college hockey last season.
32. Alexander Holtz, RW, New Jersey Devils
Alexander Holtz certainly got New Jersey Devils fans excited two seasons ago. He scored 26 goals in 52 AHL games, and his play with the Utica Comets led to nine games with the Devils. After recording two points (both assists) with the Devils, the next step for the Swedish sniper is to find a full-time job in New Jersey.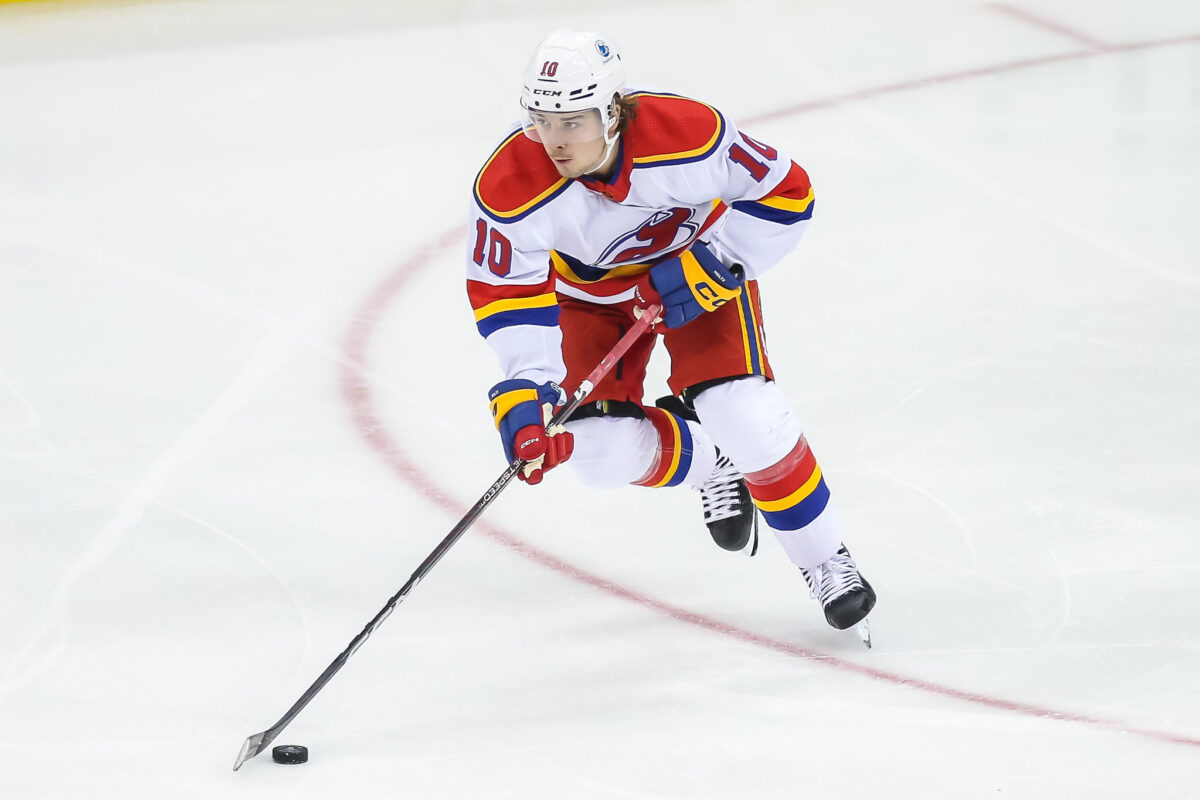 The unfortunate thing about the Devils' surprise resurgence last year was that they are less willing to give unproven players like Holtz the chance to play and that led to him bouncing back and forth a bit, only playing 39 total games last year when all was said and done. 
31. Gabe Perreault, RW, New York Rangers
Gabriel Perrault looks like someone who could be a power play specialist at the next level with great skill and smarts in the offensive zone. He can pick apart opposing defenses with pin-point passes and sly fakes, and his effort level is admirable. Perreault was one of the most creative and intelligent players in the 2023 Draft and he is great at weaving his way out of trouble when defenders collapse around him, either with a pass or his lightning-quick hands. Perreault scored at an absurd rate in the NTDP last year, with 132 points in 63 games. That single-season total is higher than any other season in NTDP history, surpassing players like Matthews, Hughes, and Clayton Keller.
Prospects #30-21
30. Matthew Wood, RW, Nashville Predators
I was eager to see how Matthew Wood would adjust to the college game after he dominated the British Columbia Hockey League (BCHL) two years ago, leading the league in goals and points as a 16-year-old. His freshman results were extremely positive with Wood being one of the top rookie point scorers and one of the top scorers on his team despite being the youngest player in all of men's NCAA hockey. Wood's calling card is his shot which is excellent in terms of deception and power. He could use a bit more speed (who couldn't), but he has shown that his timing and puck protection skills are strong enough for him to succeed in college.
29. Olen Zellweger, LD, Anaheim Ducks
Another excellent two-way defenceman in the Ducks' system is Olen Zellweger. After an absolutely dominant season in the WHL split between the Everett Silvertips and the Kamloops Blazers, Zellweger has continued to establish himself as one of the top defensive prospects in the NHL. His game is defined by his excellent skating, playmaking and an emerging two-way game. The Ducks have an embarrassment of riches on defense with Jamie Drysdale, Pavel Mintyukov, Noah Warren and Tristan Luneau – just to name a few – currently swimming in their pond.
28. Alexander Nikishin, LD, Carolina Hurricanes
Alexander Nikishin may have been higher on this list if it were clear whether he would ever come across to the NHL, as he recently re-signed with SKA-St. Petersburg of the KHL on a deal that will keep him in Russia at least until the end of the 2024-25 season. Regardless, Nikishin is a remarkable defensive prospect who exploded offensively last season, leading all KHL defenders in scoring. He is big (6-foot-4), has a heavy slapshot, and skates remarkably well for someone of his size. Nikishin had never shown this level of offensive talent before so I'll need to see him do it again before I'm confident he can be a great offensive player in the NHL, and then he'll likely rocket up my rankings into the top-10 range if he is capable of keeping it up. If the Hurricanes are able to convince him to come to play for them in the 2025-26 season, he appears to be a very safe bet to be a top-four defender immediately upon arrival. 
27. Matthew Savoie, C, Buffalo Sabres
Drafted ninth overall by the Sabres at the 2022 draft, Savoie is a highly creative centreman with a high-end skill set. The combination of speed, hands and stick handling makes him an offensive catalyst and he maintains offensive zone possession extremely well.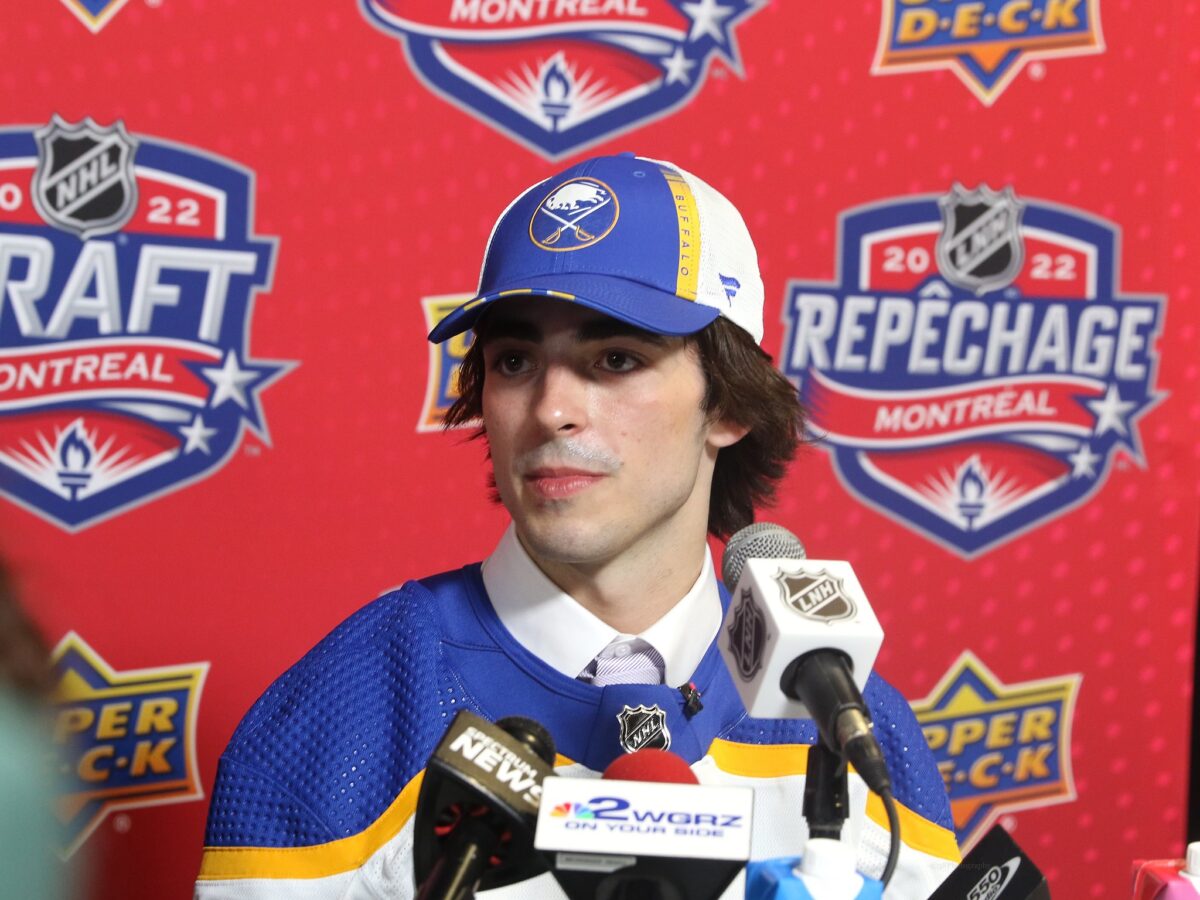 Savoie has excellent vision to spot a lane to engage or find his teammates with a perfectly executed pass and he's a dynamic skater as well. He got his first taste of pro hockey last Spring with the Rochester Americans of the AHL, playing two playoff games with them before their season ended. Savoie is going to be one of the best players in the WHL next year and is likely to be a great pro as soon as the following season.
26. Cutter Gauthier, C, Philadelphia Flyers
Cutter Gauthier was the player whose draft stock rose the most following the 2022 NHL Draft Combine where NHL scouts and general managers were impressed by his maturity, physical strength, and by the commitment he showed to becoming an NHL centerman as opposed to a winger which had been his position with the United States National Team Development Program up until that point.
Related: Ranking Every NHL Team's Farm System
Gauthier has great size, skating, and has the effort and ability to become a great defensive forward. Those are all pieces of becoming a great centreman someday and he has shown them in abundance for Boston College where he was excellent down the middle last year. He could be in the race for the Hobey Baker Trophy next season with an NHL debut likely to follow shortly thereafter.
25. Oliver Moore, C, Chicago Blackhawks
Oliver Moore is the best skater from the 2023 draft class with blazing speed and excellent agility. The combination of his skating, shot, and quick hands makes him a really fun offensive weapon. He is agile enough that I expect he'll be very successful on zone entries in the NHL some day, giving the Blackhawks a chance to control play in the offensive zone every time he touches the puck. He produced solid offense last year for the USA U-18 team (on par with guys like Matt Boldy and Frank Nazar) which is made more impressive by the fact that he has spent most of that time playing on the second line behind the Smith, Leonard, Perreault trio. 
24. Dalibor Dvorsky, C, St. Louis Blues
Dalibor Dvorsky was very impressive last season against men, playing in HockeyAllsvenskan, the second-tier Swedish professional league. He scored a bit below a half point per game there and spent a few games in the J20 Nationell as well, Sweden's top junior league, where he showed that he is clearly a step above his age group, scoring over two points per game. Dvorsky's play in transition leaves something to be desired, but once he's in the offensive zone his ability to maintain control of the puck, create shots at will and make smart passes at an efficient rate makes him a consistent threat. 
23. Marco Kasper, C, Detroit Red Wings
After rising remarkably in his draft year, Marco Kasper was eventually selected eighth overall by the Red Wings. Many people thought that Kasper had limited offensive potential but would be a great two-way center in the middle six of a good NHL team one day. Once he returned to Sweden this last year as a top-six centre for Rögle BK (SHL) as an 18-year-old, it quickly became clear that he had more offense to give and all he needed was the opportunity to show it off. He finished the season as the second highest scoring U20 player in the league behind only Leo Carlsson (second overall pick in the 2023 Draft) and was a net-positive player even as a teenager in a very difficult professional league. Kasper will spend the majority of next year either as a top AHL player or as an emerging star in the NHL.
22. Kevin Korchinski, LD, Chicago Blackhawks
It's common for prospects to increase their draft stock significantly as their draft year goes on, but few jump up draft boards as quickly as Kevin Korchinski did in the final month or two of his draft season. Korchinski was one of the best players in the WHL last year and will be a serious threat to be the absolute best in the league next year if he doesn't make the Blackhawks out of training camp. He's got the puck handling, playmaking vision, and skating to be a top-four defender that excels on the power play at the NHL level.
21. Lane Hutson, LD, Montreal Canadiens
The Montreal Canadiens were smart to snag Lane Hutson near the end of the second round of the 2022 NHL Draft because I doubt he would have lasted much longer on the board. Hutson has the combo of incredible skating and high effort that gives shorter players (he's 5-foot-8 or 9 depending on where you check) a real chance to succeed at the NHL level. He battles well against larger players and his low center of gravity makes him harder to knock off the puck than you would expect. Hutson sees the ice really well and was dominant offensively as a freshman in the NCAA last year.
Prospects #20-11
20. David Reinbacher, RD, Montreal Canadiens
David Reinbacher is a 6-foot-2 defender with a right-handed shot and great mobility who played lots of minutes in the National League (NL), Switzerland's top professional men's league, during his draft year. He's a very responsible defender who shuts down tons of rush attempts with an active stick and stellar positioning. Reinbacher is looking like a potential top-four mainstay in the NHL with exciting defensive potential. His performance at the 2023 World Juniors helped his draft stock a bit, though Austria was dominated by every team they played against. Reinbacher had a solid tourney on a bad team despite battling an illness the entire time. Not the most flashy or exciting prospect, but a safe one who plays an in-demand position.
19. Jiri Kulich, C, Buffalo Sabres
The Buffalo Sabres were lucky enough to have three selections in the first round of the 2022 Draft, picks nine, 16, and 28. They landed some great prospects with each pick, but my favorite of the bunch, Jiri Kulich, was the last one they selected at 28th overall. Kulich burst onto the scene at the U18 World Junior Championship where he scored nine goals in just six games.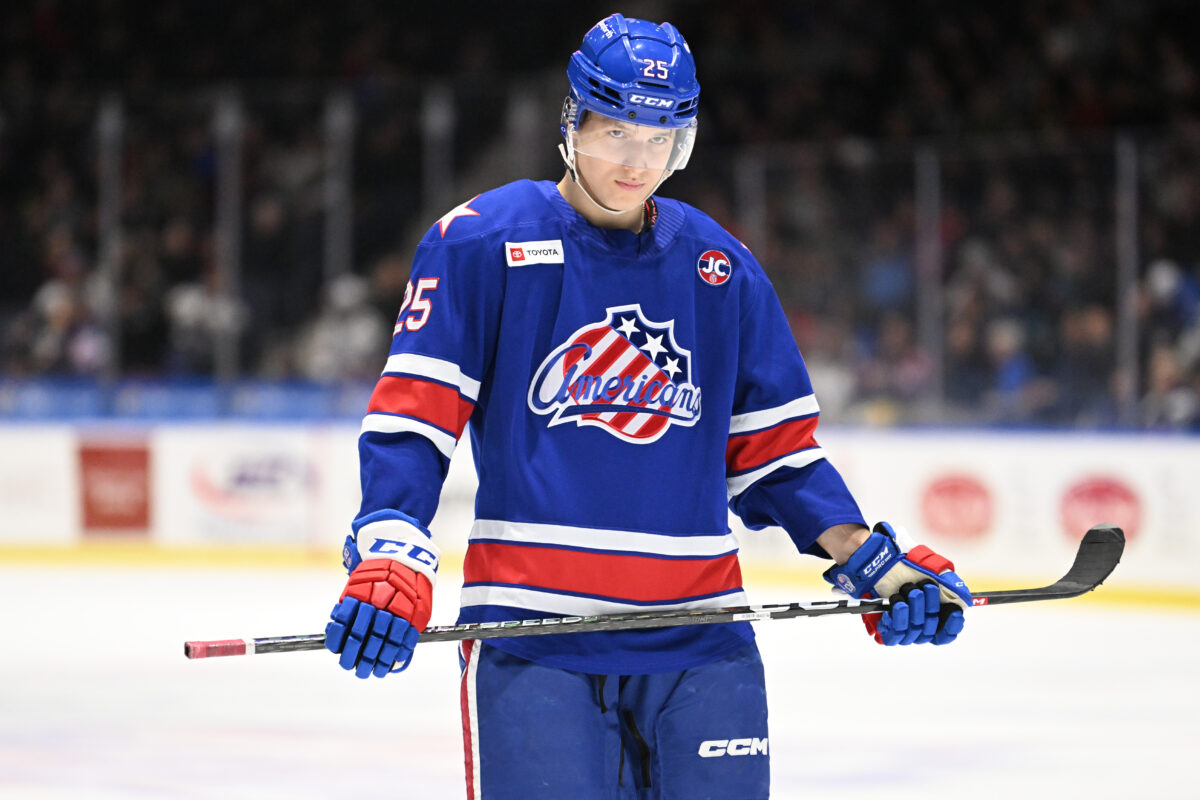 He is great at finding soft spots in defensive coverage and setting up for a rocket of a one-timer. Most prospects can't jump straight from the draft and into the AHL, but Kulich was remarkably successful for the Rochester Americans as an 18-year-old, giving me confidence that he can become a top-six scoring winger in the NHL in the near future.
18. Logan Stankoven, C, Dallas Stars
Logan Stankoven nearly made the Dallas Stars' opening night lineup last year as a 19-year-old standing at 5-foot-8. That's how special of a player he can be. He spent last year dominating the WHL to the tune of two-points per game, making him the only player to score at that rate not named Connor Bedard. Stankoven is a fearless competitor who is willing to make tough, physical plays and isn't shy about throwing his body around either. Expect to see Stankoven in either the NHL or AHL full time next year as he's now eligible for either league and has the skill to excel at any level.
17. Pavel Mintyukov, LD, Anaheim Ducks
One of the only Russians to side-step the "Russian Factor" in the 2022 Draft was able to do so because he was already playing in North America. Pavel Mintyukov was one of the best offensive defensemen in the OHL during his draft year  on a very weak Saginaw Spirit team. Saginaw has bounced back admirably this year, and while some of that credit should go to OHL Exceptional Status centreman Michael Misa, Mintyukov was the one leading the team in scoring despite being a defenseman. 
Mintyukov was traded mid-season and didn't quite keep up his elite scoring though he did still score a ton. He was ultimately awarded the Max Kaminsky Trophy as the OHL's most outstanding defenseman. Mintyukov's skating and offensive instincts are absolutely remarkable, and he is likely to play some NHL minutes in the near future.
16. Nate Danielson, C, Detroit Red Wings
Few centers in junior hockey enter their draft year as well-rounded as Nate Danielson. His consistency, effort, speed, and skill make him a coach's dream even though he may not have the dynamic offensive qualities of some of his peers. Danielson is great at attacking the middle of the ice which makes up for his lack of dynamic puck skills because it leads to a plethora of chances that better line mates would finish at a solid clip. Don't get me wrong, he's not bad offensively by any means, finishing his draft year 22nd in WHL scoring. Danielson works hard, wins puck battles, and has an underrated shot which I think will give him a great chance of being a solid top-six, two-way center in the mold of a guy like Dylan Cozens.
15. Brandt Clarke, RD, Los Angeles Kings
Brandt Clarke boasts some of the best offensive smarts and decision-making with the puck as a defenseman in the prospect world. Selected eighth overall in 2021, Clarke can take control of a shift or lead a rush chance whenever he's on the ice with his skating and speed. He's great at identifying the open lanes and attacking with force to take advantage of an opportunity. After a brief stint with the LA Kings and their AHL affiliate this year, he joined the OHL for one last dance and was, for my money, the best player in the entire league, scoring an absurd 84 points across 43 regular season and playoff games with the Barrie Colts.
14. Ryan Leonard, LW/C, Washington Capitals
Ryan Leonard is a high energy winger who never takes his foot off the gas in terms of both speed and effort. He uses his speed and skill to blow by defenders in the neutral zone and pressure in-zone defenders who struggle to anticipate his next move. His playmaking and shot aren't exceptional, but they're both good enough to be reasonably effective in the NHL someday. He has a very versatile skill set and could be a great top-six winger who adds some grit and goalscoring to his line, similar to a Tyler Bertuzzi-type player (or Matthew Tkachuk-lite if you think his offense will really pop in the NHL). 
13. Shane Wright, C, Seattle Kraken
Last year was a strange one for Shane Wright who played for four different teams over the course of the season, the Seattle Kraken, their AHL affiliate the Coachella Valley Fire Birds, the Windsor Spitfires of the OHL and then finally as the captain of the gold-medal winning Team Canada at the World Junior Championship.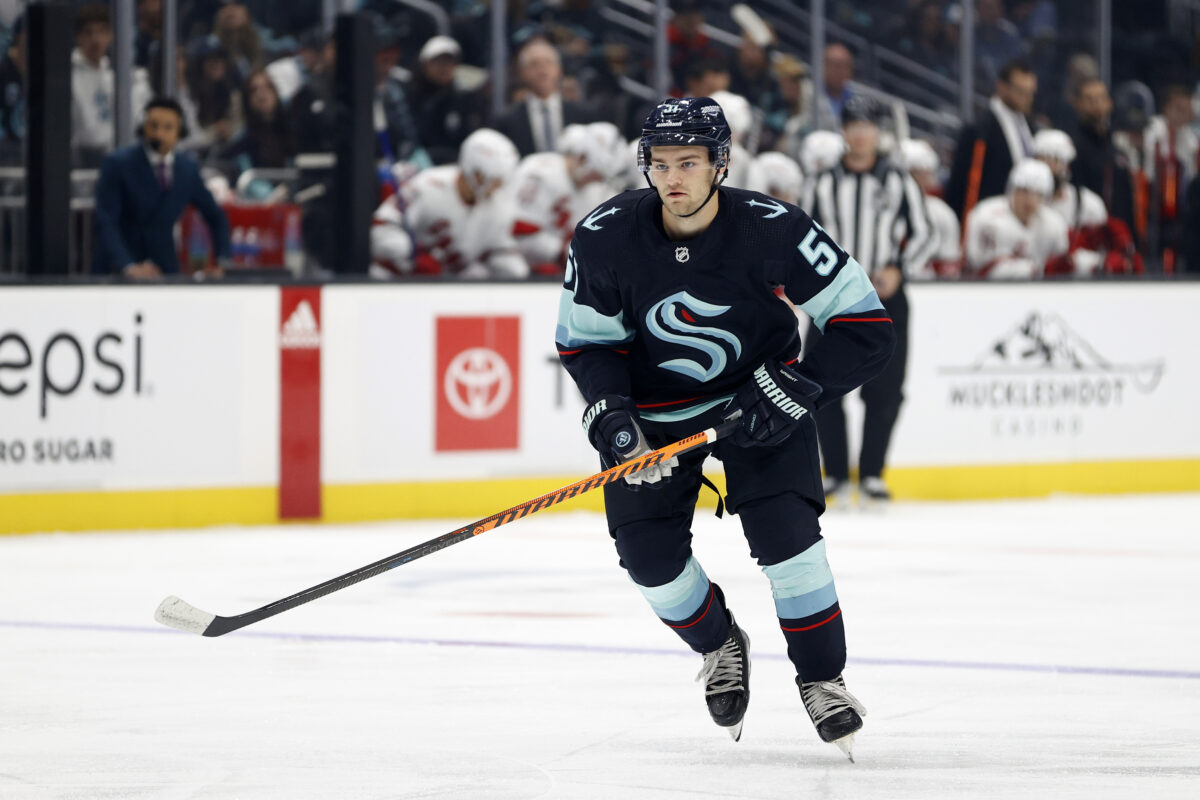 Wright's biggest obstacles last year was the NHL/CHL agreement that made it so he couldn't play in the AHL full-time as well as Seattle's sudden emergence as a great NHL team which made it difficult for them to parcel out significant ice-time to him. Wright was clearly too good for the OHL last year and will hope to earn a role in the NHL at training camp this September.
12. Lukas Reichel, LW/RW, Chicago Blackhawks
Lukas Reichel is someone who is severely underrated and who I think will become a great top-six winger in the NHL very soon. He dominated the AHL last year scoring at a point-per-game rate as a 20-year-old. His ability to persevere on the forecheck makes him a dangerous player in the offensive zone, even when he doesn't have the puck. Reichel's speed and skill make him a threat in transition as well where he can dance through defenders like they're standing still.
Related: 2023 NHL Draft – Live Tracker
Reichel would have improved the Blackhawks' lineup last year no doubt but that in turn would have damaged their tanking chances so he only played 23 NHL games last year, scoring 15 points. He will likely start the year in the team's top-six and I wouldn't be surprised if he reaches the 50-60 point range in the NHL next year.
11. Simon Edvinsson, LD, Detroit Red Wings
Simon Edvinsson is one of the most exciting prospects in the hockey world, with nearly limitless potential due to his remarkable size (6-foot-6), mobility (guys his size rarely skate this well), and offensive skill. Edvinsson was an impressive two-way force in the SHL two years ago and made the transition to North America last year where he just missed out on the Red Wings' opening night lineup. He looked much more comfortable with the North American game over the course of the season and grew a lot on ice from his NHL pre-season games to the NHL games he played toward the end of the year.
Prospects #10-1
10. Simon Nemec, RD, New Jersey Devils
It hasn't taken too long for everyone to see why Simon Nemec was selected second overall in the 2022 Draft. His mature two-way game is head and shoulders above most defensive prospects of the same age, and he will be an important defender for the New Jersey Devils in the not-too-distant future. I believe that another year in the AHL would do Nemec some good rather than toiling away as the sixth or seventh defender for New Jersey. Getting big minutes in the AHL would be more beneficial for him at this point as he prepares to become a minute-munching, top-pairing quality defender for the Devils for many years to come.
9. Zach Benson, LW, Buffalo Sabres
Zach Benson is one of the most skilled and creative players to come out of the 2023 Draft, and the only things that may hold him back from being a star in the NHL are his size and his underwhelming speed. I'm not all that worried about either (5-foot-9, 160 pounds) because he has the tenacity and elusiveness that smaller players need to have to make a difference at the NHL level these days. Benson shows off his edgework and hands best while playing through traffic as he just seems to be nearly impossible to nail down and knock off the puck.
8. David Jiricek, RD, Columbus Blue Jackets
Another defenseman selected high in the 2022 Draft, David Jiricek – like Simon Nemec – looks to be NHL ready. With a projectable frame at 6-foot-3, 190 pounds, he already had the size and smarts to be a regular in the Blue Jackets lineup last season, especially considering the devastating waves of injuries the team faced, but Jiricek only got into four NHL games as the team slow-played his development rather than throwing him out against tough competition with little to no help. I expect him to be a top-four regular in Columbus this Fall.
7. Luke Hughes, LD, New Jersey Devils
Luke Hughes has been a dominant two-way defender for the University of Michigan over the last two years. The youngest Hughes brother is also the tallest, but while he has the size advantage over his brothers (who are NHL stars in their own rights), he hasn't had to compromise his skating, making him just as fluid and dynamic of a skater as his siblings.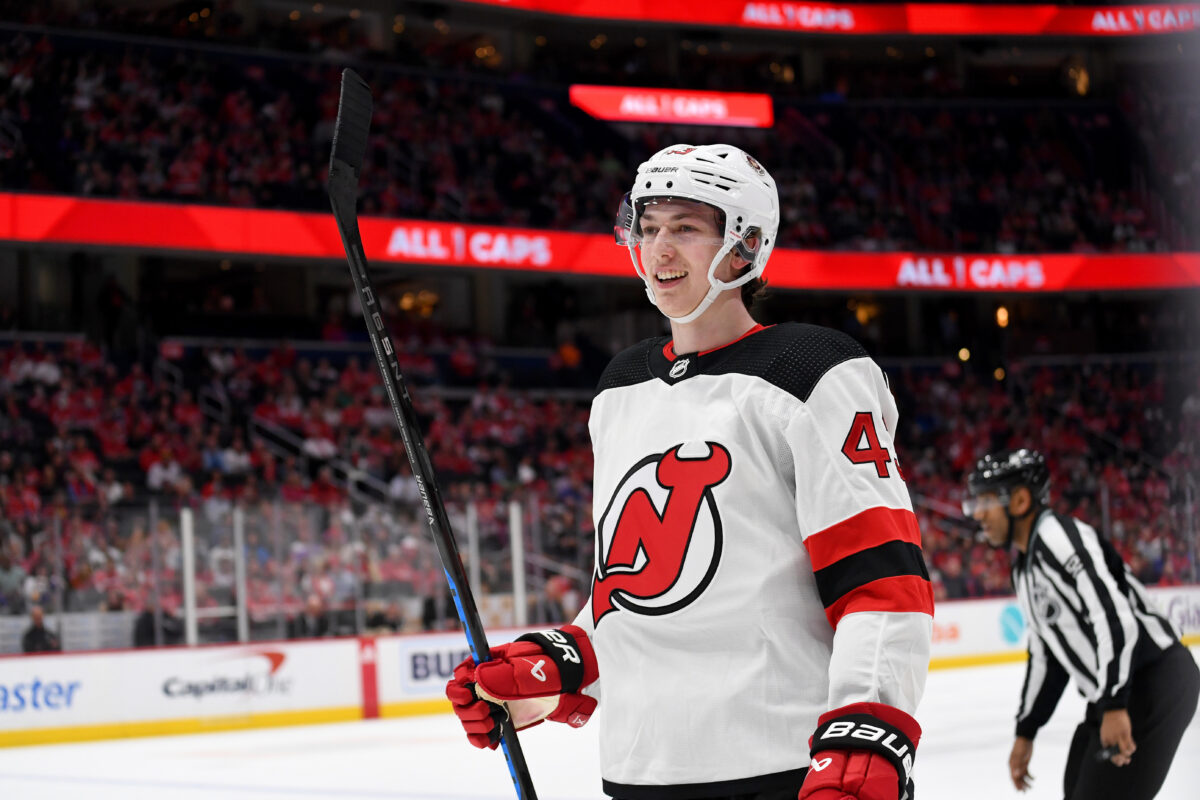 Hughes has remarkable hands and the offensive IQ necessary to be a top-pairing defenseman in the NHL with elite offensive numbers. He excels on the power play and will likely make a great power play quarterback for the New Jersey Devils. Hughes' speed and puck handling make him a very dangerous attacker in transition, and he can easily pass the puck off to a teammate if he is attracting too much attention. He impressed in a short NHL tryout at the end of last season and will likely be eased into the lineup next season because of the strength of Jersey's defensive group.
6. Will Smith, C, San Jose Sharks
Will Smith is an incredibly shifty playmaker who can create high danger plays at will (pun intended) by threading passes through traffic, stickhandling around pressure, or taking a shot of his own. He is a very intelligent offensive player and can make these great reads and plays at full speed. Smith is so difficult for defenders to pin down because of the way he manipulates defenders' movements like waiting for them to turn their skates in one direction before darting in the other, and him being a right-handed centerman doesn't hurt either.
5. Logan Cooley, C, Arizona Coyotes
Shifty, smooth, silky, skilled…. There are many "S" words you can use to describe Logan Cooley, but above all, it must be said that he is a spectacular prospect. His creativity in the offensive end knows no bounds, and his speed enables him to lead the charge through the neutral zone. Cooley is a dynamic skater and competes hard enough to weaponize his high-end speed.
After a dominant rookie season in the NCAA where he was a Hobey Baker finalist, Cooley's got "first-line center" written all over him, and he should be a foundational piece of the Coyotes' rebuild. If he hits his potential, I can see him being a slightly less productive version of Jack Hughes, an elite skater with a ton of skill and sense on offense despite a small-ish frame and a weaker defensive game.
4. Leo Carlsson, C/W, Anaheim Ducks
The SHL demands a lot of players when it comes to physicality and defensive effort, both of which Leo Carlsson has excelled at. He didn't look out of place against men and scored points at an excellent rate for a draft eligible player. His skill and power combination make him a nightmare for defenders as he can beat you with his hands or by tossing his large frame into you to protect the puck.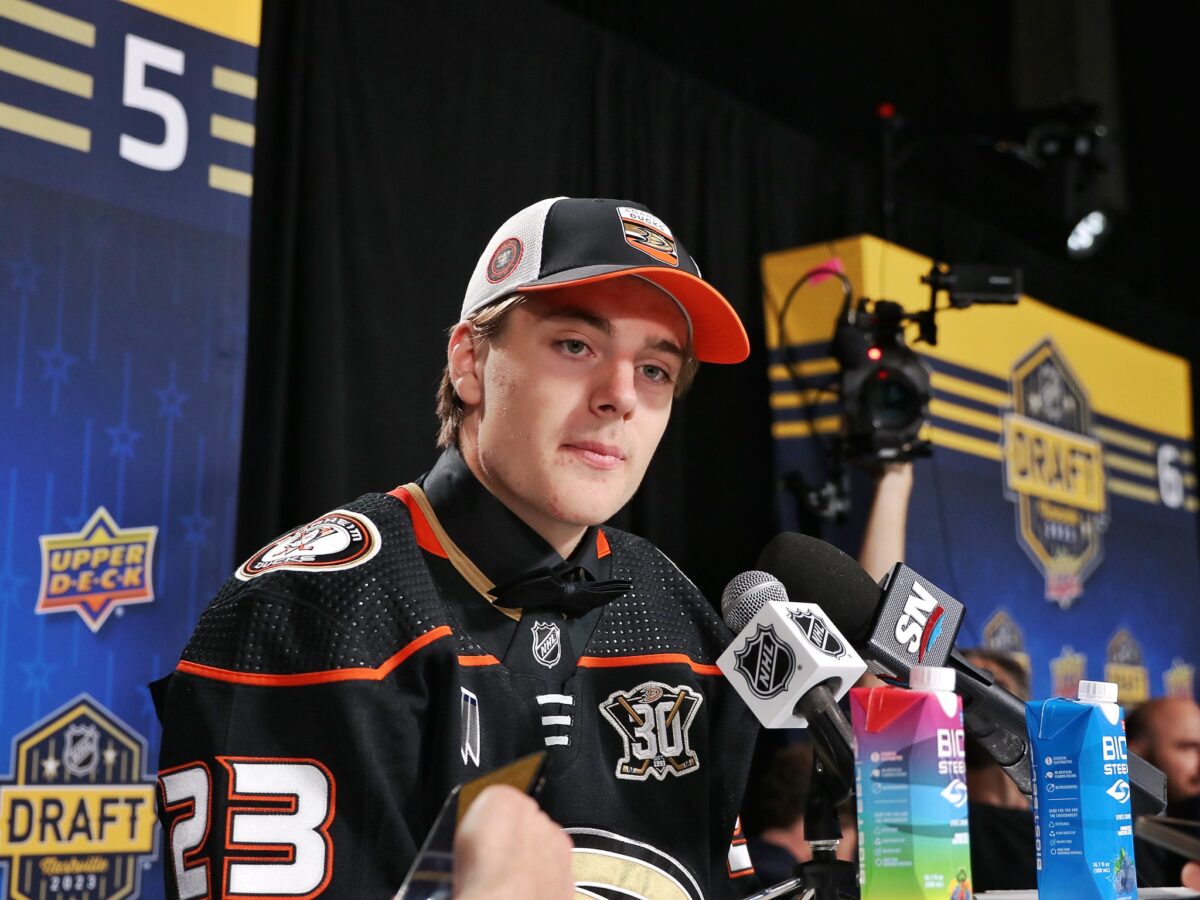 Carlsson's ability to find and make space off the puck is also impressive for such a young player playing against grown men. He has the potential to make a real impact in the NHL as soon as next year considering his success on both ends of the ice in Sweden thus far. The way that many prospects play wouldn't fly in the SHL where you need to be defensively stout and reliable at all times, and Carlsson's maturity, reliability, and his clear understanding of what makes him great are the reasons he has succeeded in a top pro league as a teenager.
3. Matvei Michkov, RW, Philadelphia Flyers
Matvei Michkov might just be the smartest prospect in the NHL with an incredible ability to manipulate opposing defenses. He has a great shot, but more often than not he scores goals because he slipped his defender and managed to find the space and time necessary to score a goal. While Connor Bedard scores by shooting a wrister as hard as possible, trying to punch a hole through the goalie, Michkov will outsmart the defense and score by finding holes in coverage.
2. Adam Fantilli, C, Columbus Blue Jackets
Adam Fantilli is an absolute monster with the puck, with the skill, skating, and strength to beat defenders no matter how they approach him. Good luck taking the puck away from him because he can easily move around you with his excellent skating or truck through you with his solid 6-foot-2, 185-pound frame.
He's got the dynamic skill and the frame to be a first overall-caliber prospect in most draft years, so it's a bit wild that he only went third overall in the 2023 Draft. Fantilli is a reliable enough two-way player that I think it's completely fair to expect him to play in the NHL next season with the Columbus Blue Jackets and succeed in doing so. The only question is "just how good will he be in year 1?"
1. Connor Bedard, C, Chicago Blackhawks
Expectations were unfairly high for Connor Bedard coming into his draft year, with the "generational talent" label floating around in many draft conversations. To say he has met those expectations would be a profound understatement. Bedard crushed all expectations last year and firmly planted himself in the first overall position for the 2023 Draft.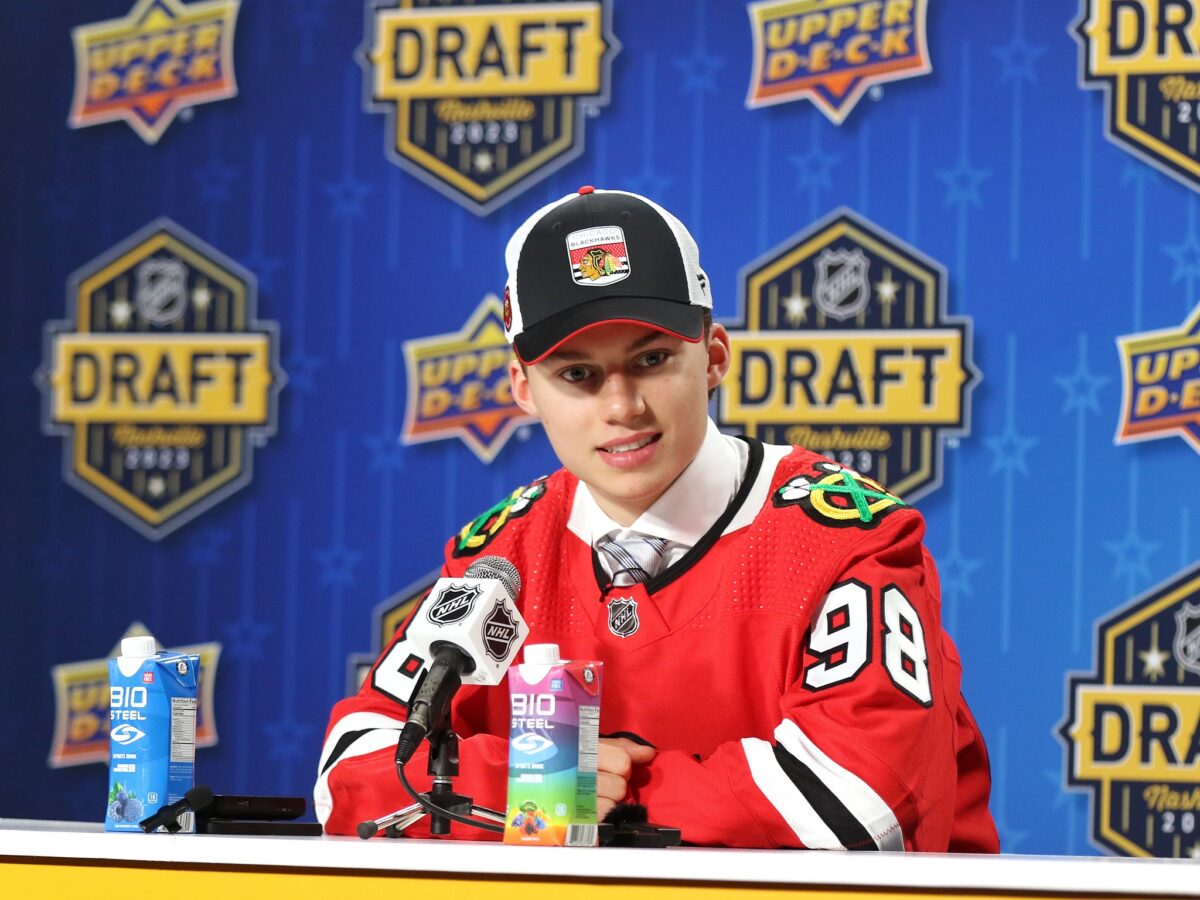 It's not just his dominant, record-breaking performance at the World Juniors, dragging an underperforming Canada team to the gold medal, and it's not just his 50 goals and 100 points in his first 40 WHL games. Everywhere he plays, Bedard just oozes poise and talent unlike any other player on the ice. The Chicago Blackhawks got a good one in Connor Bedard and they should be thrilled to kickstart the rebuild just one year after it began.
---
Who's too low? Who's too high? Who do you think should have made the list? Leave a comment below!
---
---