Carson Rehkopf
2022-23 Team: Kitchener Rangers (OHL)
Date of Birth: Jan. 07, 2005
Place of Birth: Barrie, ON, CAN
Ht: 6-foot-1 Wt: 194 pounds
Shoots: L
Position: C/LW
NHL Draft Eligibility: 2023 first-year eligible
Rankings
When looking for a potential power forward, it's always difficult to find a player that has the full package with their offensive capabilities, speed and compete. Lucky enough, Kitchener Rangers forward Carson Rehkopf completes the trifecta with those attributes as he excels in all three areas. He finished his draft year with 30 goals and 59 points, finishing third and second on the team respectively.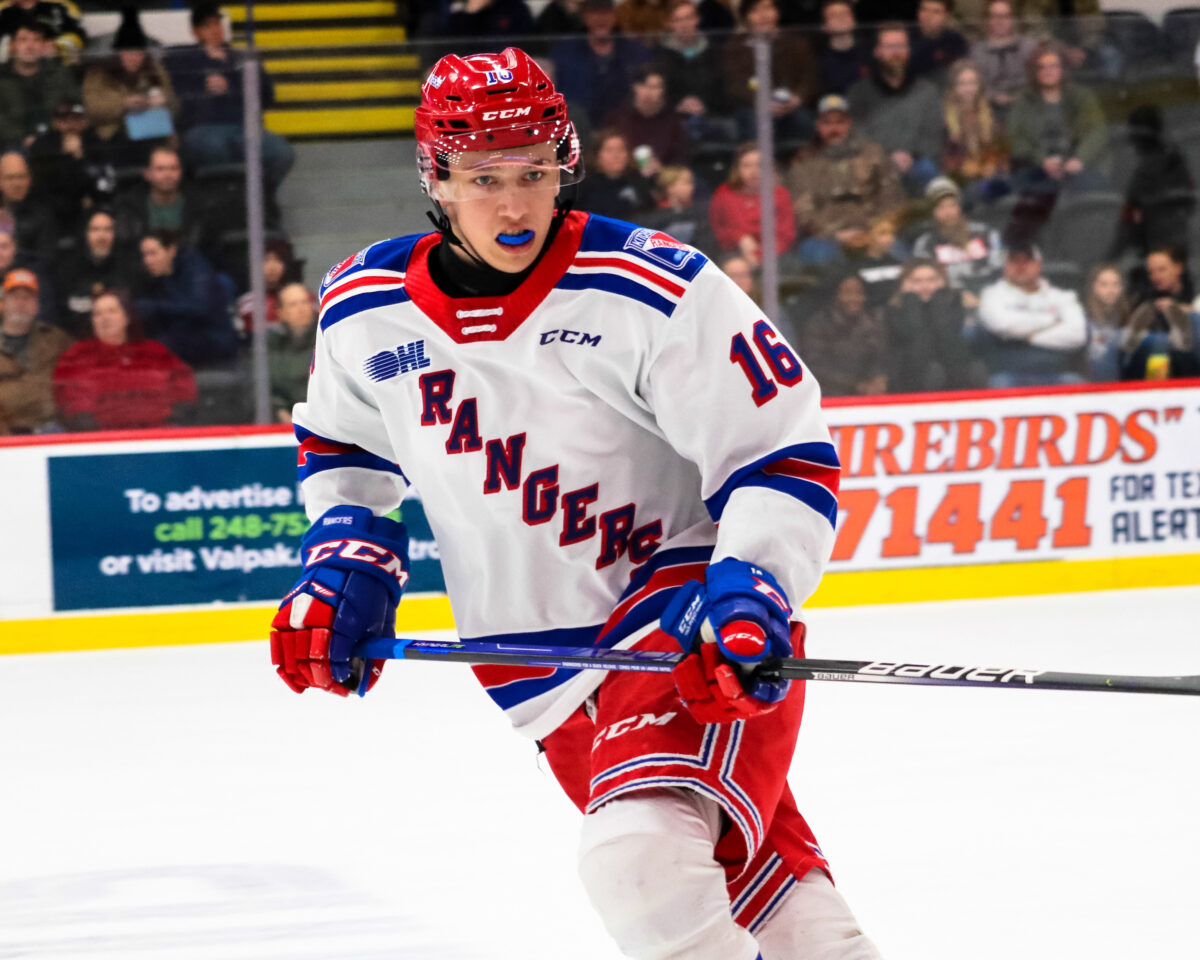 The one thing that instantly stands out in Rehkopf's game is his NHL-like shot. He has great power and velocity in his release making it extremely difficult to stop it. He can fire off a quick wrist shot or snap shot with lightning speed or get all of his power behind it for a heavy one-time blast. Most of the time, he connects flawlessly as he always likes to setup shop on his off wing and is always making himself available for those opportunities. He has great accuracy to pick his spots and find the back of the net. Even when he doesn't receive a pass very well, he manages to remain calm and regain control in order to get the shot off. 
Related: 2023 NHL Draft Guide
While Rehkopf can find the back of the net from the half wall or even the middle of the ice with his quick release, he can be just as dangerous in transition or even in front of the net with his swift and soft hands. This goal from the CHL Top Prospects Game is proof of that.
He's a quick and fluid skater with strong edges, utilizing his speed, deceptive movement and his size to his advantage. Things always seem to open up when he's leading an attack, as he tends to challenge and push defenders back. When he does, that's when his skill and hands become noticeable. As a result of his long reach, it's difficult for players to knock the puck off him as he shields it very well. He can pull off moves in tight spaces and at a quick pace to get around defenders with slick dekes. That also translates to the front of the net as he can provide a screen and showcase his stick handling on second chance opportunities.
While Rehkopf's shot, hands and speed are at the forefront, he's just as effective away from the puck showing great work ethic and a sound defensive game. With the positioning and awareness that he possesses, he can be a player that can be relied on in any situation. He can close gaps quickly with his speed and has the mindset to breakup plays and tie up players.

The one thing that Rehkopf can improve on is showing consistency from game to game and engaging a more in your face style. There have been times where the offense hasn't been there for him, but when he's on top of things, the points will start to come. Even with his physicality, there are times where he's been a menace. At other points, it's not as evident. While he has the work ethic and ability to be competitive, if he's able to be steady in those areas, his value will skyrocket. 
Other THW Draft Profiles
Carson Rehkopf – NHL Draft Projection
It's tough to find the qualities that Rehkopf has, as he does have limitless potential. It's possible that he could be a late first-rounder, but that might be a bit of reach. It's more likely that he can be a great add for any team as a second-round selection. Where he'll go remains up in the air. Will he be taken early on? Or could he fall to the middle or even later portion of that round. Either way, he should hear his name early on Day 2 of the draft.
Quotables
"He has one of the most explosive wrist shots in the draft. Combining his quickness, size, and finishing ability, Rehkopf could be a consistent 30 goal scorer at the NHL level. He also offers positional versatility, with the current ability to play center and the wing. Given his length, range, and physical potential, there would likely be a desire to keep him as a pivot in hopes that he can be an elite two-way center." – Brock Otten, McKeen's Hockey
"Rehkopf is a talented off-puck winger who uses his IQ to spot soft zones in the defense so he can get open to use his elite shot. The shot will immediately stand out to anyone who watches him because he can get the puck off his stick with such precision accuracy and elite power." – Austin Broad, FC Hockey (from, '24450 – Kitchener vs. Flint', FC Hockey – 01/15/23) 
---
Latest News & Highlight
---
"His defensive game is beyond his years. He skates back hard on the backcheck, isn't shy about being physical to separate his opponent from the puck, his speed allows him to get into lanes quickly but also attack in the neutral zone to break up plays." – Dominic Tiano, OHL Writers 
Strengths 
Elite level shot and power
Great speed and agility
Soft hands in tight spaces
Strong two-way game
Under Construction- Improvements to Make
Show some consistency from game to game
Utilize physicality to his advantage more
Work puck control
NHL Potential
Rehkopf has the potential to be a strong second-line player in the NHL while finding the 30-goal mark at multiple points during his career. He's a versatile player as he can play both up the middle or on the wing and can still find success. He can impact the game at five-on-five, the power play or even on the penalty kill as he can play a strong defensive game. His ability to have an impact in all situations will make him have a long and successful career.
Risk- Reward Analysis
Risk- 1/5, Reward 3.5/5
Fantasy Hockey Potential
Offense- 7.5/10, Defense 7/10
Awards/ Achievements
Rehkopf was a key member for Canada at the Hlinka Gretzky Cup. He registered five points in five games, winning a gold medal in the process. He was also named the MVP at the CHL Top Prospects Game with a goal and an assist.
Interviews/ Links
Carson Rehkopf Stats
Videos