Gabe Perreault
2022-23 Team: USNTDP Juniors (USHL)
Date of Birth: May 7, 2005
Place of Birth: Sherbrooke, QC, CAN
Height: 5-foot-11, Weight: 165 pounds
Shoots: Left
Position: Right Wing
NHL Draft Eligibility: 2023 first-year eligible
Rankings
The son of long-time NHLer Yanic Perreault, Gabe Perreault is a highly-skilled, offensive-minded winger who has a variety of tricks in his arsenal that makes him a threat on the power play. His offensive abilities bleed into both playmaking and shooting, but I think he's more of a pass-first player. He is good at reading plays and making quick, smart decisions in the offensive zone, and has great vision.
Related: 2023 NHL Draft Guide
He's very creative with his stickhandling and isn't afraid to take on opposing defensemen one-on-one off the rush. His quick hands allow him to stickhandle his way out of pressure and move the puck to an open teammate to maintain possession. He shoots often, but is smart with selecting the right shots to take. What's interesting is that it's like he plays with the mindset of a goalscorer, yet is very accurate with his passes. I would definitely classify him as a playmaker; he thinks and sees the game really well which contributes to his playmaking ability. 
Perreault is going to be an asset on the power play for whichever team drafts him. He has the ability to play along the perimeter and distribute to his teammates, and also hang around the net looking for soft areas off the back post for scoring chances. That's the role I'd look to play him in. He will position himself to be able to capitalize on rebounds, which opens up a world of potential for him to receive passes off the goalie's pads for strong scoring opportunities. 
I think it's interesting to note that despite being younger and smaller, at just 17 years old and 5-foot-11, he's been extremely well-disciplined throughout his career at the United States Development Program (USDP). He's never eclipsed 12 penalty minutes (PIMs) while playing for any USDP team. 
There have been times when he's bought into his offensive focus more than playing a two-way game and may be the last player back defensively, which is something that can and will be worked on as he advances through his career. Additionally, he has some room for improvement with his skating. He is decently agile, but his speed and acceleration need improvement. At the moment, I wouldn't bet on seeing him blow by many higher-skilled defensemen in transition very often. Part of the issue could be inconsistency with his stride length. 
Perreault is committed to being a Boston College Eagle, and I'd like to see him really improve his defensive play and skating while he's playing at the college level. He's an offensive-minded player for sure, but giving him a more well-rounded game will only open up more doors for him down the line. 
Other THW Draft Profiles
Gabe Perreault – NHL Draft Projection
Perreault's ceiling is that of a top-six forward in the NHL, with a basement of a middle-six forward. I can't see him being a fourth-line player with his offensive skill set. He'll be a staple for teams' top power play units once he's fully developed and I could think of a few teams who could fall into the mid-to-late first-round range who would want to lock him up.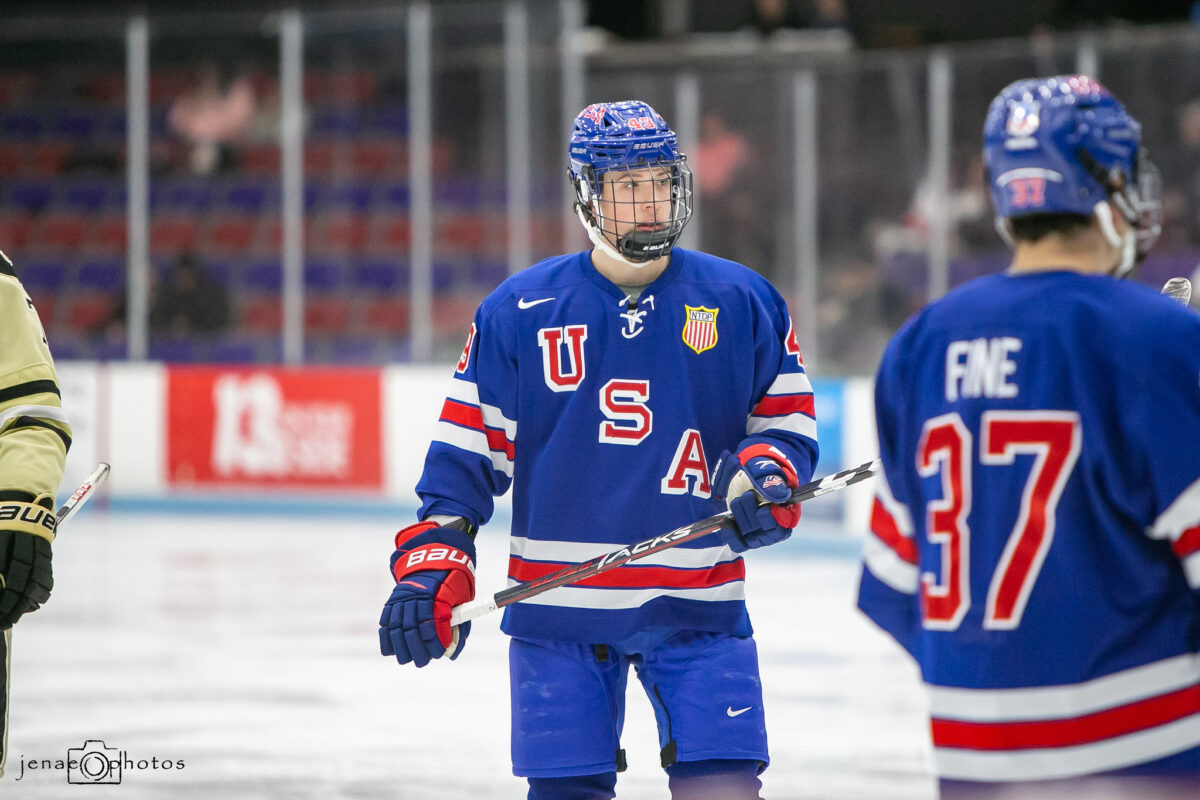 Power-play percentages are on the rise across the NHL and special teams is key for the postseason. I've seen some rankings that have him listed in the second round, but I'd be extremely surprised if he fell past the first round. He will likely be drafted outside of the lottery, and definitely before the end of the first round.
Quotables
"A great playmaker who possesses strong vision, Perreault is a real threat on the ice as he has good speed and the ability to be a heaven presence on the forecheck. He is a very intelligent player and brings a creative style of play when he is on the ice. In small ice or plays along the wall, Perreault tends to make smart decisions with the puck on his stick as well as his body." – Clare McManus, Smaht Scouting
---
Latest News & Highlights
---
"I hope Perreault takes the college route and puts on more muscle and gets stronger on his base while improving his skating, and we could see a very very interesting player. Perreault reminds me a lot of Mikael Granlund and I do see the same kind of potential in him. Perreault has top-six upside for sure but is raw in some areas which is why i hope he spends at least two years in the NCAA and a year in the AHL to enhance his development before getting his shot within the big league. I have Perreault going in the 15-20 range in the 2023 class" – Wige Karle (from 'March 11, 2023 Scouting Report of Gabe Perreault,' FC Hockey, March 11, 2023).
"Perreault is a very skilled and intelligent winger who can make a ton of positive things happen inside the offensive zone. Perreault makes highly-creative dekes and passes with the puck at a high rate, both off the perimeter and in small areas. His puck game is clear NHL power-play quality, and he will score as a pro. The issues on Perreault's game is his 5-foot-11 frame and his lack of footspeed. What I like about him is, despite those drawbacks, he competes well and creates a ton of offense in the hard parts of the offensive zone so I think he can overcome those issues. I see a potential top-six winger" – Corey Pronman (from '2023 NHL Draft prospects: Bedard No. 1 on Corey Pronman's ranking, Fantilli and Michkov next,' The Athletic, March 7, 2023).
"Perreault completes the trio of Boston College commits on the top line at the NTDP who have cracked our top-32. Heading into the year, Perreault was seen more as a playmaker down the road, but he has quickly shown that he is also a talented finisher. His ability to score, distribute, and play a more complete game has allowed him to jump a couple of spots in our midseason rankings. Perreault's a forward that every team needs with his ability to impact each play. Playing alongside Smith, a gifted playmaker, and Leonard, a pure-scorer, he's sort of been the glue guy tying their line together. His upside is solid, his talent has shown, and he's worthy of consideration in the mid-first round." – Evan Pace, Dobber Prospects
Strengths
Power-play scoring
Playmaking
Stickhandling
Creativity
Hockey IQ
Compete level
Shot selection
Discipline 
Under Construction – Improvements to Make
Size
Defensive awareness and responsibility
Skating and foot speed
Straight-line speed and acceleration
NHL Potential
I think Perreault will be a top-six forward in the NHL. If he's on the right team in the right situation, I think he could be a top-line winger. He'll be a power play specialist and while he is a playmaker, I could see him potting a few goals on the power play due to his ability to position himself for rebounds and find the soft areas for backdoor opportunities. 
He'll have time to further develop his game at Boston College, and I think that he'll be in a far better position to enter the NHL after some time playing collegiately.
Risk-Reward
Risk – 2/5, Reward – 4.5/5
Fantasy Hockey Potential
Offense – 8/10, Defense – 5/10
Awards and Achievements
Drafted 92nd overall by the Sarnia Sting in the 2021 OHL Priority Selection
Interviews/Links
Gabe Perreault Stats
Videos
---
---