Scott Ratzlaff
2022-23 Team: Seattle Thunderbirds (WHL)
Date of Birth: March 9, 2005
Place of Birth: Irma, AB, CAN
Height: 6-foot-1, Weight: 172 pounds
Catches: Left
Position: Goalie
NHL Draft Eligibility: First-year eligible
Rankings
Scott Ratzlaff is a shorter goalie compared to the average height of NHL goaltenders. He has strong goalie IQ, which allows him to control his movements in the crease as well as both stay patient and calm while under pressure. He isn't one to throw himself at pucks to make saves; he trusts in his positioning and lets the shooter make the first move.
Related: 2023 NHL Draft Guide
He plays a hybrid style and remains standing while looking for shooting lanes around traffic. He puts effort into fighting through screens and is decent at tracking the puck. His skating is one of his biggest assets. He has good control of his movements in the crease and won't often be caught sliding out of position. Over the past season, he's improved on fending off shots from his blocker side. He'll take the shots and deflect them into lower-danger areas of the ice. To me, that also speaks to his calmness and patience under pressure.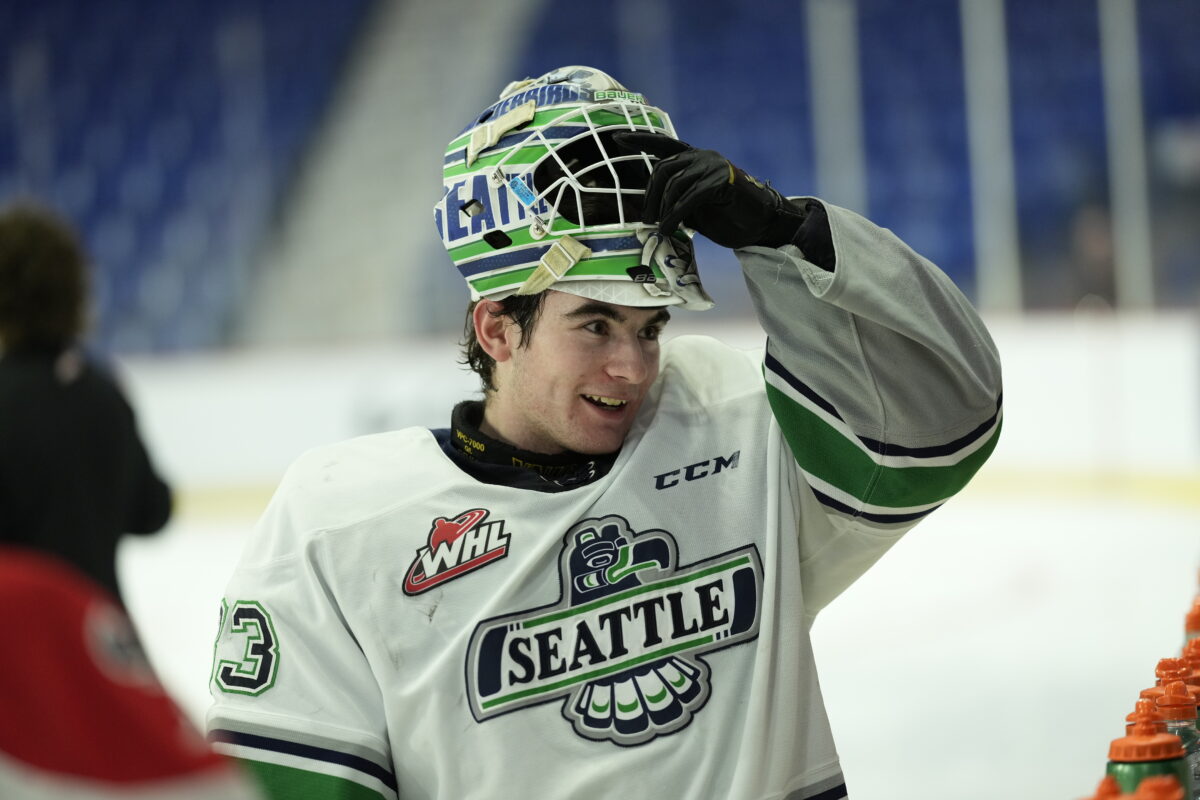 He's had a strong career with the Western Hockey League's (WHL) Seattle Thunderbirds. He played 22 games during the 2021-22 WHL season and won 17. This season his numbers are fantastic, and his draft stock could increase if they make a run to the Ed Chynoweth Cup Final. It doesn't hurt that he had a strong performance in the Top Prospects Game. I think the Thunderbirds and Ratzlaff have a good chance at it, and that's because of what arguably put him on the map as a top goalie prospect: the Hlinka Gretzky Cup. 
Ratzlaff was lights-out during the tournament. He played four games and finished with a 0.50 goals-against average (GAA) and .976 save percentage (SV%). Two of his four wins were shutouts. He performed on the big stage to start the year and followed it up with a fantastic regular season. If he can continue this level of play into the playoffs then his draft stock should be on the rise; both due to his performance and because of how valuable a consistent goaltender is. 
Other THW Draft Profiles
Scott Ratzlaff – NHL Draft Projection
I could see Ratzlaff being drafted in the mid-to-late third round. If not, I'd say his basement would be the fifth round. He isn't the highest-rated goaltender in this draft class. However, if he has a strong postseason, and considering his performances in both the Hlinka Gretzky Cup and the Top Prospects Game, he could see himself moving up. If I had to place a ceiling on his draft projection, I'd go with the late-second round, but only if he has a mind-blowingly strong postseason.
Quotables
"Very smart goalie with very good positional play (good angles and smart to challenge) – Good butterfly coverage sealing the ice and five-hole with good leg extension protecting the low corners – Technically sound – Very efficient and quick lateral crease movements – Very alert and competitive (very good overall quickness and athleticism) – Smart reading the pass across one time plays – Strong on wraparound attempts – Good quickness back to his feet – Very good feet and skates well – Got a very good glove hand – Manages the game well – Good overall rebound control – Very good draft consideration." –Matt Tidcombe, CHL
---
Latest News & Highlights
---
"Ratzlaff is not afraid of the bright lights. It seems the bigger the game, whether it be U18 Worlds or the CHL Top Prospects Game, he is up to the challenge and brings his best… He has very quiet feet which allows him to use economic movements around the crease. This also allows him to stay tight and together when moving laterally, not opening up any holes… The TPG should only help his draft status and I believe he should be off the board before the end of the third round in the 2023 draft." -Kellen Eyre, (from Jan. 25, 2023, Scott Ratzlaff Scouting Report,' FC Hockey, Jan. 25, 2023)
"Placed himself in the discussions as one of the best goalie prospects in 2023 after his showing at the Ivan Hlinka Tourney. Has all the attributes to continue to progress as an NHL candidate. Very smart and aware in the net, economical is his movement. He will bait shooter by opening up and closing the opening before their shot arrives. His position and focus is never in question, and he is adept his pads sending shots to the ares he wants the rebounds to go." –Bill Płaczek, Lines
Strengths
Calmness and patience
Positioning
Tracking
Goalie IQ
Rebound control
Under Construction – Improvements to Make
Shots from his blocker side
Deflecting pucks into low-danger areas
NHL Potential
As we know with goaltenders, they tend to take longer to develop. I think Ratzlaff could develop into an NHL starting goaltender. A lot of this will hinge on the team that drafts him, their goalie situation and player development teams, etc. I think he'll find success because of his IQ and ability to remain calm under pressure.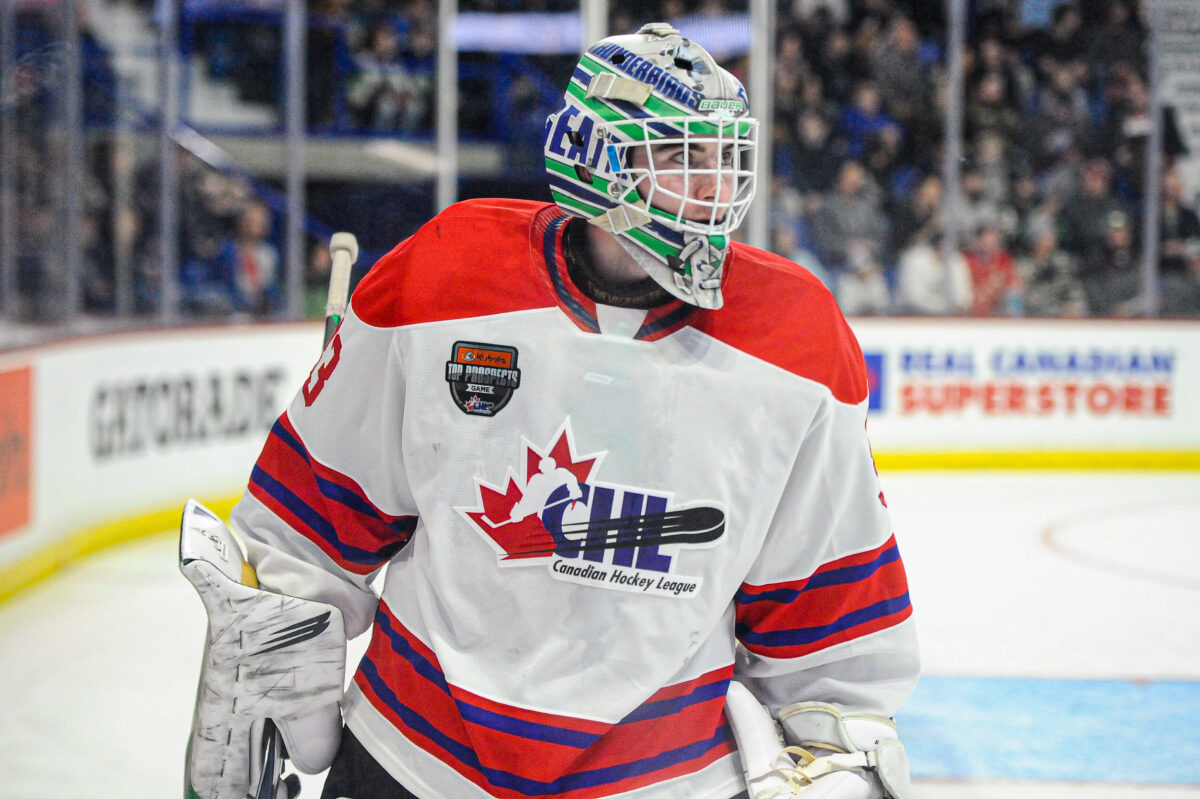 He can reach the No. 1 goaltender one day, but I don't think he'll get to the elite level ala the Igor Shesterkins and Andrei Vasilevskiys of the world. Whether it's 1A or 1B depends on the team, but with time he'll be able to hold his own as a starter. 
Risk-Reward
Risk – 3.5/5, Reward – 4/5
Awards and Achievements
HSL U15 Best SVS% (.900)
2019-20 AMBHL Top Goaltender
2022-23 Hlinka Gretzky Cup Gold Medal
Interviews/Links
6 Standouts From The 2023 CHL/NHL Top Prospects Game – THW's Adam Kierszenblat
Postgame press conference following the 2023 Kubota CHL / NHL Top Prospects Game – WHL
Scott Ratzlaff Stats
Videos
---
---