After a hard-fought battle, Team White defeated Team Red at the 2023 CHL/NHL Top Prospects Game. After falling behind 1-0, Team White scored four unanswered and took the game by a final score of 4-2. Here is a look at three players that stood out from each team.
Team White
Colby Barlow
Captains lead, and that is exactly what Colby Barlow did. The Owen Sound Attack forward scored Team White's first goal and finished the night with three shots on goal. Here is what he had to say about his team's performance post-game.
"It was a pretty cool game in general. There were a lot of fans, and the energy was amazing. (Lifting the trophy) was pretty sweet. Everyone worked really hard for it, and it is awesome to win. We learned a lot out there. There were a lot of great players and everyone brought a lot to the table. It was good to learn from those guys and go back to Owen Sound with a little more experience."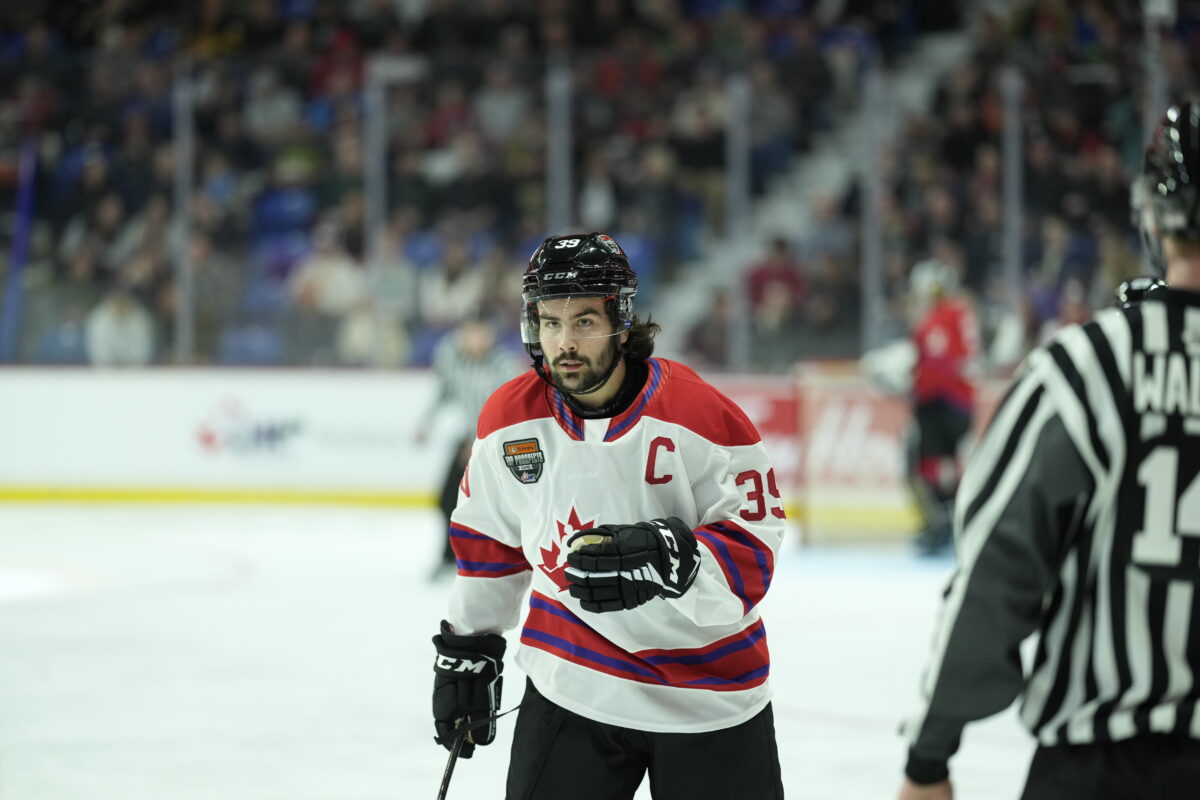 Barlow showed why many, including The Hockey Writers' Peter Baracchini, project him going in the top 15 of the 2023 NHL Entry Draft. He is a big winger who can drive the net and play a physical brand of hockey. Thanks to his strong performance, he joins an exclusive list that includes Shane Wright, Connor McDavid and Taylor Hall of Ontario Hockey League (OHL) players to captain their team to a Top Prospects Game victory.
Luca Pinelli
Luca Pinelli was noticeable all game and was electric in the offensive zone. Not only did he score the game-winner in the third period, but he was also tied for the team lead with five shots on goal. Despite playing out of position on the wing, the Ottawa 67's forward showed the scouts just how dangerous he can be when the puck is on his stick.
Related: NHL Draft Rankings: Horn's Top 32 for December
---
Latest News & Highlights
---
On his goal, Pinelli demonstrated his good shot, and his ability to read the play and get open. He was also able to showcase his speed on the forecheck and demonstrated strong play-making skills, as well as an ability to get the puck on the net. Just like his scouting report predicted, he was noticeable all game.
Scott Ratzlaff
Since goaltenders do not play the entire game, their performances can sometimes be forgotten. That was not the case at this year's event, as Scott Ratzlaff put on a show during the first half of the game. The Seattle Thunderbird goaltender stopped 24 of 25 shots, including denying Connor Bedard on a partial breakaway right before the goalie swap occurred.
During his 31 minutes of ice time, Ratzlaff showed off just how calm and technically sound he was. When Riley Heidt attempted "the Michigan", he read the play and got over in time to stop the shot with his shoulder. Without his heroics in net, odds are Team Red would have been skating away as champions.
Team Red
Riley Heidt
Riley Heidt was electric all game. He was named Team Red's Player of the Game after finishing the night with five shots on goal and an assist. The Prince George Cougars center also was good in the faceoff dot, winning six of his 11 faceoffs. Here are his post-game comments.
"It was nothing short of amazing. I was saying to some of the guys on the bench that I've never had so much fun at a game. The guy's I was playing with, I have to give credit to them. (On "the Michigan") I was kinda joking around out on the ice. I said if you see me in the whole, just get me and I'll go down low and try it. I've never actually tried to do it in a game so it schoked me a bit when I got it up. I don't know if I had much, I have to look at the reply but it's one of those things you don't think about. You aren't looking for an open hole, you are just trying to put it in that corner. Obviously Ratz (Scott Ratzlaff) made a nice save but it was worth a try."
Related: Maple Leafs: 5 Early 2023 Draft Targets
Whether it was "the Michigan" attempt or ringing a puck off the post, Hedit created chances every time he was in the offensive zone. He was also strong in the transition game showing an ability to dump and chase, as well as carry the puck past the blue line. It is fair to say he made the most of his opportunities when on the ice and was a well-deserving recipient of Player of the Game
Gracyn Sawchyn
While he didn't produce any points, Gracyn Sawchyn was noticeable throughout the game. The Seattle Thunderbirds forward finished the night with three shots on goal and demonstrated his ability to make plays in and around the crease. In fact, his battle in front of the net helped distract Ratzlaff enough that Mathieu Cataford buried the first goal of the night.
Sawchyn may not have scored but hovered around the net all game. Whether it was fighting for loose pucks or crashing the crease, he was one of the hardest-working prospects on the ice. He took full advantage of the moment and was easily one of Team Red's top players.
Connor Bedard
Despite finishing the game without a point, Bedard was worth the price of admission. He finished the night with six shots on goal and wowed the crowd with his stickhandling and speed. Despite the constant talk and pressure surrounding him going into the game, he was able to shut it all out and once again show why he is a generational talent.
Related: 2023 Top Prospect Connor Bedard Off to an Exceptional Start
One area Bedard was able to showcase that took everyone by surprise was his physical side. He threw multiple hits, including a big one in the first, and showed he wasn't afraid to mix it up by getting involved in post-whistle scrums. There is a bite to his game, and he showed it off to the hockey world.
All Eyes on the 2023 NHL Draft
With the Top Prospects Game now concluded, all eyes will be on the 2023 NHL Entry Draft scheduled for Jun. 28, 2023, in Nashville. This is also the time of year when prospects start to kick their games up a notch with the hopes of hearing their name called sooner rather than later. Make sure to keep your eyes peeled on The Hockey Writers for all your draft-related news, including prospect reports and draft day coverage coming soon.
---
---