Now that we're past the halfway point of the season and the Detroit Red Wings are unlikely to be playing playoff hockey this Spring, it's time for fans to look forward to the NHL's trade deadline and the 2023 NHL Draft. My colleague Tony Wolak has got you covered for the trade deadline so I'll leave that to him and instead take an early look at where the Red Wings will likely be selecting on draft day and which prospects could go in that range.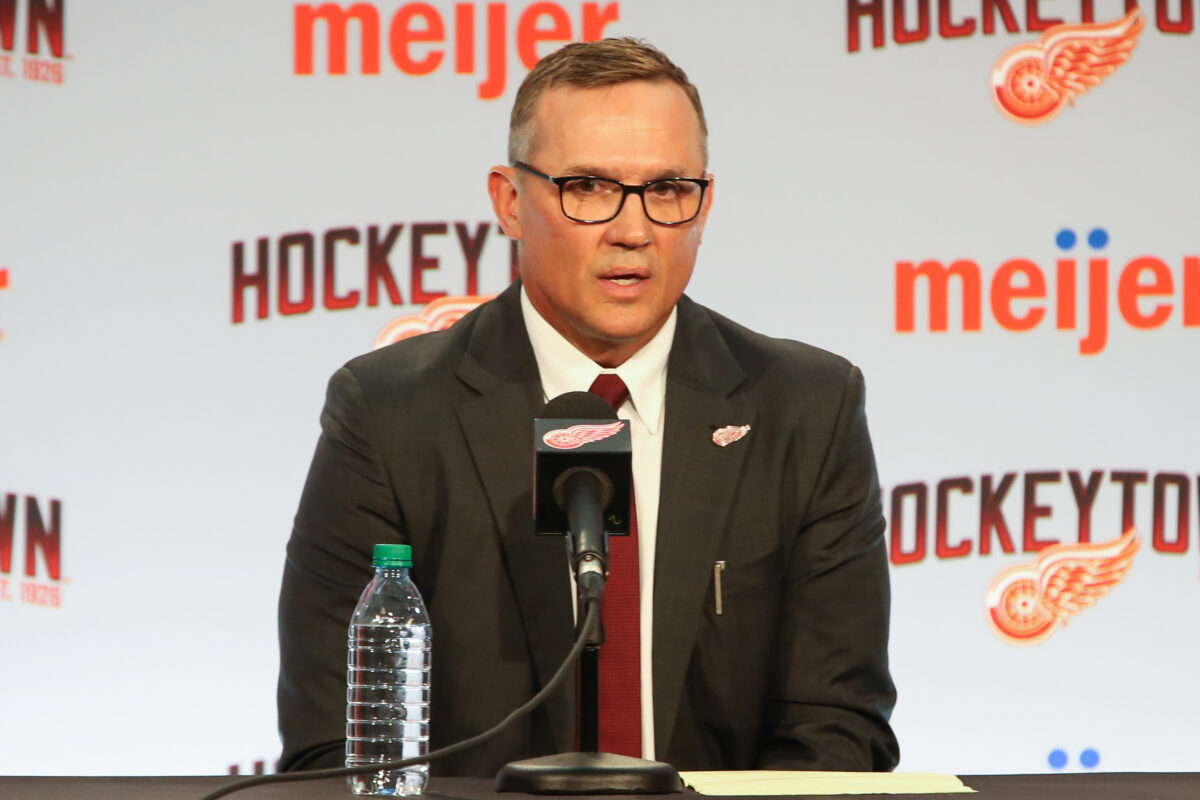 Detroit is currently 23rd in the NHL when it comes to point percentage, which gives them the 10th best odds at winning the draft lottery, a paltry 3.5% chance at the first overall pick and a 3.8% chance at second. If they stay at this exact spot in the standings, there's a 90% chance that the Red Wings will be selecting in the 10-12th overall range, so I'm only going to be going over prospects who will likely be still on the board in the 8-15 range so as to not give you too much false hope. 
Related: NHL Draft Rankings – Horn's Top 32 for December
---
Latest News & Highlights
---
That means I won't be taking a look at Connor Bedard, Adam Fantilli, or Leo Carlsson unless Detroit ends up winning the Draft Lottery (or tanking really hard for the rest of the year), and we all know that the Red Wings don't win draft lotteries so we'll cross that bridge if we get there. Without further ado, let's take a look at some of the best prospects that Detroit could realistically add in this year's draft and what they would bring to the team.
Andrew Cristall, LW, Kelowna Rockets (WHL)
Andrew Cristall is one of the most polarizing prospects in the 2023 Draft class, with some prospect evaluators seeing him as a no-doubt top-10 talent, while others see his lack of size and his sub-par skating and think he's a late first rounder. I haven't fully settled on one side or the other, but there is no doubt that Cristall is one of the very best offensive players in the draft class, currently sitting at 62 points in 36 WHL games, enough for third in the league behind only Bedard and Zach Benson.
Cristall has brilliant one-on-one skill and is one of the best playmakers in the draft class. His reputation and stickhandling draw a ton of attention to him which he uses to his advantage, waiting until the moment is right to rifle a pass to an open teammate. He is just 5-foot-10 and doesn't have the best skating stride at the moment, so I'd be a little wary to select him with the 10th overall pick, but his skill is self-evident and he could fill the need that the Red Wings have for a game-breaking offensive winger.
Oliver Moore, C, U.S.A. U18 (NTDP)
Oliver Moore has gotten a bit less attention than his National Team Development Program (NTDP) teammates Gabriel Perrault, Ryan Leonard, and Will Smith because they play together on the super-powered top line while Moore centers the second line. Despite playing with significantly less talented wingers, Moore has been scoring at a remarkable rate while providing a ton of defensive value at even strength and on the penalty kill. 
---
---
Moore is one of the best skaters in the 2023 Draft (if not the best) with the power, agility, and smoothness to be a high-end NHL skater from the moment he first steps foot on NHL ice. He provides tons of value as a puck carrier on the rush, creating a ton of controlled entry chances. Moore also has a good enough shot to be a threat on these rush chances himself, not just relying on wingers. He has a similar projection at this point to Marco Kasper, as a high-end middle-six center who would be an absolutely elite third line center and an excellent second line center. With Larkin centering the first line for the foreseeable future, Moore would give Detroit a center group that would be the envy of the NHL. 
Axel Sandin Pellikka, RD, Skellefteå (SHL)
The 2023 Draft is very heavy on forwards and much lighter on high quality defenders, especially in the top half of the first round. Axel Sandin Pellikka is looking to be the first defenseman off the board on draft day, and his offensive skills make that a realistic possibility. He has enormous offensive potential in the NHL as a Quinn Hughes-type defender who lacks ideal NHL size but has commanding poise and control of the puck in the offensive zone. 

Sandin Pellikka has been solid in the SHL this year as a draft eligible player which is impressive, but he has been dominant offensively when playing in Swedish junior league play this year, putting up 27 points in 21 games as a defenseman. He doesn't exactly have the highest defensive potential, but he's a right-handed shot and would add another remarkable defenseman to Detroit's already impressive prospect pool. Plus, imagine him playing alongside someone with a bit more of a defensive conscience like William Wallinder or Albert Johansson in Detroit someday and tell me that doesn't get you excited.
Colby Barlow, LW, Owen Sound Attack (OHL)
Colby Barlow is one of the more pro-ready prospects in the 2023 Draft, and is likely ready for NHL competition as soon as next season. He could very well do another year in the OHL, but he's proving that his game works incredibly well there (he's currently on pace for 54 goals as and isn't 18 yet) and I don't think he has much more to gain by playing in the OHL. He has the strength, size, and skating to compete in the NHL so he's got a real shot at the NHL next year.
Related: The NHL's Top 100 Prospects – Midseason Ranking
Aside from all that, Barlow is one of the very best goal scorers in the draft, with an incredibly powerful and accurate wrist shot that should easily make him a 30-goal threat in the NHL. He is also a great defensive forward, killing penalties incredibly well in the OHL this year. Barlow was also named captain of the Owen Sound Attack this year as a 17-year-old which speaks to his maturity and leadership. He looks like a great top-six winger who has the hardworking game to succeed alongside Marco Kasper on the second line someday, and the finishing ability to capitalize on Larkin's playmaking should Detroit slot him into the top line. 
Riley Heidt, C, Prince George Cougars (WHL)
Riley Heidt is one of the best playmakers in the draft, which when paired with his excellent skating ability makes him an incredibly dangerous offensive player, even though his game is more cerebral and less flashy. He's constantly scanning the ice and tracks all nine of the other skaters on the ice very well which allows him to pull off ridiculous no-look, one-touch passes with surprising regularity. Heidt is also a very hard working forward who engages in puck battles as well as battles at the net front.
He is a strong enough player in transition to be the primary puck handler on a line, and looks like an NHL center to me when you consider his skating and motor. Heidt projects as a do-it-all top-six center with great playmaking and decision making at high speeds. He could very well score 80+ points in his NHL prime, but will provide a ton of value even if he's not scoring at quite that level. Few 17 year olds have the patience and playmaking vision that Heidt has, so I expect him to be a great asset on the flank of the power play as well. 
Plenty of Options for Detroit
The 2023 Draft has been talked about for a long time as the deepest draft class in quite some time, and it's nice to see it live up to that reputation so far this year. Now that the NHL's standings are relatively clear for the season, it's nice to know that the Red Wings will have the chance to add another core piece of their team going forward on draft day.
Related: The NHL's Best Farm Systems – Midseason Ranking
There will be a ton of great options available to Detroit and I wouldn't be shocked to see them pick a bit off the board, even in the top 10 because there are so many incredible prospects available and we know that Steve Yzerman and Co. don't like to stick with the consensus. Regardless of who they pick, the 2023 Draft will provide the Red Wings with another cornerstone player for their rebuild and I for one can't wait to find out who it will be.
Logan is the director of prospect coverage (including the World Junior Championship and NHL Draft) for The Hockey Writers, and he's also a part of the Detroit Red Wings writing team. He loves reading about statistics and advanced analytics, and discovering how they can enrich his hockey analysis and writing.