"Trust the Yzerplan" is a common refrain among Detroit Red Wings fans. The rationale being that general manager Steve Yzerman is a franchise icon and built a dynasty in Tampa Bay before returning to Hockeytown in 2019.
That said, a healthy dose of skepticism is perfectly fine. In fact, identifying areas for improvement should be encouraged – that's how we get better. After all, nobody is perfect. (Unless you're Nicklas Lidstrom.)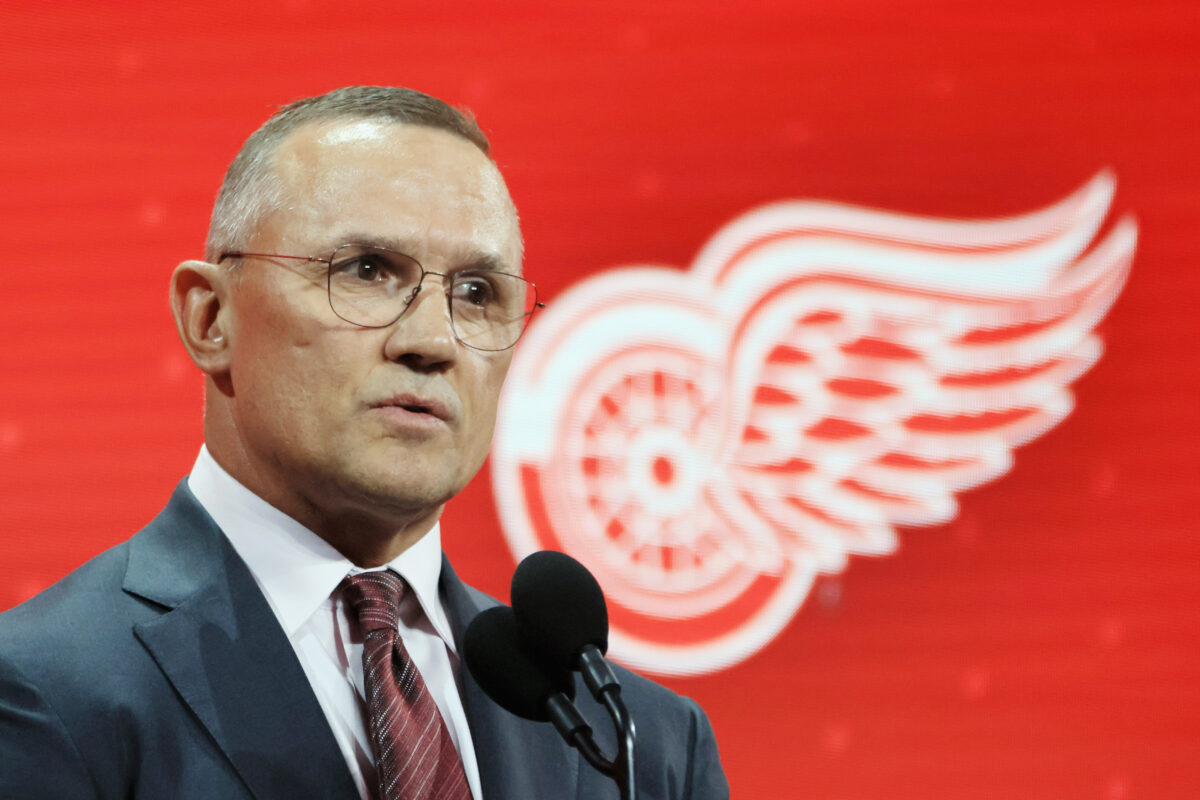 To do so, we'll dive into the four main concentrations of Yzerman's work and grade the Hall-of-Famer on his performance thus far as Red Wings GM.
Yzerman's Personnel Decisions
Since taking the reins in April 2019, Yzerman has made more than a few personnel decisions with the organization's best interests in mind. 

For one, he opted to retain Jeff Blashill after an abysmal 2019-20 season, which certainly raised some eyebrows. It was a savvy move though – Blashill followed through and guided the Red Wings to an improved 2020-21 season. That success did not last – Yzerman let Blashill go after the team plateaued in 2021-22 and brought in Derek Lalonde as his replacement.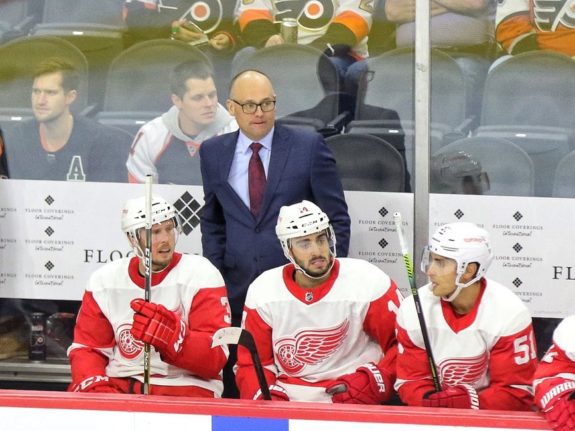 In addition, elevating Kris Draper to oversee Detroit's draft strategy and amateur scouting was a smart decision. Likewise, bringing back Nicklas Lidstrom raised the collective average of Detroit's front office hockey acumen.
Yzerman brought in Mike Barwis to lead Detroit's sports science department – a role that did not exist previously. He also kept Niklas Kronwall in the fold to work with the organization's prospects. The former Red Wings blueliner was invaluable during the COVID-19 pandemic, as most of Detroit's top prospects skated in Kronwall's native Sweden while they waited for North American leagues to resume. 
---
Latest News & Highlights
---
It's clear that Yzerman has surrounded himself with a variety of great hockey minds. There's still room for improvement, though. Building out a more robust analytics department under Bryan Campbell may be a worthwhile venture and one that brings in additional perspectives on the game.
Grade: A
Red Wings Drafts Under Yzerman
As I mentioned above, Yzerman does not make every decision pertaining to the draft. Draper handles most of it – especially in the later rounds. 
That said, Yzerman oversees everything and provides input on the high-priority selections. This grade focuses mostly on the first two rounds, diving deeper on the impact, value, and the strategy that goes into each draft.
| | | | |
| --- | --- | --- | --- |
| Draft Class | Impact | Value | Strategy |
| 2019 | A- | A- | A- |
| 2020 | A- | B+ | A- |
| 2021 | A | A | B+ |
| 2022 | A- | A | B+ |
Selecting Moritz Seider sixth overall in 2019 epitomizes Detroit's draft strategy under Yzerman – get "our guy" regardless of where they slot in relative to the rest of the draft class. Seider and Carter Mazur (2021) were considered "reaches" in the immediate aftermath, and have blossomed into building blocks for the future. But in the cases of Cross Hanas (2019) and Dylan James (2021), you wish the Red Wings "played the game" a little more when it came to moving up and back in the draft.
Overall, Yzerman has done an outstanding job revitalizing Detroit's prospect pipeline, building from the back out. The Red Wings have hit on all of their recent first-round picks, which is exactly what you want to see when rebuilding.
Grade: A-
Red Wings' Recent Free Agent Signings
Since taking over, Yzerman generally has been passive in free agency – at least when it comes to signing the big fish of each year's free agent class. This has partially contributed to Detroit's outstanding salary cap picture.
When grading Yzerman's signings, I excluded entry-level contracts and minor league signings to focus solely on internal and external free agents brought in to contribute at the NHL level. In addition, I looked at the value/role of the player, the salary cap impact, and the strategy that went into each signing. And finally, I weighted the signings based on their magnitude.
Yzerman's top-three signings (or re-signings) include:
Dylan Larkin (2023) – 8 years, $8.7 million AAV
Michael Rasmussen (2021) – 3 years, $1.46 million AAV
Jake Walman (2022) – 1 year, $1.05 million AAV
At the opposite end of the spectrum, the three worst contracts dished out by Yzerman are:
Ben Chiarot (2022) – 4 years, $4.75 million AAV
Valtteri Filppula (2019) – 2 years, $3 million AAV
Marc Staal (2021) – 1 year, $2 million AAV
In all, Yzerman has a strong batting average when it comes to the 48 internal and external free agents that he has signed. The fact that Staal's contract was one of the worst speaks to Yzerman's proficiency in this category. Most contracts graded out as a B or better.
Grade: B+
Detroit's Trade King
Most general managers will say that it's impossible to win 100 percent of your trades. Instead, the goal is to win more than you lose.
Yzerman has definitely won the majority of his trades.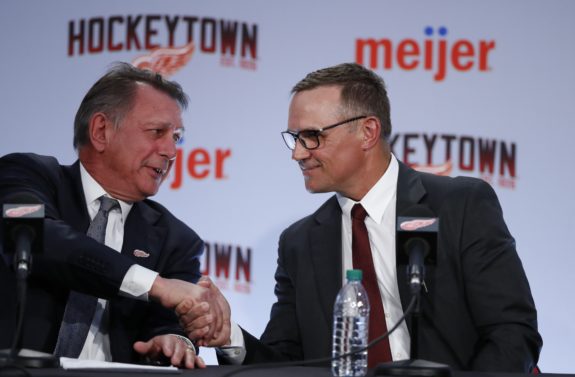 Like with his free agent signings, I graded each of Yzerman's 27 trades and weighted them based on their magnitude. Trades were organized according to the season in which they were completed. Offseason trades were factored into the following season since that's when the acquired players would actually take the ice.
You may also like:
2019-20: Acquiring Robby Fabbri for Jacob de la Rose is still celebrated today. Yzerman also completed one of his worst trade as GM of the Red Wings by trading prospect Alec Regula for Brendan Perlini. His eight 2019-20 trades averaged out to a B.
2020-21: The Anthony Mantha trade kicked off a massive trade tree that will define Detroit's rebuild over the next decade. Trading cap space for a second rounder (Marc Staal acquisition) was a savvy move, too.
Related: Red Wings' Massive Mirco Mueller Trade Tree
2021-22: Acquiring Jake Walman, Oskar Sundqvist, and a second for Nick Leddy was a huge win, especially when you consider the fact that Leddy was a bust pick-up for the Red Wings. Overall, Yzerman gets a B+ for his 2021-22 trades.
2022-23: Long after we're all gone, there will still be "what if" debates about Jakub Vrana. But in my opinion, simply getting rid of him was poor asset management, even if he had no future in the organization. That said, the Tyler Bertuzzi and Filip Hronek deals more than made up for Vrana's paltry return.
Grade: B+
Final Word
There's still plenty of work to do, but so far, Yzerman grades out very well. It's fair to say that a majority of his free agent signings and trades have panned out – sometimes well-above expectations.
But more importantly, Yzerman's best work has been the foundation of the organization. He has brought in fantastic personnel to guide the franchise and has drafted well since 2019. This is how a rebuild should be managed.
Overall Grade: A-
How would you grade Steve Yzerman's work as Red Wings GM? Comment below.