| | | | |
| --- | --- | --- | --- |
| Born: | April 28, 1970 | Draft: | 1989 Red Wings, #53 overall |
| Hometown: | Avesta, Sweden | Position: | Defence |
| Known For: | The Perfect Human | Shoots: | Left |
| National Team: | Sweden | | |
Erik Nicklas Lidström (born 28 April 1970) is a Swedish former professional ice hockey defenceman who played 20 seasons in the National Hockey League (NHL) for the Detroit Red Wings, which he captained for the final six seasons of his career. He is widely regarded as one of the greatest defencemen in NHL history.
Over his 20 NHL seasons, Lidström won four Stanley Cup championships, seven James Norris Memorial Trophies (awarded to the NHL's top defenceman), one Conn Smythe Trophy as the playoff MVP, and was voted into 12 NHL All-Star Games. The Red Wings never missed the playoffs during his career, the longest in league history for a player never missing the playoffs. Lidström was the first European-born-and-trained captain of a Stanley Cup-winning team, as well as the first European player named playoff MVP. Lidström is also the all-time leader in games played with a single NHL team by a European-born player. Lidström was inducted into the Hockey Hall of Fame on 9 November 2015. In 2017, Lidström was named one of the "100 Greatest NHL Players" in history.
Widely considered one of the greatest defencemen of all time, Lidström was awarded the Norris Trophy seven times, a feat matched by only two other players: Doug Harvey and by Bobby Orr (who won the trophy eight times). Lidström was nominated for the award a total of 12 times in his last 14 seasons in the NHL, the first three times finishing as the runner-up, and won it in seven of his last ten (2004–05 had no winner due to the NHL lockout). In his final 16 seasons (beginning in 1995–96), he finished no lower than sixth place in Norris Trophy voting.
Lidström played his entire 20-year NHL career with the Detroit Red Wings, finishing his career with the second-most Stanley Cup playoff games played in NHL history, with 263 appearances (Chris Chelios ranks first with 266). He was a member of four Stanley Cup-winning teams, in 1996–97, 1997–98, 2001–02 and 2007–08. Save for the cancelled 2004–05 season lockout year, Lidström played in the playoffs for an NHL record 20 consecutive seasons (an honour he shares with Larry Robinson).
Known for his durability, Lidström consistently ranked amongst the top in the NHL in ice time per game. He averaged 28:07 minutes in the 2005–06 season, a career high. He won three consecutive Norris Trophies from 2001 to 2003 to become the first defenceman since Bobby Orr to win three straight.[10] In the 2003–04 season, he played in his 1,000th game of his career, having missed only 17 games in 12-and-a-half seasons (1994–95 was shortened to 48 games instead of the usual 82 by a labour dispute).
In the 2002 Stanley Cup playoffs, Lidström was named the winner of the Conn Smythe Trophy as most valuable player during the playoffs, becoming the first European to ever be awarded the trophy.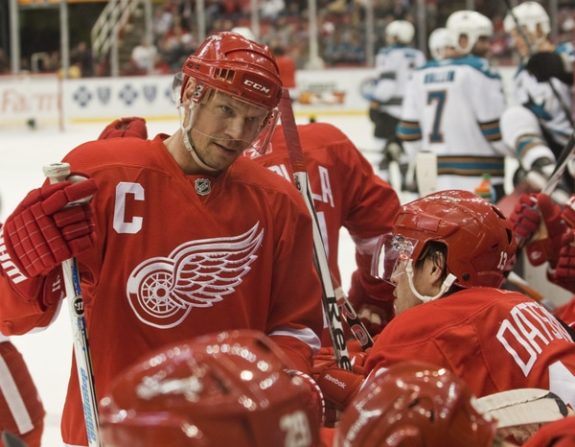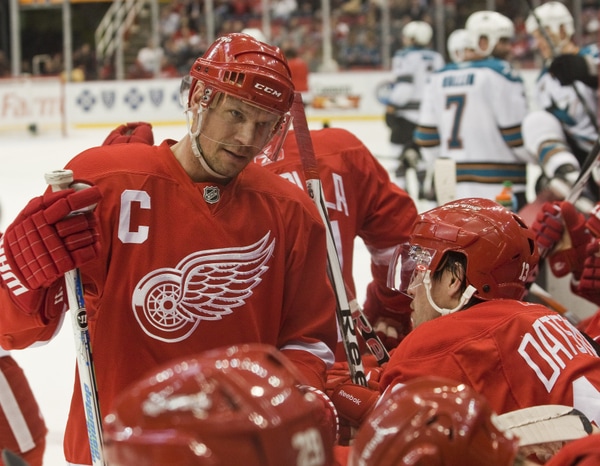 Nick Lidstrom Stats
Deeper Dive
Awards
World Championship gold medal winner (Sweden, 1991).
NHL All-Rookie Team (1992).
4x Stanley Cup winner (1997, 1998, 2002, and 2008).
12x NHL All-Star Game (1996, 1998, 1999, 2000, 2001, 2002, 2003, 2004, 2007, 2008, 2009*, 2011).
10x NHL First All-Star Team member (1998, 1999, 2000, 2001, 2002, 2003, 2006, 2007, 2008, 2011).
2x NHL Second All-Star Team member (2009, 2010).
7x Norris Trophy winner (2001, 2002, 2003, 2006, 2007, 2008, 2011).
Conn Smythe Trophy winner (2002).
Olympic gold medal winner (Sweden, 2006)
Olympic All-Star Team (2006).
Member of the Triple Gold Club.
2x Viking Award winner (2000 and 2006).
Inducted into the Michigan Sports Hall of Fame – 2014
Detroit Red Wings #5 retired on 6 March 2014
Inducted into the IIHF Hall of Fame – 2014
Inducted into the Hockey Hall of Fame – 2015
Introduced into the IIHF All-Time Sweden Team – 2020
First European-born and trained Norris Trophy winner (2000–01).
First European-born and trained Conn Smythe Trophy winner (2001–02).
Fourth defenceman (and first European-born and trained defenceman) in NHL to win James Norris Memorial Trophy three years running (2001–2003, 2006–2008), and third seven-time Norris Trophy winner.
First European-born and trained captain of a Stanley Cup-winning team (2008).
First European-born and trained defenceman to reach 1,000 points.
Most regular season games played by a player born in Europe, any position (1,564).
Most regular season games played by a player in a career spent with only one team (1,564).
Most regular season wins played in (900).
Most postseason games played with single franchise, career (263)
Most postseason assists by defenceman with single franchise, career (129)
Most postseason points by defenceman with single franchise, career (183)
Highest postseason plus/minus, career (+61)
Most postseason power play goals by defenceman, career (30)
Most postseason shots on goal with single franchise, career (656)
Oldest player to record his first hat-trick (40 years, 210 days)
Oldest defenceman to record a hat-trick (40 years, 210 days)
Oldest Norris Trophy winner (41 years, 57 days) (2010–2011)
Oldest defenceman to score in a Game 7 (39 years, 364 days)
Sources