The National Hockey League was founded on November 26, 1917. Over the league's 100 years, countless players have left indelible marks on the game. Names like Morenz, Shore, Richard, Howe, Beliveau, Orr, Gretzky and Lemieux are uttered in hockey circles with the utmost reverence. If one were to ask multiple generations who the best NHL players were, one would receive multiple answers.
Attempting to compare, contrast and list the greats across multiple decades is a near-impossible (and extremely subjective) endeavor. In an attempt to at least minimize the subjectivity while also giving each legend their proper respect for the time in which they played, the following list will be broken down decade-by-decade, all the way back through the NHL's first full decade (1920s). The five best players will be mentioned for each, the "best" will be identified, and honorable mention will be bestowed upon the greats who didn't quite crack the top five.
 Tidbits and Criteria
Beyond the 1920s, candidates must have played a minimum of 200 games.
Players are only being measured for their play and impact during the decade in question.
Following the identification of each decade's "best" player, the subsequent four players (and honorable mentions) are listed in no particular order.
Top-billing serves as the annotation for the decade's "best" player.
Some players wrapped their best seasons around the end of one decade and beginning of another. This is taken into account, but again, each decade is measured independently from one another.
This is not merely a list of best stats. If so, Ron Francis would be the fifth-best player of all time. This list is about all-around play, impact and innovation.
Like the statistical component, Stanley Cup wins will be taken into account, but this is also not merely a list of "Best Winners." If it were, Henri Richard would top the list. Great players from mediocre-to-bad teams deserve some love too.
Some of the all-time greats will not be listed as the "best" player from their respective decade(s), and some won't even crack the top five. It will be as surprising to you as it was to me. Some decades were just too chock-full of talent.
The Lester B. Pearson Award became the Ted Lindsay Award prior to the 2009-10 Season.
Finally, I want to thank my father. His insight, knowledge of the game and firsthand experience watching some of these players proved invaluable. Considering the fact that I'm his namesake, I'm happy to share the byline of this article with him.
Buckle up.
Best NHL Players of the 1920s
Howie Morenz — Montreal Canadiens
Howie Morenz was the first legitimate superstar in NHL history. He was the first player to record 50 points (1927-28) and 40 goals (1929-30) in a season. His 179 goals in 258 games average out to 56 goals per today's 82-game schedule. Allegedly, it was his breathtaking ability and speed that persuaded Boston businessman Charles Adams to found the Boston Bruins, bringing the NHL to the United States.
---
Latest News & Highlights
---
The best of the era, according to another one of the decade's best:
He was the best. He could stop on a dime and leave you nine cents change. Howie was in a class by himself. And when he couldn't skate around you, he'd go right over you.

-Francis "King" Clancy (Joe Pelletier, GreatestHockeyLegends.com)
He finished the 1920s with one Hart Trophy and two Stanley Cup championships, scoring the winning goal in each. Morenz tragically passed away at age 34 from complications stemming from a broken leg. Fifty-thousand people attended his funeral service held at the Montreal Forum.
Cy Denneny — Ottawa Senators, Boston Bruins
Cy Denneny was the NHL's first sniper, scoring 34 goals in just 24 games during the 1920-21 season. His 243 points paced the decade, besting Morenz by two points (in eight additional games). Despite standing just five-foot-seven, Denneny would seldom skate away from confrontation; he played with a bit of a mean streak. He would win 4 Stanley Cups in the decade, including one as a player-coach for the Bruins in 1929-30.
Georges Vezina — Montreal Canadiens
Georges Vezina was the league's first star goaltender, donning the "Bleu, blanc, et rouge" for his entire career. Vezina excelled in an era when goaltenders were not allowed to go down to the ice to make saves or freeze the puck (or wear helmets or masks, for that matter). "The Chicoutimi Cucumber" was known for his poise and cool demeanor while staring down the league's best. He was the first goaltender to post a sub-2.00 goals-against-average, doing so in consecutive seasons. He won one Cup in the 1920s before an untimely death from tuberculosis at age 39. The award for the NHL's best goaltender is named after Vezina.
Cecil "Babe" Dye — Toronto St. Pat's, Chicago Blackhawks, New York Americans
Toronto's first superstar. His 190 goals topped all scorers in the decade, leading the league in single-season goals three times. Prior to his career being derailed by injury in 1927, Dye had registered 189 points in just 182 games. Blessed with a rocket of a shot, Dye struck fear in the hearts of the era's goalies. Furthermore, "Babe" played professional baseball and football, making him the best athlete in the NHL in the 1920s. He won one Cup with the Toronto St. Pat's in 1922.
The league's first star defenseman. Diminutive, speedy, and tough-as-nails, he could do it all. In the 1923 Stanley Cup Final, Clancy played every position on the ice (yes, including goaltender); Ottawa won the game and the series. Clancy remains the only player to accomplish this feat. He scored 153 points in 306 games, primarily playing defense, and won two Cups in the decade.
Honorable Mention: Aurele Joliat, Nels Stewart, Bill Cook
1930s
Eddie Shore — Boston Bruins, New York Americans
"The Edmonton Express" was as feared as he was revered. He essentially singlehandedly brought hockey to the United States. Shore registered 199 points in 386 games, giving him an average of 42 points per 82 games; incredible numbers for a defenseman in the era. He also set the bar for toughness. Shore once had his ear severed so badly from his head that the team doctor insisted on amputating it, an assessment with which Shore disagreed. He found a different doctor to sew the ear back on, refused an anesthetic during the surgery and insisted on holding a mirror so he could supervise the work being done. Eddie Shore was back at practice the next day.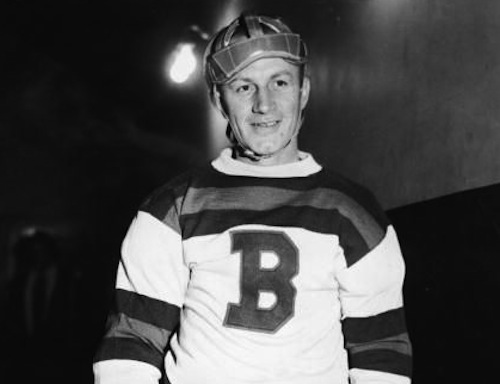 The legendary tough guy played through more than just a severed ear:
Driving himself the way he drove his players later, Shore had also acquired more than 900 stitches in his face and body, several fractures in his back, hip, collarbone, nose and jaw, and a mouth minus every tooth.

-Stan Fischler (Sports Illustrated) March 13, 1967
He won four Hart Trophies (still a record for a defenseman) in a six year span. He won one Stanley Cup, and also holds the record for most fights in one game (five).
Cecil "Tiny" Thompson — Boston Bruins, Detroit Red Wings
The star goaltender played more games (465) than any other player in the 1930s. The pioneer of the glove-save, Thompson's catlike reflexes and innovative technique made him the best goaltender of the decade. He finished a season with a goals-against-average below 2.00 four separate times, and recorded 63 shutouts. He's the only goaltender in the Hockey Hall of Fame to post a shutout in his NHL debut. He was also the first goalie to record an assist. Thompson finished the decade with three Vezina Trophies.
Charlie Conacher — Toronto Maple Leafs, New York Americans
No one scored more goals in the 1930s than Charlie Conacher. With 198 goals in 374 games, Conacher scored at a rate of 46 goals per 82 games throughout the decade. "The Big Bomber" was one of the league's first power forwards, possessing an imposing frame and booming shot. Teaming up with fellow legend "Busher" Jackson, the two wreaked havoc on opposing defenses for the first half of the decade. He led the league in goals five times, and twice paced the league in points. Conacher won one Stanley Cup with Toronto in 1932.
Aubrey "Dit" Clapper — Boston Bruins
Dit Clapper, like King Clancy before him, played all over the ice. He remains the only player in league history to be named an All-Star at both forward and defense. His 279 points rank ninth in scoring for the decade, despite multiple seasons spent exclusively as a defenseman.
Sign up for our NHL History Substack newsletter

A peacemaker despite his large stature, Clapper was involved in one of the most surreal moments in league history: After twice high-sticking an opponent to the head, referee Clarence Campbell reportedly unloaded on him with a string of verbal jabs. Clapper responded with an actual jab, dropping Campbell to the ice with a single punch.
He finished the decade paired alongside Eddie Shore, giving Boston the best defense pairing in the league. He won one of his three Stanley Cups in the decade (1939).
Marty Barry — Boston Bruins, Detroit Red Wings, Montreal Canadiens
Marty Barry was a model of consistency. During the rough-and-tumble 1930s, Barry played an unthinkable 509 consecutive games. Moreover, his consistency extended beyond endurance, as he recorded six-consecutive 20-goal seasons during that span. His 353 points in the decade were enough to pace the league, tying with Busher Jackson. Barry won the Stanley Cup twice, doing so in back-to-back seasons with the Detroit Red Wings.
Honorable Mention: Harvey "Busher" Jackson, Nels Stewart, Howie Morenz, Dave Kerr
1940s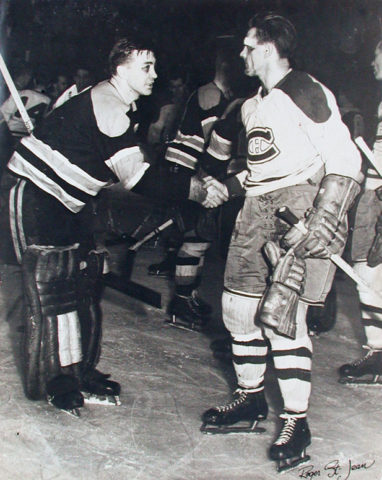 "The Rocket" was cut from a different cloth; he was unlike anything the league had previously seen. Even Hall of Fame coach and broadcaster Dick Irvin put Richard in a class to himself:
There are goals, and there are Richard goals.

-Dick Irvin (Herbert Warren Wind, Sports Illustrated) December 6, 1954
With unmatched speed and the consummate finisher's touch, Richard changed the game more than any player before him. He was the first player in league history to score 50 goals in a season, doing so in just 50 games during the 1944-45 campaign. He scored 56 more goals than his closest competitor. His 250 goals in 404 games average out to over 50 goals per 82 games.
With piercing black eyes and a temper to match, Richard was also not a player to be trifled with. Though his winningest-days as player would come in the following decade, "The Rocket" still managed a Hart Trophy and two Stanley Cup wins in the 1940s.
Doug Bentley — Chicago Blackhawks
Though marooned on the cellar-dwelling Blackhawks for the entire decade, Bentley found a way to excel. His 475 points in 455 games led the league in both total points and points-per-game, averaging out to 85 points per 82 games. Doug and brother Max Bentley were the original Sedin twins prior to Max being traded before the 1947-48 season, as the brothers finished the decade ranked first and fourth in league scoring. Doug's lack of supporting cast kept his name off of the Stanley Cup, and he never finished higher than second in Hart Trophy voting. However, it was his ability to outscore everyone else in the decade in spite of that support which cements his place on this list.
Bill Durnan — Montreal Canadiens
Bill Durnan was the greatest goaltender of the decade, and it's not even close (with all due respect to Frank Brimsek and "Turk" Broda). Durnan captured six Vezina Trophies in a span of seven years; sheer dominance. He was just as excellent in the playoffs, posting a 2.07 goals-against-average over 45 games, winning two Stanley Cups.
Walter "Babe" Pratt — New York Rangers, Toronto Maple Leafs, Boston Bruins
The second "Babe" on our list, Pratt's nickname was earned for his exploits on AND off the ice, much like the baseball-playing "Babe." The defenseman (and occasional forward) was a notorious playboy, drawing the ire of Rangers GM Conn Smythe and precipitating his trade away from the bright lights of Broadway. Standing a then-massive six-foot-three, 215 pounds, Pratt could skate and rush the puck as well as anyone not called "The Rocket."
He registered 218 points in 310 games, and had the Norris Trophy existed in the 1940s Pratt would have won more than a few. He won one Hart Trophy and one Stanley Cup, scoring the series-winning goal in Game 7 of the 1945 Final.
Though better known as an eight-time Cup-winning coach, Blake was quite the player in his day. The slick and skilled Blake registered 386 points in 376 games from the left wing position, helping Montreal capture two Cups in three years.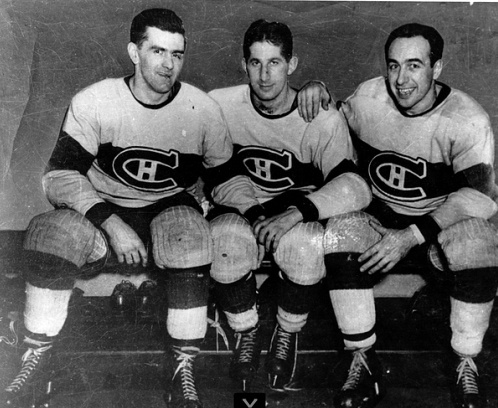 Honorable Mention: Bill Cowley, Syl Apps, Elmer Lach, Max Bentley, Frank Brimsek, Turk Broda, Bill Mosienko
1950s
"Mr. Hockey" isn't the most subtle nickname, and Howe was not the most subtle player. One way or another, his presence was felt each and every time he hopped onto the ice.
He was built to be a hockey player. He was strong as an ox. Howe was mean as a rattlesnake and you treaded lightly when you came around him. He had a very heavy shot and a soft touch. Old school hockey. That was Gordie Howe.

-Red Wings and Maple Leafs forward Paul Henderson (Sportsnet.ca) June 10, 2016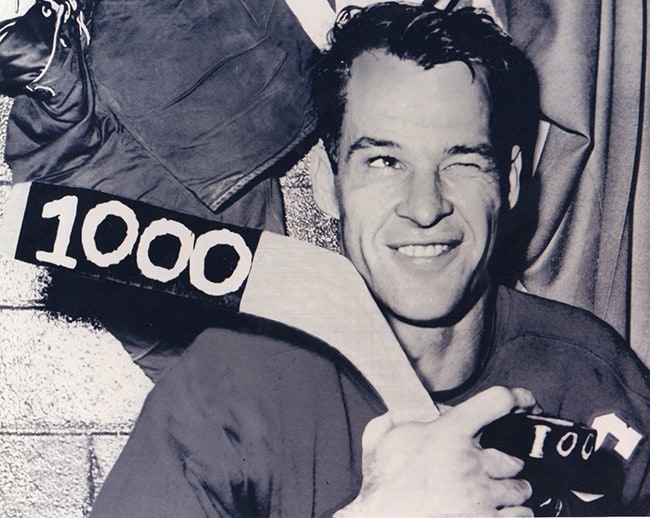 Considered by many (including a few fellow contenders) to be the greatest player of all time, Gordie Howe WAS hockey in the 1950s. His 806 points (in just 688 games) lead the second-place finisher by 249 points. That second place finisher also happened to be his linemate, Ted Lindsay. He averaged 99 points per 82 games throughout the 1950s.
In the decade, Howe won the Hart and Art Ross Trophies five times apiece, while winning the Stanley Cup four times. The "Gordie Howe Hat Trick" (a goal, assist, and a fight) is the most "hockey player" stat in the game, and is a fitting testament to one of the most complete players of all time.
The only things that kept Jean Beliveau from more awards in the 1950s (and top billing on this list) were Howe and his incredible supporting cast in Montreal.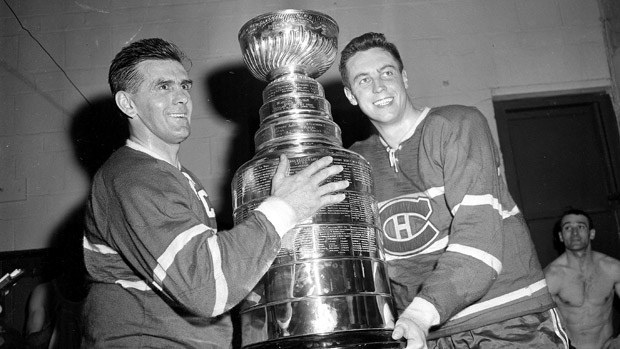 Beliveau is the only player of the decade to score at a higher rate than Howe, potting 242 goals in 437 games. He's also the only player even remotely close to Howe in points-per-game, with 510. Beliveau was a wizard with the puck, and could skate like a man half his size (six-foot-three, 205 pounds). He captured one Hart Trophy, one Art Ross Trophy, and won the Stanley Cup five times in the decade. Like Howe, his greatness did not go unnoticed by other legends:
He's great. He's got the greatest shot I've ever seen in hockey and he's a fine man.

-Maurice Richard (Dave Stubbs, NHL.com) January 1, 2017
Also like Howe and Richard, Beliveau's greatness was hardly relegated to one decade.
Maurice "Rocket" Richard — Montreal Canadiens
The first player on this list to crack the top five in multiple decades. Richard was still elite in the 1950s, as evidenced by his 294 goals (second only to Howe). "The Rocket" won the Stanley Cup six more times in the 1950s, including the last five of the decade.
Doug Harvey — Montreal Canadiens
The greatest defenseman of the decade, and to this point in history, ever. Doug Harvey won seven Norris Trophies in a span of eight seasons in the 1950s. Had the award existed prior to the 1953-54 season he likely would have won one or two more. His 360 points led all defensemen in the decade.
Harvey was a dynamo at both ends of the ice. He was impossible to beat one-on-one, and quarterbacked the greatest power play of all time. Montreal's power play was so good in the 1950s that in 1956 the NHL instituted a new rule, ending a team's power play once a goal was scored. Prior to the amendment, Montreal would often score two or even three goals over the course of one power play.
Harvey won the Stanley Cup six times in the decade to go along with his impressive haul of Norris Trophies.
Jacques Plante — Montreal Canadiens
Yes, another Canadien. Four of the top five spots, and had this been a top ten list a few more Habs would be included. Montreal was that dominant.
Jacques Plante won each of the last five Vezina Trophies of the decade. Only once in the 1950s did Plante post a goals-against-average north of 2.16, and in that one anomalous season he still won the Vezina. He backstopped each of Montreal's six Stanley Cups in the decade.
Honorable Mention: Ted Lindsay (I can't believe he's not in the top five), Bernie "Boom Boom" Geoffrion, Terry Sawchuk, Alex Delvecchio, Bill Gadsby, Andy Bathgate, Dickie Moore, Henri Richard
1960s
Bobby Hull — Chicago Blackhawks
"The Golden Jet" was the greatest goal scorer in an era of great goal scorers. Hull could skate nearly 30 miles per hour, and his slap shot was the stuff of legend. Rumor has it his slapper was once clocked at 118 miles per hour. Though that's likely a bit of an exaggeration, it didn't seem like hyperbole to the era's goaltenders; it's no surprise that the widespread use of masks by goalies coincided with Hull's ascension. Former opponent and Hall of Fame goaltender Glenn Hall was elated to join Hull on on the Blackhawks: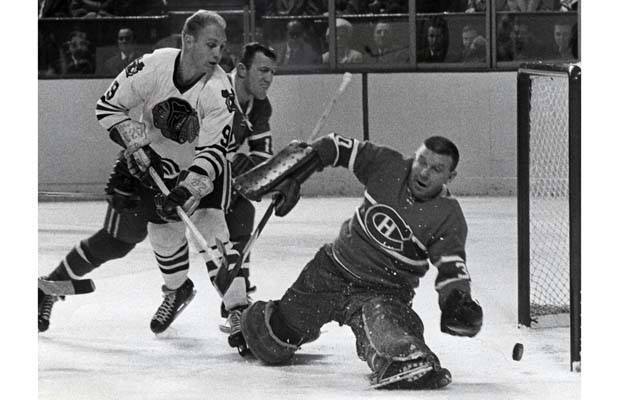 The best part about coming to Chicago was that Bobby Hull was on my side," But I still had to face him and his shot in practice. The idea was not to stop that thing, but to avoid getting killed. Every once in a while, Bobby would fire the puck and it would fly into the stands at the Stadium. If the cleaning ladies were up there, you should have seen them scatter. They looked like Olympic sprinters.

-Glenn Hall (Bob Verdi, NHL.com) January 1, 2017
Hull's 440 goals outpaced second place finisher Frank Mahovlich by 111. His 1.173 points-per game (96 points per 82 games) are second in the decade only to linemate Stan Mikita. He eclipsed 30 goals every year in the decade, 40 goals six times and 50 goals four times. He finished the decade with two Hart Trophies, two Art Ross Trophies and one Stanley Cup ring.
Jean Beliveau — Montreal Canadiens
Beliveau was still elite in his second decade, recording 633 points in 618 games. He added another Hart Trophy to his mantle, and was the NHL's first Conn Smythe winner in 1965. He won the Stanley Cup four more times in the 1960s, giving him an inconceivable 10 rings as a player. Beliveau would go on to get his name on the Cup seven more times as an executive with Les Habitants. What a career for one of the game's greatest ambassadors; a true gentleman on and off the ice.
Gordie Howe — Detroit Red Wings
Like Beliveau, Gordie Howe was still wreaking havoc on the league in the 1960s, registering 780 points in 708 games. Despite being 32 years old at the beginning of the 1960-61 season, Howe still managed to play more games than anyone else in the decade. As further testament to his unmatched longevity, let's step out of the 1960s for a moment for this little tidbit: During the Hartford Whalers' inaugural NHL season in 1979-80, Howe registered one goal and one assist over three playoff games in addition to his regular season 41 points; he was 52 years old.
Stan Mikita — Chicago Blackhawks
The Czechoslovkia-born Stan Mikita was raised in Canada, but is still technically the first non-North American-born player on this list. The crafty pivot led all players in the decade in scoring, both in terms of total points (827) and points-per-game (1.18). Teaming with Bobby Hull to form the most formidable duo of the 1960s, Mikita captured four Art Ross and two Hart Trophies. He registered nine consecutive seasons of 76 points or more, and won one Stanley Cup.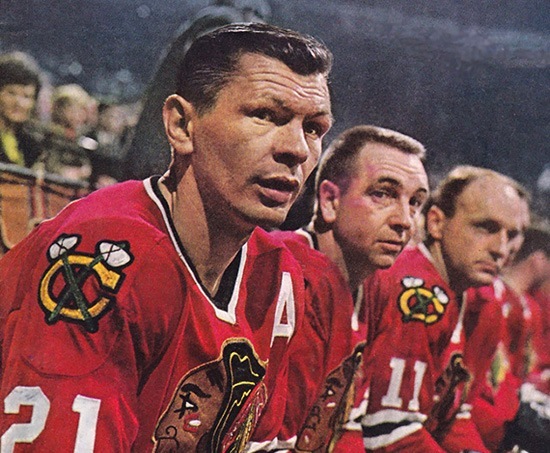 Mikita could do more than just score and make plays, however. He had an exceptional Hockey IQ, and was a master of "the little things" that are so important for a centerman. He was a genuine pain-in-the-butt to play against as well.
Interestingly enough, Mikita was one of the league's chippiest players in the first half of the decade. In the back half of the decade he won the Lady Byng Trophy twice. Allegedly, the change in playing style was attributed to Stan wanting to set a better example for his young daughter watching at home. Good man, Stan.
Bobby Orr — Boston Bruins
Though the lion's share of Bobby Orr's greatness would come in the following decade, he'd already changed the game forever by the time the sun had set on the 1960s. A more detailed breakdown of the player himself will come in the next section.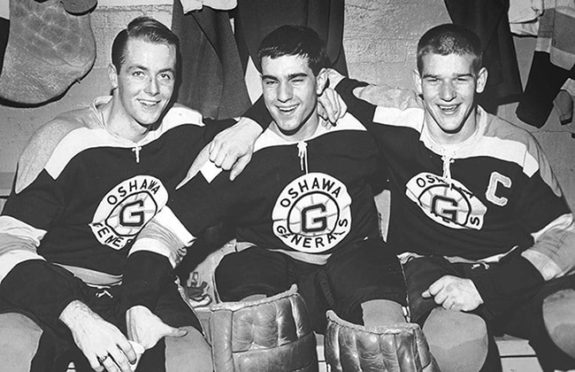 Orr won three straight Norris Trophies to close out the 1960s. His 64 point campaign in 1968-69 broke the record for points by a defenseman in a single season, which merely set the stage for the following year. In 1969-70, Orr broke his own record by 56 points (33 goals, 87 assists) becoming just the second player of ANY position to eclipse 100 points in a season.
The campaign would become the most decorated season for any individual player in the history of the NHL, as Orr would take home the Norris, Hart, Art Ross and Conn Smythe Trophies as well as the Stanley Cup. The Cup was won only after Orr scored the most iconic goal in NHL history. Not a bad year for a 22 year old.
Honorable Mention: Phil Esposito, Frank Mahovlich, Pierre Pilote, Dave Keon, Alex Delvecchio, Norm Ullman, Johnny Bucyk, Tim Horton, Glenn Hall
1970s
Bobby Orr — Boston Bruins, Chicago Blackhawks
No player before nor since has changed the game more than Bobby Orr. Had more than a dozen surgeries on his left knee not ended his career prematurely who knows what else he could have accomplished. Regardless, the indelible mark he left on the game cements his place in history as arguably the best player of all time, and easily the best of the 1970s, despite only playing 36 games from 1975-on.
Bobby Orr seemed to be playing a different game than everyone else when he was on the ice. It was as if some great player from the future had gone back in time to expedite the maturation and progress of the game.
All that Bobby did was change the face of hockey all by himself. Bobby was as fast as he needed to be in a particular situation. No matter how fast an opponent was, Bobby could skate faster than him if he needed to in the framework of a play. If he was caught up the ice and the other team had an odd-man rush, that's when you saw his truly great speed. Very seldom did he not get back to have a hand in breaking up the play. To have seen his ultimate speed, you would have needed to play faster than any in hockey history.

-Phil Esposito (Dave Stubbs, NHL.com) January 1, 2017
With every breathtaking end-to-end rush, impossible goal scored or penalty killed single-handedly, Orr captured the imagination of hockey fans everywhere.
"Number Four" tallied 659 points in just 407 games; that's 132 points per 82 games. He scored at a higher rate than any player in the decade (1.62 points per game). His plus/minus of plus-124 in 1970-71 is one of sports' most unbreakable records. He won five straight Norris Trophies to begin the decade, capping an incredible run of eight consecutive Norris wins. Orr added two additional Hart Trophies, one additional Art Ross Trophy, one Lester Pearson Award, an additional Conn Smythe Trophy and one more Stanley Cup win to his resume in the 1970s, giving a solid argument for considering him at the top of any list of best NHL players.
Guy Lafleur — Montreal Canadiens
With a name like "Guy Lafleur," there was only one team worthy of his services.
"The Flower" dazzled fans in Montreal and around the league in the 1970s with his speed, effortless skating, creativity and scoring touch. Lafleur registered 941 points in just 677 games; his 1.39 points-per-game was a figure matched only by Orr and Phil Esposito. He was the first player in NHL history to record six consecutive 50 goal and 100 point seasons. During Montreal's four-peat to end the decade, he recorded 36 goals and 41 assists in just 58 playoff games.
Lafleur would end the decade having won the Hart Trophy twice, the Art Ross Trophy three times, the Lester Pearson Award three times, the Conn Smythe Trophy once and the Stanley Cup five times. Merci beaucoup, Guy.
Bobby Clarke — Philadelphia Flyers
Great players typically want to play against other great players; it serves as an accurate and motivating measuring stick. Bobby Clarke, however, was not much fun to play against.
Though Clarke's offensive numbers were impressive enough (891 points in 773 games), it was his all-around play that earns him a spot in the top five. Raised in a Northern Manitoba mining town, Clarke brought that workmanlike mentality to the rink every day. He was tireless on the forecheck and backcheck, and an excellent defensive centerman. Beyond that, he was a genuinely nasty guy on the ice. His slash on Valeri Kharlamov during the 1972 Summit Series versus the USSR was about as vicious as it gets.
Being a dirty player didn't make Bobby Clarke great, nor is it part of why he's on this list. Bobby Clarke was the most ferocious competitor of the era (and maybe ever), and the slashes, elbows, punches and pleasantries were merely an extension of how badly he wanted to beat you. And more often than not, he did.
Clarke captained the Flyers to back-to-back Cup wins in 1974 and 1975, and appeared in the finals two more times over the next five seasons. He captured three Hart Trophies in a span of four years as well as one Lester Pearson Award.
Phil Esposito — Boston Bruins, New York Rangers
"Jesus Saves, Esposito Scores on the Rebound," was a popular bumper sticker in New England during Esposito's tenure with the Bruins. It served as an equal testament to his beloved status and the nature in which he scored the lion's share of his goals.
His 509 goals and 1,087 points were 104 and 126 (respectively) more than second-place finisher Guy Lafleur's totals. "Espo" remains to this day the most dominant net-front presence in NHL history. Between the 1970-71 and 1974-75 seasons, he averaged 67 goals per year. His 76 goals during the 1970-71 campaign shattered Bobby Hull's single-season record by 18 goals.
In the decade, Esposito won the Art Ross Trophy four times, the Lester Pearson Award twice and the Hart Trophy once, in addition to one Stanley Cup victory.
Ken Dryden — Montreal Canadiens
Ken Dryden was a new breed of goaltender when he arrived during the 1970-71 playoffs. Standing a monstrous six-foot-four, he towered over the crossbar, earning him the nickname "Four-Story Goalie." His abilities dwarfed even his own stature, never mind the play of his peers.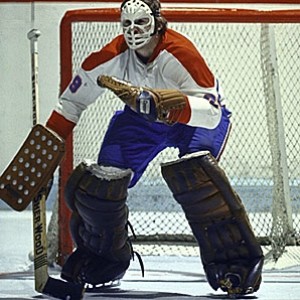 With just six games of NHL experience at the onset of the 1970-71 playoffs, Dryden got the call in net against Bobby Orr and the defending Stanley Cup Champs in the first round. The 1970-71 Bruins had rewritten virtually every offensive record and breezed through the regular season. Nevertheless, it was the 23-year-old unknown goaltender and his Montreal Canadiens who moved on en route to a Stanley Cup win, earning Dryden the rare distinction of having won the Conn Smythe Trophy a full year prior to winning the Calder Trophy for rookie of the year.
In just seven seasons, Dryden won the Vezina Trophy five times. He won the Stanley Cup six times. He sat out the 1973-74 season to finish up his Juris Doctorate despite having won two Cups in the previous three seasons. Upon his return, he won four Cups in six seasons.
In an era of outrageous goal scoring, Dryden's 2.24 goals-against-average in the decade was equally outrageous. He registered nearly as many shutouts (46) in the decade as he did losses (57). Unreal.
Honorable Mention: Marcel Dionne, Gilbert Perreault, Jean Ratelle, Bernie Parent, Tony Esposito, Brad Park, Denis Potvin, Larry Robinson
1980s
Wayne Gretzky – Edmonton Oilers, Los Angeles Kings
"The Great One" is about as subtle a nickname as "Mr. Hockey." Where does one begin when extolling the greatness that was Wayne Gretzky? How long did it take Glen Sather (his first NHL coach) to be sold on his greatness?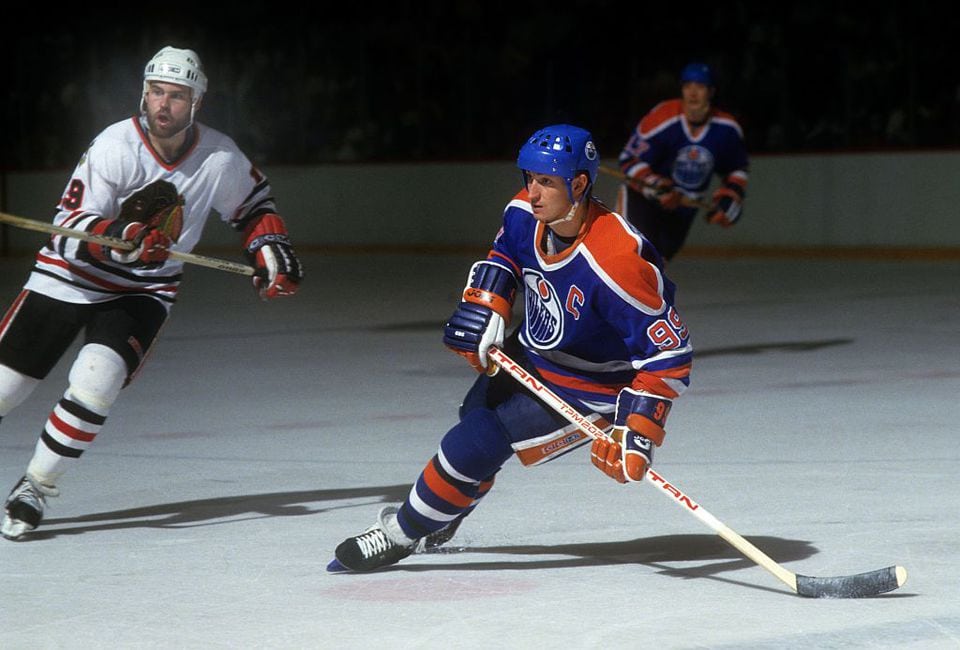 It took one practice and one game. I watched him in the morning at the practice and I watched him play that night, and I was convinced that this guy was going to be an incredible player.

-Glen Sather (The Canadian Press, The Hockey News) January 25, 2011
Gretzky was the greatest scorer, playmaker and passer of all time. "Eyes in the back of his head" doesn't even begin to do his abilities justice. Quite frankly, he knew where his teammates were going to be before they did. With the exception of Bobby Orr, no player has processed the game at Gretzky's level; when I think of him on the ice I imagine a bunch of swirling equations floating around in his mind's-eye.
He finished the decade with 1,842 points in 768 games, a ratio of roughly 2.4 points-per-game. He averaged 196 points per 82 games. If one were to remove every one of Gretzky's league-leading 626 goals in the decade he would still have 157 more points than his closest competitor. He recorded four 200-point campaigns in a span of five seasons. Unless the NHL makes multiple, massive rule changes it's unlikely that anyone comes close to "99's" scoring records.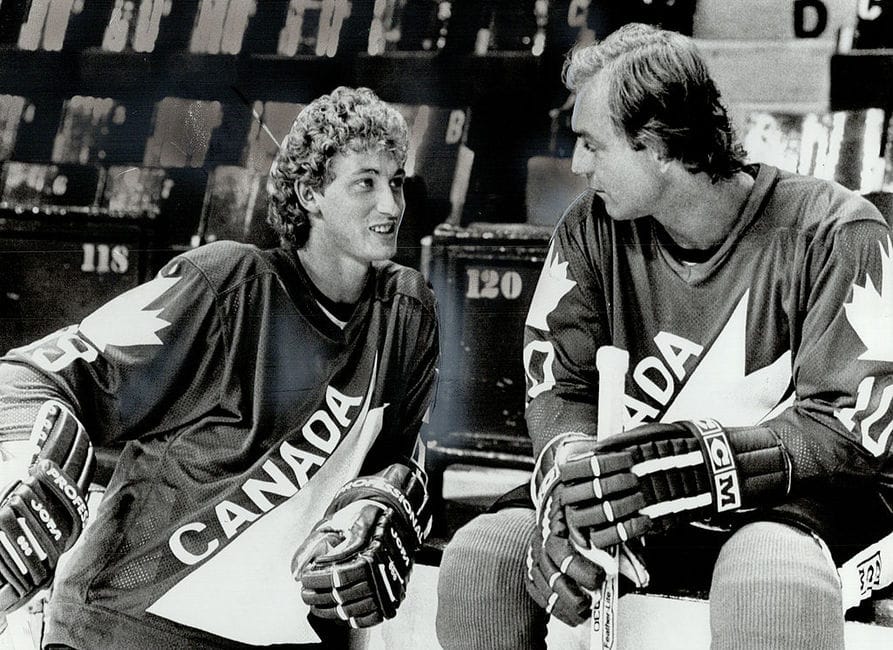 Eight Hart Trophies, eight Art Ross Trophies, five Lester Pearson Awards, two Conn Smythe Trophies and four Stanley Cup wins make Gretzky the most decorated player on this list.
And forget having your jersey retired by your former team; Gretzky's 99 is retired by the entire league.
Mario Lemieux — Pittsburgh Penguins
Despite not coming into the league until the 1984-85 season, Mario Lemieux did more than enough in his six seasons to make the top five of the decade. "Super Mario" wreaked havoc on the league from the moment he stepped onto the ice…literally. He scored a goal with the first shot of his first shift of his first game.
Lemieux had a genuinely unfair blend of size (6-foot-4, 230 pounds), skill and speed that made him nearly unstoppable, much like fellow Quebecois-star Jean Beliveau.
He registered 838 points in just 427 games, and his rate of points-per-game (1.96) is the only figure that even comes close to Gretzky's. Per 82 games, the average Lemieux season featured 66 goals (fitting) and 94 assists. He recorded 199 points (85 goals, 114 assists) during the 1988-89 season; the highest point total ever by a player not named "Gretzky."
Lemieux finished the decade with two Art Ross Trophies, two Lester Pearson Awards and one Hart Trophy. Though the 1990s were a slightly more decorated era for "Super Mario," the fact that a kid in his early-20s was able to wrestle awards away from a still-in-his-prime Gretzky is astonishing. Stay tuned for more on Mario….
Mike Bossy — New York Islanders
Mike Bossy is arguably the greatest pure-sniper of all time, and he honed his skills in an incredible and unique way:
Your mother loves to tell people the story about how you scored 21 goals in your first mite hockey game. But even if that story is true, the goals only tell part of the story. Because your mom always leaves out the part about how much time you spent all by yourself out in the backyard rink, shooting at a wooden board. You don't have a real net, so you practice by aiming for the black puck-marks on the board over and over and over until your feet are frozen.

-Mike Bossy (Player's Tribune) June 7, 2017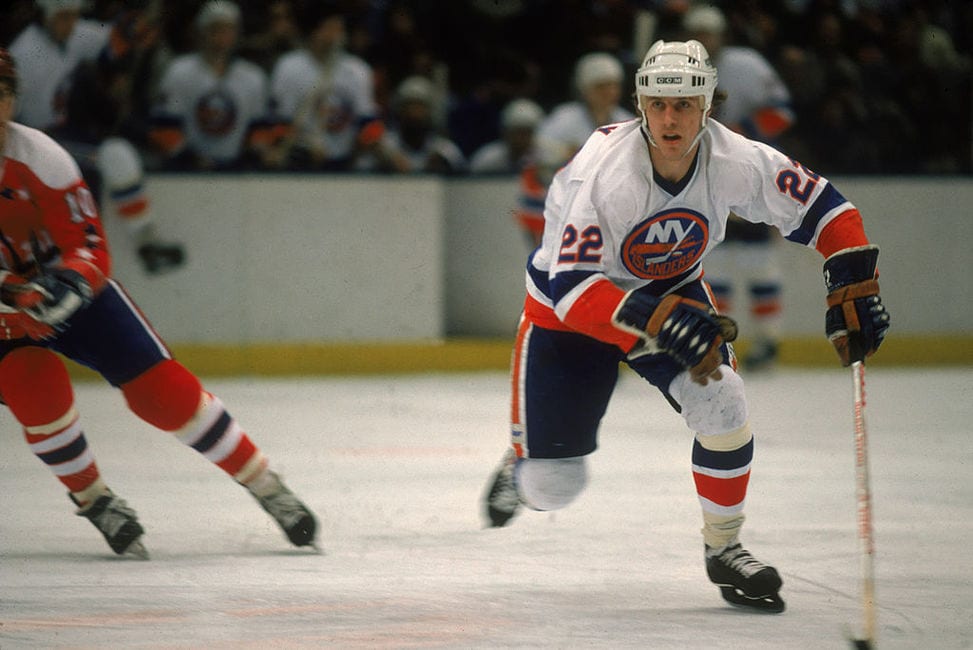 Bossy scored 400 goals in just 524 games. He hit the 50-goal mark in six consecutive years to start the decade, scoring 60 goals or more in four of those campaigns. His average of 62 goals per 82 games trails only Gretzky and Lemieux. He and Bryan Trottier served as the offensive engine for a New York Islanders team that won the final three of their four consecutive Stanley Cups to start the 1980s. Bossy won the 1982 Conn Smythe Trophy, scoring 17 goals and 27 points in 19 playoff games.
Mark Messier — Edmonton Oilers
Though Mark Messier was outscored by a few of his contemporaries, the completeness of his game (in conjunction with a still-stellar 937 points in 723 games) earn him a spot in the decade's top five.
Messier was essentially the Bobby Clarke of the 1980s; he did it all. He scored, assisted, checked and defended with equal aplomb. Like Clarke, he brought a little bit of nasty with him to the rink on a daily basis. His 200-foot game served as the perfect second line compliment to Gretzky; probably the best one-two punch down the middle in the history of the game.
Gretzky's departure to Los Angeles prior to the 1989-90 season paved the way for Messier to step out from "The Great One's" shadow to showcase just how great he was himself. Messier recorded 45 goals and 129 points that season, winning the Hart Trophy, Lester Pearson Award and his fifth Stanley Cup of the decade.
Raymond Bourque — Boston Bruins
As far as two-way defensemen are concerned, only Bobby Orr (and maybe Doug Harvey) top Ray Bourque.
Bourque was dominant at both ends of the ice, creating and denying chances with equal aptitude. He registered 775 points in 714 games, good for an average of 89 points per 82 games. He was a cumulative plus-327 in the decade, second only to Brad McCrimmon among defensemen.
Throughout the 1980s, "77" would win three of his five total Norris Trophies. He was named a First Team All-Star six times, and a Second Team All-Star four times. As virtuous, honorable and humble as they come, Bourque's greatness began in the 1980s, but spanned two full decades.
Honorable Mention: Paul Coffey, Rod Langway, Peter Stastny, Bryan Trottier, Jarri Kurri, Marcel Dionne, Denis Savard, Patrick Roy, Michel Goulet, Phil Housley, Cam Neely, Luc Robitaille, Grant Fuhr
1990s
Mario Lemieux — Pittsburgh Penguins
Had cancer and multiple back surgeries not taken their toll and abbreviated Mario's career he could have made a legitimate run at Gretzky's scoring records. He averaged more than two points-per-game in the 90s; no other player eclipsed 1.4 points-per-game.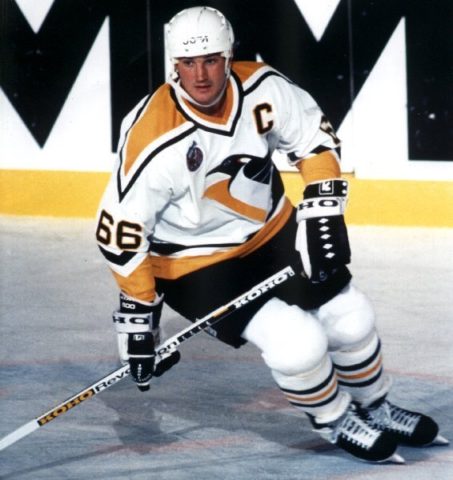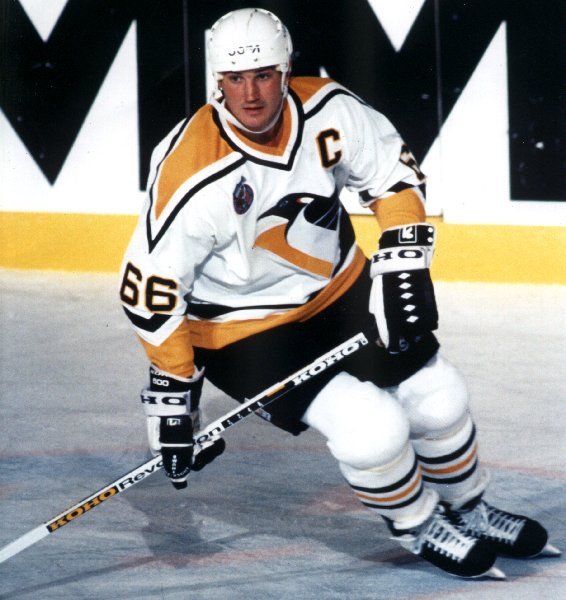 Hall of Fame coach and broadcaster Dick Irvin had the following to say regarding Lemieux's greatness:
In the playoffs of 1991 and 1992, Mario Lemieux raised the individual aspect of the game to a higher level than anyone I've ever seen play.

-Dick Irvin (Stu Hackel, NHL.com) January 1, 2017
Despite missing three full seasons and large chunks of two others, Lemieux still managed to win four Art Ross Trophies, two Hart Trophies, two Lester Pearson Awards and two Conn Smythe Trophies. After missing 56 games during the 1990-91 season, he registered 44 points in 23 playoff games, leading Pittsburgh to its first-ever Stanley Cup title. It was the first of two Cups Lemieux would win, doing so again the following season.
Dominik Hasek — Chicago Blackhawks, Buffalo Sabres
Dominik Hasek was so good in the 90s that I briefly considered putting him at the top of this list. "The Dominator" was a brick wall, but one that could contort and morph like the T-1000 from Terminator 2.
How good was Hasek? He won five Vezina Trophies in a decade when Patrick Roy and Ed Belfour were in their prime, and some kid in New Jersey named Brodeur was winning Cups. He's the only goaltender in NHL history to win the Hart and Lester Pearson multiple times, doing so in back-to-back seasons (1996-97, 1997-98).
He carried the 1998-99 Sabres (whose best skaters were Miroslav Satan and Michael Peca) to the Stanley Cup Final. He even took those Sabres to triple-overtime in Game Six versus the mighty Dallas Stars, a team which included Mike Modano, Brett Hull, Joe Nieuwendyk and the aforementioned Ed Belfour.
His crowning achievement of the decade was backstopping (and leading) the 1998 Czech Republic team to a stunning gold medal win over Canada in the Nagano Olympics.
Wayne Gretzky — Los Angeles Kings, St. Louis Blues, New York Rangers
Though well-traveled throughout the 90s and on the "back-nine" of his career, Gretzky was still "Great" in the decade. His scoring rate of 1.372 points-per-game (878 points in 640 games) trailed only Lemieux. Only once in his illustrious career did "99" average less than a point-per-game in a season, doing so in his 20th and final year at 38 years old. Still, the 62 points in 70 games during the 1998-99 season were more than respectable.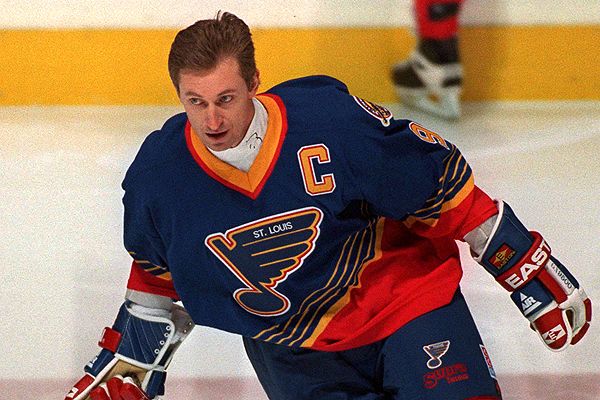 Gretzky captured two additional Art Ross Trophies in the decade, and with all due respect to Marcel Dionne, brought hockey to Southern California.
Jaromir Jagr — Pittsburgh Penguins
Long before he was a greybeard playing alongside guys young enough to be his children, Jaromir Jagr was a teenager excelling against grown men.
That blistering speed. That incredible skill. That legendary mullet.
Jagr's speed, creativity and finishing ability would have made him a threat regardless of who was centering his line. Make that centerman Mario Lemieux and the writing was on the wall; teams would be giving up goals, and plenty of them.
His 958 points (in 725 games) led all scorers in the decade. Before discrediting Jagr one iota as being "just Mario's sidekick," note that Jagr recorded 325 points in 221 games without Lemieux between 1997-2000. That's an average of 120 points per 82 games.
He captured the Art Ross Trophy four times, the Lester Pearson Award twice, the Hart Trophy once, and lifted the Stanley Cup in back-to-back years to begin the decade.
Admittedly, the 1990s were the most difficult decade to assess; just too much talent spread throughout the league. It was in this decade that the parity in the NHL began to approach the levels of today's game. This spot could have gone to nearly a dozen players, but in the end went to Lindros. What he was able to accomplish when healthy enough to play was remarkable.
Lindros was the prototypical power forward. He could score at an elite level, distribute from the center position to fellow star John LeClair, and strike fear in the hearts of defensemen with his size (six-foot-four, 230 pounds) and tenacity. His battles with Scott Stevens were the stuff of legend, like Achilles and Hector on ice. Unfortunately for Lindros, he ultimately played the role of Hector.
He registered 659 points in 486 games, giving him an average of 1.36 points-per-game (and 111 points per 82 games). He won the Hart Trophy and Lester Pearson Award during the strike-shortened 1994-95 season.
Had he not been slowed and eventually subdued by a never-ending list of injuries (including a horrific concussion sustained here), Eric Lindros could have been one of the all-time greats.
Honorable Mention: Brett Hull, Steve Yzerman, Joe Sakic, Teemu Selanne, Peter Forsberg, Pat Lafontaine, Pavel Bure, Adam Oates, Ray Bourque, Brian Leetch, Chris Chelios, Patrick Roy, Martin Brodeur
2000s
Nicklas Lidstrom — Detroit Red Wings
In a way, Nicklas Lidstrom picked up where Ray Bourque left off as an all-situations stalwart on defense. Up a goal, down a goal, offensive zone face-off, defensive zone face-off, it didn't matter; you wanted Lidstrom on the ice.
I think he's going to go down as one of the all-time best defensemen ever to play. Having played with him and watched him closely from his first game, people know about it now but we've said it all along—you have to watch him closely to appreciate how good he is, what a great athlete he is because he makes the position look so easy. He is a special athlete.

-Steve Yzerman (SportingNews) May 31, 2012
Quietly excellent throughout the 1990s on a star-studded Red Wings squad, Lidstrom's play (and acclaim) exploded in the 2000s. His 550 points and cumulative plus-235 led all defensemen in the decade. He added 92 points in 124 playoff games, winning the Stanley Cup twice while capturing one Conn Smythe Trophy.
His six Norris Trophies in the decade's first seven seasons serve as a proper testament to just how dominant Lidstrom was at his position. The aforementioned accolades and statistics are made even more incredible by the fact that Lidstrom was already 30 years old when the decade began. A gentleman on and off the ice.
Martin Brodeur — New Jersey Devils
Like Lidstrom, Martin Brodeur saw his quiet-excellence blossom from the 1990s blossom in the 2000s. Backstopping the stingiest team in the league, he was a brick wall at the end of New Jersey's endless thicket of forecheckers, backcheckers and Scott Stevens.
His 358 wins in the decade outpaced the second place finisher by 67 wins, and his 49 playoff victories also led the decade. His 2.22 goals-against-average was second only to Dominik Hasek, though Brodeur played in twice as many contests.
He won four Vezina Trophies in the decade; no other goaltender won more than one. He backstopped the Devils to his third (and final) Stanley Cup win in 2003.
Sidney Crosby — Pittsburgh Penguins
Sidney Crosby hit the ground running immediately after being selected first overall in 2005. With fewer and fewer players eclipsing 100 points in a season, Crosby did so in four of his first five seasons. The lone exception being an injury-plagued 2007-2008 campaign in which he still managed 72 points in just 53 games. His 1.36 points-per-game paced the decade, averaging out to 111 points per 82 games.
"The Kid" captured one Hart Trophy, one Art Ross Trophy and one Lester Pearson in the decade. He captained the Penguins to back-to-back appearances in the Stanley Cup Finals, bringing the trophy back to Pittsburgh in 2009 for the first time in nearly 20 years.
More on Crosby to come…
A goal-scoring machine. "Alexander The Great" potted 52 goals in his rookie season, becoming just the fourth rookie to eclipse 50 goals (Bossy, Nieuwendyk, Selanne). His 269 goals in 396 games (.68 per game) average out to 55 goals per 82 games; easily the highest scoring rate in the league. His one-timer (particularly on the power play) was unstoppable.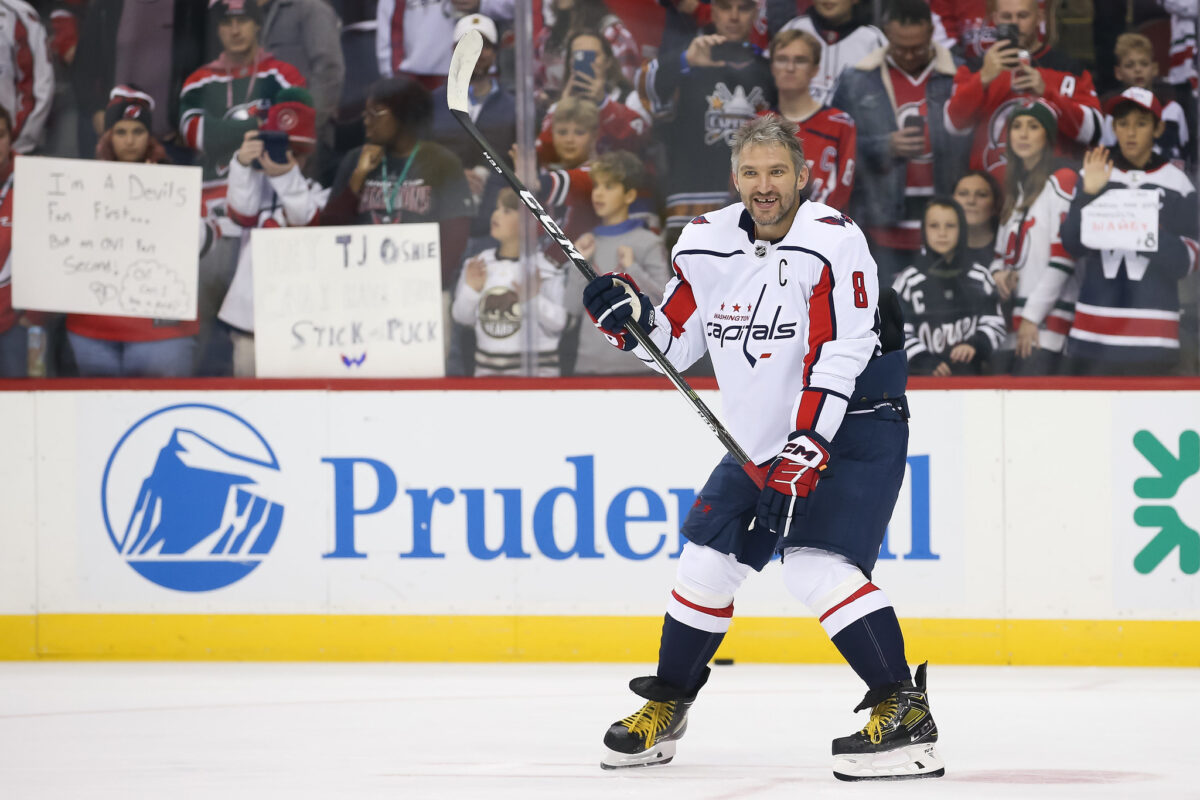 Players his size (six-foot-three, 240 pounds) should not be as fast as Ovechkin. That combination of size and speed made Ovechkin one of the most feared hitters of the decade as well.
He captured two Hart Trophies, one Art Ross Trophy and three Lester Pearson Awards in the decade.
With a blistering shot, tremendous speed and elite size, Ovechkin in the 2000s was the consummate weapon.
TIE
Pavel Datsyuk — Detroit Red Wings
Joe Thornton — Boston Bruins, San Jose Sharks
Our first tie. I know it's kind of a cop-out, but I truly could not decide between these two surefire Hall of Famers.
On one hand, Pavel Datsyuk was one of the most complete players of his era, and of recent memory. "The Magic Man" combined mesmerizing puck handling, brilliant playmaking and a deft scoring touch to become on of the most dangerous scorers in the league. Just as importantly, he possessed Thomas Crown-level thievery skills, earning three Selke Trophies in the decade.
There haven't been many players in the history of the league capable of averaging nearly one point-per-game (592 points in 606 games) for a decade while also being one of (if not THE) best defensive forwards in the game. Datsyuk registered 87 points or more in four consecutive seasons and won the Stanley Cup twice in the decade.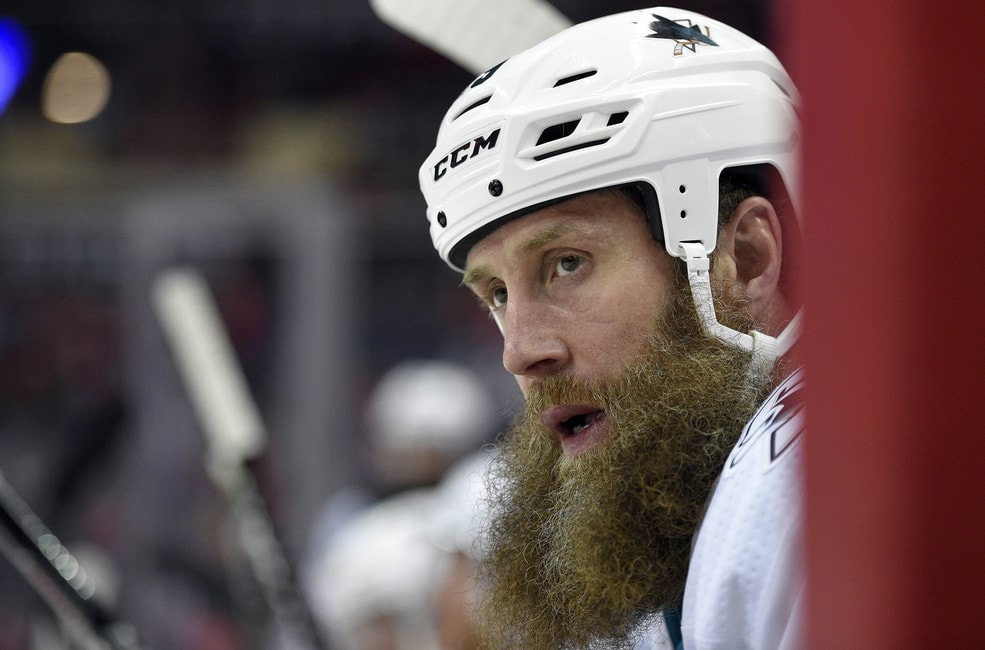 Joe Thornton, meanwhile, was the decade's leading scorer with 823 points. That's 99 points more than second place finisher Jarome Iginla. I couldn't justify leaving the decade's leading scorer out of the top five.
Thornton was arguably the best passer of his generation, averaging 68 assists per 82 games throughout the decade. A more-than-capable defensive centerman himself, "Jumbo Joe" didn't shy away from the rough-stuff either, earning the respect of opponents and teammates alike.
He owns the distinction of being the only player in the near-70 year history of the Art Ross Trophy to have been traded during his trophy-winning season.
A cornerstone player for two franchises in the decade.
Honorable Mention: Jarome Iginla, Daniel Alfredsson, Joe Sakic, Chris Pronger, Scott Niedermayer, Ilya Kovalchuk, Evgeni Malkin, Peter Forsberg, Dany Heatley
2010s
Sidney Crosby — Pittsburgh Penguins
Despite missing 197 games in the decade (thus far), Crosby sits just one point behind Patrick Kane for most in the decade. His 1.27 points-per-game average out to 104 points per 82 games; no one else is even close.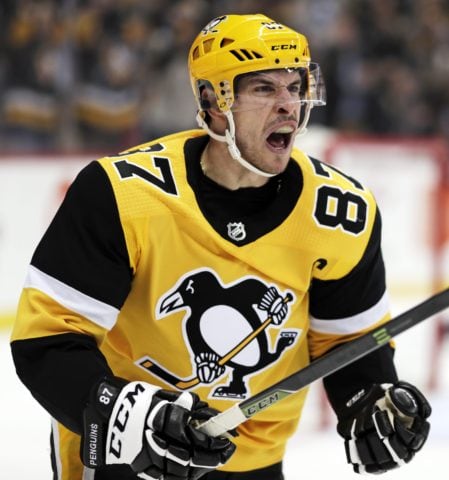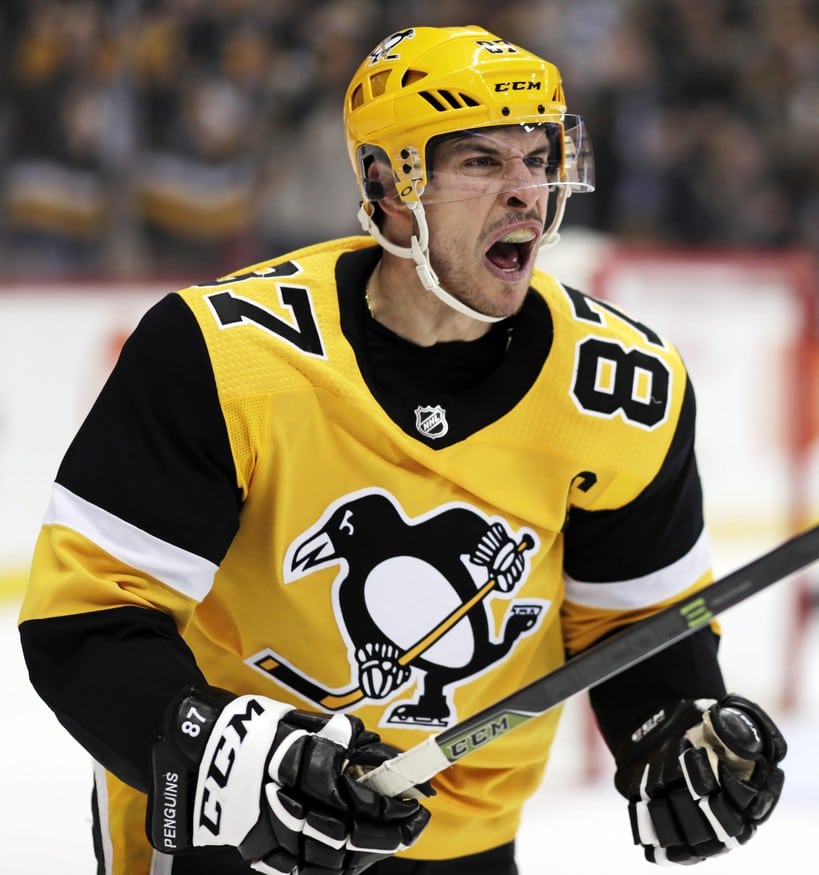 An all-situations player, there isn't a facet of the game in which Crosby doesn't excel. With speed, smarts, playmaking ability, scoring touch, defensive acumen and passion to burn, "The Kid' is a winner.
His has been a subtler brand of exceptionalism, born of outsized effort and impressive skating edge work and an unparalleled backhand and all the details that piled high, create a mountain of hockey excellence.

-Michael Farber (Sports Illustrated) March 3, 2016
He captained the Penguins to back-to-back Cups in 2016 and 2017; the first team to repeat as champs in 20 years.
Through 2016, he won one Hart Trophy, one Art Ross Trophy and one Lester Pearson (Ted Lindsay). He's nominated for another Hart and Lester Pearson (Ted Lindsay) at next week's NHL Awards.
Erik Karlsson — Ottawa Senators
In another year or two, Erik Karlsson may have done enough to supplant Crosby at the top of the list. As of now, he must settle for a close-second.
Erik Karlsson is a game-changer, and easily the best defenseman of the decade. Shades of Paul Coffey.
He's a possession monster, swift and slick with the puck, commanding attention every time he's on the ice. And his stats are incredible.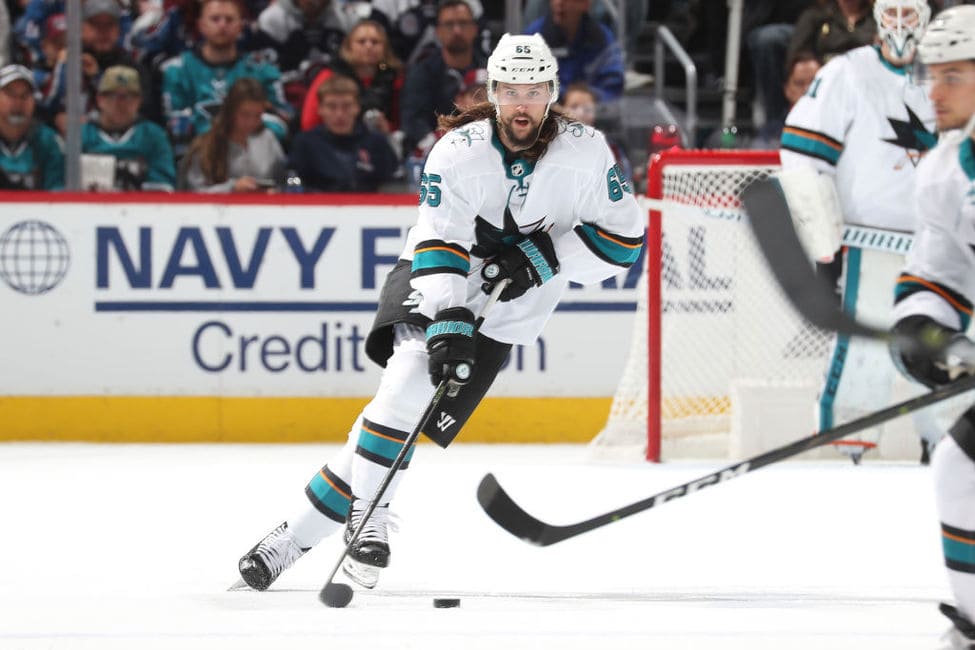 In an era when many great forwards fail to average 70 points per season, Karlsson has averaged 71 points per 82 games from the blue line (430 points in 496 games). He owns three of the top four single-season scoring marks for defensemen in the decade.
The knock on Karlsson's game had been his play in his own zone. Though still above average, it paled in comparison to what he was able to do offensively or in transition. How did Karlsson respond? By leading the NHL in blocked shots during the 2016-2017 season.
Through 2016, Karlsson won two Norris Trophies, with a third likely coming following his stellar 2016-2017 season. Still just 27 years old, the crafty Swede likely has a few Hart Trophies coming his way.
Alexander Ovechkin — Washington Capitals
Alexander Ovechkin is still one of the best players in the league in his second decade. His 289 goals lead all scorers in the decade, and his rate of .55 goals-per-game (45 per 82 games) trail only Steven Stamkos. Ovehkin has captured a Hart Trophy in the decade to go along with four-consecutive Maurice Richard Trophies between 2013-2016. Still a force on a nightly basis.
Evgeni Malkin — Pittsburgh Penguins
Like Mark Messier before him, Evgeni Malkin has been arguably the second-best center in the league while also being just the second-best center on his team. Also like Messier, Malkin showed his full value when the star center ahead of him wasn't around (in Malkin's case the 2011-12 season in which Crosby missed 60 games). The Russian pivot responded with 50 goals and 109 points in 75 games, winning the Hart Trophy, Art Ross Trophy, and Lester Pearson (Ted Lindsay) Award.
He has won two Cups in the decade, and his 1.14 points-per-game (451 points in 397 games) trail only Crosby among qualified players. His 84 points in the playoffs lead all NHL players.
TIE
Patrick Kane, Jonathan Toews, Duncan Keith — Chicago Blackhawks
Another cop out! With league-wide parity at an all-time high, I eventually settled on acknowledging what the aforementioned 'Hawks have accomplished in the decade. As a team, they won two Cups in three years after closing out the previous decade with another Stanley Cup victory. The one season in between Chicago's two Cups saw them make it to the seventh game of the conference finals before bowing out to the eventual-champion Los Angeles Kings.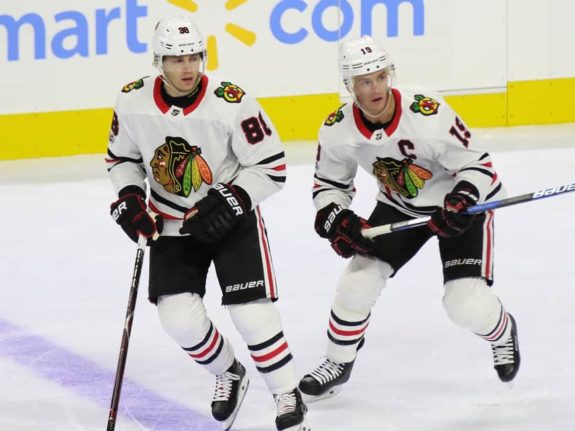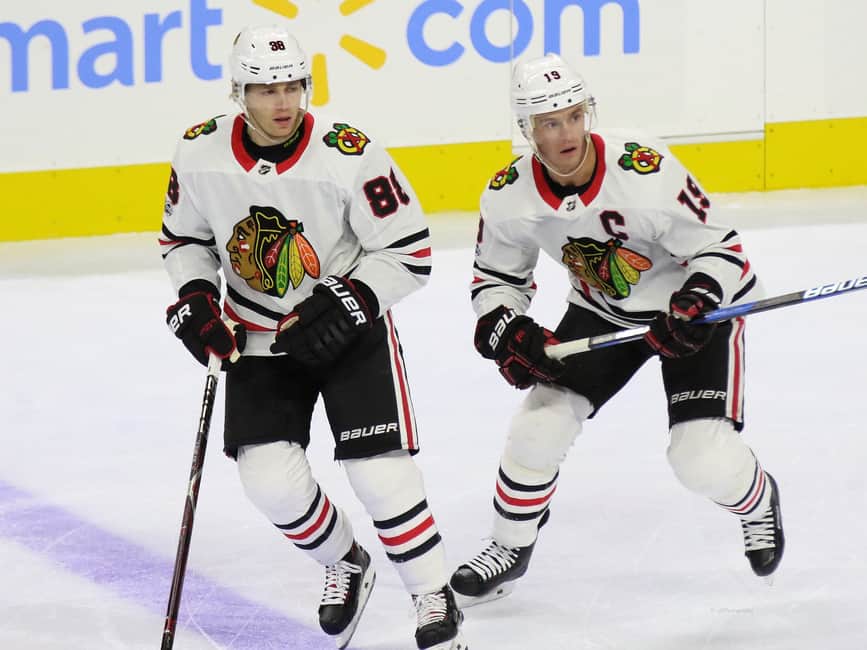 Individually, all three can make cases for inclusion in the top five; they're an incredible trifecta of talent and intangibles. Patrick Kane leads all scorers in the decade with 522 points, and owns the slickest-mitts in the league. He has won the Hart Trophy, Art Ross Trophy, Lester Pearson (Ted Lindsay) Award and the Conn Smythe Trophy once apiece.
Jonathan Toews is Mark Messier 2.0, playing arguably the best 200-foot game in the league. He's a born leader who has captained the Blackhawks since he was just 20 years old. His 431 points in 495 games aren't too shabby either.
Duncan Keith is the consummate 21st-century defenseman, capable of shutting down an opponent's attack and transitioning play/generating offense with equal aplomb. His 58 playoff points lead all defensemen in the decade, and he has won the Norris and Conn Smythe Trophies once apiece.
Together, the three players have made the Chicago Blackhawks one of the league's most formidable teams, and with the exception of possibly the Pittsburgh Penguins, the best team of the decade.
Honorable Mention: Shea Weber, Kris Letang, Drew Doughty, Carey Price, Steven Stamkos, John Tavares, Patrice Bergeron, Claude Giroux, Anze Kopitar
Summary
Including the "Honorable Mentions," 135 players are listed above, and another 135 (at least) could have easily cracked the list. Each had their day in the sun, and one way or another have cemented their place in history. After countless hours of reasearch, note-taking and internal debate this is the list of what I believe to be the best players of all-time, by decade.
It's been quite a ride. If the NHL produces just half as many legends in the next 100 years the game will be in good hands.
---