This post was crafted by hockey journalist and author Ross Bonander.
Jaromir Jagr is as timeless as they come. We had Gordie Howe and Chris Chelios but Jagr may be best 'Old' hockey player ever.
He turns 50 today.
---
---
Counting the two seasons he spent with HC Kladno in Czechoslovakia when he was 16 and 17 years old, and his gap years in the KHL, Jagr has played 29 straight years of professional hockey. He is one of 25 members of the Triple Gold Club–players who have won a gold medal at the World Championships, a gold medal at the Winter Olympics, and a Stanley Cup in the NHL. He's second among all-time scorers in the NHL and far and away the greatest hockey player trained outside of North America.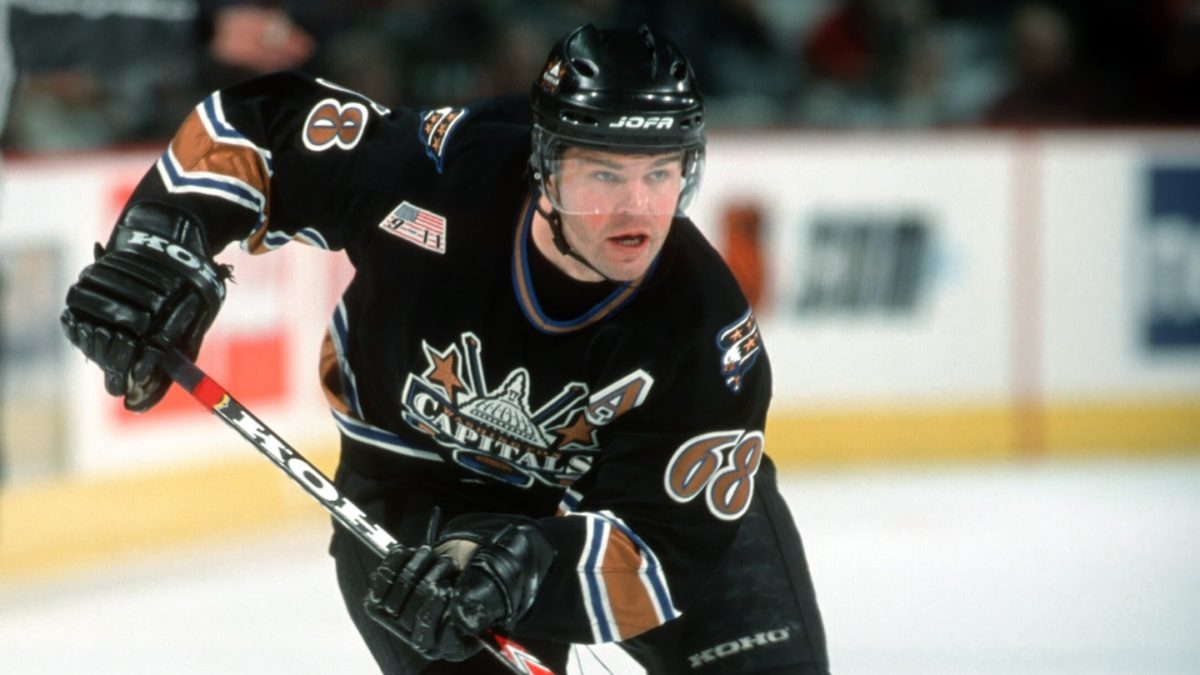 Characterized by the North American press as everything from innocent and a breath of fresh air to mercurial and enigmatic, his place among the all-time greats in the history of the sport of hockey is secured. I decided to take a look back at Jagr's career through quotations, both by him and by others.
Jaromir Jagr – The Kladno Kid
For the first 18 years of his life, Jagr slept in a bedroom that overlooked a feed pen in Kladno, Czechoslovakia.
Anna Jagr (mother): "As a boy he would spend hours alone by himself, drawing pictures."
One of the early scouting reports on Jagr came from Jack Button, the Washington Capitals' director of player personnel who'd traveled to Czechoslovakia to scout Jagr in the 1980s.
Jack Button: "You couldn't take your eyes off him. It doesn't take a genius to see how strong he is, how fast he is. And super hands— great quickness with both hands and wrists."
In the 1990 draft, some uncertainty surrounded whether or not he would be able to come to North America to play, since every Czech in the NHL before had defected. Although given serious consideration by the Quebec Nordiques to go first overall, he fell to fifth and was drafted by the Pittsburgh Penguins. As a 13 year old, Jagr had seen 19 year old Mario Lemieux play in the World Junior Championships held in Prague in 1985 and instantly Mario became his hockey idol.
Jagr: "Sometimes you just have so much respect for a guy and you look up to him so much that you can't believe you're really playing with him. Every student needs a teacher, and [Mario] was my teacher."
Jagr was one of 22 Czech players to be drafted that year, a sum that includes names like Peter Bondra, Jiri Slegr, Petr Nedved (picked before Jagr, Nedved had defected and was playing in Major Juniors at the time), and Joroslav Modry. That's more than double the number of Czech-born players drafted in 1989, and over four times as many drafted in 1988.
Jagr: "I didn't ever have the chance to think about [doing something other than hockey]. If you want to be good at something, you have to give up everything and just go for it. Don't think about what else could be or can be."
Jagr did not immediately join the Penguins. He had already left school early to play with the national team and there was some concern about his ability to finish school in Pittsburgh. Both his parents had been denied the opportunity to go to college, so Jagr promised his parents he would one day finish his high school equivalency. He fulfilled this promise in 2002, at age 30.
Gordie Roberts: "Most of the guys in [the Penguins locker room] are hardened by the game, from the travel, from being sent down to the minors and back. Jaromir is just a kid. He doesn't even realize this is a business."
In the very early years of Jagr's career journalists frequently referred to him as 'coddled', perhaps in part because his mother came to live with him during the season. But the extraordinary work ethic that has come to be associated with Jagr and his longevity in hockey was well-defined even back then.
Jagr: "The work ethic has never been a problem. I came from a family in which hard work was every day. Even though I work hard in hockey this is nothing what I go through when I was younger on a farm, so this is like a vacation to me. Trust me, life can be a lot harder than what I do. Guys give me a lot of credit that I work hard but there's so many, so many people who work a lot harder than me who don't get the credit."
When he came to Pittsburgh, by his own admission Jagr didn't have much of a shot. So he would stay on the ice after every practice working on his shot with assistant coach Rick Kehoe.
Phil Bourque: "What people forget is his first few months in the National Hockey League were very, very difficult. He would be going down the ice with his head down and he used to get creamed. We would cringe on the bench. But it was baptism by fire. He learned real quick."
The Euro-Canadian
Although he comes from Eastern Europe, Jagr shares a lot of traits with hockey's greatest.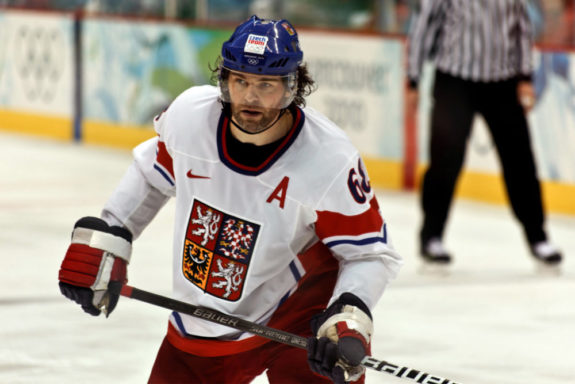 Like Gordie Howe, who could finish practicing with the Red Wings then head over to Tiger Stadium and crush baseballs over the fence, Jagr is an athletic oddity. Yet while genes may have gifted him with the frame, he earned the rest. Like Howe, Jagr grew up working long, difficult hours on a family farm.
Phil Bourque: "He was a wild child. That was his style. He just did his own thing."
Like Gretzky, he was a hockey prodigy. Skating by age two, he was playing in three leagues by age six. When he was 11 a physician declared Jagr to be in better physical shape than some professional hockey players, and he was allowed to play with the junior team in Kladno, where, like a youthful Gretzky, he took his lumps from older, jealous players.
Jagr: "When I played against other six-year-olds, I was great. When I played against 10-year-olds, I was average. [My father] wanted me to play where I was average."
His father, who sounds less like Walter Gretzky and more like Marijan Sakic, saw to it that his only son routinely played against kids two and three years older than he was. He hung iron slabs on either end of a tractor axle so that his son could lift weights. Jaromir Jagr the elder was a one-time hockey player whose knees gave out at 17, who held a blue-collar job and tended a family farm.
Jagr: "All my dad did was yell at me on the ice … Only the fear that he was there made me play better."
Like Orr and Lemieux, Jagr is such a gifted hockey player that opponents could figure out no other way to stop him except by cheating.
Gerry Callahan: "Jagr is the greatest one-armed player in the game."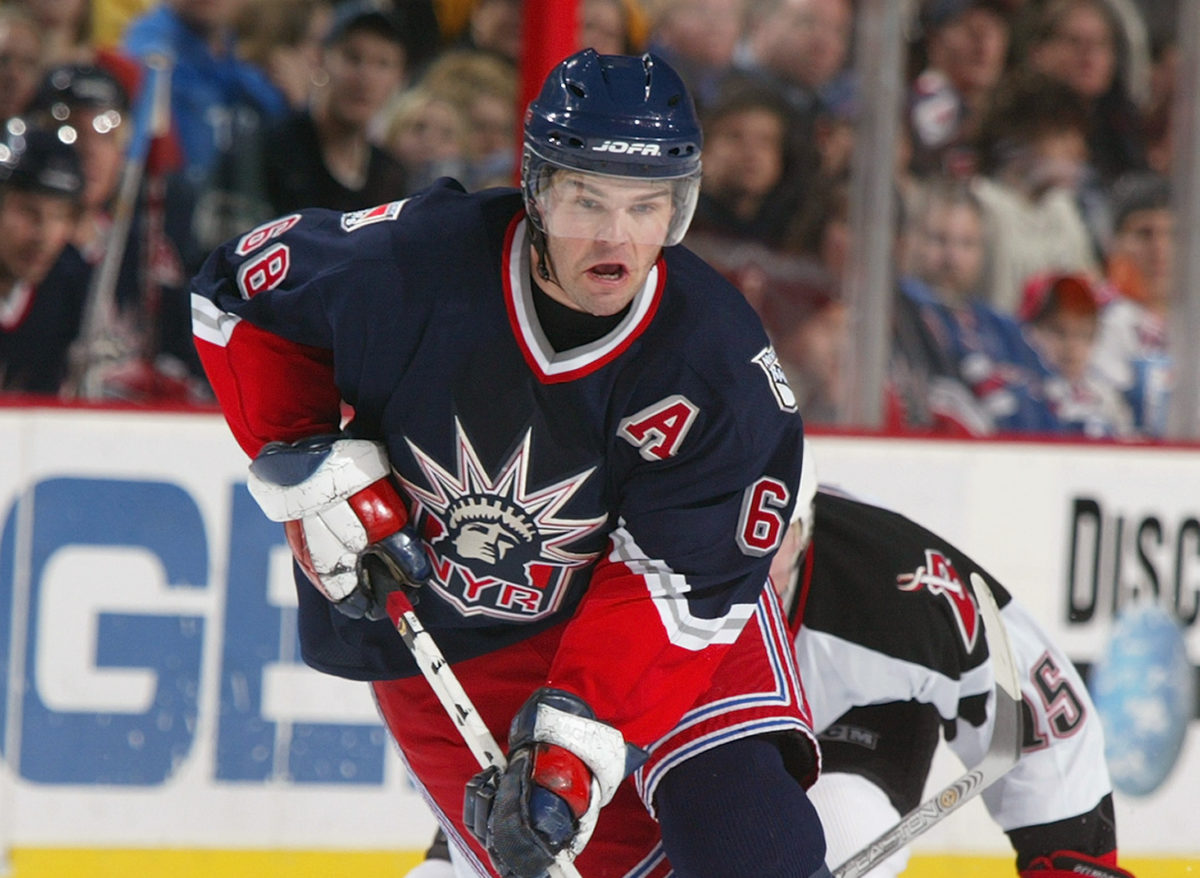 Like Howe and Gretzky and unlike Orr and Lemieux, Jagr has endured the physical toll the game takes, but barely. His former coach, Eddie Johnston, said that Jagr was incessantly "getting hacked and whacked … That's what happened to Mario Lemieux. He ended up with his back injured from all that stuff."
Shawn McEachern: "He should practice with a 100 lb dummy strapped to his back because that's the way he has to play."
In his time, few players have taken more un-penalized crosschecks, holds and slashes than Jagr (Peter Forsberg a close second) . When fans call for the elimination of the instigator rule, it isn't because they want a player who can go after the guy who elbowed your superstar with a concussion-causing head shot, it's because they want a guy who can police these unseen but incessant infractions, this dirty style of stick work that breaks wrists and herniates discs.
Ron Wilson: "I was talking to Mike Ramsey not long ago in Detroit, and he was saying the only way you can stop Jagr is by fouling him. He sticks one hand out and he's so strong, you can't lift that hand."  
Jagr's Jersey Number – 68
Following the unconditional surrender of Germany in 1945, an extreme leftist government took shape in Czechoslovakia. Among its first actions were the so-called Benes Decrees. These actions nationalized over 3,000 private companies, or two-thirds of the country's overall industrial capacity. One family affected was that of Jagr's paternal grandfather, also named Jaromir Jagr. Wealthy landowners before the war, the family could do nothing as the new government seized nearly all their land. Instead of being born into enormous wealth, Jagr was born into the darkest days of Communist rule.
Jagr: "When the Communists came, they took it all."
It is widely known why Jagr wears #68– the year of the Prague Spring, and the subsequent crackdown by both the Soviet Union and by Czech communists, which resulted in both his grandparents being jailed. Jagr defied communist rule in his country both by insisting on wearing the number when he played for the Czech National Team in the 1980s and by wearing his hair long.
Jagr: "The Communists gave you everything for hockey until age 18—ice time, equipment, everything." 
Jagr's popularity in Pittsburgh in the early days rivaled that of Lemieux. Along with Jagr peanut butter there was the Frozen Jagr ice cream bar, the cost of which isn't hard to figure out. The pitch, meanwhile, is practically right out of Spinal Tap:
Dave Gehlman: "[The 68-cent Frozen Jagr Bar] is big. It's hard to finish. It's 11 1/2 percent premium ice cream. Your basic white ice cream [bar] is only 10 percent."
Jagr's Speed
In his early years Jagr enjoyed the game as much as he did the fame. He also became well known for racing down Interstate 279 in Pittsburgh.
Jagr: "One week I got three speeding tickets. They know who I am, but they don't care."
Somehow it was seen as charming that in less than a year's time Jagr had received two dozen speeding tickets.
Phil Bourque: "His bad driving habits were very well-known in town. He had a glove box full of speeding tickets, but he never paid them. And he would tick off policemen, because when he would get a speeding ticket, he would open up his glove box and just jam them in there. I don't know if he ever did pay them all."
When Jagr was playing for Avangard Omsk of the KHL in 2008 he told The Atlantic's Jeffrey Taylor:
Jagr: "Here in Russia, you have the real freedom, which is not like U.S. freedom. Back there you have so many rules. If the police stop you [in the U.S.] because you're going too fast, they can put you in jail. But sometimes you just need to go fast. Here, you always have choices."
Jagr was just as fast on the ice. Last year at The Hockey Writers main site I posted a tribute to broadcaster Gary Thorne, writing that,
"…[Thorne's] punctuated, staccato style, heavy with repetition, perfectly suited the continental cable broadcast: with higher definition and bigger screens, we needed a less-is-more methodology from broadcasters. It also perfectly suited the changing game: His arrival on the national stage coincided with the emergence of a game in which the biggest men- like Lemieux, Lindros and Jagr, were also the fastest, the strongest, the best."
I included a clip of Jagr scoring against the Flyers, in a call by Thorne that perfectly illustrated the point:
Jagr—
Moving—                                                               
Jagr—
Look at the moves!
Again—
Jagr—
In—
Jagr—
SCORES!
OOOH WHAT A MAGNIFICENT GOAL!
Teammates 
Matthew Barnaby: "He's hilarious — exactly the opposite of what I expected. I thought he'd be cold and act like a big star … Any time you have him on your side, you never think the game is over, no matter if you are two goals behind in the closing minutes." 

John Cullen: "When you're sitting on the bench, it's just like it was with Mario. You watch. You can't help. You know Yaggs can get the puck and just take over the game. You don't want to miss it."

Colin Campbell: "The kid looks like he's having so much fun out there. Maybe what we have to do is play a miserable, snot-nosed game so he doesn't have quite so much fun."

Jody Shelley: "He loves hockey more than any guy in the room … He just wants to be on the ice. He's really different than I thought he'd be, just a great guy to be around for every single one of us." 
The Goals
His game one, game-tying Stanley Cup goal against Chicago in 1992 blew us all to bits.
Mario: "Probably the greatest goal I've ever seen." 

Harry Neale: "There's only four people in the whole rink he didn't deke, and three of them are ushers."

Chicago coach Mike Keenan: "Inexcusable."

Jagr: "I make some moves and take a backhand."
But Jagr believes his most important goal came seven years later, in game 6.
Jagr: "I remember the game in 1999 we had to win against New Jersey in first round and if we didn't I guess the hockey club would move to Kansas City because they didn't have any money. We won that game in overtime when I scored. I felt that was the most important goal because it was a stay-or-leave goal. I think it was more important then the goal I scored in the Final."
The Complex Superstar
Jagr: "I don't trust anybody. I was born with that. It's very tough in this world to find somebody you can trust."

Jagr: "If you talk to reporters, they like to have questions be serious and be about something. I don't like that kind of stuff. I like to joke around all the time, and sometimes what I say I don't mean. Ninety percent of the time I'm just joking around. Life is a joke for me, I would say."

Jagr: "A lot of people want to be serious all the time. I was born to have fun all the time. When it's the game, I take it serious. That's serious business."

Jagr: "I don't think I'm a strong person. I try to be. I'm not. I just act that way. I've got too much feeling to be a tough person. I gotta act like I do, because a lot of people will take advantage of me and hurt me. Sometimes you gotta be mean. I know it's not me, but it has to be that way. I just have to act tough or whatever. Be cocky."

Jagr: "Most people have friends but no money. I have the opposite. I don't have a chance to talk to my real friends, the ones I've had since I was five years old. Sometimes I wish I could bring Czechoslovakia to America. Then I would be the happiest guy in the world."
The Immovable Object
Mario: "Guys like Jagr, you can't scare him. He's 6-3, 225 pounds. He's the strongest guy on skates I've seen in years."

Eddie Johnston: "I don't know anybody who's stronger on his skates."

Gerry Callahan: "Jagr scored the game-winner with a blind backhander from the left circle while wearing Quebec center Bob Bassen like a shawl. It was a goal very few mortals could score."

Ron Wilson: "He's the best one-on-one player in the game now, and maybe ever. You can't knock him off the puck."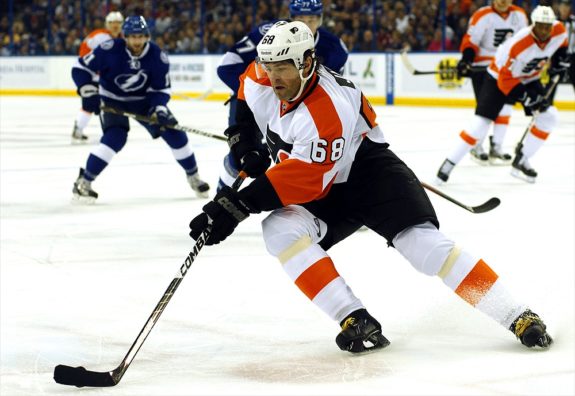 Kyle McClaren: "He's not only big, he's strong on his skates. He loves to beat you one on one. He'll laugh at you. He wants to embarrass you."
Lindy Ruff: "We play a two-on-one against him. We always have a guy in support. He's the one guy that can beat anyone one on one down low, just on size and strength."
Chris Osgood: "He's the most potent one-on-one player in the league."
Scotty Bowman: "His skating style and strength make him almost impossible to stop one-on-one." 
Ray Bourque: "You play him too close, you get too aggressive, and he'll just spin right off you and he's gone."
Hockey Sense
Eddie Johnston: "He knows the game better than anyone on the team. He's very smart out there. He knows the little things, things you can't teach. He knows how to play the angles and how to protect the puck. You know where he got that? From Mario."

James Van Riemsdyk: "He always puts the guy chasing him at the wrong angle. If he's close, he hunches forward and keeps his body down so you can never reach his arms or stick. He gives you the biggest obstacle to the puck before you even get to him. If you're coming from greater distance, he leans so [your momentum forces you to] roll off him."
Michael Farber: "Jagr is the most self-reliant player in hockey."
Glenn Healy: "Jagr is an '80s player because he holds on to the puck and tries to make plays. He won't give it up until there is absolutely no other play, which isn't often, because he has the ability to make something out of nothing, even a one-on-three."
Jason Woolley: "I've seen some nights where he just baffles the best defensemen in the league."
Dave King: "There are probably four ways to play Jagr, all of them wrong."
Comparisons
Scotty Bowman: "When Jaromir gets the puck, he's always thinking, Where can I go with it? He reminds me of Maurice Richard in that way. They both played the off-wing, and both had so many moves I don't think either knew which moves they were going to do until they did them. Totally unpredictable."

Bobby Francis: "He's like a Gretzky the way he'll cut back with the puck and look for the late man. And then he's like a LeClair, using that long reach of his to wrap around the net. He's like a Samsonov with those hands. You're talking about a lot of key components, and Jagr's got 'em all."

Jagr: "Around the net I would like to be as good as Cam Neely. Passing the puck, I'd like to be as good as Wayne Gretzky. My shot, I'd like to be as strong and smart as Mario. Defensively I'd like to play like Ronnie Francis. But playing in the corners, I would keep myself the way I am."

Scotty Bowman: "He's a different type of player than the league has seen in a long time. He has a lot of Frank Mahovlich in him."
Jaromir Jagr Plays in the KHL
In the summer of 2008, Jaromir Jagr left the NHL for the Siberian city of Omsk, to play in the KHL. He returned to the NHL in 2011.
Jagr: "[Leaving the NHL] was the toughest decision in my life … hockey-wise I hate making changes."

Jagr: "Look at A-Rod. No matter how well you do [in New York City] — they always want more. Expectations only climb higher. In Russia you don't have to worry if you make a mistake. And that's what I love about living here. There's always another way to make up for it. Nothing's too serious. Nothing is a problem, and at the same time, everything's a problem. But somehow no matter how bad things are, you can always work it out."

Jagr: "Russia changed me. Not much pressure. Not many distractions. Not many rules. I could follow my own, and I took them seriously."
During one of his first games, Jagr was sitting with 19 year old teammate Alexei Cherepanov when the kid had a fatal heart attack.
Jagr: "It makes you think your time should be special."
At the 2010 Olympics against Russia, Alexander Ovechkin famously hammered Jagr with a thunderous hit.
Jagr: "Before you ask me the question, I know I make a mistake. It was a big mistake. The hit, I don't really care. But the mistake was the turnover I made. They scored a goal. That hurt me the most. If something's hurt, it always heals. But the mistake is not that easy to heal."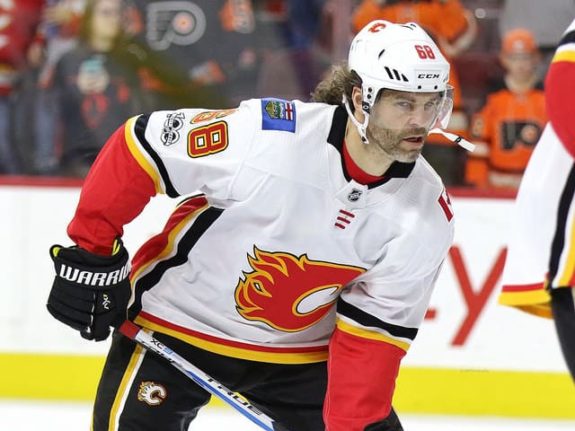 Jagr: "I had a chance to watch and play with the best player ever in Mario, and that's probably the best thing that happened to me in my life."

Jagr: "Mario and those other guys gave me [two Stanley Cups] when I was young. I wasn't a big part of those teams. That's why I call it a gift."

Jagr: "I love this game, and I wish I could play forever. But I know it's impossible. I won't be young, and I won't be healthy. I know I'll have to quit. I know it can't be like this forever."
Rick Tocchet: "What's different about him, I think, is that you can tell he's having fun out there. It's the kid in him. He loves to play, and he's always smiling. I don't know how long that will last, but hopefully, he'll always keep the kid in himself."
Jagr: "If you want to be better than everybody else you have to work harder than anybody else, there's no other secret to it." 
SOURCES & REFERENCES
– Alexander, Rachel. "Leadership Suits This Penguin; Jagr's Playoff Heroics Propel Pittsburgh." The Washington Post. 1999.
– Assael, Shaun. "Hip Czech." Chicago Sun-Times. 2000.
– Bailey, Budd. "Containing Jagr a Supreme Challenge for any Defenseman." The Buffalo News, 1999.
– Benbow, Julian. "Huge assist; Presence of countryman Jagr helps Krejci push his game even higher." The Boston Globe. 2013.
– Bickley, Dan. "Penguins' Jagr on fast track: A driving force in playoffs." Chicago Sun-Times. 1992.
– Callahan, Gerry. "Looming Large." Sports Illustrated, 13 Mar 1995.
– Cazeneuve, Brian. "The Jagr Hockey School." Sports Illustrated, 24 Oct 11.
– Diamos, Jason. "30 Seconds with Jaromir Jagr." The New York Times. April 2006.
– Dupont, Kevin Paul. Globe Staff. "Jagr Fast Becoming Hero He Helped Get Penguins in High Gear in Cup Opener." The Boston Globe. 1992.
– Dupont, Kevin Paul and Fedas, Bob. "And Another Thing . . . Brooks Doesn't Suit 'em." The Boston Globe. 1993.
– Dupont, Kevin Paul, Globe Staff. "Jagr now reaping bountiful harvest." The Boston Globe. 1998.
– Elliott, Helene  – Los Angeles Times. "Jagr Skates to the Beat of a Different Drummer for the Penguins." The Buffalo News. 1995.
– "Fanfare." The Washinton Post. 18 Sep 1998.
– Farber, Michael. "Mano A Mano." Sports Illustrated, 13 May 1996.
– Farber, Michael. "Standing Tall." Sports Illustrated, 12 Apr 1999.
– Farber, Michael. "Throwback." Sports Illustrated, 17 Jan 2000.
– Gildea, William. "Magical Jagr Can Make Penguins Take Flight." The Washington Post. 2000.
– Greenburg, Jay. "Czeching In." Sports Illustrated, 25 Feb 1991.
– Guregian, Karen. "The hair apparent – Jaromir in line for Lemieux's throne." The Boston Herald. 1998.
– "Jagr, Jaromir." Scribner Encyclopedia of American Lives, Thematic Series: Sports Figures. Charles Scribner's Sons. 2002.
– La Canfora, Jason. "Wrong Turns, Long Road Back; Jagr Trade, Young Coach Accelerated Capitals' Descent." The Washington Post. 2004.
– Lapointe, Joe. "Jagr Making Penguin Fans Forget Lemieux." The New York Times.
– Mears, Steve. Steve Mears interviews Jaromir Jagr and David Krejci. NHL.com, 17 Jun 2013.
– Meier, Andrew. "Score Another One for Putin." Score Magazine, Oct 2008.
– Musselman, Ron. "Ticketed for stardom; As Penguin, Jagr drove them wild." The Boston Globe. 2013.
– Nichols, Rachel Alexander. "Jagr Is Taking It In Shifts; Winger Still Adjusting To Life as a Capital." The Washington Post. 2001.
– Rossi, Rob. "Reflective Jagr calls time with Penguins 'my best years'." Tribune-Review/Pittsburgh Tribune-Review. 2011.
– Sell, Dave. "For Penguins, Jagr Is New Lemieux." The Washington Post. 1992.
– Shaughnessy, Dan. Globe Staff. "Great Talent in Any Language." The Boston Globe. 1992.
– Sovietsky Sport Interview, 12 Dec 2008.
– Starkey, Joe. "Looking back on Jagr trade: Starkey from '01." Pittsburgh Tribune-Review. 2008.
– Swift, EM. "The Kid From Kladno." Sports Illustrated. 12 Oct 1992.
---
Latest News & Highlights
---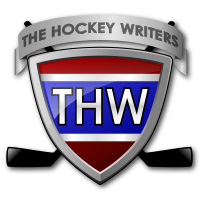 The archives of THW contain over 40,000 posts on all things hockey. We aim to share with you some of the gems we've published over the years.