| | | | |
| --- | --- | --- | --- |
| Born: | March 31, 1928 | Draft: | Joined the Red Wings in 1946 |
| Hometown: | Floral, SK, CAN | Position: | Right Wing |
| Known For: | Mr. Hockey | Shoots: | Right |
| National Team: | CAN | | |
Gordon Howe OC (March 31, 1928 – June 10, 2016) was a Canadian professional ice hockey player. From 1946 to 1980, he played twenty-six seasons in the National Hockey League (NHL) and six seasons in the World Hockey Association (WHA); his first 25 seasons were spent with the Detroit Red Wings. Nicknamed "Mr. Hockey", Howe is often considered the most complete player to ever play the game and one of the greatest of all time. At his retirement, his 801 goals, 1049 assists, and 1850 total points were all NHL records that stood until they were broken by Wayne Gretzky, who himself has been a major champion of Howe's legacy. A 23-time NHL All-Star, he still holds the NHL records for most games and seasons played. In 2017, Howe was named one of the "100 Greatest NHL Players".
Howe made his NHL debut with the Red Wings in 1946. He won the Art Ross Trophy for leading the league in points each year from 1950–51 to 1953–54, then again in 1956–57 and 1962–63, for a total of six times, which is the second most in NHL history. He led the NHL in goal scoring four times. He ranked among the top ten in NHL scoring for 21 consecutive years and set an NHL record for points in a season (95) in 1953, a record which was broken six years later. He won the Stanley Cup with the Red Wings four times and won six Hart Trophies as the NHL's most valuable player. He also led the NHL in playoff points six times.
Howe retired for the first time in 1971 and was immediately inducted into the Saskatchewan Sports Hall of Fame that same year. He was then inducted into the Hockey Hall of Fame the next year, but came back two years later to join his sons Mark and Marty on the Houston Aeros of the WHA. Although in his mid-40s, he scored over 100 points twice in six years, won two straight Avco World Trophies (1974 and 1975) and was named most valuable player in 1974. He made a brief return to the NHL in 1979–80, playing one season with the Hartford Whalers, then retired at age 52. His involvement with the WHA was central to their brief pre-NHL merger success, forcing the NHL to recruit European talent and expand to new markets.
Howe was most famous for his scoring prowess, physical strength and career longevity, and redefined the ideal qualities of a forward. He is the only player to have competed in the NHL in five different decades (1940s through 1980s); he also played a shift in a 1997 game for the Detroit Vipers of the IHL, playing professional hockey for a sixth decade. He became the namesake of the "Gordie Howe hat trick": a goal, an assist and a fight in the same game, though he only recorded two such games in his career. He was the inaugural recipient of the NHL Lifetime Achievement Award in 2008.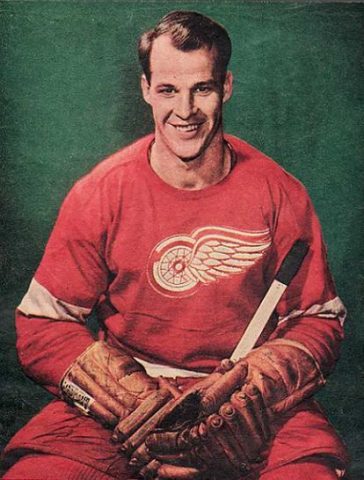 Gordie Howe Stats
Deeper Dive
Awards
Howe was appointed as an Officer of the Order of Canada on June 25, 1971. This gave him the post-nominal letters "OC" for life.
He was awarded the Canadian version of the Queen Elizabeth II Silver Jubilee Medal in 1977.
He was the recipient of the Golden Plate Award of the American Academy of Achievement in 1978.
He was awarded the 125th Anniversary of the Confederation of Canada Medal in 1992.
The Howe family received the Wayne Gretzky International Award major contributions to the growth and advancement of hockey in the United States in 2000.
He was awarded the Canadian version of the Queen Elizabeth II Golden Jubilee Medal in 2002.
He was awarded the Canadian version of the Queen Elizabeth II Diamond Jubilee Medal in 2012.
He was awarded the honorary degree of Doctor of Laws from the University of Regina in spring 1997.
He was awarded the honorary degree of Doctor of Laws from the University of Saskatchewan on June 3, 2010.
Gordie Howe was specifically honoured by then US President Barack Obama in his speech in the House of Commons Chamber in the Parliament of Canada on June 29, 2016 when Obama stated that "as Americans, we, too, celebrate the life of Mr. Hockey himself, the late, great Gordie Howe.
Art Ross Trophy Winner (1951, 1952, 1953, 1954, 1957, 1963)
Goal Scoring Leader (1951, 1952, 1953, 1957, 1963)
Hart Memorial Trophy (1952, 1953, 1957, 1958, 1960, 1963)
NHL All-Star Game (1948, 1949, 1950, 1951, 1952, 1953, 1954, 1955, 1957, 1958, 1959, 1960, 1961, 1962, 1963, 1964, 1965, 1967, 1968, 1969, 1970, 1971, 1980)
Stanley Cup (1950, 1952, 1954, 1955)
Avco World Trophy (1974, 1975)
Gary L. Davidson Award (1974)
WHA First All-Star Team (1974, 1975)
Most NHL regular season games played: 1,767[82]
Most NHL regular season games played with a single team: 1,687[82]
Most NHL and WHA regular season games played: 2,186
Most NHL and WHA regular season and playoff games played: 2,421
Most NHL and WHA Goals regular season 975
Most NHL seasons played: 26 (tied with Chris Chelios)[82]
Most NHL and WHA seasons played: 32
Most NHL regular season goals by a right winger: 801
Most NHL regular season points by a father/son combo (with son Mark): 2,592
Most consecutive NHL 20-goal seasons: 22 (1949–1971)
First player to score over 1000 goals (WHA and NHL, regular season and playoff combined)
First player to reach 1,500 games played in NHL history.
Most times leading NHL playoffs in scoring (six times)
Oldest player to play in NHL: 52 years, 11 days (no other player has played past the age of 48)
First in Red Wings history in points, goals and games played, second in assists
Most NHL All-Star Game appearances: 23
Sources