| | | | |
| --- | --- | --- | --- |
| Born: | June 1, 1961 | Draft: | 1980, Oilers, 6th Overall |
| Hometown: | Weston, Ontario | Position: | D |
| Known For: | More than 30 NHL Records | Shoots: | Left |
| National Team: | Canada | | |
Paul Douglas Coffey (born June 1, 1961) is a Canadian former professional ice hockey defenseman who played for nine teams in the National Hockey League. Known for his speed and scoring prowess, Coffey ranks second all-time among NHL defensemen in goals, assists, and points, behind only Ray Bourque. He won the Norris Trophy as the NHL's best defenseman three times and was voted to eight end-of-season All-Star Teams (four First-Team and four Second-Team). He holds the record for the most goals by a defenseman in one season, 48 in 1985–86, and is the only defenseman to have scored 40 goals more than once, also doing it in 1983–84. He is also one of only two defensemen to score 100 points in a season more than one time, as he did it five times; Bobby Orr did it six times.
During his NHL career, he played for the Edmonton Oilers, Pittsburgh Penguins, Los Angeles Kings, Detroit Red Wings, Hartford Whalers, Philadelphia Flyers, Carolina Hurricanes, Chicago Blackhawks, and Boston Bruins. He is a four-time Stanley Cup champion, winning three times with Edmonton and a fourth with Pittsburgh. In 2017, Coffey was named one of the 100 Greatest NHL Players in history.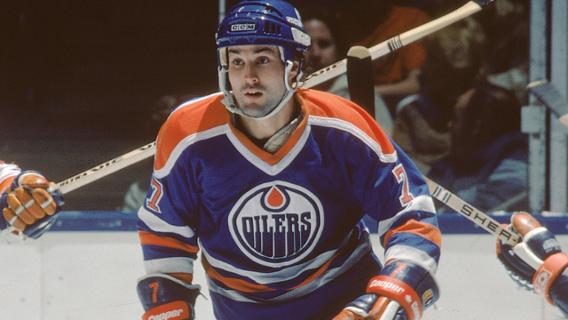 Paul Coffey Statistics
Trade Tracker
Date
Traded From
Traded With
Traded To
Traded For
November 24, 1987
Dave Hunter
Wayne Van Dorp
Dave Hannan
Chris Joseph
Moe Mantha
Craig Simpson
February 19, 1992
–
First-Round Pick
(Jason Bowen)
Brian Benning
Jeff Chychrun
January 29, 1993
Sylvain Couturier
Jim Hiller
Jimmy Carson
Marc Potvin
Gary Shuchuk
October 9, 1996
First-Round Pick
(Niko Tselios)
Keith Primeau
Brian Glynn
Brendan Shanahan
December 15, 1996
Third-Round Pick
(Chris Mallette)
First-Round Pick
(Scott Hannan)
Seventh-Round Pick
(Andrew Merrick)
Kevin Haller
June 27, 1998
–
Fifth-Round Pick
(Francis Belanger)
December 29, 1998
–
Nelson Emerson
Deeper Dive
Achievements
All-Time NHL Records

Most Goals in One Season By a Defenseman (48 in 1985–86)
Most Short-Handed Goals in One Season By a Defenseman (9 in 1985–86)
Most Assists in One Game By a Defenseman (6)
Most Points in One Game By a Defenseman (8, shared with Tom Bladon)
Most Seasons Leading the League in Scoring By a Defenseman (8)
Fastest NHL Defenseman to Score 1,000 Points (770 games)
Longest Point-Scoring Streak By a Defenseman (28 games)
Most 40-Goal Seasons By a Defenseman (2)
Most 50-Assist Seasons By a Defenseman (14)
Most 60-Assist Seasons By a Defenseman (11)
Most 70-Assist Seasons By a Defenseman (6, shared with Bobby Orr)
Most 80-Point Seasons By a Defenseman (8)
Highest Goals Per Game Average By a Defenseman in a Season (0.608)
Highest Career Assist Per Game Average By a Defenseman (.806, minimum 750 games)
Higest Career Points Per Game Average By a Defenseman (1.087, minimum 750 games)
Only Defenseman in NHL History to be Selected First Team All-Star Playing for Three Different Teams
Most PIM by a 1000-Point Defenseman (1,802)
Most Different Teams Played on by a 1,000-Point Scorer (9, shared with Jaromir Jagr)
Most Career Playoff Goals By a Defenseman (59)
Most Career Playoff Points By a Defenseman (196)
Most Playoff Goals in a Season By a Defenseman (12 in 1985)
Most Playoff Assists in a Season By a Defenseman (25 in 1985)
Most Playoff Points in a Season By a Defenseman (37 in 1985)
Most Points in a Playoff Series By a Defenseman (11 in 1985)
Most Assists in a Five-Game Playoff Series By a Defenseman (8 in 1985)
Most Assists in One Period in a Playoff game (3 in 1985)
Most Short-Handed Playoff Goals By a Defenseman (6)
Most Playoff Short-Handed Goals in a Season By a Defenseman (2 in 1983 and 1996)
Highest Playoff Plus-Minus in a Season By a Defenseman (+26 in 1985)
Highest Playoff Goals Per Game Average in a Season By a Defenseman (0.667 in 1985, minimum 10 playoff games)
Highest Playoff Assists Per Game Average in a Season By a Defenseman (1.389 in 1985, minimum five playoff games)
Highest Playoff Points Per Game Average in a Season By a Defenseman (2.056 in 1985)
Highest Career Playoff Goals Per Game Average By a Defenseman (0.304, minimum 75 games)
Highest Career Playoff Assists Per Game Average By a Defenseman (0.706, minimum 100 games)
Highest Career Playoff Points Per Game Average By a Defenseman (1.010, minimum 100 games)
Additional Awards and Achievements

Canada Cup Gold Medal — 1984, 1987, 1991
Canada Cup All-Star Team — 1984
World Cup of Hockey Silver Medal — 1996
James Norris Memorial Trophy — 1985, 1986, 1995
Played in 14 NHL All-Star Games — 1982, 1983, 1984, 1985, 1986, 1988, 1989, 1990, 1991, 1992, 1993, 1994, 1996, 1997
NHL First Team All-Star — 1985, 1986, 1989, 1995
NHL Second Team All-Star — 1982, 1983, 1984, 1990
Stanley Cup Champion — 1984, 1985, 1987, 1991

Inducted into Hockey Hall of Fame — 2004
No. 7 Retired by Oilers — 2005
Inducted into Penguins Hall of Fame — 2007
Sources