*This article was last updated in Jan. 2023
Since their inaugural 1967 season, fans of the Pittsburgh Penguins have witnessed some of the greatest players the sport has ever seen. Not just the players on the ice, but the stories that have stemmed off as well. From multiple bankruptcies to the threat of relocation on a couple of occasions, it was certain players that kept the team in Pittsburgh and brought storied success.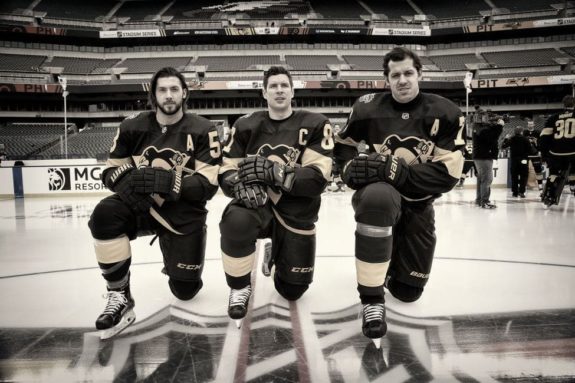 It's difficult coming up with a top 10 list for anything; Most of the time the No. 1 choice won't be contested, but it's everything beforehand that can show struggles. For the Penguins and their history of players, there are some phenomenal names.
Surely, a great name or two will be left off the list, but here it is; The top 10 players in Pittsburgh Penguins history.
10. Kevin Stevens
One of the best power forwards to ever play in the NHL, Kevin Stevens stands as one of the most unappreciated players in Penguins history. "Artie," as he was known, could score goals, make great passing plays, and knew how to get under the opponent's skin.
---
---
To this day, Stevens still holds a spot in the top 10 of the franchise's scoring statistics. With the Penguins, he scored 260 goals (7th all-time), 295 assists (10th), and 555 points (9th) all in 522 games played. Over a point per game is solid for a player who made a living by playing a gritty style of hockey. It was that form of play that helped the Penguins win back-to-back Stanley Cups in 1991 and 1992.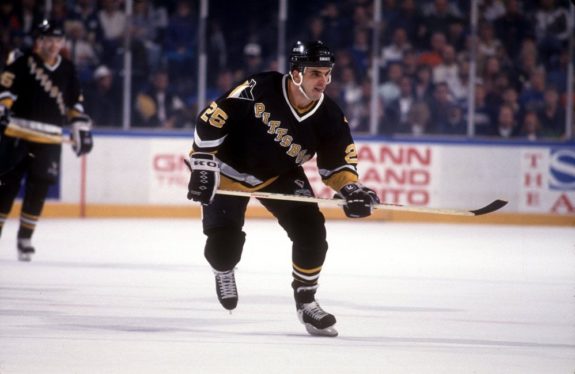 More than just a point scorer, part of what made Stevens such a great player is that he was able to collect so many points, all while missing a good chunk of time for sitting in the penalty box. Artie stands alone as the Penguins franchise leader in penalty minutes at 1,048. That's an average of a two-minute minor penalty in each of the 522 games he played in Pittsburgh.
---
Latest News & Highlights
---
Over a point per game as well as over a minor penalty per game. How many players can say that?
9. Rick Kehoe
A largely forgotten all-time great, Rick Kehoe was a staple in Pittsburgh of point scoring spanning from the mid-1970s to the mid-1980s. He was an integral piece as the Penguins transitioned out of the blue-jersey days into the black-and-gold era.
Just like Stevens, Kehoe still holds franchise top 10 spots in the main three scoring categories. 312 goals (6th), 324 assists (9th), and 636 points (5th) are all likely to stand for some time. Only twice did he not manage to reach 25 goals in a season. Before a certain French-Canadian superstar came along, Kehoe was the Penguins franchise leader in points upon his retirement during the 1984-85 season.
Post-playing career, Kehoe transitioned to take a spot behind the bench with the Penguins. He helped mold young stars into better players as an assistant coach from 1986 until 2002. That was when he replaced Ivan Hlinka as head coach for just about two seasons. His coaching record isn't great (55-81-14-10), but that team wasn't either those seasons. Kehoe was replaced by Ed Olczyk before the 2003-04 season.
Inducted into the Penguins Hall of Fame in 1992, Kehoe would remain the franchise leader in points for a number of years. A few names have since passed him by, but he still holds ground as an all-time great.
8. Jean Pronovost
While playing alongside other franchise legends like Ken Schinkel, Pierre Larouche, and the late great Michel Briere, Jean Pronovost is the original Penguins' great. Over his 10 years in Pittsburgh, Pronovost helped elevate the Penguins to relevance early on. It may not have turned into Stanley Cup wins, but for a young franchise, he was its first face.
From 1968 to 1978, Pronovost played in 753 games and became the franchise's first great goal scorer with 316 goals and 287 assists for 603 points. His goal count stands at fifth all-time in franchise history and seventh in points. More than consistency, he set the standard for future generations of Penguins to play towards. He was the first Penguins player to ever score 30, 40, and 50 goals, as well as 100 points in single seasons.
Pronovost, much like a few Penguins to come, made the players around him better players. He was a focal point of the Penguins' famed "Century Line." Pronovost was joined by Lowell MacDonald and Syl Apps and achieved that name when they combined for over 100 goals and 200 points. The three hit those numbers four seasons in a row helping the team reach the playoffs multiple times in those years.
The team itself still wasn't up to snuff in terms of success, but Pronovost was a beacon of hope and a light in the dark. He helped the team reach early, minor success, but a stepping stone of the fortunes to come.
7. Kris Letang
The most recent Penguin to hit 600 career points, Kris Letang has far surpassed the likes of Paul Coffey as the Penguins' best defenseman in franchise history. Many factors over the years have supported that statement. Longevity, scoring prowess, and great defensive skill, Letang's playing ability has made him a mainstay on the Penguins' blue line since 2007.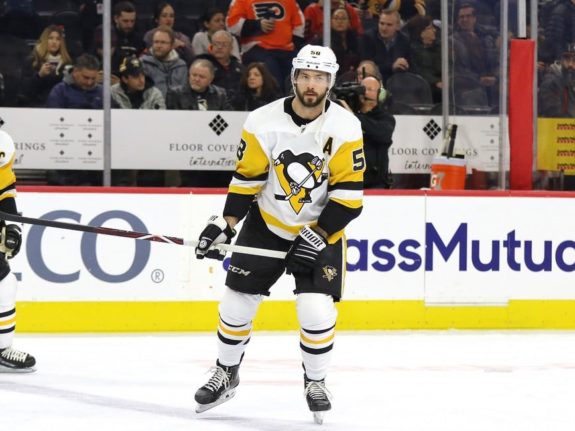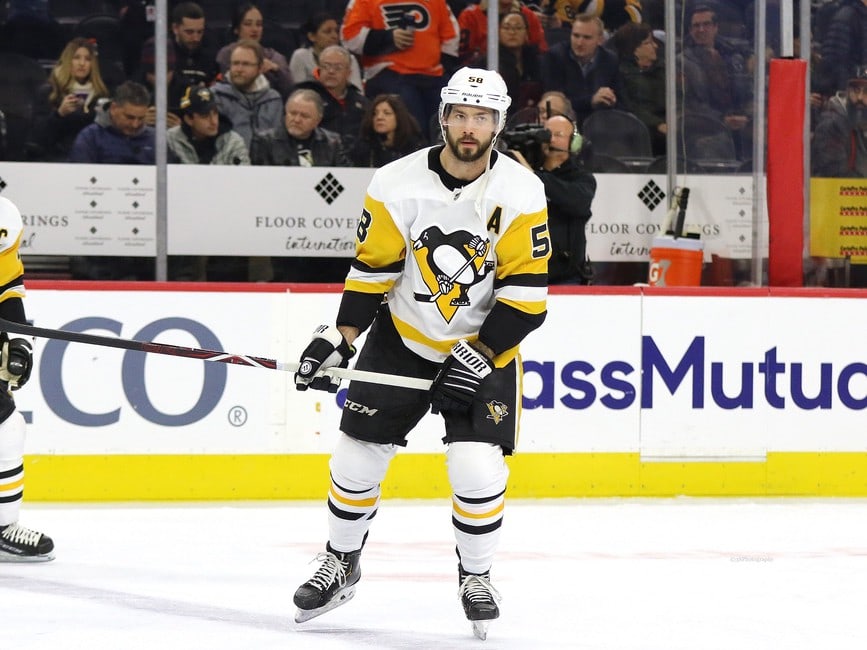 Injuries and health problems have gotten in the way of Letang's play over the years, but that hasn't slowed him down, nor has it really taken anything away from his game. Despite playing every game in a season only once, he is always on the ice. Since the league began recording the stat, No. 58 is second all-time among Penguins skaters in total time on ice; over 23,000 minutes and counting. Averaging just over 24 minutes per game, nothing has stopped him.
Through the injuries, which have spanned from concussions to a herniated disk in his neck and two strokes, Letang has never stopped producing; 970 games, 146 goals, and 520 assists for 666 points.
Tack on three Stanley Cup championships and Letang stands alone as the franchise's greatest blueliner and there is much more to come.
6. Marc-Andre Fleury
If you would have asked Penguins fans in 2015 if Marc-Andre Fleury was an all-time great, they may have scoffed at you. To put it bluntly, he wasn't good in the playoffs in that year or the few seasons prior. A solid beginning to the 2017 postseason and everything he's done since, distance has made the heart grow fonder on Flower.
There is no doubt Fleury rests as the greatest goalie to ever wear black and gold. He is the franchise's leader in wins (375), losses (216), and shutouts (44) all by wide margins. Not even the Pens go-to goalie of the '90s, Tom Barrasso, is able to hold a candle to those numbers.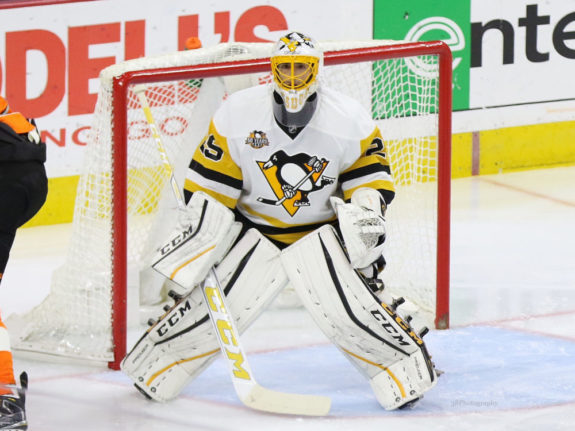 Fleury may not have been in the net for the Cup victories in 2016 and 2017, but without him, the Penguins don't reach the finals in either year. Those Cups plus great play through the 2009 playoffs makes him a three-time champion.
The Penguins aren't an organization that has a revered history of goalies. In fact, not a single goalie that has ever suited up for the Penguins has reached the Hall of Fame. Fleury will without doubt be the first to do that. This past offseason, he was awarded his first Vezina Trophy as the NHL's best goalie, and recently becoming the third goalie to ever reach 500 wins, the doors have never fully closed on a Penguins reunion.
The position of goalie in ice hockey is one of the most unpredictable and unstable in all of sports. Keeping one on your team for their whole career is a rarity. Has Fleury gone on to do great things with other teams? Absolutely, but when he was left exposed in the 2017 Expansion Draft, it was the right move at the time. Hindsight is always 20/20, but the legacy he left in Pittsburgh will last forever.
5. Ron Francis
One of the greatest all-around players to play the game, Ron Francis was vital to the Penguins' success in the 1990's. For parts of eight seasons with the Penguins, he would see career peaks that would go on to define the kind of player he was. A true leader, a 200-foot player, and outstanding playmaker.
Looking at the numbers Francis put up, it's hard to believe he only played in 533 games with the team. 164 goals and 449 assists for 613 points, while twice leading the league in assists and surpassing the 100-point mark twice. He marked a career high in assists and points in 1995-96 with 92 and 119 respectively.
Francis wasn't just an incredible playmaker, but also one of the best defensive forwards the Pens have ever seen. He still stands as the only player to win a Selke Trophy as the league's best defensive forward in Pittsburgh. For his leadership, he was also named the team's captain on a pair of occasions, in 1995 and for the 1997-98 season.
While Francis is well known as a Hartford Whaler or Carolina Hurricane, his career was solidified in Pittsburgh. Many of his high points and achievements were hit while wearing black and gold; Two Cups, a Selke, and two of his three career Lady Byng Awards for gentlemanly play.
4. Jaromir Jagr
A top-five, maybe top-three player of all time, Jaromir Jagr began his illustrious and seemingly never-ending professional career in Pittsburgh. Drafted in 1990, the youngster quickly became one of the best players in hockey. A young face to help elevate the Penguins to championship status in 1991 and 1992, he had much more to prove as he aged.
Jagr won the Art Ross Trophy for most points in a season five times with the Penguins, including four straight to close out his 11-year tenure in Pittsburgh. From 1997 until his departure in 2001, he scored 446 points in 302 games. Overall, in 806 games with the Penguins, he scored 439 goals, 640 assists, and 1079 points. All top five in franchise history.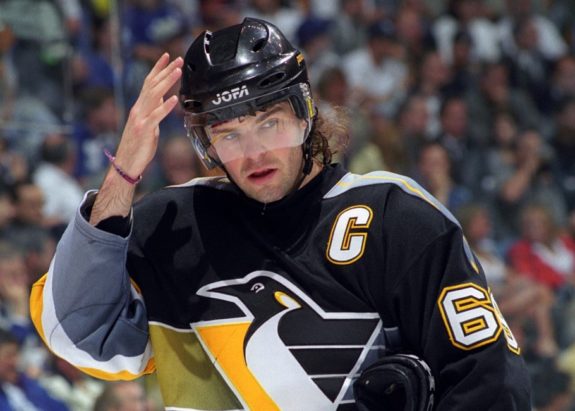 Since 1987, the Penguins have only named four different players captain. Like Francis, Jagr is one of those distinct few. Jagr was captain from 1998 until his trade to the Washington Capitals in 2001. It was the growth over the years in Pittsburgh as a leader and not just a skilled hockey player that earned him the "C." And it was as the Penguins captain Jagr would help keep the organization in Pittsburgh.
The man may never stop playing hockey, and that's fine. If Jagr does eventually hang up the skates, you can guarantee a jersey retirement will be held in Pittsburgh. Soon enough, the No. 68 will be hanging in the rafters of PPG Paints Arena and Jagr will be immortalized forever.
3. Evgeni Malkin
That's right, at this point in time Evgeni Malkin has surpassed Jagr in the lore of Penguins history. For all the criticism and fans demanding a trade for him every summer, Malkin has powered through and become one of the most notable Penguins of all time. Yes, even more so than Jagr.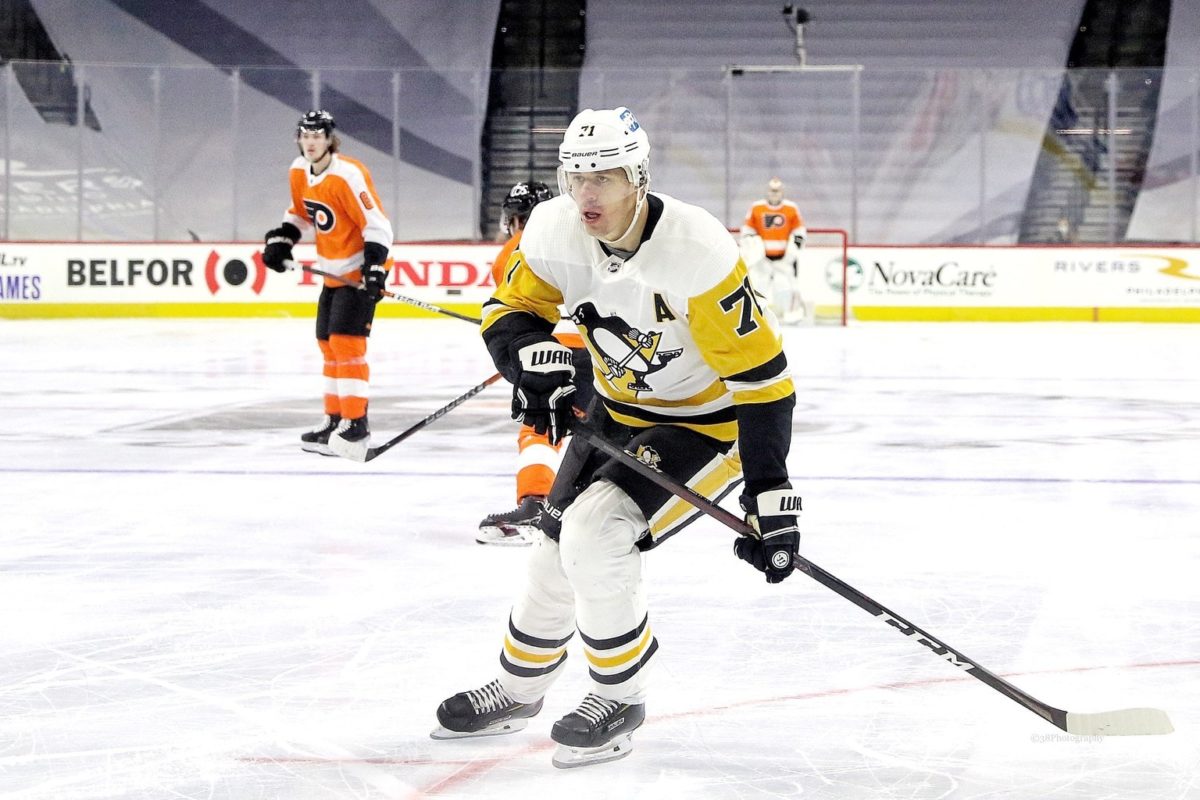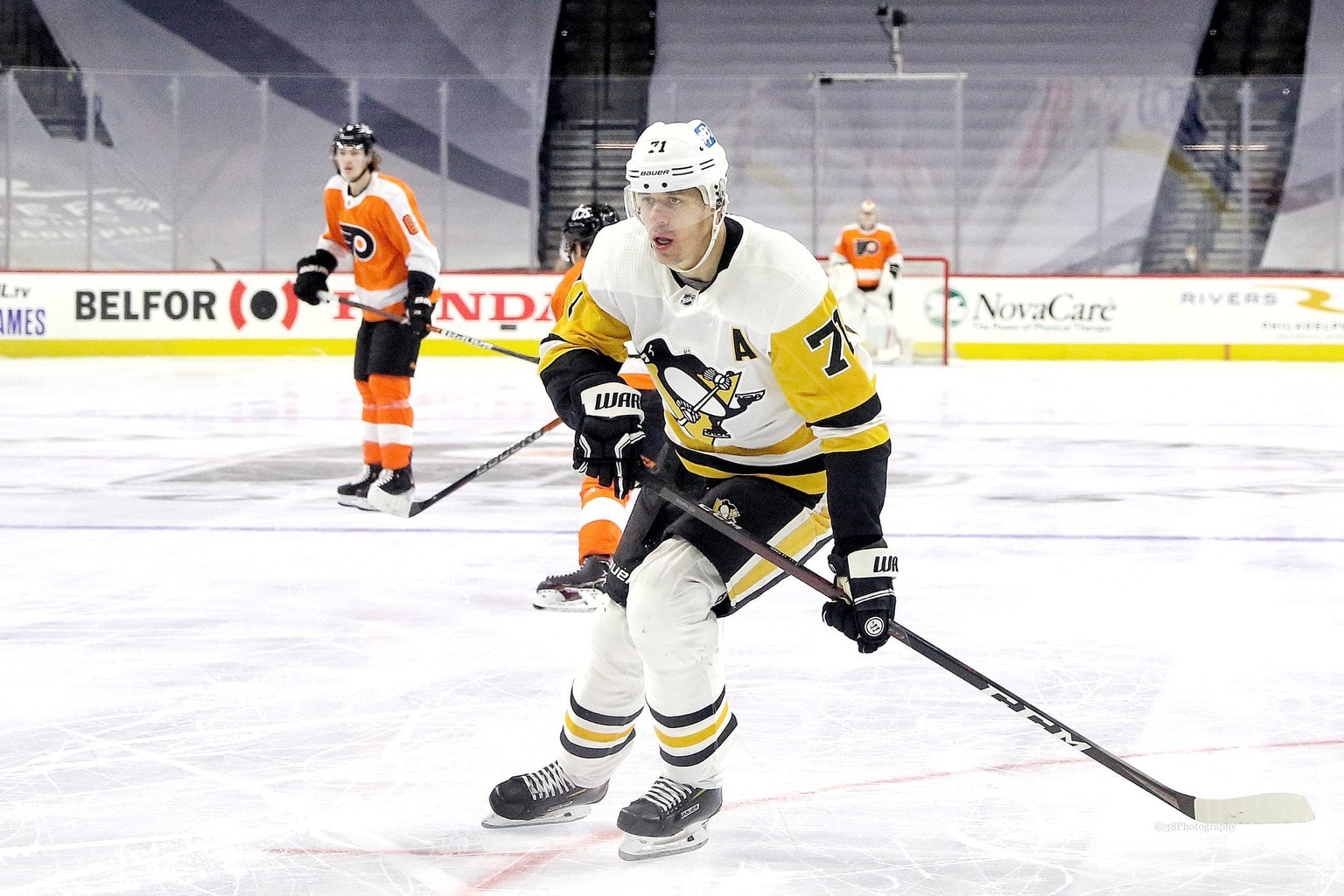 Starting with a look at the numbers, you can see where Malkin sits in Penguins history. Through 1,017 games played, he has scored 456 goals, 724 assists, and 1,180 points. He sits third in franchise history in goals, assists, and points.
Malkin has spent his entire career playing second fiddle to a superstar who will be named soon, but that isn't a bad thing for Geno. He has still been able to accumulate some hardware as the 2006-07 Calder Trophy for rookie of the year, a Hart Trophy in 2011-12 for league MVP, and twice led the NHL in scoring. A Conn Smythe winner for playoff MVP during the 2009 Cup run and two more Cups in 2016 and 2017, his legacy is cemented in Penguins history.
Despite mainly holding the second-line center position for over 15 seasons, Malkin has taken the mantle and stepped up in times when it mattered most throughout his career. There is still more time for him to face his critics and prove that he is more than deserving of this spot in Penguins franchise history.
2. Sidney Crosby
What can someone say about Sidney Crosby that hasn't already been said? One of the greatest to ever play the game, both on and off the ice. A pillar of hockey. not just for the Penguins, but for the City of Pittsburgh since his arrival in 2005.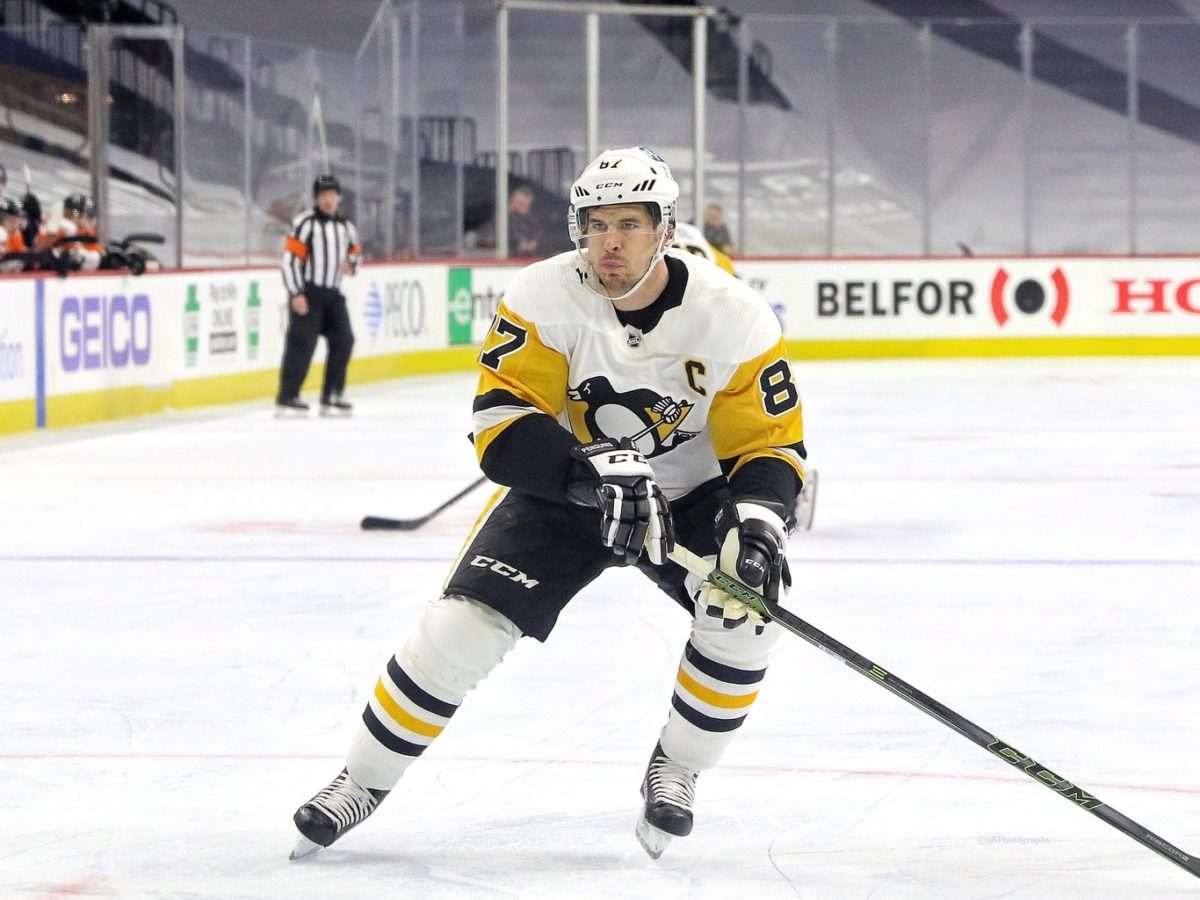 It has been his play over the last 15+ years that has set Crosby apart from so many others. No matter the team around him, he has pulled the Penguins into the playoffs for 16 straight years and brought them to four Cup Final appearances. Three wins and back-to-back Conn Smythes, he has defined himself as one of the most consistent players in the sport's history.
At the age of 35, there doesn't seem to be any slowing down in Crosby's game. Not to bore you with numbers, but the offensive mastermind will probably make this section out of date in a matter of minutes. At this moment, though, through a franchise-high 1,144 games, he has picked up 536 goals, 916 assists, and 1,452 points. Those scoring numbers are all second in Penguins history behind only one person.
Over the years, Crosby has grown into one of the most decorated athletes in Pittsburgh sports history. Three Cups, two Conn Smythe's, an eight-time all-star, two Hart's, two Art Ross's, and two Olympic gold medals. That just scratches the surface. The first Penguins to ever reach 1,000 games played and captain since 2007 all help solidify him as the Penguins' second greatest of all time, behind a former roommate.
1. Mario Lemieux
Is there even an argument to be had? The stories have been told many times, the highlights have been seen all over the world, Mario Lemieux is the definition of the Pittsburgh Penguins. Just another one of those stories everyone should know, he was more than just a Hall of Famer on the ice, but a savior off the ice.
As a player, Lemieux broke every franchise record Pittsburgh had to offer. 915 games, 690 goals, 1,033 assists, 1,723 points, 1.88 points per game, and 40 hat tricks. All but one of those statistics still stand as franchise peaks. If Pronovost and Kehoe set the standard in Pittsburgh, Lemieux re-wrote the book, putting up numbers that may never be touched.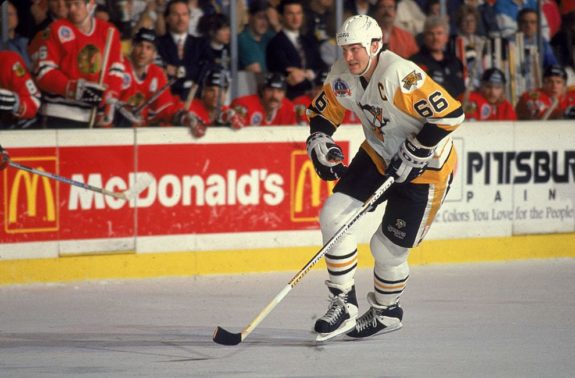 Injuries plagued Lemieux's career, and forced him to miss a massive amount of time and forced an early retirement in 1997 at the age of 31. The traditional three-year waiting period was waived and he was inducted into the Hockey Hall of Fame immediately after retiring. Not even three years later as the organization was battling another bout with bankruptcy, Lemieux joined forces with Ron Burkle and bought the team, saving the franchise.
A year later, despite having his number retired in Pittsburgh, being enshrined in the Hall of Fame, and being the team's owner, Lemieux returned to the ice as a player. The No. 66 was taken out of the rafters and he became a Hall of Fame player/owner. Injuries followed him during his final five seasons and finally called it a playing career during the 2005-06 season.
You may also like:
The Penguins may have recently sold to Fenway Sports Group, but Lemieux is still around as a minority owner and doesn't have plans of going anywhere any time soon. He has put in Hall of Fame levels of work both on and off the ice. With two Cups as a player, three as an owner, and multiple franchise saving moments, no single player in any sport has meant more to a single franchise than Lemieux has with the Penguins. No. 66 holds the No. 1 spot in all-time Penguins greats, and that's something that will never change.
The Penguins franchise has seen the mountaintop. With five Stanley Cups, they know what it means to win. More than just a winning team, the Penguins are an organization full of stories, both tragic and triumphant. Everyone listed above helped in their own way bring success to the organization and are huge reasons why there is still a professional hockey team in Pittsburgh today.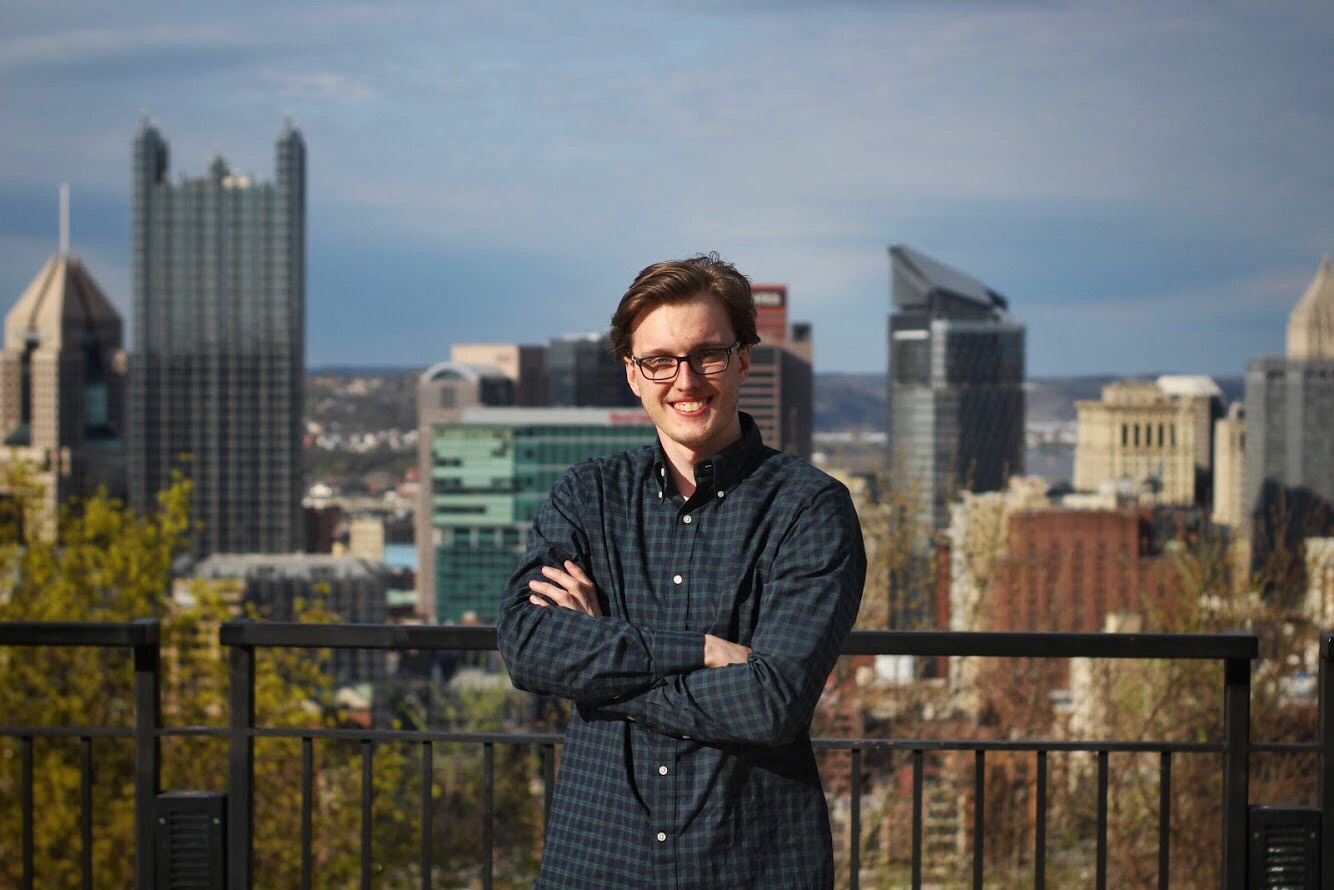 Nick Horwat is a graduate of Point Park University and was born and raised in Pittsburgh. A lifelong Penguins fan that has been watching and going to games for as long as he can remember.