Throughout the entire history of the Pittsburgh Penguins, no single player has ever laced up in 1,000 games. Team owner Mario Lemieux only played in 915 games through 17 seasons. While Lemieux is considered one of the greatest to ever play the game, the 1,000 games mark is something he never reached. The milestone, however, was finally surpassed for the organization on Feb. 20, 2021, when Sidney Crosby took to the ice for the 1,000th time in a Penguins uniform.
Crosby, though, is more than just a 1,000 games milestone player. When selected as the first overall pick in 2005, he became the new face of the Penguins' franchise, as well as the face of the league. As time has passed and new young stars like Connor McDavid or Auston Matthews have made it to the NHL, at the age of 33, Crosby is still in the conversation as one of the best players currently playing.
Not just currently playing, but Crosby has often been discussed as one of the greatest players to ever play the game. As No. 87 begins his journey into the "next thousand" games, now is the perfect time to look back at the career and legacy he has created in Pittsburgh.
Better Late than Never
Reaching 1,000 games is a great achievement for any player, but for Crosby, it has a different feel. There were times it seemed he may not be able to reach that number. From a lengthy concussion to a multitude of other injuries, he has missed close to 200 games from injuries alone.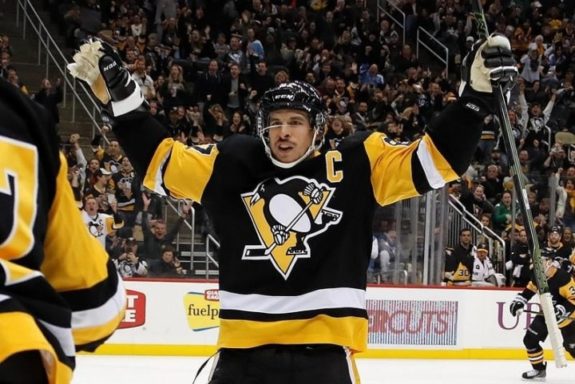 At the midway point of the 2010-11 NHL season, Crosby was playing the best hockey of his career. At the age of 23, he was on pace to score 122 points during the season, which would have been a career-high. But during the 2011 Winter Classic, he suffered a concussion that put his future in the sport in question. Over the next 14 months, he would miss 108 regular-season games.
Other than the massive concussion in 2011, Crosby has missed lengths of time from numerous other injuries. In 2008, he suffered a high-ankle sprain that would force him out of 29 games. Toward the end of the shortened 2012-13 campaign, he suffered a broken jaw after taking a Brooks Orpik slap shot to the face. In 2014, he was one of the many NHL players who were affected by the mumps, where he would miss five games. Another small concussion in 2017 took him out for seven games. And most recently, a core muscle injury took away 28 games from the 2019-20 season.
More than just injuries, Crosby, and the rest of the NHL, had to be put on pause for a few occasions taking up valuable playing time. In 2012, the NHL ran into a lockout that forced the league to only play 48 games in a shortened season. Then, in 2020, the NHL saw multiple seasons feel the affects of the COVID-19 outbreak, shortening both the 2019-20 and 2020-21 seasons.
The Legacy of Sidney Crosby
Expectations were high for Crosby when he entered the league in 2005, but you could argue that he far exceeded what was expected. In just his first two seasons in the NHL, he scored 222 points and won his first Hart and Art Ross Trophy. In 2006-07, he led the Penguins to their first playoff appearance in five seasons. Sid and the Penguins have yet to miss a postseason since.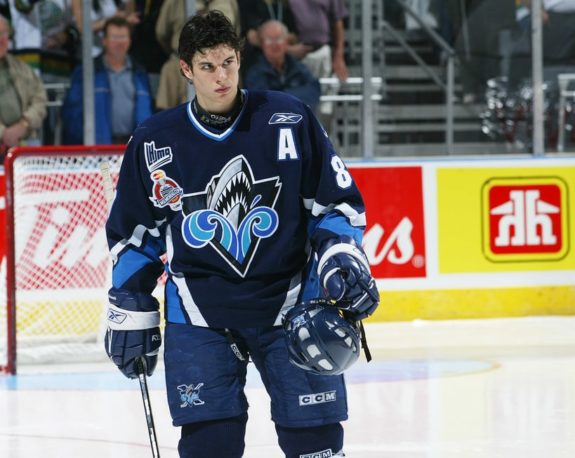 Among his many accolades, before the start of his third season, Crosby was named the captain of the Penguins. Nineteen years old at the time, he was the youngest captain in NHL history and now, into the 2020-21 season, he is the longest-tenured captain in the league. Under his leadership, the Penguins have made it to four Stanley Cup Finals, winning three of them. Two of those Cup victories were amplified by Sid winning the Conn Smythe Trophy as the most valuable player of the playoffs.
By the numbers, through exactly 1,000 games played, Crosby has tallied 468 goals and 810 assists for 1,278 points, all of which are good for second all-time in franchise history. He has eclipsed the 100-point mark in a season six times, and has never finished a year under a point-per-game.
Twice has a season ended with Crosby as the league's top point scorer, giving him a pair of Art Ross Trophies. His sophomore season of 2006-07 saw his first when he scored 120 points; his second came in 2013-14 after collecting 104 points. In both of these seasons, he was also chosen to win the Hart Memorial Trophy as the league MVP.
While known as a phenomenal playmaker, Crosby possesses an uncanny ability to find the back of the net himself. Over the years, he has won two Rocket Richard Trophies as the league's top goal scorer. In 2009-10, he won his first with 51 goals, and in 2016-17, his second when he posted 44.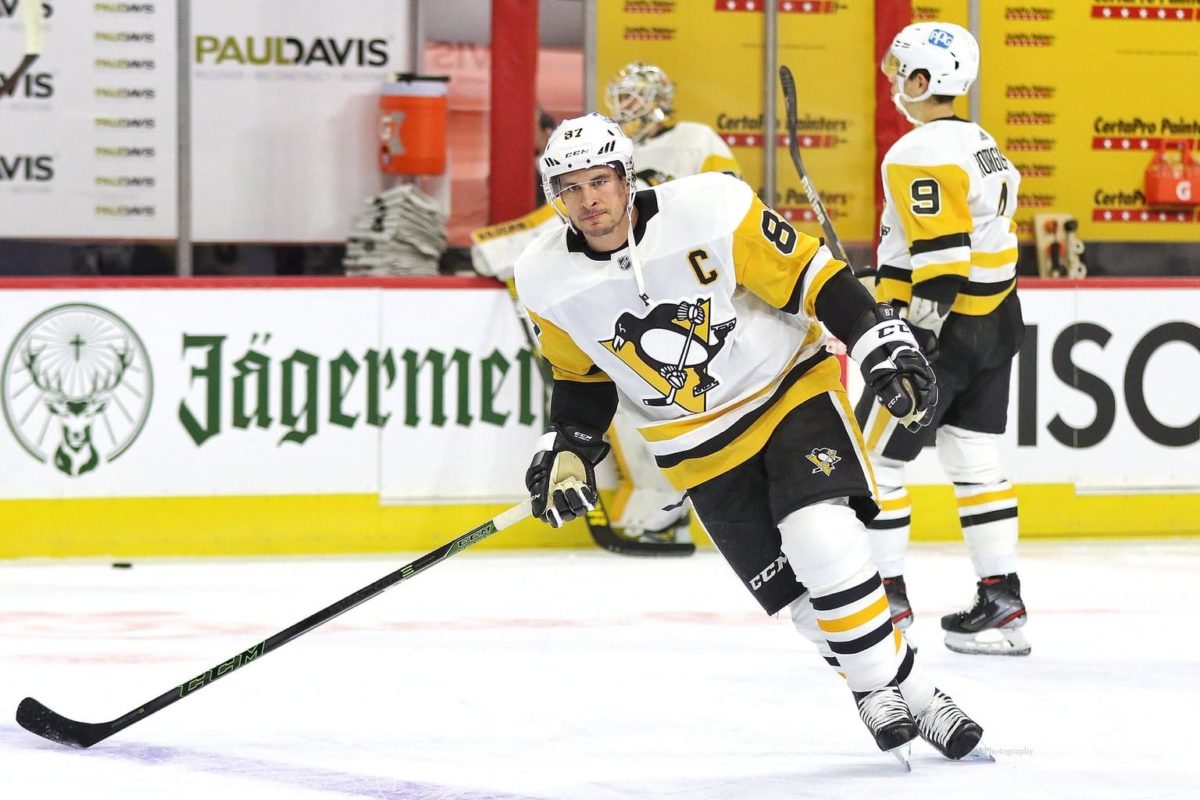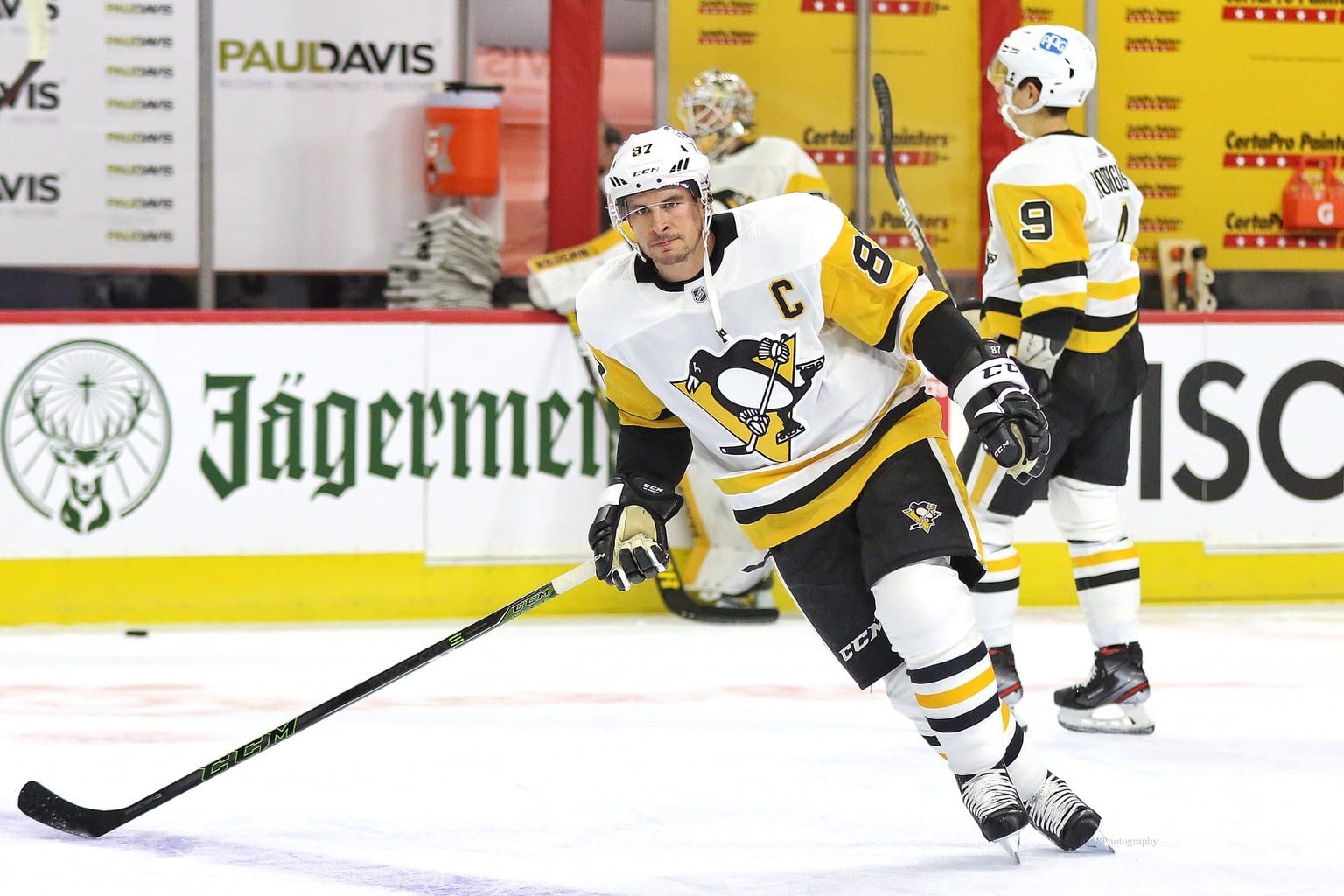 Not only is Crosby a standout leader on the ice, but he also makes a tremendous effort off the ice and in the Pittsburgh community. He created the Sidney Crosby Foundation in 2009 and has focused on children. Enhancing their lives and giving back to children's charities has always been the main goal.
Beyond just his foundation, Crosby has made it a point to bring joy and give back to those around the City of Pittsburgh. From numerous visits to the Children's Hospital of Pittsburgh to charitable donations, he has become one of the great philanthropists in the city's history.
What's in Crosby's Future?
The easy answer to this question is a Hall of Fame induction and a jersey retirement. But given the recent events within the Penguins organization, the choices that may be made with Crosby in the near future have raised some eyebrows. Regardless of the trade rumors that may be flying around, Sid has said on record that he has no plans of leaving Pittsburgh.
Not only does Crosby not have plans to leave Pittsburgh, but he also has no plans of retiring anytime soon. Following the 2020-21 NHL season, he'll have four years remaining on his current contract. When his current deal expires, he will be 37 years old, and as long as he feels good, he plans to continue playing.
As it stands before Crosby plays in game 1,001, his 1,278 career points sit third of active players and 37th all-time. As his career progresses, he will climb those charts and continue to solidify his spot as one of the game's all-time greats.
No matter what way you cut it, there is still plenty of hockey left in Crosby. He has no plans of slowing down and is always striving to be better and to win. Only the future can tell of where his numbers will stand upon retirement or if more awards are still down the road. Most importantly, only time will tell if he is able to reach the mountaintop again and win a fourth Stanley Cup.
Whatever his future may hold, to the city of Pittsburgh, Crosby will always be much more than just another hockey player. He changed the way of the whole Penguins organization and did just as much work off the ice as he did on.
The 1,000th Game
Reaching 1,000 games is no small feat for a player in the NHL. It is usually commemorated with a silver stick and a ceremony from the team. Despite not having a crowd, the Penguins team and organization did a great job putting on a night that fans, or Crosby himself, won't soon forget.
Every player was given a special jersey for warmups, with Crosby's name, number, and captain "C" on the front. Sid's superstitions and warmup habits are well documented, and his teammates are very aware of them.
One of Crosby's superstitions is he takes a moment to take a knee and re-tie his skates during every warmup. When he got to that point in his warmup routine, the whole team stopped to follow their captain and re-tie their skates. This was a moment that made Sid smile and made noise on social media.
It was a big game for Crosby, and he showed why he is one of the best there is. In a 3-2 victory over the New York Islanders, he put up a pair of assists, including the primary helper on the game-winning goal.
Crosby is only 33 years old and has a lot of hockey left in him, but it won't last forever. He has reached a milestone no other Penguins player has, and with it in the rearview mirror, it's time to look ahead and enjoy what feats are yet to come.
---
---