He's no longer "Sid the Kid." Sidney Crosby is all grown up, a 33-year-old who will join those who've played in 1,000 NHL regular-season games on Saturday when the Pittsburgh Penguins host the New York Islanders at PPG Paints Arena.
Crosby has exceeded the hype that began well before the 2005 NHL Draft. There was no question that he would be picked No. 1; the only unknown was who would get to select him. The Penguins, who finished last in 2003-04, won the league's first draft lottery and the chance to select a franchise-changing player.
Though he was still a week away from his 18th birthday, Crosby handled the swarms of media that surrounded him at the draft, held at the Westin Hotel in Ottawa, like an old pro — very much like the player he's often compared to: Wayne Gretzky. Talking to Crosby that day, it was easy to see why he was expected to become "The Great One's" successor as new the face of the NHL. "The Next One" handled himself just as Gretzky did, politely answering every question without giving away too much of himself.
A Star from the Start
Of course, none of that poise would matter if Crosby couldn't live up to the hype on the ice. In 2003, when Crosby was 16, Gretzky called him "the best player I've seen since Mario Lemieux" and said that he would be capable of breaking some of Gretzky's NHL scoring records.
"The Next One" broke the 100-point mark as an 18-year-old rookie in 2005-06 and led the NHL in scoring with 120 points (36 goals, 84 assists) in his second season en route to winning the Hart Trophy as the league's most valuable player. He was 21 when he raised the Stanley Cup for the first time in 2009, and by that time, had become the face of the NHL. Crosby's No. 87 was as recognizable as Gretzky's No. 99.
Like Gretzky, Crosby has no obvious physical characteristics that would indicate athletic greatness. They're both listed at 5-foot-11, though Crosby's official weight of 200 pounds is about 25 more than Gretzky in his prime. But, like Gretzky, Crosby thinks the game at a genius level and is among those rare players who consistently make everyone around him better. He's a superb passer, if not on Gretzky's level (no one is), and instinctively knows what his passing options are. He also has the best backhander in the NHL, making him a threat to score from places most players can't.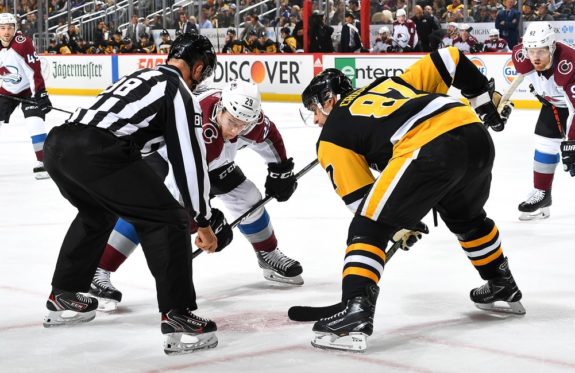 Crosby has a relentless, uncompromising drive to become a better player; after winning just 45.5 percent of his face-offs as a rookie, he bumped that up to 49.8 percent in his second season and has won more than 50 percent in all but one season since then. He also has that same desire to win that fueled Gretzky, a four-time Cup winner with the Edmonton Oilers.
In 2010, Crosby scored the overtime goal to win Canada the gold medal at the 2010 Winter Olympics in Vancouver. He suffered from serious post-concussion issues from 2010-13 before bouncing back to win another scoring title in 2013-14. In 2016, he helped Team Canada win gold in the World Cup of Hockey and was crucial to the Penguins Cup victories in 2016 and 2017, winning the Conn Smythe Trophy as playoff MVP each time.
The boy who talked to the media so effortlessly in a hotel ballroom in the summer of 2005 is a man now, a first-ballot Hockey Hall of Famer and arguably the greatest player of the 21st century so far. His 1,276 points (468 goals, 808 assists) rank 37th all-time. Sure, he'll never get close to Gretzky's career numbers, at least partly because the game has changed considerably since No. 99's heyday. Yet, Hockey Reference's adjusted points rank Crosby 16th all-time with 1,465; Gretzky is No. 1 at 2,463 (nearly 400 below his actual career total of 2,857).
But Crosby has the kind of 200-foot game that was rarely seen among the top offensive players in Gretzky's era; he's as likely to win a key face-off or break up a potential scoring play in his own zone as he is to figure in a goal. The Penguins' new general manager Ron Hextall put it best when he referred to Crosby as "a blue-collar superstar."
From 'Sid the Kid' to Role Model
In his career, Crosby has gone from a kid following in the footsteps of immortals like Gretzky to becoming a player who young stars want to emulate. Connor McDavid of the Oilers, who matched Crosby on Wednesday by reaching the 500-point mark in his 369th NHL game, said there's still a lot he can learn from Sid when it comes to drive and work ethic.
"He's been so successful in this league and done everything I want to do," McDavid said of Crosby. "He's a great guy to follow. He's done everything he set his mind to. He wanted to get better on face-offs and he did that. He wanted to score more goals and he did that. He's solid defensively. I think there's definitely lots of lessons from his game — because his game has kind of changed over the years. He does whatever it takes to be successful."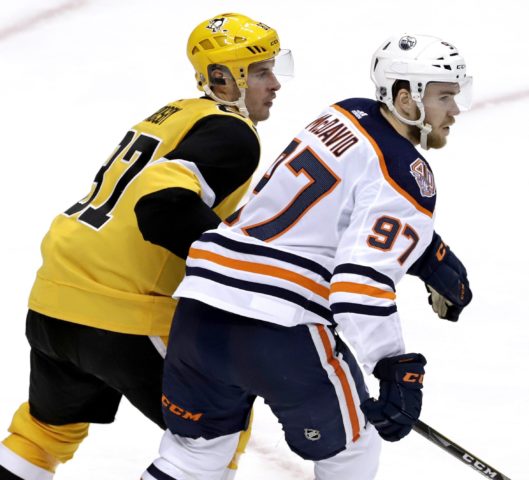 The one thing Crosby has that McDavid wants is a Stanley Cup ring.
"Obviously (he's) a guy that I grew up watching," McDavid said. "He's got a couple other things I'm trying to do with all of his Cups and all that stuff. Obviously that stuff is more important."
There may or may not be another championship in Crosby's future; he and longtime teammates Kris Letang and Evgeni Malkin are all on the far side of 30. But as Crosby puts his 1,000th game in the rearview mirror, there's no doubting his place among hockey's all-time greats, or that he's more than lived up to every expectation heaped upon him in that Ottawa hotel ballroom 16 years ago.
---
---