Sidney Crosby is scheduled to play his 1,000th regular-season NHL game on Saturday, when he and the Pittsburgh Penguins host the New York Islanders.
The nickname "Sid the Kid" hardly fits Crosby these days; he's now 33 and well into his 16th season in the NHL. All of them have been spent with the Penguins, who selected him with the No. 1 pick in the 2005 NHL Draft.
But how well do you really know Crosby? Take our quiz and find out.
1. In what city did the Penguins select Crosby with the No. 1 pick in the 2005 NHL Draft?
a) Columbus
b) Nashville
c) Ottawa
d) Philadelphia

2. How many times has Crosby reached the 50-goal mark in a season?
a) 1
b) 2
c) 3
d) 4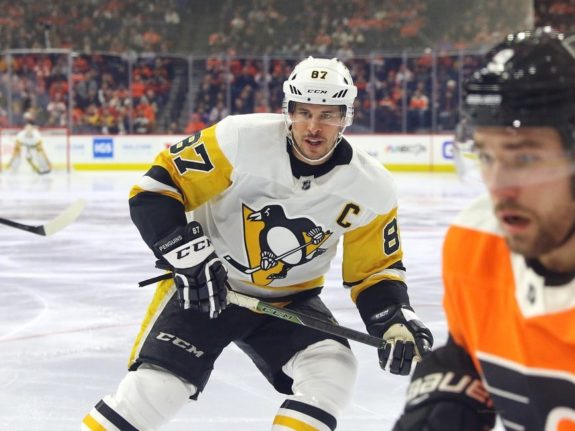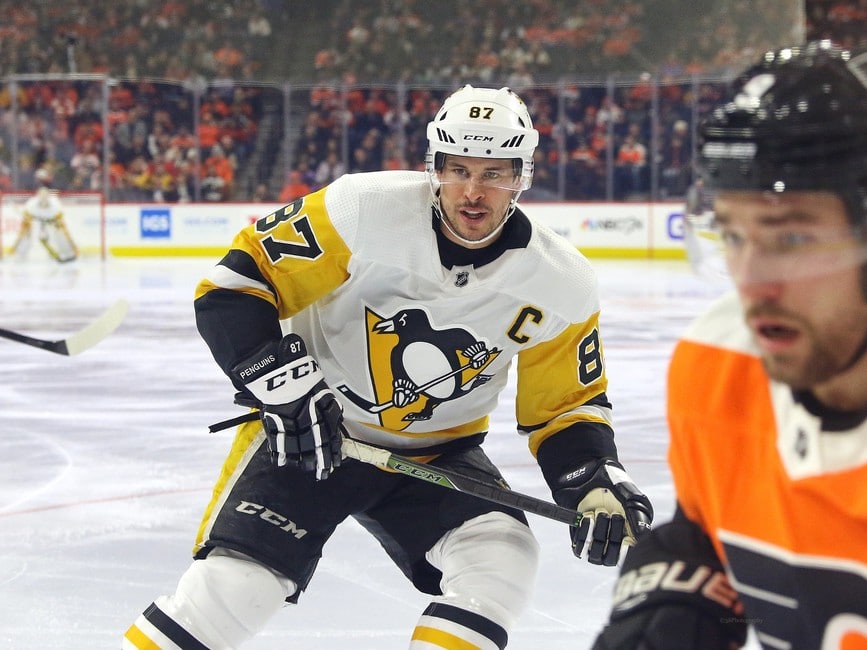 3. Which team has Crosby scored the most goals against?
a) New Jersey Devils
b) New York Islanders
c) New York Rangers
d) Philadelphia Flyers
4. Where did Crosby play his junior hockey?
a) London
b) Rimouski
c) Quebec
d) Shawinigan

5. How many shorthanded goals has Crosby scored in his NHL career?
a) 3
b) 6
c) 9
d) 12


6. How many times has Crosby led the NHL in scoring during the Stanley Cup Playoffs?
a) 0
b) 1
c) 2
d) 3
7. Crosby's first NHL point was an assist in his debut on Oct. 5, 2005. Who scored the goal?
a) Matt Cullen
b) Kris Letang
c) Evgeni Malkin
d) Mark Recchi
8. Why does Crosby wear No. 87?
a) It's his birth date
b) The number he wanted was taken
c) He scored 87 goals in youth hockey
d) That was the number he was issued as a kid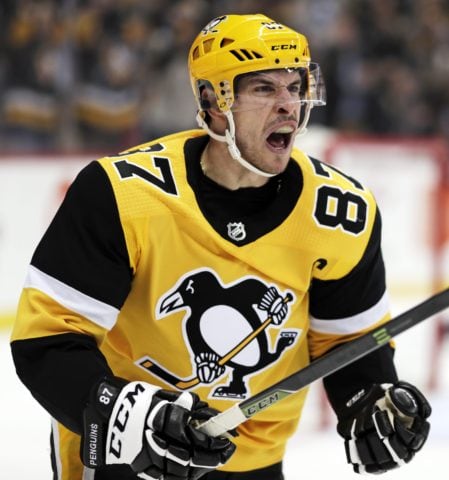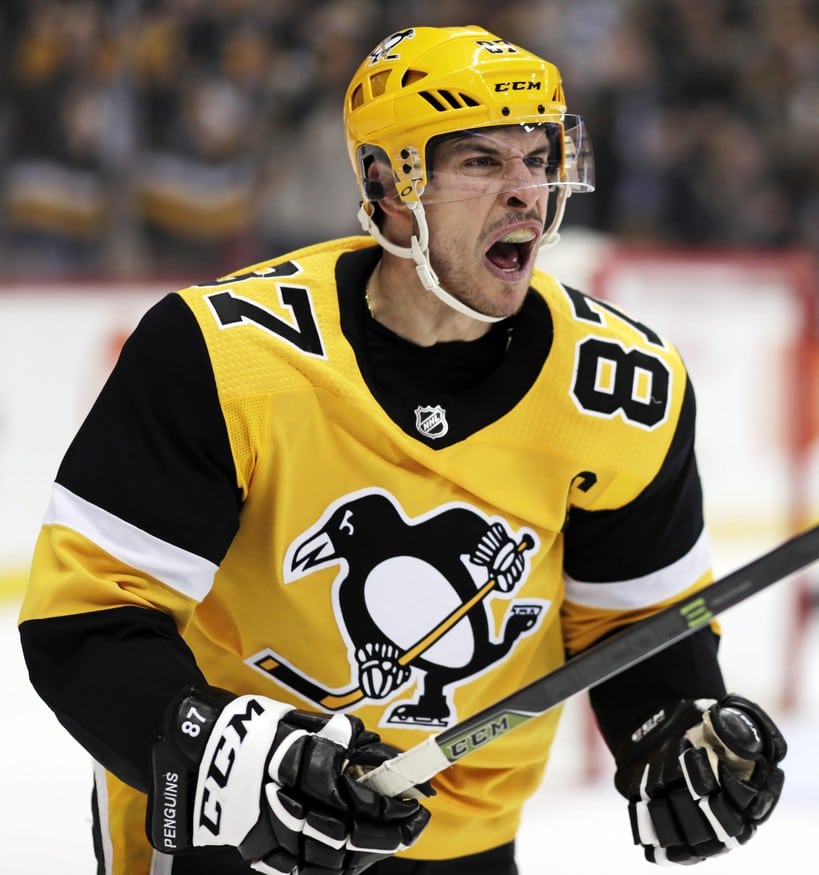 9. Which of these NHL awards has Crosby NOT won?
a) Art Ross Trophy
b) Conn Smythe Trophy
c) Frank J. Selke Trophy
d) Maurice Richard Trophy
10. Crosby has reached the 100-point mark six times in his NHL career. What is his single-season career high?
a) 109
b) 120
c) 131
d) 142
Answers
1. Answer: (c) Ottawa
The Penguins took Crosby with the first pick of the 2005 NHL Draft, which was held at the Westin Hotel in Ottawa, rather than the Corel Centre (now the Canadian Tire Centre). The Penguins won the first NHL Draft Lottery to earn the No. 1 pick in the draft.
2. Answer: (a) 1
The only time Crosby has reached the 50-goal mark came when he scored a league-leading 51 times in 2009-10. The closest he's come since then was 2016-17 when he led the NHL with 44 goals. Those are the only times he's scored 40 or more goals in a season.
3. Answer: (d) Philadelphia Flyers
Crosby has scored 45 goals against Philadelphia, the most he's had against any opponent and eight more than he's scored against the New York Islanders. Crosby has scored 34 goals against the New York Rangers and 33 against New Jersey.
4. Answer: (b) Rimouski
After one season at Shattuck-St. Mary's, a prep school in Minnesota, Crosby played two seasons with the Rimouski Oceanic of the Quebec Major Junior Hockey League (2003-04 and 2004-05). Among a slew of awards he won, Crosby was named Canadian Hockey League Player of the Year in each of those two seasons.
5. Answer: (a) 3
Crosby doesn't kill many penalties, but he has scored three shorthanded goals during his NHL career, though none has come in the past decade. He scored two in 2009-10 and one in 2010-11. Crosby has never scored a shorthanded goal in the Stanley Cup Playoffs.
6. Answer: (b) 1
Crosby tied Henrik Zetterberg of the Detroit Red Wings for the most points in the 2008 Stanley Cup Playoffs; each finished with 27. Crosby's highest-scoring playoff season came in 2009 when he finished with 31 points (15 goals, 16 assists) but finished second to teammate Evgeni Malkin (36).
7. Answer: (d) Mark Recchi
Crosby assisted on a third-period goal by Mark Recchi in his NHL debut against the New Jersey Devils on the opening night of the 2005-06 season. However, that assist was one of the few highlights for the Penguins that night; they lost 5-1 in East Rutherford, New Jersey.
8. Answer: (a) It's his birthday
What other number would a player born on Aug. 7, 1987 (8/7/87) wear? It's the same reason the native of Cole Harbour, Nova Scotia, signed a long-term contract with the Penguins that's worth $8.7 million per season.
9. Answer: (c) Frank J. Selke Trophy
Crosby's vast hardware collection does not include the Selke Trophy, which is awarded annually to the NHL's best defensive forward. The closest he came to winning the Selke was in 2018-19 when he finished fourth in the voting. He's won the Art Ross, Conn Smythe and Maurice Richard trophies twice each.
10. Answer: (b) 120
Crosby's single-season high for points is 120 (36 goals, 84 assists), set in 2006-07, his second season in the NHL and one of two times he's led the NHL in scoring. He's never scored more than 109 points in any other season, though Crosby did lead the league in scoring with 104 points (36 goals, 68 assists) in 2013-14.
---
---
Longtime NHL writer and editor. Covered first NHL game in 1975 (and hundreds since). Have done several books, hundreds of magazine/newspaper/online stories. Big fan of hockey history.