*This article was originally published in 2018
Equal parts exhilarating and devastating, sports are quite simply unpredictable. Ask the city of Pittsburgh. This week 25 years ago, Penguins fans experienced both emotions at the same time. Riding back-to-back Stanley Cup championships and looking like a team destined to three-peat, Mario Lemieux stepped to the podium at a sudden press conference to announce he had been diagnosed with a Nodular Lymphocytic form of Hodgkin's disease.
---
---
Yes, Lemieux, the best player in the world who had tenaciously battled debilitating back pain, missed 50 games in the 1990-91 season with a rare bone disease only to lead the Penguins to their first Stanley Cup, and less than a year prior overcame a broken hand in the playoffs to win his second straight Conn Smythe Trophy, just announced he had cancer.
Super Mario Defies Expectations
Many have chronicled the before, after, and during of Lemieux's cancer story, but on the anniversary of the season of his diagnosis, it would be a disservice to his character to not pause and remember just how quickly Lemieux returned to the ice – and for how long he continued to fight.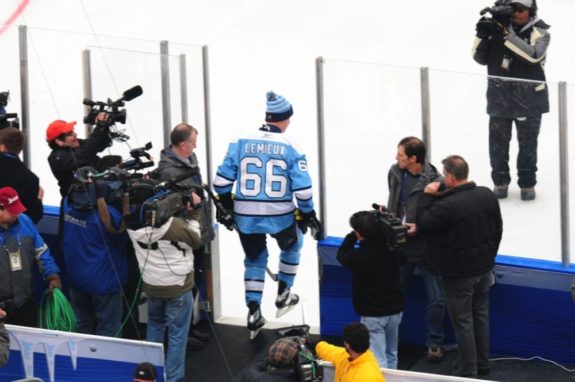 Lemieux endured 20 days of radiation and on the evening of his last, less than two months following the diagnosis, he returned to the ice against the Philadelphia Flyers with a goal and an assist. He would eventually score 161 points in 60 games during the 1992-93 season, winning his fourth scoring title and second Hart Trophy as league MVP. He proved resilient; something he admitted in a 1996 interview with Karen Guregian of Sports Illustrated was always on his mind, saying "all you want to do is prove to yourself that you're fine, that the cancer is behind you."
---
Latest News & Highlights
---
Lemieux helped the Penguins win an NHL-record 17 straight games. Suddenly the dismay and anguish felt across Pittsburgh in January was an afterthought. "Le Magnifique" beat the odds and dominated the league, making it appear the quest for a third straight Stanley Cup for the team on his shoulders was back on track.
But the pendulum of sports unpredictability swung against Pittsburgh once more. Lemieux's back ailments returned and slowed a season's worth of dazzling play. And when New York Islanders winger David Volek blistered a slap shot from the right circle in overtime of Game 7 to send his team into the semifinals, the streak, the dynasty, the pursuit of perfection and the comeback screeched to an abrupt halt – as did Lemieux's career. He underwent his second back surgery in three years on July 28, and it would be a long time before his body let him be magnificent again.
Mario Lemieux – The Greatest Game
Lemieux's comeback from illness and injury shouldn't, and never did, come as a surprise for a player who was the greatest of his generation and made a career of moments greater than the last, an amazing feat for someone who scored his first goal on his first shot on his first NHL shift.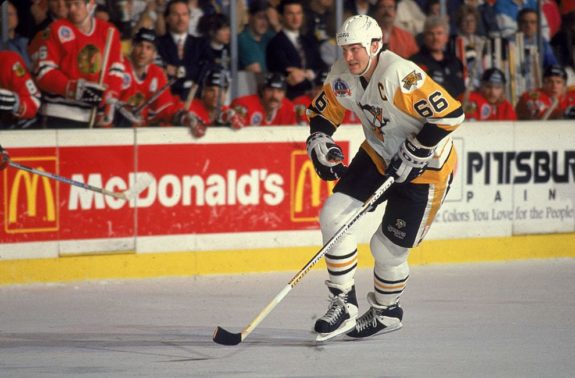 But Lemieux's best game, and one recently voted the greatest moment in NHL history, came on an otherwise normal New Year's Eve in 1988 when he achieved a league first – and probably last – in scoring five goals in five different ways at home against the New Jersey Devils.
The historic performance started quietly when Lemieux's centering pass bounced in off a Devils skate for his 39th goal of the season. His second of the night, and seventh shorthanded goal of the season, defined a classic Lemieux goal. Grabbing the puck at center ice, he skated wide before cutting into the middle, went right through a defender and scored five-hole from his backhand. He completed the natural hat trick with a wicked one-timer on a Penguins power play.
Lemieux then went five-hole for the second time on the night in converting his second-period penalty shot, also marked down as a second shorthanded goal, before shuffling the puck into an empty net with a second remaining on the clock. Not to be overlooked, he also assisted on Pittsburgh's other three goals as they won 8-6.
You may also like:
The NHL is a different league than it was in 1988, with different rules and lower scoring. But in any era, the enormity of scoring at even strength, on the power play, shorthanded, on a penalty shot and into an empty net is staggering. Think of the last time you witnessed a player accomplish three of those in a single game, much less four, much less five.
That magical night came in the infancy of Lemieux's career, with plenty of noteworthy accomplishments and legendary goals ahead of him. There was the completion of an epic 199-point season that year and later the stunning game-winning goal with 13 seconds left in Game 1 of the 1992-93 Stanley Cup Final against the Chicago Blackhawks that capped a Penguins comeback from multiple three-goal deficits.
More natural hat tricks, nights when his name appeared on every line of the Penguins scoring summary, and crowd-silencing breakaways would unfold. Stories of more scoring titles, the championships, the playoff MVP awards, Hall-of-Fame enshrinement, franchise owner and savior, and a career resurgence were yet to be written.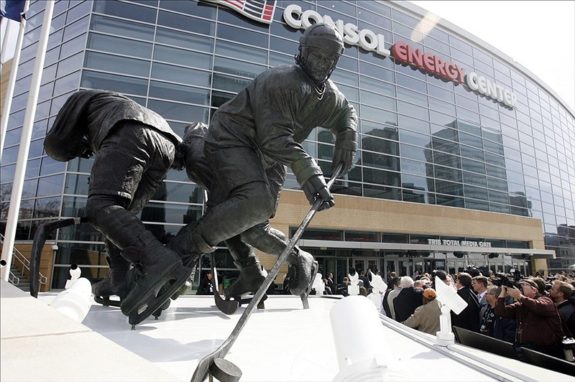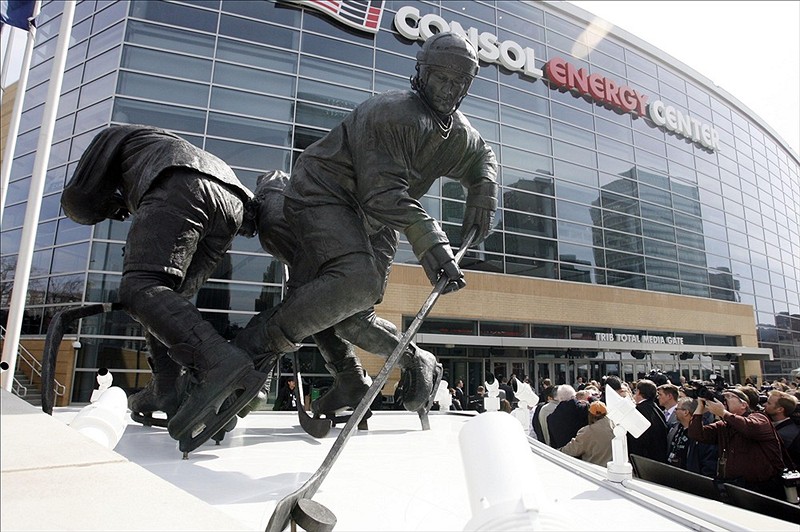 But the importance of that New Year's Eve is that in scoring in all five ways, Lemieux displayed that he could do anything and everything on, and eventually off, the ice. Even beat cancer.
A Different Kind of Legacy
There will always be the statistical what could have been when looking at Lemieux's legendary career. Would he have caught Wayne Gretzky as the greatest scorer of all time had he been healthy? Probably, yes.
Case in point, on Feb. 4, 1997, two months before announcing he would retire at the end of the season, Mario Lemieux scored his 600th goal in only his 719th game. Only Gretzky reached the milestone faster – in one less game. The discrepancy between the two milestones comes in age. Gretzky accomplished the feat just shy of turning 28. Lemieux was 31. The production remained on pace; the years did not.
But as far as numbers go, the one that might matter most to Super Mario is the $25 million the Mario Lemieux Foundation has raised for cancer research and treatment since its inception following his diagnosis. He continues to give people the chance to fight and overcome the odds – something he knows a little about.
* originally published in Jan. 2018
---
---