The '12 Days of Christmas' is a classic holiday song first published in its current form in 1908. In a nod to the classic carol, join The Hockey Writers as we count down the 12 Days of Hockeymas. Each day, we will provide you with a piece of hockey history as we eagerly await the start of the 2020-21 NHL season.
In the past few days, we've gone over some of the best and most important players in the history of the Pittsburgh Penguins. From the highest point scorers to the winningest goalies, almost all of them have one thing in common, they don't have their number hanging from the rafters at PPG Paints Arena.
As an organization, the Penguins have been fairly stingy when it comes to retiring jersey numbers. Only two players have been bestowed the honor of a jersey retirement in Pittsburgh. Along with those two names, we will discuss some others who either will one day be given the same treatment, or arguments could be made for them.
Numbers that Are Retired
Michel Briere: 21
A number retirement that comes from tragedy and the notions of what could have been. Michel Briere was picked in the third round of the 1969 NHL Amateur Draft by the Penguins and went on to have a phenomenal rookie season. Playing in every game of his rookie season, Briere led the team in assists with 32 and had a huge role in taking the Penguins to their first ever postseason appearance.
The Penguins would lose to the St. Louis Blues in the 1970 NHL Semi-Finals, but with five goals and three assists, Briere led the team in playoff scoring. One of his goals was an overtime winner in Game 4 of the Quarter-Final against the Oakland Seals to complete the series sweep.
That offseason, in May of 1970, just three weeks before his wedding day, Briere was involved in a car accident that left him in a coma that would last 11 months. The Penguins went 21-37-20 in the 1970-71 season without Briere, missing the playoffs. Nine days after the season ended, Briere died on May 13, 1971. A little over a year and a half later, Pittsburgh lost another sports icon who wore the No. 21, Pittsburgh Pirates' outfielder Roberto Clemente.
Briere's No. 21 was never worn again by a Penguins' player, and was officially retired in January of 2001. Before his death, Briere was aiming to become one of the best players in the NHL, and could have played a huge role in the success of the young Penguins franchise. He was the first superstar for the team, and had a bright future ahead of him.
The legacy left by Briere is one that will be remembered forever, and not just in Pittsburgh. The Quebec Major Junior Hockey League named their Most Valuable Player award in his honor, the Michel Briere Memorial Trophy. The Penguins named their team rookie of the year award in his honor, as well.
Mario Lemieux: 66
More than just one of the best players in NHL history, odds are that without Mario Lemieux, the Penguins wouldn't be a team. Drafted first overall in the 1984 Draft, Lemieux was being compared early on to NHL great Wayne Gretzky. Lemieux heard the comparisons and decided to take Greatzky's No. 99 and flip it, to read No. 66, a number that is now synonymous with Lemieux.
From his first game in 1984 on, Lemieux's impact on the Penguins organization was undeniable. Putting up 100 or more points in each of his first six seasons, he was only 23 years old when he became the highest-scoring player in franchise history. He was the team's captain for back-to-back Stanley Cup victories in 1991 and 1992.
Lemieux won the Art Ross Trophy as the league's top point scorer six times and was named the league MVP three times. However, he missed large amounts of time for a multitude of injuries all through his career. Between cancer and multiple back surgeries, he never played every game in a season.
In 1997, at the age of 31, Lemieux's injuries had piled up and forced him into an early retirement. The Hockey Hall of Fame waived the traditional three-year waiting period, and inducted him into the Class of 1997.
To the Penguins, Lemieux is more than a Hall of Famer and Stanley Cup Champion. He is the savior of the franchise and one of the main reasons they were able to stay in Pittsburgh and afloat as an organization. In 1999, the Penguins were, for the second time, on the verge of bankruptcy and folding as a franchise. Lemieux, despite being owed over $32 million, got a group together and bought the Penguins. The transaction pulled the team out of bankruptcy and avoided extinction.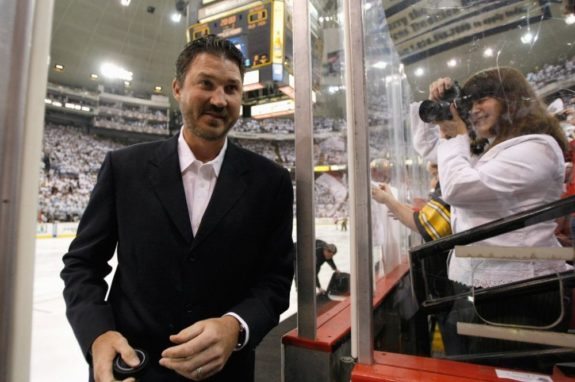 Just being owner wasn't enough for Lemieux, and in late December of 2000, he returned to the Penguins as player/owner. Not wanting to play with his number hung in the rafters, the No. 66 was taken down from the rafters.
In December of 2005, Lemieux developed an irregular heartbeat and was forced off the ice. While he wanted to finish the 2005-06 season, with no chance of making the playoffs and his condition, the player/owner decided to retire for a second, and final time. The No. 66 was again retired.
Numbers that Will Be Retired
As of now, Briere and Lemieux are the only numbers officially retired by the Penguins. The team has done a lot to honor great players of the past, including a Penguins Hall of Fame and a Ring of Honor that was on permanent display in Civic/Mellon Arena. Soon enough, though, the rafters at PPG Paints Arena will have some more decorations.
Marc-Andre Fleury: 29
This one might catch some heat, but there is no taking away what Marc-Andre Fleury did for the Penguins organization. In 13 seasons with the organization, the top pick in 2003 became the winningest goalie in franchise history, played a big role in winning three Stanley Cups, and was a fan favorite.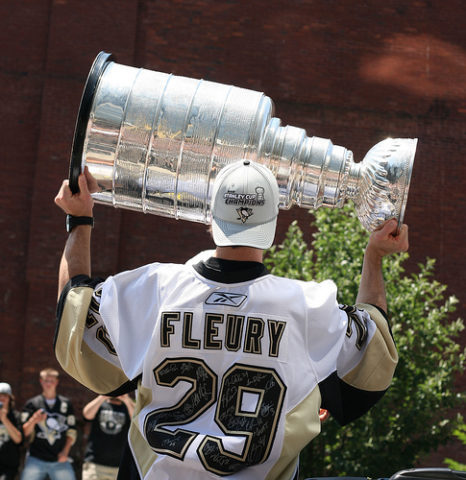 Much like the bright yellow pads he wore in his early years in Pittsburgh, Fleury will never be forgotten by fans. Retiring his No. 29 will cement his legacy with the team and make future generations of fans aware of what he meant.
Jaromir Jagr: 68
At times, Jaromir Jagr has been reluctant to agree to an official number retirement in Pittsburgh, but it seems as if he has come around to the idea. It is a well deserved honor. Jagr, during his time in Pittsburgh, scored 1,079 points, won two Stanley Cups, and helped keep the team in Pittsburgh. He is the second-leading scorer in NHL history and did most of his best work with the Penguins.
Since leaving Pittsburgh in 2001, no player has worn the number 68, leaving Jagr as the only Penguin to ever wear the number. All the Penguins are waiting for is Jagr to officially retire from the sport (if that ever happens). Some fans might have enjoyed booing him when he came to Pittsburgh on the visiting team, but those days are over. He and his No. 68 will be honored properly.
Evgeni Malkin: 71
The elder of the 'Two-Headed Monster,' Evgeni Malkin is a franchise star, even without the help of a certain captain for most of his career. About to enter his 15th NHL season, Malkin has accomplished something not many players can say: he has never missed a postseason. From his rookie season on, the Penguins have yet to miss a postseason appearance, and that is in large part due to his play. Of those playoff runs, Malkin and the Penguins have reached the Cup Final four times and won three of them.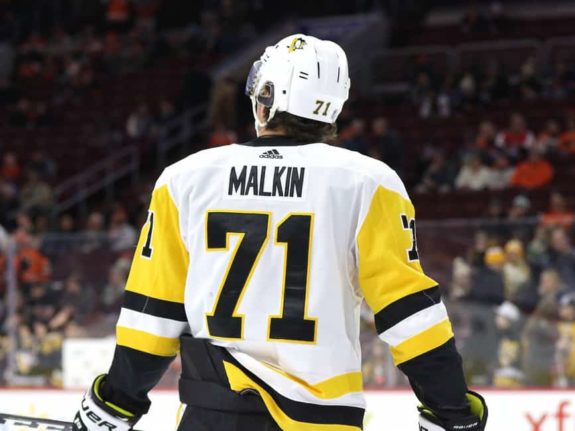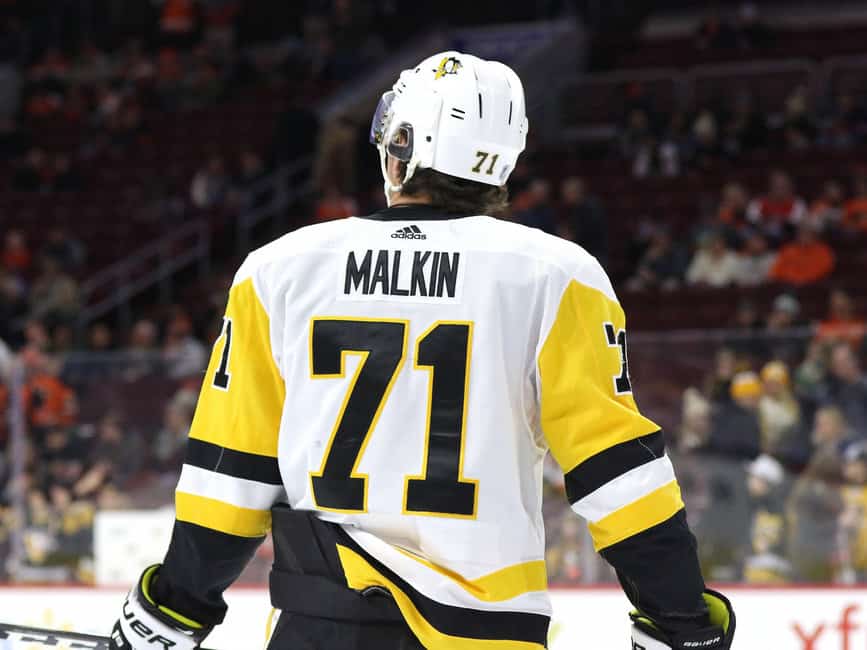 While he has made a great career with a great team, Malkin's individual trophy case is nothing to be scoffed at. He won the Conn Smythe as playoff MVP in 2009, the Art Ross Trophy twice (2009, 2012), Calder Memorial Trophy as the league's rookie of the year in 2007, and the Hart Trophy as league MVP in 2012. There is little to no doubt that someday No. 71 will be retired and remembered forever in Penguins' history.
Sidney Crosby: 87
This one is obvious. Sidney Crosby is one of the best players in Penguins' history and, much like Lemieux, one of the best in league history. The Penguins knew what kind of star player and leader he would be early on when they named him the youngest captain in NHL history. Given the 'C' at age 19, two seasons later he became the youngest captain to hoist the Stanley Cup. Since then, the list of awards and accomplishments has not stopped growing.
He added two more Cups, two Conn Smythe Trophies, two Olympic gold medals, two Hart Trophies, two Rocket Richard Trophies as the league leader in goals, and in 2008, Crosby was even honored by his home province when awarded the Order of Nova Scotia.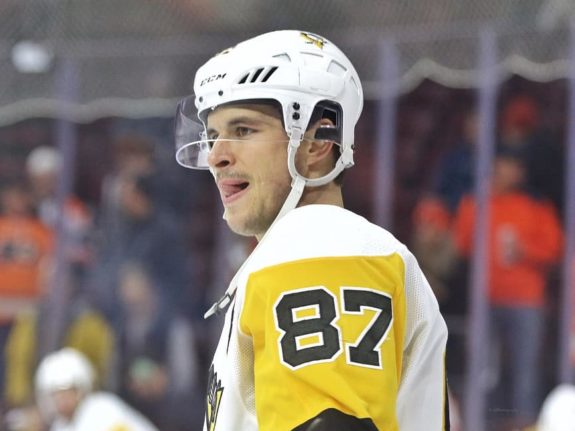 Crosby recently had his No. 87 retired league-wide in the Quebec Major Junior Hockey League, where he played junior hockey with the Rimouski Oceanic. While an NHL-wide retiring might be out of the equation, there is no doubt that what Crosby has meant to the Penguins and the City of Pittsburgh will earn a number retirement with the team.
Numbers That Should Be Retired
These are players who played a big role in the success of the Penguins over the years, but it is questionable if their number will be honored with a retirement.
Ron Francis: 10
Maybe a controversial pick, but Ron Francis was a huge part of the Penguins during the 1990s. When Lemieux was unable to play, whether due to injuries or a first retirement, Francis would step in as the first-line center and team captain. With the organization, Francis scored 164 goals and 449 assists for 613 points. With 100 career postseason points with the team, he was also an important part in winning Cups in 1991 and 1992.
Francis is the last Penguin player to win the Lady Byng Trophy for best sportsmanship and gentlemanly conduct, as well as the only Penguin to win a Selke Award for best defensive forward. Not to mention, he is sixth all-time in team scoring and a Hall of Famer. The number 10 has been worn quite a few times since his departure in 1998, but maybe it shouldn't be worn in Pittsburgh again.
Kris Letang: 58
Setting the standard for all future defensemen to play for Pittsburgh, Kris Letang has become the franchise's best blueliner of all time. His longevity despite a good number of injuries has set himself apart as a top player. Passing Hall of Famer Paul Coffey to lead in every significant defensive scoring category, Letang's numbers won't be easy to reach.
Despite missing half of the 2016-17 season and all of the 2017 Playoffs, Letang has won three Cups and been a top-pairing defenseman for most of his career. He is the only player to ever wear No. 58 in Pittsburgh, and it's very possible that's the way it stays forever. This number retirement might be more likely than the aforementioned Francis, but it is something that might not be set in stone quite yet.
The Penguins have long been an organization that wouldn't retire numbers. Guys like Coffey, Francis, Larry Murphy, and Tom Barrasso came through in the 1990s. Jean Pronovost and Rick Kehoe came before them, all honored by the team in some way, just not in a number retirement. Soon enough, however, that will change. Guys like Crosby, Malkin, and even Jagr will eventually call it quits and will deserve more than just a spot in the Hockey Hall of Fame.
---
---