Heading into Christmas, Tampa Bay Lightning general manager Julien BriseBois has been keeping busy, announcing on the 22nd that the team re-signed Erik Cernak and Jan Rutta to multi-year deals.
First, let's discuss Rutta and his two-year, $2.6 million deal. Since he was acquired in a trade with the Chicago Blackhawks for Slater Koekkoek, the 30-year old Czech defenseman has been a solid depth addition for the Lightning, playing in 47 games with the franchise.
Related: Lightning Championship Film Offers Perfect Closure for Incredible Season
In fact, during the 2019-20 season, Rutta was playing top-pairing minutes with Victor Hedman before suffering a long-term injury. With a cap hit of only $1.3 million, he is a perfect fit for the Lightning, as he is a relatively cheap, versatile, right-shot defender that can play anywhere in their line-up.
Signing Cernak Was a Priority for Lightning
While bringing back Rutta was a smart depth move by BriseBois, getting Cernak re-signed was labeled a priority for the Lightning. As one of their big three restricted free agents needing an extension this offseason, there was some uncertainty about what a new contract would look like for the 23-year-old Slovak defenseman.
Fortunately for the Lightning, Cernak signed a true bridge-deal, taking a three-year, $8.85 million extension carrying a $2.95 million cap hit per season.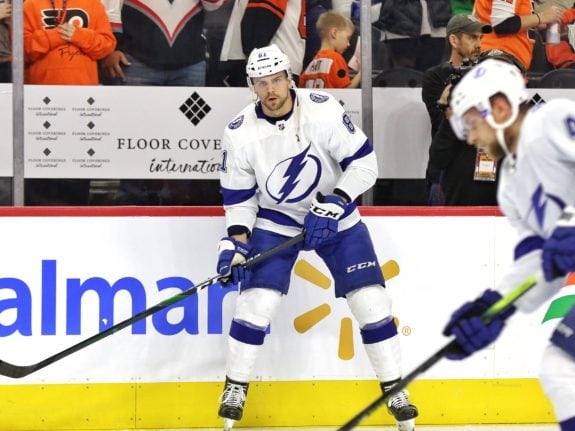 Given everything that Cernak does for the Lightning, that is a great deal for the cap-strapped franchise. Sure, he doesn't show up on the scoresheet often, but he brings all of those intangibles that you need in a top-four defensive defenseman.
For example, Cernak laid down 172 hits in 67 games last season, good for second-most in Tampa Bay. He also averaged the second most time on the penalty kill, playing close to three minutes a night short-handed.
In all, Cernak is a key, young defenseman that the Lightning needed to re-sign to a reasonable cap hit, which BriseBois managed to pull off with this three-year bridge deal.
How Are the Lightning Making These Signings?
Now, I know what everyone is thinking… how are the Lightning making these signings when they were already over the cap?
Related: Dear Santa: Lightning's 2020-21 Wish List
Right now, the franchise sits roughly $6 million above the ceiling after these signing. However, since it is still the offseason, they can be up to 10% over the cap, meaning that they can carry that extra cap-hit temporarily, as long as they keep below roughly $8 million. This gives the Lightning a little bit of wiggle room as they attempt to work out a cap-dump trade with one of the few franchises that have remaining space.
Also, a new wrinkle has emerged with a potential long-term injury to Nikita Kucherov. Recently, the Russian superstar had a shot in his hip to treat a nagging injury from the 2020 playoffs. If he responds well to the shot, then he should be able to play. If not, he may have more work done on his hip that could cost him the entire 2020-21 season.
If Kucherov is unable to play for the 2020-21 season, that means that his $9.5 million cap hit would be placed on Long Term Injury Reserve (LTIR), which could then be used by the Lightning to become cap compliant to start the season.
To put it simply, that would be a bad scenario for Tampa Bay, but it would be a temporary answer for their cap crunch. It also wouldn't open up enough space to sign Anthony Cirelli, their last restricted free agent, so BriseBois will need to trade at least one more player to fit him under the cap.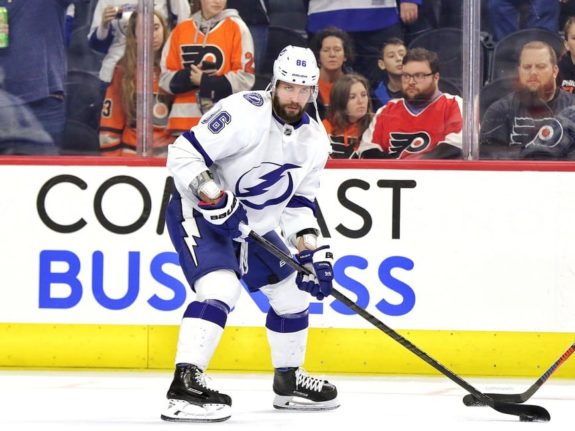 So, with all of this in mind, expect the Lightning to be busy in the lead up to the 2020-21 season. Whether it is Kucherov being placed on LTIR or a significant trade, there will be big news coming from the defending Stanley Cup Champions.
---
---