The '12 Days of Christmas' is a classic holiday song first published in its current form in 1908. In a nod to the classic carol, join The Hockey Writers as we count down the 12 Days of Hockeymas. Each day, we will provide you with a piece of hockey history as we eagerly await the start of the 2020-21 NHL season.
There have been plenty of great defensive pairs in NHL history: Niklas Lidstrom and Brian Rafalski, Paul Coffey and Charlie Huddy, Doug Harvey and Tom Johnson. And, for a brief period at the turn of the century, two future Hall of Fame defensemen coexisted on the roster of the St. Louis Blues.
The combined presence of Al MacInnis and Chris Pronger led to arguably the greatest era in franchise history in St. Louis, bringing about the team's only Presidents' Trophy and one of its four Jack Adams Award victories. From Pronger's arrival before the 1995-96 season until both players' tenures ended after the 2003-04 season, the Blues had one of the most dominant defensive cores in league history. And right in the middle of that era, the pair won back-to-back Norris Trophies.
Al MacInnis Finally Claims James (1998-99)
MacInnis is arguably the single greatest defenseman in franchise history, playing the final decade of his career with the Blues from 1994-2004. Always known for his hard slapshot, he was a terrific all-around defenseman who averaged 27:13 time on ice (ATOI) in his tenure with the Blues.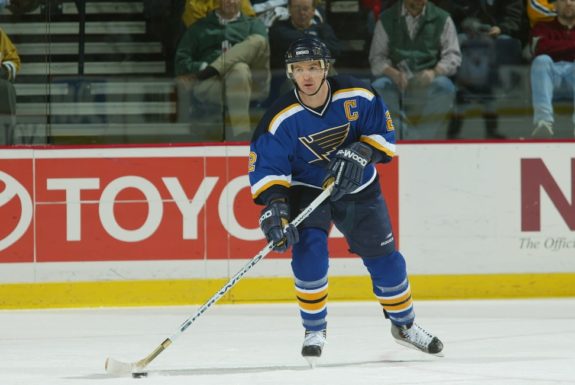 MacInnis' tenure reached its peak during the 1998-99 season. He touched the 20-goal mark for the only time during his Blues' career, and added 42 assists for his second-highest team total. Those 62 points led the league, and his plus-33 plus-minus rating ranked second only to Toronto's Alexander Karpovtsev.
MacInnis' performance was a master class, earning the 35-year-old veteran 54 of 56 first-place votes for the James Norris Memorial Trophy honoring the best defenseman in the league. It was his first and only time winning the award. The great Niklas Lidstrom and Ray Bourque finished second and third respectively, but it was a distant margin. And MacInnis's own teammate would finish in fourth place, but his time at the top would come quickly.
Pronger Wins Norris and Hart (1999-2000)
Not content to be outdone by his veteran defensive teammate, Pronger set his sights on an even higher honor. His numbers that season boggle the mind. With 30:14 ATOI, he led the league by almost 90 seconds per game. He led all defensemen (and the entire league, for that matter) with an absurd plus-52 rating (though Chris Chelios was not far behind at plus-48), and was second to only Lidstrom with 62 points.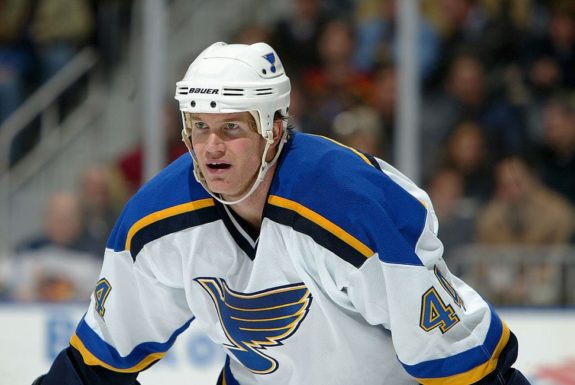 Pronger led the league with 14.8 point shares, an advanced statistic for measuring a player's contribution to his team's place in the standings. But his 9.62 defensive point shares that season represent the second-greatest defensive season ever measured by that metric.
Like MacInnis before him, Pronger ran away with the Norris Trophy voting, taking 565 votes and 53 of 58 first-place votes. Lidstrom's phenomenal season put him in a closer second-place, with Rob Blake and Eric Desjardins trailing behind. But the Norris Trophy wasn't enough for Pronger: with 396 votes to Jaromir Jagr's 395 (but 25 first-place votes to Jagr's 18), Pronger won the Hart Trophy for the League's Most Valuable Player.
Retired Numbers, Hall of Fame
MacInnis and Pronger were just the second defensive teammates to win consecutive Norris Trophies after Tom Johnson interrupted Doug Jarvis' seven consecutive Norris seasons in 1958-59. It's a fitting accomplishment for a pair of future Hall of Fame defenseman. MacInnis was inducted in 2007 and Pronger joined in 2015. Both MacInnis's number 2 and Pronger's 44 will hang in the rafters when the Blues can finally have Pronger's number retirement ceremony. There's no question that both defensemen, the franchise's two greatest, belong up there.
---
---