The NHL is getting faster. Gone are the days when hitting and grinding are enough to compete in the best league in the world. Now, speed and skill reign supreme. For some players, this comes more naturally than others.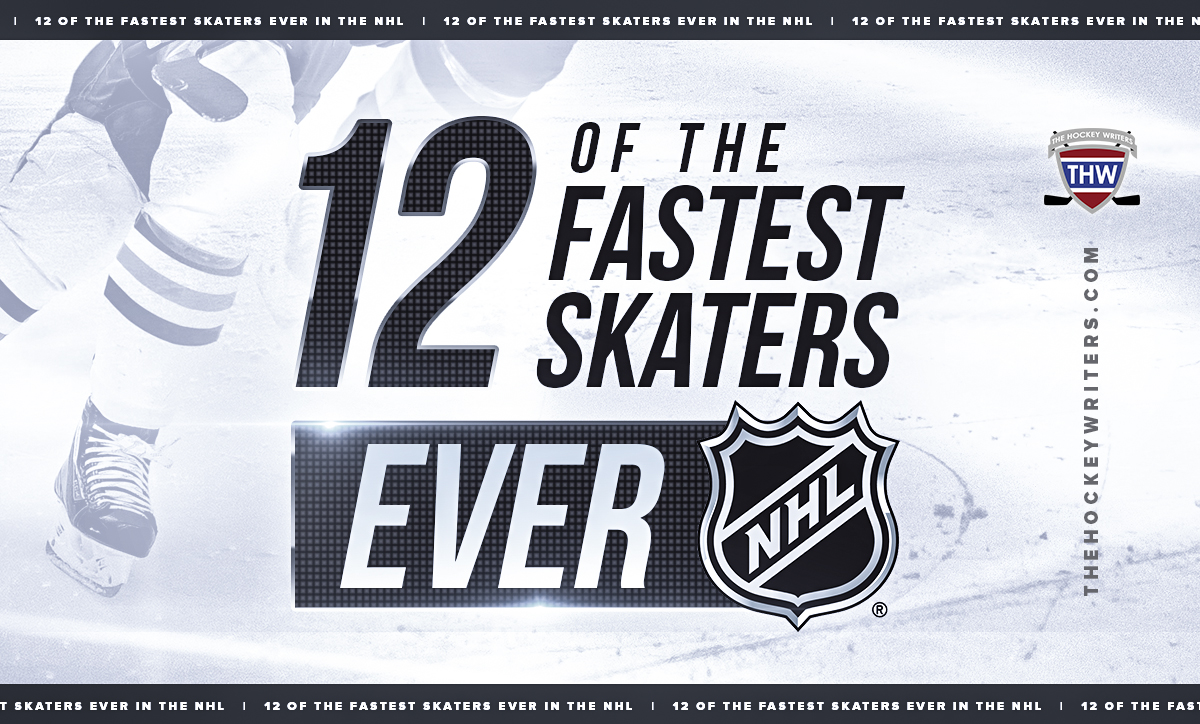 In today's NHL, players have shifted their focus because of this. NHL trainer Matt Nichol noted this shift in focus, "It used to be guys would come into the gym and say they wanted to do a mixed bag of, 'Get stronger, get stronger on the puck, get tougher in the corners.' This, that, and the other. Now all you hear all day long is 'Speed. Speed, I want to improve my speed."
While more and more players in the league are blowing past their opponents, this is nothing the league hasn't seen before. Throughout the history of the league, there have been players who flew through the neutral zone, circled the offensive zone, and left defenders in their snow.

Speed gives players a big advantage because of this. If no one can catch you, they can't take the puck from you. With that in mind, let's take a look back at some of the fastest players in NHL history (alphabetical order).
Peter Bondra, Right Wing
In the 1990s, Peter Bondra became a fixture for the Washington Capitals. The two-time 50-goal scorer participated in the NHL All-Star Game five times through the '90s, and he did it largely based on his speed.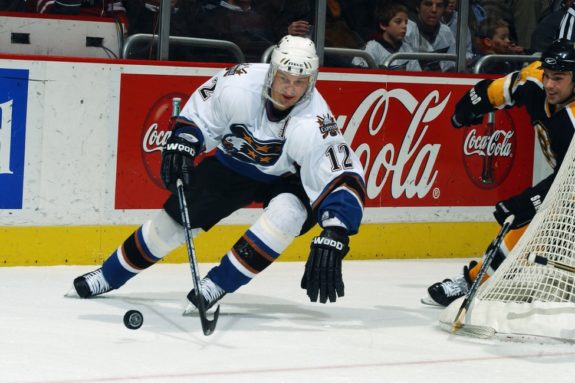 Bondra is a two-time winner of the NHL's Fastest Skater competition, first winning in 1997 with a time of 13.610, and again two years later with a time of 14.64. Bondra was the third player to ever win the competition twice – we'll get to the two others.
---
Latest News & Highlights
---
The "Slovakian Bullet" is one of the most explosive skaters of all time, using his wide stance to make him nearly impossible to knock off the puck. Of course, you'd also have to catch him to do that. Bondra finished his career with 503 goals, 389 assists, and 892 points in 1,081 games.
Pavel Bure, Right Wing
If only Pavel Bure had experienced the offensive overindulgence of the 1980s or the paroled freedom of the game's modern form. A virtual prisoner during an era known for natural-zone traps, Bure still earned the nickname, "Russian Rocket."
Related: Pavel Bure – A Tribute to the Russian Rocket
Like a muscle car stuck in bumper-to-bumper traffic, Bure did his best to skate through the defensive muck. He added a bit of grace to what was a stagnant style across the league. Three times Bure led the NHL in goals and twice topped the 60-goal milestone. Bure was at his best racing with the Vancouver Canucks all the way to Game 7 of the 1994 Stanley Cup Final.
Even in his first shift in the league, he left fans, opponents, and his own team in awe. Teammate Cliff Ronning remembers watching, "I've never seen a guy skate that fast, that confident and go end-to-end. I don't know if you'll ever see it again how fast he skated. I don't know how fast he was going. I don't think anyone's ever skated that fast."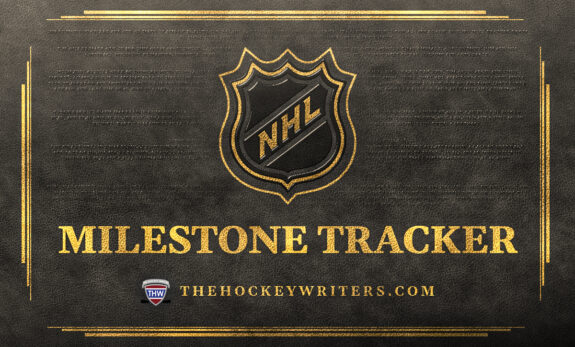 Despite injuries and left-wing locks, Bure managed to register 437 goals among 779 points. He was enshrined into the Hockey Hall of Fame in 2012.
Paul Coffey, Defenseman
There was Bobby Orr and then there was Paul Coffey, two of the best skating defensemen to ever patrol a blue line. A member of the speed-dominated Edmonton Oilers' teams of the 1980s, Coffey skated at full bore by his second step. His top-end speed, which only took him one or two steps to get to, was evident during the Oilers' dynasty years when he often commanded offensive charges.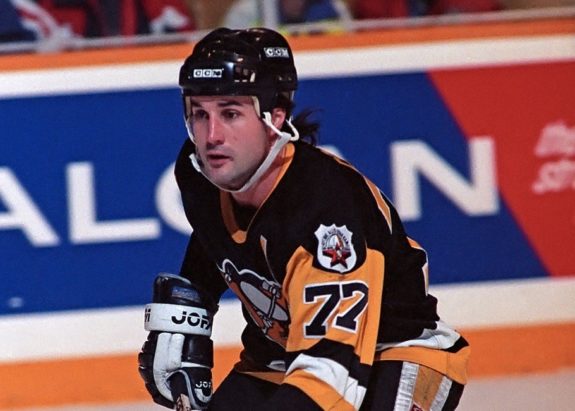 What's interesting about Coffey, is that while he's one of the smoothest skating players of all time, he did it while wearing skates two sizes too small. This apparently gave him the control he needed to fly across the ice. Well, it seems to have worked for him as he holds the mark for most goals in a season by a defenseman (48 in 1985-86) and ranks second in career goals (396), assists (1,135) and points (1,531).
A four-time Stanley Cup champion and three-time Norris winner, Coffey played roles in three titles with the Oilers (1984, 1985 and 1987) and one with the Penguins (1991). Able to outrace forwards, Coffey often collected loose pucks and pinched in the offensive zone to challenge the reflexes of opposing goalies.
Yvan Cournoyer, Forward
Considered by many to be the fastest of the famous "Flying Frenchmen," Cournoyer ignited a Montreal Canadiens attack featuring more than one speed burner. The "Roadrunner" just couldn't be caught.
Chicago Blackhawks defender John Marks described Cournoyer the best during the 1973 Stanley Cup Final. After defeating the New York Rangers, Marks and the Blackhawks faced the Canadiens.
"One step and Cournoyer is gone. I thought I'd be able to skate with him the way I skated with the Rangers, but he's something else. He just disappears on you."
Cournoyer was small (5-foot-7, 175 pounds), agile and quick from the first step. He capped his Hall-of-Fame career with 428 goals and helped propel the Canadiens to 10 Stanley Cup championships during his 15-year career, which ended in 1979. Named one of the "100 Greatest NHL Players," Cournoyer often credited the longer blades he used on his skates for his additional boost.
Sergei Fedorov, Center
A top two-way talent, Sergei Fedorov's speed helped the Detroit Red Wings capture three Stanley Cups (1997, 1998 and 2002). He also earned the 1994 Hart Memorial Trophy. A center who often played the point on power plays, Fedorov was able to quickly drive from one end of the rink to the other and cover plays.
While he didn't have the acceleration that some of the others on this list have, it was his long, powerful stride that left defenders spinning. This high top speed is what helped Federov win the first NHL Fastest Skater Competition in 1992 with a time of 14.363, and then become the first player to win it twice in 1994 with a time of 13.525.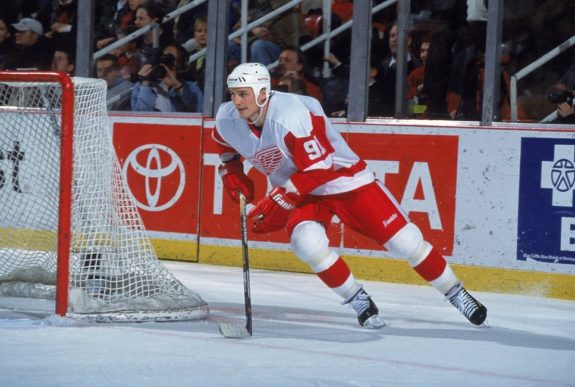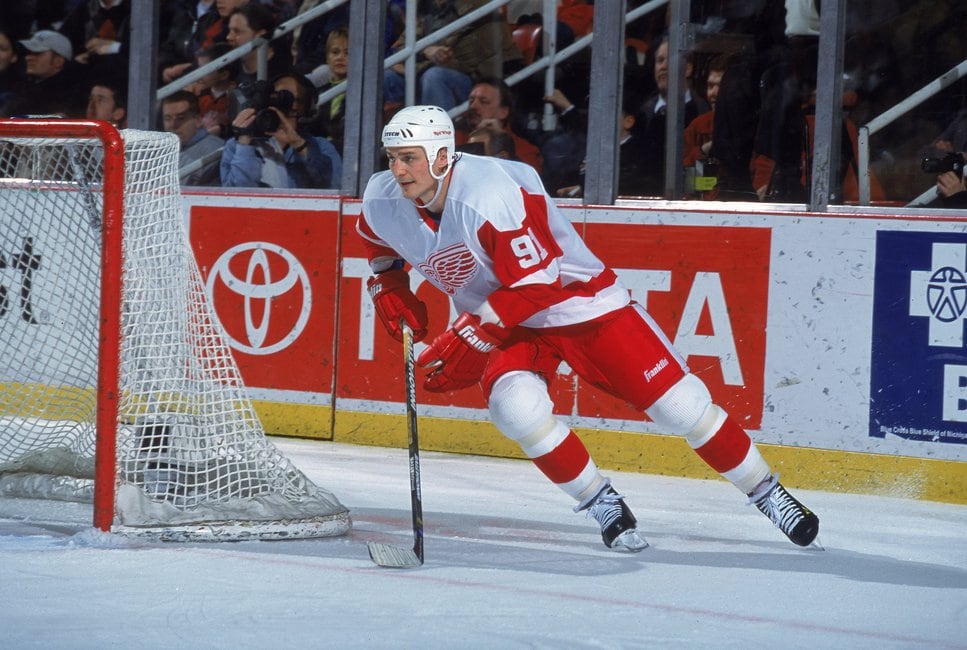 On offense, Fedorov's quick stride consistently created space between the puck and defenders. The 2015 Hockey Hall of Fame inductee collected 483 goals and 696 assists in 1,248 career games with the Wings, Anaheim Mighty Ducks, Columbus Blue Jackets and Washington Capitals.
Fedorov endured a cloak-and-dagger beginning to his NHL career. In 1990, he escaped the Iron Curtain and was smuggled out of Russia by Red Wings officials. Fedorov's speed was so enticing, the Red Wings dared to execute the Cold War mission and pioneered the wave of Europeans currently competing in the NHL.
Mike Gartner, Right Wing
Mike Gartner was generally known as the fastest skater in the NHL while he played. Gartner was exhausting. Just ask any defender who attempted to match stride-for-stride with him. In his 30s, Gartner captured two of the NHL's Fastest Skater competitions in 1993 with a time of 13.510 and in 1996 with a new record of 13.386. The mark stood for 20 years.*
Gartner's speed helped separate himself from defenders, gaining enough space to collect 708 goals among 1,335 points in 1,432 games. He maintained his elusive speed throughout his career, scoring 30-plus goals for 15 consecutive seasons.
Related: Hall of Famer Mike Gartner
If Gartner exhausted opponents, imagine how difficult it was for his linemates to match strides with the 2001 Hockey Hall of Fame inductee? Talk about exhausting.
Bobby Hull, Left Wing
Some players are fast skaters. Some players have a hard shot. Few, if any, possess the combined talents at such elite levels, like Bobby Hull. It's little wonder opposing coaches often assigned two defenders to guard the "Golden Jet."
In 1968, Popular Mechanics released a story that Hull reached speeds of 47.8 kilometres per hour (29.7 miles per hour). Whether the math behind that is correct or not, there's no questioning that he lived up to his nickname.
One of the NHL's most polarizing personalities, Hull tested league and team boundaries with his off-ice antics. He even jumped to the WHA in 1972 over a salary spat and became a $1 million (plus) man. During his 23-year professional career, Hull claimed the Hart Memorial Trophy twice and Art Ross Trophy three times.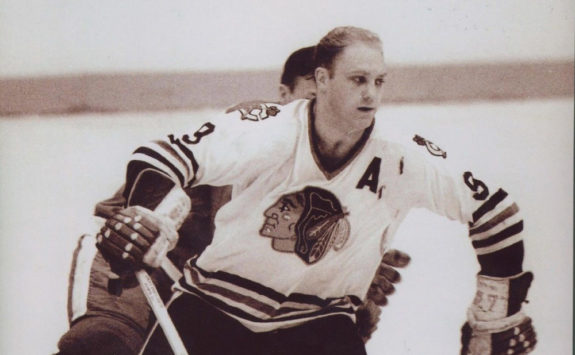 Hull led the Blackhawks to the 1961 Stanley Cup and the WHA's Winnipeg Jets to three Avco Cup titles (1976, 1978 and 1979). He scored 610 NHL goals and 303 WHA goals, including a 77-goal season in 1974-75. Hull led the league in goals seven times. He is the only player to accomplish the feat.
Sami Kapanen, Left Wing
Not as big a name as some of the others on this list, Sami Kapanen needs to be mentioned as one of the fastest players in the history of the game. One of just six players to ever win two of the NHL's Fastest Skater competitions, with times of 13.649 in 2000 and 14.039 in 2002. Kapanen had bested those numbers though, once recording a lap of 12.7 seconds.
The father of former Toronto Maple Leaf Kasperi Kapanen played in 831 games in his NHL career, scoring 189 goals, 269 assists and 458 points. So far, it looks as though his speed has been passed down to his son.
Connor McDavid, Centre
If there's one player that is currently playing in the NHL that deserves to be on this list, it's Connor McDavid. McDavid is the first player to win back-to-back NHL Fastest Skater competitions and the first to win three – and he did so consecutively. His three winning totals are the first, second and fourth times in the event all-time at 13.310, 13.378, and 13.454.*
With new technologies now available, Sportsnet broke down McDavid's speed – a speed that crosses 40 kilometres an hour (40.9 and 25.4 miles per hour). The Edmonton Oilers' captain wouldn't be able to skate through school zones.
McDavid's speed has his peers across the league stumped. They can't keep up with him, they can't catch him, and they can't figure out what to do with him.
Washington Capitals' centre Evgeny Kuznetsov: "The way he skates, it's something impossible, right?"
Winnipeg Jets' forward Mark Scheifele: "He glides faster than a lot of us skate."
Dallas Stars' captain Jamie Benn: "I don't know how he does it."
Even Coffey's jaw dropped when he first saw McDavid blowing past defenders."What the hell was that?" Coffey asked. "That McDavid looks like he's in another league."
To which Wayne Gretzky responded, "Paul, you used to do that every other game."
McDavid credits his speed and skating to rollerblading growing up. He went from ice skates to inline skates and back. It seems to work, as the superstar is already arguably the best, or at least the fastest, skater of all time.
Scott Niedermayer, Defenseman
When one thinks about graceful skaters, Niedermayer instantly comes to mind. A two-time winner of the NHL's Fastest Skater competition (13.560 in 1998 and 13.783 in 2004), Niedermayer's speed fueled four Stanley Cup championship drives with the New Jersey Devils and Anaheim Mighty Ducks.
When one thinks of Niedermayer's style, "fluid" is often utilized to describe the 2004 James Norris Memorial Trophy winner. The precision of the plays he executed while at top speed prevented opponents from keeping pace. Pinching in to make an offensive play as he often did, Niedermayer had enough speed to blaze his way back to defend a play at the other end of the ice.
Voted as a member of the "100 Greatest NHL Players," the Hall-of-Famer played in 1,263 career games, scoring 172 goals, 568 assists and 740 points.
Bobby Orr, Defenseman
When Bobby Orr entered the NHL in 1966, he was a blur. From Point A to Point B, no one could get there quicker. Orr's skating ability is legendary. He revolutionized his position and modernized the sport with each smooth glide. He was true athletic poetry in motion.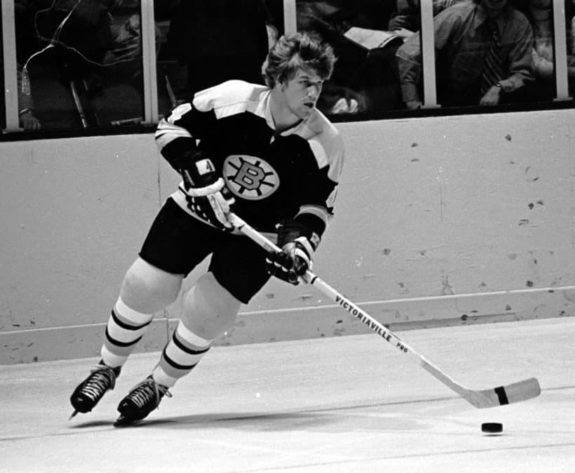 Orr was the first true offensive defenseman. He often led Boston Bruins forwards down the ice for scoring chances. He compiled a record 139 points in 1974-75, the season before suffering a major knee injury.
Related: Bobby Orr's Landmark Season
In his prime, Orr earned the popular vote for being the fastest skater ever. It's a true shame he retired at 30 because of recurring knee issues and couldn't play on. Just recall the buzz-haired wonder zipping around the ice. His speed couldn't be matched or duplicated. It was such a thing of beauty.
Maurice Richard, Right Wing
Early in his career, Maurice Richard was known as "The Comet." Later, teammate Ray Getliffe joked Richard "went in like a rocket" when he charged the net for scoring opportunities. Local media members heard the quip and ran with "The Rocket." A legend was born.
Honoured as one of the "100 Greatest NHL Players," Richard's speed and tenacity drove him to become the first skater to score 50 goals in a season (1944-45) and reach the 500-goal milestone. Over his 18-year career, all with the Canadiens, Richard scored 544 goals and played a role in eight Stanley Cup championships.
Related – Maurice "Rocket" Richard: More than Just a Game
Richard's swiftness allowed him to bolt around defenders and his agility prevented them from pausing his progression toward the net. Named to 14 NHL All-Star Teams, Richard earned the 1947 Hart Trophy after scoring 45 goals in just 60 games.
Honourable Mentions (Alphabetical)
Syl Apps, Bob Bourne, Andrew Cogliano, Marian Gaborik, Michael Grabner, Carl Hagelin, Erik Karlsson, Guy Lafleur, Dylan Larkin, Frank Mahovlich, Alexander Mogilny, Howie Morenz, Gilbert Perreault, Teemu Selanne.
*In 2012, 2015, and 2016, Carl Hagelin, Jonathan Drouin and Dylan Larkin set what would be the top-three all-time records in the NHL Fastest Skater competition. However, in these three years, players were given a head start to the red line, where the timer started. In all other years, players started from a standing position.
---
Sign up for our NHL History Substack newsletter

---