As you might expect, not only have these select few attained the ultimate, lofty benchmark of goal-scoring glory, but they've also done some pretty extraordinary other things. Scoring 500 regular-season goals in the best hockey league in the world is a highly significant achievement in itself. Along the road to 500, these guys have also accumulated some amazing distinctions that help define their spectacular careers.
47 Members in the Exclusive 500-Goal Club
Below are the top 47 goal scorers in NHL history presented in reverse chronological order by date when they scored their 500th goal. If you are an avid hockey fan, chances are you already know something distinctive about these guys. It's the additional anecdote placed next to their names that may raise an eyebrow.
---
Latest News & Highlights
---
You talk about records that will never be broken. I'd be really surprised if anybody ever duplicated some of the feats you'll find here. If you like hockey trivia, you'll love some of these. Although, many of these triumphs are well beyond mere trivial in status. You decide.
Steven Stamkos – January 18, 2023
Steven Stamkos became the 47th player to achieve 500 career goals and just the first player to achieve the feat with the Tampa Bay Lightning when he hit the milestone on Jan. 18, 2023. Stamkos also scored a hat trick in the same game to help the Lightning to a 5-2 victory against the Vancouver Canucks. Stamkos has long been one of the most prolific goal-scorers on the planet and has been as effective of a player as they come since being drafted first overall in 2008. He's also the 10th player in history to be selected first overall and score 500 career goals.
Stamkos is also just the third active player in the NHL to have joined the 500-goal club alongside Sidney Crosby and Alex Ovechkin.
It took Stamkos 965 games across 15 NHL seasons to join the 500-goal club. He has scored upwards of 20 goals 12 times so far in his career, 30 goals once, 40 goals four times, 50 goals once, and 60 goals once. Very few players have hit the 60-goal mark in a single season in NHL history and Stamkos is one of the elite few.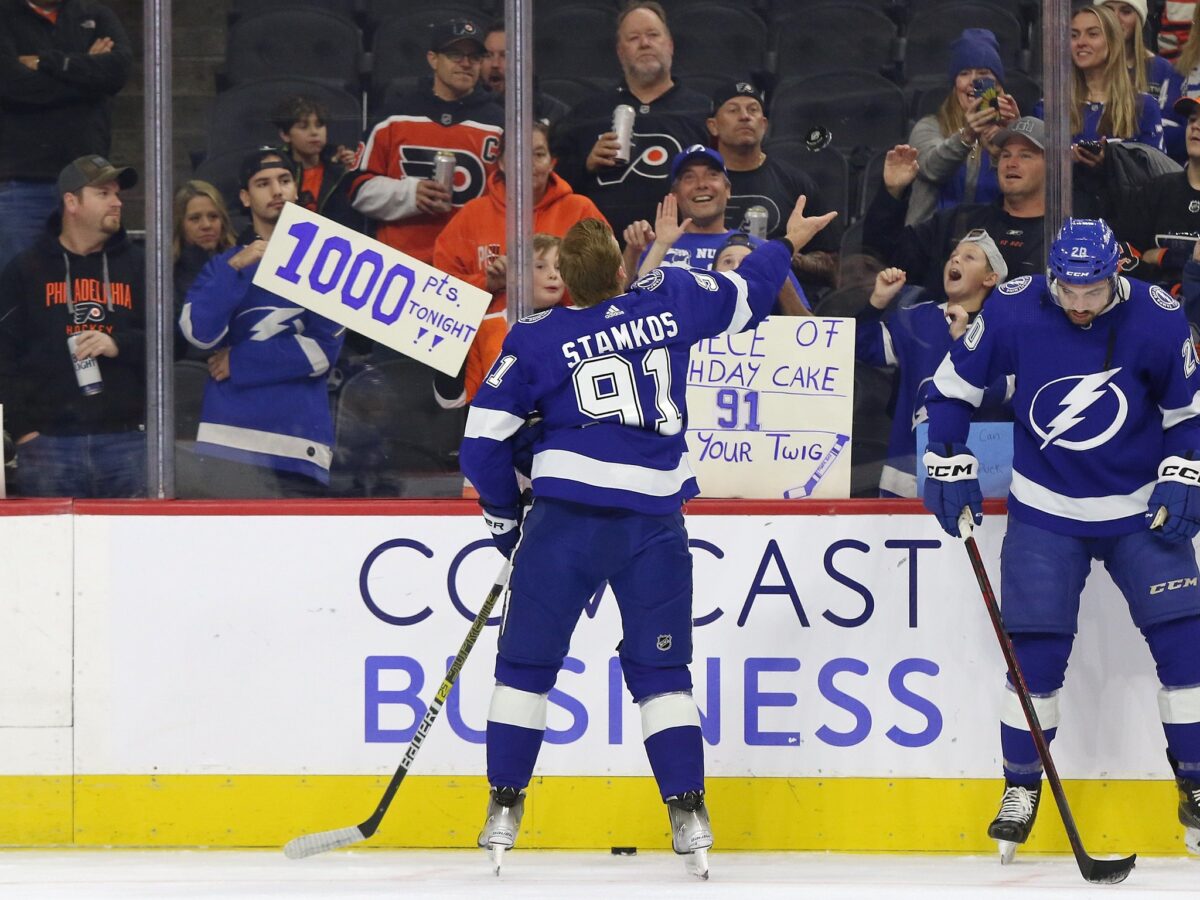 Stamkos is a two-time Maurice "Rocket" Richard Trophy winner, having led the NHL in goals in 2009-10 and again in 2011-12. He's also a two-time Stanley Cup champion, having won hockey's top honors in 2020 and 2021.
Sidney Crosby – February 15, 2022
Sidney Crosby became the 46th player in NHL history to reach the 500-goal mark and only the second player in Pittsburgh Penguins history to reach the milestone behind Mario Lemieux.

Joining the league with tremendous hype and fanfare surrounding him back in 2005, Crosby would live up to all of the expectations and surpass them.
A three-time Stanley Cup champion, Crosby has won the Rocket Richard Trophy for pacing the league in scoring in a single season on two separate occasions. He's also a two-time Art Ross Trophy winner, a two-time Hart Memorial Trophy Winner, a two-time Ted Lindsay Trophy winner, a two-time Conn Smythe Trophy winner and has won both the Lester B. Pearson and Mark Messier NH Leadership Awards once each.
Patrick Marleau – February 2, 2017
Patrick Marleau is the all-time Sharks leader in goals, even-strength goals, power-play goals, points, shots, and games played having spent most of his NHL career with the Sharks since being drafted second overall by the franchise in the 1997 NHL Entry Draft. He was the youngest player in the 1997 draft class, and he debuted immediately at the start of the 1997–98 season. This conceptually makes him the youngest player to ever play in the NHL.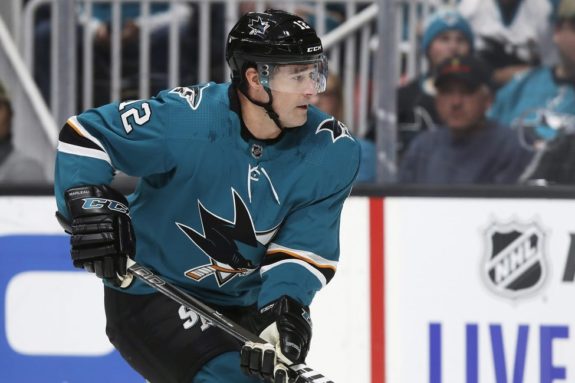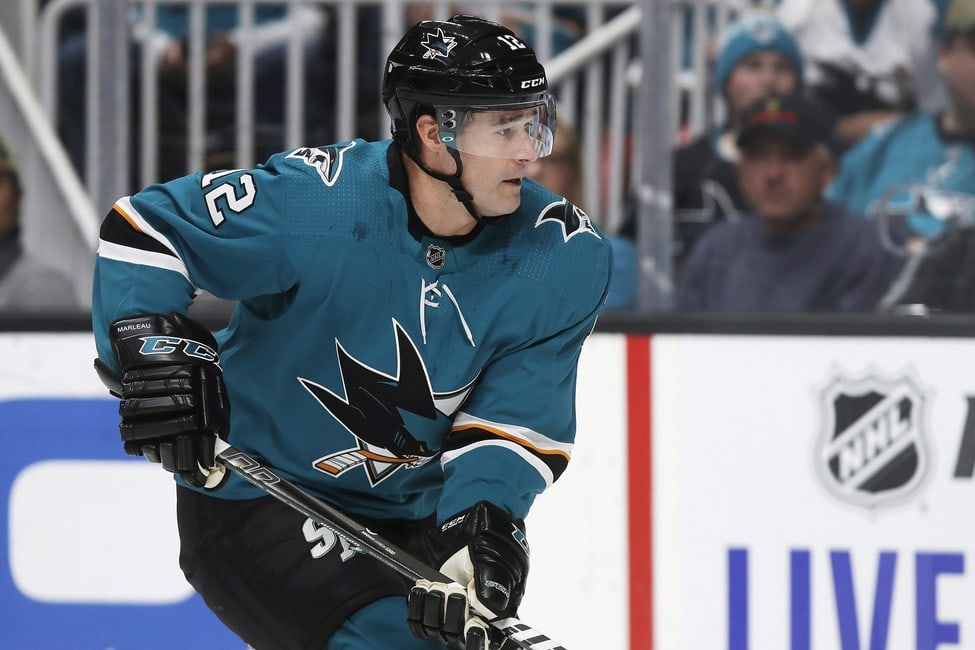 Let us explain, thanks to Wikipedia and Hockey's Future.com. In the modern draft era, it would be impossible to debut at an earlier age than Marleau, as he was born on the last day of the draft cut-off, and he debuted immediately in the first game of the next season.
Marian Hossa – October 18, 2016
Marian Hossa made five NHL All-Star Game appearances and played in three consecutive Stanley Cup Finals with three different teams, finally winning the Stanley Cup in 2010 with the third team, the Chicago Blackhawks. Hossa also grew up with Marián Gáborík and Zdeno Chára in Trenčín, and remained close friends with them through his NHL career. Trenčín honored the trio by naming a street after each skater in 2015.
Alexander Ovechkin – January 10, 2016
Alexander Ovechkin (Александр Михайлович Овечкин for those fluent in Cyrillic) has the most goals out of anyone in the NHL since he came into the league during the 2005-06 season. Ovechkin has led the NHL in goal scoring and won the Rocket Richard Trophy nine times in his career. You can add three Hart Memorial Trophies, three Lester B. Pearson Awards, and an Art Ross Trophy to his case as well. On January 11, 2017, Ovechkin scored his 1,000th career point, becoming the 37th person in NHL history to reach 1,000 points with only one team.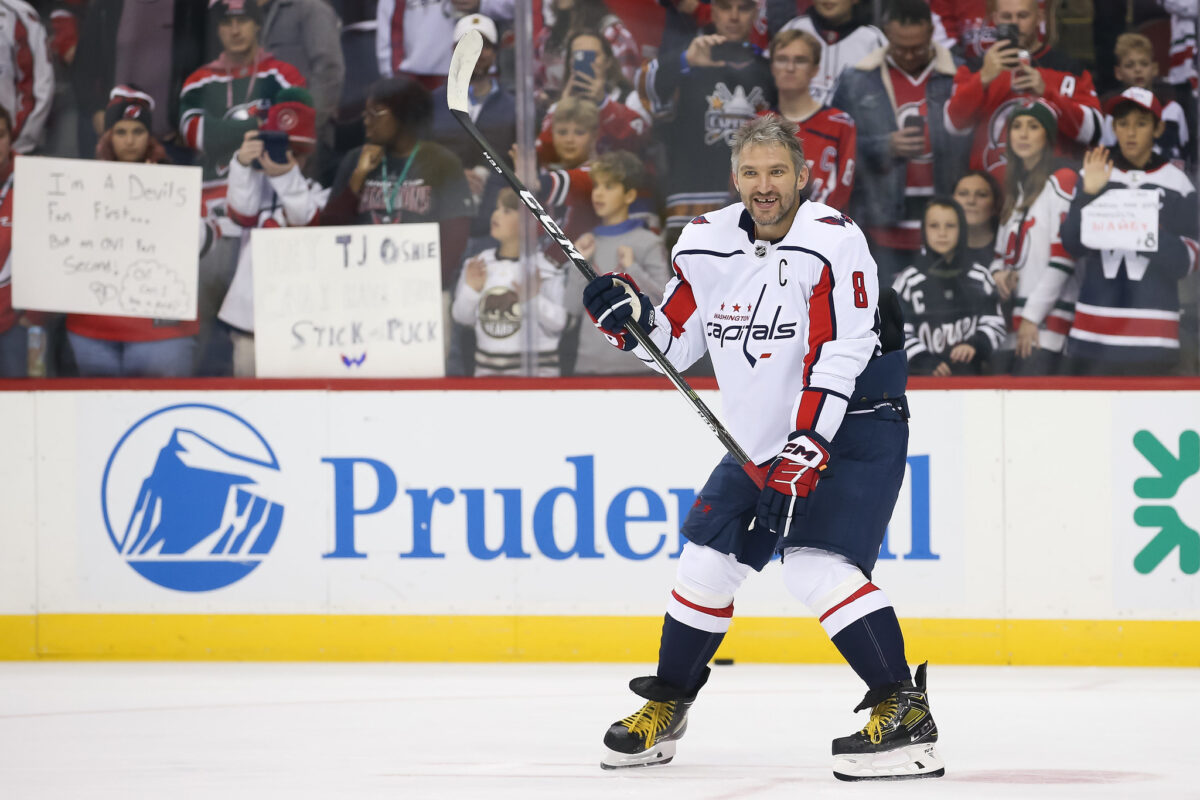 Ovechkin has since surpassed that and the 800-goal mark and is second all-time.
Jarome Iginla – January 7, 2012
Jarome Iginla (or Jarome Arthur-Leigh Adekunle Tig Junior Elvis Iginla as he's known back home in Edmonton) made his NHL debut in the 1996 Stanley Cup Playoffs, as he was signed to a contract and flown to Calgary immediately after his junior season ended in Kamloops. He appeared in two games for the Flames in their series against the Chicago Blackhawks. In his first NHL game, Iginla assisted on a Theoren Fleury goal to record his first point —  he scored his first goal in his second game.
He also received one of the best compliments ever when former Calgary Flames general manager Craig Button described Iginla as being grounded: "He doesn't carry himself with any attitude or arrogance. He's confident in his abilities. He's self-assured. He's genuine. He's a better person than he is a player, and we all know what kind of player he is." (from 'FANNING THE FLAMES Jarome Iginla becoming hottest ticket in Canada,' NY Daily News, 10/06/2002)

Keith Tkachuk – April 6, 2008
During the 1996-97 season, Keith Tkachuk took the most ever penalty minutes by a player who led the league in goals. Although he managed to score 52 goals and take the goal-scoring title, he also picked up 228 minutes in penalties. That's the equivalent of 3.8 games passing time in the penalty box, most ever in one season by a goal-scoring leader.
Jeremy Roenick – November 10, 2007
You might already know that Roenick is one of only four American-born players to score 500 goals in the NHL. Another more significant note is related to how some of these 42 great players also helped fellow members of the 500-goal club attain their milestones. Long before he scored number 500 himself in 2007, Roenick assisted on Michel Goulet's 500th. The two were Blackhawk teammates in 1992.
Mike Modano – March 13, 2007
Mike Modano is the all-time goal-scoring and points leader in the NHL amongst American-born players, regular season and playoffs. On April 12, 1994, Mike Modano and Brendan Shanahan became the only two opposing players in NHL history to score their 50th goal of the season in the same game. Odd!
Mark Recchi – January 26, 2007
Mark Recchi finished his career seventh in all-time regular-season games played in the NHL (1,652). He also finished with 577 goals, 21st all-time.
Peter Bondra – December 22, 2006
On Feb 5, 1994, Bondra scored the fastest ever four consecutive goals. He fired a total of five that night, but four of them came in just 4:12. Explosive! Daren Puppa of Tampa Bay was the goalie. He never knew what hit him. Think about it, a goal per minute for four straight minutes. Not even Gretzky could do that playing pond hockey.
Teemu Selanne – November 26, 2006
Before he was 23 years old, Teemu Selanne completed a goal-scoring feat that will never be broken. But you say, "records are made to be broken" and "never say never." Nevertheless, I'm pretty certain nobody in our lifetimes will duplicate the "Finnish Flash's" 76 goals by a rookie in 1992-93.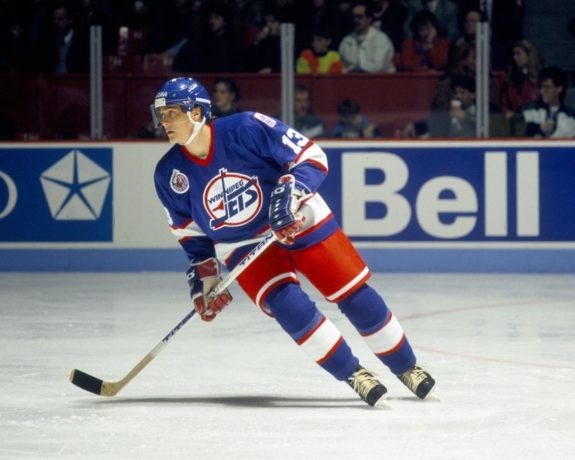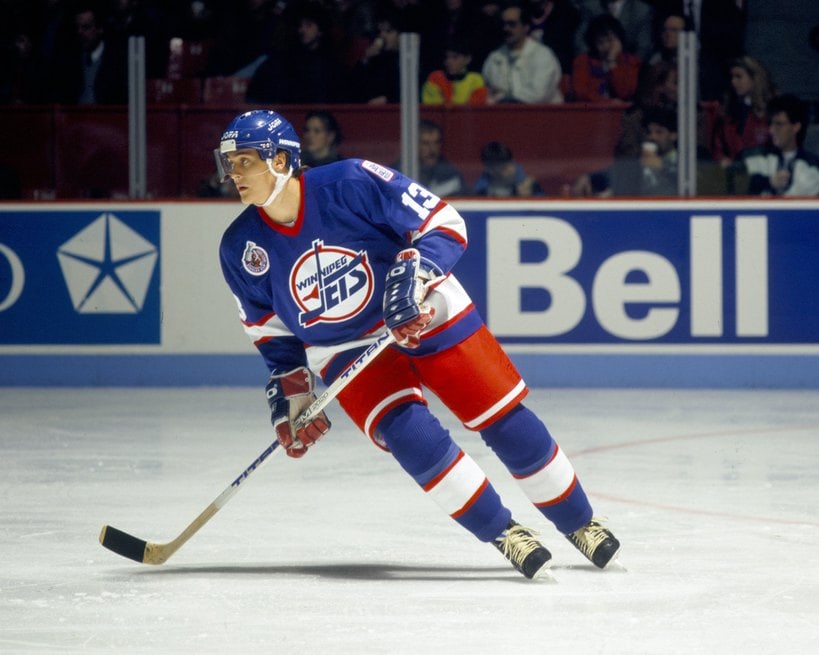 In that season, Selanne scored 20 goals in March, most ever by anyone in a calendar month.
Mats Sundin – October 14, 2006
Mats Sundin scored his 500th goal in October 2006 and I doubt anyone will ever duplicate the dramatic circumstances surrounding his triumphant goal. Sundin scored in overtime, shorthanded as he completed a hat trick. Regrettably, he is one of only four members of the 500-goal association to never have played in a Stanley Cup Final series, let alone win a Cup.
Pierre Turgeon – November 8, 2005
Pierre Turgeon was still only 17 years old when he was drafted 1st overall in 1987. Although he scored his 500th NHL goal in 2005, he too became an unofficial member of hockey's elite scoring fraternity when he assisted on Brett Hull's 500th goal in 1996.
Jaromir Jagr – February 4, 2003
Jaromir Jagr enjoyed an unbelievable NHL career. His list of personal and team accomplishments make for a near-complete hockey resume, including his 766 regular-season goals.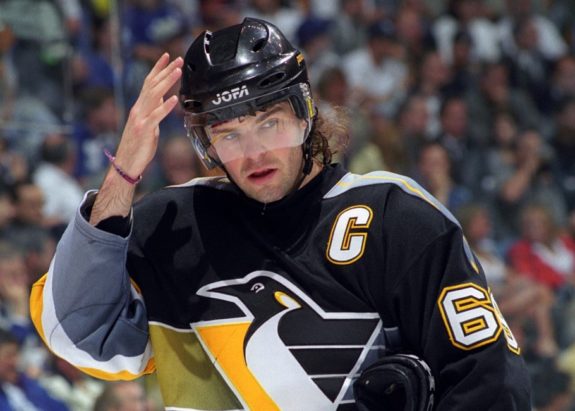 Did you know that in the seven games he played between October 16 and November 4, 1999, Jagr either scored or assisted on every single goal his Penguins scored? (seven goals, eight assists). That's ridiculous!
Joe Nieuwendyk – January 17, 2003
Apart from scoring 500, Joe Nieuwendyk also belongs to another exclusive goal-scoring club. He's one of only five players in NHL history to score 50+ goals in their rookie season. In that 1987-88 season, Nieuwendyk scored 31 of his 51 goals (60.8%) on the power-play, most ever by a 50-goal scorer. Joe was a winner almost everywhere he went. He won three Stanley Cups with three different teams in three different decades.
Joe Sakic – December 11, 2002
Joe Sakic holds an NHL record that should belong to him exclusively for many, many years. Sakic scored eight overtime game-winning goals in the playoffs. Outstanding! The next closest is Maurice "Rocket Richard" who held the record at six for nearly half a century until Sakic passed him. This record alone is a powerful testament to Sakic's greatness with the game on the line.
Brendan Shanahan – March 23, 2002
Prolific goal-scorers love to put the puck in the net and they're ready to strike at any time. Brendan Shanahan is one of only two NHL players in history to record a hat trick in two separate season-opening games.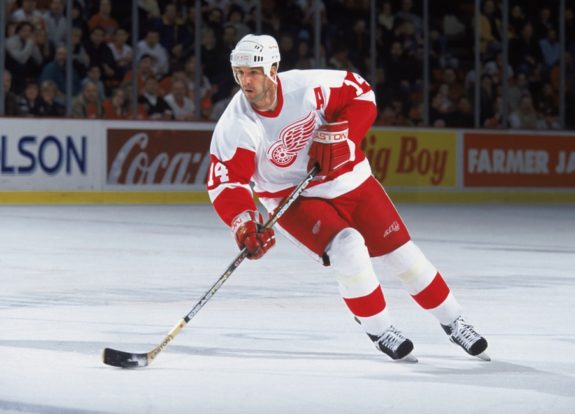 The second time was on opening night, October 4, 2001, when he completed his trio of goals in overtime while the Red Wings were shorthanded. After one game, he was on pace to score 246!
Ron Francis – January 2, 2002
We all know how valuable Hall-of-Famer Ron Francis was almost everywhere he played. His 1,731 games are fifth-most ever. There are a few members of the 500-goal club that never had a 50-goal season. Oddly, Francis never even had a 40-goal season. His total career goals are most ever by a player who never scored 40 in any one season. In fact, his highest output was just 32 goals in 1989-90. It was thanks to his consistency and durability that he was able to score 549 goals in his long, illustrious career.
Pat Verbeek – March 22, 2000
Pat Verbeek scored 522 regular-season goals over 20 seasons in the NHL. Imagine how many he might have scored if he didn't spend the equivalent of 48 games in the penalty box. His 2,905 PIMs are the most by a 500-goal scorer. The "Little Ball of Hate" had one of his thumbs cut off in an off-season farming accident early in his career. His father found it, wrapped it up and brought it to the hospital where it was successfully sewn back on. And Verbeek still went on to score over 500 goals. Incredible!
Luc Robitaille – January 7, 1999
Like most 500-goal scorers, "Lucky" Luc Robitaille (27), has a well-stocked trophy cabinet and owns many NHL and L.A. Kings franchise records. Including Robitaille, the 2002 Detroit Red Wings won a Stanley Cup with four 500-goal scorers on the team, the most ever. Regular season overtime was reinstated in 1983 and in 1989, Luc Robitaille became the first player to take a penalty shot in regular season overtime. He didn't score.
Dave Andreychuk – March 15, 1997
Dave Andreychuk is the NHL's all-time leader with 274 power-play goals. He won a Stanley Cup with Tampa Bay in 2004, but it was a while in waiting in his NHL career. Andreychuk played 1,759 regular season and playoff games before winning Cup, more than anyone, ever. At age 40 years, seven months, he was the oldest player ever to make his Stanley Cup Final debut. Andreychuk scored 640 goals and yes, he has a Cup ring.
Joe Mullen – March 14, 1997
Joe Mullen became the first American–born player to score 500 in 1997. Mullen holds the distinction of being the only player in NHL history to have a penalty shot goal disallowed. Huh? Apparently his stick was measured after he scored and it was found to be illegal. NO GOAL! This had never happened before and the rule has since been changed so it will probably never happen again. Bizarre, but all kinds of things can happen when there's a natural goal scorer around.
Brett Hull – December 22, 1996
Brett Hull may have been one of the most outspoken and controversial 500-goal scorers, but he made the Hall-of-Fame nonetheless. It's somehow fitting that a player who scored 741 NHL goals would score the very last goal of the 20th century. On December 31, 1999 at 9:30 pm Central Time, Hull tallied his 601st NHL goal. He scored his 600th earlier in the same game.
Dale Hawerchuk – January 31, 1996
There have been seven rookies in NHL history to put up 100-points or more in their first season. Dale Hawerchuk was the first to do it in 1982. He was also the first 18-year-old to record 100 points in the NHL. Too bad he retired at the relatively young age of 34.
Steve Yzerman – January 17, 1996
Steve Yzerman scored every one of his 692 career goals with the Detroit Red Wings. He was named team captain in 1986 at the age of 21 and served in that capacity for the next 20 years. When he retired, he had been the longest-serving captain of any team in North American major league sports history. That's loyalty!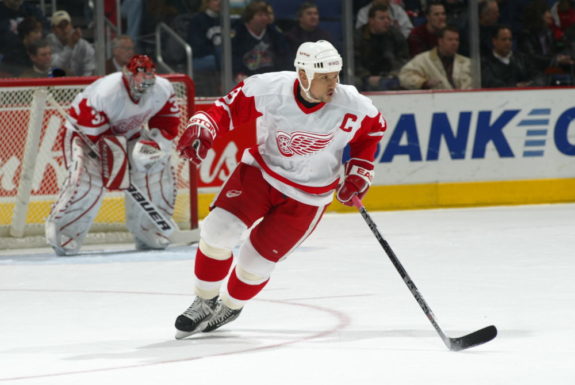 Mark Messier – November 6, 1995
Among other things, everyone knows that Mark Messier was one of the greatest players to ever play the game. His all-time stats prove it. He's the only professional athlete to have captained two different championship teams. Yeah, most real hockey fans already know that.
Did you know that Messier was the last active player that had played in the 1970s? Also interesting is the fact that to this day, Messier is second only to Gretzky in playoff goals scored ,122-109. But his teams missed the playoffs for the last seven seasons of his career! Just think of what might have been had he finished his playing days in say, Detroit, Ottawa, San Jose or Philadelphia.
Mario Lemieux – October 26, 1995
If we're going to play "what if", then there's no one more suitable to speculate with than Mario Lemieux. For an all-time record holder in so many categories, "The Magnificent One" only played 915 regular season games, a limited number for a superstar of his era. In 1988-89, the Pittsburgh Penguins scored 347 goals.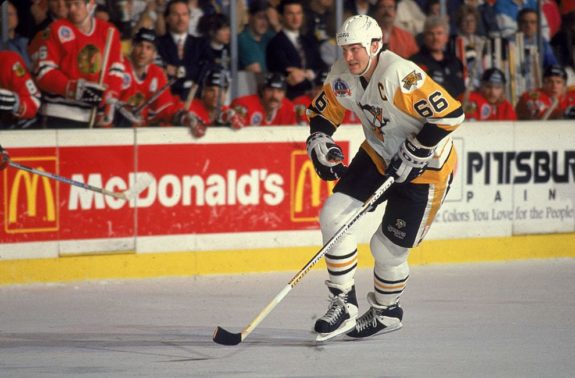 Mario won the scoring title that season with 199 points. That means he was in on 57.3% of Pittsburgh's total offence. Incredible! He even missed four games due to injury. Yes, 57.3% is an NHL record.
Dino Ciccarelli – January 8, 1994
It's about time the NHL recognized Dino Ciccarelli for his extraordinary hockey accomplishments. He is one of the most talented NHL'ers to never win a Stanley Cup. Nevertheless, his 608 regular-season goals put him amongst the all-time leaders. Ciccarelli established a playoff record in 1981 that nobody to date has even come close to. His 14 goals as a rookie helped the Minnesota North Stars advance all the way to the Stanley Cup Final.
Jari Kurri – October 17, 1992
Riding shotgun for Wayne Gretzky all those years didn't exactly hinder Jari Kurri's production. He scored 71 goals in 1984-85, the most ever by someone who didn't win the goal-scoring title. He continued to do quite well, thank-you, after Gretzky's departure to L.A. and ended his NHL career with 601 goals. Kurri (not Gretzky) holds the record for the most ever playoff goals for one team. Between 1981 and 1990, Kurri potted 92 postseason goals for the Edmonton Oilers.
Michel Goulet – February 16, 1992
A severe concussion forced Michel Goulet into early retirement in 1994 but not before this natural-born sniper had amassed 548 NHL goals. In 1983-84, 16 of Goulet's 56 goals or 28.6% were game-winners, most ever by a 50-goal scorer. To put this amazing statistic into appreciative perspective, the next best that season was Gretzky. He had 87 goals but only 11 were game-winners.
Mike Gartner – October 14, 1991
Mike Gartner is one of only six players in NHL history to score more than 700 goals. He's the only player ever to bag 30 or more in one season with five different teams and holds the record for the most 30-goal seasons (17). Gartner never won the Stanley Cup nor did he ever even play in a Cup Final. He never won any major NHL award, never won a scoring title, and was never named to the postseason All-Star Team. All he did was score and score consistently. It got him into the Hall of Fame.
Bryan Trottier – February 13, 1990
Bryan Trottier was a core player of the Islanders dynasty of the early 1980s. He accumulated a ton of team and individual silverware in his career. There are a couple of incredible details in Trottier's career that stand out and make him one of the best clutch players of all time. Between 1980 and '82, Trottier recorded at least one point in 27 consecutive playoff games over three playoff seasons. Think about that for a second. It's truly astounding!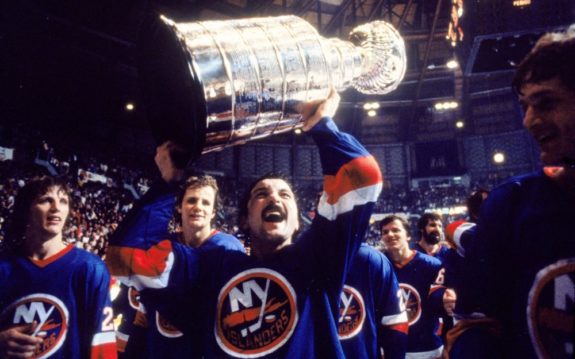 His closest rival in this category was Gretzky at 19. Trottier also stands alone as the only player in NHL history to record six points in one period (three goals, three assists) on Dec 23, 1978. Nobody before and nobody since has done it.
Lanny McDonald – March 21, 1989
Lanny McDonald scored exactly 500 goals in the NHL. One particularly spectacular season contributed handsomely to his final goal total. In 1982-83, McDonald scored 66 times, second only to Gretzky. Amazingly, Lanny did not reach 100 points that season. Earlier in his career, more specifically on Apr 17, 1977, he became the first player to score four goals in a playoff game in a losing cause. His Leafs lost 6-5 to the Flyers. McDonald's sweater number nine was the first to be retired by the Calgary Flames.
Wayne Gretzky – November 22, 1986
There are many secondary records that Wayne Gretzky doesn't own. The rest are his. It only took "The Great One" 575 games to reach the 500-goal milestone. He was just 25 years old. One Gretzky record stands out and demonstrates just how much of an offensive factor he really was.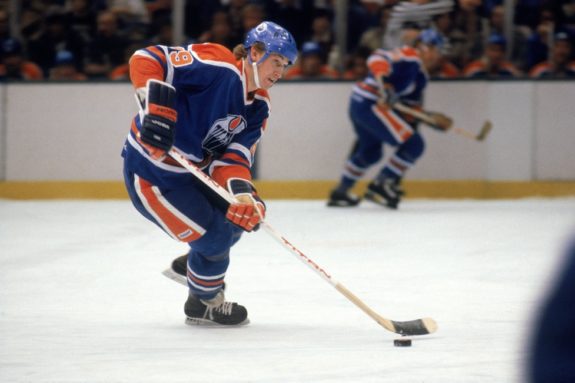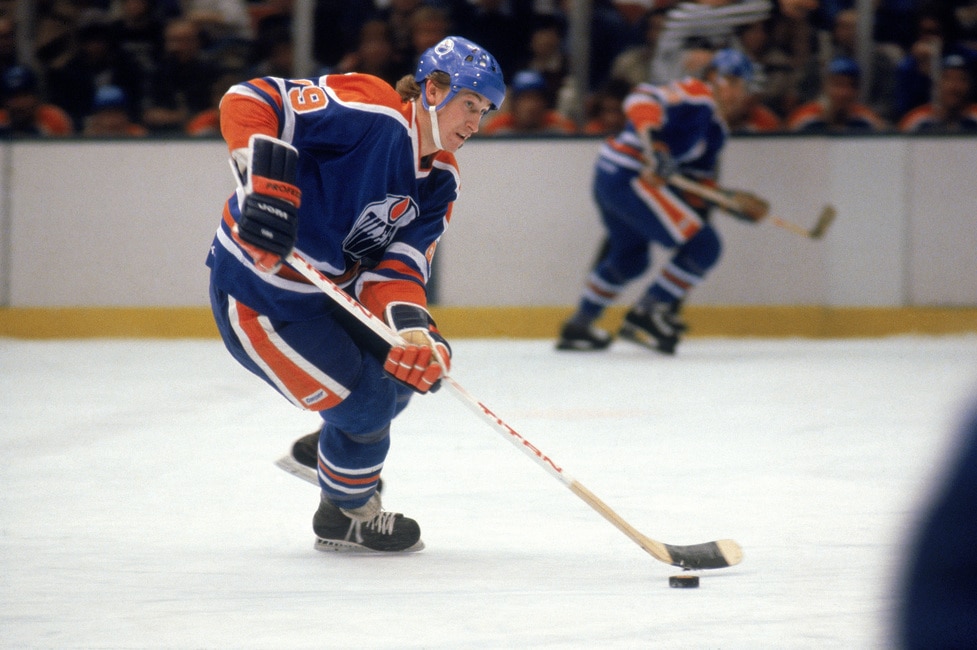 Get this: Of all the 500-goal scorers to date, Gretzky scored the fewest power-play goals, as a percentage of his grand total. He scored 894 goals and 204 were with a man advantage. That's just 22.8%, the lowest margin of all 500 goal men. Gretzky didn't need the power-play to prove he was great.
Gilbert Perreault – March 9, 1986
In 1970-71, Gilbert Perreault of the Buffalo Sabres smashed a 45-year-old record when he fired 38 goals, most ever by a rookie. Nels Stewart had scored 34 in 1925-26. Perreault's rookie record didn't last long. The following season, Perreault assisted on most of the goals by his rookie linemate, Rick Martin who set a new record when he scored 44. The record has since been surpassed. The magnificence of Perreault's 1970-71 season has faded – slightly.
Mike Bossy – January 2, 1986
Mike Bossy was drafted 15th overall in 1977. He was passed over twice by the Toronto Maple Leafs and the Rangers and once by ten other teams. The Islanders landed a gem. It took 36 years to duplicate but in 1980-81, Bossy became the second player behind Rocket Richard to score 50 goals in 50 games. His fine accomplishments include a record of nine consecutive 50-goal seasons. He scored 573 goals but only played 10 NHL seasons. One fabulous record Bossy holds to himself came in the 1983 Conference Finals against Boston. He scored the game-winning goal in all four games the Islanders won. No one else has ever scored all four game-winners in a best-of-seven series.
Guy Lafleur – December 20, 1983
Guy Lafleur became the 10th player to score 500 goals in the NHL. He was the 16th Canadiens' player to win a scoring championship in 1977-78. Don't tell your kids, but Lafleur's career took off after three seasons when he began playing without a helmet. Of Lafleur's 560 career goals, 97 or 17.3% were game-winners, a margin higher than any other 500-goal scorer.
Marcel Dionne – December 14, 1982
Marcel Dionne has a long list of accomplishments to his credit, including Hall-of-Fame induction in 1992. His 731 goals rank fourth all-time. Dionne was the NHL's first free agent in 1975. The concept was without precedent at the time so the NHL intervened and demanded compensation for Detroit, the team that lost his services.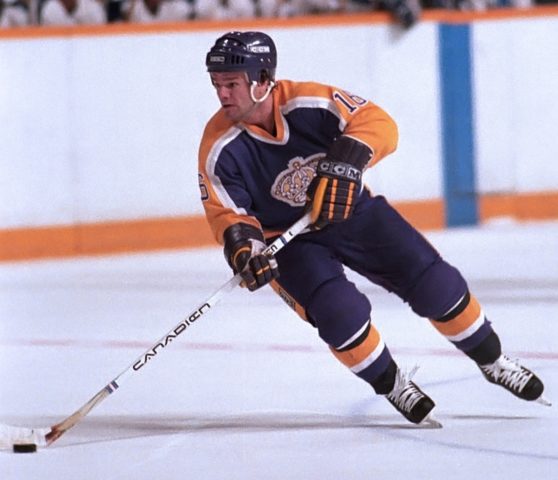 In 1980-81 Dionne centered the L.A. Kings' "Triple Crown" line with Dave Taylor and Charlie Simmer. They became the first threesome to all have 100-point seasons.
Stan Mikita – February 27, 1977
Stan Mikita won four scoring titles between 1964 and 1968. In 1964-65 he set a record that has never been broken. His 154 penalty minutes were the most ever by a scoring champion. Then Mikita experienced some kind of mystical transformation. He also won a scoring title in 1966-67 but had only 12 PIM's, also a record. The same guy has both the record for the most and the least penalty minutes by a scoring champion. How weird is that?
Johnny Buyck – October 30, 1975
Johnny Bucyk might be the 500-goal club's all-time most perseverant member. He scored two goals during the 1959 playoffs and then endured a long Bruins' playoff drought until he finally scored again in 1969 in Lord Stanley's postseason. Nevertheless, he finished his Hall-of-Fame career with a very respectable total of 41 playoff goals to go along with his 556 regular-season goals. At 35 years old, Bucyk notched his first 50-goal season in 1970-71. He remains the oldest ever player to score 50.
Phil Esposito – December 22, 1974
Phil Esposito was the first player to record a 100-point season and later, was the first to score 70 goals in a season. Led by Esposito during the 1970-71 season, the "Big Bad Bruins" broke all kinds of team and individual records. Still, the most unbelievable record Esposito set that season was his 550 shots on goal. Nobody since has even come close. The only other player to come within 100 of the record has been Alexander Ovechkin.
Frank Mahovlich – March 21, 1973
The "Big M" Frank Mahovlich was the 3rd all-time great to reach the 500 plateau as a member of the Montreal Canadiens. Midway through the 1970-71 season, he was traded from Detroit to Montreal as the Red Wings were experiencing the biggest ever (40) one-season decline in points by an NHL team. Meanwhile, Mahovlich went on to lead the 1971 playoffs in scoring and helped the Canadiens win another Stanley Cup. Mahovlich never had a 50-goal season but he was the first to score 40 goals in one season with three different teams. In 1973, he won the Cup again with the Canadiens who iced 11 future Hall-of-Famers, the most ever.
Jean Beliveau – February 11, 1971
The most extraordinary achievement in Jean Beliveau's outstanding NHL career is that he managed to get his name engraved on the Stanley Cup 17 times, 10 as a player and seven more as a Montreal Canadiens' executive. "Le Gros Bill" captained five Stanley Cup champions, more than anybody else. He played in the Stanley Cup Final 12 times, a shared record. On January 23, 1956, he became the first hockey player to appear on the cover of Sports Illustrated.
Bobby Hull – February 21, 1970
There were five 50-goal seasons during the 1960s and Hull had four of them. Enough said!  In fact, he was the first player to score more than 50 goals in one season. As a rookie in 1957, Bobby "The Golden Jet" Hull was on the ice playing in just his fifth NHL game when Maurice Richard scored his 500th career goal. Bobby Hull didn't score his first of 610 NHL goals until two games later.
Gordie Howe – March 14, 1962
Gordie Howe's career longevity is well documented. He's the only player to have competed in the NHL in five decades from the 1940s to the '80s. By 1961, he had become the first to play 1,000 games. Howe never had a 50-goal season. His 801 goals were spread out over a long time. He won six scoring titles, but perhaps more remarkably, he finished in the top 10 in scoring for 20 consecutive seasons.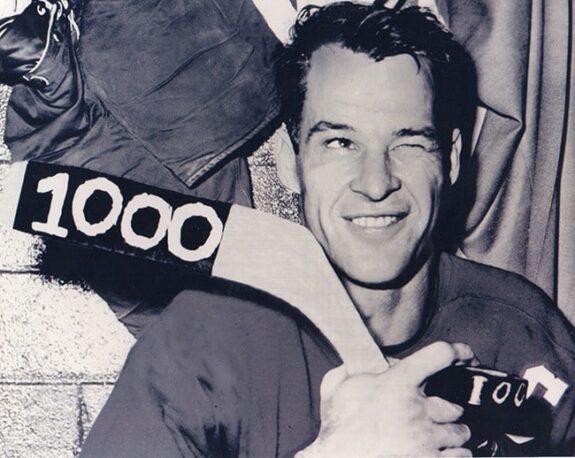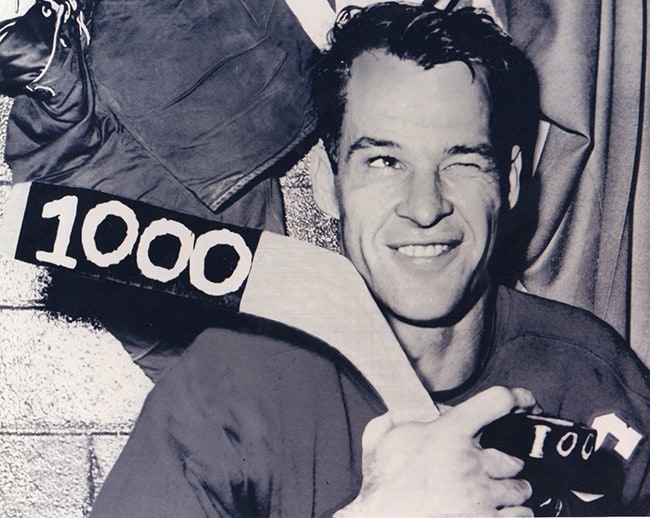 In his time, Howe broke and held many records. Think about this one for a second; between 1965 and 1968 "Mr. Hockey" was both the all-time leader in playoff points and penalty minutes. Tough? You bet!

Maurice "Rocket" Richard -October 19, 1957
The legend of Maurice "Rocket" Richard only gets greater as time passes. Richard set the first standard by which goal scorers were measured when he scored 50 goals in the 50-game schedule of 1944-45. Nobody has ever had more desire to score than the Rocket. He is one of only two members of the 500-goal club (the other is Mario Lemieux.) to score five goals in one playoff game. Before 1944, no one had even scored 10 goals in one playoff season. Richard scored 12 in nine games. He's the only player in NHL history to win a playoff goal-scoring title in five different seasons.
Long before Richard became the first player to score 500 goals in the NHL in 1957, and even before he became the NHL's all-time scoring leader in 1952, Richard was honored with a special tribute night at the Montreal Forum. On Feb 17, 1951, in front of a record crowd of 15,780 fans, he was showered with over $6,000 worth of gifts, a small fortune in those days. The event was like nothing ever before in hockey. It took place between the first and second periods and was carried Canada-wide by CBC radio.
According to an issue of The Hockey News dated at the time, gifts included a new car (1951 DeSoto), an electric sewing machine, a huge liquor cabinet, a 200- piece kitchenware set, a vacuum cleaner, expensive silverware, a combination radio, a special trophy to honor his greatness, shares in a publicly-owned golf course and a giant refrigerator.