Born:
January 26, 1961
Draft:
N/A (Joined NHL with Oilers
in 1979 WHA/NHL merger)
Hometown:
Brantford, Ontario
Position:
C
Known For:
Nickname
"The Great One"
Shoots:
Left
National Team:
Canada
Current Status:
Retired
Wayne Douglas Gretzky (born January 26, 1961) is a Canadian former professional ice hockey player and former head coach. He played 20 seasons in the National Hockey League (NHL) for four teams from 1979 to 1999. Nicknamed "The Great One," he has been called the greatest hockey player ever by many sportswriters, players, the NHL itself, and by The Hockey News, based on extensive surveys of hockey writers, ex-players, general managers and coaches. Gretzky is the leading goal scorer, assist producer and point scorer in NHL history, and garnered more assists in his career than any other player scored total points. He is the only NHL player to total over 200 points in one season, a feat he accomplished four times. In addition, Gretzky tallied over 100 points in 16 professional seasons, 14 of them consecutive. At the time of his retirement in 1999, he held 61 NHL records: 40 regular season records, 15 playoff records, and 6 All-Star records.
Born and raised in Brantford, Ontario, Canada, Gretzky honed his skills at a backyard rink and regularly played minor hockey at a level far above his peers. Despite his unimpressive stature and strength, Gretzky's intelligence, stamina, and reading of the game were unrivaled. He was adept at dodging checks from opposing players, and consistently anticipated where the puck was going to be and executed the right move at the right time. Gretzky became known for setting up behind his opponent's net, an area that was nicknamed "Gretzky's office".
Gretzky was the top scorer in the 1978 World Junior Ice Hockey Championships. In June 1978, he signed with the Indianapolis Racers of the World Hockey Association (WHA), where he briefly played before being traded to the Edmonton Oilers. When the WHA folded, the Oilers joined the NHL, where he established many scoring records and led his team to four Stanley Cup championships. Gretzky's trade to the Los Angeles Kings on August 9, 1988, had an immediate impact on the team's performance, ultimately leading them to the 1993 Stanley Cup Finals, and he is credited with popularizing hockey in California. Gretzky played briefly for the St. Louis Blues before finishing his career with the New York Rangers. Gretzky captured nine Hart Trophies as the most valuable player, 10 Art Ross Trophies for most points in a season, two Conn Smythe Trophies as playoff MVP and five Lester B. Pearson Awards (now called the Ted Lindsay Award) for most outstanding player as judged by his peers. He led the league in goal-scoring five times and assists 16 times. He also won the Lady Byng Memorial Trophy for sportsmanship and performance five times, and often spoke out against fighting in hockey.
After his retirement in 1999, Gretzky was immediately inducted into the Hockey Hall of Fame, making him the most recent player to have the waiting period waived. The NHL retired his jersey number 99 league-wide, making him the only player to receive such an honour. Gretzky was one of six players voted to the International Ice Hockey Federation's (IIHF) Centennial All-Star Team. Gretzky became executive director for the Canadian national men's hockey team during the 2002 Winter Olympics, in which the team won a gold medal. In 2000, he became part-owner of the Phoenix Coyotes, and following the 2004–05 NHL lock-out, he became the team's head coach. In 2004, Gretzky was inducted into the Ontario Sports Hall of Fame. In September 2009, following the Phoenix Coyotes' bankruptcy, Gretzky resigned as head coach and relinquished his ownership share. In October 2016, he became partner and vice-chairman of Oilers Entertainment Group.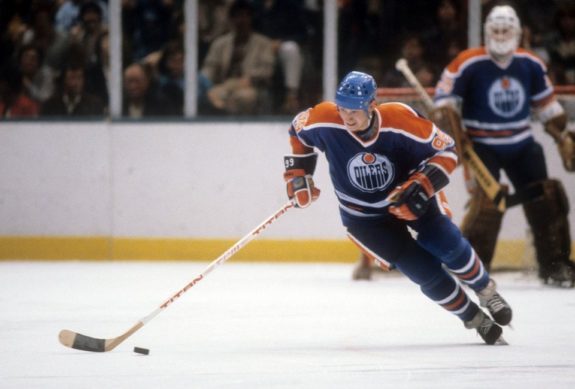 Wayne Gretzky Statistics
Trade Tracker
Date
Traded From
Traded With
Traded To
Traded For
Aug. 9, 1988
Mike Krushelnyski
Marty McSorley
First-Round Pick 1989
(Jason Miller)
First-Round Pick 1991
(Martin Rucinsky)
First-Round Pick 1993
(Nick Stajduhar)
Jimmy Carson
Martin Gelinas
Feb. 27, 1996
–
Fifth-Round Pick 1996
(Peter Hogan)
First-Round Pick 1997
(Matt Zultek)
Patrice Tardif
Craig Johnson
Roman Vopat
Deeper Dive
Achievements
All-Time NHL Records

NHL Playoffs Most Assists (260)
NHL Playoffs Most Goals (122)
Most assists, one playoff year (31)
Most assists in one series (14)
Most assists in final series (10)
Most assists, one playoff game (6)
Most assists, one playoff period (3)
Most points, one playoff year (47)
Most points in final series (13)
Most points, one playoff period (4)
Most short-handed goals, one playoff year (3)
Most short-handed goals, one playoff game (2)
Most game-winning goals in playoffs, career (24)
Most three-or-more goal games in playoffs (hat trick) (10)
Most goals (894)
Most goals, including playoffs (1,016)
Most goals, one season (92)
Most goals, one season, including playoffs (100)
Most goals, 50 games from start of season (61)
Most goals, one period (4, tied with 12 other players)
Most assists (1,963)
Most assists, including playoffs (2,223)
Most assists, one season (163)
Most assists, one season, including playoffs (174)
Most assists, one game (7)
Most assists, one road game (7)
Most points (2,857)
Most points, including playoffs (3,239)
Most points, one season (215)
Most points, one season, including playoffs (255)
Most overtime assists, career (15)
Most goals by a centre, career (894)
Most goals by a centre, one season (92)
Most assists by a centre, career (1,963)
Most assists by a centre, one season (163)
Most points by a centre, career (2,857)
Most points by a centre, one season (215)
Most assists in one game by a player in his first season (7)
Highest goals-per-game average, one season (1.18)
Highest assists-per-game average, career (300 min.) (1.321)
Highest assists-per-game average, one season (2.04)
Highest points-per-game average, one season (among players with 50-or-more points) (2.77)
Most 40-or-more goal seasons (12)
Most consecutive 40-or-more goal seasons (12)
Most 50-or-more goal seasons (9)
Most 60-or-more goal seasons (5)
Most consecutive 60-or-more goals seasons (4)
Most 100-or-more point seasons (15)
Most consecutive 100-or-more point seasons (13)
Most three-or-more goal games, career (50)
Most three goal games, one season (10)
Longest consecutive assist scoring streak (23 games)
Longest consecutive point-scoring streak (51 games)
Longest consecutive point-scoring streak from start of season (51 games)
Additional Awards and Achievements

OMJHL Most Sportsmanlike Player (William Hanley Trophy) — 1977-78
OMJHL Rookie of the Year (Emms Family Award) — 1977-78
U20 WJC All-Star Team — 1977-78
U20 WJC Best Forward — 1977-78
U20 WJC Bronze Medal — 1977-78
U20 WJC Most Assists (9) — 1977-78
U20 WJC Most Points (17) — 1977-78
WHA Rookie of the Year (Lou Kaplan Trophy) — 1978-79
NHL Gentleman Conduct (Lady Byng Trophy) — 1979-80
NHL Most Assists (86) — 1979-80
NHL Most Valuable Player (Hart Trophy) — 1979-80
NHL Second All-Star Team — 1979-80
NHL First All-Star Team — 1980-81
NHL Most Assists (109) — 1980-81
NHL Most Points (Art Ross Trophy) (164) — 1980-81
NHL Most Valuable Player (Hart Trophy) — 1980-81
Canada Cup Runner-Up — 1981-82
NHL Best Plus/Minus (+81) — 1981-82
NHL First All-Star Team — 1981-82
NHL Most Assists (120) — 1981-82
NHL Most Game Winning Goals (12) — 1981-82
NHL Most Goals (Maurice Richard Trophy) (92) — 1981-82
NHL Most Points (Art Ross Trophy) (212) — 1981-82
NHL Most Valuable Player (Hart Trophy) — 1981-82
NHL MVP Selected by NHLPA (Ted Lindsay Award) — 1981-82
World Championship All-Star Team — 1981-82
World Championship Bronze Medal — 1981-82
World Championship Most Points (14) — 1981-82
NHL First All-Star Team — 1982-83
NHL Most Assists (125) — 1982-83
NHL Most Game Winning Goals (9) — 1982-83
NHL Most Goals (Maurice Richard Trophy) (71) — 1982-83
NHL Most Points (Art Ross Trophy) (196) — 1982-83
NHL Most Valuable Player (Hart Trophy) — 1982-83
NHL MVP Selected by NHLPA (Ted Lindsay Award) — 1982-83
NHL Playoffs Most Assists (26) — 1982-83
NHL Playoffs Most Points (38) — 1982-83
NHL Best Plus/Minus (+76) — 1983-84
NHL First All-Star Team — 1983-84
NHL Most Assists (118) — 1983-84
NHL Most Game Winning Goals (11) — 1983-84
NHL Most Goals (Maurice Richard Trophy) (87) — 1983-84
NHL Most Points (Art Ross Trophy) (205) — 1983-84
NHL Most Valuable Player (Hart Trophy) — 1983-84
NHL MVP Selected by NHLPA (Ted Lindsay Award) — 1983-84
NHL Playoffs Most Assists (22) — 1983-84
NHL Playoffs Most Points (35) — 1983-84
NHL Stanley Cup Champion — 1983-84
Canada Cup All-Star Team — 1984-85
Canada Cup Champion — 1984-85
NHL Best Plus/Minus (+98) — 1984-85
NHL First All-Star Team — 1984-85
NHL Most Assists (135) — 1984-85
NHL Most Game Winning Goals (7) — 1984-85
NHL Most Goals (Maurice Richard Trophy) (73) — 1984-85
NHL Most Points (Art Ross Trophy) (208) — 1984-85
NHL Most Valuable Player (Hart Trophy) — 1984-85
NHL MVP Selected by NHLPA (Ted Lindsay Award) — 1984-85
NHL Playoffs Most Assists (30) — 1984-85
NHL Playoffs Most Points (47) — 1984-85
NHL Stanley Cup Champion — 1984-85
NHL Stanley Cup MVP (Conn Smythe Trophy) — 1984-85
NHL First All-Star Team — 1985-86
NHL Most Assists (163) — 1985-86
NHL Most Points (Art Ross Trophy) (215) — 1985-86
NHL Most Valuable Player (Hart Trophy) — 1985-86
NHL Best Plus/Minus (+70) — 1986-87
NHL First All-Star Team — 1986-87
NHL Most Assists (121) — 1986-87
NHL Most Goals (Maurice Richard Trophy) (62) — 1986-87
NHL Most Points (Art Ross Trophy) (183) — 1986-87
NHL Most Valuable Player (Hart Trophy) — 1986-87
NHL MVP Selected by NHLPA (Ted Lindsay Award) — 1986-87
NHL Playoffs Most Assists (29) — 1986-87
NHL Playoffs Most Points (34) — 1986-87
NHL Stanley Cup Champion — 1986-87
Canada Cup All-Star Team — 1987-88
Canada Cup Champion — 1987-88
Canada Cup MVP — 1987-88
NHL Most Assists (109) — 1987-88
NHL Playoffs Most Assists (31) — 1987-88
NHL Playoffs Most Points (43) — 1987-88
NHL Second All-Star Team — 1987-88
NHL Stanley Cup Champion — 1987-88
NHL Stanley Cup Clinching Goal — 1987-88
NHL Most Assists (114) — 1988-89
NHL Most Valuable Player (Hart Trophy) — 1988-89
NHL Second All-Star Team — 1988-89
NHL Most Assists (102) — 1989-90
NHL Most Points (Art Ross Trophy) (142) — 1989-90
NHL Second All-Star Team — 1989-90
NHL First All-Star Team — 1990-91
NHL Gentleman Conduct (Lady Byng Trophy) — 1990-91
NHL Most Assists (122) — 1990-91
NHL Most Points (Art Ross Trophy) (163) — 1990-91
Canada Cup All-Star Team — 1991-92
Canada Cup Champion — 1991-92
NHL Gentleman Conduct (Lady Byng Trophy) — 1991-92
NHL Most Assists (90) — 1991-92
NHL Playoffs Most Assists (25) — 1992-93
NHL Playoffs Most Goals (15) — 1992-93
NHL Playoffs Most Points (40) — 1992-93
NHL Contribution to U.S. Hockey (Lester Patrick Trophy) — 1993-94
NHL Gentleman Conduct (Lady Byng Trophy) — 1993-94
NHL Most Assists (92) — 1993-94
NHL Most Points (Art Ross Trophy) (130) — 1993-94
NHL Second All-Star Team — 1993-94
NHL Most Assists (72) — 1996-97
NHL Second All-Star Team — 1996-97
World Cup Runner Up — 1996-97
NHL Most Assists (67) — 1997-98
NHL Second All-Star Team — 1997-98
NHL Gentleman Conduct (Lady Byng Trophy) — 1998-99
Hockey Hall of Fame — 1999-00
IIHF Hall of Fame — 1999-00
IIHF Centennial All-Star Team — 2008
OMHA All-Time Great Team (Forward) — 2009
Alternate Captain (Canada, 1984-85 & 1997-98)
Alternate Captain (Kings, 1988-89)
Captain (Canada, 1987-88, 1991-92, 1996-97)
Captain (Oilers, 1983-84 – 1987-88)
Captain (Kings, 1989-90 – 1995-96)
Captain (Blues, 1996)
Sources