Wayne Gretzky turns 60 on Tuesday. For those of us who remember seeing him as a teenager, that's a tough reality to deal with.
These days, Gretzky is better known to many as the father of Paulina Gretzky, an actress, model and longtime fiancée of golfer Dustin Johnson. His own exploits are often reduced to decades-old video highlights where he makes hockey look easy.
Believe me: Whatever you see on TV or video barely scratches the surface of his brilliance. Gretzky put up video game-like numbers well before the arrival of video games. He did it despite the fact that, at least in his early years, he looked more like a stick boy than the greatest offensive force the NHL had ever seen; the 1979-80 NHL League Guide and Record listed him at 5-foot-11 and 165 pounds, but he looked scrawnier than that in those days.
Coming of Age
The NHL didn't get the kind of media coverage in the United States during the early 1980s that it does today, so actually seeing Gretzky wasn't always the easiest thing to do. Though he tied for the NHL scoring lead in 1979-80, his first season in the league, he really made his first splash in 1980-81, when he and the Oilers upset the Montreal Canadiens in the Preliminary Round of the Stanley Cup Playoffs. That earned them a quarterfinal matchup against the defending champion New York Islanders, who had torn up the NHL during the regular season.
The Oilers didn't win the series, but they pushed the Islanders to six games and won Game 5 in "Fort Neverlose," as Nassau Coliseum was known to many during that era. As Edmonton's kiddie corps tried to hang on during the third period, the Coliseum crowd that had expected to see their champs polish off the upstarts from Western Canada made plenty of noise, Gretzky and his teammates would stand up during stoppages in play and cheer "Let's Go Oilers." It worked, at least that night, when they hung on to win 4-3.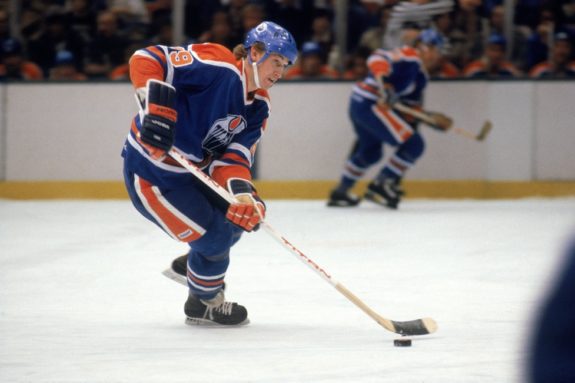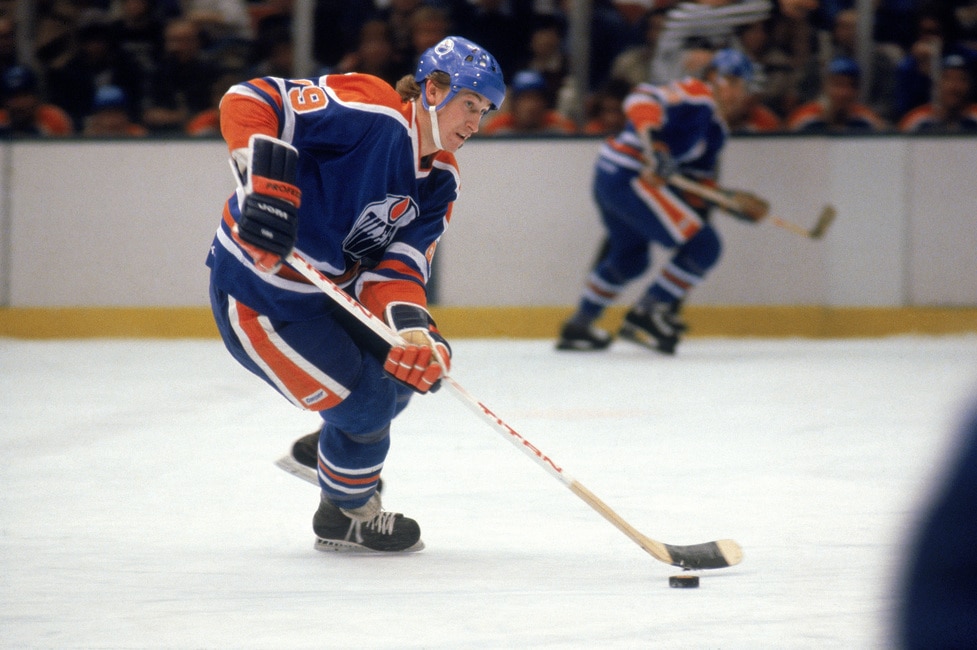 One year later, Gretzky began his assault on the NHL record book when he shattered Phil Esposito's single-season record of 76 goals. He also blew past the mark of 50 goals in 50 games held by Maurice Richard and Mike Bossy – and needed just 39 games to get there.
Gretzky said years later he knew right away that Edmonton's 39th game of the season, against the Philadelphia Flyers at Northlands Coliseum on Dec. 30, 1981, would be special.
"Charlie Huddy took a shot from the left point that bounced off the boards and right to me at the corner of the net, and I put it in," he remembered when asked about his first goal that night. "I thought to myself, 'How fortunate.'" I got the 47th, the 48th, and the 49th, but it was ironic — I had eight or nine point-blank chances and (goalie Pete) Peeters made some great saves."
Making History
Peeters wasn't in the crease for No. 50. With the Flyers trailing 6-5 in the final minute, he was on the bench when Edmonton's Glenn Anderson controlled the puck and skimmed it up the middle. Gretzky tracked it down, raced into the Flyers zone and dunked it into the empty net for No. 50. The packed house erupted as his teammates mobbed him.
"[Flyers forward] Bill Barber said that if I were going in alone on an empty net for the 50th goal, he'd throw his stick [giving him an automatic goal]," Gretzky remembered. "That would have made a great trivia question — how I scored my 50th goal without putting the puck into the net."
Dave Hunter, a teammate of Gretzky that night, marveled at that performance — and the 92-goal season – in a 2002 interview. "I was there. That was extraordinary," he said. "Five goals against the Flyers in Edmonton — it was unbelievable. With Wayne, you never knew what you'd see. I just liked sitting on the bench watching him."
Gretzky passed Esposito's record on Feb. 24, 1982, when he scored No. 77 in the third period against the Buffalo Sabres. For good measure, he added Nos. 78 and 79 for a hat trick.
He finished the season with 92 goals, a mark that's never been approached and appears safe for years to come – no one has scored as many as 70 goals since Alexander Mogilny and Teemu Selanne each scored 76 in 1992-93. But in talking to Gretzky a couple of decades after he set the mark, he still had one regret.
"It was a thrill to get 92 goals, but in some ways, I thought I let myself down by not getting 100," Gretzky said long after setting the record when asked if he was disappointed that he hadn't scored 100 goals. "Maybe I should have pushed myself more."
Never Satisfied
To longtime Edmonton teammate Kevin Lowe, it was that kind of refusal to be satisfied that helped make Gretzky a hockey immortal — the greatest scorer (by far) in NHL history – he has more assists than anyone else has points — and a four-time Stanley Cup champion.
"If he scored one goal, he wanted two," Lowe said. "If he scored two, he wanted three. He always wanted more. All stars have a love for the game. What separates players like Wayne is the passion — he's like Michael Jordan. They take it to the next level."
Gretzky's goal-scoring outburst in 1981-82 was another sign of his genius.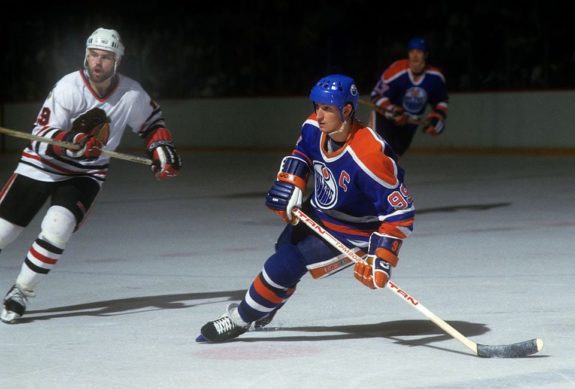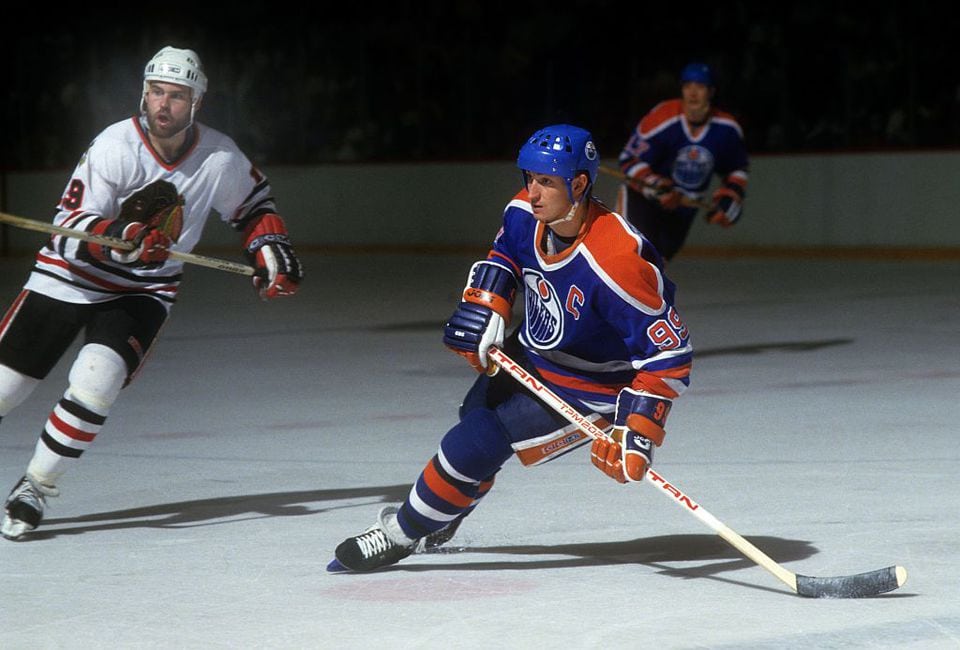 He entered his third NHL season having won the Hart Trophy as MVP twice and the Art Ross Trophy as the league scoring leader once. Though he'd scored 51 and 55 goals in his first two seasons, the consensus around the NHL was that defenders were better off making Gretzky shoot because his passing skills were so deadly.
Gretzky realized that defenses were playing off him, so he started firing away. "You miss 100 percent of the shots you don't take," he once wryly noted.
After taking 269 and 261 shots in his first two seasons, Gretzky led the NHL with 369 in 1981-82 — and scored on just under 25 percent of them.
Generating Fear in Goalies
"He started to recognize the fear that goaltenders had of him," Lowe said. "Not the same kind of fear that Bobby Hull generated — this was more like, 'What's he going to do with the puck.' And Wayne didn't waste shots. He had a deceivingly hard shot, a good backhand, and could shoot a change-up."
Gretzky retired in 1999 as the owner of the league records for goals, assists and points — and 58 other marks. A couple have been broken since then, but there has yet to be anyone who's matched his combination of skill and smarts as an offensive force.
But his contributions to hockey go well beyond his on-ice brilliance.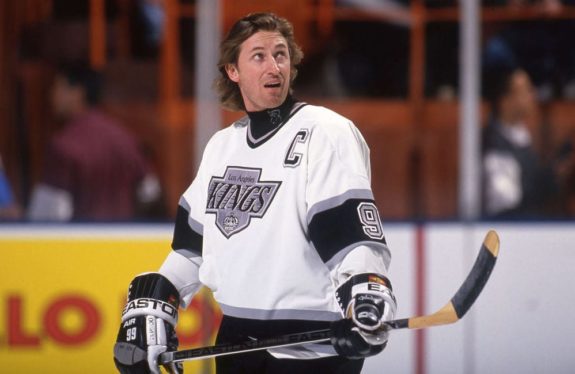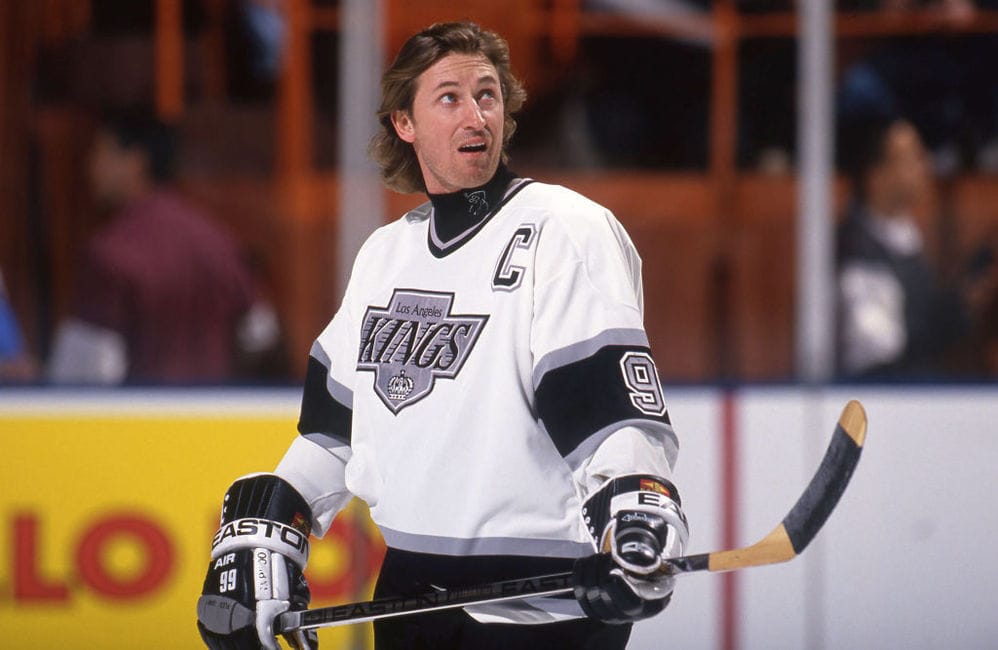 The Aug. 9, 1989, trade that sent him from the Oilers to the Los Angeles Kings was a turning point for hockey in Los Angeles and the biggest single factor in the NHL's growth into non-traditional markets. Before Gretzky, the Kings were an afterthought in Los Angeles sports. But with Gretzky in town, Kings games became the place to see and be seen. Without him, there would be no Mighty Ducks of Anaheim (now the Anaheim Ducks), no Arizona Coyotes, quite possibly no Vegas Golden Knights (the most successful expansion team in sports history).
The Minnesota North Stars might have moved somewhere other than Dallas in the 1990s, and the 2020 Stanley Cup would quite possibly have been won by a team other than the Tampa Bay Lightning.
Gretzky's connections to hockey today are rooted in actuality as well as memory. He's vice-chair of Oilers Entertainment Group, which owns his old team, but generally works on the business side. He's been a successful businessman in his own right, with ventures that have included a restaurant, a winery and the Wayne Gretzky Fantasy Camp.
Still No One Like No. 99
But he's far from forgotten, even 22 years after his last game.
Gretzky's O-Pee-Chee rookie card recently fetched $1.29 million. No. 99 even got a 1 (as in a hole-in-one) on the final day of 2020. And if you ask most fans, especially in the United States, to name one hockey player, the first name most of them will come up with is "Wayne Gretzky."
Walter Gretzky used to tell his son to "skate where the puck's going, not where it's been." As he enters his seventh decade, it's obvious that Wayne put his dad's instructions to good use. There will never be another player like him.
---
---