Scenario: you wake up in the morning with the incredible urge to spend your own money on 31 National Hockey League jerseys, one from the history of each franchise. Which ones would you choose? More importantly, whose name would be on the back?
There's a lot that would go into such decisions. Do you value raw statistics, or are you more concerned with popularity? What about intangibles, things like character and leadership? How do awards and championships factor in? And what if you've found the perfect player, but they played at a time when their team was wearing clown outfits?

Below is a definitely perfect guide to this definitely all-too-common situation. You're welcome.
Mighty Ducks of Anaheim Anaheim Ducks
The Obvious Choice
Teemu Selanne, #8
The Ducks' franchise leader in games played, goals and points, Selanne also brought a Richard Trophy and, in 2007, a Stanley Cup, to Anaheim. The Finnish Flash had some of his best seasons after he turned 35, and continued producing into his 40s.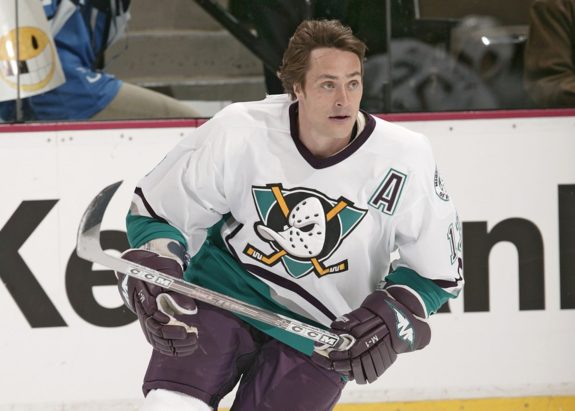 In a career spanning three distinct NHL eras – from the wacky early '90s, to the Dead Puck Era (late '90s and early '00s), and, finally, the New NHL (coming out of the 2004-05 full-season lockout), Selanne was a consistently awesome performer for the Ducks and a joy for Anaheim fans and media alike.
The Correct Choice
Paul Kariya, #9
Selanne's partner-in-crime with the '90s (then-Mighty) Ducks, Kariya put up very similar per-game totals to those of the Finnish Flash. Admittedly, Kariya never won a major award outside of the Lady Byng (twice). And yes, Kariya only played for the Ducks up until 2003, limiting the jersey styles you have to choose from to the jade and eggplant kit era.
---
Latest News & Highlights
---
However, Kariya, who served as Anaheim's captain, was one of the most dominant players in the NHL during his time with the Ducks, able to beat you in any way: with speed or finesse, with his shot or his hands, with his goal-scoring or his playmaking. And, of course, he was responsible for one of the most memorable moments in franchise history:
Honourable Mentions
Jean-Sebastien Giguere, #35
Ryan Getzlaf, #15
Scott Niedermayer, #27
Winnipeg Jets Phoenix Coyotes Arizona Coyotes
The Obvious Choice
Shane Doan, #19
When you think of the Coyotes, you think of Shane Doan, the franchise's leader in nearly everything that matters. Loyal almost to a fault, Doan was drafted by the first iteration of the Winnipeg Jets and remained with the team when they moved to Phoenix – and for 20 seasons beyond that. Though there is a debate as to whether he belongs in the Hockey Hall of Fame, one cannot deny Doan is the single most important player in franchise history.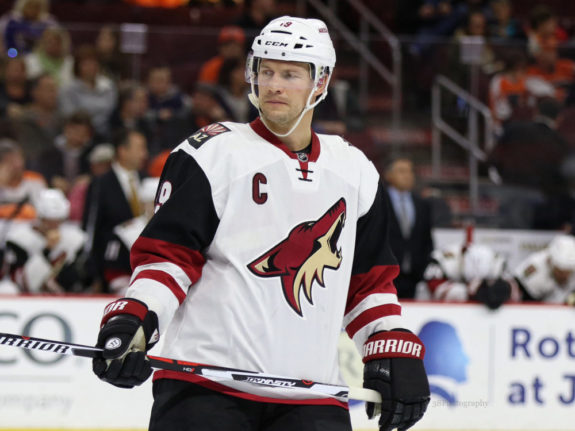 He gave everything to the team and the community, persevering through unimaginable organisational instability that makes the Florida Panthers look competent by comparison. Your selection of Doan would also give you the largest variety of looks, as he's worn nearly everything ever.
The Correct Choice
Ilya Bryzgalov, #30
Let's face it: the Coyotes have been a mess ever since their move to the desert, both off the ice and on it. That's why it's important to look on the bright side. Bryzgalov was a breath of fresh air in the often stale, stuffy world of hockey players, delighting legions of fans just by being himself (even if doing so didn't always endear himself to his teammates).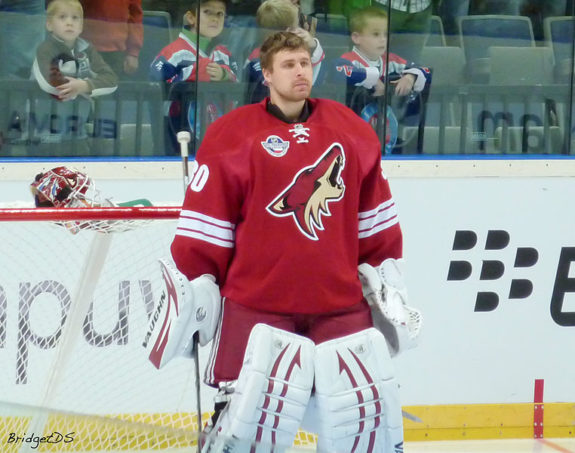 Bryzgalov posted a .920 or better save percentage in three of his four seasons in the desert, and still holds the franchise mark for regular season wins. Yes, the Coyotes threads weren't the best during his time with the squad, but buying a Bryz jersey ensures you'll have a conversation piece for years to come.
Honourable Mentions
Dale Hawerchuk, #10
Teppo Numminen, #27
Thomas Steen, #25
Boston Bruins
The Obvious Choice
Bobby Orr, #4
Undoubtedly the best player in franchise history (one can make a case he was the best in NHL history), Orr's blend of skating and skill won him the Calder Trophy in 1967, followed shortly thereafter by eight (straight) Norris Trophies, two Art Ross Trophies, three (straight) Harts and two Conn Smythes. He also brought two Stanley Cups to Boston, in 1970 – their first since 1941 – and 1972. Orr was literally the perfect hockey player, and he played during one of the rare times you'd actually want a Bruins jersey.
The Correct Choice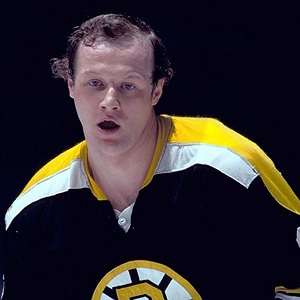 Wayne Cashman, #12
Though the Bruins of the 1970s were chock-full of top-end talent, their reputation was one of toughness, physicality, and a grinding style of play – a reputation that continues to define the Bruins to this day.
Skillful enough to compliment the likes of Phil Esposito and Ken Hodge, yet tough enough to do their dirty work, Cashman embodied all that Boston fans and management alike value in a player. The prototypical Bruin, Cashman, like Orr, played in a brilliant aesthetic era for the team, solidifying this selection.
Honourable Mentions
Eddie Shore, #2
Milan Lucic, #17
Ray Bourque, #77
Buffalo Sabres
The Obvious Choice
Gilbert Perreault, #11
The swift-skating centre was the first-ever draft pick of the Sabres and did not disappoint. Like Doan, Perreault retired as the franchise leader in just about everything. Perhaps more impressively, he maintained his high standard of play for the entirety of his 17 seasons, with no significant career arc to speak of.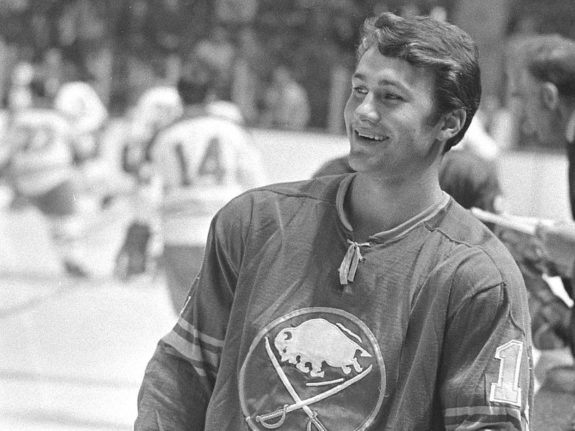 His jersey would be a nice acquisition on aesthetic merits alone, as the Sabres' original duds are revered as some of the NHL's best, with Buffalo fans still pining for their return.
The Correct Choice
Dominik Hasek, #39
There was a time when Hasek might have been considered the obvious choice, but years of dreadfulness down Buffalo way have pushed the golden years of the Dominator out of memory. The winner of two (back-to-back) Hart Trophies, two (back-to-back) Pearson Trophies and six Vezinas (including streaks of two and three consecutively), Hasek, year after year, dragged a consistently overmatched Sabres team to the precipice of success, though they fell just short each time.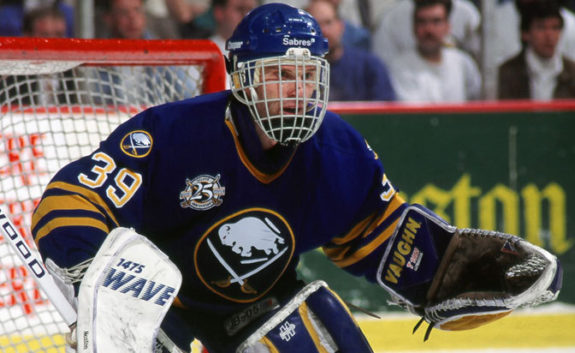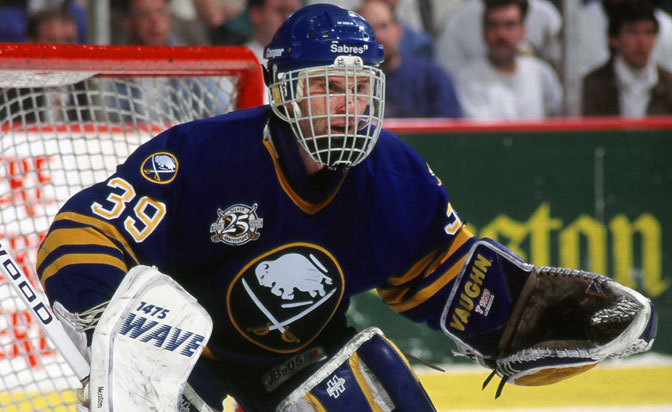 Hasek is the greatest goaltender in NHL history, so you can't really go wrong with buying his jersey. As an added bonus, he played for the Sabres over two aesthetically pleasing eras.
Honourable Mentions
Mike Peca, #27
Pat LaFontaine, #16
Rob Ray, #32
Atlanta Flames Calgary Flames
The Obvious Choice
Jarome Iginla, #12
Iginla debuted in Calgary with monumental expectations – he was traded for Flames star Joe Nieuwendyk, after all – and never, ever disappointed. A lethal offensive player who could be deployed in all situations, Iginla also served as Calgary's captain, both on the ice and out in the community.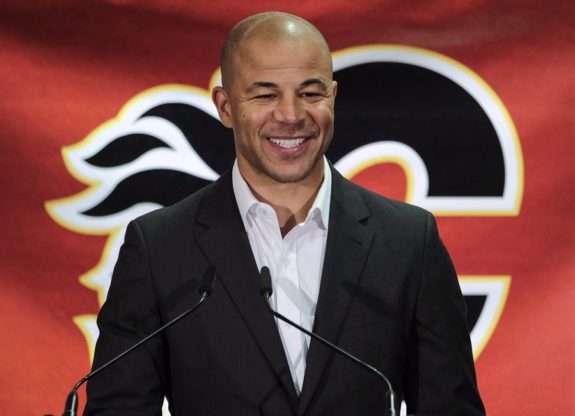 Iginla further endeared himself to fans through his willingness to engage in the physical game, a trait which he made work in both the Dead Puck Era and modern game alike. The best player in franchise history, Iginla is one of the greatest goal-scorers of all time.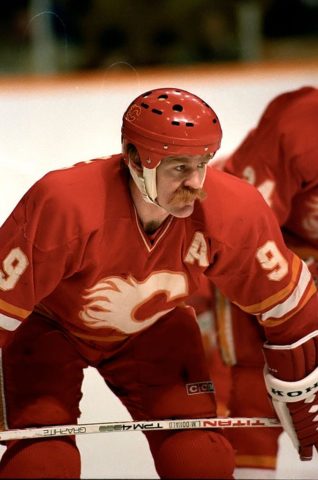 The Correct Choice
Lanny McDonald, #9
McDonald was one of the main reasons the Flames of the 1980s were consistently competitive. And, of course, in 1989, he scored the most important goal in franchise history, coming out of the penalty box to give the Flames the lead in the deciding game of the Stanley Cup Final.
McDonald and his iconic moustache retired after Calgary's Cup win, but remain instantly recognisable icons of the game. The '80s Flames had some nice threads, too.
Honourable Mentions
Al MacInnis, #2
Mike Vernon, #30
Theoren Fleury, #14
Hartford Whalers Carolina Hurricanes
The Obvious Choice
Ron Francis, #10
Drafted by the Whalers in 1981, Francis spent a decade in Hartford, before being traded to the Pittsburgh Penguins. He returned to the franchise in 1998-99 after they had relocated to Carolina, leading the Hurricanes to the Stanley Cup Final in 2002.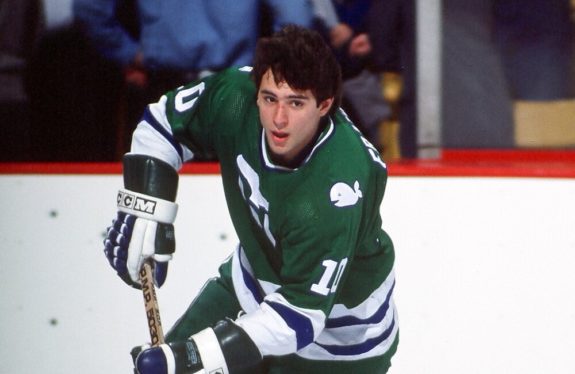 The franchise leader in pretty much everything, Francis wore two entirely different sweaters during his time with the team, leaving the jersey connoisseur with a meaningful choice.
The Correct Choice
Arturs Irbe, #1
Off-the-wall, like many of his profession, Irbe was a journeyman goaltender throughout much of his professional career. However, he did find a home with the Hurricanes, spending six seasons with the team, and backstopping them to the aforementioned 2002 Final, posting a .938 save percentage in the playoffs.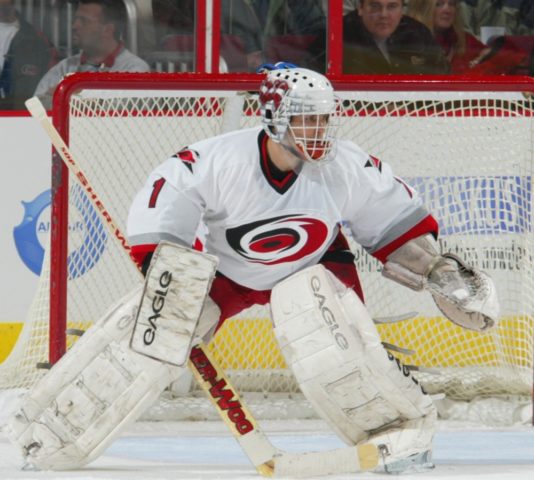 However, no amount of NHL success could change the diminutive Latvian; he chose plain, white equipment – which he repaired himself – and the same type of helmet he wore growing up in the Soviet Union. Irbe may not be a Hurricanes franchise leader in any categories of note, but his oddball nature, combined with frequent stretches of brilliance, means his jersey is the one I'd want.
Honourable Mentions
Eric Staal, #12
Rod Brind'Amour, #17
Sean Burke, #1
Chicago Blackhawks
The Obvious Choice
Bobby Hull, #9
Bobby Hull had it all as a player. Blindingly fast skating and a howitzer of a shot – along with dashing good looks – endeared the Golden Jet to fans, and his goal-scoring prowess saw him break many established NHL records.
That said, let's not forget Hull's legacy has been forever tarnished with revelations of his abusive behaviour and worrying personal views. As a player? Magnificent. As a person? Not so much.
The Correct Choice
Stan Mikita, #21
Mikita holds the Blackhawks all-time marks for games played, assists and points, and is second all-time in goals, trailing only Bobby Hull. Though not as flashy as Hull, Mikita chose to ply his trade in the toughest league on Earth for the entirety of his career, something which cannot be discounted when comparing the two.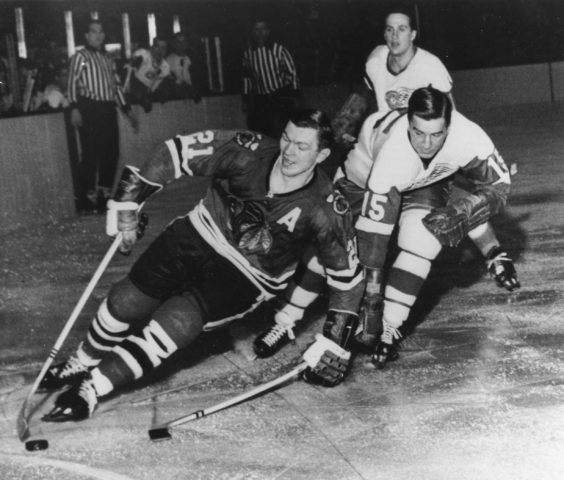 A very good all-around player, Mikita was notorious early in his career for his frequent trips to the penalty box, before a comment from his daughter turned him into a two-time Lady Byng winner. A Mikita jersey shows real knowledge of the game, not just the razzle-dazzle.
Honourable Mentions
Denis Savard, #18
Eric Nesterenko, #15
Tony Esposito, #35
Quebec Nordiques Colorado Avalanche
The Obvious Choice
Joe Sakic, #19
Though boasting one of the best wrist shots in NHL history – along with franchise records in goals, power-play goals and shorthanded goals, Joe Sakic was much more than a lethal sniper. Only 11 players in league history have more assists than Sakic (though Joe Thornton will likely catch him), only eight have more points, and no one has more playoff overtime winners than Burnaby Joe, with eight.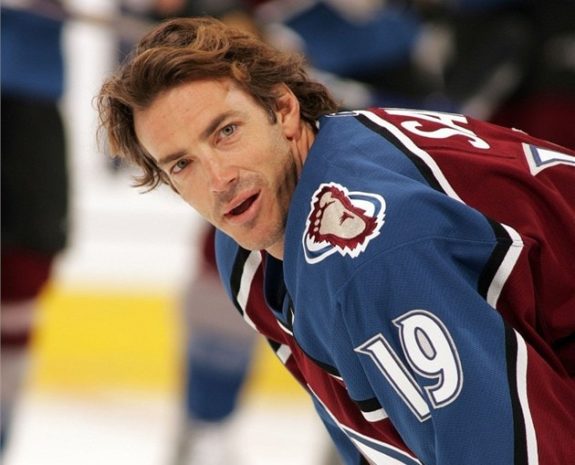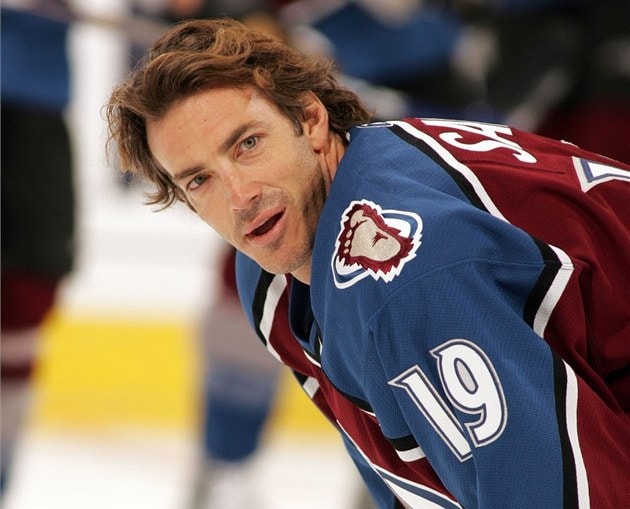 Sakic was an extraordinarily gifted player with a penchant for coming through in the clutch. Plus, both the Nords and Avs of Sakic's era wore some truly spectacular sweaters.
The Correct Choice
Peter Forsberg, #21
A video game fantasy made real, Forsberg was a solidly built power forward who played a fast, explosive physical game, all the while being a deft playmaker and finisher with silky-smooth hands. Injuries cut his career far too short, to be sure.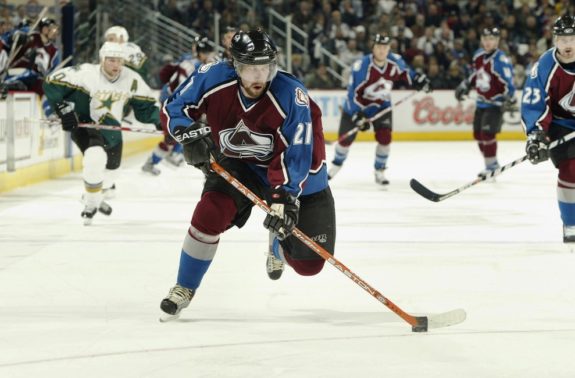 Were he to have been healthy post-lockout, Forsberg, free of the clutching, grabbing and stickwork that defined the late '90s and early '00s, would have absolutely run the NHL's show. After all, what do you do when you can no longer slow down the already unstoppable?
Honourable Mentions
Anton (#20) / Marian (#18) / Peter (#26) Stastny
Michel Goulet, #16
Patrick Roy, #33
Columbus Blue Jackets
The Obvious Choice
Rick Nash, #61
The Jackets' first overall selection in 2002, Nash never disappointed, leading the team in goals in each of the eight seasons following his rookie campaign of 2002-03. A giant of a man with great finesse and surprising speed, Nash's touch around the net – in all situations – kept the perennially woeful Blue Jackets respectably competitive.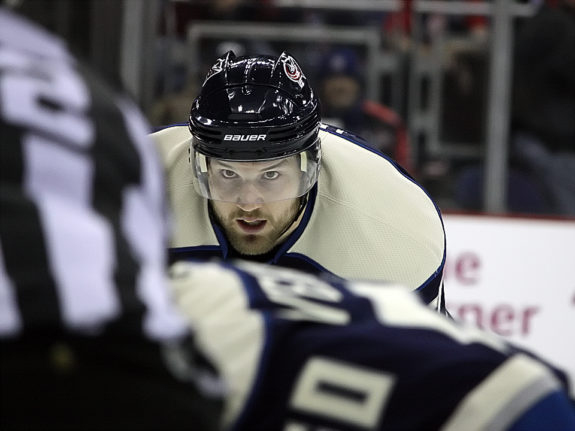 Co-winner of the 2003-04 Richard Trophy, Nash, even six seasons after his departure from Columbus, still sits at the top of every major offensive category in team history.
The Correct Choice
Ron Tugnutt, #31
Though he only spent two years in Ohio's capital, Tugnutt still managed to put his stamp on the team, putting up the league's fifth-best save percentage (.917) in 2000-01, the Blue Jackets' first year of play. Though Columbus missed the playoffs in both of Tugnutt's seasons with the team, the goaltending he provided gave the Blue Jackets a chance to be competitive.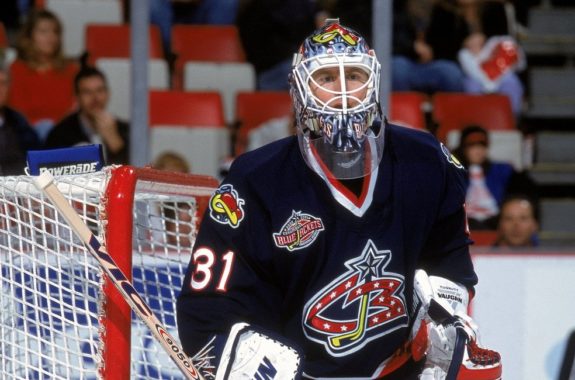 An early fan-favourite for the franchise, Tugnutt wore the club's head-scratching inaugural threads, which featured a neon hornet, despite the team moniker's Civil War origin.
Honourable Mentions
Fedor Tyutin, #51
R.J. Umberger, #18
Sergei Bobrovsky, #72
Minnesota North Stars Dallas Stars
The Obvious Choice
Mike Modano, #9
Blessed with incredible speed – and the ability to maneuver at said speed, Modano was one of the most electrifying players of his era. Holding the franchise record in every major offensive category, Modano was the face of the franchise for nearly two decades. The fact he played in Minnesota for the old North Stars strengthens the jersey selection available.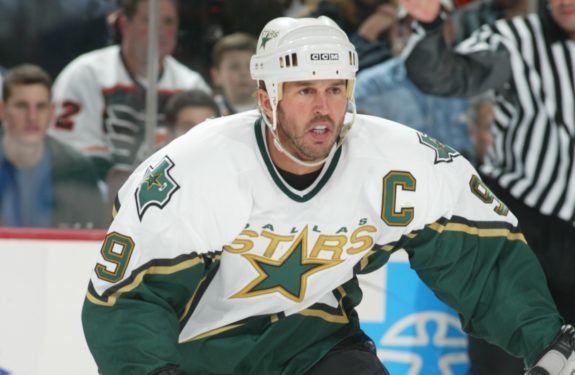 The Correct Choice
Sergei Zubov, #56
Never the recipient of a major award, Zubov quietly went about his business being one of the best two-way defenders of his era. His average of 0.65 points per game in a Stars uniform (equating to 53 over an 82-game season), combined with the fact the prime of his career came in the offensively suppressed Dead Puck Era, give Zubov a strong case for Hall of Fame consideration. Why not give him some consideration for your wardrobe, too?
Honourable Mentions
Dino Ciccarelli, #20
Ed Belfour, #20
Jere Lehtinen, #26
Detroit Cougars Detroit Falcons Detroit Red Wings
The Obvious Choice
Gordie Howe, #9
Mr. Hockey's otherworldly 32-year professional career included 25 seasons in the Motor City, during which he put up franchise records for games played, goals, assists and points, all of which except assists (since surpassed by Steve Yzerman) still stand.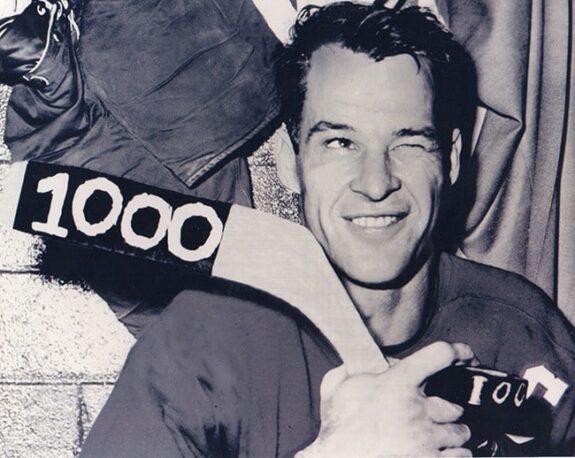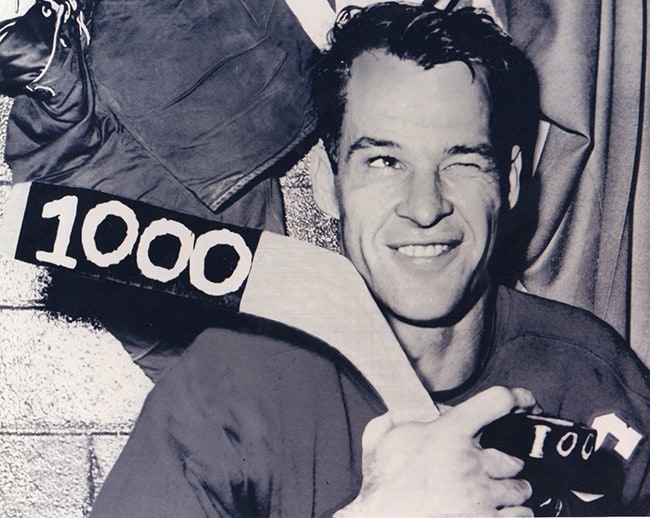 As tough as he was talented, Howe was the complete hockey-playing package, and set the standard by which all players would be judged for generations to come.
The Correct Choice
Alex Delvecchio, #10
Of all the stars to wear a Red Wings kit (which has never really changed all that much, if we're on the subject) – and there are many, perhaps no one has ever been in the shadows of greatness like Delvecchio. A lifetime Red Wing, Delvecchio played with the legendary Howe for most of his 24-season career. Interestingly, he served as Detroit's captain for 11 seasons during this time, following Howe's mere four-year captaincy.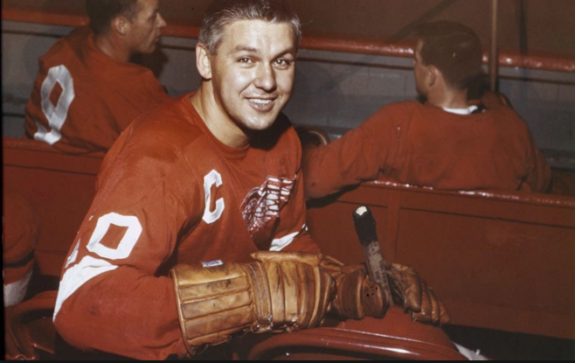 As a testament to his longevity, Delvecchio's three most productive offensive seasons came at ages 36, 40 and 35, respectively. He also had fantastic hair.
Honourable Mentions
Pavel Datsyuk, #13
Sergei Fedorov, #91
Steve Yzerman, #19
Edmonton Oilers
The Obvious Choice
Wayne Gretzky, #99
The Great One. Need I say more? Gretzky set – and still holds – dozens of NHL records, let alone Oilers franchise marks. Blessed with sublime skills and supernatural hockey sense, Gretzky took over from Gordie Howe as the measuring stick for hockey players around the world. The only downside to choosing Gretzky is the limited looks he wore as a member of the Oilers.pen
The Correct Choice
Ryan Smyth, #94
If you're a fan of a team called the "Oilers," surely you must appreciate hard work, toughness, grit and determination alongside your skill. Smyth embodied all of these qualities like no player in Oilers history, making him an all-time fan-favourite. Smyth did everything the hard way – yet rarely disappointed. Plus, the Oilers were liberal in experimenting with their uniforms during his two stints with the team, meaning you'll have a lot of sweaters to choose from.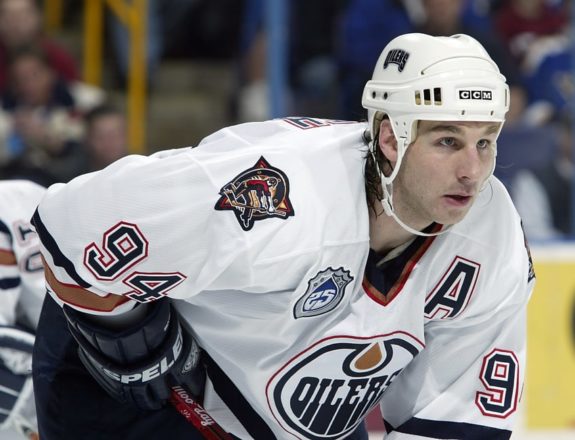 Honourable Mentions
Glenn Anderson, #9
Jari Kurri, #17
Mark Messier, #11
Florida Panthers
The Obvious Choice
Roberto Luongo, #1
The eminently good-natured puckstopper spent two stints in South Florida, and should rode off into the sunset with every major team goaltending record comfortably in hand. Florida has never really been all that good, but Luongo has always kept them competitive. He holds the top two marks in NHL history for shots faced – and saves made – in a single regular season, and sits tied for fourth all-time in career save percentage.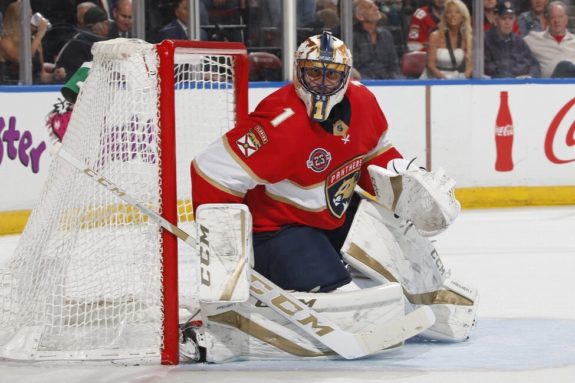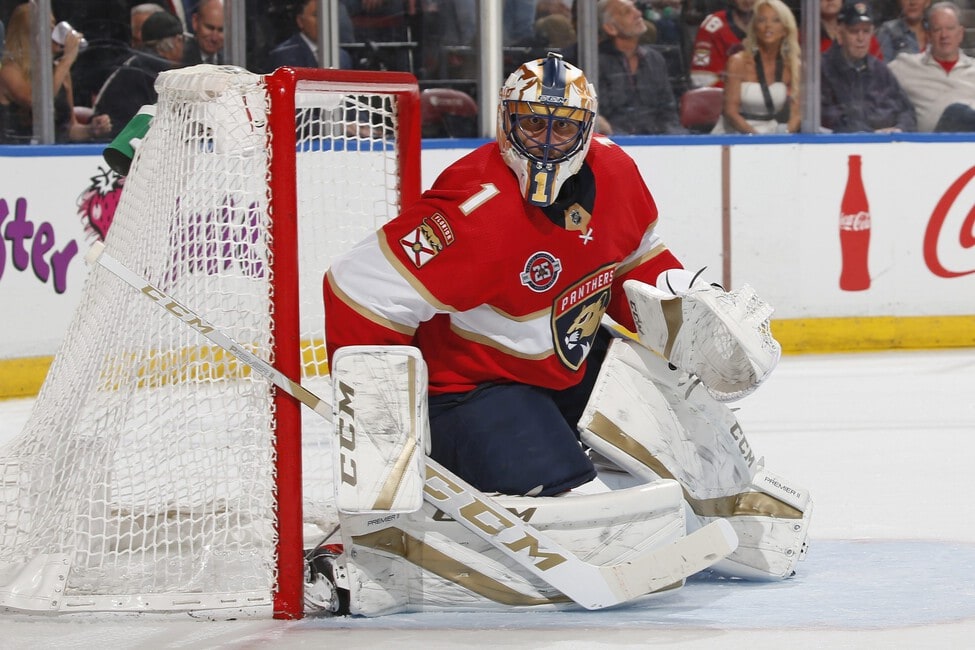 Luongo has a strong case for the Hall of Fame, and presents a strong case for a jersey purchase, given both his legendary status and the variety of Florida looks he's sported.
The Correct Choice
Pavel Bure, #10
Though plagued by injuries throughout his four seasons in South Florida – as he was his entire career, Bure, one of the most dazzling skaters and scorers the world has ever seen, left an indelible mark on the Panthers. In 2000-01, the only time Bure played a full 82 games with the Cats, he scored 59 goals to lead the NHL.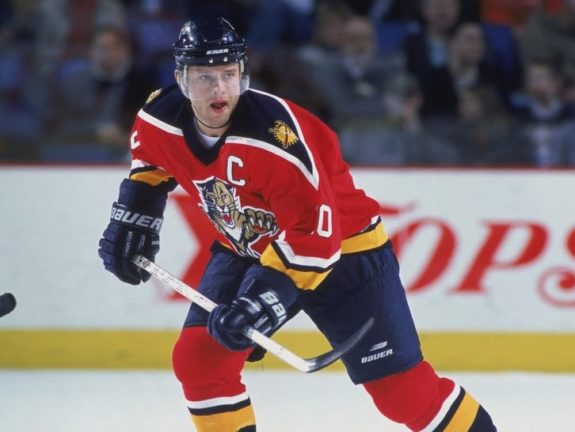 Even more impressive, this output represented 30 percent of his team's goals scored, an NHL record. Now, that might say more about the Panthers than Bure (no other Cat had more than 14 goals), but I digress. Bure still holds franchise marks for goals per game and points per game. His is the jersey you want.
Honourable Mentions
Jay Bouwmeester, #4
Olli Jokinen, #12
Scott Mellanby, #27
Los Angeles Kings
The Obvious Choice
Marcel Dionne, #16
Dionne started his career with the sad-sack Red Wings, before being traded to the more competitive, yet even more isolated Kings. Toiling in relative anonymity on the West Coast, Dionne is one of the truly premier players in league history.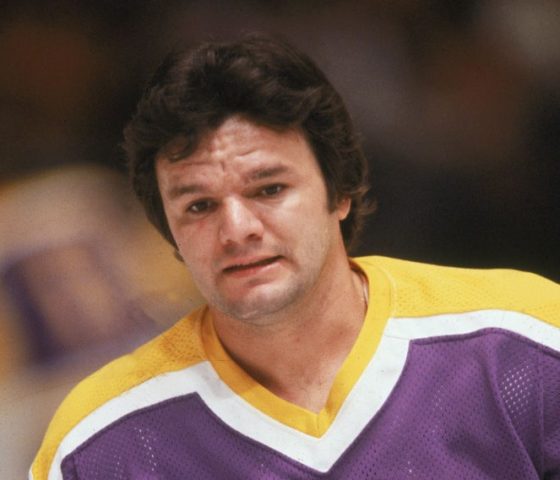 Upon his retirement, he was second only to Gordie Howe in career goals, assists and points. As the centrepiece of the legendary Triple Crown line, Dionne flourished in Los Angeles, and a purple and gold Dionne jersey would look good in any collection.
The Correct Choice
Luc Robitaille, #20
The NHL's all-time leader amongst left wingers in goals and points, and second all-time in assists, Robitaille was overlooked by every NHL team, save for the Kings, on account of his lacklustre skating. He made the rest of the league pay, starting his career with eight consecutive 40-plus goal campaigns, a streak interrupted only by the lockout-shortened 1994-95 season.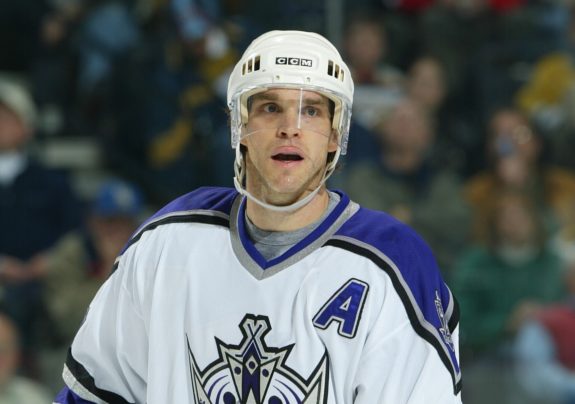 A pure goal-scorer, Robitaille had three separate stints with the Kings, producing admirably in all of them. His longevity also means a variety of Kings jersey iterations will be available to choose from.
Honourable Mentions
Dave Taylor, #18
Rogatien Vachon, #30
Wayne Gretzky, #99
Minnesota Wild
The Obvious Choice
Marian Gaborik, #10
A pure goal-scorer with fantastic speed, Gaborik instantly gave the fledgling Wild credibility following his debut in 2000. One of the very few gate attractions for a Minnesota franchise known more for defense and structure than offense and excitement, Gaborik shone for eight seasons in the State of Hockey.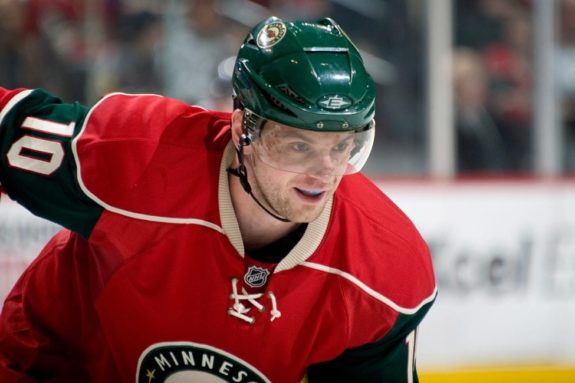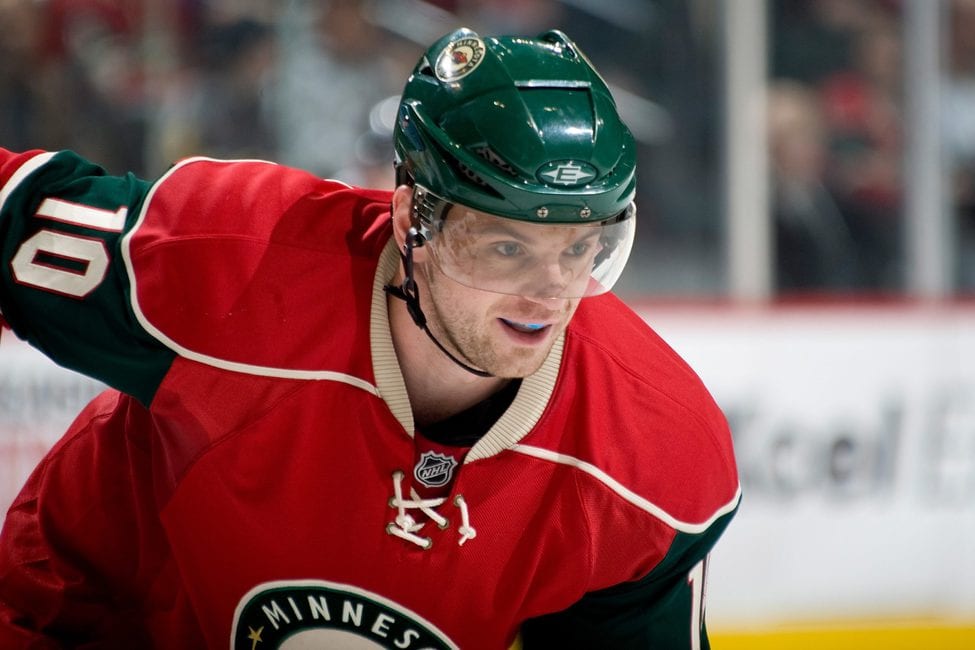 Still the team's all-time leader in goals, Gaborik was equally good in the playoffs for the Wild, with 9 goals and 17 points in Minnesota's surprise run to the 2003 Western Conference Final. You can't go wrong with a Gaborik jersey, preferably in red.
The Correct Choice
Mikko Koivu, #9
Minnesota's captain since 2008-09, Koivu is the prototypical Wild player. A defensively responsible centre that excels at both ends of the ice and plays in all situations. Rarely flashy, Koivu simply goes out and gives the Wild exactly what they need from him, each and every night.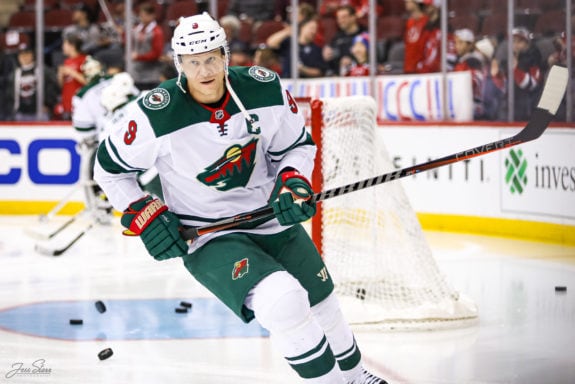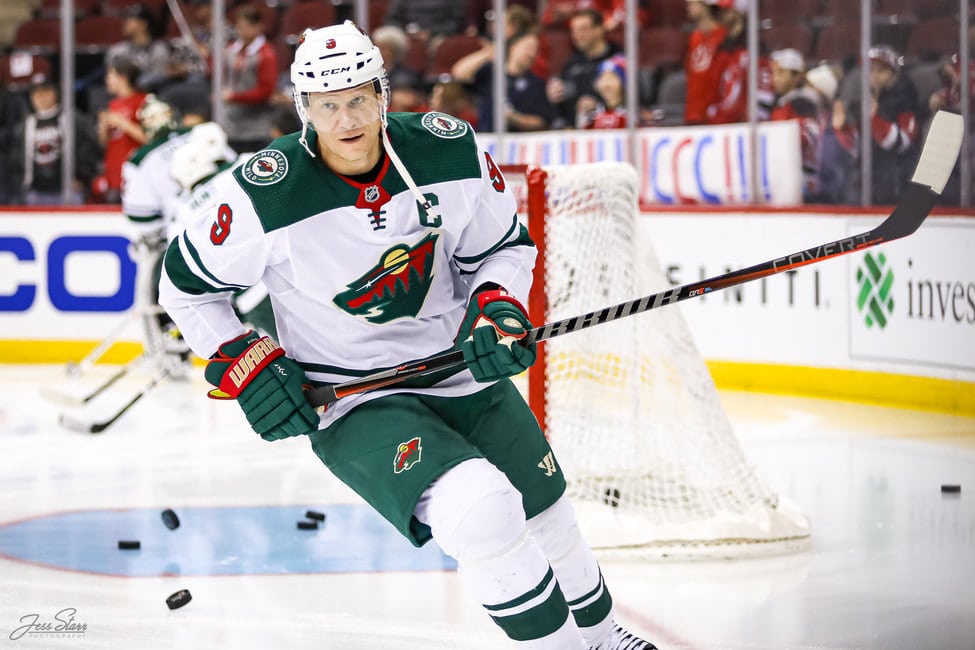 His importance over the years in keeping an often-directionless Wild team competitive cannot be understated. You'll also have a wider jersey selection, as Koivu's Minnesota tenure spans a couple of different design eras.
Honourable Mentions
Andrew Brunette, #15
Josh Harding, #37
Niklas Backstrom, #32
Montreal Canadiens
The Obvious Choice
Guy Lafleur, #10
There are many "obvious" choices for the oldest team in the NHL (and the jerseys haven't changed much at all, so no real differentiation there, either), but Lafleur and his supreme offensive talent truly stand out. At his peak, the Flower had six straight seasons of 50-plus goals and 100-plus points, and he remains, to this day, the franchise leader in assists and points (he is second all-time in goals).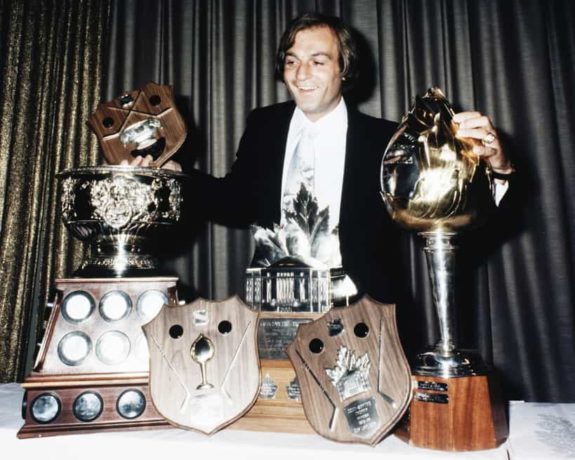 With his long blonde hair blowing in the wind generated by his swift, smooth style of skating, Lafleur was truly a sight to behold, and an instantly recognisable symbol of Montreal's then-dominance of the NHL.
The Correct Choice
Maurice Richard, #9
Richard's 544 career goals with Montreal, the only team he ever played for, is still the franchise high-water mark, over a half-century after his retirement. Withdrawn and contemplative off the ice, the Rocket was a ferocious competitor on it, with his fiery passion blazing a trailing to opposing goals – and, sometimes, to the league's disciplinarians.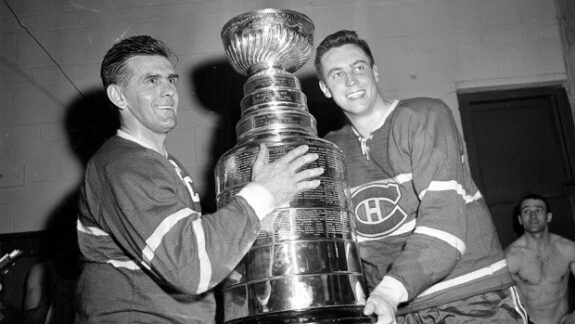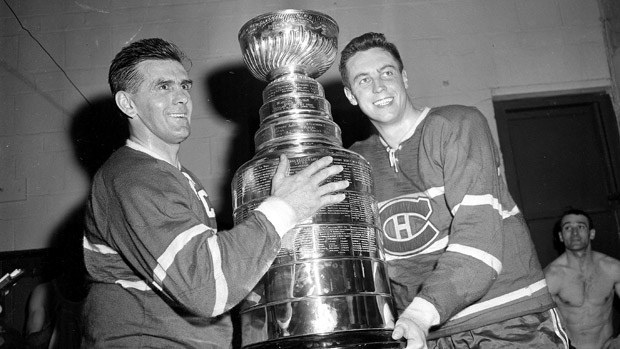 His career set against the backdrop of French Canada's struggle for respect and autonomy, Richard was the face not only of his team, but of the entire province of Quebec.
Honourable Mentions
Henri Richard, #16
Jean Beliveau, #4
Saku Koivu, #11
Nashville Predators
The Obvious Choice
Shea Weber, #6
The best player to ever wear the Nashville uniform (excluding Peter Forsberg, who was only in town for a handful of games), Weber brought Music City fans to their feet with his booming shot and physical play. Owner of one of the best beards in the business, Weber made the Nashville zone a deeply uncomfortable place to be.
Second in franchise goals, third in assists and third in points – keep in mind this is a defenseman we're talking about here, Weber's real offensive benefits were most prominent on the power play, where he leads the team in all-time tallies, 34 clear of his closest competitor. Choosing a Weber jersey also bestows upon thee the full range of Predators uniforms, including the infamous Mustard Tiger.
The Correct Choice
Cliff Ronning, #7
Though he played in a dark and dreary era of Predators uniform design, Ronning was Nashville's first real star, coming over from the Coyotes a few days into the Preds' inaugural season. Though he was not around to see the team make it to the playoffs, Ronning's four seasons of leadership and reliable on-ice performance gave the team some credibility in its formative years.
Honourable Mentions
David Legwand, #11
Pekka Rinne, #35
Ryan Suter, #20
Kansas City Scouts Colorado Rockies New Jersey Devils
The Obvious Choice
Martin Brodeur, #30
One of the greatest goaltenders in NHL history, Brodeur holds the league's all-time records for games played, wins (and losses), shutouts, shots faced, saves… You get the point.
He's even first in goals (2), assists (45) and points (47) at his position, adding another goal and 12 assists in playoff play. Brodeur backstopped the Devils to three Stanley Cups, to go along with his Calder Trophy and four Vezinas. And he did it all playing behind a team that, though stingy defensively, did not provide him with much run support, putting an enormous amount of pressure on Brodeur to stop every single shot that came his way – which, as mentioned, he did on more occasions than any other goaltender.
The Correct Choice
Ken Daneyko, #3
Daneyko was a lifelong Devil, originally debuting in 1983-84 and retiring following his third Cup win in 2003. A stalwart defensive defenseman, Daneyko was not flashy; he just got the job done. The franchise leader in games played (and penalty minutes), Daneyko is truly a New Jersey legend. A real fan of the game could do no better than his jersey for their Devils entry.
Honourable Mentions
Patrik Elias, #26
Scott Niedermayer, #27
Scott Stevens, #4
New York Islanders
The Obvious Choice
Mike Bossy, #22
An incomparable offensive talent limited only by injury, Bossy won three Lady Byngs, to go along with the Calder and a Conn Smythe. His goal-scoring is what he is best remembered for; Bossy holds the NHL record for most consecutive 50-plus goal seasons (nine), and shares the records for total 50-plus and 60-plus goal seasons (nine and five, respectively).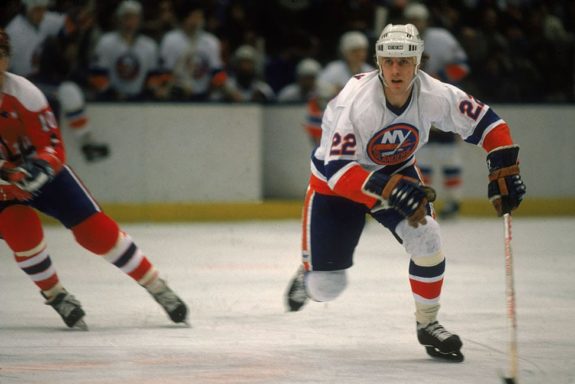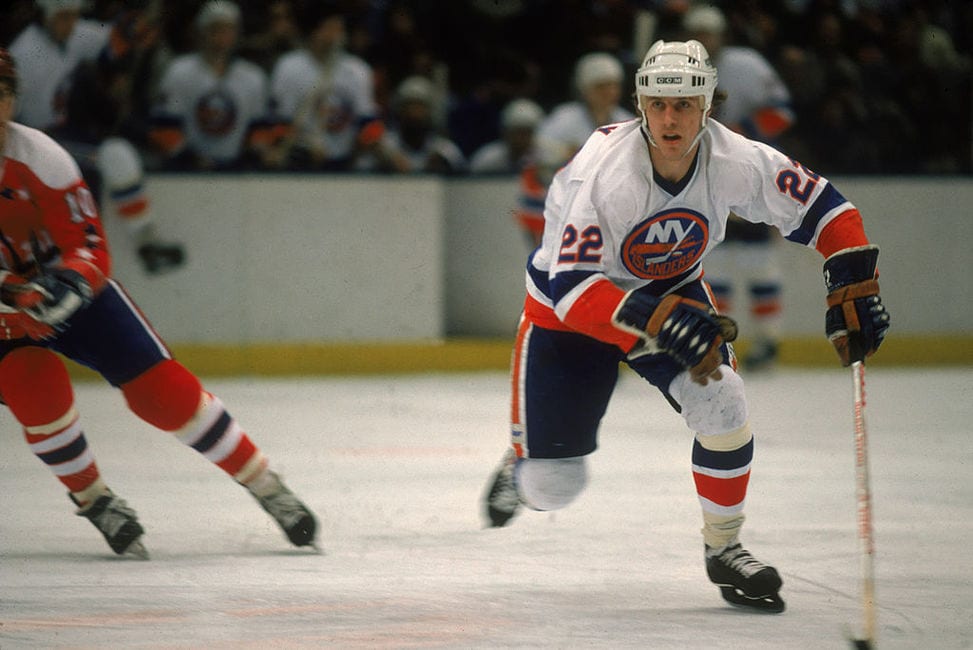 His goals per game average is the highest in NHL history. Perhaps even better in the playoffs, Bossy potted 61 goals and 111 points in only 72 games during the Islanders' four straight Stanley Cup runs between 1980 and 1983. Bossy was the best pure sniper of his day, and the Stanley Cup summered on Long Island four straight years because of him.
The Correct Choice
Billy Smith, #31
"Battlin' Billy" Smith, best known for his liberality with the stick and win-at-all-costs mentality, was one of the best clutch goalies in the history of the NHL. Though his regular season numbers are very good, he tended to share starting duties with his batterymates, most notably Glenn "Chico" Resch and, later, Rollie Melanson. However, Smith got the baton in the playoffs and ran with it, losing only 36 times in 132 games, backstopping the Isles to four consecutive Stanley Cups along the way.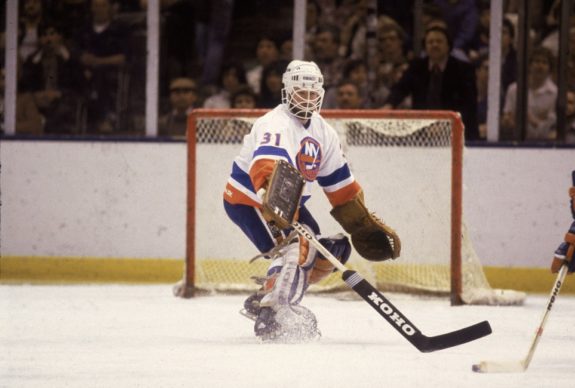 Smith's fiery passion for the game – for winning, in particular – perfectly embodied the younger brother mentality of the Islanders, who were – and are – often afterthoughts in the New York area. If you're looking for something that best represents the Islanders, look no further than a Billy Smith sweater.
Honourable Mentions
Bryan Trottier, #19
Denis Potvin, #5
John Tavares, #91
New York Rangers
The Obvious Choice
Brian Leetch, #2
A supremely gifted rearguard, Leetch is second all-time in games played, assists and points for the Rangers. He won the Conn Smythe Trophy in 1994, leading the Rangers to their first Stanley Cup since 1940 with a remarkable 34 points in 23 games – as a defenseman, remember.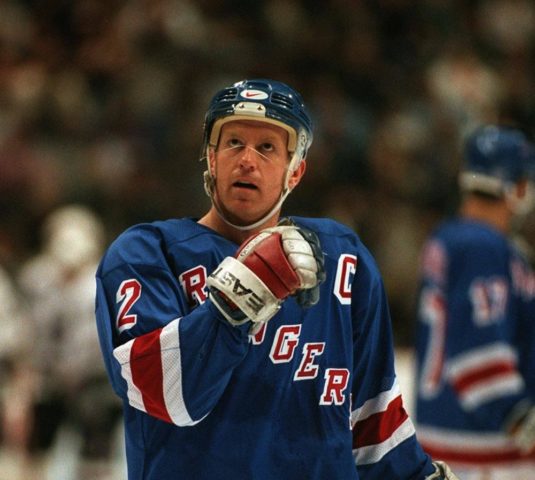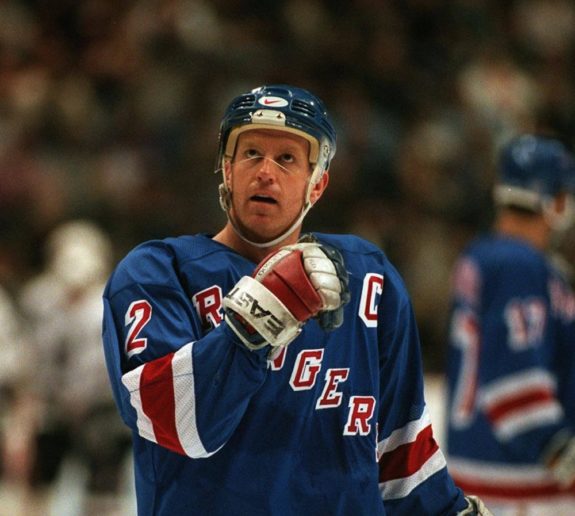 A blue line standout, Leetch was also an enormous part of the Rangers offense for the entirety of his 17 seasons with the team, giving unparalleled value to the Blueshirts from the back end. Helping his case is the fact he not only wore the classic Rangers duds, but also both versions of their fantastic "Lady Liberty" alternates.
The Correct Choice
Henrik Lundqvist, #30
It is exceedingly rare for hockey players, traditionally a quieter, more reserved breed, to be known for much outside their craft. Lundqvist has shattered this mould – in a good way, and is the perfect athlete for the intense spotlight that comes with playing in New York. Holder of the Rangers' all-time records for wins, shutouts and save percentage, Lundqvist has not only been the team's undisputed starter since his debut in 2005-06, but also perhaps the best (or, at the very least, the most consistently great) goaltender in the league over that span.
Always impeccably dressed and rarely one to shy away from publicity, Lundqvist is the ideal to which all New York athletes – all New York celebrities in general – should aspire. He's handsome, involved in the community and peerless on the ice. The King is the king for a reason.
Honourable Mentions
Mark Messier, #11
Mike Richter, #35
Rod Gilbert, #7
Ottawa Senators
The Obvious Choice
Daniel Alfredsson, #11
The Sens' all-time leader in goals (even-strength, power-play and shorthanded), assists and points, Alfredsson is, without question, the greatest player in team history (though Erik Karlsson might soon have something to say about that).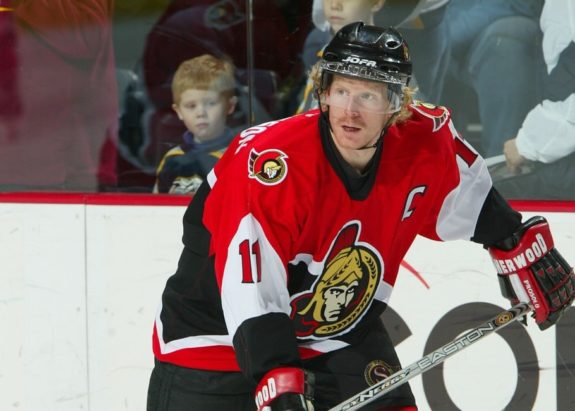 Alfredsson's addition helped jump-start the floundering Ottawa franchise in the mid-'90s, and he flourished throughout their ascent to greatness, which culminated in a loss in the 2007 Stanley Cup Final. He then shepherded a team in transition towards the future, all the while maintaining his high level of on-ice performance. An Alfie sweater should be worn with pride, no doubt about that.
The Correct Choice
Chris Phillips, #4
Like Daneyko, Phillips was never a particularly flashy player. He simply showed up, went to work and did a good job, retiring as the Sens' all-time leader in games played. Unfortunately, he is probably best remembered for Game 5 of the 2007 Stanley Cup Final, when he inadvertently banked the series-winning goal off goaltender Ray Emery and into his own net.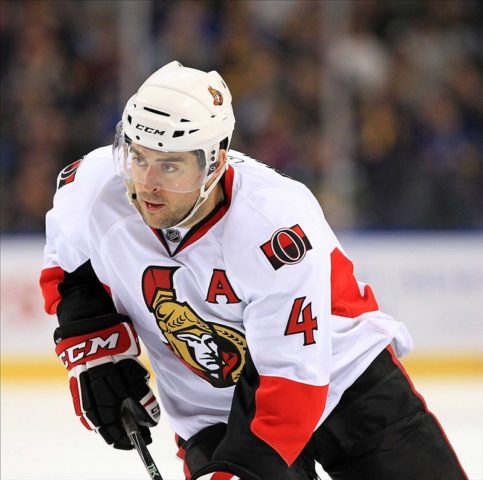 However, like Alfredsson, Phillips stuck with the franchise through the good, the bad and the ugly (on-ice and aesthetically), and should be remembered as such. He was not only eminently reliable on the ice, he rose to a prominent leadership role off it. The team even thought enough of him to keep him around post-retirement. Is there anyone more Ottawa than Phillips?
Honourable Mentions
Craig Anderson, #41
Erik Karlsson, #65
Jason Spezza, #19
Philadelphia Flyers
The Obvious Choice
Eric Lindros, #88
A mammoth of a man able to overpower opponents at will, Lindros was the centrepiece of the powerful Flyers teams of the 1990s. Big and mean, with surprising quickness and finesse, Lindros could play the game any way you wanted. Dominant in all situations, Lindros won both the Hart and Pearson in 1994-95.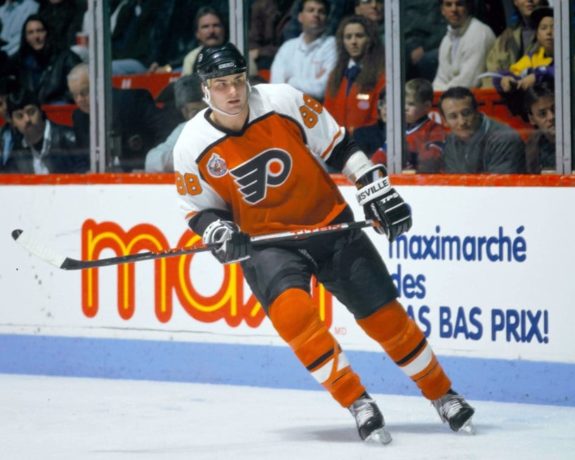 Though injuries stunted and, ultimately, terminated his career far too early, Lindros left his mark on the hockey world as the undisputed most talented player to ever play for the Flyers, and one of the most gifted players to ever play the game.
The Correct Choice
Bobby Clarke, #16
Still the franchise leader in games played, assists and points more that three decades after his retirement, Clarke was the quintessential Philadelphia Flyer. Captaining a team known best for their rough and tumble style of play – Clarke himself broke 100 penalty minutes on six occasions, he was also a supremely gifted two-way centre, posting three 100-plus point seasons and twice leading the league in assists, while also bringing home a Selke Trophy.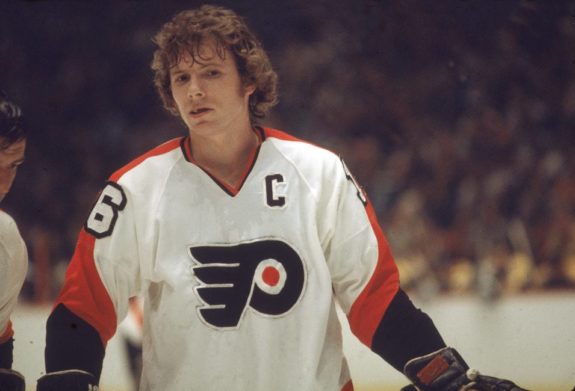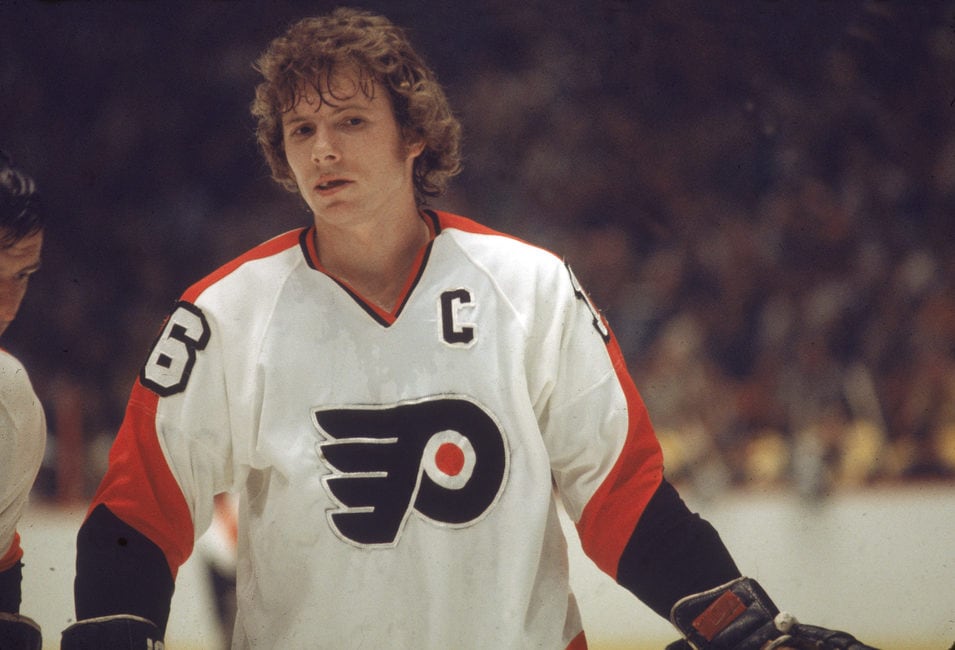 A ferocious competitor, Clarke excelled in the NHL despite his smallish stature and type 1 diabetes, earning the Masterton Trophy in 1972, which he would follow up with three Harts and a Pearson. He also wore more jerseys than Lindros, giving you a better selection to choose from.
Honourable Mentions
Bernie Parent, #1
Bill Barber, #7
Ron Hextall, #27
Pittsburgh Penguins
The Obvious Choice
Sidney Crosby, #87
The choice du jour based on recency bias, Crosby has unquestionably been the best post-lockout player in the league, averaging an incredible 1.31 points per game since his debut in 2005-06. Crosby has captained the Penguins to three Stanley Cups – two of which were back-to-back, and has brought home two Art Ross Trophies and two Richards to go along with two Conn Smythes, two Harts and three Pearson/Lindsays.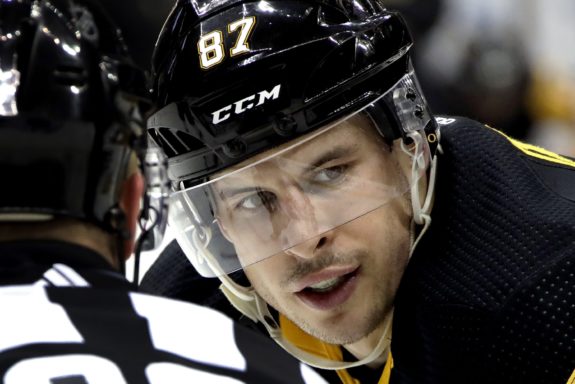 Crosby can literally do anything he wants. One year, bored of dominating with his playmaking, he decided to score 50 goals – and did it. A few years later, bored with the offensive game, he decided to become a two-way threat – and did it. Crosby is the best player on Planet Earth, as he has been his entire career.
The Correct Choice
Mario Lemieux, #66
But lest we forget just how good Mario Lemieux was. His career shortened by various ailments, Lemieux's raw numbers do not come close to approaching Wayne Gretzky. However, looking at per-game averages, Lemieux outpaces Gretzky in goals, and trails him only marginally in assists and points. Unlike Gretzky, Lemieux spent half of his career without much of a supporting cast, making his achievements all the more impressive.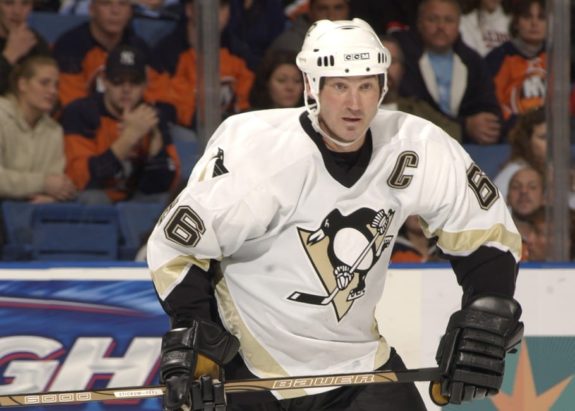 Lemieux won the Calder, two Cups, two Conn Smythes, three Harts, four Pearsons and a Masterton, to go alongside six Art Ross Trophies – and the three Richards he would have won, had there been a goal-scoring award at the time. There is an argument to be made for Lemieux being the best player to have ever played the game. Plus, he wore nearly every uniform design in Penguins history.
Honourable Mentions
Evgeni Malkin, #71
Jaromir Jagr, #68
Ron Francis, #10
St. Louis Blues
The Obvious Choice
Brett Hull, #16
The Blues' all-time leader in goals (and second all-time in assists and points), Hull was a generational goal-scorer. Despite mediocre skating, he always managed to get himself in the right place at the right time, leading the NHL in goals three consecutive seasons.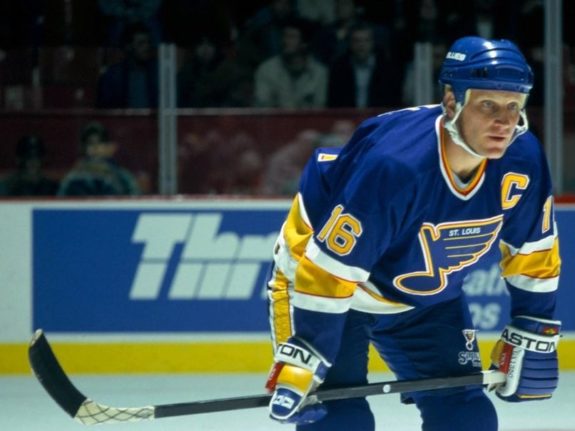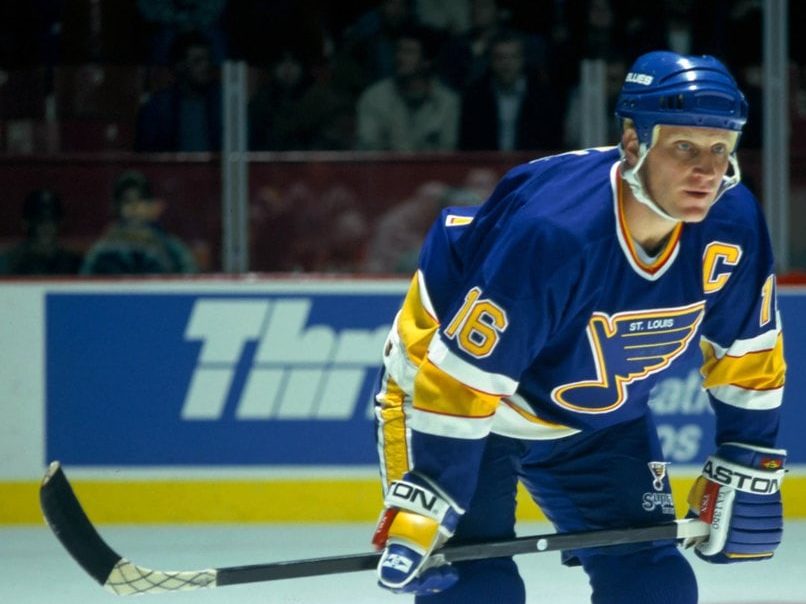 Hull owns a phenomenal 0.71 goals per game average with the Blues, equating to 58 goals in an 82-game season. Possessing a lethal one-timer, Hull is a Blues legend that played for them in a variety of jerseys, making him doubly attractive for the task at hand.
The Correct Choice
Curtis Joseph, #31
Everyone loves an underdog story, and Cujo always seemed to be at his best when his teams were not. Joseph dragged the unbalanced, top-heavy Blues to respectability in the early '90s, and is perhaps best remembered (in a Blues uniform, anyway) for standing on his head during the 1993 playoffs, posting a .938 save percentage (unheard of in that era) and two shutouts. Though Hull wore more Blues jerseys than did Joseph, a Cujo kit would be an off-the-board pick that is sure to impress.
Honourable Mentions
Al MacInnis, #2
Bernie Federko, #24
Chris Pronger, #44
San Jose Sharks
The Obvious Choice
Patrick Marleau, #12
After 19 seasons in San Jose, Marleau bade farewell to the Sharks faithful with a full-page spread in a local newspaper. Marleau departs for Toronto the Sharks franchise leader in games played, goals (every situation) and points, and second only to Joe Thornton in assists.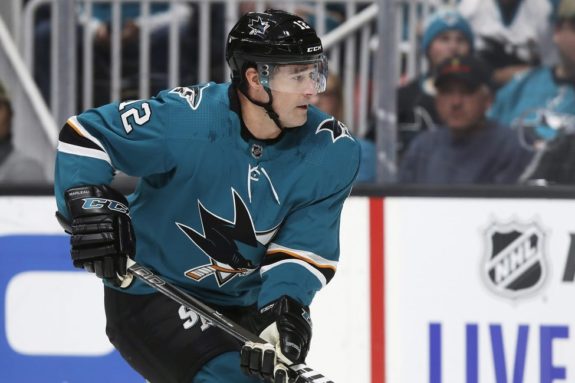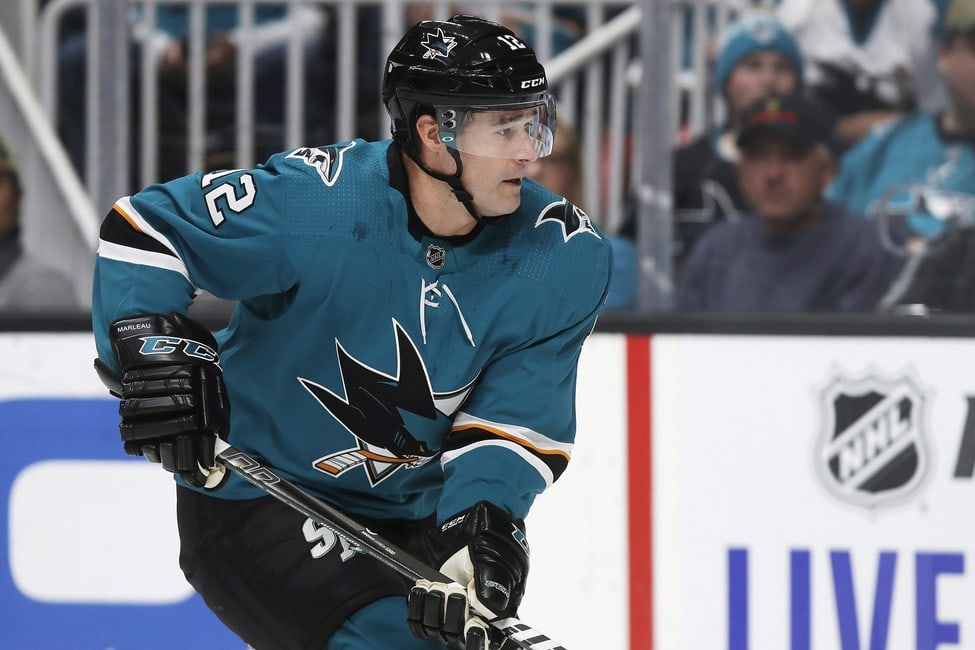 A fast skater, Marleau was as consistent as he was talented, playing 74 or more games in every single season, save for lockout-shortened 2012-13 (when he played all 48). He was also around for every single look the Sharks have worn, leaving the jersey hunter plenty of options.
The Correct Choice
Owen Nolan, #11
The Sharks' first bona fide star, Nolan spent eight seasons in San Jose and brought the Sharks their first EA Sports cover appearance for NHL 2001. A power forward (both a hammer and a stick!), Nolan brought his tough yet skillful style of play to the Sharks, lending the team his offense and, just as importantly, his complete game. A fan-favourite, Nolan served as team captain for several seasons, but is perhaps best remembered for his calling his shot on Dominik Hasek during the 1997 All-Star Game at the Shark Tank, capping off a hat trick (inexplicably, the NHL did not give him the game MVP award). For what he meant to the franchise, Owen Nolan would be my pick for a sweater selection.
Honourable Mentions
Evgeni Nabokov, #20
Joe Thornton, #19
Mike Ricci, #18
Tampa Bay Lightning
The Obvious Choice
Martin St. Louis, #26
The Lightning's all-time leader in assists and points, and one of the most consistently high-performing forwards of the post-lockout era, St. Louis was the Lightning's best player through two very important time periods for the team. Pre-lockout, he played a major part in their ascension to the NHL's summit (where they won a Stanley Cup in 2004), averaging 66 points per 82 games and winning the Art Ross, Hart and Pearson Trophies in 2003-04. Post-lockout, as the core began to decline and or disperse, St. Louis shepherded a new wave of Lightning players to stardom.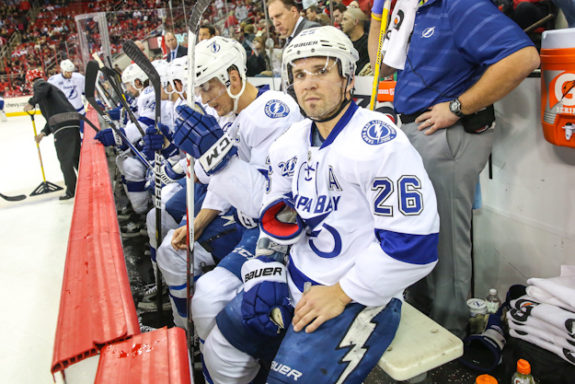 Most notably, he was the setup man for Steven Stamkos, even providing the primary assist on Stamkos' 60th goal in 2011-12. Though he left Tampa Bay under less-than-ideal circumstances, St. Louis will always be remembered as a Bolt. He also wore a number of different Lightning sweaters, so you'll have a lot to choose from.
The Correct Choice
Ruslan Fedotenko, #17
Why is a forward who only played four seasons in Tampa Bay and whose career-high is 41 points on this list? Simple. Fedotenko scored both goals in Game 7 of the 2004 Stanley Cup Final, leading the Lightning to their first Cup win in franchise history. You wanna stand out from the crowd and show your hockey knowledge? Get yourself a Fedotenko jersey.
Honourable Mentions
Brad Richards, #19
Steven Stamkos, #91
Vincent Lecavalier, #4
Toronto Arenas Toronto St. Patricks Toronto Maple Leafs
The Obvious Choice
Dave Keon, #14
Chosen as the greatest Leaf of all time, Keon was a phenomenal two-way centre who produced every single year, whether it be during the Leafs' dynasty in the 1960s or the leaner years that followed. Keon was a shutdown centre with tremendous speed, but the puck was never far from the back of the opposing net any time he was on the ice.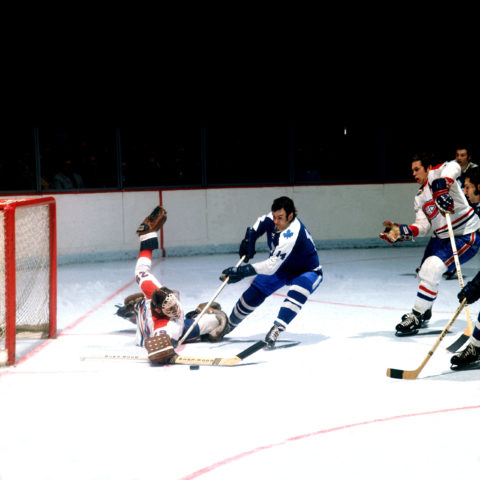 His Toronto numbers would be even better, had the Leafs – despotic owner Harold Ballard, in particular – not run him out of town in the mid-1970s. Keon deserves much more respect and recognition than he gets, so why not buy his jersey? The Leafs have never been able to settle on a sweater design, so there will be a lot to choose from.
The Correct Choice
Mats Sundin, #13
Sundin was never the player – or captain – Toronto wanted, but he was everything they needed, both as a team and as a fanbase. Constantly overlooked in the annals of the Maple Leafs, which tend to favour heart/soul/gritty/sandpaper-y stars like Doug Gilmour and Wendel Clark, Sundin leads the team in all-time goals and points, while only playing the sixth-most games in franchise history.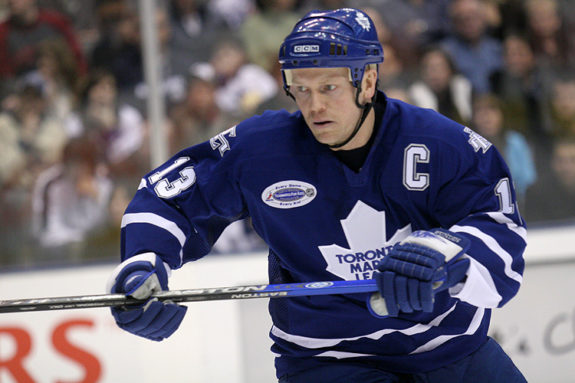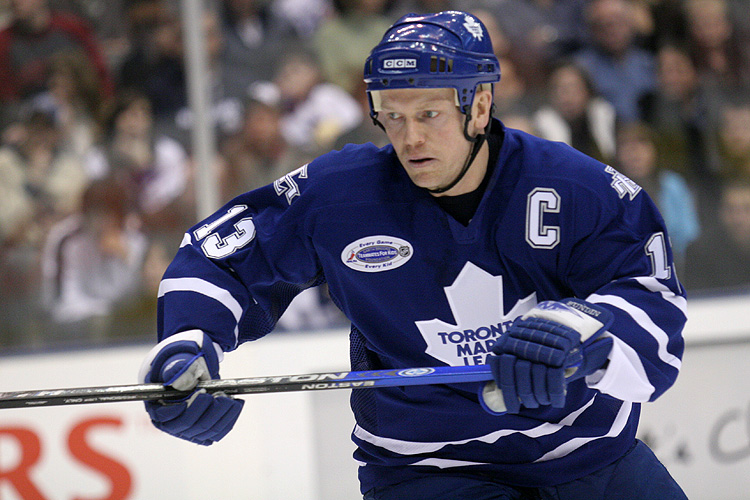 Stoic and composed, Sundin produced – to little fanfare – a point per game every single year, during a time in which it had never been more difficult to score, continuing this consistency post-lockout. And he achieved all this despite being saddled with often laughably incompetent linemates who wouldn't know the back of a net if it hit them in the face. Impossible to rattle, even when confronted by the merciless Toronto media, Sundin is a model for class and consistency that any hockey player would do well to aspire to. Though the jerseys he wore weren't the Leafs' strongest entries, it would be well worth the aesthetic downgrade to wear his name on your back.
Honourable Mentions
Darryl Sittler, #27
Doug Gilmour, #93
Wendel Clark, #17
Vancouver Canucks
The Obvious Choice
Trevor Linden, #16
The heart and soul of the Canucks for 16 seasons over two tours of duty, Linden's legend was cemented when he put the seventh-seeded team on his back in the 1994 playoffs, notching 25 points in 24 games en route to the Stanley Cup Final.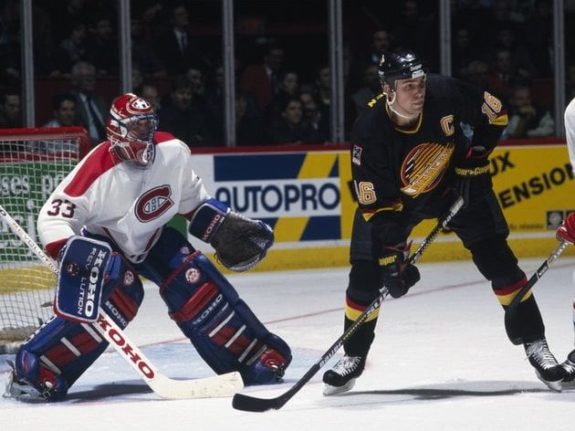 Trailing only the Sedin twins in games played and assists, Daniel Sedin and Markus Naslund in goals, and both twins and Naslund in points, Linden was no offensive flash in the pan. Linden was a good, solid player who played in Vancouver for a good, long time. A captain and fan-favourite in Vancouver, Linden played for the Canucks in many uniform eras, making your choice even easier.
The Correct Choice
Kirk McLean, #1
The whole reason the Canucks got to that Final in the first place was Kirk McLean. Standing on his head the entire playoffs, McLean's finest moment came in Game 7 of the first round against second-seeded Calgary, when his spectacular cross-crease overtime save kept the Canucks alive, allowing Pavel Bure to extinguish the Flames a period later. The Canucks upset their way to the Final, proceeding to knock off fourth-seeded Dallas and third-seeded Toronto (yes, Toronto once played in the Western Conference), before falling in seven games to the New York Rangers.
McLean got the Canucks closer to glory than any goaltender before or since, and deserves to be remembered as such. You'll have a wild and crazy selection of jerseys to pick from, too. This was Vancouver in the '80s and '90s, after all.
Honourable Mentions
Daniel (#22) / Henrik (#33) Sedin
Pavel Bure, #10 / #96
Roberto Luongo, #1
Vegas Golden Knights
The Obvious Choice
Marc-Andre Fleury, #29
Marc-Andre Fleury has indeed become one of the faces of the Vegas Golden Knights' organization, so you'd be remiss not to have a black and gold #29 jersey hanging in the closet. Much like Patrick Roy transferred his winning ways from the Canadiens to the Avalanche, Fleury has done the same since leaving the Penguins and joining the Golden Knights. He backstopped the Golden Knights to three straight playoff runs, including a trip to the Stanley Cup Final in their inaugural year.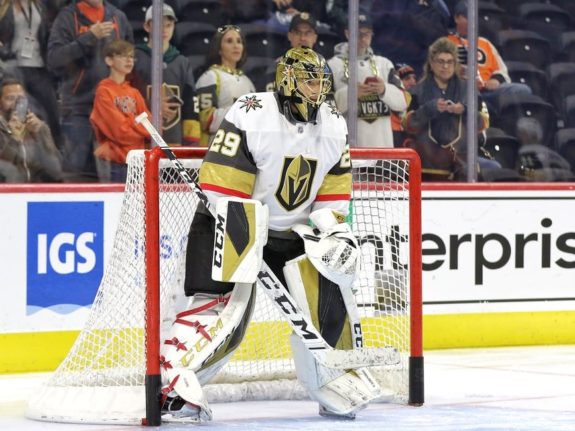 The Correct Choice
William Karlsson, #71
If you didn't snag a #71 jersey after William Karlsson's breakout 2017-18 season with the Golden Knights, the second best time to grab one would be now. After lengthy negotiations, the Swedish forward inked an eight-year contract extension with the Golden Knights just prior to the 2019-20 season.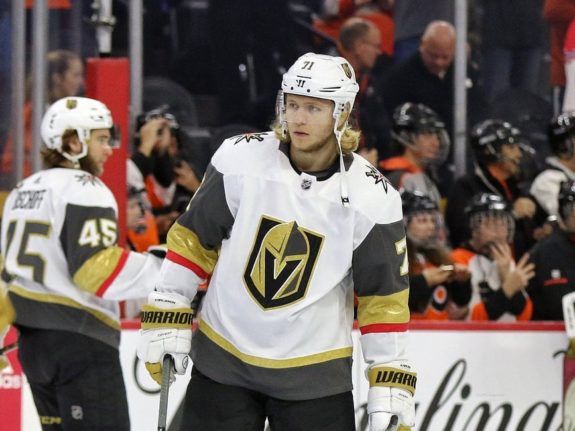 Honorable Mentions
Jonathan Marchessault, #81
Nate Schmidt, #88
Ryan Reaves, #75
Washington Capitals
The Obvious Choice
Alex Ovechkin, #8
Hockey's defibrillator, Ovechkin exploded onto the scene in 2005-06, winning Rookie of the Year after a 52-goal,106-point campaign, re-energising the flagging Washington market along the way. A physically imposing man, Ovi plays the game flat-out, though he also possesses surprising finesse. What makes the Great 8 so fantastic to watch is that everyone in the building knows exactly what he's going to do, but everyone in the building is powerless to stop it.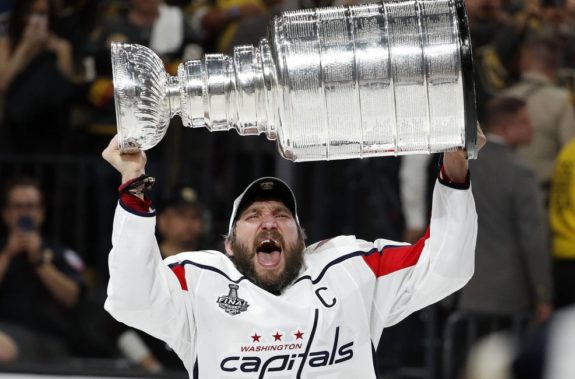 Ovechkin's effervescent joie de vivre is infectious and makes every game he plays in the often stale, stagnant NHL a must-watch event. Though you probably own something with "Ovechkin" on it already, one of his jerseys, from whichever era of Caps uniform design you desire – he covers them all, would be a fine addition to any collection.
The Correct Choice
Rod Langway, #5
Not a tremendously exciting player, even for the most imaginative among us, Langway was a fixture on the Capitals blue line for over a decade. Langway was the quintessential defensive defenseman, and an invaluable part of the competitive Capitals teams of the 1980s and early 1990s.
Nicknamed the Secretary of Defense, Langway's arrival in time for the 1982-83 season buoyed the Caps to their first postseason appearance in their nine-year history, mainly by helping cut their goals allowed from 338 to 283. Washington made the playoffs in each one of Langway's 11 seasons there, allowing the third-fewest goals in the league during that span. So why not buy the jersey of the first player to save the Capitals?
Honourable Mentions
Nicklas Backstrom, #19
Olaf Kolzig, #37
Peter Bondra, #12
Atlanta Thrashers Winnipeg Jets
The Obvious Choice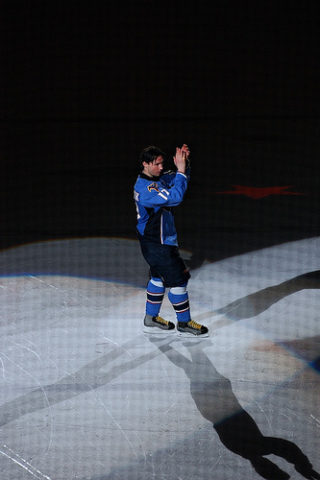 Ilya Kovalchuk, #17
The franchise's all-time leader in goals, assists and points, Kovalchuk is a generational scoring talent, and undoubtedly the best player in team history. Though he never made it to Winnipeg and had to endure season after season of relative obscurity and early summers in Atlanta, Kovalchuk mercilessly preyed upon opposition defenses, averaging 45 goals per 82 games. Though the mantle may soon be picked up by one or more of the Jets' talented youngsters, Kovalchuk is still the franchise bar for both talent and production.
The Correct Choice
Johan Hedberg, #1
Johan "Moose" Hedberg is another outside pick. After all, he only played for the Thrashers for four seasons and, like Kovalchuk, never played for the reinstated Jets. Not to mention the fact he's a distant third all-time on the franchise's wins list. Not an especially outstanding goaltender, Hedberg was, nevertheless, a fan-favourite for his entertaining style of play and occasional stretches of brilliance.
Plus, he's the perfect fit the Thrashers/Jets entry. Why, you ask? Allow me to explain: the Jets play out of Bell MTS Place…which is also home to the American Hockey League's Manitoba Moose…who Hedberg used to play for…and who he's nicknamed after. Proof of a monumental conspiracy featuring both the Government and the Illuminati, but also a good reason to buy his jersey. Besides, those Thrashers kits were sweet!
Honourable Mentions
Andrew Ladd, #16
Bryan Little, #10 / #18
Dustin Byfuglien, #33
Which NHL Jersey Should You Buy?
To conclude, here's a Pokémon quote for you: do you remember Karen, from Generation II's Elite Four? "Truly skilled trainers should try to win with their favorites."
This holds true for buying jerseys, too. The more variety out there, the better. You don't have to go out and buy the kit that everyone else has. You don't have to pay attention to what everyone else thinks looks best, or how everyone else views a given player's legacy.
It's your money. Spend it on a jersey that means something to you.
* originally published in May 2018
---