| | | | |
| --- | --- | --- | --- |
| Born: | January 29, 1965 | Draft: | 1983 Black Hawks #199 Overall |
| Hometown: | Pardubice, Czech Republic | Position: | Goaltender |
| Known For: | "The Dominator" | Shoots: | Left |
| National Team: | Czech Republic | | |
Dominik Hašek (Czech pronunciation: [ˈdomɪnɪk ˈɦaʃɛk], born January 29, 1965) is a Czech former ice hockey goaltender. Widely regarded as one of the best goaltenders of all time, Hasek played for the Chicago Blackhawks, Buffalo Sabres, Detroit Red Wings and the Ottawa Senators in his 16-season National Hockey League career. During his years in Buffalo, he became one of the league's finest goaltenders, earning him the nickname "The Dominator". His strong play has been credited with establishing European goaltenders in a league previously dominated by North Americans. He is a two-time Stanley Cup champion, both with the Red Wings.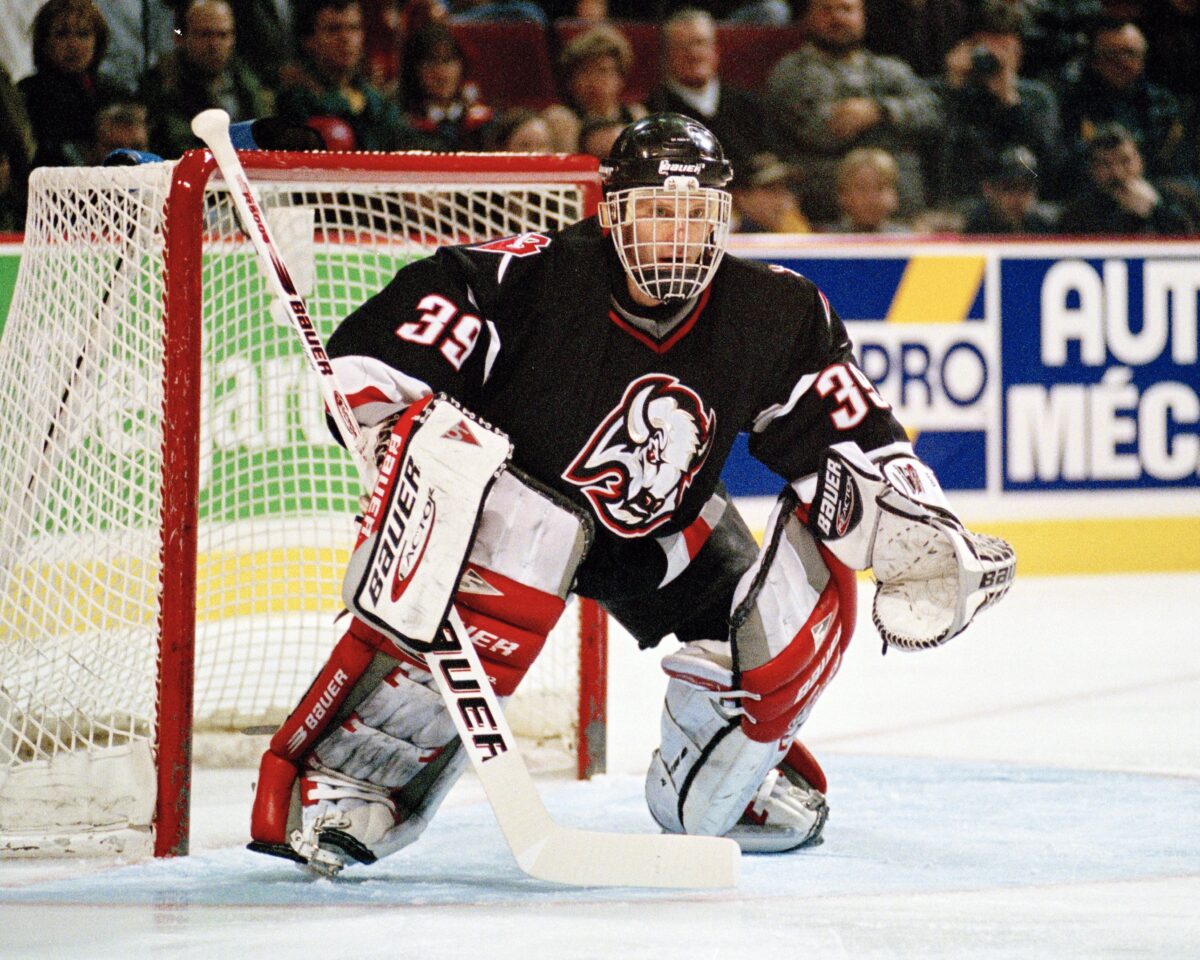 Hašek was one of the league's most successful goaltenders of the 1990s and early 2000s. From 1993 to 2001, he won six Vezina Trophies, the most under the award's current system of voting for the best individual goalie. In 1998 he won his second consecutive Hart Memorial Trophy, becoming the first goaltender to win the award multiple times. During the 1998 Winter Olympics in Nagano, Japan, he led the Czech national ice hockey team to its first and only Olympic gold medal. The feat made him a popular figure in his home country and prompted hockey legend Wayne Gretzky to call him "the best player in the game". While with the Red Wings in 2002, Hašek became the first European-trained starting goaltender to win the Stanley Cup. In the process, he set a record for shutouts in a postseason year.
Hašek was considered an unorthodox goaltender, with a distinct style that labeled him a "flopper". He was best known for his concentration, foot speed, flexibility, and unconventional saves, such as covering the puck with his blocker rather than his trapper. Hašek holds the highest career save percentage of all time (0.9223) and is seventh in goals-against average (first in the modern era) (2.202), and the third-highest single-season save percentage (0.9366 in 1998–99). The record was broken by Tim Thomas in the 2010–11 season and again in the 2011–12 season by Brian Elliott, who now holds the record at .940. Hašek is the only goalie to face the most shots per 60 minutes and have the highest save percentage in one season. He did it twice while with the Sabres (1996 and 1998).
Dominik Hasek Statistics
Trade Tracker
Date
Traded From
Traded To
Traded For
August 7, 1992
Fourth-Round Pick
(Eric Daze)
Stephane Beauregard
July 1, 2001
First-Round Pick
(Jim Slater)
Vyacheslav Kozlov
Deeper Dive
Achievements
Inducted into the Hockey Hall of Fame in 2014
Inducted into the IIHF Hall of Fame in 2014
Czech Hockey Hall of Fame
Jersey (#39) was retired by the Sabres in 2014
NHL All-Rookie Team (1992)
3x William M. Jennings Trophy (1994, 2001, 2008)
6x Vezina Trophy (1994, 1995, 1997, 1998, 1999, 2001)
6x NHL First All-Star Team (1994, 1995, 1997, 1998, 1999, 2001)
6x NHL All-Star Game (1996, 1997, 1998, 1999, 2001, 2002)
2x Hart Memorial Trophy (1997, 1998)
2x Lester B. Pearson Award (1997, 1998)
2x Stanley Cup Champion with the Red Wings (2002, 2008)
Czechoslovak First League Best Goaltender (1986, 1987, 1988, 1989, 1990)
5x Golden Hockey Stick (1987, 1989, 1990, 1997, 1998)
3x Czech Sportsperson of the Year (1994, 1998, 2001)
Czech Hockey Player of the 20th century (1998)
Czech Extraliga Champion (2010)
EJC Best Goaltender Award (1982)
WJC Best Goaltender Award (1983)
WC All-Star Team (1987, 1989, 1990)
WC Best Goaltender (1987, 1989)
Olympic Games Best Goaltender (1998)
IIHF All-Time Czech Team (2020)
Olympic Bronze Medal (2006)
Olympic Gold Medal (1998)
World Championship Bronze Medal (1987, 1989)
World Championship Silver Medal (1983)
U20 WJC Silver Medal (1985)
NHL Records
All-Time

1st place – Highest career save percent (.922)
2nd place – Most games played by a European born goaltender (735)
6th place – Most shutouts (81)
7th place – Lowest goals-against average (2.20)
11th place – Most wins (389)

Regular Season

First European goalie to lead the NHL in GAA (1993–94)
First goalie since 1974 to have a GAA below 2.00 (1993–94)
Most shutouts in one month (six in 1997–98)

Playoffs

2nd place – Most shutouts in one season (6)
3rd place – Most shutouts (15)
10th place – Most wins (61)
Sources