There are a number of ways an NHL player can be remembered in the annals of league history: winning a Stanley Cup, being inducted into the Hall of Fame, setting a new record. But one of the most indelible ways they can etch their name in the game's lore is to have their jersey number retired by their former team. Whenever folks are allowed back into rinks, one of the most familiar sights will be those numbers hanging majestically from the rafters.
The Buffalo Sabres have retired the numbers of seven players in their half-century of existence: Tim Horton (2), Rick Martin (7), Gilbert Perreault (11), Rene Robert (14), Pat LaFontaine (16), Danny Gare (18), and Dominik Hasek (39). Hasek was the last to have his number retired back in 2015.
Who are some of the other Buffalo greats that could be next in line to see their numbers hung up in the rafters of First Niagara Center? And is there anybody on the current roster who could one day earn that honor?
Ryan Miller #30
This one's a no-doubter. Miller is still active with the Anaheim Ducks at the ripe old age of 40, but you can be sure that whenever he hangs up his skates, he won't have to wait too long to see his number 30 retired by the franchise where he became a star.
Miller continued the legacy of great Buffalo goaltenders from the likes of Hasek, Tom Barrasso, and Don Edwards. A fifth-round draft pick in 1999, Miller leads all Buffalo netminders in games played (540) and wins (284), is second in save percentage (.916%) and shutouts (28), and third in goals against average (2.58).
He broke out as the young netminder on the Sabres' back-to-back trips to the Eastern Conference Final in 2006 and 2007, and became a superstar with his Vezina Trophy-winning campaign of 2009-10. Add in his legendary performance at the 2010 Olympics for the United States and his universally beloved stature among Sabres fans, and Miller is a mortal lock to have his number retired some day.
Phil Housley #6
There are valid arguments against Housley's case for having his number retired. While he played more games for Buffalo than any other team, his 608 appearances as a Sabre represent less than half of his career games played (1,495). There's also the lingering, bitter aftertaste of Housley's disastrous two-year stint as head coach.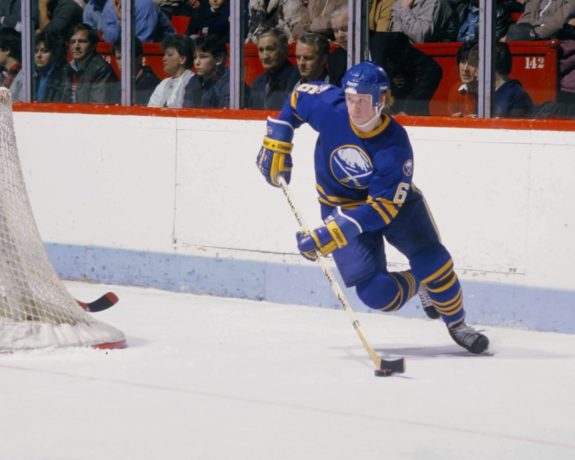 However, the numbers speak for themselves. Housley burst onto the scene immediately after being selected sixth overall in the 1982 Draft, finishing as the runner-up for the Calder Trophy in 1982-83. To this day, no teenage defenseman has scored more points than Housely's 144 in his first two seasons.
Housley finished his Buffalo career with 178 goals, 380 assists, and 558 points. He currently sits fourth in franchise history in assists and fifth in points despite being a defenseman and sitting outside the franchise's top-10 in games played.
Mike Ramsey #5
Maybe the most underappreciated Sabre of all time, Ramsey was a rock on the Buffalo blue line in the 1980s and early 1990s. After making a name for himself as one of the stars of the 1980 Miracle on Ice team, Ramsey quickly carved out a role as a steady two-way defenseman.
Ramsey was never a flashy player — he never scored more than 40 points in a season and only finished in the top-10 of the Norris Trophy voting once (1989-90). But he provided a steady presence during a tenure that saw him play for eight different head coaches in 13-plus seasons.
Ramsey sits third in team history in games played (911) and sixth in plus/minus (+166).
Dave Andreychuk #25
Andreychuk's case is similar to Housley's: a Hall-of-Fame player who spent more time in Buffalo than anywhere else, but whose grandest achievements came elsewhere, namely captaining the Tampa Bay Lightning to the Stanley Cup in 2003-04.
Also similar to Housley, Andreychuk never netted any notable hardware but put up some big numbers. In franchise history, he places sixth in games played (837), third in goals (368), second in assists (436), second in points (804), and first in power-play goals (161).
Andreychuk had two 40-goal seasons and four 80-point seasons as a Sabre, though one knock against him was his playoff production — in 54 postseason appearances for Buffalo, he scored just 13 goals and 36 points, well below his per-game production in the regular season.
Craig Ramsay #10
Ramsay and Ramsey — similar names, similar standings in Sabres history. Like his former teammate, Ramsay was an unspectacular but consistent two-way contributor for more than a decade.
Along with the French Connection, Ramsay helped the Sabres establish themselves as a legitimate playoff team within years of their creation and helped lead the franchise to a Stanley Cup appearance in just its fifth season in 1974-75.
While he only eclipsed 70 points in a season twice, Ramsay was remarkably durable and consistent — he played fewer than 70 games in a season just twice, and scored at least 50 points in eight straight seasons from 1973-74 to 1981-82. Ramsay won the Selke Trophy in his final season in 1984-85 after being a finalist five other times.
Jack Eichel #9/Rasmus Dahlin #26
We might be getting a little ahead of ourselves with these two, but so far, Buffalo's two young stars have given every indication that they're going to be around for a while, and they're going to put up some big numbers while they're here.
With 337 points in just 354 games, Eichel is already making his way up the team's career leaderboards. With the offseason addition of Taylor Hall, Eichel could very well be in line for a career season in 2020-21.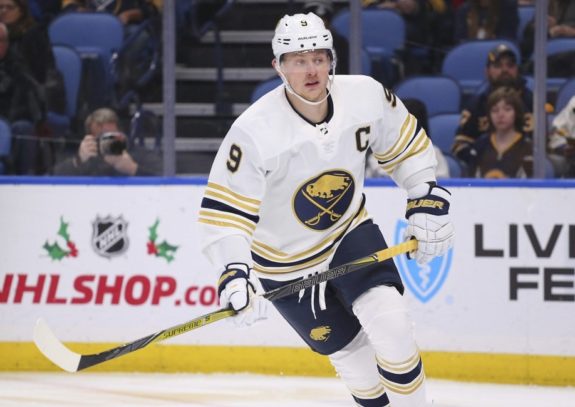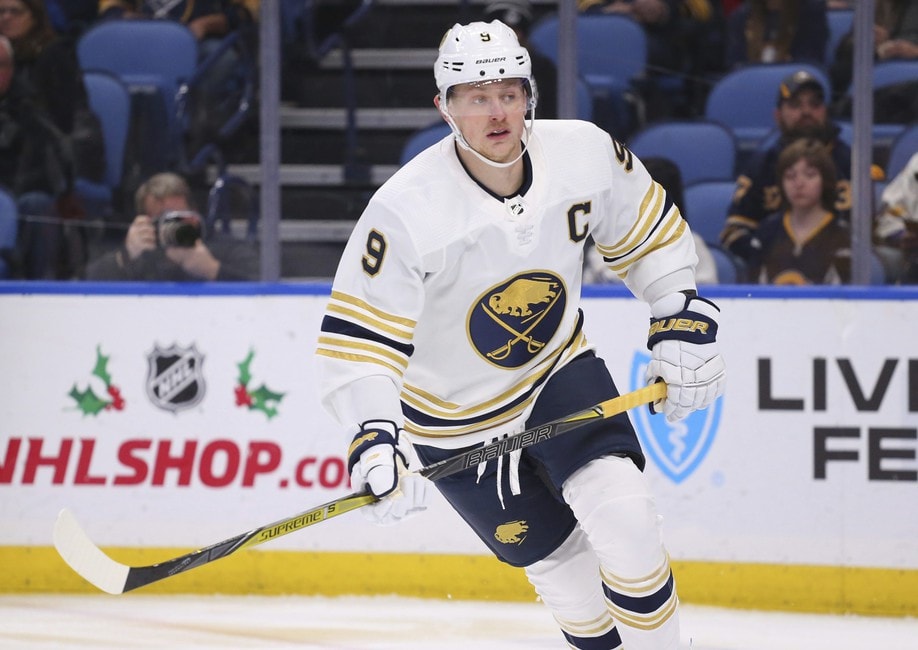 Dahlin, meanwhile, is second only to Housley for most points by a teenage defenseman in league history (84), and is also poised for a breakout season. Given how young he is and how productive he's already been so far, it wouldn't be far-fetched to suggest that Dahlin could one day surpass Housley as Buffalo's highest-scoring defenseman ever.
Time will tell just how high Eichel and Dahlin will rise in the ranks of Buffalo greats, but Sabres fans are hoping that one day both of their sweater numbers will be hanging up there with the likes of Perreault and Hasek.
It's unlikely that all — or even most — of the players mentioned above will have their numbers retired. But for a franchise that needs to get its fanbase excited by any means necessary, it's not a bad idea to honor some of the great players of the past by hanging their number in the rafters.
---
---
Born and raised in Buffalo, NY, Nick has a Bachelor's degree in history from Boston University and a Master's degree in journalism from Syracuse University. He interned at Little League International where he covered the Little League Baseball World Series. Nick then spent over three years as a newspaper sports reporter and editor at the Bradford Era in Bradford, PA and the Daily Freeman in Kingston, NY. He is currently living in Buffalo where he is still holding out hope for a Bills Super Bowl and/or Sabres Stanley Cup.