The Nashville Predators are in a great situation going into the 2020-21 season in terms of player contracts. Their highest-paid player (Roman Josi) just won the Norris Trophy as the league's top defenceman, and shows no signs of slowing down at 30 years of age. And with nearly $13 million in cap space, it's not unreasonable to think the Predators and general manager David Poile could make some more moves before or during the season.
That being said, there are some bulkier contracts and some that don't look so great, as there will be on any team. While there are no standout, horrendous deals — at least on paper at this point in time — here are the three "worst" contracts the Predators currently have on their roster.
Kyle Turris
The Predators made waves when they acquired Kyle Turris in a trade from the Ottawa Senators in 2017. In a twist of irony, Matt Duchene may have been the more central player in the three-team deal that landed Duchene in Ottawa, but Turris coming to Nashville gave them a chance to find a number-two centre they desperately needed.
Within hours of being traded to Nashville, Turris signed a six-year, $6-million extension that would see him stay on the Predators' payroll through the 2023-24 season. At the time, this seemed quite reasonable; Turris had scored 20 or more goals in three of his last four seasons in Ottawa, and had played a major role in the 2017 run to the Eastern Conference Final, scoring 10 points in 19 playoff games. He had also become an important leader in the dressing room and in the community, and had even been lauded by Senators fans for his defensive play, earning some Selke Trophy talk (although never receiving any votes).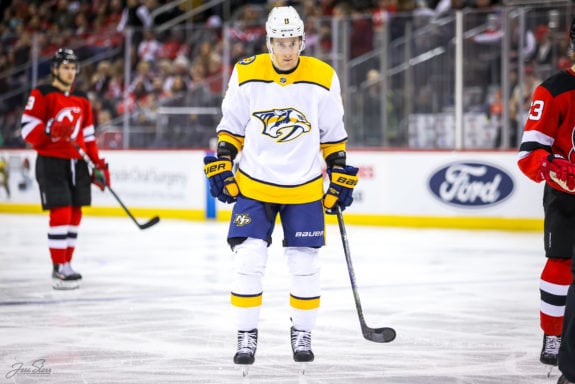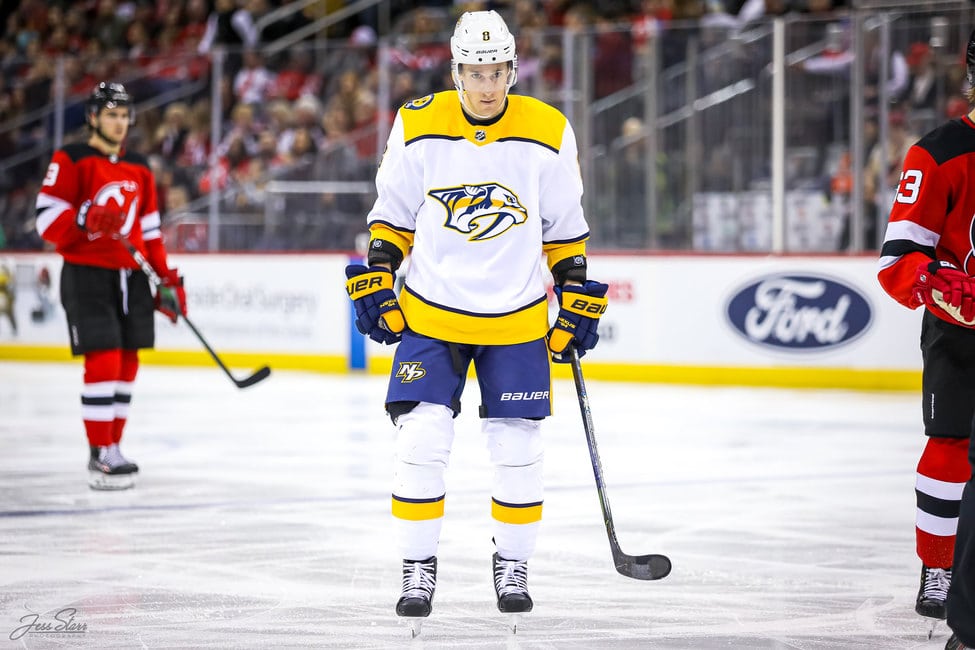 However, Turris never was able to find that same level of play in a Nashville uniform. In his two full seasons as a Predator, Turris only posted 16 goals and 54 points, and his plus/minus nosedived to a minus-15 in those two seasons combined. The third overall pick in 2007 was bought out on October 7 by the Predators, and has since signed a two-year, $3.3-million contract in Edmonton.
In terms of what his buyout will cost Nashville, at $2 million a season over the next eight seasons, it's really only the term that stands out. $2 million a season isn't bad at all in the grand scheme of things, but the total cost of $16 million is a bad look for the Predators, especially considering the promise and potential Turris brought initially.
Sure, it's no Rick DiPietro or Vincent Lecavalier buyout, but it's the worst one the Predators currently have and will have on their books through the 2027-28 season.
Pekka Rinne
Alright, I can already hear Predators fans yelling at me about this one. I can also hear people yelling at me from having read my column when I said Rinne's contract status isn't that bad for this season.
But, when it comes to the least-good contracts on the Predators' payroll for this coming season, this one stands out. Keep in mind that Rinne will in all likelihood be a full-time backup goaltender in 2020-21, and keep in mind that he has a modified no trade and no movement clause built into his contract.
Rinne will be the 14th highest-paid goalie in the NHL this season, and considering he'll likely play less than half of the games – in 2019-20 he started 35 of 69 games, but only 13 of the last 32 regular season games, and didn't play a minute in the postseason.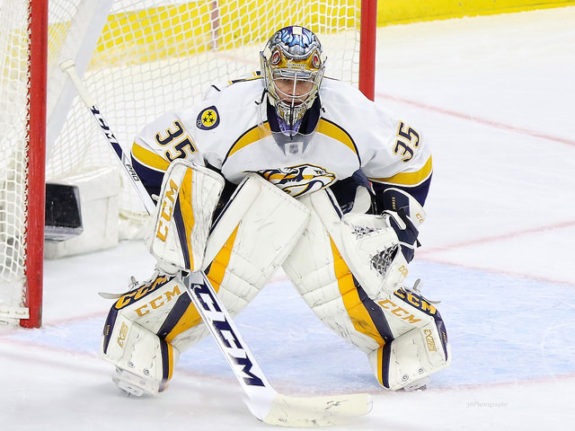 Again, it's not as bad as it could be for Nashville financially; Rinne is making $2-million less than the Vegas Golden Knights' backup goalie (Marc-Andre Fleury), and is less of a cap hit than Roberto Luongo is to the Vancouver Canucks this coming season. But $5 million is expensive as far as backup goalies are concerned, regardless of where you are. At 37 years old, in the last year of his contract, and with the afore-mentioned no-movement clause, it seems Rinne is destined to essentially burn the last year of his Predator career on the bench.
Whether you think it's the worst backup goalie contract in the league or not (it's not), it's still an expensive option that is 100% short term for Nashville, and may have handcuffed any thoughts they may have had in the off-season about finding a long-term solution in goal.
Matt Duchene
Now we get to the twist of irony I mentioned earlier when talking about that massive three-team deal that sent Turris to Nashville and brought Duchene to be a member of the Senators, fresh off their run to double overtime in Game 7 of the Eastern Final. A few short months later, they ship Turris off and bring in Duchene, and – well, Ottawa's win-loss record since that trade basically speaks for itself (hint: it's bad…really bad).
Let me be clear, I am a big Duchene fan; he's incredibly fun to watch and seems like he's a great guy off the ice as well. However, his contract of $8 million a season for the next six seasons is kind of a mammoth contract for a guy who is slated to be the number two centre behind Ryan Johansen (also an $8-million dollar centre but for five years). He's an offensive specialist who has shown flashes of offensive brilliance over a career of 793 games, but has become somewhat of an apparent curse to teams he plays for.
First, in all of his time with the Colorado Avalanche, they only made two postseason appearances in eight years, and twice as a team finished with fewer than 50 points on the season. Since trading Duchene in late 2017, the Avalanche have three straight 90-point seasons and playoff berths.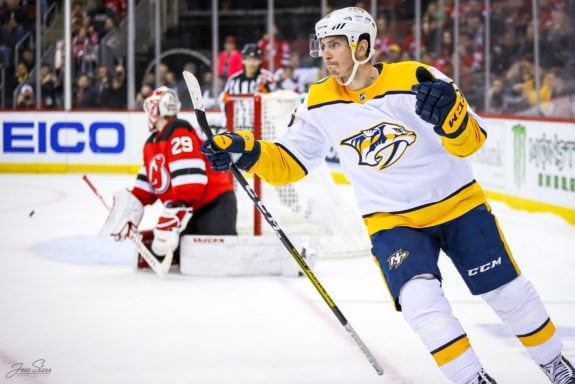 Sure, you may think that it is a coincidence, but consider how bad the Senators became in 2017-18. From being a goal away from a berth in the Stanley Cup Final to seventh and eighth place divisional finishes consecutively. The point can be made that other factors went into Ottawa nosediving as bad as they did, but even though Duchene produced offensively for them while he was there, the team undoubtedly got worse.
Now we get to his time, albeit brief so far, as a Predator. After finishing first in the Central Division and third in the Western Conference in 2018-19, Poile signed Duchene prior to the 2019-20 season. In that pandemic-shortened season, the Predators dropped to fourth in the Central, and were dispatched quickly by the Arizona Coyotes in the qualifying round of the playoffs. Duchene scored only 13 goals and 42 points in 2019-20, far below both his expectations and his potential.
To reiterate, I am a big Duchene fan, and hope that he can turn it around again offensively, but I can't deny that the Duchene curse appears to be a real thing so far in his career. Predators fans are no doubt hoping that the curse in Nashville will only last the one season before it is broken in 2020-21.
The Cap Isn't An Issue
Overall, general manager Poile and his staff have done an impeccable job compiling a roster of players who are all generally producing or playing at what their cap hit should demand. With lots of cap space to work with not only this year but for the next couple of years as well, it will be interesting to see what other contracts work their way onto the Predators' payroll in the coming months.
If the Duchene curse is broken, and they can sign Saros to a long-term contract at a reasonable price, there's no reason to suggest Nashville couldn't sign a big-time free agent to a contract now (see: Mike Hoffman) or even in the next off-season (see: Taylor Hall). Poile has earned himself a reputation over his astonishing twenty-three years as the Predators' general manager as one of the league's best, and the current payroll speaks for itself.
With three of the best defencemen in the world on the roster, and some big-name forwards at reasonable prices, there aren't many contracts that stick out badly in the Predators' history, let alone current roster. But the three listed above are three that, for 2020-21, are the team's worst.
---
---