At the beginning of the 2017-18 season, expectations were high for the Nashville Predators and the Ottawa Senators. The Predators were just coming off of their first trip to the Stanley Cup Final and the Senators were one goal away from meeting them there, taking the Pittsburgh Penguins to game seven in the Eastern Conference Final. The Colorado Avalanche, on the other hand, were coming off of their worst finish in franchise history with just 48 points.
---
---
With the Senators and Predators looking for the missing pieces on their rosters to bolster their lineups and the Avalanche looking to retool their own, the trio of teams managed to pull off a blockbuster trade that sent long-time Av Matt Duchene to Ottawa.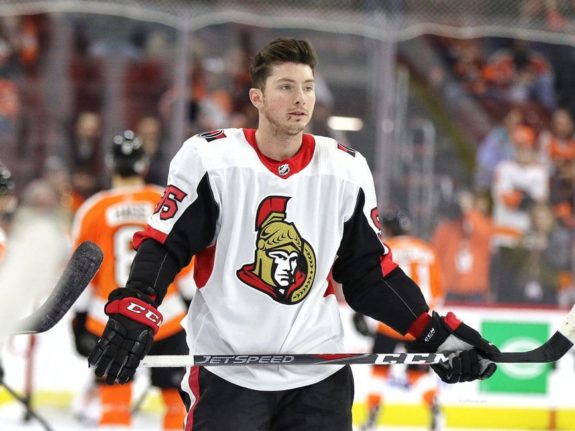 Since the massive deal, here's how the trade has played out for the teams and pieces involved.
The Trade
The three-way trade came after 18 months of speculation and rumours surrounding Duchene, who requested a trade from the organization nearly a year prior. Avalanche general manager Joe Sakic told reporters throughout the entire process that he wouldn't take less than Duchene was worth and proved that with the return from his top centreman.
Related: Duchene Finally Traded
---
Latest News & Highlights
---
After the trade, Duchene explained his reasoning behind asking for the move from the team that drafted him to Bruce Garrioch of the Ottawa Sun, "I wanted to play playoff hockey. I've got eight playoff games to my name right now and that's not where I want to be at this point in my career. I only get one shot at this. I get to play this game for however long my body lets me play it and I felt I wanted to let Joe know it was time to move on." (From: "Matt Duchene thrilled at getting a chance to win with Senators" – Ottawa Sun – 11/06/2017).
Here are the full details of the trade from Nov. 5, 2017:
To OTT: Centreman Matt Duchene
To NSH: Centreman Kyle Turris
To COL: Conditional first-round pick (OTT), 2019 third-round pick (OTT), Shane Bowers and Andrew Hammond from Ottawa; 2018 second-round pick (NSH), Samuel Girard and Vladislav Kamenev from Nashville
Senators Temporarily Get Their Number One Centre in Duchene
Duchene had high hopes when he arrived in Ottawa and so did the team. This was a team that took Sidney Crosby and the Penguins to not one, but two overtimes in Game 7 of the Eastern Conference Final. The Penguins went on to win the Cup for the second year in a row and the Senators felt ready. Their time was now.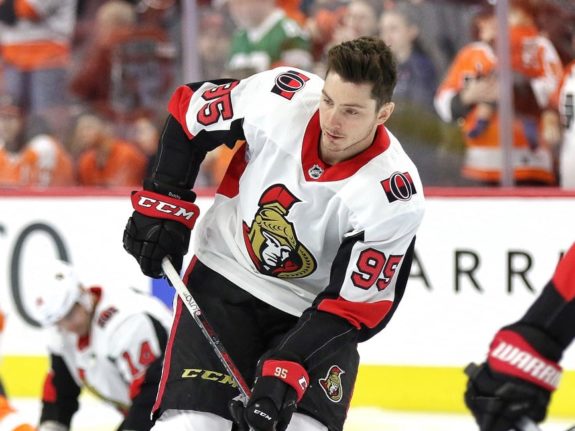 Upon his arrival, the Senators were 6-3-5 and while that wasn't the best start to the season, they were getting points in the majority of their games, which is important. Duchene was ready to get started, "To be here with this team that I believe in a lot already it's very special. There's going to be an adjustment period. I just want to bring my best to this team and hopefully be part of a long playoff run." (From: "Matt Duchene thrilled at getting a chance to win with Senators" – Ottawa Sun – 11/06/2017).
As optimistic as Duchene and the Senators were, it didn't pan out on the ice for them. The team finished the season 28-43-11 and 30th in the league. For Duchene, his hope for playoff hockey was lost in his first season in Ottawa. To make matters worse, the Avalanche earned the final wild-card spot facing the Predators in Round 1, although they lost the series, 4-2.
The 2017-18 season was so bad for the Senators that the team entered a rebuild, sending away core pieces like captain Erik Karlsson to the San Jose Sharks, Mark Stone to the Vegas Golden Knights and after just 15 months in Ottawa – Duchene to the Columbus Blue Jackets.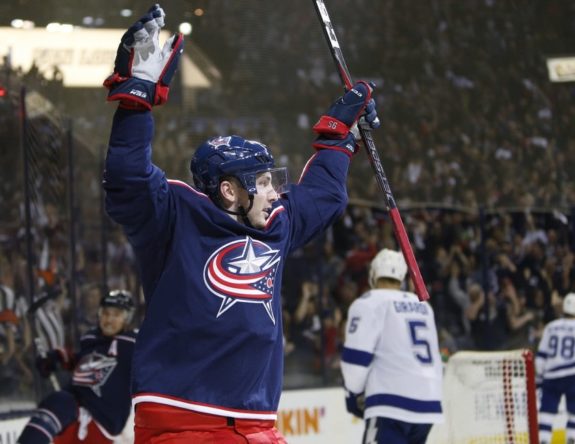 Individually, Duchene was solid for Ottawa. After joining the team, he had 49 points in 63 games to close out the season. In the 2018-19 season, he played 50 games for the Senators before the trade, collecting a remarkable 27 goals and 31 assists for 58 points. Through his time with the Sens, he played 118 games and finished with 107 points.
Duchene Sent to Blue Jackets for Abramov, Davidsson, Pick
Despite his performance, the Senators faltered. Before the 2019 NHL Trade Deadline, he was sent to the Blue Jackets for Vitaly Abramov, Jonathan Davidsson and a first-round pick in 2019. That pick was used to select Finnish defenseman Lassi Thomson.
Abramov was the most well-known prospect in the trade. The 20-year-old player spent two seasons and part of a third just over the provincial border with the QMJHL's Gatineau Olympiques. His time there is what makes him stand out as a prospect, collecting 223 points in 145 games. However, his scoring touch never followed him to the NHL. After struggling with injuries, he decided to leave for Russia.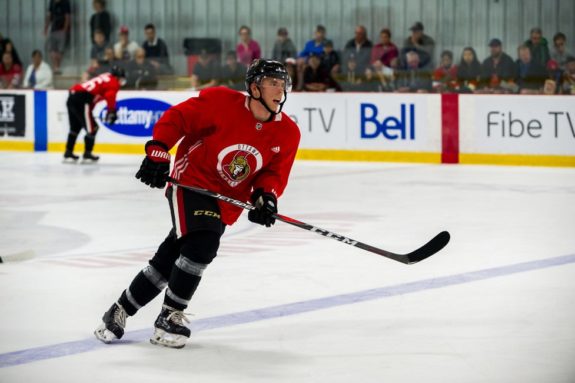 Despite Abramov's success, Davidsson looked like he could be even better. He played well in the SHL against men and is just starting to get his feet wet in the North American game. But like his Russian counterpart, he struggled to find his way onto a weak Senators' lineup and has since returned home to Sweden.
Thankfully, Thomson looks like he'll work out just fine. He finished up the 2018-19 season in the WHL as a finalist for Rookie of the Year and was named to a WHL Western Conference Second Team All-Star. In 63 games, he had 17 goals and 24 assists for 41 points. After a season in the Liiga, he joined the Belleville Senators, where he's put up 39 points over 79 games across three seasons.
Meanwhile, Duchene got the playoff hockey he dreamed of. The Blue Jackets made the postseason and even swept the NHL's best team – the Tampa Bay Lightning. Duchene kept his hot season going, collecting five goals, five assists and 10 points in 10 playoff games. In the 2019 offseason, Duchene signed with a familiar team – the Predators – to a seven-year, $56-million contract.
Initially, the deal looked to be a steep overpay, but it all came together for Duchene in 2021-22. Finally healthy after two iffy seasons and under new coach John Hynes, he scored a career-high 43 goals and 86 points with the Predators. At 31 years old, he has the ability to repeat his incredible season, although he's not likely to top it at this point in his career.
Turris Never Found His Footing in Nashville
A favourite of Senators fans, Kyle Turris went from a team that almost went to the Final in 2017-18 to the team that did. The biggest difference is that the Predators remained a contender after the trade. They won the Presidents' Trophy as the league's top team in the regular season, finishing 53-18-11 with 117 points.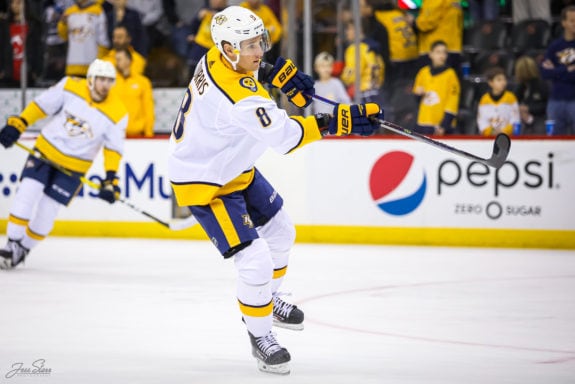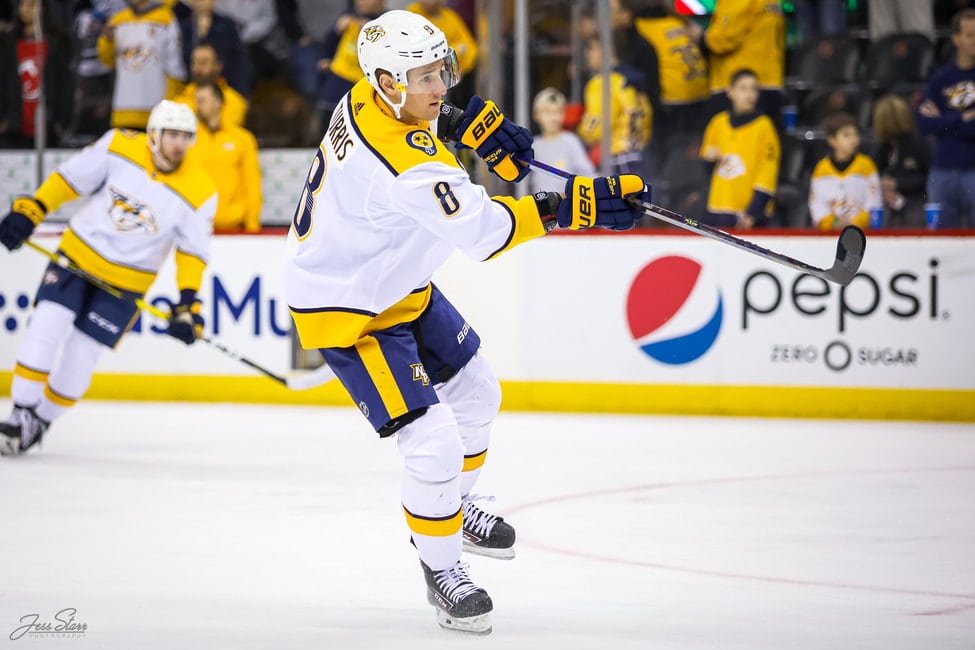 Turris found being traded after the start of the season to be "a difficult transition," but collected 13 goals and 42 points in 63 games after being sent to Music City. He added 17 power-play points (PPP) post-trade, tying his career-high, on top of his four PPPs with the Senators. The former third-overall pick was also a plus-22 with the Predators, after starting the year a minus-three in Ottawa.
As soon as the trade was complete, Turris signed a six-year extension worth $6 million annually, and many presumed that the dollar amount was his reason for being sent out of Ottawa. That includes Turris. After the trade, the centreman told reporters, "It's tough because I think management did want to sign me, but I think that the owner didn't. And that was his decision."
After he signed, however, Turris struggled to justify his pricy extension, posting just 33 and 22 points over the next two seasons. Due to an inclement cap crunch, the Predators decided to buy out the remaining four years of his contract.
As a free agent, Turris signed a two-year show-me deal with the Edmonton Oilers, with the hope that he would provide the team with valuable forward depth. However, injuries and inconsistency limited him to just 50 games and nine points over those two years. It was clear that he didn't have much left in the tank, and so on Aug 18, 2022, he announced his retirement from the NHL and his new development and advisory position with the British Columbia Hockey League's Coquitlam Express.
Colorado Gets the Haul They Were Waiting For
Most organizations would be in shambles after trading away a top-line centreman. That hasn't been the case for the Avalanche, though. The Avs went from the bottom of the NHL to the playoffs and are once again a team in the hunt. A few months after the trade, 2019-20 MVP finalist MacKinnon provided his thoughts on the transaction.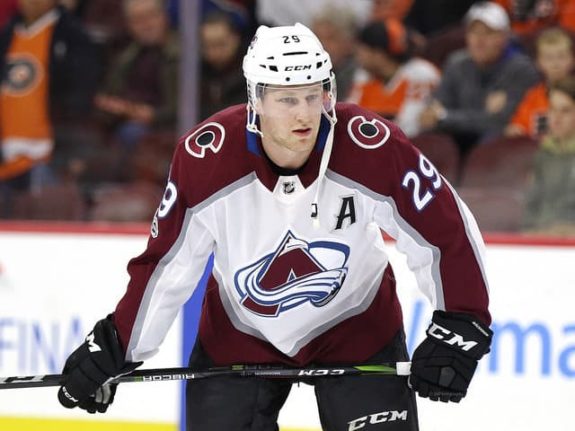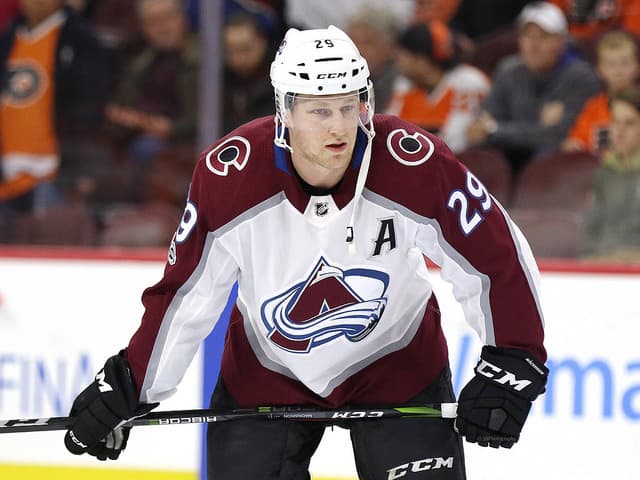 "It did a lot. There's nothing wrong with Dutchy wanting to leave. I think it's fair. He's been eight, nine years in this league, and it wasn't like a crazy breakup or anything. He went about it really good this season. But obviously, we knew he wanted to leave. Now we have everybody here that wants to be here, which is great."
He continues, "I think we're on our way. If Dutchy was here, I'd think we'd be in a good spot as well. He's a really good player and obviously, it's nice to get [defenceman Samuel Girard, acquired in the Duchene deal] on the back end. He's a great defenceman."
MacKinnon calls out the solid acquisition of Girard, but the Avalanche got a whole lot more than just the former first-rounder.
Shane Bowers
Shane Bowers was the Senators' 28th overall pick in 2017. Regarded as a safe pick, he had a strong freshman season at Boston University, scoring 17 goals and 32 points, the most of any 18-year-old in the NCAA, including teammate and current Senators' star Brady Tkachuk. He was an easy choice for Hockey East's All-Rookie team and was named to the honourable mention All-Star team.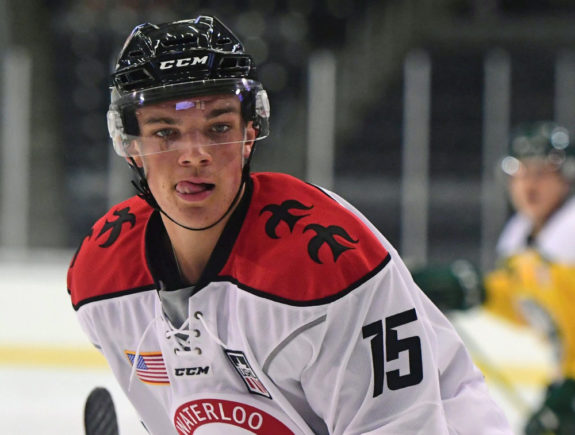 Bowers' 11-goal, 21-point sophomore season wasn't quite as impressive, but he still made Team Canada's roster for the 2019 World Junior Championship, then joined the American Hockey League's (AHL) Colorado Eagles for four regular season games and four playoff games. There was some speculation that he could make the jump to the Avs' lineup the following season, but his transition to the professional ranks was a little bumpier than expected. His rookie season in the AHL saw him score 27 points in 48 games, then a series of unfortunate injuries limited him to 55 games over the next two seasons.
While there's still hope that Bowers can be a top-six forward in the NHL, it's unlikely it will be with the Avalanche. There are few teams in the league that have a deeper forward corps than Colorado, and given his limited AHL time, it's possible =he needs a fresh start somewhere else to restart his career. Still just 23, there's lots of time left to put it all together, but he needs to first show that he can stay healthy.
Andrew Hammond
After leading the Senators through a historic run in the 2014-15 season, there hasn't been much else of note for the goaltender. That run saw the "Hamburgler" go 10-1-1 to start his career, and Hammond became the second goalie in history to let in two or fewer goals in his first 12 starts. He went 20-1-2 with the Senators that year and led them to a playoff spot after injuries to Craig Anderson and Robin Lehner.
After the trade, Hammond only played in one regular-season game for the Avalanche, a 2-1 loss to the Philadelphia Flyers, and then was forced into three playoff games against the Predators. He came into one after an injury to Semyon Varlamov, stopping all eight shots he faced. He won the next start 2-1, making 44 saves before getting blown out 5-0 the next game.
Hammond walked into free agency and picked up a one-year deal with the Minnesota Wild for $650,000, and then the Buffalo Sabres, playing in the AHL both seasons. He was left unsigned to start the 2020-21 season, but a long-term injury to Alex Stalock forced the Minnesota Wild to bring him back in December.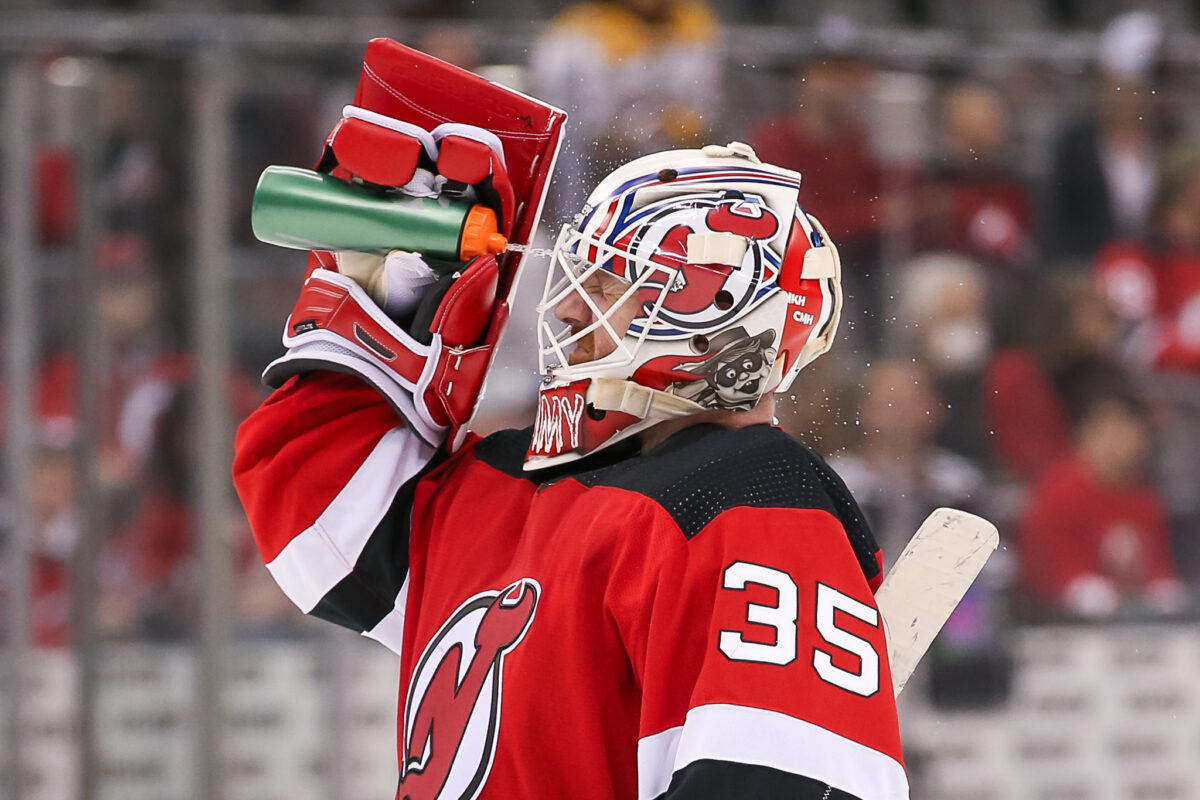 However, he didn't play a game with them and in February 2022, he was dealt to the Montreal Canadiens, where he played just four games and went 3-0 before being traded to the New Jersey Devils a month later. At the end of the season, he was once again without an NHL contract, and so Hammond decided to leave for Europe, signing with Traktor Chelyabinsk of the KHLfor the 2022-23 season, where he'll likely remain for the rest of his career.
Samuel Girard
Of all the players they acquired, Sam Girard has unquestionably had the biggest impact on the Avalanche. On a defensive corps that didn't have much behind Erik Johnson and Tyson Barrie, Girard worked his way onto the top pairing, which was described by the Denver Post's Mike Chambers as a perfect defensive pairing, a big, in-your-face defenseman and a small, skilled, puck-moving defenseman. (From: "Chambers: Erik Johnson and Sam Girard are a perfect pairing for the Avalanche" – Denver Post – 10/07/18).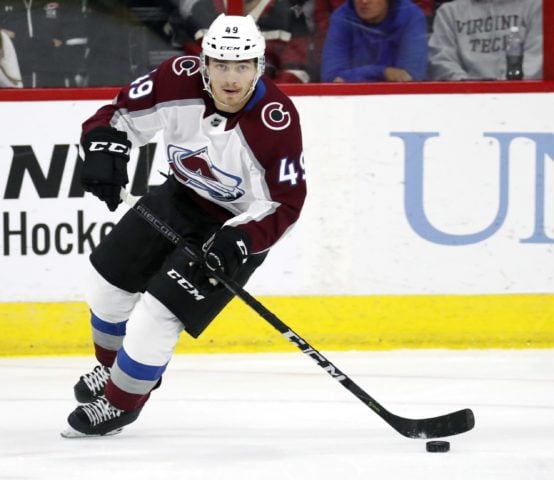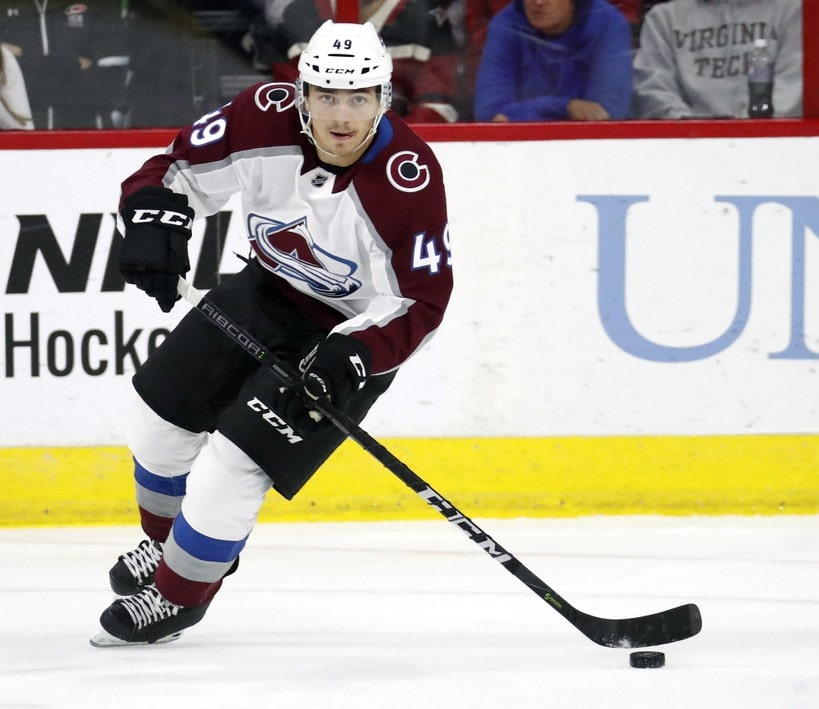 Chambers wasn't the only one pumped about the addition of Girard. Speaking to The Denver Post, Johnson raved about Girard's ability, "He's so skilled, so smart. You maybe worry about a guy that size playing D but he's so smart and elusive. He knows when the forecheck is coming. He knows when to dip out of traffic when he's in trouble. He's got a really good head on his shoulders." (From: "Chambers: Erik Johnson and Sam Girard are a perfect pairing for the Avalanche" – Denver Post – 10/07/18).
In his four full seasons with the Avalanche, Girard has been a regular 30-point defenceman, but the arrival of Cale Makar, Devon Toews, and Bowen Byram has pushed him down to the third pairing alongside Johnson. He's not likely complaining, however, as he helped the Avalanche capture the 2022 Stanley Cup.
Vladislav Kamenev
Like Hammond, Vladislav Kamenev's time with the Avalanche hasn't gone exactly to plan. In his first game with his new team, he took a hit from Brooks Orpik, which broke his arm. He returned later in the season and played just two more games, recording no points in that season. Then, in 2018-19, he played 23 games and looked to be establishing himself as a depth player before another injury ended his season in December.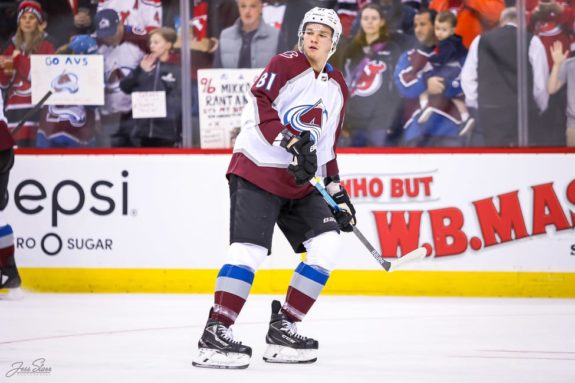 Kamenev returned to the team in 2019-20 but was unable to stay healthy, dressing for 38 games over the season. It likely hasn't helped that he hasn't been able to settle in anywhere for the past few seasons; since 2015, the Russian centre has played in games for the Milwaukee Admirals, San Antonio Rampage, Colorado Eagles, Predators and Avalanche. In 2020-21, he returned home to Russia where he's continued to struggle with injuries, but at least found a bit more consistency. While the Avalanche still retains his rights, the 26-year-old doesn't look like he'll return to North America any time soon.
The Picks
The first-round conditional pick from Ottawa in this trade became a 2019 pick when the Senators drafted Brady Tkachuk fourth overall in 2018. The condition was that the Sens could either send their 2018 or 2019 pick to Colorado. By using the pick on the feisty winger, the pick shifted to 2019, where they also had the Senators' third-round pick.
The first-rounder ended up being fourth overall, and the Avalanche chose Byram. He's a great skater with the ability to surprise opposing players with his speed. His vision allows him to make big passing plays, and he isn't afraid to play physically. He handles the puck very well and has a quick, hard shot that can fool goaltenders.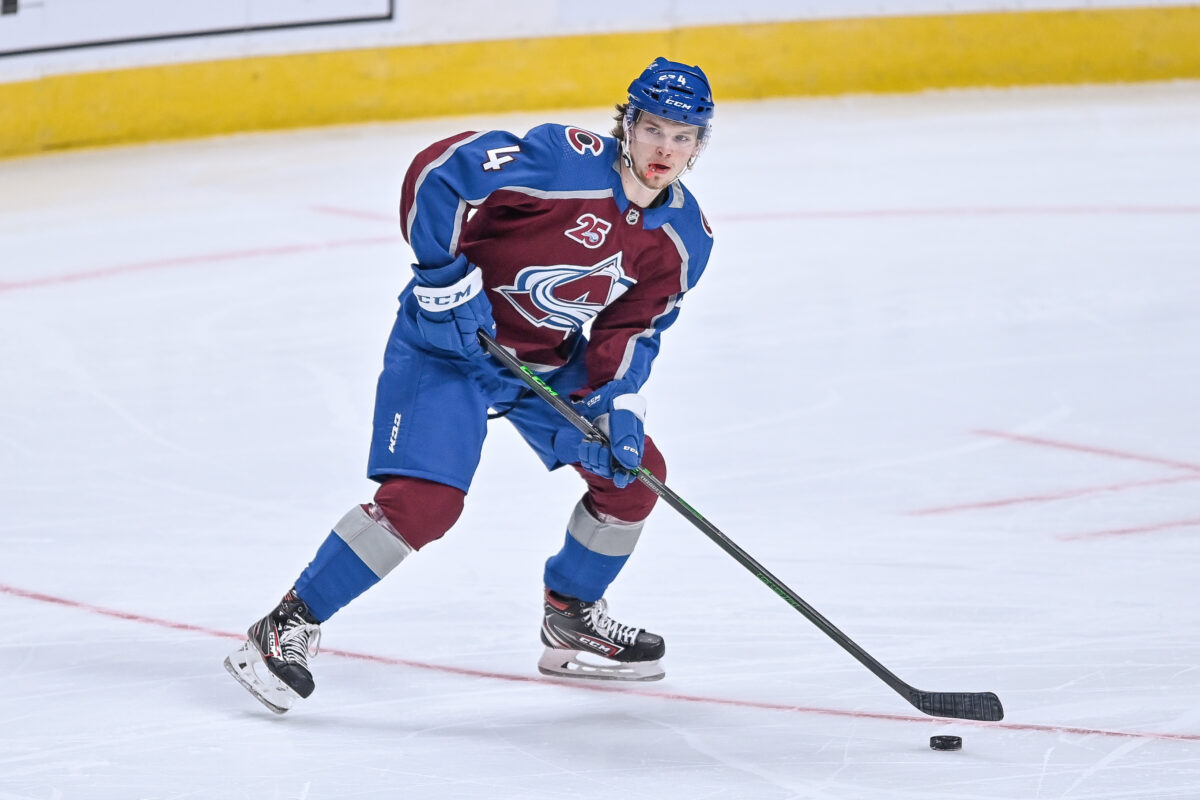 Byram's debut in 2020-21 was admittedly a bit disappointing, as he played just 19 games and had just two assists. He took a step forward last season, scoring five goals and 17 points over 30 games, plus another nine assists in 20 playoff games, but he still hasn't lived up to his lofty draft expectations. Look for that to change in 2022-23, as he is primed to break out now that he's more comfortable in the NHL. It's possible that, once he hits his prime, he'll be the biggest part of this deal.
The third-round pick was used to select Matthew Steinburg, a promising centre from St. Andrew's College. He joined Cornell University in 2019-20 and is going into his fourth season with the program. Last season, he led the team with 29 points in 28 games.
As for Nashville's second-rounder in 2018, it was traded to the Penguins for third and fifth-round picks (64th and 146th) in the 2018 draft. They selected goaltender Justus Annunen and defender Daniil Zhuravlyov with those two picks. Annunen has looked very promising in his appearances with the Finnish World Junior team at the 2018 IIHF Under-18 World Championship, recording a 2.00 goals against average and a .914 save percentage en route to capturing the gold medal. He played one more season in Finland before joining the AHL's Eagles, where he's established himself as the team's starting goalie and even earned a couple of call-ups to the Avalanche.
Zhuravlyov signed his entry-level deal in May 2022 and will make his North American debut in 2022-23 after three seasons with the KHL's Ak Bars Kazan. He was also at the 2018 World Juniors, where he served as an assistant captain for Team Russia, collecting five assists through five games which tied for second on the team for points, was first in assists and led the team's defenders in points. While both prospects are currently playing hockey in their respective countries, they look promising so far for the Avalanche.
Who Is Winning the Trade so Far?
It's hard not to view the Avalanche as the clear-cut winner. Even the day after the trade, they seemed to come out on top. After the transaction, the Senators and Avs have seemed to switch places in the league. The Sens fell in the standings, finishing second-to-last and were forced to begin a lengthy rebuild that is just now beginning to show the fruits of its labour. Colorado, on the other hand, made the playoffs after finishing dead last in 2017-18 and established themselves as perennial contenders, which finally paid off in 2022 with a Stanley Cup.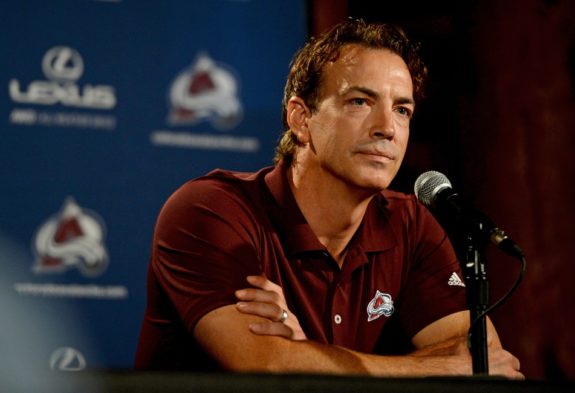 Sakic's patience in this trade paid off big-time and it will continue to pay off for the foreseeable future. While Girard has made an immediate impact, Byram has emerged as one of the best defensive prospects in the league, and fans should be extremely excited about his potential. Even if that was the whole deal, the Avalanche still would have come out on top. If Bowers ends up becoming a serviceable NHLer, then Colorado knocked the deal out of the park.
Related: The NHL's Top 5 Defenses
Nashville, on the other hand, remained about the same. They remain a playoff competitor but have been unable to break through the second round. With Roman Josi and Mattias Ekholm, they will continue to be one of the stronger teams in the West, but considering that Turris was bought out, the loss of Girard stings a bit more. Also, the fact that the Predators ended up with Duchene, in the end, is a strange turn in this large transaction.
---
---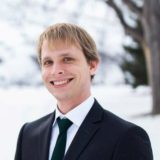 An elementary teacher by day and an avid hockey fan, Dayton joined The Hockey Writers in 2019 and currently covers the Ottawa Senators, World Juniors, and NHL Entry Draft.