In NHL terms, a "tough guy" normally refers to a player whose primary role on the team is to engage in physical play, often involving fighting, with opposing players. There are two reasons for these actions. First, they are ways to protect teammates. Second, the narrative is that physical play (a solid hit or a fight) can work to shift the momentum of a game. 
Players who engage others in 1-to-1 battles are often called "enforcers." They typically pile up high penalty minutes with their willingness to engage in rough play. The physical play of such enforcers used to be more prevalent in past decades; and, these days such physical play both morphed a bit into what are called pests (the Michael Buntings of the game). 
Related: Maple Leafs 7 Best Tough Guys – Toronto
Yet, although they have diminished in the modern NHL, there are still players who are valued primarily for their physical play and fighting ability. During the recent history of the Toronto Maple Leafs (and in this post, I've limited my analysis back about 30 seasons), a number of tough guys have suited up for the team. In this post, I'll look at the three I believe are the top Maple Leafs' tough guys since 1990.
Maple Leafs' Tough Guy No. 1: Tie Domi 
Tie Domi is regarded as one of the toughest players to ever play for the Maple Leafs. His willingness to drop the gloves with anyone made him a fan favorite in Toronto. Domi played his first two NHL games for the Maple Leafs in 1989-90 before he was traded in June 1990 to the New York Rangers. Five years later, he returned to the Maple Leafs and finished his career in Toronto. In total, he donned the Blue and White from 1994-2006.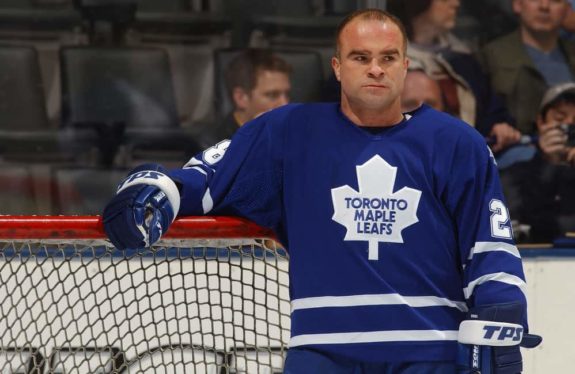 In his NHL seasons, he accumulated a total of 3,515 penalty minutes. His total with the Maple Leafs was 2,265 minutes in the penalty box. He has the most career penalty minutes for the Maple Leafs. In fact, during the 1997-98 season, Domi set a franchise single-season record with 365 penalty minutes, which passed the previous mark set by Tiger Williams in 1977-78. 
Related: The Most Hated Toronto Maple Leafs Of All-Time
Domi was a tough and sometimes controversial player. He was known for his physical play and willingness to fight. Despite this reputation, Domi was also able to contribute offensively. He scored 84 goals and 196 points during his time with the team. His toughness and physical play were considered valuable to the team's success in the late 1990s and early 2000s.
---
Latest News & Highlight
---
Domi was one of the most skilled agitators of his day. Similar to Bunting today, he had a way of getting under opponents' skin with his antics.
Maple Leafs' Tough Guy No. 2: Wendel Clark
Wendel Clark is another player who's often considered one of the toughest to ever wear a Maple Leafs' uniform. Clark played for the Leafs from 1985-1994 and again from 1996-1999. He returned once again for one final season before he retired in 1999-2000. 
During all his seasons in a Blue and White uniform, he was known for his aggressive style of play and willingness to fight. He totaled over 1,500 penalty minutes during his career with the Maple Leafs.
Related: Ex-Maple Leaf Wendel Clark Weighs in on Current Leafs Stars
Clark was, and remains, a Maple Leafs fan-favorite. He was drafted as a defenceman but became a high-powered forward with a crashing, hard-hitting style of play. He was a feared opponent. He was named captain in the early 1990s and led the team with a combination of toughness and offensive ability. In fact, he scored 260 goals and 441 points in 608 games with the franchise. He set career highs in goals (46), assists (30), and points (76) during the 1993-94 season.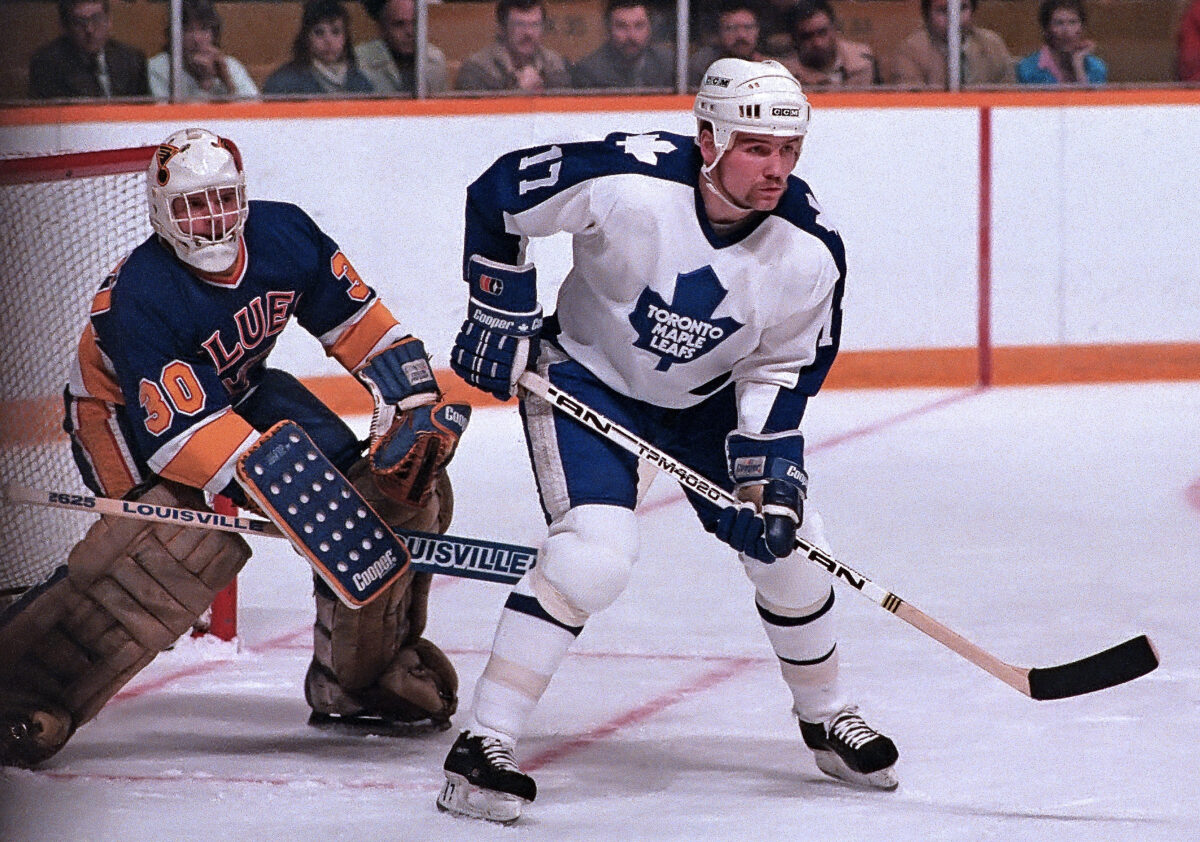 Clark's physical style of play and offensive ability made him a legend in Toronto. Like Domi, he would often drop the gloves.
Maple Leafs' Tough Guy No. 3: Doug Gilmour
Doug Gilmour was a Maple Leafs' tough guy in quite a different way than either Domi or Clark. He was not necessarily known for his physical play, but that didn't make him any less of a tough player in his own right. He was one of the most competitive Maple Leafs' players and his work ethic was off the charts.
Gilmour was also fearless. He wasn't afraid to seek the dirty areas of the ice to make plays. Gilmour played for the Leafs from 1991-1997 and again in the 2002-03 season. Like Clark, he returned to play his last game in the Blue and White of Toronto, and he retired a Maple Leafs' player. He was a key player of the team that made it to the conference finals in 1993 and 1994.
Related: Revisiting the Wendel Clark for Mats Sundin Trade
Gilmour was tenacious and never backed down from seeking pucks in the corners or in front of the net. He was a skilled playmaker and a great 200-foot player. He won the Selke Trophy as the NHL's top defensive forward in 1993. He was a leader both on and off the ice, serving as the Maple Leafs' captain from 1994-1997.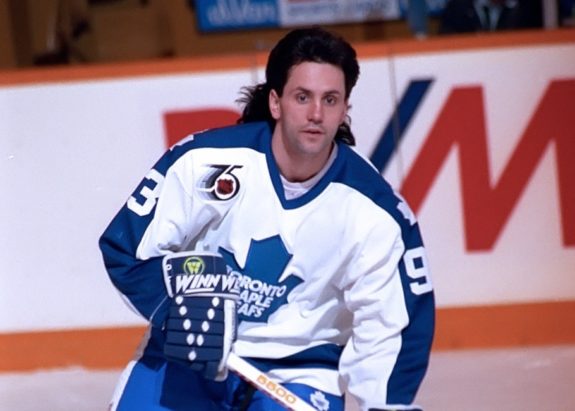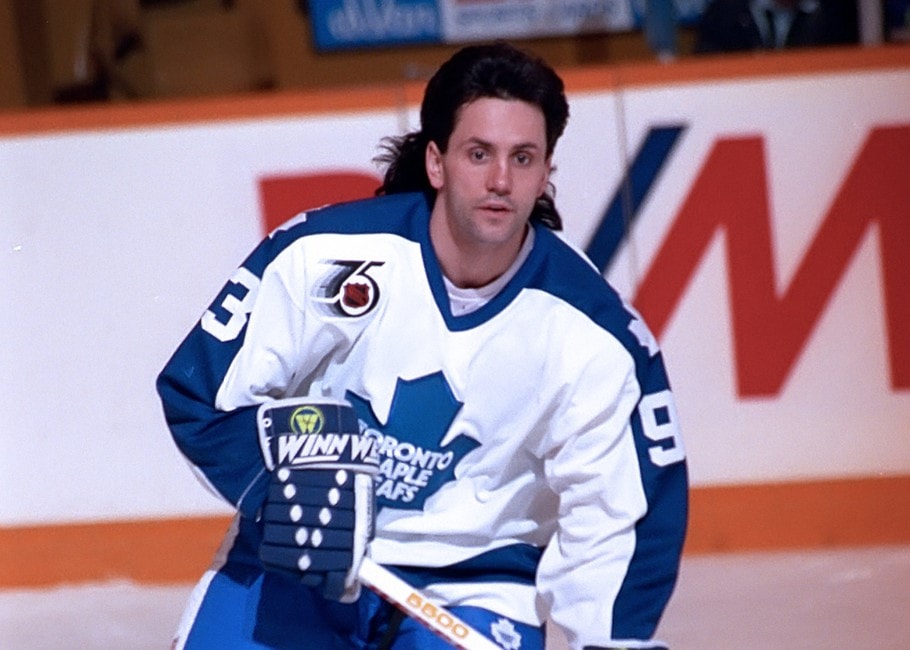 Gilmour played through injuries and was willing to sacrifice his body for the good of the team. His combination of skill, toughness, and leadership made him a beloved player for the Maple Leafs and a fan favorite. He was the runner-up for the Hart Trophy as regular-season MVP in 1992-93. He just couldn't beat Mario Lemieux, who scored 69 goals and 160 points that season.
Other Notable Maple Leafs Tough Guys
The Maple Leafs had several other players who could have been placed on this list of tough guys. All three of these other players were also known for going to the "dirty areas" on the ice and playing physical games. These other notable Maple Leafs' tough guys included:
Darcy Tucker was a tenacious player who never backed down from a challenge. He was known for his physical play, and would often get in opponents' faces and engage in scrums after the whistle.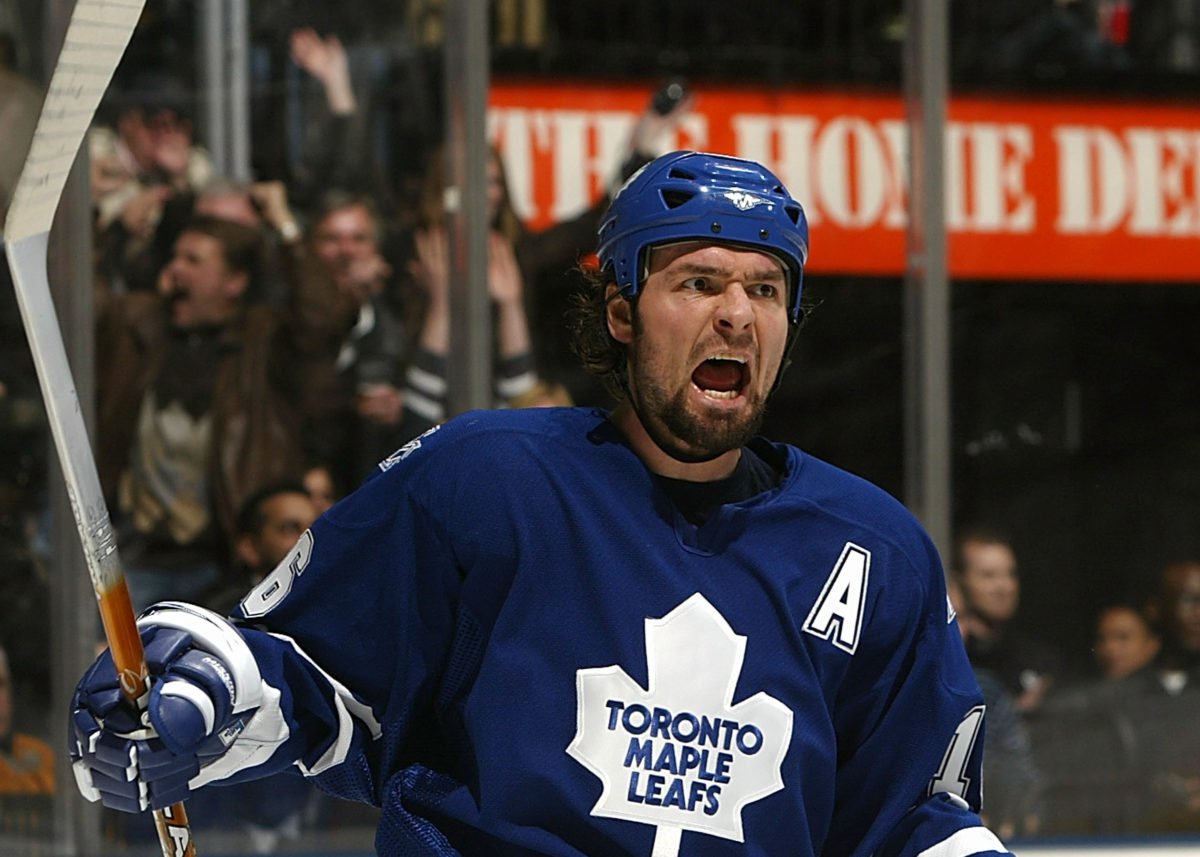 Gary Roberts was a physical player who used his size and strength to his advantage. He was known for his hard hits and his willingness to battle for pucks in the corners.
Shayne Corson was a tough, gritty player willing to do whatever it took to win. He was known for his physical play and his ability to get under opponents' skin.
In the recent history of Maple Leafs' tough guys, three stand out as the toughest. These were Domi, Clark, and Gilmour.
---
---